Receiving a Hashimoto's diagnosis can be overwhelming.
Getting on the right medication might be your first step, but where do you go from there? What diet is right for you? Should you do a liver cleanse? Balance your adrenals?
It took me three years to figure out the lifestyle interventions for Hashimoto's that brought me into remission — and to this day, I am constantly learning about new treatment options so that I can help others put their thyroid condition into remission.
Hashimoto's is a complicated condition with many layers that need to be unraveled. Conventional medicine only looks at each body system as a separate category, and is only concerned with the thyroid's ability to produce enough thyroid hormone to function… but Hashimoto's is more than just hypothyroidism.
Most patients with Hashimoto's and hypothyroidism will have acid reflux, nutrient deficiencies, anemia, leaky gut, food sensitivities, and adrenal insufficiency. Symptoms of impaired digestion and absorption, anxiety, chronic fatigue, and chemical/environmental sensitivities may be seen as well.
You might be asking yourself, So where do I start?
I'd like to give you some actionable steps to help get you started on your healing journey. My own experience and research have taught me many helpful interventions, and I have dedicated my life to sharing them with as many people as possible. But do keep in mind that your journey may not look the same as mine, or your neighbor's, because there are many ways to arrive at your ultimate destination — remission from Hashimoto's.
Let's talk about:
Finding your root cause
Six steps to breaking the vicious cycle of Hashimoto's
The Fundamental Protocols
How to implement change
How Do You Find Your Root Cause?
There are a lot of moving pieces and various triggers with Hashimoto's that may need to be addressed in order to get your condition into remission.
Through working to get my own Hashimoto's under control, I developed the "DIG AT IT" approach.
The acronym DIG AT IT stands for:
These highlight the crucial areas that need to be addressed for most people to uncover their root causes and find relief from Hashimoto's.
I know this can sound overwhelming at first. My advice? Start "cutting down and trimming branches" to remove the obvious triggers and make the simplest modifications… then work to repair the other broken systems, to ultimately restore equilibrium and allow the body to rebuild itself. You will need to dig down to find the reason why the immune system is imbalanced in the first place. This will tell you how you can begin to finally feel better, reduce your thyroid antibodies, and even take your condition into remission.
As a starting place, I recommend that you create your health timeline. Enter your email below to download a free sample health timeline.
Look back at your overall history as far back as you can remember. Look for infections, periods of severe stress, the use of medications (especially antibiotics, antacids, and oral contraceptives), accidents, illnesses, and exposures to toxins. These are events that may have contributed to Hashimoto's. Once you do, you will have a starting place to know what types of changes you need to implement, to feel better.
Below, I have outlined the six steps to breaking the cycle of Hashimoto's. Most people will need to address all of these areas in order to get themselves into remission. However, the order that you address these steps in will vary, based on your own health timeline.
You can start by working with your doctor to get a diagnosis and the correct medication(s) to help optimize your thyroid hormone levels. Or, you can start by addressing your diet and the nutrients that you may be deficient in. For some, this will help them feel better right away.
Other interventions, such as addressing gut infections and removing toxins from the body, are a bit advanced and may come later, but are still important for complete healing.
Remember, there are many paths to healing, and no wrong way to do it. Here are my suggestions on how to get started.
Six Steps to Breaking the Vicious Cycle in Hashimoto's
Step 1: Getting the Correct Diagnosis
Getting the right diagnosis is the first step to getting your life back. The aim is to help you understand your diagnosis and the implications associated with autoimmune thyroiditis, so that you can be empowered to fight back effectively.
Many cases of thyroid problems are missed because most doctors don't perform a comprehensive test panel. I spent almost a decade undiagnosed because I only had one marker tested. My thyroid diagnosis was missed completely, leading me to deal with needless symptoms like chronic fatigue, depression, anxiety, and many others… for far too long!
There are many blood tests that can be done to assess thyroid function, and I have found the following tests to be the most useful: TSH test, free T3, free T4, reverse T3 and thyroid antibodies, as well as a thyroid ultrasound.
I recommend working with a doctor who will run all of the necessary tests to provide you with the correct diagnosis. This may mean finding a functional medicine doctor who will work with you to get to the root of your condition.
Step 2: Adjusting and Managing Medications
Thyroid hormones affect every organ, tissue, and cell in the body. Appropriate thyroid medication management will allow you to recover from the effects of hypothyroidism, giving you the energy, vitality, and support to continue working on optimizing your health.
There are quite a few options for thyroid medications for hypothyroidism. However, most people are only familiar with synthetic T4-containing thyroid medications. T4 (thyroxine) and T3 (triiodothyronine) are the two main thyroid hormones. T4 is known as prohormone and is 300 percent less biologically active than T3. T3 is the main biologically active thyroid hormone and gives us beautiful hair, energy, and runs our metabolism. T4 medication will need to be converted to T3 in they body. However, not everyone is able to convert T4 to T3 properly.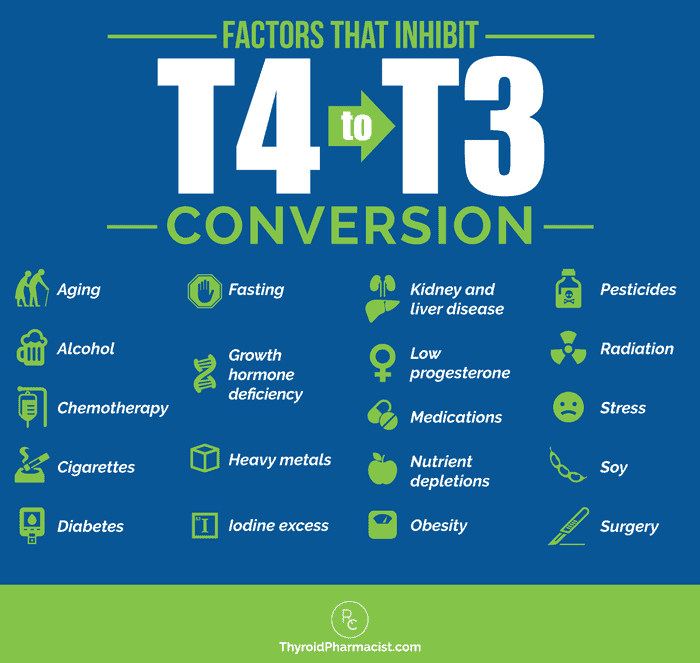 Many of my clients and readers find that adding in some T3 helps. This could be due to several factors that are common in Hashimoto's, including a congested liver, a zinc deficiency (which is required to convert T4 to T3), nutrient depletions, and iodine excess.
Some people report feeling better on combination T4/T3 medications. Others may feel better taking synthetic T4 medications, while some patients may benefit from a T3 medication. Still, others feel best when on T4-containing medications made without fillers that they are sensitive to.
Of the readers I've surveyed, up to 59 percent have felt better taking a combination T4/T3 medication, while up to 43 percent have felt better on a synthetic T4 medication.
While every patient is different, you may notice a reduction in your symptoms when you find a thyroid medication that works best for you.
The thyroid medications brands available by category are:
T4: Levothyroxine (generic), Tirosint, Synthroid, Levothroid, Levoxyl, Thyro-Tabs, Unithroid
T3 (to be used in combination with T4 medications): Liothyronine (generic), Cytomel
Natural Desiccated Thyroid (T4/T3 combo) medications: Armour Thyroid, Nature-Throid, WP Thyroid, NP Thyroid
Compounded T4/T3 medications: Created by compounding pharmacists (opt for immediate release formulations)
While reference ranges of what's "normal" may vary depending on the lab that produces the test reports, most thyroid patients feel best with a TSH between 0.5-2 μIU/mL, and with Free T3 and Free T4 in the top half of the reference range. For more information on how to interpret your lab results, see my article on the top 10 lab tests.
Thyroid hormone therapy should be individualized with the patient in mind. It's important to note that some may find that they will need to go higher or lower on their medication dosage, depending on how their body reacts to it. For this reason, I recommend working with an open-minded physician to find the thyroid medication — and dosage! — that work best for you.
I created The 5 R's of Optimal Thyroid Medications Use to help you determine which medication is right for you:
Right Person: Are you a candidate for thyroid medications?
Right Drug: There are various types of medications that can be used to treat an underactive thyroid — do you know what all of your options are?
Right Dose: Start low and go slow, but be sure to get to an adequate dose!
Right Time: Are you taking your medications on an empty stomach, and at optimal times?
Right Way: Be aware of supplement and drug interactions, and support gut health for proper absorption.
For more information, you can download a FREE copy of my Optimizing Thyroid Medications eBook.
Step 3: Utilizing Food Pharmacology to Heal
Optimizing your health starts with food.
Many people with Hashimoto's present with multiple food sensitivities — the most common of which are gluten, dairy, and soy. Removing these problematic foods, and incorporating healing ones into your diet, can bring an almost immediate reduction in symptoms for most people.
Common symptoms that result from food sensitivities include acid reflux, bloating, irritable bowel syndrome, palpitations, joint pain, anxiety, tingling, and headaches.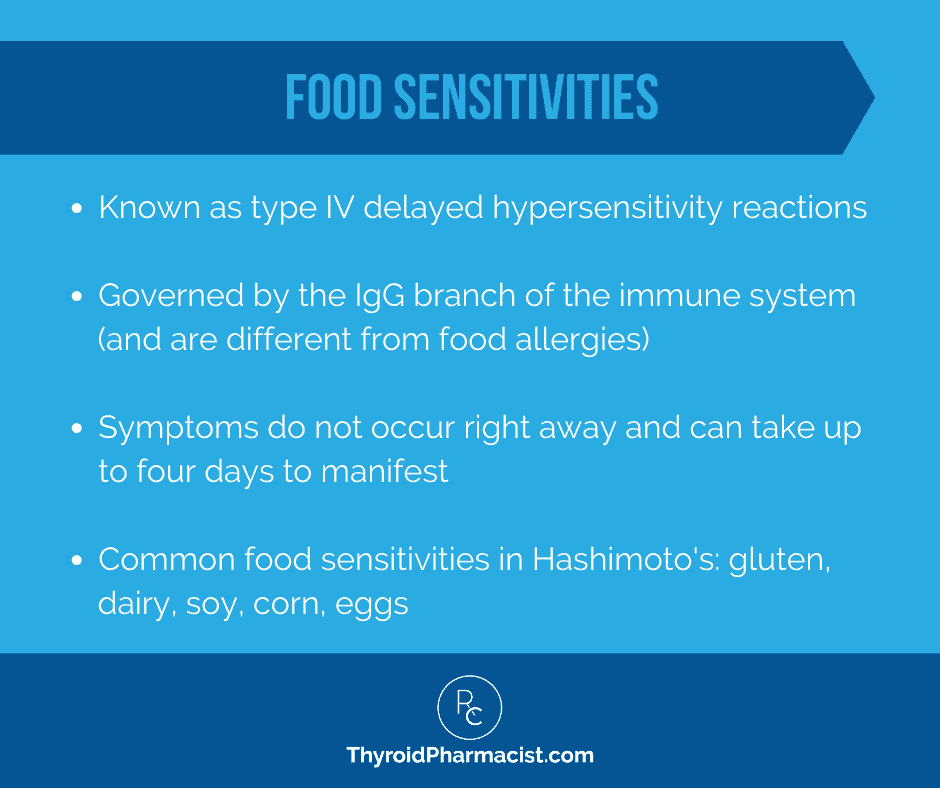 Similar to the tiny substances that are found in medications, tiny substances in foods can also exert massive effects on the body, and their chemical properties can interact with our internal systems. This is what I like to call "food pharmacology."
Removing the foods that were toxic to my body, and incorporating the ones that were healing, was a life-changing discovery for me. As I've worked with and heard from thousands of people with Hashimoto's, I've learned that food has played the starring role in helping them to feel better, too.
I'm a big fan of using foods as medicine, and recommend this as one of the first steps toward healing for everyone.
Following a nutrient dense diet will almost always help a person with thyroid disease, but you may need to modify the diet according to your food sensitivities.
I've spent the last couple of years researching the best diets for people with thyroid issues, and I've discovered that the gluten-free diet, the Paleo diet, and the Autoimmune Paleo Diet can all help eliminate thyroid symptoms, and in some cases, even thyroid antibodies!
Not sure which diet is best for you? I've written an article to help you get started.
I've also released my very own cookbook, full of simple, nourishing recipes and culinary tips to support your thyroid health: Hashimoto's Food Pharmacology: Nutrition Protocols and Healing Recipes to Take Charge of Your Thyroid Health.
If you need a place to start today, then you can download my FREE 2-Week Recipe Plan with thyroid-friendly recipes, right away!
The Fundamental Protocols
I recommend that everyone begin their journey to healing by getting the right diagnosis, adjusting their medication, and using food to heal, as these steps will have the most immediate effect for many people.
From there, some people will need to dig a little deeper to get to their root causes. Through my years of working with people with Hashimoto's, I developed the following steps, which I call the "Fundamental Protocols." These consist of supporting the liver, addressing adrenal health, and healing the gut.
Step 4: Support the Liver to Remove Toxins
In 2006, the Centers for Disease Control reported that the average American has 116 out of 148 commonly used synthetic compounds in their body!
It is challenging to escape toxins from our environment because they are everywhere — from cosmetics and skin products, to off-gassing furniture, pesticides and exhaust fumes — we can't escape them! Whatever we inhale, ingest, and absorb into our skin, eventually ends up circulating in our body.
Fluoride, in particular, can wreak havoc on the thyroid, and is included in an array of products — bottled beverages, toothpaste, black and red tea, canned foods, certain medications, and even our drinking (tap) water!
Toxins are a common trigger for autoimmune disease, and reducing our toxic burden will allow our bodies to heal themselves. This is why I often recommend that people begin their Hashimoto's journey by addressing liver health. We can't clear toxins from our body and begin to feel better if our livers (our main detox organ) are overburdened. Many people see relief from digestive problems, bad breath, fatigue, weakness, constipation, headaches, hormonal imbalance, itchy skin, rashes, breakouts, joint pain, brain fog, irritability, chemical sensitivities, and weight loss resistance, by improving the health of their liver.
I encourage you to read more about the importance of supporting your detox pathways by reading my article on liver health. I've also created a liver support kit to contain the supplements that I have found to be the most effective for healing the liver.
Step 5: Balancing your Adrenals
Treating hypothyroidism without treating the adrenals, is one of the biggest reasons people continue to feel exhausted despite taking thyroid medication.
The adrenal glands release hormones such as cortisol and adrenaline. These "stress hormones" impact many important functions throughout our bodies. They help establish our stress tolerance, tame inflammation, regulate blood sugar and body fat, influence sex drive, and affect our aging process… among many other things.
One of the most common causes of adrenal fatigue is stress, which creates an intense demand for stress hormones, which in turn affects our thyroid function and causes symptoms. The four main types of stress that influence our adrenals are:
Sleep disorders
Mental/emotional stress
Metabolic/glycemic dysregulation (blood sugar imbalances)
Chronic inflammation
In order to support your adrenal health, I recommend six steps:
Rest
Balance blood sugar
De-stress
Reduce inflammation
Replenish nutrients
Build resilience with adaptogens
In my experience, most people with Hashimoto's will experience adrenal dysfunction to some degree, and taking the time to support your adrenal health could be the key to feeling great! You can read more about your how to support your adrenals in my full article.
Step 6: Healing Your Gut
Your gut is home to your immune system. When you heal and balance your gut function, your immune system recovers as well. As Hippocrates said: "All disease begins in the gut."
The gut performs the all-important role of digesting and absorbing the nutrients we take in, but it is also responsible for helping the immune system recognize foreign invaders from self-antigens, thereby facilitating the control of pathogens and preventing autoimmune reactions.
In my research, I came across the work of Dr. Alessio Fasano, a physician and researcher whose work has uncovered the idea that all autoimmune conditions, Hashimoto's included, involve some degree of intestinal permeability, also referred to as "leaky gut."
When functioning as they are designed to function, our healthy human intestines serve the role as both a barrier and a filter, preventing toxins (such as partially digested food, pollen, feces, dead cells, and bacteria) from entering our circulation. When those intestinal tight junctions become damaged (or "leaky"), however, those toxic substances become absorbed into the bloodstream, causing the body to recognize them as foreign invaders. This causes inflammation in the body as it begins to attack the intruders, and eventually leads to autoimmunity.
There is a long list of potential triggers for leaky gut (read more in my article on gut health), but addressing them is a crucial step in healing the gut and recovering from Hashimoto's. In fact, healing a leaky gut can actually reverse Hashimoto's! This is because a leaky gut is one of three factors that need to be present in order for autoimmunity to occur — so addressing one of them can be life-changing! (Read more about that here.)
Here are the primary steps to healing a leaky gut:
Remove reactive foods. Gluten, dairy, and soy are a good place to start for most people with Hashimoto's. You may also want to try an elimination diet to uncover further food sensitivities. (Some of your food sensitivities may surprise you. For example, in the past, I was sensitive to pineapple and ginger… foods that I ate on a regular basis!)
Supplement with enzymes to improve the body's ability to break down food. These may include Betaine HCL with Pepsin to boost stomach acid, systemic enzymes, fat digestive enzymes, veggie digestive enzymes, and broad spectrum enzymes.
Balance intestinal flora with fermented foods and probiotics.
Nourish the gut with essential nutrients, such as:
Or, make a batch of my delicious and gut healing bone broth!
Implementing Change
Knowing what you need to do is one important piece of the autoimmune puzzle; implementing it is yet another big piece. It can sometimes feel overwhelming when a multitude of systems seems to be broken. I wasn't sure of what I needed do when I first started my health journey, and I get the same questions from many of you… "So many changes to make, so many symptoms, where do I start?"
Pace yourself. This is a marathon, not a race. It likely took you many years to get to the current health you are in, and it will take you some time to straighten your body out. Naturopaths will tell you that it will take one to two months of healing for every month a person was sick. This sounds about right to me. But remember, every journey is unique, and I've heard countless testimonials from my readers about seeing symptoms lift within days of addressing some of their root causes.
Lifestyle interventions do work, but not as quickly as medications. This is why I always recommend optimizing your medications as the first step after getting a correct diagnosis. From there, I highly recommend you continue to "DIG AT IT" and address the root causes of your symptoms… one by one until your antibodies drop, and your symptoms vanish.
Again, everyone's journey will be different, and everyone will have their own unique root causes.
Over the years of working with people with Hashimoto's, I have found that there is more than one way to skin a cat. I've spent years working on how to take the emerging science, practiced by highly qualified and experienced functional medicine practitioners, and boiling it down until I found a program that was safe, effective, and easy-to-follow for most people.
I took all of this information and formed my "Fundamental Protocols" for recovering from Hashimoto's. I encourage you to pick up a copy of my book Hashimoto's Protocol for a comprehensive, yet clearly outlined, plan for getting your Hashimoto's into remission. This book was the culmination of many years of trial and research, and has helped so many people on their journey to feeling better — it's a great place to start your Hashimoto's journey!
I wish you the best of luck on your own healing journey!
PS. You can also download a free Thyroid Diet Guide, 10 Thyroid friendly recipes, and the Nutrient Depletions and Digestion chapter for free by signing up for our newsletter. You will also receive occasional updates about new research, resources, giveaways, and helpful information.
For future updates, make sure to follow us on Facebook!
Note: Originally published in April 2015, this article has been revised and updated for accuracy and thoroughness.