What is the Autoimmune Paleo (AIP) Diet and How Can It Help Improve Symptoms of Hashimoto's and Hypothyroidism?
There are numerous dietary protocols that can help a person with Hashimoto's feel better. In some cases, a dietary approach can produce a complete remission of the condition!
For me, as a clinician, the goal of the approach is to help your body reset, nourish itself, and reduce inflammation caused by reactive foods, as well as to help you reconnect to an intuitive way of eating, where (eventually) you will naturally select foods that make you feel better and avoid those that make you feel worse.
Dietary protocols are meant to be used as starting points, or templates, where you implement the basic plan and eventually change it up based on your needs. To keep it simple, I recommend sticking with the basic template for 30 days or so, and of course, make sure you reintroduce foods methodically, one by one so that you can isolate your body's reactions to individual foods.
The Origins of the Autoimmune Paleo (AIP) Diet
First, let's talk about the Paleo diet which is the diet from where AIP originates. Many people, even those not diagnosed with Hashimoto's, are aware of the benefits of the Paleo diet. It has helped countless people feel better from a wide range of symptoms: fatigue, brain fog, joint pain, gas, and bloating, to name a few. In a survey of my readers and clients, a resounding 81% reported that they felt better on a Paleo or grain free diet. In the case of Hashimoto's, the traditional Paleo diet has even helped many people lower—or completely eradicate—their thyroid antibodies.
For those of you who have tried Paleo but have not seen significant improvement, I want you to know there are additional steps you can take that will give you the power to take back your health!
The traditional Paleo diet is a classic elimination diet that focuses on omitting things people are commonly sensitive to in an effort to lower inflammation.
As you may know, the Paleo diet eliminates all grains and all processed foods. The focus is on replacing the things you take out of your diet with nutrient-dense foods such as organic or grass-fed meats, wild-caught fish, organic vegetables and fruits, nuts, seeds, eggs from pasture-raised hens and, depending on who you ask, dairy.
The Paleo diet is certainly a great start, but it is not always enough to address every case of Hashimoto's. Often, we need to peel back more layers of that onion! The good news is, with each new diet, supplement, or treatment that you try, you are finding out how your body responds to different external factors. Each case of Hashimoto's is unique and many of us have additional sensitivities that are deregulating our immune system. People with Hashimoto's often have sensitivities to a wide range of foods—particularly gluten, dairy, eggs, and soy—which are all omitted on the traditional Paleo diet.
Anecdotally, the Paleo diet is said to have been introduced in the 1970's with the book, The Stone Age Diet by Walter Voegtlin, but it has significantly gained in popularity over the past ten years. Since then, countless resources such as cookbooks, websites, and articles have been created that include recipes ready for you to use! I'm sure many of you have seen these resources at your local bookstore, your go-to health food store, and even at Costco! It's a very exciting time to be on a Paleo diet!
As for the Autoimmune Paleo diet, I don't know who invented it, but I have seen it work wonders for many people with Hashimoto's.
If the Traditional Paleo Diet Does Not Improve All My Symptoms, What's Next?
Now that you understand Paleo, I would like to put the spotlight on the AIP diet which helped many of my symptoms of Hashimoto's. The Autoimmune Paleo diet takes Paleo a step further…
Although the Paleo diet has helped some people with Hashimoto's recover completely, I have found that the AIP diet can be even more helpful, based on 75% of my readers and clients reporting significant symptom reduction—and almost 40% seeing a reduction in thyroid antibodies—with this dietary protocol!
On a personal level, this was one of the key protocols on my own healing journey and helped me get my condition into remission.
The Autoimmune Paleo diet has helped many people with Hashimoto's and autoimmune conditions get better but can be quite difficult to implement. As a pharmacist, I see this daily, people who know what they need to do to get better but just don't know how to get started.
When I work with someone who is overwhelmed by jumping straight to AIP, I recommend slowly transitioning. The 4 most helpful dietary templates I recommend are (in order of difficulty to implement):
the gluten free diet
the gluten free/dairy free/soy free approach (The Root Cause Intro Diet)
the Paleo diet
the Autoimmune Paleo diet
the Root Cause Rotation diet (more in the Hashimoto's Protocol)
If you've been eating the standard Western diet for most of your life, starting a dietary protocol like the AIP can be extremely intimidating! Though you may eventually end up "going AIP," it's okay to take baby steps and begin with gluten free, then move on to dairy free and soy free. I encourage you to remove one food group at a time if that makes you feel more at ease with the transition. Committing to a 100% gluten free diet is an important first step, and 88% of my readers with Hashimoto's have indicated that they felt better after going gluten free.
I know that some of you will dive right in! However, many of you will find the AIP diet difficult to adhere to early on in your personal journey. We all have different needs, motivations, and challenges, and I encourage you to honor your individuality and listen to your body!
The Autoimmune Paleo Diet consists of the following guidelines: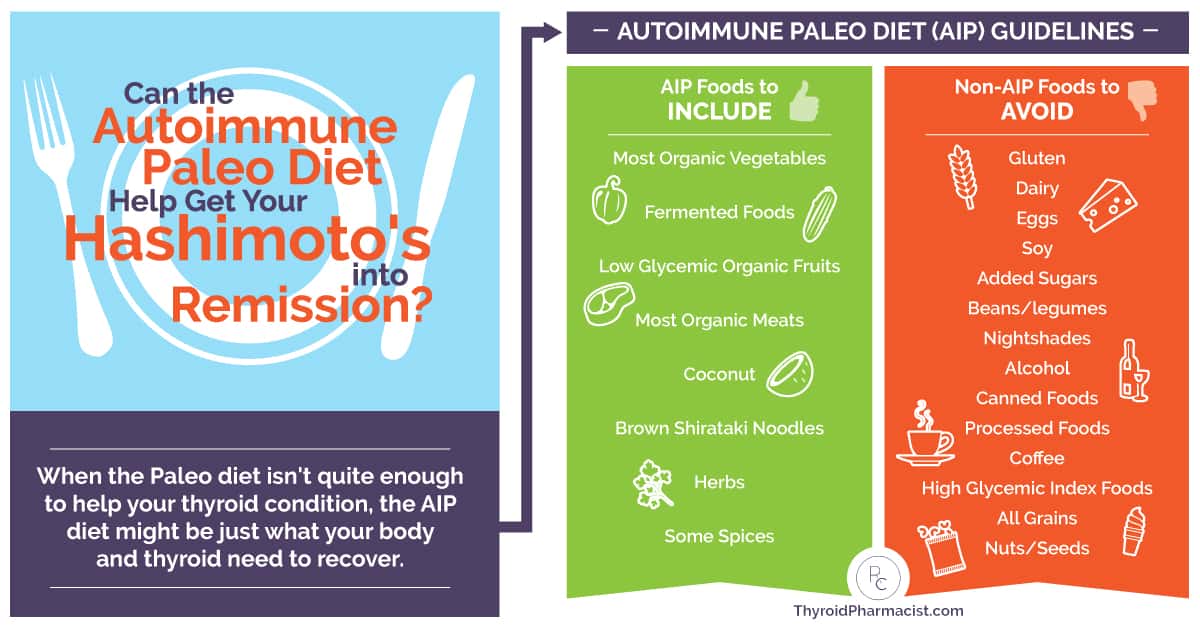 Foods to Be Avoided on the AIP Diet
Gluten
Grains (including buckwheat and rice)
Dairy
Eggs
Soy
Alcohol
Caffeine
Beans and legumes
Nightshades [tomatoes, potatoes (except for sweet potatoes), eggplant, peppers, goji berries, ashwagandha (herb that helps balance adrenals) paprika and other nightshade spices]
Seaweed and other sea vegetables*
Sugars (including honey, maple syrup, and agave)
Canned foods, processed foods, coffee
High glycemic index foods
All nuts and seeds (except coconut)
*I recommend avoiding sea vegetables because of high iodine content which may exacerbate autoimmune thyroid disease.
Foods to Be Included on the AIP Diet
Organic vegetables (except nightshades and legumes)
Fermented foods (sauerkraut, nightshade free kimchi, coconut kefir, kombucha, fermented vegetables, and jams)
Organic and grass-fed meats
Organic and grass-fed organ meats
Wild-caught fish
Fats & oils
Low-glycemic organic fruits
Coconut (including coconut milk and coconut oil)
Herbs and spices
Sweet potatoes
Recommended Best Practices
Limit fruits to 1-2 servings per day and make sure they are low on the glycemic index
Include 6-8 servings of vegetables per day
Make each meal Mediterranean inspired: 80% vegetables, 20% meat or fish
Focus on sauces, dips, and broths
Incorporate plenty of fats & oils, cooked at the appropriate temperature (coconut oil, duck fat, beef tallow, avocado oil, olive oil)
Don't eat on the run, and make sure to chew your food thoroughly
Learn to ferment your own vegetables
Drink plenty of filtered water
Don't forget to check supplement labels to make sure there are not any non-compliant ingredients. For your thyroid medication, read Is Your Medication Gluten Free?
What Are the Results and Benefits?
There is often a short transition/withdrawal period before you start feeling better on the AIP diet, especially if you are new to coming off gluten, dairy, and processed foods.
Research suggests that casomorphins (from the dairy protein casein) and gliadorphins (from gluten, the protein found in wheat) can bind our "feel good" endorphin receptors, much like the morphine found in addictive drugs.
This has led some people to say that these foods are as addictive as heroin and other drugs (which also bind our endorphin receptors)… While I think this is an exaggeration, I have seen people experience withdrawal-like symptoms including brain fog, irritability, cravings, fatigue,  and headaches, after quitting gluten, dairy, and sugar while adhering to the Autoimmune Paleo diet.
The good thing is, once off these inflammatory foods, a person will start to feel better.
You can expect to see results within 30-90 days of implementing the AIP diet, although it may take longer. If you do not see results in 30 days, eliminate mammalian meat and use fish as your main protein source. Then, you can start to systematically reintroduce certain foods one by one. This allows you to create a diet for the long term that is tailor-made for you! This process will allow you to be more in touch with what does—and doesn't—work for you. I felt incredibly empowered when my grocery shopping and prep work resulted in a lasting improvement in health—and I know you will too!
I have seen many of my clients find 100% relief from their symptoms by implementing the AIP diet into their lifestyle changes. The symptoms that many find relief of are joint pain, muscle aches, fatigue, bloating, diarrhea, brain fog, tinnitus, skin rashes as well as decreased food sensitivities. Even for those who do not recover completely, they will experience significant improvement. You have nothing to lose (except for symptoms!) and everything to gain by considering the AIP diet!

What If AIP Is Not Enough?
You may have to take it a step further and incorporate a rotation diet, a low-histamine diet, or low-oxalate diet, and you can find more information on these helpful protocols in my latest book Hashimoto's Protocol. These changes are not permanent, so do not be discouraged! The Autoimmune Paleo diet is meant to be short term; it solves the problem of leaky gut and is not just a band-aid. These variations in diet give you the power to improve how you feel and isolate your root cause(s).
Important Labs That Compliment AIP
After you are finished with the 90-day elimination period on the AIP diet, you may want to re-test your thyroid antibodies to monitor improvement.  You should see a trend in your antibody levels reducing (or going away).
If, after 90 days, you are still having gut issues, it may be a good time to test for parasites and other gut infections, as well as SIBO.
An Example Day's Worth of Meals
On a personal note, eliminating eggs was a tough step for me, and although I knew I was sensitive to them, I put off excluding them from my diet. This delayed my progress for many months, and I don't want that to happen to you! I'm sure many of you are thinking…what am I going to eat for breakfast? I know I asked this question! I used to eat eggs for breakfast almost daily, in omelets or scrambled eggs on weekdays, and every weekend my husband would cook a nice breakfast for us that included runny yolk eggs.
However, the transition to life without eggs did not feel limiting after all. I found it made me more creative in the kitchen! Here are some meal ideas—my husband's included!
Breakfast, Courtesy of My hubby!
Bacon
Steamed spinach with olive oil
Avocado
Fermented cabbage (from farmer)
Fermented cucumbers (my recipe)
Lunch
Butternut squash chili—last night's leftovers! (Remember, batch cooking is your friend!)
Fresh Swiss chard with lemon, sea salt, and olive oil
Dinner
Thirsty?
Mineral water with lemon and lime or, for the occasional treat, add a few berries!
Herbal teas are a great choice on an AIP diet
Need a Snack?
Sip on some homemade bone broth, enjoy a root cause green smoothie, a slice of avocado with a squeeze of lime and sea salt (yum!), or make some savory sweet potato chips!
If you are interested in these recipes, you can find those and more in my FREE eBook: Root Cause Autoimmune Paleo Diet 2-week Recipe Plan!
Remember, 75% of my clients saw a reduction in symptoms on the AIP diet, so it is definitely worth a try! I know that you can do it…and enjoy it too 🙂  Once you get going and see the progress you make, you will not want to turn back!
I'd love to hear from you…what type of benefits have you seen from the AIP diet?
Here are links to additional resources…
Books & Recipes
Food & Pantry Items
You May Also Be Interested in These Posts
Here Are Some Helpful Cooking Tools to Make AIP Life Easier
Note: Originally published in July 2013, this article has been revised and updated for accuracy and thoroughness.