One Thing People with Hashimoto's Can Do Right Away to Feel Better
People often ask me if there was one thing that people with Hashimoto's could do right away to feel better and that is balancing your blood sugar!! Balancing blood sugar levels should be one of the priorities for anyone who is hoping to overcome autoimmune thyroiditis and adrenal fatigue. Balancing my blood sugar made a big difference for me, helping with my anxiety levels and reducing my thyroid antibodies.
Before I balanced my blood sugar, I would get "hangry" (hungry +angry) multiple times per day as the high carbohydrate foods I was eating were making me have huge blood sugar swings. What I didn't know, is that these swings were also weakening my adrenals and causing a spike in my thyroid antibodies.
Blood sugar imbalances have been described as adding "fuel to the fire" in autoimmune thyroid disease by many practitioners who focus on reversing Hashimoto's.
I wasn't aware that I had blood sugar issues when I was first diagnosed (despite being a self-admitted sugar addict…). I was thin, so, therefore, I thought that it meant that I was healthy. I recently had this conversation with an overweight family member who thought he was in the clear to eat sugar because he did not have diabetes. But you see, diabetes takes many years to develop, and impaired carbohydrate tolerance, insulin resistance, blood sugar swings, and hypoglycemia may be seen for many years before.
Researchers in Poland have found that up to 50% of patients with Hashimoto's have an impaired tolerance to carbohydrates. This means that after consuming carbohydrate-rich foods, their blood sugar goes up too high, too quickly. This leads to a rapid, sometimes excessive release of insulin. These insulin surges can cause low blood sugar (reactive hypoglycemia), which can cause unpleasant symptoms such as nervousness, lightheadedness, anxiety, and fatigue.
Reactive hypoglycemia is a huge stressor for the adrenals!!
I am sure I was not the only person misled by the "low fat" labeling of foods and the prominent placement of carbohydrates as the base of the Food Pyramid. Fortunately, the new USDA MyPlate no longer encourages people to eat the equivalent of one loaf of bread on a daily basis. However, we still have a long way to go. During pharmacy school, we learned about nutrient requirements in our first-year Biochemistry course. I was shocked to learn that carbohydrates were not a required nutrient while fat was required for normal cell function! Based on my previous nutrition knowledge gathered from store displays, the USDA Food Pyramid and Subway commercials I was led to believe that carbohydrates were the most important and fats needed to be avoided.
This is evident by the number of people seen with diabetes, obesity, and chronic disease in the United States. Our fat-phobic society has been on a fat-free craze without the realization that excess fat does not turn into fat, it turns into a rather unpleasant case of diarrhea, while excess carbohydrates are stored as fat!
Every system is perfectly designed to get the results it gets. Thus, our current society is designed to produce an epidemic of people suffering from diabetes, obesity, and chronic diseases. Perhaps we need to redefine our recommendations to produce better results. What can you do in the meantime?
Learn About the Impact of Food on Your Blood Sugar
The glycemic index is a measure of how quickly food becomes assimilated into our bodies. You can also call it the "burn" rate—how quickly we burn the fuel we receive from these foods.
Carbohydrates have a very quick burn rate. They become assimilated very quickly into our bodies, which causes a rapid and high spike in blood sugar. After eating carbohydrates, we become hungry again after less than an hour.
Fat and protein have a slower burn rate. They become assimilated into our bodies more slowly and gradually and don't raise blood sugar levels as quickly. They also keep us full longer. Assuming enough calories eaten to feel full, a person will be hungry again two to three hours after eating protein and four hours after eating fat.
Eating a low glycemic index diet helps with feeling fuller longer, improves cholesterol and blood sugar levels, improves cognitive performance, improves energy, and reduces acne. It also reduces your risk of developing diabetes, heart disease, some cancers, and promotes weight loss for those who are overweight. Many people have also found their moods improve after balancing their blood sugar.
The following quick reference can make balancing your blood sugar much easier.
| Type of Food | Until You are Hungry Again |
| --- | --- |
| Protein | 2-3 Hours |
| Fat | 4 Hours |
| Carbohydrate | 45 min-1hour |
Balancing Blood Sugar Rules
Include fat/protein with every meal: eggs, nuts, seeds, fish, meat.
Eat every two to three hours at first. Snacks are great!
No sweets before bed.
Avoid fruit juice.
Limit caffeine.
Avoid all grains and dairy, soy, corn, and yeast.
Eat breakfast within one hour of waking.
Include snacks rich in protein/fat every two to three hours.
No fasting.
Cut out foods with a glycemic index above 55.
Never skip breakfast.
Always combine carbohydrates with fat or protein. Never exceed a 2:1 ratio of carb to protein.
You can save and print this image, and hang it on your fridge to refer to any time. 🙂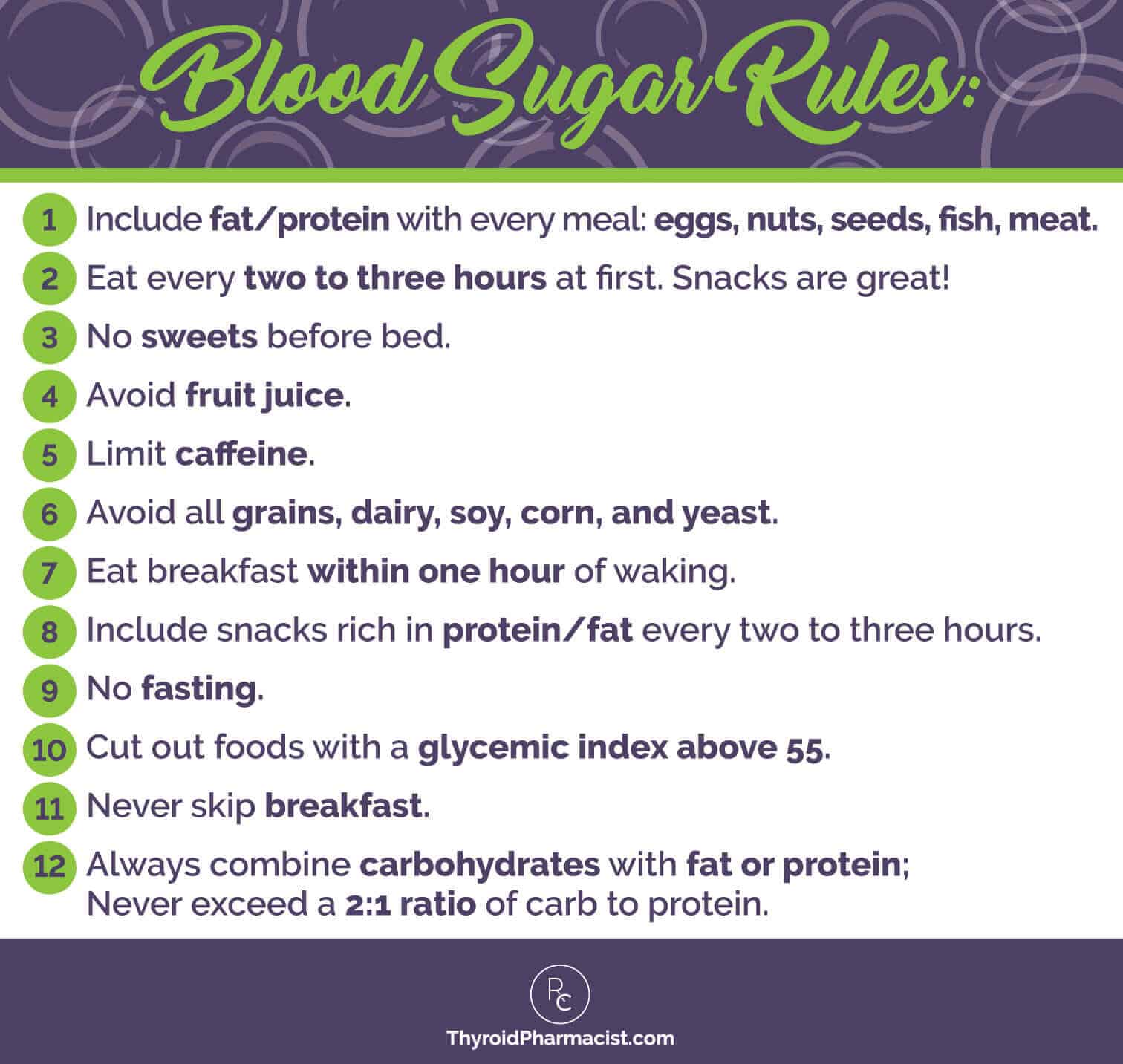 Some good snacks to consider may include: nuts, seeds, boiled eggs, homemade jerky, and protein shakes. Note: You may find that you are intolerant to some of these when you do the elimination diet, so do not invest in Costco-sized jugs just yet.
Rethink Your Breakfast
Typical SAD Breakfast – Bagel with cream cheese + orange juice + coffee with sugar
Happy Breakfast – Eggs and bacon + herbal tea with Stevia + avocado
Start journaling your symptoms and keep up as you begin to balance your blood sugar. You should notice that you will become calmer and will feel better within a week or so!
I hope this information helps you on your journey!
P.S. Be sure to sign up for my newsletter and get you free gifts 🙂