I often get asked if there is one thing that people with Hashimoto's should do right away to feel better. My answer is always, "There are two! Get off gluten and balance your blood sugar levels!"
Balancing blood sugar levels should be one of the top priorities for anyone who is hoping to overcome autoimmune thyroiditis (and adrenal fatigue). It was one of the first interventions I tried when working to heal my own thyroid condition, and it made a big difference for me.
I wasn't aware that I had blood sugar issues when I was first diagnosed (despite being a self-admitted sugar addict). I was thin — therefore, I assumed that I was healthy. However, I would get "hangry" (hungry + angry) multiple times per day, as the high carbohydrate foods I had consumed were causing me to experience huge blood sugar swings. What I didn't know was that these swings were also weakening my adrenals and causing a spike in my thyroid antibodies.
In this article, I'd like to dig a bit deeper into answering questions about blood sugar, including:
What are blood sugar imbalances?
How do blood sugar imbalances impact Hashimoto's?
How can you control blood sugar levels without medications?
What are some tips to naturally reduce blood sugar levels today?
What are Blood Sugar Imbalances?
Blood sugar, also called glucose, is the primary sugar that enters the body through the foods that we eat. As an energy source for the body, it provides nutrients to the organs, muscles, and nervous system.
Glucose enters the bloodstream through the small intestine after carbohydrates are consumed. The pancreas then produces insulin to help keep blood sugar levels in check, converting excess glucose to glycogen, and sending it to the liver for storage.
Blood sugar imbalances occur when our blood sugar swings out of a normal, steady range, usually from consuming high carbohydrate foods that spike blood sugar levels before they drop quickly, like a rollercoaster.
When we consume large amounts of sugar — often in the form of high carbohydrate foods such as desserts, grains, and starchy vegetables — the pancreas has to release larger amounts of insulin to bring the levels of sugar in the blood back down. These surges in insulin can cause blood sugar levels to drop too low, which then causes cravings for more carbohydrate-rich foods. This starts the cycle all over again as blood sugar levels swing high and low, creating stress in the body.
Common symptoms of blood sugar levels that are out of balance include hormonal issues, fatigue, depression, anxiety, insomnia, poor brain function, and chronic pain.
Unfortunately, these symptoms are all too common in our society, where carbohydrates have received prominent placement at the base of the Food Pyramid for decades. Fortunately, the new USDA MyPlate no longer encourages people to eat the equivalent of one bread loaf worth of carbohydrates on a daily basis. However, there is still a major emphasis on the importance of carbohydrates, despite the fact that they are actually the one macronutrient that is not required for survival!
How Do Blood Sugar Imbalances Affect Hashimoto's?
Research has shown that up to 50 percent of those with Hashimoto's have a carbohydrate intolerance. This means that when a high-carbohydrate meal is consumed, our blood sugar levels are more likely to spike quickly, leading to low blood sugar levels (reactive hypoglycemia), as well as feelings of nervousness, lightheadedness, anxiety, and fatigue.
Blood sugar imbalances have been described as adding "fuel to the fire" in autoimmune thyroid disease, by many practitioners who focus on reversing Hashimoto's.
Blood sugar levels and the thyroid are intimately connected. In fact, one study that reviewed the current literature on the relationship between thyroid dysfunction and metabolic disorders, highlighted the fact that patients with diabetes were up to three times more likely to develop a thyroid disorder.
This correlation is due in large part to the fact that increased stress to the body will cause damage to the thyroid. When blood sugar levels are constantly fluctuating, the body experiences it as chronic stress. When the adrenals (the glands that are responsible for releasing stress hormones) become stressed, they release an excess of the hormone cortisol, which can also lead to an increased production of inflammatory proteins that are associated with a heightened immune response. This pattern eventually leads to an altered release of cortisol, which can, in turn, lead to numerous symptoms, including chronic fatigue, mood swings, and increased thyroid antibodies. (Weakened adrenals can also weaken the thyroid!)
Stabilizing blood sugar is an important part of protecting your adrenals from excess stress and healing from hypothyroidism. Improvements in mood, energy, brain function, and weight are positive side effects of proper blood sugar balance.
How Do You Know if Your Blood Sugar is Out of Balance?
If you've been diagnosed with diabetes, or prediabetes, you'll likely know that your blood sugar is out of balance. If you have Hashimoto's, blood sugar abnormalities are extremely common, and many people with Hashimoto's will present with hypoglycemia (low blood sugar) in the early stages. This is an early risk factor for developing diabetes. It also exacerbates Hashimoto's and other autoimmune conditions.
In my own case, my blood sugar was around 50 mg/dL (very low), right before I got diagnosed with Hashimoto's. I often used to feel lightheaded, faint, and anxious, without knowing why.
Symptoms of low blood sugar levels include:
Craving sugary foods
Irritability and lightheadedness if meals are missed
Dependency on caffeine
Needing food to relieve fatigue
Shaky, jittery, or tremulous feelings
Nervousness or agitation
Forgetfulness
Blurred vision
Mental fog
Cold extremities
Symptoms of elevated blood sugar levels include:
Fatigue, after meals and in general
Persistent hunger
Cravings for sugary foods that are not eliminated after eating them
Needing desserts after meals
Waist girth equal to or larger than hip girth
Frequent urination
Increased appetite and thirst
Difficulty losing weight
Testing for Reactive Hypoglycemia
If you tend to have dramatic blood sugar swings simply after eating, you may be experiencing reactive hypoglycemia. Reactive hypoglycemia is an abnormal reaction of excess insulin secretion in response to eating. High carbohydrate-containing meals have been typically implicated, but some individuals may have a hypoglycemic response to low carbohydrate foods as well. Drops in blood sugar usually occur one to three hours after eating.
You can easily test yourself for reactive hypoglycemia with the use of an over-the-counter blood glucose monitoring kit, which uses a small finger-prick to collect a sample of your blood. Follow these instructions to test your reactions:
After at least 10 hours of fasting (such as first thing in the morning), test your blood sugar before eating your first meal of the day.
Eat a meal with your typical carbohydrate serving.
Record the meal in a journal.
Repeat testing every 30 minutes, for a total of four hours.
Repeat as necessary to test other foods.
A surprising thing I've learned over the years, is that different foods may produce different reactions. I suspect this is largely connected to our unique mix of genetics, health conditions, digestive enzymes, and nutrients that determine how we "process" each unique food molecule.
If blood sugar levels drop below 70 mg/dL at any time during this four hour period, this could be an indication that you are experiencing reactive hypoglycemia. If so, consult with your doctor to discuss treatment options.
Factors That May Affect Blood Sugar Imbalance
You will be at a higher risk for blood sugar imbalances if you have certain co-existing conditions, such as:
Metabolic Syndrome – Metabolic syndrome is a group of certain issues which increase one's risk of cardiovascular disease, stroke and type 2 diabetes. Metabolic syndrome can be diagnosed when three or more factors are present:

Low HDL levels
Abdominal obesity (with fat gain in the midsection)
Insulin resistance (high fasting glucose)
High blood pressure
High triglycerides
Additionally, although not required for diagnosis, a proinflammatory state is often observed with metabolic syndrome. This is due to the increased adipose tissue (from increased fat in the midsection) — adipose tissues release a baseline amount of inflammatory substances. Thus, the more adipose tissue there is, the more inflammation is present.
Note: If a person has just one of the diagnoses from the list above, it does not mean that they have Metabolic Syndrome. However, it does increase their risk of being diagnosed with Metabolic Syndrome. 
Type 2 Diabetes – Diabetes occurs when the body does not produce or respond to insulin — the hormone that regulates blood sugar. In type 2 diabetes, cells within the body have a reduced response to insulin. Blood sugar (blood glucose) is the body's primary fuel source and enters the bloodstream through the small intestine, after carbohydrates are consumed. Without the proper dose of insulin, the body's blood glucose levels remain elevated and, over time, create a cascade of symptoms in the body, such as heart attack, stroke, and kidney damage, that can become life-threatening.
PCOS (in females) – Polycystic Ovarian Syndrome, or PCOS, is often diagnosed by two of the three following criteria: hyperandrogenism (excess androgen hormones), ovulatory dysfunction, and cystic ovaries. Often it is a diagnosis of exclusion, which means other related conditions have to be ruled out before giving a diagnosis of PCOS. PCOS causes symptoms such as:

Irregular menstrual cycles
Insulin resistance
Hirsutism (hair in certain places, such as on the face)
Acne
Male pattern baldness (in women)
Anovulation
Control Blood Sugar Levels Naturally
Most people with Hashimoto's and blood sugar imbalances will be able to stabilize their blood sugar with simple diet and lifestyle changes, and won't have to use medications, as can be the case when blood sugar issues progress to insulin resistance and diabetes.
Lifestyle Changes to Balance Blood Sugar Levels
1. Exercise. Regular exercise has been shown to help the body's cells become more sensitive to insulin, which can help us avoid insulin resistance and reduce thyroid symptoms. Glucose is the primary fuel source for your muscles, and when you engage in moderate exercise, such as walking, your muscles pull more glucose from your blood. Additionally, your cells become more responsive to insulin by increasing receptors, allowing more glucose to enter the cells rather than staying within the blood. Over time, these changes can lower your blood sugar levels.
It's important to not go too overboard with exercise, however, as strenuous exercise can cause the body to produce more cortisol — which, in turn, raises blood sugar levels. Walking, swimming, and yoga are all great ways to add more exercise into your day without adding more stress to your body.
2. Hydration. Drinking enough water may help keep blood sugar levels balanced, by helping your kidneys flush out excess blood sugar through your urine. One study that looked at a group of adults with starting blood sugars within normal ranges found that, as water intake increased, the risk of developing hyperglycemia (high blood sugar levels) decreased. Keep in mind that water and other non-caloric beverages are best, while sugar-sweetened drinks raise blood glucose levels. Adding in some electrolytes, such as Rootcology Electrolyte Blend, can also help ensure your body is well hydrated.
3. Sleep. Getting enough quality sleep is important for blood sugar balance and insulin sensitivity. A lack of sleep affects metabolic hormones, including growth hormone, and raises cortisol levels. These hormonal imbalances can disrupt insulin levels, while also increasing appetite and cravings for carbohydrate-laden foods that will further increase blood sugar swings.
Balancing Blood Sugar Levels with Diet
Focusing on the impact of food on our blood sugar is the most effective way to balance our blood sugar levels, and this is best accomplished by paying close attention to the glycemic index of foods.
The glycemic index is a measure of how quickly food becomes assimilated into our bodies. It can also be referred to as the "burn" rate — how quickly we burn the fuel we receive from these foods. Focusing on low glycemic index (GI) and low glycemic-loaded (GL) foods, which burn slower, can really help with balancing blood sugars.
Foods with a glycemic index of less than 55 are considered to have a low glycemic index. These include most non-starchy vegetables, meats, nuts, seeds, and some whole grains. Fruits with less fructose ("sour" fruits such as grapefruit, lemons, limes, and cranberries) also have a low glycemic index.
Foods with a glycemic index above 55 are considered high glycemic index foods and include processed grains, sugar, starchy vegetables like potatoes, and sweet fruits like watermelon.
The glycemic index of foods can be referenced at glycemicindex.com.
The graphic below gives you an idea of how high and low GI foods affect blood sugar over a two-hour period. As you can see, high GI foods spike blood sugar levels high, which crash dramatically after 30 minutes have passed. Low GI foods, however, produce a smaller spike that declines relatively slowly.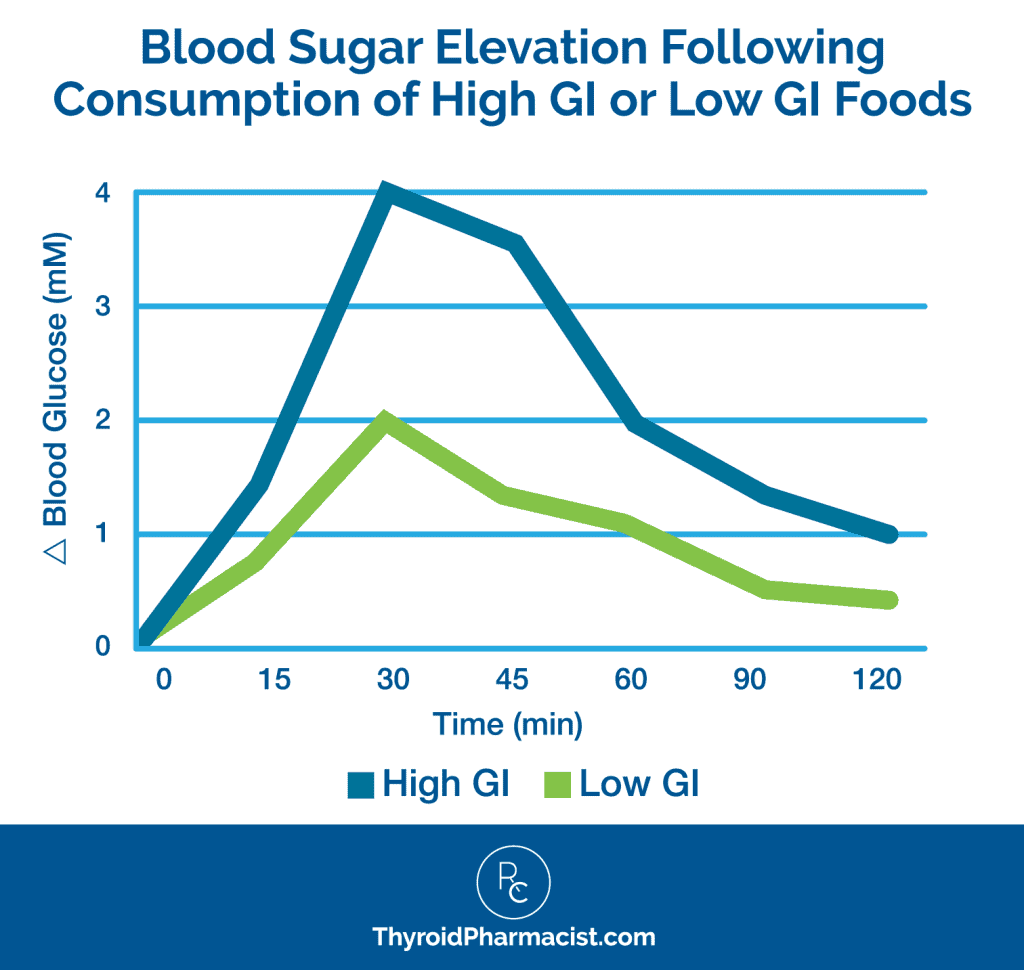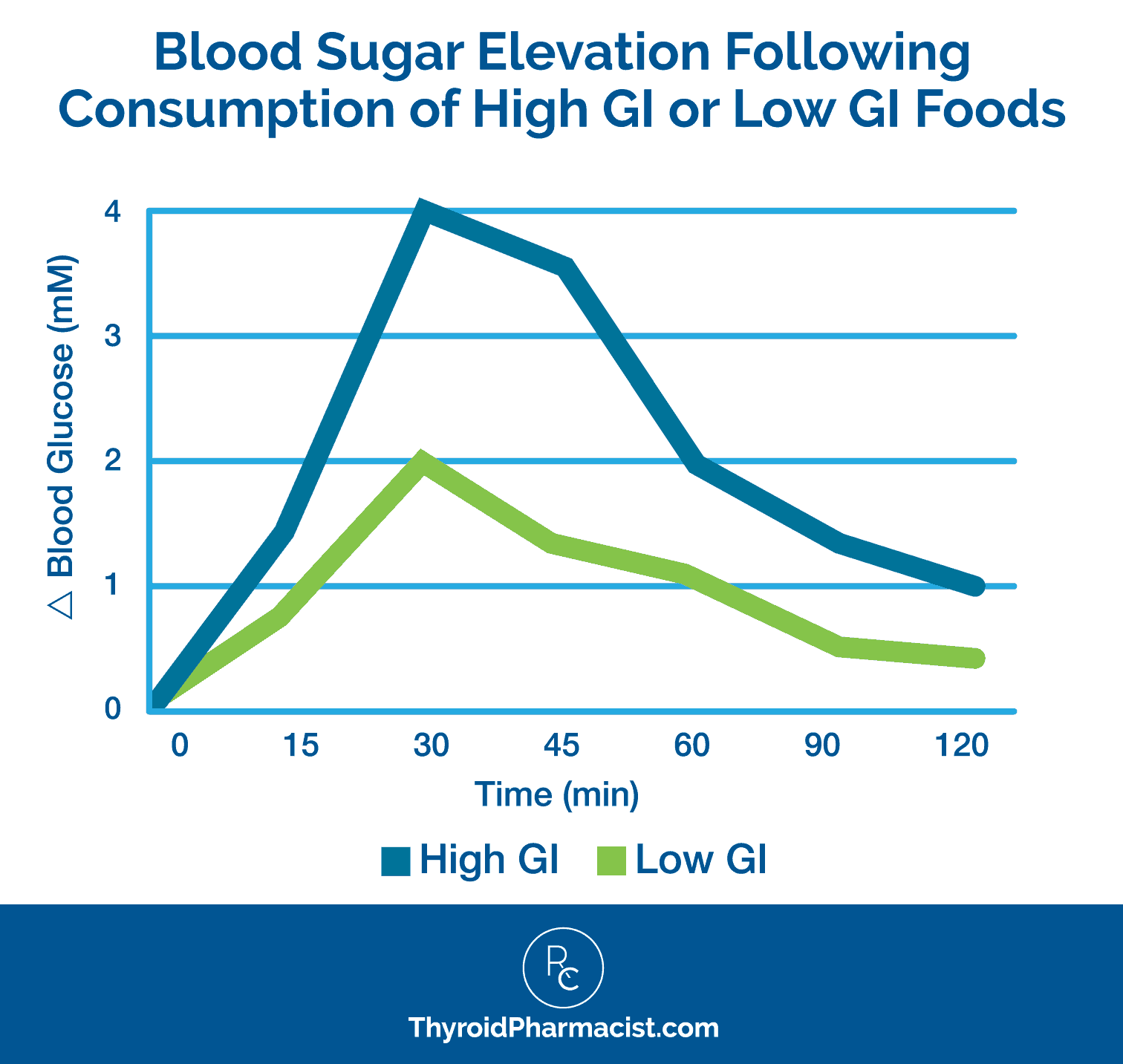 Carbohydrates have a very fast burn rate and can spike blood sugar levels dramatically. Since they can quickly become assimilated into our bodies, we may feel hungry again less than an hour after eating them.
Instead of loading up on carbs, I recommend increasing your intake of (healthy) fats and proteins, as they have a slower burn rate and become assimilated into our bodies in a slower and more gradual manner. A person will be hungry again two to three hours after eating protein, and four hours after eating fat.
The following quick reference can be printed out to make balancing your blood sugar much easier: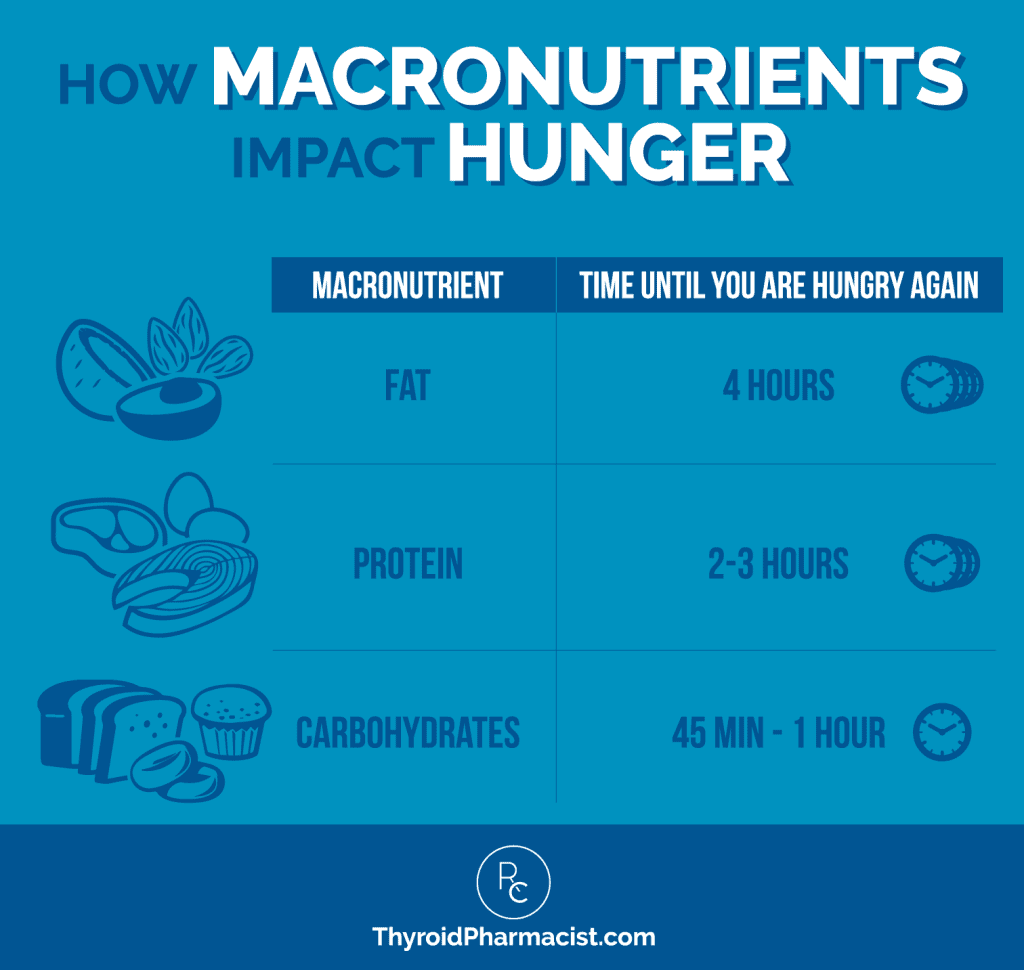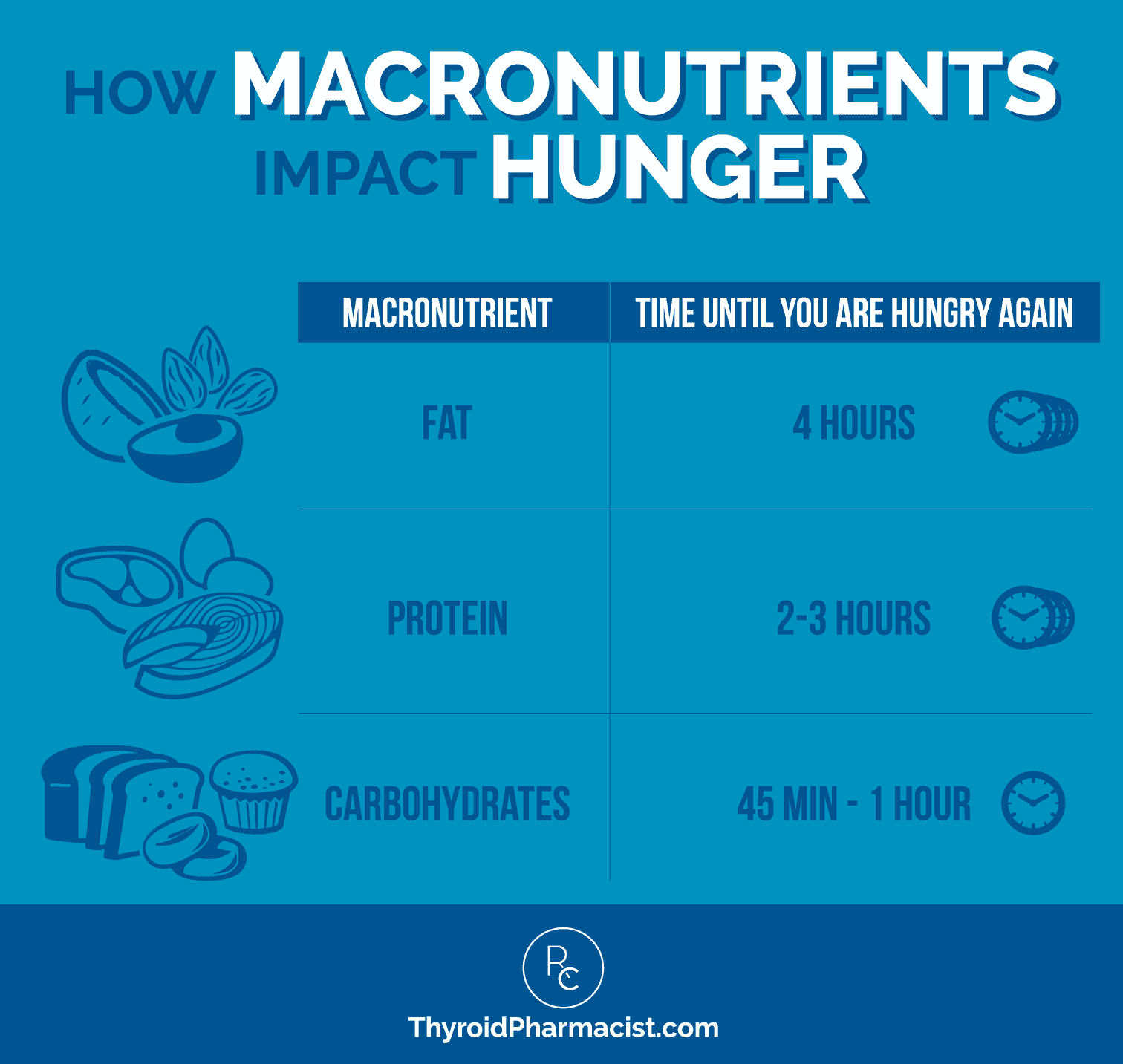 Another important thing to note is that combining carbohydrates with protein can slow down the glycemic impact of the carbohydrates you consume. If you do consume some carbohydrates, I recommend a ratio of no larger than two servings of carbohydrates to one serving of protein. (For example, if you are having 4 ounces of steak, you should have a maximum of 8 ounces of potatoes.)
Eating a low glycemic index diet that is low in carbohydrates helps with feeling fuller longer, improves cholesterol and blood sugar levels, improves cognitive performance, improves energy, and reduces acne. It also reduces the risk of developing diabetes, heart disease, and some cancers, while promoting weight loss for those who are overweight. Of the people with Hashimoto's who took my 2015 survey, 61 percent reported an improved mood, 71 percent had better energy, and 53 percent experienced weight loss on a low GI diet!
Tips For Balancing Blood Sugar with Diet
Are you ready to begin addressing your blood sugar levels? There are a few important dietary rules to keep in mind that will help keep them balanced throughout the day:
Include fat and protein with every meal — good sources include eggs, nuts, seeds, fish, and meat. Protein powders are another great way to get protein in your diet! You can read about the safest protein powders for Hashimoto's here.
It is important to eat every two to three hours. Small, low-carb snacks between meals and before bed can help stabilize blood sugar levels and manage Hashimoto's symptoms. (Snacks rich in protein and fat are great. Green smoothies made with Organic Pea Protein Powder or Hydrolyzed Beef Protein from Rootcology are my favorite!)
Do not eat sweets less than three hours before bed to avoid blood sugar swings that can elevate stress hormones and prevent sleep.
Avoid fruit juice on its own, as most fruit juices are loaded with quick-burning sugar.
Limit your intake of caffeine, as caffeine stimulates the adrenals to get stress hormones to bring blood sugar back up, which in turn creates the cycle of imbalance. You can read more about caffeine and Hashimoto's here.
Limit grains and avoid all gluten, dairy, soy, corn, and yeast, as these foods are generally high in carbohydrates and can be food sensitivities for many people with Hashimoto's.
Never skip breakfast. Eat breakfast within one hour of waking (but not within 30 minutes of taking thyroid medications if you take them in the morning).
Always combine carbohydrates with fat and/or protein. Never exceed a 2:1 ratio of protein to carbs. In other words, aim for more protein and less carbs.
Additionally, there are a few herbs, spices, minerals, vitamins, and other supplements that can be used in conjunction with a proper diet, to help stabilize blood sugar levels.
Cinnamon: Studies have shown that cinnamon can lower blood sugar levels by up to 29 percent. Furthermore, cinnamon can be helpful for both type 1 and 2 diabetes. It slows the rate of carbohydrate breakdown in the digestive tract and moderates rises in blood sugar levels. I also recommend pumpkin pie spice (a blend of ground cinnamon, nutmeg, ginger, cloves, and allspice) as a tasty ingredient to stabilize blood sugar. You can add it to your smoothies, gluten-free baked goods, and even hot beverages!
Bitter Melon: Grown in Asia, India, Africa and the Caribbean, this vegetable is generally used in curry dishes. All parts of the vegetable can be used (fruit for consumption and leaves for tea), and have been shown to possibly increase the release of insulin from the pancreas. It has also been found to oxidize glucose in red blood cells and adipose (fat) cells. This, in turn, helps those with type 2 diabetes to better manage their sugars by decreasing blood glucose levels, creates better tolerance for glucose, and may also decrease HbA1c (average blood sugar) levels. For the most part, bitter melon is generally tolerated; however, gastrointestinal upset may occur. There have been two cases (dating back to 2013) where two children experienced adverse effects from bitter melon tea, so please speak with a practitioner prior to having children consume it.
Magnesium: Nutrient deficiencies have been shown to contribute to blood sugar imbalances, and magnesium deficiency has been linked to a higher risk of developing diabetes. One study suggested that those with the highest levels of magnesium intake had a 47 percent lower risk of becoming diabetic. Thus, supplementing with magnesium may help stabilize blood sugar levels.
Chromium: The mineral chromium is involved in carb and fat metabolism, and also helps control blood sugar levels. A lack of chromium may make one more intolerant to carbohydrates, so it's important to boost one's intake of foods high in chromium. Such foods include egg yolks, coffee, nuts, green beans, broccoli, and meat. Additionally, I recommend supplementing with ChromeMate GTF.
Thiamine: Thiamine is one of the B vitamins, known as B1. Its main responsibility is to change carbohydrates into energy, and it also helps with the digestion of proteins and fats. Food sources of thiamine include fortified grains, beef liver and pork, dried milk, eggs, legumes and peas, nuts, and seeds. Most of these foods are restricted on the Paleo and Autoimmune Paleo diets, and many people with Hashimoto's find themselves deficient and less able to break down carbohydrates for absorption. For this reason, I recommend BenfoMax by Pure Encapsulations.
Probiotics: New research has highlighted the importance of gut health for blood sugar balance, and some gut bacteria have been found to be more closely linked with diabetes. Nurturing the gut and taking a high quality probiotic may help stabilize blood sugar levels.
Glutamine: Used to treat diabetes and curb carbohydrate cravings, this essential amino acid helps suppress insulin levels and stabilize blood glucose. There is a known link between Hashimoto's and type 2 diabetes, with up to 30 percent of those with Hashimoto's developing the condition. Interestingly, research has shown glutamine to be effective in restoring insulin response in diabetics, so glutamine supplementation may be helpful in addressing blood sugar issues in those with Hashimoto's as well. You can find glutamine in the form of L-glutamine in bone broth, as well as in supplements like L-Glutamine Powder by Pure Encapsulations.
Myo-inositol: Researchers have found that this important form of inositol (a type of natural sugar alcohol), which is made in our bodies, can reduce insulin resistance often associated with polycystic ovary syndrome (PCOS). (Interestingly, PCOS often co-occurs with hypothyroidism — perhaps due to both conditions sharing blood sugar imbalances and deficiencies in myo-inositol as root causes.) A 2013 study showed supplementation with myo-inositol and D-chiro-inositol led to a significant improvement in insulin sensitivity in those with PCOS. A follow up study in 2014 showed that the myo-inositol isoform specifically improves the metabolic profile of individuals with PCOS. Additionally, research has illustrated that myo-inositol can be helpful for gestational diabetes. You can read more in my article about myo-inositol supplementation for blood sugar balancing, as well as its multiple benefits for Hashimoto's.
Carnitine: Carnitine is an amino acid that is naturally produced in the body. It helps transport fatty acids into the mitochondria, where they can be burned up and used as fuel. Studies in both humans and animals have shown that carnitine supplementation resulted in an improvement of glucose tolerance, in particular during insulin-resistant states. I recommend Rootcology's Carnitine Blend, which also contains the acetyl-L-carnitine form, for its unique properties in supporting brain function and reducing mental fatigue.
Black Cumin Seed (Nigella Sativa): This spice (which can be used as a seasoning for food) has been used for medicinal purposes for thousands of years. Studies have shown that black cumin seeds may lower blood sugar levels by stimulating the release of insulin from the pancreas and raising glucose absorption by muscular tissue. Diabetes patients in one recent study lowered their fasting glucose levels after consuming 2 grams of black cumin seed every day, for four to six weeks. It can be taken in powder (seed) or liquid form and added to a smoothie, or as a supplement in pill form.
Berberine: This is a compound that is extracted from several different plants and has many health benefits, including lowering blood sugar levels. Its effectiveness has been compared to the most common diabetes drug because it is able to make insulin more effective, help the body break down sugars inside cells, decrease sugar production in the liver, and slow the breakdown of carbohydrates in the gut. Studies have shown that 1 gram of berberine per day, lowered fasting blood sugar by 20 percent in diabetic patients.
Aloe: Several studies have shown that aloe vera gel, taken orally twice per day, can decrease fasting glucose levels in those with type 2 diabetes. A high-grade aloe supplement, like Rootcology Aloe, taken once per day, at 500 mg, will ensure that you are getting adequate amounts of the beneficial properties of aloe. (Please note: supplements that contain the outer leaf may cause issues such as diarrhea and electrolyte loss due to its laxative effect.) See my article on aloe for more information and supplement warnings.
Glutathione and Cysteine: Glutathione, an antioxidant composed of amino acids, protects B-cells (immune cells) in the body, which are particularly sensitive to oxidative stress. Type 2 diabetics typically have lowered antioxidants, and supplementing with the glutathione precursor cysteine helps restore antioxidant status.
Milk Thistle: Silymarin (one of the compounds in milk thistle) may work similarly to some diabetic medications, by helping to improve insulin sensitivity and decrease blood sugar. A recent analysis found that people routinely taking silymarin saw a significant reduction in their fasting blood sugar levels. The antioxidant and anti-inflammatory properties of milk thistle may also be useful for reducing the risk of developing diabetic complications, such as kidney disease.
Vitamin C: A recent study found that taking 500 mg of vitamin C twice daily, can help those with type 2 diabetes, by lowering elevated blood sugar levels throughout the day and reducing spikes in blood sugar after meals.
Vitamin D: Vitamin D deficiency is common in those with type 2 diabetes, and studies hypothesize that vitamin D is related to the action of insulin. A study conducted in 2012-2013 showed a decrease in HBA1c (average blood sugar) levels in those who took 4000 IU of vitamin D daily, compared to the group that took a placebo. That's why it's important to optimize your levels of this vital "sunshine vitamin", so that your vitamin D levels fall within the optimal range of 60 to 80 ng/mL.
Zinc: Zinc is crucial to the process of synthesizing, storing, and secreting insulin. It helps to protect the B-cells in the pancreas from damage, and has even been studied for its ability to affect the expression of genes that are linked to diabetes.
Blood Sugar-Friendly Foods
There is a wide variety of nourishing foods to choose from that will help keep your blood sugar levels in balance, but I recommend staying away from processed carbohydrates.
Natural carbohydrates, such as sweet potatoes and berries, can be eaten in moderation. For best results, you may want to limit your servings of carbohydrates to one or two a day if you're still in the early stages of your Hashimoto's journey and experiencing blood sugar swings. For some of my clients, even too much fruit can throw them off!
As you heal, your tolerance for carbohydrates will improve, but your focus should still be on low-glycemic index foods.
It's a good idea to keep low carbohydrate snacks on hand to balance blood sugar and beat cravings. My favorite blood sugar-stabilizing sources of fats and proteins, which can be combined to make delicious snacks, are:
Avocados
Chia seeds
Chicken
Coconut milk
Coconut
Duck fat
Eggs and egg white proteins (if not sensitive)
Grass-fed beef
Lamb
Nuts (except peanuts)
Olives and olive oil
Pork
Salmon
Sardines
Seeds
Tallow
Turkey
Whitefish
(Please note that some people may be intolerant to some of these foods and may need to complete an elimination diet or food sensitivity testing to find the right foods for their situation.)
Here is an example of how to rethink your breakfast and begin the day with a low-carbohydrate meal, that will start your day with balanced blood sugar levels and sustained energy:
Happy Breakfast = eggs + bacon + avocado + herbal tea with stevia
This is a healthier alternative to the typical Standard American Diet (S.A.D.) breakfast that may include a bagel with cream cheese, orange juice, and coffee with sugar!
In the same way, lunch and dinner can be made into blood sugar-balancing meals by swapping out high-carbohydrate foods for healthy fats and proteins, and small amounts of low GI carbohydrates. You can find more ideas on how to structure your meals in my Tasty Recipes article, or in my cookbook, Hashimoto's Food Pharmacology: Nutrition Protocols and Healing Recipes to Take Charge of Your Thyroid Health.
For more information about low-carbohydrate foods that will help balance blood sugar levels and heal your thyroid, take a look at my Best Diet for Hashimoto's article.
You can also download my free Hacking Diet eBook below!
The Takeaway
As you begin to move away from a carbohydrate-heavy diet and incorporate more low glycemic index foods, including plenty of healthy fats and proteins, into your meals, I encourage you to start journaling your symptoms. With balanced blood sugar, you may start to experience a reduction in thyroid antibodies and an improvement in energy levels almost immediately!
You can print the graphic of my blood sugar balancing rules below and hang it on your fridge to refer to at any time.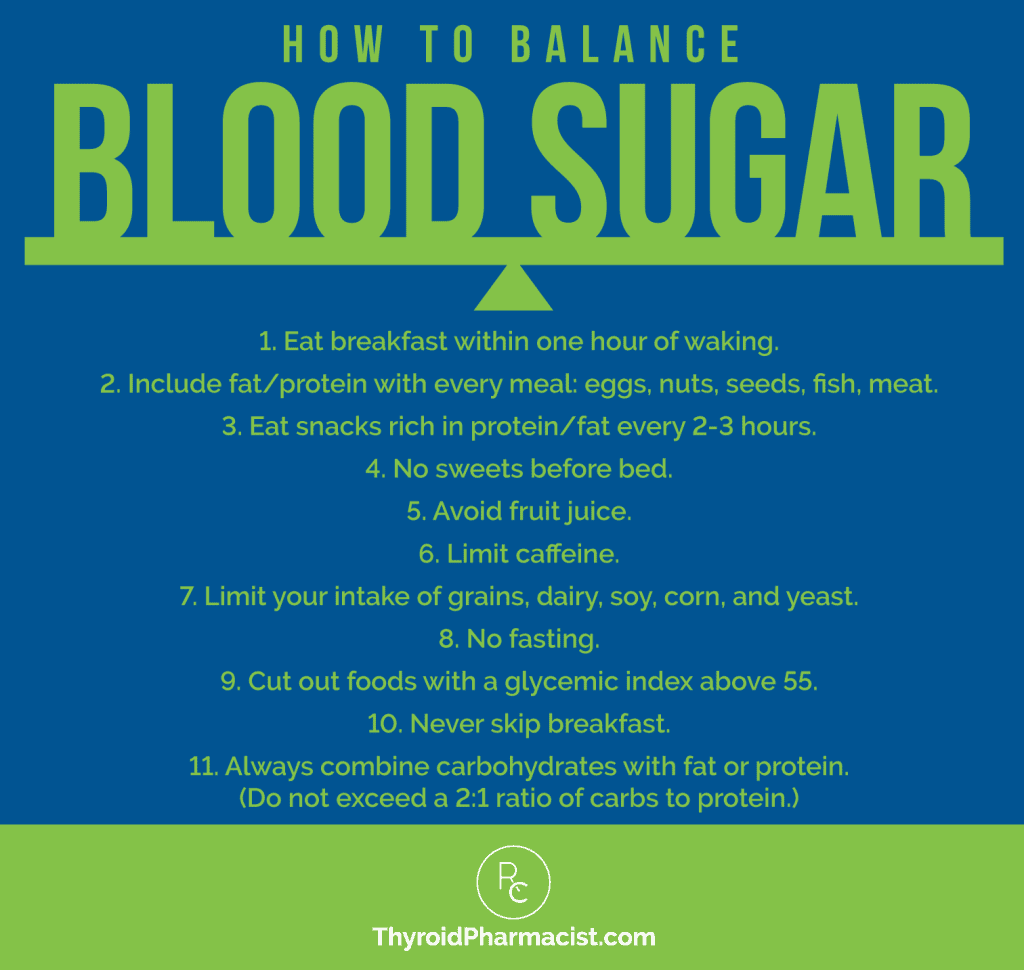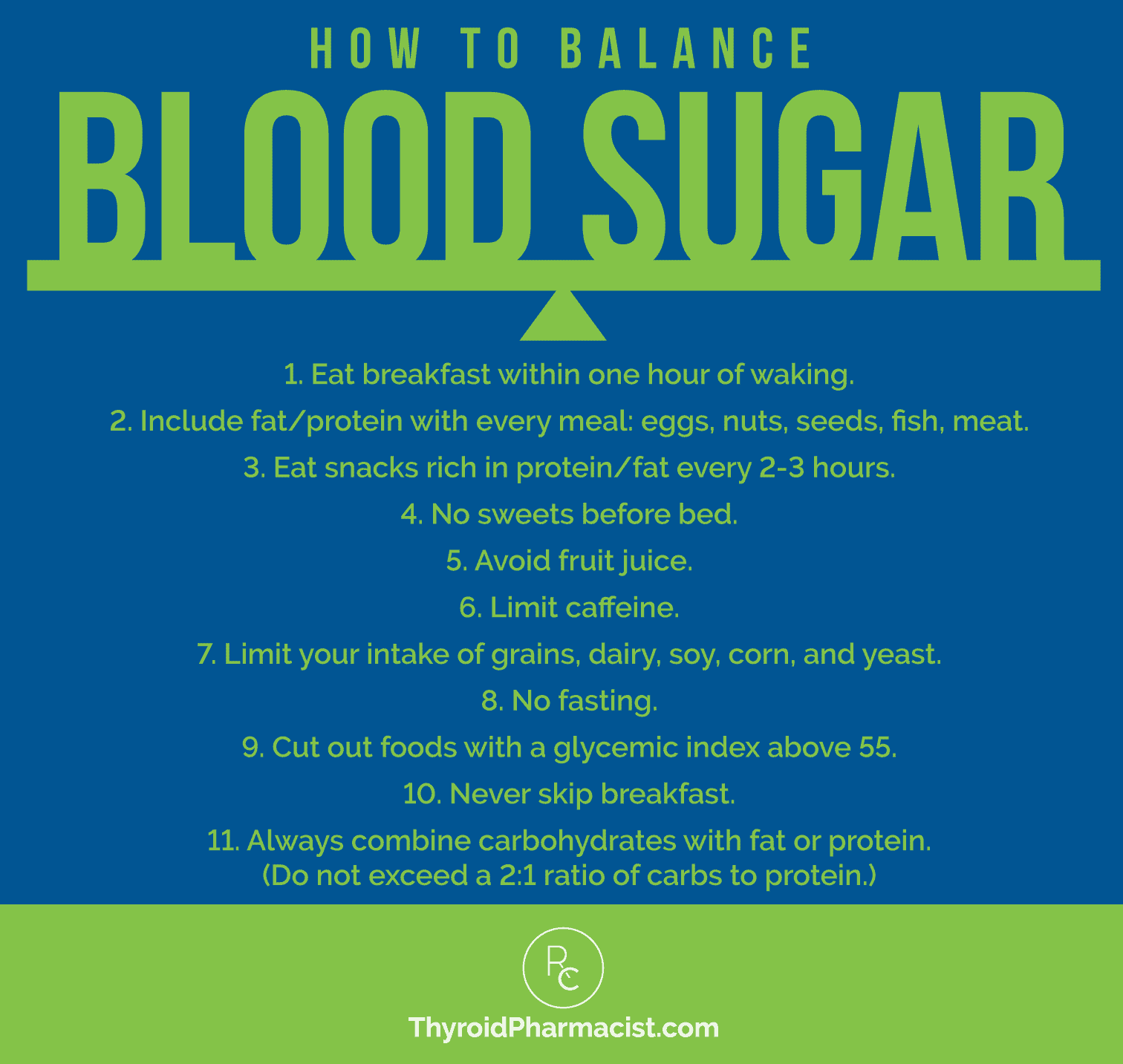 Increasing your intake of cinnamon, magnesium, chromium, thiamine, myo-inositol, probiotics, L-glutamine, berberine, carnitine, and black cumin seed may also be beneficial.
Here's another handy graphic that you can use to remind yourself of them: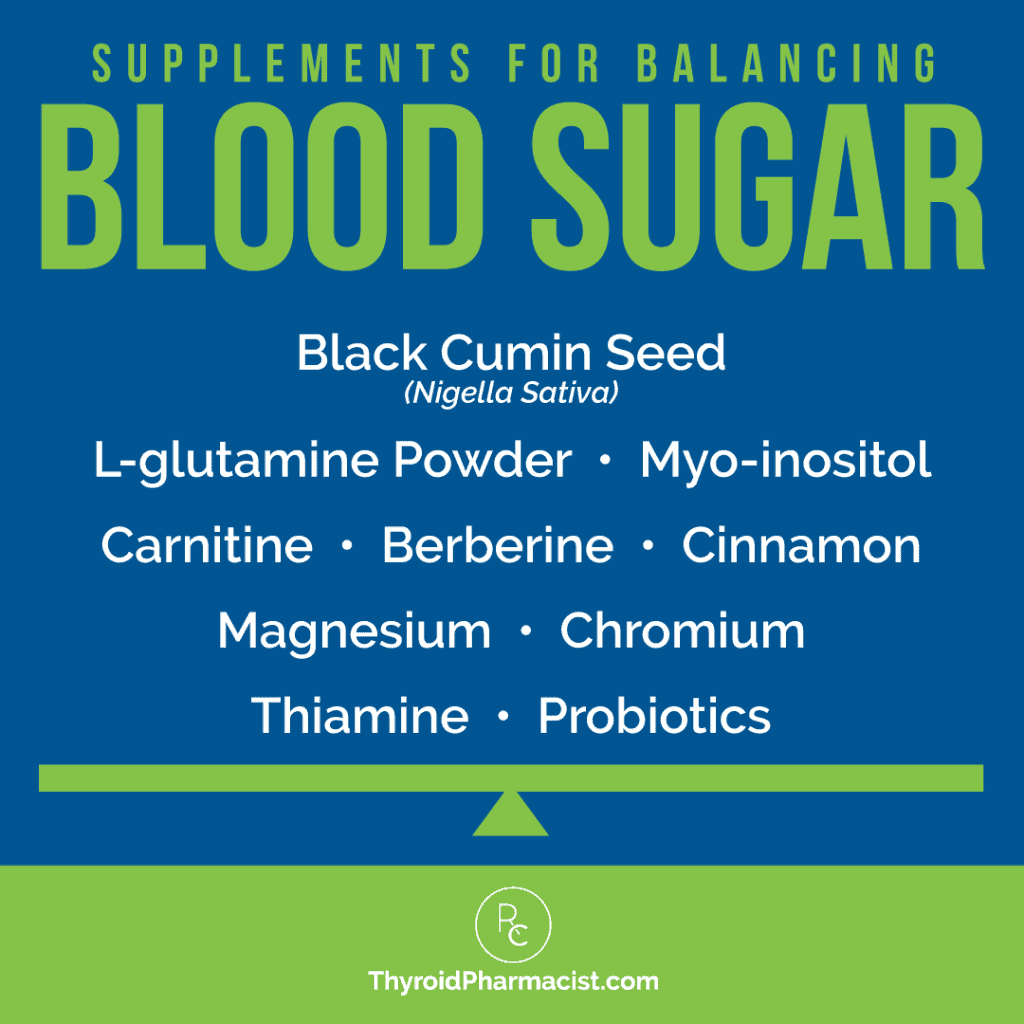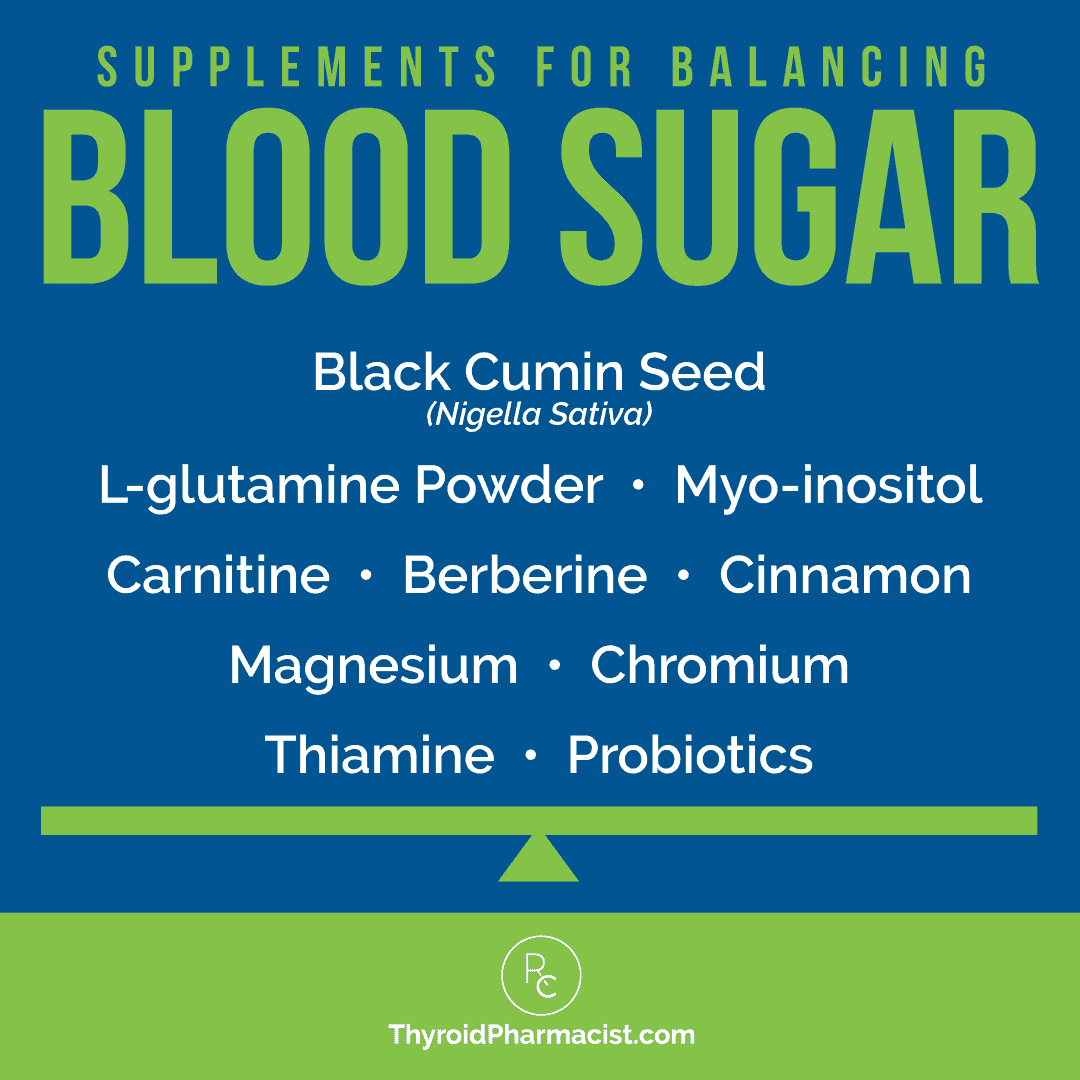 Remember, blood sugar can be a significant issue for those with Hashimoto's, but utilizing food as medicine is a simple and natural way to bring it into balance, reduce thyroid symptoms, and feel better.
I hope this information helps you on your journey!
P.S. You can download a free Thyroid Diet Guide, 10 thyroid-friendly recipes, and the Nutrient Depletions and Digestion chapter of my first book for free by signing up for my newsletter. You will also receive occasional updates about new research, resources, giveaways and helpful information.
For future updates, make sure to follow us on Facebook and Instagram too!
References
Isomaa B, Almgren P, Tuomi T, et al. Cardiovascular morbidity and mortality associated with the metabolic syndrome. Diabetes Care. 2001;24(4):683-689. doi:10.2337/diacare.24.4.683.
Williams T, Mortada R, Porter S. Diagnosis and Treatment of Polycystic Ovary Syndrome. Am Fam Physician. 2016 Jul 15;94(2):106-13. PMID: 27419327.
Russell WR, Baka A, Björck I, Delzenne N, Gao D, Griffiths HR, et al. Impact of Diet Composition on Blood Glucose Regulation. Crit Rev Food Sci Nutr. 2016;56(4):541-90. doi: 10.1080/10408398.2013.792772.
Kadiyala R, Peter R, Okosieme OE. Thyroid dysfunction in patients with diabetes: clinical implications and screening strategies. Int J Clin Pract. 2010 Jul;64(8):1130-9. doi: 10.1111/j.1742-1241.2010.02376.x.
Blood Sugar Major Player in Hashimoto's Hypothyroidism. Functional Health News Website. http://functionalhealthnews.com/2014/08/blood-sugar-chronic-health/. Accessed February 5, 2019.
Roussel R, Fezeu L, Bouby N, Balkau B, Lantieri O, Alhenc-Gelas F, et al. Low water intake and risk for new-onset hyperglycemia. Diabetes Care. 2011 Dec;34(12):2551-4. doi: 10.2337/dc11-0652. Epub 2011 Oct 12.
Kirkham S, Akilen R, Sharma S, Tsiami A. The potential of cinnamon to reduce blood glucose levels in patients with type 2 diabetes and insulin resistance. Diabetes Obes Metab. 2009 Dec;11(12):1100-13. doi: 10.1111/j.1463-1326.2009.01094.x.
Ranasinghe P, Jayawardana R, Galappaththy P, Constantine GR, de Vas Gunawardana N, Katulanda P. Efficacy and safety of 'true' cinnamon (Cinnamomum zeylanicum) as a pharmaceutical agent in diabetes: a systematic review and meta-analysis. Diabet Med. 2012;29(12):1480-1492. doi:10.1111/j.1464-5491.2012.03718.x
Guerrero-Romero F, Rodríguez-Morán M. Complementary therapies for diabetes: the case for chromium, magnesium, and antioxidants. Arch Med Res. 2005 May-Jun;36(3):250-7.
Gupta A, Gupta R, Lal B. Effect of Trigonella foenum-graecum (fenugreek) seeds on glycaemic control and insulin resistance in type 2 diabetes mellitus: a double blind placebo controlled study. J Assoc Physicians India. 2001 Nov;49:1057-61.
Baxter NT, Lesniak NA, Sinani H, Schloss PD, Koropatkin NM. The Glucoamylase Inhibitor Acarbose Has a Diet-Dependent and Reversible Effect on the Murine Gut Microbiome. mSphere. 10.1128/mSphere.00528-18.
Minozzi M, Nordio M, Pajalich R. The combined therapy myo-inositol plus D-Chiro-inositol, in a physiological ratio, reduces the cardiovascular risk by improving the lipid profile in PCOS patients. Eur Rev Med Pharmacol Sci. 2013 Feb;17(4):537-40.
Unfer V, Facchinetti F, Ora B, Giordani B, Nestler J. Myo-inositol effects in women with PCOS: a meta-analysis of randomized controlled trials. Endocrine Connections. 2017;6(8):647-658. doi:10.1530/EC-17-0243.
Pizzo A, Laganà AS, Barbaro L. Comparison between effects of myo-inositol and D-chiro-inositol on ovarian function and metabolic factors in women with PCOS. Gynecol Endocrinol. 2014;30(3):205-208. doi:10.3109/09513590.2013.860120
Matarrelli B, Vitacolonna E, D'Angelo M, et al. Effect of dietary myo-inositol supplementation in pregnancy on the incidence of maternal gestational diabetes mellitus and fetal outcomes: a randomized controlled trial. J Matern Fetal Neonatal Med. 2013;26(10):967-972. doi:10.3109/14767058.2013.766691
Mauras N, Xing D, Fox LA, Englert K, Darmaun D. Effects of glutamine on glycemic control during and after exercise in adolescents with type 1 diabetes: a pilot study. Diabetes Care. 2010;33(9):1951-3.
Samocha-Bonet D, Chisholm DJ, Holst JJ, Greenfield JR5. L-glutamine and whole protein restore first-phase insulin response and increase glucagon-like peptide-1 in type 2 diabetes patients. Nutrients. 2015 Mar 24;7(4):2101-8. doi: 10.3390/nu7042101.
Ringseis R, Keller J, Eder K. Role of carnitine in the regulation of glucose homeostasis and insulin sensitivity: evidence from in vivo and in vitro studies with carnitine supplementation and carnitine deficiency. Eur J Nutr. 2012 Feb;51(1):1-18. doi: 10.1007/s00394-011-0284-2.
Daryabeygi-Khotbehsara R, Golzarand M, Ghaffari MP, Djafarian K. Nigella sativa improves glucose homeostasis and serum lipids in type 2 diabetes: A systematic review and meta-analysis. Complement Ther Med. 2017 Dec;35:6-13. doi: 10.1016/j.ctim.2017.08.016.
Zhang Y, Li X, Zou D, Liu W, Yang J, Zhu N, et al. Treatment of type 2 diabetes and dyslipidemia with the natural plant alkaloid berberine. J Clin Endocrinol Metab. 2008 Jul;93(7):2559-65. doi: 10.1210/jc.2007-2404.
Note: Originally published in May 2015, this article has been revised and updated for accuracy and thoroughness.