A few years ago, I visited with family in Poland. At that time, one of my cousins was attending dental school in the European Union. She asked me, "Izabella, is it true that the U.S. government adds fluoride to their water supply, in an effort to reduce dental cavities, instead of educating the public about the effect of sugar consumption and nutrition on health?"
Unfortunately, the answer is yes, and while most countries in the European Union do not add fluoride to local water supplies, most communities in the United States continue to be fluoridated.
There can be a lot of confusion about what is safe and not safe when talking about fluoride levels and how fluoride affects our health. Have you found yourself asking any of these questions?
Is fluoride actually harmful?
Other than the water supply, where am I exposed to fluoride?
What effect does fluoride have on the thyroid?
How can I minimize my exposure to fluoride?
The encouraging news is that there is a lot that we can do to limit our exposure to excess fluoride, eliminate fluoride from our bodies, and educate ourselves about the effects of fluoride exposure in our water supply.
What is Fluoride?
Most people know that fluoride is commonly found in water and has been an important part of dental treatments for decades. As a pharmacist, I am always fascinated with the chemical makeup of different elements and how they might affect the human body – especially the thyroid gland. How can something found in nature be such a hot-button topic for those of us with Hashimoto's?
Let's start with the science…
Fluorine is an element in the periodic table that does not occur in the elemental state in nature, as it is highly reactive. In pure form, it is a highly toxic, yellowish-green gas. The fluorine anion (negatively charged ion), or any of the compounds containing the anion, are termed fluorides. The fluoride in drinking water comes from adding a fluorine compound (usually sodium fluoride, sodium fluorosilicate, or fluorosilicic acid) to drinking water, which dissociates to release the F- ion.
Fluorine is decomposed into fluorides of different forms, and is found in minerals in the earth's crust. It is one of the several halogens – which translates from Latin as "salt former" – in the periodic table. Other halogens you may be familiar with are iodine and chlorine, and those are controversial as well. (I have written extensively on iodine specifically in this article).
Fluoride is one of many trace minerals, and, like other trace minerals, is not meant to be introduced to the body in large amounts.
So, how did we get exposed to so much fluoride in the first place?
The History of Fluoride
Have you ever wondered why fluoride is in our water supply in the first place, or if fluoridated water is unique to North America and the United Kingdom?
Many of you may know that fluoride was added to the water supplies of most US cities, most Canadian cities, and some cities in the UK in the 1950's – as a public health measure meant to minimize tooth decay. What you may be surprised to hear, however, is that fluoride was used to treat hyperthyroidism up until the 1950's, prior to the development of other thyroid-suppressing medications!
A dose of 2-5 mg of fluoride per day was typically found to be effective for suppressing an overactive thyroid. If you live in the typical fluoridated community and you're being a "good girl" (or "good boy") by drinking your 8 cups of water each day, chances are, you are inadvertently taking in enough fluoride to suppress your thyroid. Most adults in these communities are ingesting between 1.6 and 6.6 mg of fluoride per day.
If this is the history of fluoride use until the 1950's, how did those of us in the U.S., Canada, and the United Kingdom end up with so much fluoride in our water supply? The truth is that fluoridation partially began as a collaborative effort between dental associations, the U.S. government, and sugar lobbyists who wanted to find a solution that would allow people to have fewer cavities – while continuing to consume just as much sugar. If you have read my article on dental triggers, you know that there are better ways to prevent and heal dental decay.
While most westernized countries (97 percent) have rightfully rejected fluoridation without any apparent consequences on tooth decay, the United States, Canada, and parts of the UK continue to fluoridate their water.
Beside Water, Where Else is Fluoride Found?
Some common sources of fluoride include the following:
Bottled beverages (due to fluoride content in water)
Toothpaste, mouthwash and other dental hygiene products
Black tea, red tea, and other teas
Canned food items
Black/red rock salt
Chewing tobacco
Supplements (always check the labels)
Medications (more details below)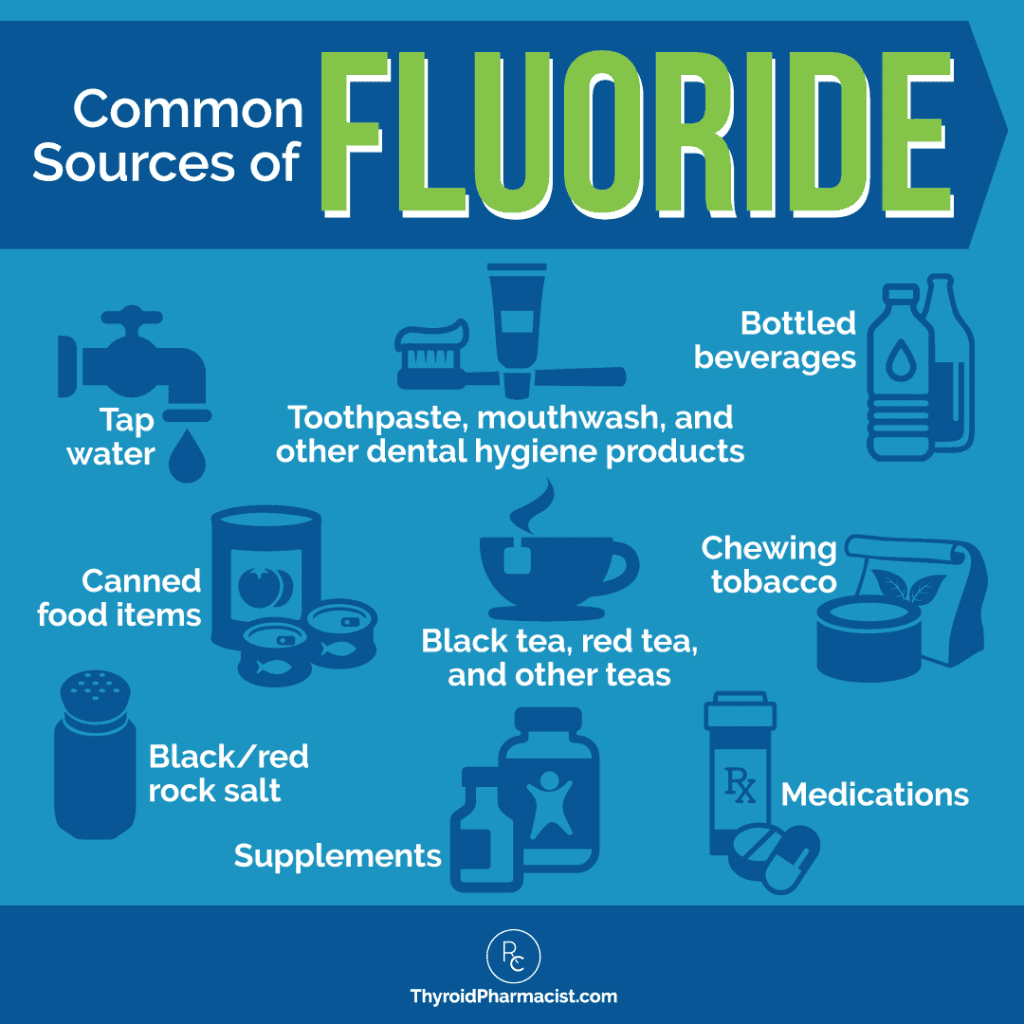 Yes, that's right – your cup of red or black tea could be sabotaging your thyroid. Tea leaves accumulate fluoride from the soil, as well as from pollution. The longer they stay on the tea tree, the heavier the fluoride content. (Thus, black tea has more fluoride compared to other teas.) An article published in the journal Food and Chemical Toxicology reported that there can be up to 4.5, 1.8, and 0.5 mg/L of fluoride in black, green, and white teas, respectively, when brewed for five minutes.
In addition to the tea itself having a high fluoride content, the act of boiling water concentrates the fluoride instead of getting rid of it, contrary to what one might think. On the other hand, freezing the water does not affect the concentration of fluoride. (Opting for white tea, chamomile, and herbal teas, which contain less than 0.13mg/L of fluoride, or steeping your black tea for less than one minute, is one way to limit your fluoride exposure.)
Fluoride-Containing Medications
There are quite a few fluorine-containing medications. They include anesthetics, antacids, anti-anxiety medications, antibiotics, antidepressants, antifungals, cholesterol-lowering medications, anti-malarial medications, chemotherapy, appetite suppressants, arthritis medications, psychotropics, and steroids.
Some of the most commonly used brands of medications that contain fluoride include:
Prozac®, Lexapro®, Celexa®, Paxil®: used for depression, anxiety, or OCD
Prevacid®: used for acid reflux
Diflucan®: an antifungal used for yeast infections
Fluoroquinolone antibiotics (Cipro®, Levaquin®, Avelox®): used for UTIs and other infections
Celebrex®: used for pain
Lipitor®, Zetia®: used to lower cholesterol
For an extensive list, please visit the Fluoride Toxicity Research Collaborative.
The fluoride contained in most of these medications, however, is in an organic bond, called organofluorine. In most drugs, this carbon-fluoride bond is strong enough to resist breaking down into fluoride within the body, and it is generally believed that most organofluorine drugs do not contribute to daily fluoride exposure.
However, this is not always the case, and research has found that some fluorinated drugs, including Cipro, do break down into fluoride, and can thus be a major source of fluoride exposure for some individuals. Studies have found elevated levels of fluoride in the urine or blood following the use of several of these drugs (including fluorinated anesthetics, Cipro, Niflumic acid, Flecainide, and Voriconazole). It is likely that other drugs do so as well, but have not yet been studied.
What Effect Does Fluoride Have on the Thyroid?
In your healing journey, have you ever considered that fluoride could possibly have a direct effect on your thyroid health? When I was digging for my root cause, fluoride toxicity did not get my attention right away, but I now know there are multiple ways in which fluoride can be detrimental to the thyroid gland and my overall health.
What will surprise many is that dental fluorosis, the term for hypomineralization of tooth enamel caused by excessive fluoride during enamel formation, is actually a result of thyroid function. In hypomineralization, teeth become more porous and susceptible to breaking, wearing down and decay.
Just like other halogens, fluoride has been proven to act as a trigger in inducing thyroid cell death, as well as lead to the development of thyroid inflammation and autoimmune thyroid disease like Hashimoto's.
Furthermore, multiple studies have shown that fluoride can actually alter the proper functioning of body processes by mistaking fluoride for something else. In the case of fluoride, it is recognized as iodine (another halogen) in the body. Because iodine is essential for every major body function on a cellular level, the body absorbs it into its organ tissues, all while mistaking it for iodine. Very little fluoride is excreted via urine or sweat, which leads to toxicity in the body. Over time, fluoride absorption in tissues manifests as actual lesions on endocrine glands, such as the thyroid. Thus, fluoride is considered an endocrine disruptor (which means it disrupts the endocrine system).
A study in India examined children aged 8-15 years in a high-altitude district of India, where the groundwater was contaminated with high levels of fluoride. The primary goal of the study was to determine the presence and severity of dental fluorosis, nutritional status, kidney health, and thyroid function. The results of the study revealed that dental fluorosis and urinary fluoride levels were significantly higher in affected children than in the control group. Additionally, the nutritional status of affected children was lower, and chronic kidney damage was higher.
Thyroid function was also impacted by fluoride. Children in communities with high fluoride intake had a significant decrease in thyroid-stimulating hormone (TSH). Additionally, parathyroid hormone levels were found to be significantly higher in affected children.
Another fascinating study done in India analyzed the effect of fluoride toxicity on multiple generations. In this study, the researchers extensively studied fluoride's effect on the brain, as well as on the thyroid. They administered high-fluoride water to three generations of rats orally, in order to study the fluoride-induced changes on their thyroid hormone status, their acetylcholinesterase (an enzyme that helps break down acetylcholine), the levels of fluoride in their brain, as well as their learning and memory retention.
The study observed a significant decrease in FT3 and FT4 serum levels, in the rats who consumed fluoride-treated water, as compared to the control group. This decrease was most significant in the third-generation rats. The presence of degenerating neurons was also observed, and once again, it was worst in the third-generation rats. The same was true of the rats' learning and memory capabilities. So, fluoride can actually cause brain fog in rats! Though studies will need to be conducted on human populations, this observation in rats suggests that those who have fluoride in their drinking water are at risk for developing hypothyroidism and increased brain fog, and their offspring are more likely to have developmental defects. Those are definitely a lot of issues those of us with Hashimoto's want to avoid, along with everyone else.
And in one of the most recent studies on fluoride and human thyroid hormones that was recently conducted in Iran, a group of people consuming fluoridated water were studied to see how fluoride impacted their thyroid hormone levels. The major finding of this study is that TSH (thyroid stimulating hormone) values were higher in people who had higher fluoride concentrations in their drinking water.
The Root Cause Rebels among us know that if you remove the trigger, you will see improvement in thyroid symptoms. Many of my clients have reported improvement in thyroid symptoms and thyroid function tests simply by removing fluoride from their daily intake.
The Effects of Fluoride in Communities
It is interesting, and alarming, to note the correlation between communities that fluoridate their water, and the number of reported cases of hypothyroidism.
A 2015 British study reported that medical practices in a fluoridated area of the UK (West Midlands vs. those in a non-fluoridated area, Greater Manchester) were TWICE as likely to report a high prevalence rate of hypothyroidism in their patients. Furthermore, an analysis of different parts of the UK found that the rates of hypothyroidism were statistically matched to the rates of fluoride in the local water supply.
Do you live in a fluoridated community?
The article reported the following average rates of fluoride in fluoridated communities:
England 1.0 mg/L
Canada 0.7 mg/L
Southern Ireland 0.7 mg/L
United States 0.7 – 1.3 mg/L
[One liter of water is equivalent to 33.8 ounces, or roughly 4.2 American cups.]
The natural amounts of fluoride present in water should be 0.05 mg per liter. However, the amount in fluoridated water may be anywhere from 0.7- 1.3 mg/L, often expressed as "ppm" or parts per million. These high levels in fluoridated communities are a stark contrast to healthy levels.
You can find out how much fluoride is in your local water supply by entering your location on the Center for Disease Control and Preventions fluoride page.
Who is Likely to Have an Adverse Reaction to Fluoride, and What are the Symptoms?
Fluoride toxicity has been widely studied because it has the potential to affect anyone, not just those of us who are already diagnosed with an autoimmune disease such as Hashimoto's. Ingesting too much fluoride can cause damage to the thyroid gland and hypothyroid symptoms in an individual who was previously healthy. This includes children, men and women.
However, as I mentioned, there is research to support that fluoride toxicity increases with each generation – so if your mother had fluoride toxicity, it is likely you will be more susceptible, and your children even more so, and so on.
Acute oral exposure to high levels of fluoride may cause nausea, vomiting, abdominal pain, diarrhea, drowsiness, headaches, polyuria (excessive urination) and polydipsia (excessive thirst), coma, convulsions, cardiac arrest, and even death.
Chronic excessive intake of fluoride can lead to many diseases such as osteoporosis, arthritis, cancer, infertility, brain damage, Alzheimer's, autoimmune thyroid disease, DNA damage, gastrointestinal irritation, kidney dysfunction, calcification of teeth (known as dental fluorosis), and much more.
What Can be Done to Minimize Fluoride Exposure?
I'm sure you were surprised to learn where fluoride might be lurking while reading this article!
Now that you know where to find it and how it may harm you, you can focus on removing fluoride from your daily routine.
To start, if you're an avid tea drinker, you may want to opt for white or herbal teas instead of black and red teas.
As I mentioned above, beyond the kitchen pantry, it is a good idea to check all your dental hygiene products and medications to see which ones might contain fluoride. If you find your medication does contain fluoride, you may want to ask your doctor about fluoride-free alternatives.
As for dental hygiene products, there are plenty of safe, fluoride-free options that are quite popular and effective.
Here are some of my favorite, fluoride-free toothpaste options:
RiseWell – I love their dental products. Their toothpaste is made with naturally-derived hydroxyapatite, a mineral that makes up 90 percent of our tooth enamel and has been proven to strengthen and protect your teeth without fluoride. Their mouthwash is naturally alkaline and inhibits the growth of bad bacteria, leaving your mouth healthy and fresh. (Get 10% off using the code "Wentz10" at checkout!)
Wellnesse –

Katie Wells (also known as the Wellness Mama) created Wellnesse, a brand dedicated to clean and effective, all-natural products. Katie was a master of DIY personal care products for her own family for years, and I was so excited when she came out with her own

whitening/remineralizing toothpaste that includes hydroxyapatite. It also contains aloe vera to balance your oral microbiome and whiten teeth, neem oil for tooth decay and gum disease prevention, and green tea powder to combat bad breath!
Probiotic Toothpaste – This one is

uniquely designed with a targeted probiotic strain to help support healthy teeth and gums, as well as the elimination of bad breath, by supporting the oral microbiome

. It also contains activated coconut charcoal to help purify and polish teeth, without toxic ingredients or harsh abrasives.
Making even small lifestyle changes, such as switching out your toothpaste, can have a significant impact on your health!
Water Filters
The next place you will want to focus will be your water supply. You can join the Fluoride Action Network, which is an advocacy organization dedicated to broadening the awareness of fluoride toxicity, to inform your authorities of the dangers of fluoride and be a voice against fluoridation. Occasionally, this organization will notify people of upcoming local initiatives focused on water fluoridation, that will allow you to voice your opinion to policy makers on water fluoridation in your community. However, this is not the easiest nor quickest way to get the fluoride out of your water.
Fluoride can certainly be taken out by filters — but not just any filters. Fluoride can only be removed by distilling the water, using reverse osmosis filtration systems, or by using activated alumina defluoridation filters. Most other types of filters do not remove fluoride.
I researched filtration systems for a while, but many of them were extremely expensive. Some were in the thousands!
After a ton of research, I finally found a few reasonably priced ones. Here are two of my favorites:
The most convenient and cost-effective reverse osmosis water filter that I have found is AquaTru's countertop filter. I have one in my bathroom that I use on a daily basis. It's super easy to set up (no plumber required!), and I feel better knowing that I have access to clean drinking water right in my bathroom. This is also a great option for those who rent or reside in places where you can't adjust the plumbing. Those who know me well know that I cannot say enough good things about the AquaTru water filter.
Clearly Filtered is another company that I have recently discovered, and I have been very impressed with their products. They produce a variety of filtration systems, including water pitchers, shower heads, and under-the-sink filters, that are able to remove up to 99 percent of fluoride from the water. Their website provides links to independent testing results (from EPA-accredited laboratories) that show the levels of contaminants their products are able to remove from one's water source. My science brain loves seeing these tests and knowing that the filter I'm using is doing what says it will do! I love this filter because it's also really easy to install! My sweet husband Michael has a long "Honey Do List" these days… and he was relieved that installing this filter was so easy. It took him under 15 minutes to install (and without any complaints :-)).
Another option is having a plumber or handyman install an under the sink reverse osmosis unit. These typically cost around $200 and provide a consistent, daily source of water without fluoride. We used to have this filter for a few years and it took my dad (who is SUPER handy) a couple of hours to install it during one of his visits. It worked very well for almost 4 years, but we have recently replaced it with the Clearly Filtered option as the under the sink option needed new filters and the spout was breaking.
I had been filtering my kitchen water for some time, and recently installed a new filter from Clearly Filtered, so I decided to run a Tap Score report to see what types of chemicals were in my water supply.
I was surprised to learn that my tap water contained potentially toxic levels of Bromodichloromethane, Chloroform and THMS. These substances are thought to increase the risk of developmental defects, kidney failure, liver damage, and central nervous system problems, as well as various cancers. Overall, my unfiltered water received a score of 64 (POOR), while filtering the water using the Clearly Filtered filter reduced the levels of these three chemicals to acceptable ranges, improving my overall water to a score of 87 (good).
If these options are too permanent for your lifestyle, keep in mind that there are water delivery services, such as Penta Water, that will deliver fluoride-free water to your home or office.
Supplements That Can Help
While stopping your intake of fluoride is an excellent first step, you can also take additional measures to help your body counter the negative effects of excessive levels of fluoride.
Some old-school integrative professionals recommend using high-dose iodine for clearing halogens like fluoride from the body. Unfortunately, I've found that this method can be dangerous for people with Hashimoto's. A recent study of the effects of fluoride, combined with iodide on the thyroid gland, showed that excessive fluoride and excessive iodide have detrimental effects on human thyroid cells, resulting in cytotoxicity – AKA the death of thyroid cells.
Taking liver supportive supplements is a safer way to support your body's detoxification from fluoride, especially those that contain taurine. Taurine is a sulfur-containing amino acid that is involved in a diverse array of biological and physiological functions, including bile salt conjugation, body fluid regulation, calcium modulation, anti-oxidation, and immune system regulation.
Recent studies have demonstrated the ability of taurine to reverse both kidney and thyroid damage in rats that were chronically exposed to high levels of fluoride. Another study has shown taurine to reduce thyroid damage from exposure to lead and industrial insecticides. The beneficial effects of taurine may be attributed to its ability to protect the body from toxicity and oxidative stress.
This is one of the reasons I've chosen to include taurine in three of my Rootcology Liver Support supplements:
Liver Reset contains a natural pea protein isolate to fuel one's natural detoxification pathways. It includes the nutrients needed to support and balance the phases I and II metabolic pathways, high levels of antioxidants for safe detoxification, and a comprehensive array of herbal hepatics and cholagogues, to promote healthy liver function and elimination.
Liver & Gallbladder Support is a comprehensive formula designed to support bile flow for the normal processing and elimination of toxins through the specific combination of nutrients and herbs in this formula. By supporting liver and gallbladder function, Liver & Gallbladder Support supports the elimination of fatty substances from the liver, as well as the digestion and assimilation of fats and fat-soluble vitamins.
Amino Support is useful for preparing the liver for phase II detoxification. It does not contain botanicals, minerals, or B vitamins that would also up-regulate phase I detoxification, which may result in intermediate metabolites that could cause sensitivity reactions. Providing nutritional support for phase II detoxification helps conjugate toxins and prepares them for safe elimination from the body.
GABA is another ingredient that can help us clear out fluoride. GABA is a naturally occurring neurotransmitter that is known to produce calmness, as well as reduce tension and anxiety. Recently, GABA has also been shown to have the ability to protect against hypothyroidism caused by fluoride. A study that exposed mice to fluoride and were subsequently treated with GABA, showed improved T4, T3 and thyroid hormone-binding globulin (TBG levels) results, along with healing of the structural abnormalities in thyroid follicles that were observed after fluoride exposure.
The GABA supplements that I recommend are:
GABA by Pure Encapsulations – This supplement promotes a positive mood, supports relaxation and moderates occasional stress.
GABA Calm by Source Naturals – This blend contains magnesium, GABA, glycine, n-acetyl l-tyrosine and taurine, in a quick-dissolving lozenge form.
PharmaGABA by Designs for Health – This is naturally-sourced, bioidentical GABA (gamma-aminobutyric acid). Its chewable tablet delivery allows for rapid and efficient absorption and assimilation. As a result, benefits are felt very quickly.
Along with taurine and GABA, resveratrol, a natural antioxidant may also help. A recent study was performed on rats that were given high doses of fluoride and exhibited symptoms of thyroid dysfunction. Resveratrol supplementation in the fluoride-exposed rats prevented fluoride toxicity and restored thyroid function to a normal range.
Resveratrol by Pure Encapsulations is derived from Polygonum cuspidatum, an herb utilized for centuries that is one of the richest known sources of this powerful antioxidant.
The Takeaway
Have you been using fluoride in your dental treatments for many years? Do you live in a fluoridated community? Have you considered getting a water filter that properly removes fluoride from your water supply?
While it's important to stay informed on how much fluoride you are being exposed to, it's encouraging to know that there are a lot of great action steps that you can take to protect yourself from excess fluoride. Installing a quality water filter, joining the Fluoride Action Network, and finding lower fluoride sources of bottled water are all excellent places to start as you begin to create a safer environment for yourself and your thyroid health.
I wish you all the best on your healing journey!
To learn more about other toxins that may be compromising your thyroid health, pick up a copy of Hashimoto's Protocol: A 90-Day Plan for Reversing Thyroid Symptoms and Getting Your Life Back and Hashimoto's Thyroiditis: Lifestyle Interventions for Finding and Treating the Root Cause.
Be sure to sign up for my email list and weekly newsletter to get a free book chapter, recipes, Thyroid Diet Starter Guide, information about Rootcology supplements, and notifications about upcoming events and my latest research.
References
Singh N, Verma K, Verma P, Sidhu G, Sachdeva S. A comparative study of fluoride ingestion levels, serum thyroid hormone & TSH level derangements, dental fluorosis status among school children from endemic and non-endemic fluorosis areas. SpringerPlus. 2014;3(1):7. doi:10.1186/2193-1801-3-7.
Khandare AL, Gourineni SR, Validandi V. Dental fluorosis, nutritional status, kidney damage, and thyroid function along with bone metabolic indicators in school-going children living in fluoride-affected hilly areas of Doda district, Jammu and Kashmir, India. Environ Monit Assess. 2017;189(11):579. doi: 10.1007/s10661-017-6288-5.
Basha P, Rai P, Begum S. Fluoride Toxicity and Status of Serum Thyroid Hormones, Brain Histopathology, and Learning Memory in Rats: A Multigenerational Assessment. Biological Trace Element Research. 2011;144(1-3):1083-1094. doi:10.1007/s12011-011-9137-3.
Ghosh A, Mukherjee K, Ghosh S, Saha B. Sources and toxicity of fluoride in the environment. Research on Chemical Intermediates. 2012;39(7):2881-2915. doi:10.1007/s11164-012-0841-1.
Peckham S, Lowery D, Spencer S. Are fluoride levels in drinking water associated with hypothyroidism prevalence in England? A large observational study of GP practice data and fluoride levels in drinking water. Journal of Epidemiology and Community Health. 2015;69(7):619-624. doi:10.1136/jech-2014-204971.
Liu H, Zeng Q, Cui Y, Yu L, Zhao L, Hou C, et al. The effects and underlying mechanism of excessive iodide on excessive fluoride-induced thyroid cytotoxicity. Environ Toxicol Pharmacol. 2014;38(1):332-40. doi: 10.1016/j.etap.2014.06.008.
Adedara IA, Ojuade TJD, Olabiyi BF, Idris UF, Onibiyo EM, Ajeigbe OF, et al. Taurine Ameliorates Renal Oxidative Damage and Thyroid Dysfunction in Rats Chronically Exposed to Fluoride. Biol Trace Elem Res. 2017;175(2):388-395. doi: 10.1007/s12011-016-0784-2.
Yang H, Xing R, Liu S, Yu H, Li P. γ-Aminobutyric acid ameliorates fluoride-induced hypothyroidism in male Kunming mice. Life Sci. 2016;146:1-7. doi: 10.1016/j.lfs.2015.12.041.
Sarkar C, Pal S. Ameliorative effect of resveratrol against fluoride-induced alteration of thyroid function in male wistar rats. Biol Trace Elem Res. 2014;162(1-3):278-87. doi: 10.1007/s12011-014-0108-3.
Kheradpisheh Z, Mirzaei M, Mahvi AH, Mokhtari M, Azizi R, Fallahzadeh H, et al. Impact of Drinking Water Fluoride on Human Thyroid Hormones: A Case- Control Study. Scientific Reports. 2018;2674. doi:10.1038/s41598-018-20696-4.
Sources of Fluoride. Fluoride Action Network. http://fluoridealert.org/issues/sources/. Accessed December 16, 2019.
Hoemberg M, et al. Plasma fluoride concentrations during prolonged administration of isoflurane to a pediatric patient requiring renal replacement therapy. Paediatric Anaesthia. 22(4):412-3.
Oc B, et al. The effects of sevoflurane anesthesia and cardiopulmonary bypass on renal function in cyanotic and acyanotic children undergoing cardiac surgery. Renal Failure. 34(2):135-41.
Pradhan KM, et al. Safety of ciprofloxacin therapy in children: magnetic resonance images, body fluid levels of fluoride and linear growth. Acta Paediatrica. 84(5):555-60.
Rimoli CN, et al. Relationship between serum concentrations of flecainide and fluoride in humans. Boll. Chim. Farmaceutico. 130(7):279-82.
Gras-Champel V, et al. Chronic fluorine intoxication during prolonged treatment with niflumic acid. Presse Med. 2003 Jun 7;32(20):933.
Welsch M, et al. Iatrogenic fluorosis. 2 cases. Therapie. 45(5):419-22.
Meunier PJ, et al. Niflumic acid-induced skeletal fluorosis: iatrogenic disease or therapeutic perspective for osteoporosis? Clin Orthop Relat Res. 148:304-9.
Prost A, et al. Fluorine osteosis caused by a very long-term niflumic acid treatment in 2 cases of rheumatoid arthritis. Rev Rhum Mal Osteoartic. 45(12):707-16.
Wermers RA, et al. Fluoride excess and periostitis in transplant patients receiving long-term voriconazole therapy. Clinical Infectious Diseases. 52(5):604-11.
Chen L, Milligan ME. Medication-induced periostitis in lung transplant patients: periostitis deformans revisited. Skeletal Radiology. 40:143-48.
Note: Originally published in April 2015, this article has been revised and updated for accuracy and thoroughness.