Iodine is a controversial topic with regard to thyroid health. While I've discussed the dangers of high doses of iodine for Hashimoto's in my books, I wanted to address the topic in an article and make sure that the conversation doesn't turn into a debate about a single nutrient, as Hashimoto's is a multi-factor and full body condition.
While some thyroid advocates will propose that taking high doses of iodine is helpful for everyone with Hashimoto's, unfortunately, I have not found that to be the case for most.
As a pharmacist, I am often reminded that "the only difference between a medicine and a poison is the dose." This is a wise old quote from Paracelsus, who is credited as the father of modern toxicology.
Thus, not surprisingly, while physiological doses of iodine can benefit thyroid function, research has shown that excessive doses of iodine can trigger (and worsen) Hashimoto's in people who are genetically predisposed to Hashimoto's and may have certain "vulnerabilities", such as a selenium deficiency.
Furthermore, temporary iodine restriction may actually improve and even normalize thyroid function, in some individuals.
Because I see the question over iodine come up so often, I'd like to address the topic in this article, where I'll cover:
The controversy around iodine
How iodine affects Hashimoto's
The sweet spot for iodine
What to do if you suspect you have excess iodine
The low iodine diet approach
The Iodine Controversy
Iodine is an essential mineral that is found in the earth's soil and water, and is used by the body to produce thyroid hormones. Iodine is typically consumed through seafood (fish and vegetables), iodized salt, or through supplementation.
Thyroid cells are the only cells in the body which can absorb iodine, and it is the role of the thyroid gland to combine iodine and the amino acid tyrosine, and convert them into thyroid hormones: thyroxine (T4) and triiodothyronine (T3).
Because it is a necessary nutrient for thyroid health, some people have assumed that supplementing with high doses of iodine can help the body make more thyroid hormone, thereby improving hypothyroidism and Hashimoto's; and it is often recommended by many conventional health books and doctors. However, what they do not understand is that iodine is what pharmacists call a "Goldilocks" nutrient, meaning that, while low levels are necessary for thyroid health, higher levels can have a negative effect.
In my own practice, I have seen iodine harm people with Hashimoto's, so I feel the need to caution people about supplementing with high doses of this nutrient, unless they have a known deficiency. However, even in the case of deficiency, taking too much at once can be toxic.
One reader wrote in to tell me:
I was given Iodine for a short spurt and my TSH went up to 98 and my antibodies up to 9800 after about 3 months. I think it can be deceiving. I would only do it with a doctor who understands the delicate balance with selenium. I regret that time in my journey now. It was with someone who did the simple iodine test on the hand and determined the dosage by muscle testing. I would not advise that for others.
Any supplement can have an adverse reaction in an individual, and I wish this was a one time report, but I have received countless messages like the one above, and have seen many similar reports in clients who came to me after trying high dose iodine on their own, or with other practitioners.
Initially, a person given iodine may experience more energy, but they then crash and feel worse. This is because iodine, given to a subset of people with Hashimoto's, can make the thyroid produce more hormone initially, but unfortunately, in doing so without having enough selenium and antioxidants on board, the increased hormone production creates lots of free radicals, which can flare up the attack on the thyroid gland.
Iodine needs to be processed by the thyroid gland, and when the thyroid is inflamed, the processing of iodine will likely produce more inflammation. If you give an angry and overwhelmed organ more work to do, you'll likely see it become even angrier!
A person may feel more energetic when first starting an iodine supplement, but lab tests will reveal that their "new energy" is coming from the destruction of thyroid tissue, which dumps thyroid hormone into the circulation. Reports will show an elevated TSH, elevated thyroid antibodies, and in some cases, low levels of active thyroid hormones.
This is why I don't generally recommend iodine supplements to people with Hashimoto's. I don't believe that the short-term artificial boost in energy is worth destroying your thyroid gland!
I've heard the argument that the Japanese population consumes a high level of iodine, due to their seafood-heavy diets, therefore everyone should be taking high doses of iodine. After all, some of the healthiest subpopulations in the world live in Japan.
However, this argument fails to account for a couple of different factors. The first is that different ethnicities may have genetic predispositions for developing Hashimoto's, and we can't look at one group of people and make a generalization across all ethnicities, particularly when we know that genetics are a factor in developing an autoimmune condition.
For example, one recent meta analysis found that one particular gene variation, the PTPN22 R620W polymorphism, is associated with elevated autoimmune thyroid disease risk in Caucasians, but not in Asians.
Furthermore, Dr. Alan Christianson, author of The Thyroid Reset Diet, has noted that the Japanese do, in fact, have the highest levels of Hashimoto's in the world. After all, Dr. Haraku Hashimoto, who the condition is named after (as he was the first to discover it), was a Japanese doctor. 😉
In my role as a researcher and writer, I focus my work on outcomes data, by looking at patterns that are present in a large majority of people with Hashimoto's.
My goal as a medical professional is always to first do no harm. While a minority of people may indeed be iodine deficient and benefit from supplementing with iodine, that has not been the case for most of my clients.
As a clinician, I focus on each person as an individual, with individual needs, and I encourage everyone to work with a knowledgeable practitioner as well, so that they can find the course of treatment that is best for them.
Iodine, Hypothyroidism and Hashimoto's
In the past, iodine deficiency used to be a major health concern worldwide. As recently as 1990, people in only a small percentage of countries were getting enough iodine, and 112 countries were categorized by the World Health Organization (WHO) as "severely iodine deficient."
To address this issue, global health organizations came together and began adding iodine to salt and other fortified foods, and the iodine status of the world's countries changed over the next two decades. By 2014, the number of nations considered severely iodine deficient plummeted to zero. This was considered a clear win, however we now know that iodine has a narrower range of safety than any other nutrient. Meaning, it is easy to get too much iodine.
As levels of iodine rose in countries around the world, the WHO recognized that excessive iodine can trigger thyroid disease.
According to the WHO, the following levels of daily iodine intake correlate with these conditions:
<20 mcg: Endemic (native) goiter, congenital hypothyroidism
20-49 mcg: Pediatric goiter, low rate of adult disease
50-99 mcg: Lowest disease rate and reversal of autoimmune thyroid disease
100-199 mcg: Low thyroid disease rate
200-299 mcg: Iodine-induced hyperthyroidism, autoimmune thyroid disease, goiter, hypothyroidism
>300 mcg: Hypothyroidism, goiter, autoimmune thyroid disease
This global spike in iodine consumption over the past two decades, exactly parallels the skyrocketing increase in thyroid diseases such as hypothyroidism, Hashimoto's, and thyroid cancer. While correlation doesn't equal causation, the research has supported the theory that excess iodine can lead to thyroid dysfunction.
This has to do with the way that iodine is processed in the body. Iodine from foods and supplements is processed by the thyroid gland so that the body can properly use it. During this process, hydrogen peroxide, a free radical, is released.
In cases when the body has adequate levels of selenium and it is used properly, the selenium neutralizes the hydrogen peroxide. However, in cases of iodine excess, excess hydrogen peroxide can cause oxidative damage to the thyroid gland. When not enough selenium or glutathione is present to neutralize the hydrogen peroxide, oxidative damage, which leads to inflammation and autoimmunity, can occur.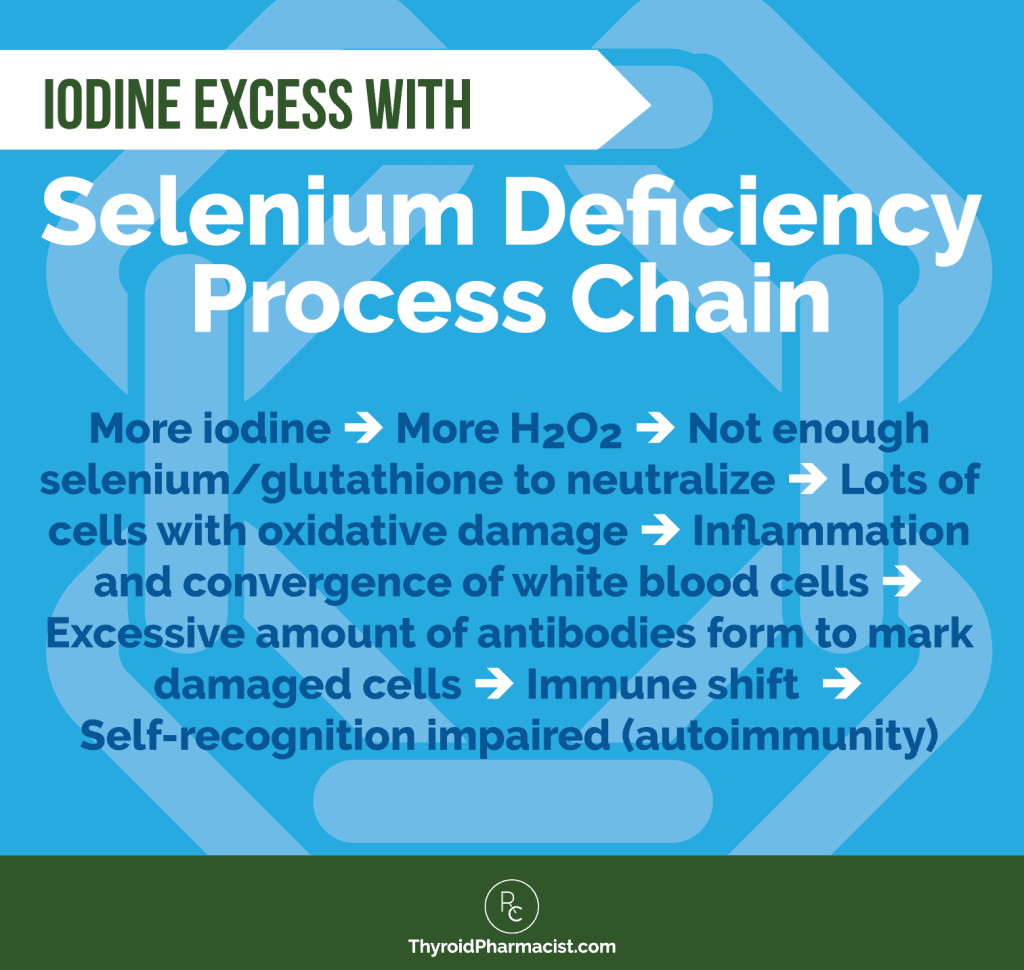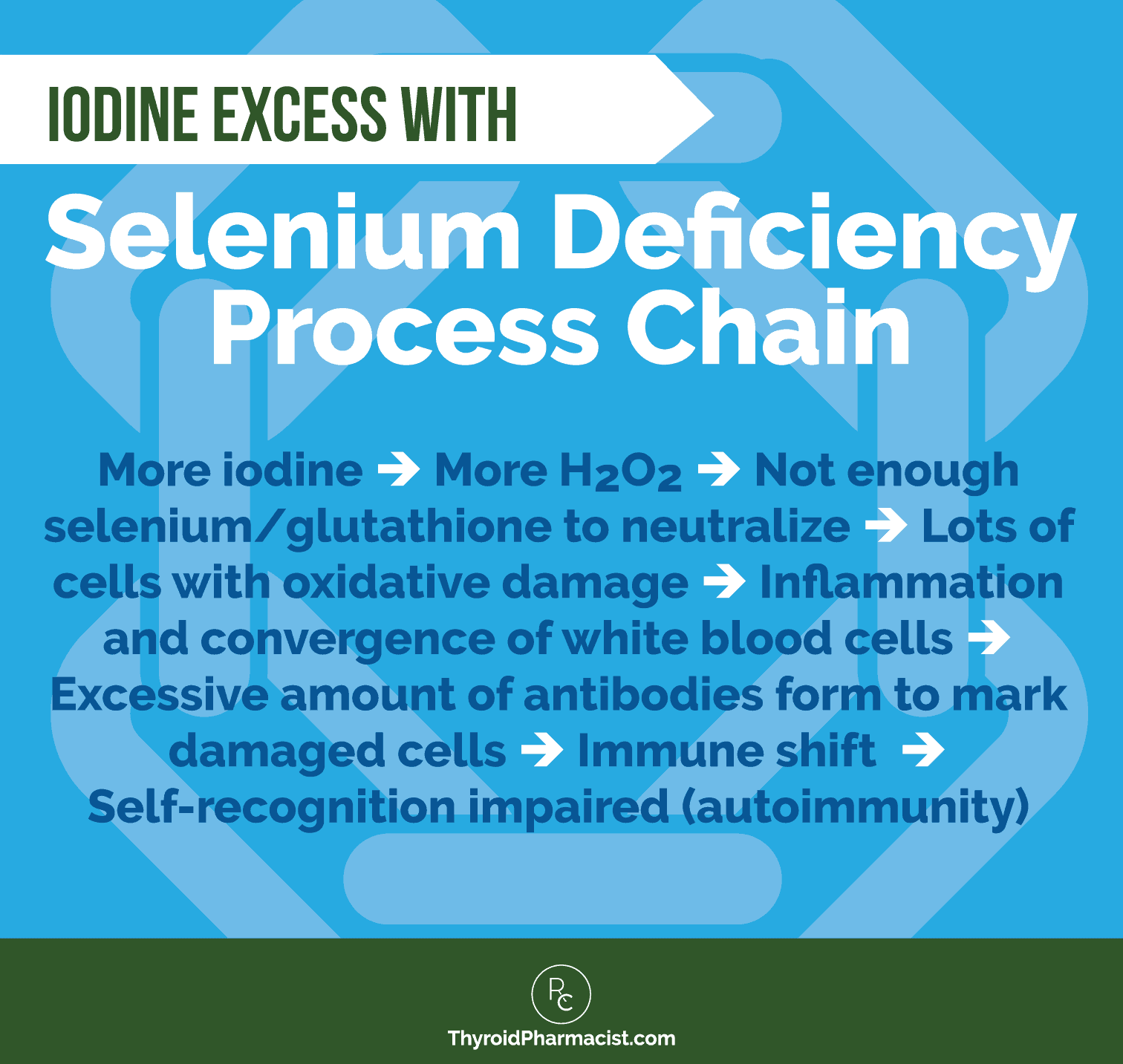 Studies have shown that excess iodine causes thyroid injury by generating reactive oxygen species, which leads to premature damage and programmed cell death in thyroid tissues. These iodine-overloaded cells then release the danger (or damage)-associated molecular patterns (DAMPs), which turn on the autoimmune process in a person with the right genetic predisposition and intestinal permeability.
When we think about this from an evolutionary, adaptive, or even innate body wisdom stance, it makes sense that the body would want to stop the production of excess thyroid hormones that would result from too much iodine. (Read my article on my Safety Theory that explains how hypothyroidism may act as a protective mechanism.)
Research on Excess Iodine and Thyroid Disease
The effects of excess iodine on those with thyroid disease has been studied by researchers. In Germany, for example, a low dose of potassium iodide (250 mcg) was given to 40 people who tested positive for anti-thyroid (TPO) antibodies or had a thyroid ultrasound showing a hypoechogenic (more dense tissue) pattern consistent with Hashimoto's. A group of 43 subjects with similar characteristics served as a control group.
Nine patients from the iodine group developed thyroid abnormalities, compared with only one person from the control group. Of the nine patients in the iodine arm, seven developed subclinical hypothyroidism, one became hypothyroid, and another hyperthyroid. Positive changes were also seen in TPO antibody levels as well as on the thyroid ultrasound. Three of the seven subclinical hypothyroid patients and the hyperthyroid patient regained normal thyroid function after iodine withdrawal.
Research on Salt Iodization and Thyroid Health
Researchers in Iran were able to document the rates of thyroid peroxidase antibodies (TPOAb) and thyroglobulin antibodies (TgAb) before and after a national salt iodization program started in 1994. In 1983-84, positive TPOAb and positive TgAb were found in 3.2 percent and 4 percent, respectively, of the 465 adults selected for random sampling in Tehran. This sampling was repeated with 1,426 adults in Tehran in 1999-2000, this time showing 12.5 percent positive for TPOAb and 16.8 percent positive for TgAb. The addition of iodine quadrupled the rate of Hashimoto's within a six-year span!
Iodine does seem to have a dose-responsive effect. A Slovenian study followed the rates of thyroid disorders after the amount of potassium iodide added to the Slovenian salt supply was increased from 10 mg/kg of salt to 25 mg/kg in 1999. This increase resulted in a significant change in the incidence of thyroid disorders. While there was a marked decline in the incidence of iodine deficiency hypothyroidism, the rates of Hashimoto's more than doubled from the baseline after the increase.
In another study, researchers from the Mayo Clinic in Minnesota tracked the rate of Hashimoto's thyroiditis in patients from 1935 to 1967. Within two years, the doctors saw an increase in autoimmune thyroid disease caused by iodine fortification in table salt and processed food. Starting with the first decade after iodine fortification, they documented a 25,000 percent increase in Hashimoto's disease. The earliest rates were 2.1 per every 100,000 persons; by the end of the study, it was up to 54.1 for women under 39, and 94.1 for those over 40.
Research on the Effects of a Low Iodine Diet
The potential benefits of a low iodine diet were demonstrated by one study after researchers observed an interesting phenomenon. When using radioactive iodine as a tool for determining thyroid health in a Radioiodine Uptake Test (a test that may help diagnose hyperthyroidism, hypothyroidism and goiters), doctors have found that the procedure works best when the thyroid is "hungry" for that iodine. As such, they have their patients go on low-iodine diets for several weeks so that their thyroid will take in as much of the radioactive iodine as possible before the procedure.
Researchers have discovered that many people see their thyroid function improve during this period, and wondered if it were just a coincidence or if there was a correlation. They launched clinical trials in which people with significant thyroid disease were put on low-iodine diets and were compared against others with the same degree of thyroid disease who were not on a low-iodine diet. Neither group was given thyroid medication, or any other treatment.
The studies all showed that nearly everyone who was not on the diet saw no improvement to their thyroid function or got worse, while up to 80 percent of those who were on the low-iodine diet experienced normal thyroid function within three to six months.
So, Should You Avoid Iodine Completely?
Given the known effects of excess iodine on thyroid health, the question arises… should we stay away from all sources of iodine? Let's look at the research.
While there is a bit of controversy about whether people with Hashimoto's should take iodine or avoid it altogether, a 1999 study in 377 people with Hashimoto's followed for over 800 days, found that when combined with thyroid hormone therapy, a daily iodine dose of up to 200 mcg/day was able to reduce the patients' TgAb and the TPOAb antibody levels.
However, the same study also enlisted a group of 375 people without thyroid disease and gave them either 200 mcg per day of iodine, or 1.53 milligrams of iodine, per week. The group that took 200 mcg per day did not have a significant increase in rates of Hashimoto's. However, the group that got the large dose of iodine/week presented a distinct increase of TgAb as well as TPOAb antibodies, and the incidence of Hashimoto's thyroiditis was four-fold higher than in the two other subgroups!
This study showed that a low dose of iodine (i.e. below 200 mcg) on a daily basis, is usually not going to be problematic for most people with Hashimoto's, and in fact may be beneficial. (We'll talk more about low iodine diets, further on in this article!)
Testing for Iodine Deficiency
While testing a low iodine diet can be helpful to many people, and iodine deficiency is relatively rare in those with Hashimoto's, it's important to note that for some people, addressing an iodine deficiency may actually be key to improving one's thyroid health. (As such, it's important to know whether you have excess or low levels of iodine.)
Some potential factors that may lead me to suspect an iodine deficiency include: eating a vegan diet, eating a diet low in seafood, having fibrocystic breasts (though this could be caused by magnesium deficiency), having low reverse T3 on a lab test, or a experiencing a negative reaction to selenium (which is very rare).
I often get the question about testing for iodine deficiency — do blood tests, urine tests or "spot" tests (where you paint yourself with iodine until it disappears) actually work? Are they accurate? Unfortunately, these tests are not able to reveal an iodine deficiency or excess, rather they will be reflective of your recent iodine intake.
That said, iodine testing can be helpful in order to determine if your average diet and lifestyle contains excess iodine. The most helpful test involves checking one's urinary iodine to creatinine ratio. The amount of iodine in your urine is compared against the amount of a normal kidney protein, called creatinine.
This urinary iodine to creatinine ratio is tested with a urine collection and can be done at home and mailed in for convenience. The test will not tell you how much iodine you are taking in, but if you are working to reduce iodine levels to help your thyroid function, it can help you determine if you have eliminated enough hidden sources of iodine.
The urinary test results are reported as a mcg of iodine per gram of creatinine, abbreviated as mcg/G. If your levels are over 100 mcg/G, you have not eliminated enough hidden sources of iodine. The goal is to be under 100 mcg/G. The higher your scores are above this range, the more iodine you are still ingesting. You can use this as a clue that you need to find and eliminate other sources of iodine in your diet or personal care products.
In the case of a deficiency of iodine, I do recommend iodine supplements but only in the dose range found in multivitamins (like Nutrient 950 by Pure Encapsulations) and prenatal vitamins (most contain between 150 mcg–220 mcg), rather than in megadoses of iodine.
Recommended Daily Iodine Intake
That said, for both those with excess iodine and iodine deficiency, I would caution against using a dose above 200 mcg/day unless breastfeeding or pregnant (the general recommended daily allowance of iodine is 150 mcg for non-pregnant persons; 220 mcg and 290 mcg for pregnant and breastfeeding women, respectively). This includes your intake from supplements as well as high iodine-containing foods like seaweed, kelp, spirulina, or chlorella.
If exposed to these high doses of iodine, it may be helpful to take a selenium supplement (up to 600 mcg per day) to negate the negative effects of the iodine excess.
What About Cases of Excess Iodine? Can Thyroid Function Normalize with a Low Iodine Diet?
As mentioned above, iodine deficiency is rare, and most people with Hashimoto's and issues related to iodine, actually have excess levels of this nutrient. As such, let's discuss how to address excess iodine levels.
Excess iodine can definitely be a trigger for Hashimoto's and hypothyroidism for some individuals. I have had a few clients where in looking at their health timelines, their Hashimoto's was preceded by a high intake of iodine; for others, a high intake of iodine worsened their Hashimoto's.
For one of my clients with new onset Hashimoto's after a period of eating a lot of seaweed for general health benefits, a short-term low iodine diet was all that was needed to normalize her thyroid function and thyroid antibodies.
According to Dr. Alan Christianson, consuming the wrong amount of iodine is a primary driver of all types of thyroid disease and many thyroid growth abnormalities. Too little iodine, too much iodine, or fluctuations in iodine intake, can all disrupt thyroid function.
From test tube studies, we have seen that too much iodine slows down the thyroid and causes the immune system to attack it. From epidemiologic (population group) studies, we know that populations that increase their iodine intake, go on to develop more thyroid disease as a group. Meanwhile, interventional trials (clinical studies) have shown that people who are given more iodine develop thyroid conditions, while reducing people's iodine intake can often reverse thyroid disease.
One recent clinical study showed that high doses of iodine supplementation slowed thyroid function, but even small doses were harmful. In the study, 256 adults who were free of thyroid disease, were given either a dose of supplemental iodine or a placebo. The iodine doses ranged from as little as 100 mcg to as high as 2000 mcg. No changes were observed in the placebo group, but many of those taking 100 mcg of iodine saw thyroid disease develop within four weeks. Of those taking 2000 mcg of iodine, 31 percent developed thyroid disease.
In another study to evaluate the tolerability of iodine supplementation, a group of adults were given 200 mcg of iodine or a placebo, for 12 months. Over 10 percent of those given iodine developed thyroid disease, but no one taking the placebo did. When the iodine was discontinued, the thyroid function of those who had been taking iodine normalized.
This is exciting news, indicating that we can use the restriction of iodine to reverse thyroid disease!
In another exciting human study, people with hypothyroidism caused by Hashimoto's, were assigned to eat either a low-iodine diet or their normal diet. (These patients were significantly hypothyroid, as normal TSH scores were defined in this study as 0.41 to 4.43 IU/mL, and these patients' TSH scores started as a group average of 14.28 IU/mL.)
Within three months of only regulating their iodine intake, nearly all their scores were normal, with the average coming down to 3.18 IU/mL! Those whose TSH levels did not return to normal, nevertheless saw improvements, typically by 50 percent or more. For example, one such patient started with a TSH score of 200 IU/mL, which was reduced to 100 IU/mL on the low iodine diet — still far from ideal, but significant progress in a short period of time!
Of those on the low-iodine diet, 78.3 percent were considered to no longer have Hashimoto's, within three months. Meanwhile, the study's control group didn't see any change in TSH levels.
One interesting point from this study was that the baseline iodine intake was not different between the responders and the non-responders. Meaning, iodine regulation helped those who had average intakes of iodine, just as much as it helped those with high intake. This is one of the reasons Dr. Christianson notes that he doesn't ask people to test their iodine levels before starting The Thyroid Reset Diet. If someone does not respond, iodine tests can then be helpful to make sure there was no hidden source of iodine that was holding back improvement.
Dr. Christianson's new book makes the balanced iodine approach very straight-forward and easy to implement. While the iodine approach may not be the answer for every person with Hashimoto's, it may be a part of the solution for some of us.
Furthermore, I want to clarify that Dr. Christianson's approach focuses primarily on addressing TSH levels, but it does not focus on other triggers and root causes, nor does it focus on lowering Hashimoto's antibodies. In my research into Hashimoto's over the last decade, I've noticed that normalizing thyroid function and normalizing thyroid antibodies each require their own interventions, and I believe that both are important. Elevated thyroid antibodies have been linked to numerous issues including, but not limited to, recurrent miscarriage, anxiety, and even brain inflammation.
How to Restrict Iodine Intake
For some people with elevated thyroid antibodies and/or an elevated TSH, a temporary restriction of iodine may be beneficial.
As mentioned above, in some cases, following a low iodine diet and lifestyle has been helpful in reducing the autoimmune attack on the thyroid gland and in normalizing thyroid function, in people with iodine-induced Hashimoto's. In this case, a person would temporarily restrict iodine to <100 mcg per day for a period of 1-3 months.
The thyroid gland needs approximately 52 mcg per day of iodine. This is usually present in thyroid hormones, which contain a small amount of iodine in them. (For example, 100 mcg of T4 medications will contain 52 mcg of iodine.)
Dr. Christianson has designed a diet plan that aims to provide between 57-107 mcg of iodine per day, and reports that within the first 28 days, people should start seeing an improvement in thyroid function, and most see the full benefits in three to six months.
According to Dr. Christianson, in order to reverse thyroid disease, in those who already have it, the optimal amount of iodine is 50-99 mcg per day. Dr. Christianson reports that with this approach, many individuals may be able to lower their dose of thyroid medications, while some may even be able to wean off thyroid medication completely (under the supervision of their physicians).
It's important to note that many hidden sources of iodine can add up to create an iodine excess, and you will want to look for iodine exposure beyond supplements.
Common sources of iodine include:
High iodine foods (kelp, dulse, spirulina, chlorella, seaweed, fish, shellfish, egg yolks, dairy products, and commercial baked goods)
Iodized table salt
Iodine in skin care products such as shampoo, conditioner, sunscreen, facial moisturizer, and skin creams (watch out for ammonium iodide, potassium iodide, sodium iodide, iodoform, PVP-iodine, hydroxypropyl bistrimonium diiodide, TEA-hydroiodide, ethiodized oil, iodopropynyl butylcarbamate, and the following seaweed extracts: Fucus vesiculosus extract, Laminaria digitata extract, kelp extract)
Supplements, including multivitamins, prenatal vitamins and some supplements marketed as "thyroid support" blends
Medications (many oral, topical, and injectable drugs contain iodine)

Oral medications: amiodarone, benziodarone, calcium iodide, diiodohydroxyquin (Yodoxin), R-Gen, echothiophate iodide ophthalmic solution (phosphine), hydriodic acid syrup, iIodochlorhydroxyquin (Entro-Vioform), iodinated glycerol (Iophen), idoxuridine ophthalmic solution (Herplex), isopropamide iodide (Darbid), potassium iodine (KI), Mudrane, Lugol's Solution, niacinamide hydroiodide, Ponaris nasal emollient, supersaturated potassium iodide (SSKI)
Injectable solutions: sodium iodide
Topical antiseptics: diiodohydroxyquin cream (Vytone), iodine tincture iodochlorhydroxyquin cream (Vioform), Cellasene, iodoform gauze (NuGauze), povidone-iodine (Betadine)
Radiology contrast agents: diatrizoate meglumine sodium (Renografin), iodized oil, iopanoic acid (Telepaque), ipodate (Oragrafin), iothalamate (Angio-Conray), metrizamide (Omnipaque), ethiodized oil (Lipiodol)
To help determine your current level of iodine intake, you will want to check the labels on personal care products, medications, and supplements, as well as calculate your daily dietary consumption based on foods you commonly eat. The table below lists the iodine content of some common foods: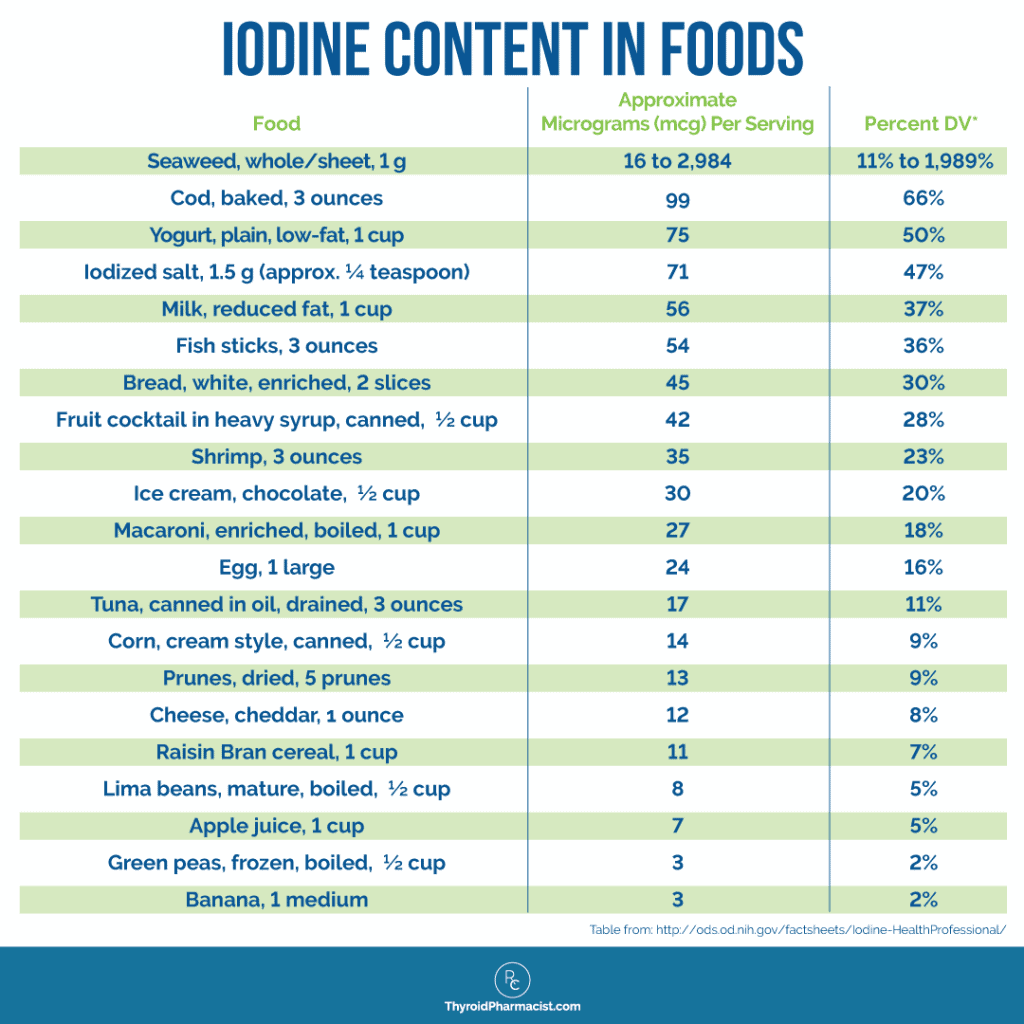 Here's an example of how to do the math to determine your iodine intake, starting with a breakfast that is considered "healthy" by S.A.D. (Standard American Diet) standards.
Breakfast
1 cup milk = 56 mcg of iodine
Raisin Bran cereal = 11 mcg of iodine
Banana = 3 mcg of iodine
Lunch
Yogurt = 75 mcg of iodine
Bread (2 pieces) = 90 mcg of iodine
Cheddar cheese = 12 mcg of iodine
Canned tuna = 17 mcg of iodine
That's 264 mcg of iodine before dinner…
What if you took a multivitamin?
A Centrum® multivitamin contains 150 mcg of iodine. Now you are up to 414 mcg.
What about those of us who add iodized table salt to our food?
Every ¼ teaspoon of iodized salt adds 71 mcg… so now we are at a total of 485 mcg of iodine.
What about going out for sushi?
Combining seaweed and fish can easily bring your iodine intake to 1,000 mcg, if not more.
And how about the personal care products that contain iodine that is absorbed through your skin? 
Your facial moisturizer may contain as much as 54,000 mcg of iodine… 2,430 mcg (4.5 percent) of which may be absorbed into your system!
What if you wanted ice cream for dessert?
You get the picture. The Standard American Diet exceeds the threshold of safe iodine consumption for those with autoimmune thyroid conditions. By calculating the iodine content in the foods, supplements, medications, and personal care items that you consume and use in a day, you'll gain a clearer understanding of your average daily intake and can decide if reducing iodine containing products would be beneficial for you.
Real World Experience with Iodine
Out of my Root Cause Readers that were surveyed back in 2015, 356 tried high dose iodine. Out of that group, 25 percent said that high dose iodine made them feel better, 28 percent said that it made them feel worse, and 46 percent saw no difference in how they felt… although this doesn't mean that their thyroid markers weren't affected.
The takeaway from this survey is that more people felt worse on high dose iodine than felt better. On the other hand, iodine restriction made 31.7 percent feel better and 7 percent feel worse.
In contrast, taking a selenium supplement helped 63 percent feel better, 34 percent saw no difference, while 3.5 percent felt worse. Going gluten free helped 88 percent of people feel better, 11.16 percent saw no difference, and 0.73 percent felt worse. (Check out my articles on the benefits of supplementing with selenium and going gluten free to learn more.)
As you can see, there are many safer and much more effective interventions than iodine supplementation in Hashimoto's, which is why I have chosen to focus on the interventions that are helpful to most and least likely to result in harm. While some doctors are devout advocates of prescribing iodine to heal the thyroid, I treat iodine like a narrow therapeutic drug and recommend caution when using it in Hashimoto's, as everyone is unique and may respond to iodine therapy differently.
A Client's Experience with Iodine
To illustrate the need for caution when supplementing with iodine, and how addressing Hashimoto's requires a root cause approach, I'd like to share with you a story from my client files.
Jenny is an athletic dog lover who worked part time at her family restaurant. She had been previously diagnosed with Hashimoto's (TPO antibodies in the 800 IU/mL range) and subclinical hypothyroidism, with a slightly elevated TSH, and normal T4 and T3.
At her initial diagnosis, Jenny had many symptoms of hypothyroidism, including fatigue, excess weight gain, and hair loss.
She wanted to fix the condition in a natural way and found information about iodine being an effective treatment for hypothyroidism. She worked with an iodine advocate who did not have a medical background, but had seen improvement in her own thyroid function with iodine, although she herself had never been diagnosed with a thyroid condition. This advocate recommended that she start taking high doses of iodine to heal her thyroid.
After starting the high dose iodine, Jenny began to have more energy, but soon that energy became an anxious, irritable energy. She then became very tired, to the point where she stayed in bed for days.
Jenny's husband became concerned about her health and urged her to stop working with the iodine advocate. She went to see an endocrinologist, who ran a thyroid antibody test — her thyroid antibodies had more than doubled to the 1800 IU/mL range, her TSH climbed to 100 IU/mL, and her T4 levels were undetectable! Her physician advised her to stop the high dose iodine immediately and prescribed synthetic thyroid medications.
After that point, Jenny came across my book and reached out to me for a case review. Her husband felt more comfortable with her consulting with me since I had a background in pharmacy and had also been diagnosed with Hashimoto's.
I recommended that she restrict her intake of iodine from iodized salt, supplements, and food to less than 150 mcg of iodine per day for three months, and that she start the Paleo diet.
I also recommended that she start a selenium supplement, take probiotics, test her adrenals through a saliva test, and test for gut infections through a stool test. In addition, I advised her to speak to her doctor about adjusting her medications.
Within a few weeks of the new protocol, Jenny was starting to feel better. The anxiety and irritability improved, and her fatigue began to lift.
Once we received her test results back, we found that Jenny had stage 3 adrenal fatigue, and two gut infections: H. pylori and Blastocystis hominis.
We talked about the importance of self-care. I recommended that she reduce her responsibility levels, and that she start massage therapy treatments and a relaxing routine. We supported her adrenals through the use of adrenal adaptogens and a supplement called Moducare.
We also worked with her physician and treated her gut infections, starting with H. pylori, and then Blastocystis hominis. We then initiated a gut repair protocol.
Jenny reported that her gut symptoms, hair loss, and energy levels began to improve within two weeks on the H. pylori protocol. After she finished her protocol, her weight normalized, she reported that she had a "ton of energy," and her hair began to grow back. Her thyroid medications had to be lowered slightly as she began to absorb them better once the infections were gone.
The last time we spoke was six months after her gut infection treatments, and she reported feeling happy, having great hair and great energy levels, and being back to being active and working out 4-5 days per week. Her TPO levels fell to under 100 IU/mL, and I anticipate that they will continue to improve as time goes on (TPO levels may take 3 to 18 months to decrease following H. pylori eradication).
Jenny's story is a testament to how taking a root cause approach, which may include addressing iodine excess, can help improve thyroid health and reduce many of the symptoms of Hashimoto's.
Although iodine serves as fuel for our thyroid and is very important in iodine deficiency hypothyroidism, Hashimoto's is a different mechanism. It's like pouring gas into an engine that's on fire. Adding iodine to the mix before putting out the fire and fixing the engine, may result in further damage to the thyroid. I have spent years researching this issue, and have seen too many people suffering the consequences of adding iodine too soon. My approach is, let's fix the engine first, and then add the fuel once we know that the engine is no longer on fire. 🙂
For more information on how to resolve your own triggers, I encourage you to check out my book Hashimoto's Protocol.
The Bottom Line
Hashimoto's is not a single nutrient condition, but rather the result of several underlying root causes. While iodine deficiency can cause thyroid issues in some people, most people get enough (or too much) iodine from their diet, and most people with Hashimoto's are not iodine deficient.
Taking a high dose of iodine can exacerbate Hashimoto's and accelerate thyroid cell destruction. The American Thyroid Association cautions against using doses of more than 500 mcg per day in the general public and noted that doses above 1100 mcg may cause thyroid dysfunction. These warnings are for the general population, but studies have found that people with Hashimoto's may be sensitive to even smaller doses.
Excess iodine has been recognized as an environmental trigger for Hashimoto's, and as such, I do not routinely recommend the use of iodine supplements outside of those found in multivitamins and prenatal vitamins (most contain between 150 mcg-220 mcg).
While I won't deny that some people have certainly been helped by high doses of iodine, I feel that the risks outweigh the benefits for people with Hashimoto's, and I caution people against the use of high dose iodine. In those who have been exposed to high doses, I may even recommend a short-term iodine restriction and selenium supplement to help reduce the hydrogen peroxide buildup and subsequent inflammation that may occur.
For more information about the low iodine approach to healing Hashimoto's, please see my first book Hashimoto's: The Root Cause and Dr. Christianson's new book The Thyroid Reset Diet.
I do want to remind you that each one of us is a unique individual and has different nutrient deficiencies and needs. It is important to speak with a trusted medical professional to determine if supplementing with iodine or removing excess iodine from your lifestyle will be of benefit to you and your health journey.
To learn more about the nutrients that are helpful in Hashimoto's, I encourage you to read my article on The 7 most common nutrient deficiencies in Hashimoto's. In it, you'll find useful information on the nutrients that are often a root cause for people with Hashimoto's, and that I routinely recommend as part of a healing protocol.
I hope this information helps you on your journey!
What type of experience have you had with iodine?
P.S. Be sure to sign up to my weekly newsletter to get a free book chapter, recipes, Thyroid Diet Starter Guide, and notifications about upcoming events and my latest research.
For future updates, be sure to follow us on Facebook and Instagram too!
References
Iodine deficiency. World Health Organization. https://www.who.int/data/nutrition/nlis/info/iodine-deficiency. Accessed December 2, 2021.
Contempre B, Dumont J, Ngo B, et al. Effect of selenium supplementation in hypothyroid subjects of an iodine and selenium deficient area: the possible danger of indiscriminate supplementation of iodine-deficient subjects with selenium. J Clin Endocrinol Metab. 1991;73(1):213-215. doi:10.1210/jcem-73-1-213.
Joung J, Cho Y, Park S, et al. Effect of iodine restriction on thyroid function in subclinical hypothyroid patients in an iodine-replete area: a long period observation in a large-scale cohort. Thyroid. 2014;24(9):1361-1368. doi:10.1089/thy.2014.0046.
Rink T, Schroth H, Holle L, Garth H. Effect of iodine and thyroid hormones in the induction and therapy of Hashimoto's thyroiditis. Nuklearmedizin. 2016;1999(38(5):144-9.
Xu J, Liu X, Yang X, et al. Supplemental selenium alleviates the toxic effects of excessive iodine on thyroid. Biol Trace Elem Res. 2011 Jun;141(1-3):110-8. doi: 10.1007/s12011-010-8728-8.
Zhao H, Tian Y, Liu Z, et al. Correlation between iodine intake and thyroid disorders: a cross-sectional study from the south of China. Biol Trace Elem Res. 2014;162(1-3):87-94. doi:10.1007/s12011-014-0102-9.
Urinary Iodine Concentrations for Determining Iodine Status in Populations. World Health Organization. 2013.
Chung JH. Low Iodine Diet for Preparation for Radioactive Iodine Therapy in Differentiated Thyroid Carcinoma in Korea. J Clin Endocrinol Metab. 2013;28(3):157-163. doi:10.3803/EnM.2013.28.3.157
Park JT, Hennessey J V. Two-Week Low Iodine Diet is Necessary for Adequate Outpatient Preparation for Radioiodine rhTSH Scanning in Patients Taking Levothyroxine. Thyroid. 2004;14(1):57-63. doi:10.1089/105072504322783858
Bhagwat S, Haytowitz DB, Holden JM. USDA Database for the Isoflavone: Content of Select Foods – Release 2.0. Beltsville, MD: USDA, 2008.
Yoon SJ, Choi SR, Kim DM, et al. The Effect of Iodine Restriction on Thyroid Function in Patients with Hypothyroidism Due to Hashimoto's Thyroiditis. Yonsei Med J. 2003;44(2):44-227
Christianson, A. The Thyroid Reset Diet. Rodale Books; 2021.
Sang Z, Wang PP, Yao Z, et al. Exploration of the Safe Upper Level of Iodine Intake in Euthyroid Chinese Adults: A Randomized Double-Blind Trial. Am J Clin Nutr. 2012;95(2):367-373. doi:10.3945/ajcn.111.028001.
Kahaly G, Dienes HP, Beyer J, Hommel G. Randomized, Double Blind, Placebo-Controlled Trial of Low Dose Iodide in Endemic Goiter. J Clin Endocrinol Metab. 1997;82(12):4049-4053. doi:10.1210/jcem.82.12.4416.
Kasagi K, Iwata M, Misaki T, Konishi J. Effect of Iodine Restriction on Thyroid Function in Patients with Primary Hypothyroidism. Thyroid. 2003;13(6):561-567. doi:10.1089/105072503322238827.
Dellabella, H. Thyroid Peroxidase Antibody Positivity Linked to Reduced Live Birth Rate in Recurrent Pregnancy Loss. Endocrinology Advisor. https://www.endocrinologyadvisor.com/home/topics/thyroid/thyroid-peroxidase-antibody-positivity-linked-to-reduced-live-birth-rate-in-recurrent-pregnancy-loss/. Published October 17, 2010. Accessed January 7, 2021.
Gutch M, Bhattacharjee A, Kumar S, Pushkar D. Hashimoto's Encephalitis: Rare Manifestation of Hypothyroidism. Int J Appl Basic Med Res. 2017;7(3):193-195. doi:10.4103/ijabmr.IJABMR_256_16.
Carta MG, Loviselli A, Hardoy MC, et al. The link between thyroid autoimmunity (antithyroid peroxidase autoantibodies) with anxiety and mood disorders in the community: a field of interest for public health in the future. BMC Psychiatry. 2004;4:25. Published 2004 Aug 18. doi:10.1186/1471-244X-4-25.