If you have spent any time in the health and wellness world over the past few years, you've probably heard of bone broth — otherwise known as liquid gold.
Bone broth is made by cooking down the bones of animals (usually chicken or beef) to release the nutrients they contain, and has been touted as a healing elixir for everything from joint health to immune function.
But did you know that bone broth can be healing for those of us with Hashimoto's? I discovered its benefits when I was looking for ways to put my own Hashimoto's into remission, and it has since become a staple in my diet. In fact, I recommend it as one of the top foods for Hashimoto's that most people should include in their healing diets.
In this article, I'll talk a little bit about:
The history of bone broth
Bone broth's benefits for Hashimoto's
How to make your own gut-healing broth
History of Bone Broth
Bone broth has become popular in recent years, and is a staple for many people who follow a Paleo style diet. However, people have been drinking bone broth in various forms for millennia — even your grandmother knew of its healing power when she cooked down a chicken carcass to make you soup when you were sick!
In the Paleolithic era, no part of the animal was wasted. Flesh and muscle were used for eating, the hide was used to make sheets of material, and inedible/unusable parts, such as hooves and bones, were stewed and simmered to create broth — but not at first! Before pots came about, some 20,000 years ago, people would open animal carcasses and add hot stones to break down the bones and extract nutrients from them (like bone marrow). Once pots were invented, they would throw animal bones into hot water, over a flame, to draw the nutrients out into the water. Then they would drink this liquid gold!
Cultures all over the world have their own versions of bone broths that date back thousands of years. In Greece, chicken broth is commonly mixed with lemon and beaten eggs, and used as a remedy for colds and digestive upset. In East Asia, bone stock infused with herbs and spices, is often added to accompany meat-based meals, to enhance its healing properties and flavors. Meanwhile, in India, chicken soup is commonly sold by roadside vendors during the winter to ward off illness.
These days, people everywhere recognize bone broth for its gut healing properties and ability to prevent or heal common colds and flu. In fact, in 2000, a research study sought to substantiate the millennia-old claim that chicken soup can cure illness, and found that some of its components were able to inhibit the migration of innate immune cells (called neutrophils), and acted as an anti-inflammatory that could, in theory, reduce symptoms of illness.
Your grandmother might have been onto something, after all!
Benefits of Bone Broth
Bones contain an abundance of minerals and amino acids, most of which are released into the broth when they are cooked and broken down. The sought-after nutrients that are found in bone broth include:
Collagen – A protein that is the main component of connective tissue, including cartilage, tendons, bone, skin, and ligaments.
Gelatin – Smaller proteins that are formed when collagen is simmered.
Glycine – This amino acid makes up about a third of collagen and also acts as a neurotransmitter.
Proline – This amino acid increases the stability of collagen.
Glutamine – The most abundant amino acid in the blood that is used for energy by intestinal and immune cells.
Glucosamine – An amino sugar that is primarily responsible for building cartilage within the joints.
Chondroitin sulfate – A sulfated glycosaminoglycan (GAG), this is an important structural component of cartilage.
Minerals – These include calcium, magnesium, iron, copper, phosphorus, potassium, sodium, manganese, and zinc.
In addition to speeding up one's recovery from the common cold, there are numerous health benefits associated with the consumption of bone broth and its components, and they can be especially helpful for Hashimoto's.
Benefits of Bone Broth for Hashimoto's
I recommend bone broth first and foremost because I have found that a diet for healing Hashimoto's needs to include some essential nutrients, including those found in bone broth, to help rebuild the intestinal lining. This is very important for people who display signs of "leaky gut" or intestinal permeability.
As Hippocrates said, "All disease begins in the gut."
What does the gut have to do with the immune system and autoimmunity?
Researchers have found that, in addition to digesting and absorbing nutrients, as well as maintaining water and electrolyte balance, the intestines are also responsible for helping the immune system recognize foreign invaders from self-antigens, thus facilitating the control of pathogens and preventing autoimmune reactions.
Leaky gut results in an abnormally increased permeability of the small intestine. In leaky gut syndrome, the tight intestinal junctions become looser, allowing substances that normally would not gain systemic access, to enter circulation in the body. This irritation can interrupt the immune system's ability to regulate itself and put the body into a perpetual "attack mode" that is counterproductive to healing. And, Dr. Fasano has found that leaky gut is one of three factors that must be present in order for autoimmune conditions, like Hashimoto's thyroiditis, to occur!
So how does bone broth play a role in healing a leaky gut?
The most important benefit, in the case of gut health, is that the gelatin in bone broth helps to seal the junctions in the intestines so they are no longer permeable, and those pesky foreign invaders can no longer pass through the intestinal wall and inflame the immune system.
The gelatin and glutamine contents in bone broth help maintain the layer of mucus in the gut that protects the intestinal wall from being damaged by gut microbes.
Additional Benefits of Bone Broth
There are many other ways that bone broth can benefit your health, including many symptoms that are associated with Hashimoto's.
Bone and Joint Health
Drinking bone broth provides many of the necessary components for building strong bones, including calcium, phosphorus, and amino acids. It also contains glycosaminoglycans (GAGs) such as chondroitin sulfate, which are complex carbohydrates that help form the lubricant that surrounds the joints. This allows the joints to move smoothly and painlessly. Glucosamine further supports joint health by helping to build cartilage.
Additionally, bone broth is rich in collagen, which has been shown to support joint health. This is especially important for those with Hashimoto's, because joint pain and osteoporosis are commonly associated symptoms, often stemming from nutrient deficiencies that are a root cause for many.
Gut Health
The gelatin and glutamine in bone broth help maintain the layer of mucus in the gut that protects the intestinal wall from being damaged by gut microbes. (This is especially helpful for those with leaky gut!) Meanwhile, glycine stimulates the production of stomach acid, which is essential for digestion. Gelatin in the gut will also draw fluid into the intestine, improving gut motility and supporting healthy bowel movements. This is especially important to those of us who experience constipation — a common symptom of hypothyroidism!

Metabolic Health
Glycine plays a role in blood sugar regulation by controlling the production of glucose in the liver, and may counteract some of the negative effects of dietary fructose (sugar) consumption.
Blood sugar imbalances are a common root cause and symptom in Hashimoto's. Blood sugar levels that are in constant flux also cause chronic stress in the body, and stabilizing blood sugar is an important part of protecting your adrenals from excess stress that affects thyroid function.
That's why blood sugar imbalances are one of the first things I recommend that people address when they begin working to get their thyroid symptoms into remission… and incorporating a blood-sugar balancing diet, along with glycine-rich bone broth, is an excellent way to get started. (You can read more about blood sugar imbalances here.)
Skin Health
Studies have shown that collagen consumption can significantly improve skin elasticity, as well as skin moisture content. Another study in mice found that supplementing with gelatin provided protection against ultraviolet (UV) skin damage. Many people with Hashimoto's suffer from dry, dull skin, rashes, and hives, which can be relieved by collagen, gelatin and many of the nutrients in bone broth.
Brain Health
There are many components of bone broth that benefit the nervous system, including the abundance of healthy fats that provide raw material for the brain. Glycine has been shown to protect against neuronal death after stroke, and is believed to play a role in brain development in the womb. Additionally, calcium is essential for nerve conduction, and chondroitin sulfate is essential for learning and memory. Brain fog, depression, and other cognitive conditions are common symptoms of Hashimoto's, and the brain-supportive components of bone broth can help mitigate many of these conditions.
Additional benefits that have been associated with the nutrients in bone broth include decreased anxiety, improved sleep quality, better eye health, detoxification support, and faster muscle repair and growth.
What is the Best Source of Bone Broth?
Though there are many retailers selling packaged and canned bone broth, I don't typically recommend purchasing it at a supermarket. Those boxes contain so many more ingredients than basic bone broth would have — including MSG (a neurotoxin!), corn starch (hello GMO's!), chicken flavoring (artificial flavors), and many preservatives to keep that broth "fresh" and stable in its boxed form.
One packaged version of bone broth that I do enjoy is made by The Flavor Chef. They create certified humane and verified non-GMO bone broth (made with organic chicken and grass-fed beef), and they even have AIP options — great for those with Hashimoto's. You can save 10% off your order of bone broth by entering the code THYROID10 at checkout! 🙂
When possible, I do recommend creating bone broth from scratch. Bone broth is one of the easiest recipes to make, and requires only a few simple ingredients. You can make a large batch at one time and store it in glass jars in the refrigerator (up to 5 days) or freezer (up to a year), to be warmed as needed.
To begin with, you will need to find a quality source of poultry, beef, or fish bones. I always recommend purchasing bones (and meat) from organic, free range, and humanely raised providers as much as possible. The nutrient quality will be far superior to most conventionally raised animal products, and free of added hormones and antibiotics.
To source the highest quality bones available, you can:
Ask your local butcher for leftover bones or chicken carcasses
Check to see if a farm near you has bones for purchase
Save bones from your roast chicken or beef steaks
Check the freezer section of your local supermarket
Order online from US Wellness Meats
Bone Broth Recipe
I want to share with you my lazy woman's way of making bone broth — in a slow cooker! One of my favorite things in the world is waking up in the morning to the fragrance of fresh, delicious, bone broth that has been cooking all night in my kitchen, while I'm sound asleep and resting my adrenals.
Ingredients:
4-5 organic chicken legs
1 tablespoon apple cider vinegar
2 stalks celery
1 onion
6 to 8 large carrots
Purified water
Sea salt to taste
Black pepper to taste (if tolerated)
Directions:
Place the chicken, vinegar, and vegetables in a slow cooker.
Fill with water to 1 inch below the top of the slow cooker, cover, and cook on high for 8 to 12 hours.
Season with salt and pepper to taste.
Strain, pour into jars, and refrigerate (or freeze).
Here's a quick video on how I make my bone broth:
I'll be releasing some more quick and fun videos in 2020, so be sure to subscribe to my YouTube channel.
I recommend adding bone broth into your diet several times a week — even daily — to take advantage of its many healing benefits!
Precautions
If you are sensitive to foods that are high in histamine, you may want to avoid bone broth while you heal, as the collagen it contains is a high histamine food. Histamine is a chemical involved in your immune system, your digestion, and your central nervous system. It causes your blood vessels to dilate so that your white blood cells can quickly find and attack the problem when it senses an immune system attack. If for some reason you don't break down histamine properly, it will build up, and you may develop a histamine intolerance. You can read more about the symptoms of histamine intolerance in my article, here.
There are a few ways to limit the amount of histamines in your bone broth. You can try:
Reducing the simmering time to four hours
Using a pressure cooker to reduce cook time to 90 minutes
Omitting the apple cider vinegar if you are intolerant, or use lemon juice instead
Additionally, a concerned few have raised the question of lead levels in bone broth after a 2013 study found higher levels of lead in water after boiling chicken bones, than in the same water that was boiled without the bones. However, it's important to note that the levels of lead that were found (up to 9.5 µg/L) were still below the safety threshold set by the U.S. Environmental Protection Agency (15 µg/L). There are also other unanswered questions in this study, such as where the chickens were raised, what the pH of the water was, and how much fluoride the water contained (as fluoride in water can increase lead accumulation). Conventional grain consumption can also increase the animal's exposure to lead.
If you have concerns about lead exposure, I suggest using a quality water filter to remove fluoride and other toxins from the water you use to make your bone broth. I also encourage you to find bones sourced from organic, grass-fed meats, to reduce heavy metal exposure. Personally, I believe that the many benefits of bone broth far outweigh the possibility of contaminants, especially when healthy sources of bones are used.
The Takeaway
Bone broth is one of the easiest and most delicious ways to heal your gut and boost your health, and I recommend it to just about everyone! Even if you don't consider yourself much of a cook, with a slow cooker and a few simple ingredients, you have the makings of a gut-healing superfood.
As a bonus, bone broth is an incredibly versatile food. It can be sipped in a mug on a cold morning, used as a base for many different types of soup, or added to sauces to enrichen the flavor and nutritional value. I even know people who make bone broth popsicles on hot summer days!
For more ideas on how to use bone broth in your cooking, you can pick up a copy of my cookbook Hashimoto's Food Pharmacology, which contains 125 recipes to heal Hashimoto's and nourish your body.
In the meantime, I encourage you to share this infographic on social media so that others can experience the healing benefits of bone broth!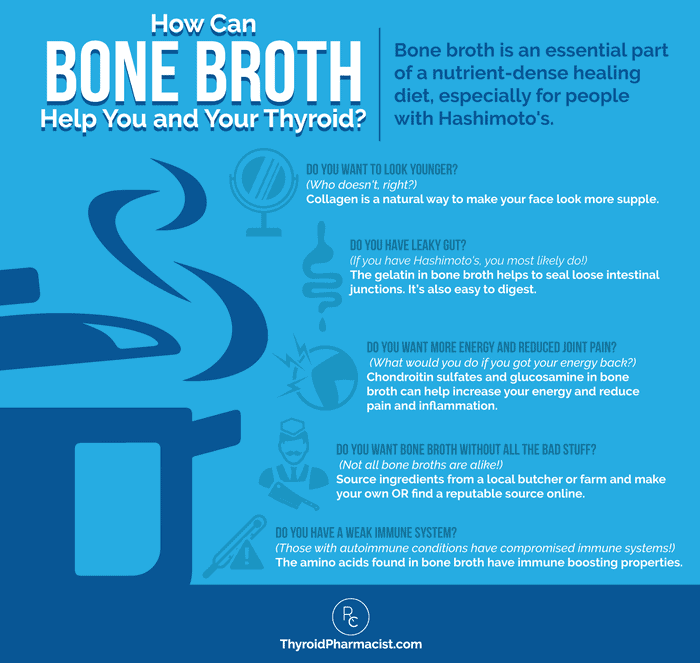 As always, I wish you well on your journey toward better health!
P.S. For continued updates and interaction, please become a part of our Facebook community and sign up for my newsletter to have helpful information delivered right to your email inbox. You'll also receive occasional updates about new research, resources, giveaways, and more!
References
The Surprising History Behind Bone Broth. The Kettle & Fire Blog. 2017. Available at: http://blog.kettleandfire.com/the-surprising-history-behind-bone-broth/. Accessed August 15, 2017.
Proksch E, Segger D, Degwert J, Schunck M, Zague V, Oesser S. Oral supplementation of specific collagen peptides has beneficial effects on human skin physiology: a double-blind, placebo-controlled study. Skin Pharmacol Physiol. 2014;27(1):47-55. doi: 10.1159/000351376. Epub 2013 Aug 14.
McCarty MF, DiNicolantonio JJ. The cardiometabolic benefits of glycine: Is glycine an 'antidote' to dietary fructose? BMJ Journals. http://dx.doi.org/10.1136/openhrt-2014-000103.
Scaldaferri F, Riccardo L, Petito V, Cufino V, Bilotta M, Arena V, et al. Gelatin tannate ameliorates acute colitis in mice by reinforcing mucus layer and modulating gut microbiota composition: Emerging role for 'gut barrier protectors' in IBD? United European Gastroenterol J. 2014 Apr; 2(2): 113–122. doi: 10.1177/2050640614520867
Gusev EI, Skvortsova VI, Dambinova SA, Raevskiy KS, Alekseev AA, Bashkatova VG, et al. Neuroprotective effects of glycine for therapy of acute ischaemic stroke. Cerebrovasc Dis. 2000 Jan-Feb;10(1):49-60.
Rennard BO, Ertl RF, Gossman GL, Robbins RA, Rennard SI. Chicken soup inhibits neutrophil chemotaxis in vitro. Chest. 2000 Oct;118(4):1150-7.
Monro JA, Leon R, Puri BK. The risk of lead contamination in bone broth diets. Med Hypotheses. 2013 Apr;80(4):389-90. doi: 10.1016/j.mehy.2012.12.026. Epub 2013 Jan 31.
Note: Originally published in 2016, this article has been updated for accuracy and thoroughness.