Baby, it's cold outside, how about some comfort food? What's better for comfort than hot soup? I want to introduce you to a hot soup that is not just tasty and comforting but also has gut healing properties… BONE BROTH!
History of Bone Broth
In the Paleolithic era, no part of the animal was wasted.  Flesh and muscle were used for eating, the hide was used to make sheets of material, and inedible/unusable parts, such as hooves and bones, were stewed and simmered to create broth—but not at first! Before pots came about, they would open the carcass and add hot stones to break down the bones and extract nutrients from them (like bone marrow). Once they invented the pot, they would throw bones in hot water over a flame to draw the nutrients out into the water, and then they would drink this liquid gold! (1)
I recommend bone broth because in my research I have found that a diet for healing Hashimoto's needs to include some essential nutrients, including bone broth, to help rebuild the intestinal lining. This is very important for people who display signs of "leaky gut" or intestinal permeability. It's also a key ingredient in my Advanced Elimination Diet from my Root Cause book because it's easy to digest and can be included in many of the recipes.
The Gut – Thyroid Connection
As Hippocrates said very well "All disease begins in the gut."
What does the gut have to do with the immune system and autoimmunity? Everything! It is the intestinal lining that prevents autoimmunity!

Researchers have found that in addition to digesting and absorbing nutrients and maintaining a water and electrolyte balance, the intestine is also responsible for helping the immune system recognize foreign invaders from self-antigens, thus facilitating the control of pathogens and preventing autoimmune reactions.
Leaky gut is an abnormally increased permeability of the small intestine. In leaky gut syndrome, the tight intestinal junctions become looser, allowing substances that normally would not gain systemic access to get into the circulation.
So how does bone broth play a role in gut health and healing a leaky gut?  I'm going to tell you!
There are so many benefits of bone broth: boosting immunity, relieving joint pain, increasing energy, improving digestion, and giving you a more youthful appearance. But the most important reason in the case of leaky gut and gut health is that the gelatin in bone broth actually helps to seal the junctions in the intestines so they are no longer permeable, and therefore those pesky substances can no longer pass through the intestinal wall!
All of the components in bone broth work together to help make these benefits possible. The term "Food is thy medicine" is definitely true in this case!
Some of the main nutrients in bone broth are:
Collagen
Gelatin
Amino Acids – glutamine, glycine, and proline
Glucosamine
Chondroitin Sulfate
Minerals – calcium, magnesium, phosphorus, etc.
What it isn't
Bone broth is not something you would typically buy at a supermarket. Those boxes and cubes contain so many, more things than basic bone broth would have—including MSG (a neurotoxin!), corn starch (hello GMO's!), chicken flavoring (aka artificial flavors), and many preservatives to keep that broth nice and "fresh" and stable in its boxed form.
Find a local butcher or farm who sells or raises healthy animals and support them by purchasing their bones. If you do not have access to this, then find the best you can in your area or go to US Wellness Meats to find bones to order.
I want to reveal four ways for you to enjoy bone broth. I hope these options will allow you to incorporate bone broth into your life!
1 – For the lazy cook
I want to share with you my lazy woman's way of making bone broth—in a slow cooker! One of my favorite things in the world is waking up in the morning to the fragrance of fresh, delicious, bone broth that has been cooking all night in my kitchen while I'm sound asleep and resting my adrenals.
Ingredients:
1 tablespoon apple cider vinegar
14 oz container of Mirepoix chopped celery, carrots, and onion from Trader Joe's*
4-5 organic chicken legs
Fill slow cooker three-quarters of the way up with purified water, then:
At bedtime or first thing in the morning, add all ingredients into the slow cooker.
Fill with water. Place on high for 8-12 hours.
Go to sleep or take a nap 🙂
Wake up to beautiful and fragrant bone broth.
Ladle it out into a mug
Season with sea salt and pepper to taste.
Enjoy the potent gut healing benefits
*If you don't have a Trader Joe's in your neighborhood, just toss two whole stalks of celery, one whole onion, and 6-8 large carrots into the slow cooker. No need to get all high maintenance with chopping the veggies, you can just scoop them out and toss the onion and celery after the soup is done, and the carrots will be so soft that they will break apart on their own!
2 – For the cook and connoisseur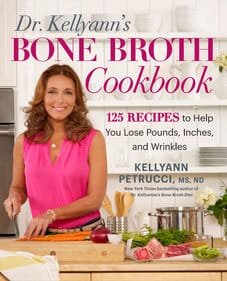 If the idea of bone broth makes your mouth water and you're already thinking of all the creative ways you can cook it, you're going to love Dr. Kellyann's Bone Broth Cookbook. This wonderful cookbook has basic and gourmet bone broth recipes + 125 Paleo Friendly Recipes! Each health-boosting recipe is incredibly gourmet, and yet so EASY to make!
Amazing, right?
Here's the best part… Dr. Kellyann wants to help you cover the cost for you to own this wonderful collection of new bone broth recipes when you buy her cookbook today… PLUS give you two more bonuses. How great is that?!
CLICK HERE to get your "Book + Bonuses" deal.
You can also order the book on Amazon, and if you have Amazon Prime, it will get there before Christmas 🙂
3 – For the flavor connoisseur/lazy cook
If you are looking for some tasty—and nutritious—bone broth that you don't need to cook yourself, let Chef Lance do the work for you at The Brothery!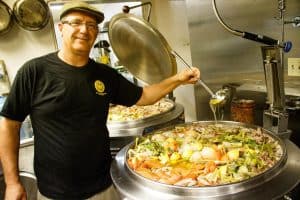 Certified Humane / verified non-GMO bone broth (organic chicken and grass-fed beef) made with Palomar Mountain Spring Water is what they offer, and they even have AIP options—great for those with Hashimoto's.
Their mission statement is "to help heal the planet one GI tract at a time." That's a message I can stand behind!
Check out what Chef Lance has cooked up!
If you're looking to add even more flavor to the bone broth, try this recipe and tell us how you like it!
The Thyroid Pharmacy
The Single Vegetable Soup Formula:
Carrot Ginger
By Chef Lance, The Flavor Chef
Digestion/ key ingredients: This soup is a great comeback from illness soup as it is easy on the stomach and packed with nutrients. Well-cooked food in broth is easier to digest. We can add a pinch of turmeric to kick up the flavor plus the benefit it has to your health regimen. This soup does really well with an addition of fresh mint or fresh cilantro at the end. A genuine bone broth, coconut milk, and the addition of mint and lemon, all help in the digestion process.
Tools: cutting board, knife, soup pot, ladle, immersion blender
Time: 30 to 45 minutes
Yield: 6 to 8 servings
Ingredients:
2 tablespoons extra-virgin coconut oil
1/2 cup chopped white onion
4 cups chopped carrots (or sub other vegetables)
Juice from 3 ounces of grated ginger (see process note)
1 tablespoon plus 2 teaspoons finely grated fresh peeled ginger
1 tablespoon lemon juice
14-ounce can coconut milk
Juice of a Valencia orange
Add pinch of turmeric for even more benefits and flavor
Add fresh chopped mint leaves or cilantro leaves for fragrant floral notes
Lots of Love
Directions: Heat the coconut oil in a large saucepan over medium-high heat. Add the onion and sauté until translucent, about 4 to 5 minutes. Add the carrots, ginger, and sweat gently for 3 more minutes. Add the broth, lemon juice, and orange juice; bring to a boil. Reduce the heat immediately to a simmer; cook covered until the carrots are tender, about 20 minutes. Remove from the heat. Puree with immersion blender, or food processor, until very smooth. Return the soup to the saucepan and stir in the coconut milk, salt, and turmeric. Reheat the soup over medium heat until hot. Ladle the soup into bowls and serve. Garnish with fresh cilantro parsley or mint.
Process Note: Finely grate the ginger and squeeze the juices into the soup to remove the hard to digest insoluble fiber from the ginger. This simply refines the flavor of the soup and takes out the hard ginger fibers.
Other vegetables: With most other vegetables I would take out the orange juice and limit the lemon juice as the acid turns the green vegetables brown. Generally, less cooking time is required.
Lastly, for a more refined soup, the soup can be pressed through a sieve if a smoother consistency is desired.
4 – For the traveler
Just because you traveling all over the country—or world—doesn't mean you have to go without your healthy bone broth. In fact, Dr. Kellyann has exactly what you need with her Collagen Packs To Go! All you have to do is add hot water and voila! You've got scrumptious bone broth. They can go where you go! That includes the office when you want something better than leftovers 🙂 Find out all about them here.
My bone broth buddies 🙂
I always enjoy spending time with Dr. Kellyann!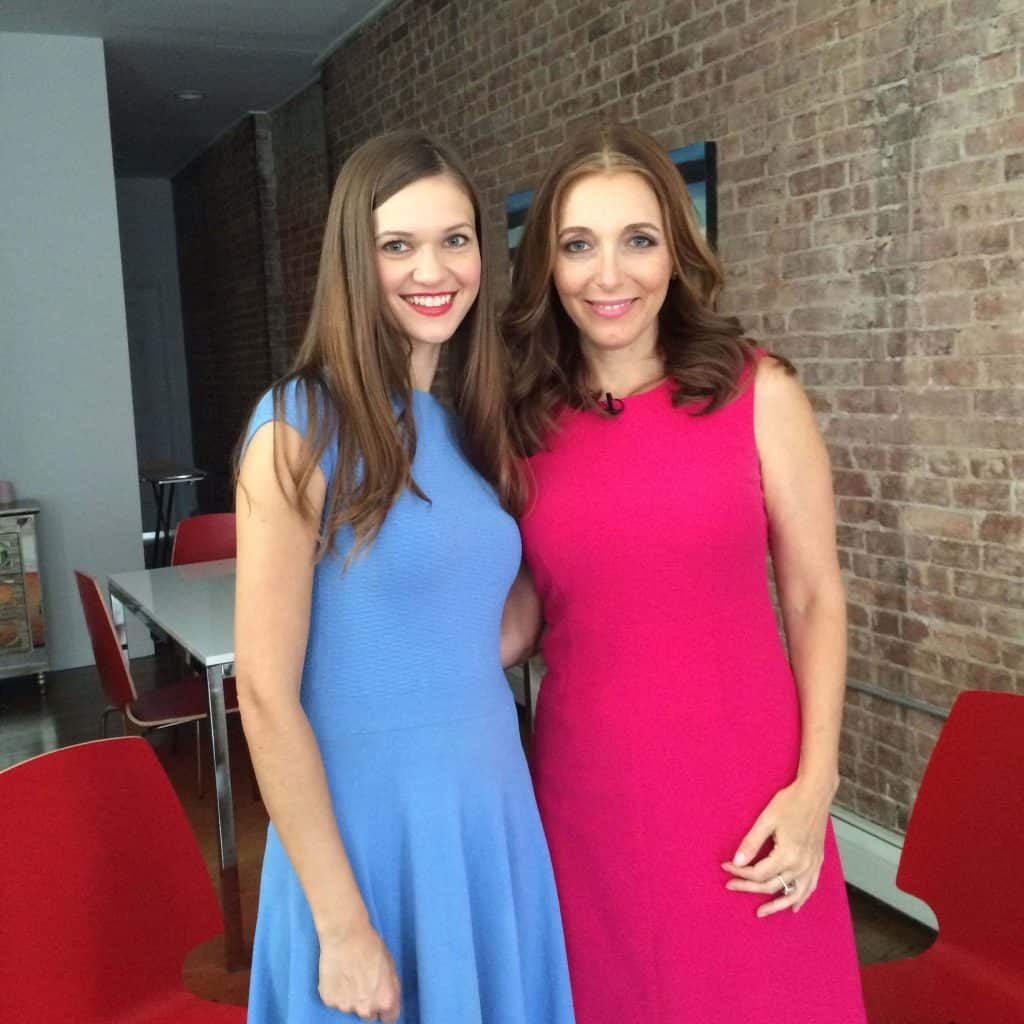 Had a great time meeting Chef Lance!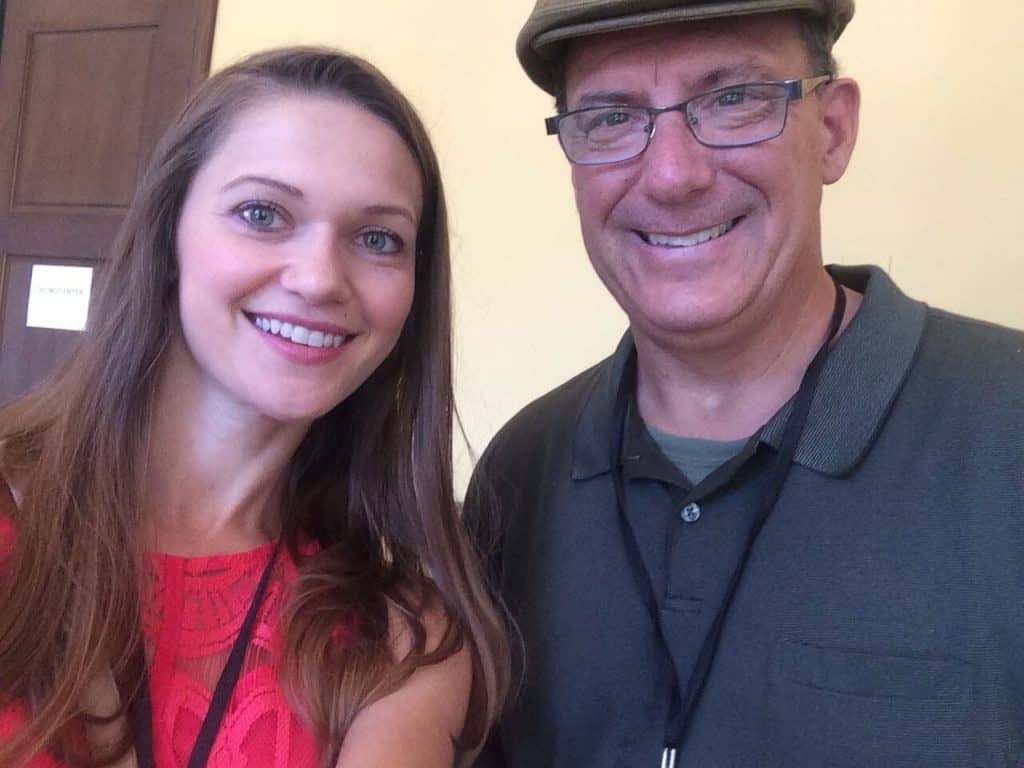 I hope that bone broth warms your body in this cold holiday season 🙂
References
The Surprising History Behind Bone Broth. The Kettle & Fire Blog. 2017. Available at: http://blog.kettleandfire.com/the-surprising-history-behind-bone-broth/. Accessed August 15, 2017.