People who are newly diagnosed with Hashimoto's are often confused about the symptoms they are experiencing. Personally, I was shocked to have been diagnosed with hypothyroidism and not hyperthyroidism. I was thin, anxious, irritable, and had heart palpitations in addition to feeling cold, forgetful, and tired — all symptoms that are typically associated with hyperthyroidism.
What I didn't know at the time, is that 90-97 percent of cases of hypothyroidism are caused by Hashimoto's, an autoimmune attack on the thyroid — and Hashimoto's has a unique set of symptoms compared to non-autoimmune hypothyroidism.
I've come to understand that Hashimoto's can look very different from person to person. No two people will present with the exact same list of symptoms, and some people have more mild versions, while others can be completely debilitated. I have witnessed people with uncontrolled Hashimoto's who can work an 80 hour week, run a household, become elite body builders, and/or run marathons, while others can barely drag themselves out of bed in the morning.
Hashimoto's and its symptoms cover a broad spectrum — and in this article, I'd like to bring awareness to how different the condition can look from person to person. We'll discuss:
The differences between hypo- and hyperthyroidism
Symptoms associated with Hashimoto's
Common root causes
Steps you can take to address your root causes today
Do you Swing Back and Forth from Hypothyroidism to Hyperthyroidism?
The thyroid gland is an important endocrine organ that produces hormones to regulate our metabolism. When the thyroid is not functioning properly, there may be an excess or lack of thyroid hormone production, which can lead to hyper or hypothyroidism, respectively.
Hyperthyroidism is characterized by an overactive thyroid gland that produces and releases an excess of thyroid hormone into the body. It is often caused by hyperfunctioning (overactive) thyroid nodules, an attack on the immune system (as is the case in the autoimmune condition Graves' disease), a viral infection, or the consumption of foods or medications that contain high levels of iodine.
Conversely, hypothyroidism is associated with a lack of thyroid hormone that can occur as a result of a variety of different factors (including iodine deficiency, surgical removal of the thyroid, or damage to the thyroid).
Symptoms of Hyperthyroidism
Hyperthyroidism, or an overabundance of thyroid hormone, has a stimulatory effect. Classical symptoms include:
Weight loss
Palpitations
Anxiety
Eye bulging
Tremors
Irritability
Infrequent menstrual periods
Fatigue
Heat intolerance
Increased appetite
Hair loss
Enlarged thyroid gland
Sweating
Frequent bowel movements
Infertility
Soft nails
Warm, moist palms
Finger tremors
Insomnia
Muscle weakness
Nervousness
Symptoms of Hypothyroidism
Some of the more common symptoms of hypothyroidism, or deficiency of thyroid hormone, include:
Slower metabolism leading to weight gain
Forgetfulness
Feeling cold or cold intolerance
Depression
Fatigue
Dry skin
Constipation
Loss of ambition
Dry, coarse hair
Muscle cramps
Stiffness
Joint pain
A loss of the outer third eyebrow
Heavy menstrual periods
Infertility
Muscle aches
Puffy face
Slow heartbeat
Brittle nails
Arthritis
These symptoms may be present in any combination in people with thyroid disorders, but the degree to which they impact an individual can vary greatly as well. For example, one person with hypothyroidism may find themselves putting on a great deal of weight, despite eating a healthy diet and exercising regularly, while another person may stay within a normal weight range most of the time, with minimal effort. Additionally, the symptoms a person experiences can change, disappear, and reappear over time.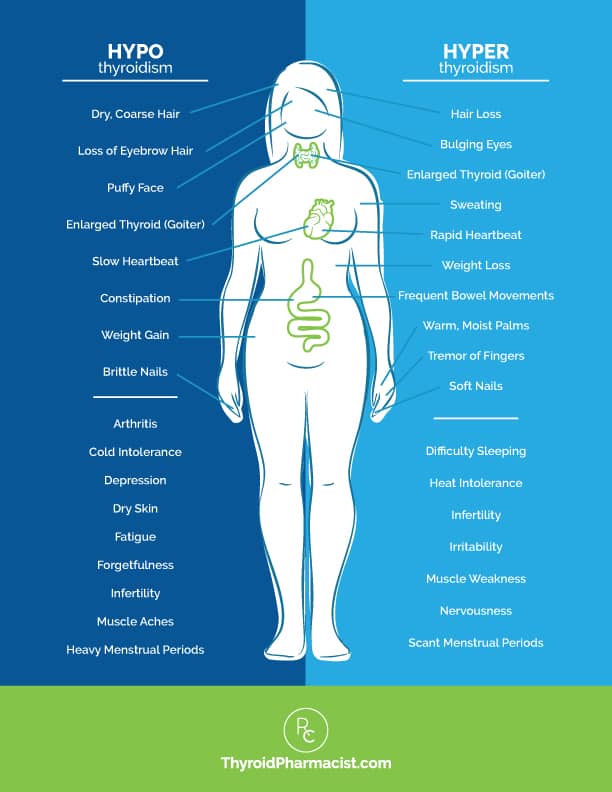 Hashimoto's Symptoms
If you're reading this, you're likely thinking, what about Hashimoto's?
Hashimoto's is an autoimmune condition that results in the immune system damaging the thyroid, which leads to a lack of thyroid hormone production. Most cases of hypothyroidism in the United States, and other countries that add iodine to their salt supply, are caused by Hashimoto's.
While Hashimoto's is the leading cause of hypothyroidism, there is a difference between Hashimoto's and hypothyroidism. A person can have one, and not the other.
Most cases of pure hypothyroidism can be remedied by taking thyroid hormones. However, given that 97 percent of cases of hypothyroidism are due to advanced Hashimoto's, people will still have Hashimoto's and the autoimmune attack will remain, even when proper levels of thyroid hormone are restored with medications, unless we find and treat the root cause of the autoimmune attack.
People with Hashimoto's may experience BOTH hypothyroid and hyperthyroid symptoms because, as the thyroid cells are destroyed, stored hormones are released into circulation, causing a toxic level of thyroid hormone in the body. This is known as thyrotoxicosis, or Hashitoxicosis. Eventually, the stored thyroid hormones may become depleted, and due to thyroid cell damage, the body may no longer be able to produce enough hormones. This is when hypothyroidism develops.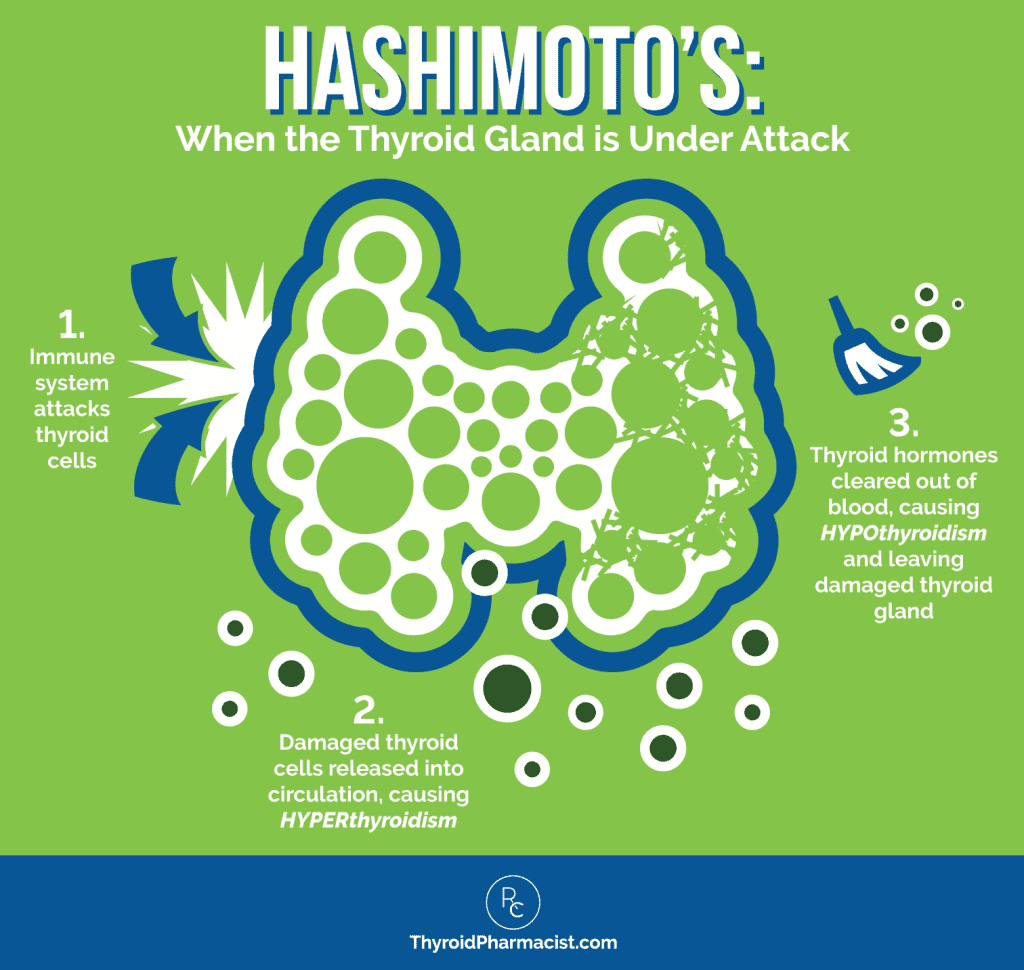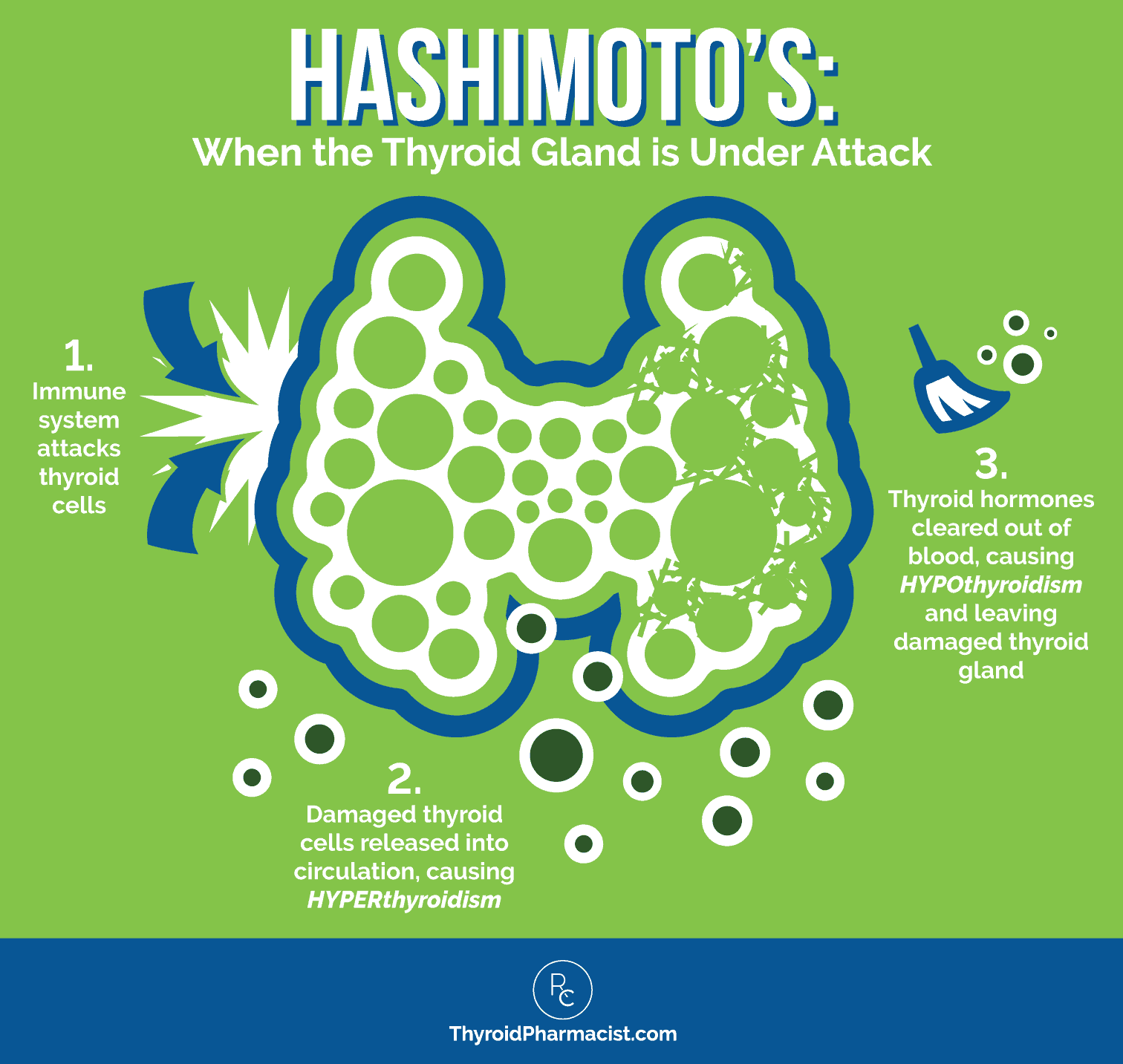 This explains why we see both symptoms of hyper- and hypothyroidism in people with Hashimoto's, in addition to a few symptoms that are typical of Hashimoto's — especially those related to gastrointestinal distress, like irritable bowel syndrome (IBS), acid reflux (GERD), diarrhea, constipation, and bloating.
It also explains why the condition can look so different from person to person, as the symptoms are broad and frequently shifting.
In addition to many of the symptoms we frequently see associated with hyper- and hypothyroidism, Hashimoto's commonly presents with:
Mood swings
Cold hands and feet
I personally experienced irritable bowel syndrome (IBS), anxiety, and advanced carpal tunnel in both hands, which required me to wear wrist braces. Despite my symptoms, however, I looked fine (except for some bloating). I had hair on my head (despite losing much of it) and I didn't need crutches (although I experienced leg and muscle pain). When I came home from work, all I could do was eat, watch TV, and fall asleep on the couch. I was living proof that thyroid symptoms may affect someone, even though they may look fine on the outside!
Some of these symptoms may have been directly related to insufficient thyroid hormone. Others may have been due to related issues (i.e. gut infections), which are seen in many people with Hashimoto's. That's why it's important to identify the root causes of YOUR Hashimoto's, so you can take the first steps toward healing!
Identifying and Addressing Your Root Cause(s)
Most doctors dismiss autoimmune conditions as the result of certain genes and believe that once present, they cannot be reversed. However, leading pediatric gastroenterologist and researcher, Dr. Fasano, has proven otherwise. He has come up with a concept which he calls the "three-legged stool of autoimmunity."
According to his research, three factors need to be present for an autoimmune condition to develop:
A genetic predisposition
An external trigger
Intestinal permeability, also known as leaky gut (a condition that involves "holes" in the intestinal lining, which allows toxins and food particles to pass through and further damage our gut)
Dr. Fasano found that, upon removing the intestinal permeability and/or trigger, an autoimmune condition will go into remission. For this reason, I believe in addressing the root causes of Hashimoto's symptoms to reverse the condition. (And yes, remission is possible with Hashimoto's!)
Those with Hashimoto's often share similar triggers and root causes. Though the list of potential triggers is long, the ones we see the most often are:
1. Food sensitivities: The most common food sensitivities found in people with Hashimoto's are gluten, dairy, soy, grains, nightshades (potatoes, tomatoes, and peppers), nuts, and seeds. When someone is first setting out to change their diet, I always recommend removing gluten, dairy, and soy.
In surveying my readers and clients, I've found that about 93 percent have felt better on a gluten-free diet. Another 75 percent reported feeling better on a dairy-free diet, 73 percent felt better grain-free, and another 60 percent said they felt better soy-free. Egg and nightshade-free diets were helpful 40 percent and 35 percent of the time, respectively. One of the easiest ways to begin identifying your own food sensitivities is with an elimination diet. You can also read my article about food sensitivities for more information to help you get started.
2. Nutrient depletions: Micronutrient deficiencies are common in people with Hashimoto's. This could be due to a lack of sufficient thyroid hormones, as such a state makes nutrient extraction from food more difficult and less efficient. Nutrient deficiencies can also occur as a result of eating nutrient-poor foods, following a calorie-restricted diet, having inflammation from infections or food sensitivities, taking certain medications, or having an imbalance of gut bacteria.
These nutrient deficiencies contribute to the development of Hashimoto's, as well as many of its symptoms. Restoring one's nutrient levels through nutrient-dense foods, supplementation, and optimizing digestion, are some of the fastest ways to feel better with Hashimoto's!
3. Impaired stress response: Stress affects so many different bodily functions, including metabolism, hormone production, immune system regulation, and emotional response. It can also decrease thyroid function, as the body attempts to preserve energy to deal with whatever issue is at hand — whether you are being chased by a bear or stuck in traffic. The adrenal glands cannot decipher what is happening when in a "fight or flight" response, so it reacts the same way. "Fight or flight" mode can save us from danger and help us tackle the challenging situations in life.
However, problems arise when this type of stress is ongoing and the body is constantly suppressing thyroid function to preserve its resources. Additionally, high or low cortisol levels, caused by chronic stress to the adrenal glands, can cause hypoglycemia (low blood sugar) and hyperglycemia (high blood sugar).
If left unmanaged, these blood sugar imbalances can lead to hypothyroid symptoms. An increase in cortisol will also disrupt the balance of the HPT (hypothalamic-pituitary-thyroid) axis, which the body relies on to keep thyroid levels steady.
You can begin incorporating a few simple steps to reduce your stress load, such as making time for self-care (massage is a favorite option!), taking a yoga class, or beginning a daily meditation practice.
My article on adrenal fatigue has more ideas for lowering your stress levels and supporting your adrenals.
4. Toxins: It can be nearly impossible to escape from toxins because they are everywhere — cosmetics, skin products, pesticides, exhaust fumes — whatever we inhale, ingest, and absorb into our skin eventually ends up circulating in our body. In fact, in 2006, the Centers for Disease Control reported that the average American has 116 out of 148 commonly used synthetic compounds in their body!
We are frequently exposed to xenoestrogens (found in BPA, soy, phthalates, parabens, etc.), which may increase TSH and perpetuate the autoimmune attack on the thyroid. Other toxins such as triclosan (recently banned by the FDA and found in antibacterial soap, toothpaste, deodorant, hair spray, and many other personal care products) have structures that can resemble the thyroid and have been found to cause thyroid toxicity.
There are also toxins called halogens (i.e. bromide, chloride, and fluoride), which can compete with receptor sites in the thyroid gland and build up in our thyroid tissue, leading to inflammation and thyroid cell death. Fluoride, in particular, can wreak havoc on the thyroid and is included in an array of products — bottled beverages, toothpaste, black and red tea, canned foods, certain medications, and even our drinking (tap) water!
You can begin reducing your toxic exposure by replacing personal care products with safer choices, and installing a home water filtration system to eliminate harmful chemicals from your drinking water. To learn more about reducing your toxic burden, please read my article on liver support.
5. Bacterial, fungal and parasitic infections: Chronic infections (such as small intestinal bacterial overgrowth (SIBO), Blastocystis hominis, Candida overgrowth, and H.pylori) have all been identified as triggers of Hashimoto's, and identifying and treating them can result in complete remission. In 2015, 80 percent of my clients who hit a plateau with nutrition and took the gut tests I recommended, tested positive for at least one gut infection. If you feel you have also hit a wall and feel that an underlying infection might be your root cause, I encourage you to read more about Hashimoto's and infections to learn how to eradicate them once and for all.
6. Leaky gut: As I mentioned earlier, intestinal permeability (leaky gut) is one of the factors that must be present for autoimmunity to occur. A leaky gut has gaps in the gut lining that allow irritating molecules and substances to escape from the digestive system and enter into the bloodstream. In a leaky gut, infections, viruses, and food particles that find their way into the body through the intestinal wall can cause food sensitivities and a host of other symptoms.
This irritation can interrupt the immune system's ability to regulate itself and put the body into a perpetual "attack mode" that is counterproductive to healing. Even those who have no apparent gastrointestinal symptoms may have a leaky gut, and addressing gut function might be the best place to start to bring healing to the body. If we can reverse leaky gut, we can prevent or reverse autoimmunity altogether.
While there are many possible root causes of Hashimoto's, everyone's will be different. Some people may just have one or two, while others may have a combination of food sensitivities, underlying infections, nutrient depletions, and more.
You can read more about the top root causes of Hashimoto's, and the dietary and lifestyle interventions that I recommend to address them, in this article. You can also check out my article on the conventional versus Root Cause approach to dig for your own root cause(s). I also recommend finding a functional medicine practitioner who can help guide you on your health journey.
The Takeaway
Through my own journey with Hashimoto's, I have learned that this condition has many different faces and will, therefore, require an individualized approach for each person.
In my own case, the symptoms of acid reflux, bloating, and IBS that I experienced, were my first clues to the connection between gut health and autoimmunity — which set me on the path to healing my gut through the use of food and other lifestyle interventions.
You will need to dig to find your own root cause(s), but identifying food sensitivities, addressing nutrient depletions, removing toxins, supporting adrenal health, testing for infections, and healing a leaky gut are the most common areas that people with Hashimoto's will need to address on their journey to healing. And now I have made it my mission to help you get there!
Because I know that this journey can feel overwhelming at times, I wrote my book Hashimoto's Protocol to offer a clear, step-by-step path to identify your own root cause(s) and heal your own symptoms. I also created my own cookbook, full of delicious and easy recipes to support you on your path to healing using the power of nutrition.
You can pick up a copy of Hashimoto's Food Pharmacology: Nutrition Protocols and Healing Recipes to Take Charge of Your Thyroid Health to help heal your gut and feel better today!
What has Hashimoto's looked like for you? I'd love to hear your success stories — please share them in the comments below!
You can also download a free Thyroid Diet Guide, 10 thyroid-friendly recipes, and the Nutrient Depletions and Digestion chapter by signing up for my weekly newsletter. You will also receive occasional updates about new research, resources, giveaways, and helpful information.
For future updates, make sure to follow us on Facebook and Instagram!
Note: Originally published in October 2016, this article has been revised and updated for accuracy and thoroughness.