Food sensitivities are often a huge trigger for people with Hashimoto's.
I had a major sensitivity to dairy and gluten, and getting off of both of these foods helped me get rid of the acid reflux I had been battling for over three years. Changing my diet also helped me eliminate my bloating, symptoms of irritable bowel syndrome, anxiety, nasal congestion, and even carpal tunnel.
For years, I thought that eating whole wheat cereal or granola with nuts, fruit, and fat-free milk was a healthy breakfast, but this was essentially like giving myself poison!
The interesting thing I learned about inflammatory foods in listening to my body, and later in working with clients, is that each of them may manifest as symptoms in different parts of our bodies. For example, gluten made me bloated and tired, dairy made me experience acid reflux and hand tingling, nuts made me emotional and caused me to have breakouts, and too many fruits made me anxious and tired.
I had heard that following a gluten-free diet would help heal a multitude of health problems, but I came to understand that it was much more complicated than that. I've seen many people go on very restrictive diets and continue to feel bad because they continue eating their reactive foods.
Each individual will need to tailor their own diet to their body's needs. The first step in designing a diet that works for you, is to figure out which foods your body is sensitive to. And the best place to start is with an elimination diet. The elimination diet, when followed for just three weeks, can be the key to eliminating thyroid symptoms!
In this article, I'd like to address:
What does an elimination diet consist of?
Why are food sensitivities such a problem in Hashimoto's?
Basic and advanced elimination diet protocols
Reintroducing problematic foods
What is the Elimination Diet?
The most accurate test for uncovering reactive foods and individual food sensitivities is the elimination diet. It is the "gold standard" for discovering the foods that are causing your symptoms, as it allows you to experiment with the specific foods that you suspect are causing a reaction, and notice first-hand the symptoms that disappear and reappear when you consume that food.
In contrast to other diets that simply exclude common problematic foods, an elimination diet is done to determine what particular food intolerances the individual may have. This allows us to tailor the diet to the person, not to the dietary philosophy. Going through an elimination diet will help you figure out your individual food triggers and your specific response to each trigger food, which is especially helpful if you're still struggling with food sensitivities while on a Paleo or gluten-free diet.
During the elimination diet, you will eliminate the most common problematic foods and any foods that you believe you may be sensitive to, then add the foods back in, one at a time, looking out for reactions and writing down your reaction to each food, to determine if you are sensitive or not.
In surveying my clients, 93 percent felt better gluten free, and 75 percent felt better dairy free, but there may be any number of other foods that are causing your symptoms, including those permitted on Paleo-type diets — so identifying and temporarily removing them from your diet can be helpful as you continue down the road towards putting Hashimoto's into remission.
What Role Do Food Sensitivities Play in Hashimoto's?
One of the most prevalent and common root causes of symptoms in Hashimoto's is food sensitivities.
Reactive foods trigger an inflammatory response in the GI tract, leading to malabsorption of nutrients. They can also produce intestinal permeability (contributing to a leaky gut) whenever they are eaten.
Most people will see a dramatic reduction in gut symptoms, brain symptoms, skin breakouts, and pain by eliminating the foods they are sensitive to. Some will also see a significant reduction in thyroid antibodies! An additional subset of people will be able to get their Hashimoto's into complete remission just by getting off the foods they react to.
Here's a handy list of the most common food sensitivity reactions: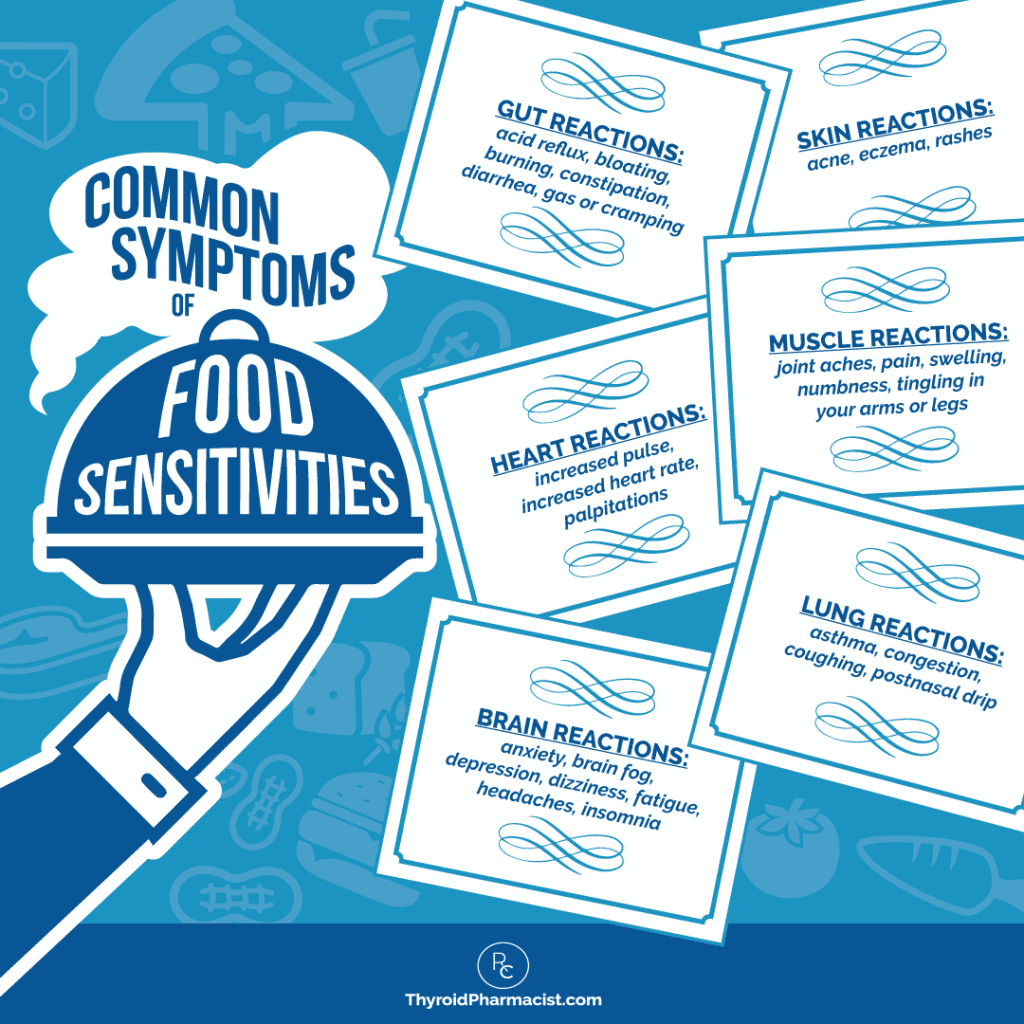 When we eat the foods that our body is sensitive to on a daily basis, it is very difficult to connect the problematic foods with the symptoms we experience. For example, people who have a dairy sensitivity but continue to eat dairy several times a day might feel tired or have joint pain, congestion, bloating and acid reflux on a daily basis, but won't be able to link the symptoms to the specific foods they are eating. I was a bread and dairy addict and had no idea that they were causing me issues.
This is because every time we eat a reactive food, our bodies become depleted in their ability to protect themselves from the antigenic foods, and the reactions become less specific and more chronic. If the food continues to be consumed, the body will become sensitive to more and more foods over time.
However, once the sensitizing food is eliminated for a few days to a few weeks, you should feel better and experience less bloating, normal bowel movements, more energy, and a general relief of symptoms. When you're exposed to the food again, your body will produce a stronger, more specific reaction, allowing you to recognize which particular food is problematic. This is called the elimination diet.
How to Do an Elimination Diet
An elimination diet requires you to remove the most common food sensitivities from your diet for a period of three weeks. (I'll discuss this in further detail below.) It is imperative during this time that you do not "cheat" at all by eating even a small amount of any of the foods that have been removed. Doing so could cause a reaction and interfere with your results.
There are three important steps to the elimination diet:
Decide which foods you are going to eliminate. The Basic Elimination Diet (below) is a good place to start. However, you may also wish to consider eliminating other foods beyond this list. Ask yourself questions, like: What foods do I crave? What foods feel like they'd be hard to give up? What foods do I eat the most? Sometimes the foods we are most drawn to or eat most often are the ones that are causing us the most symptoms.
Avoid the foods you are eliminating. This step is crucial! Again, even the smallest amount of a food that you are avoiding could cause a reaction, so it is important that you are vigilant and avoid all traces of the food for three weeks. Check food labels carefully, and be extra careful if you are eating out, as it's difficult to know all of the ingredients used in restaurants. It may be best to avoid eating out during this elimination period to avoid any cross-contamination that might skew your results.
Reintroduce the challenged foods. If your symptoms have improved after three weeks, you can start adding the foods back in, one at a time. Paying attention to any reactions you may have to particular foods will help you identify your personal food sensitivities. I'll detail the steps for conducting food reintroductions in a minute.
But first, I'd like to explain the two types of elimination diets that I recommend: the Basic Elimination Diet and the Advanced Elimination Diet.
The Basic Elimination Diet
Most people will begin with the Basic Elimination Diet, which targets the most common food sensitivities, and will be effective at uncovering problematic foods for a large group of people with Hashimoto's.
The foods to be eliminated on the Basic Elimination Diet are:
Alcohol
Gluten
Dairy
Soy
Eggs
Corn
Nuts
Shellfish
Preservatives
Follow this order when reintroducing foods:
Eggs
Nuts*
Shellfish
Corn
Preservatives
Soy*
Dairy*
Gluten*
If your symptoms did not improve after the initial three-week elimination, you may have other food intolerances that need to be eliminated. The Advanced Elimination Diet (below) is a good next step.
The Advanced Elimination Diet
Some people will find that they are still experiencing food sensitivities after doing the Basic Elimination Diet, and will need to dig deeper by eliminating another group of foods.
The foods to be eliminated on the Advanced Elimination Diet are:
Gluten*
Dairy*
Soy*
Eggs
Corn
Nuts*
Alcohol
Shellfish
Preservatives
Beef
Pork
Citrus
Nightshades
Seeds*
Grains (gluten free)
Your symptoms may be the same as those you experienced with the Basic Elimination Diet, but they may be unique to your body, so be sure to write everything down.
They can be reintroduced in the following order (most importantly, introduce dairy and gluten last, as they're the most difficult to digest):
Beef
Pork
Citrus
Nightshades
Seeds*
Grains (gluten free)
Eggs
Nuts*
Shellfish
Corn
Alcohol
Preservatives
Soy*
Dairy*
Gluten*
*Gluten, dairy and soy are three foods you may want to avoid reintroducing. Not reintroducing these foods will allow you to work on healing your gut, and make an easier transition to a Paleo-style diet. Additionally, nuts and seeds should be reintroduced one by one, as you may react to one type but not another. For example, you may be sensitive to almonds, but not walnuts.
So How Do I Reintroduce Foods?
After three weeks of following an elimination diet, you will add each food back in, one by one, in the order in which they appear in the list (as outlined above). Wait four days between reintroducing each food, and carefully observe and write down any reactions you may experience. Tracking your experience with each food in a food journal can help to identify any sensitivities. Keep in mind, it may take anywhere from an hour to a few days to experience a reaction.
You may experience the following types of symptoms:
Pro tip: I recommend eating one serving of the food to be trialed, and keeping to only one food group per reintroduction. For example, don't "test" by eating an entire pizza, because you won't know what you're reacting to. (The gluten in the crust? The dairy in the cheese? The nightshades in the sauce?) #thingsilearnedthehardway
If a food doesn't cause symptoms during a reintroduction challenge, it is unlikely to be a problem food and can be added back into your diet. However, if at any point you experience a reaction, stop consuming the food and continue to reintroduce the rest of the foods on the list. Again, be sure to wait at least four days between foods before trying the next one.
After all of the foods have been reintroduced, you should have a clear picture of which foods your body is sensitive to, and you'll know which foods you need to avoid in order for your gut to begin the healing process.
If you react to any foods, don't lose hope! You may be able to reintroduce them again in the future, after focusing on more healing.
How Do I Reintroduce Foods If I'm Already on a Restrictive Paleo-Style Diet?
Some people who have been eating a Paleo or Autoimmune Paleo diet (which already eliminate many of the foods challenged on the Basic and Advanced Elimination Diets) may wish to start introducing some foods from their previous diets, after a period of elimination and gut healing. In that case, I've put together a food reintroduction guide to help you do so. This way, you can identify which foods you are still sensitive to and that may cause symptoms if you continue eating them.
Please note, as mentioned earlier, there are three foods that usually continue to be problematic for people with Hashimoto's, even with the use of my current protocols:
Thus, I do not recommend for most people with Hashimoto's to reintroduce gluten, soy, and dairy — but I've included them in the list below, in case you are planning on reintroducing them.
I recommend the following groups to be reintroduced, in limited amounts, in this order:
Fruits
White potatoes
Gluten-free grains (buckwheat, oats, quinoa, rice)
Legumes (e.g. chickpeas, kidney beans, black beans, pinto beans, peanuts, etc.)
Hot peppers/spices
Corn
Alcohol (spirits, wine, cider, gluten-free beer)
Deli meats
Ghee (omit if dairy sensitive)
High sugar sweeteners
Refined oils
Soy (soybeans, additives containing soy)
Dairy (if reintroducing)
Gluten-containing grains (wheat, spelt, kamut, farro, durum, semolina, bulgar, rye, triticale, non-gluten-free oats, beer)
Just as you would when following the Basic and Advanced Elimination Diets outlined earlier in this article, you will want to stick to one food category/group (i.e. grains), and reintroduce one item from that group at a time, every four days. Again, make sure to track any symptoms you may have in a food journal, so you can identify problematic foods that you may need to omit from your diet until your gut heals further.
Beyond Elimination – What Can You Do To Heal?
Whenever you find yourself reacting to a multitude of foods, be sure to not just eliminate the foods, but to also look for the root causes of why you may be reactive to the foods.
I consider elimination diets to be a short-term tool in recognizing reactive foods, to give the body an opportunity to heal, rather than a long-term solution.
The goal is to heal our gut, so that we can tolerate as many foods as possible! Yes, I do advocate for whole, organic foods, but eating too restrictive of a diet, for too long, can lead to a whole host of additional food sensitivities.
I often see that infectious irritants, deficiencies in digestive enzymes and nutrients, and an imbalance of the gut microbiome are behind food sensitivities and autoimmunity.
Beyond gluten, dairy, and soy, which are primary reactive foods and can trigger autoimmunity, the other reactive foods are not true root causes; rather, they are secondary reactive foods which perpetuate the autoimmunity. While a person may need to stay off one or more of the primary foods long term, most people should be able to reintroduce all of the secondary foods once they focus on healing the gut. 
Here's how to heal…
When you feel that you have reached a significant level of healing after eliminating your food sensitivities (up to six months), you can slowly start adding the foods you have eliminated back into your diet, one at a time.
That said, as previously mentioned, gluten, dairy, and soy are three foods that I recommend that most people with Hashimoto's continue to avoid. Though a small percentage of people will do fine adding them back into their diet after healing, I have found that most people are better off avoiding these foods for the long term, and tend to feel better without them. I am currently researching and testing protocols to reverse these food reactions. As of January 2021, I'm happy to report that I have had success in reversing gluten, dairy and egg sensitivities in a very tiny group of people. I hope to work out these protocols in the next year or so, and offer them to a wider population one day. 🙂
Further Steps for Uncovering Food Sensitivities
Though it is an important first step toward feeling better, the elimination diet is not a cure-all. Some people may need to dig deeper and look at infections, toxins, and stress, but removing reactive foods almost always helps the healing process. For example, if a leaky gut is caused by a gut infection such as a parasite, to heal the gut, we not only have to get rid of the infection, but we also need to stay off the reactive foods for at least three to six months. Thus, I always recommend starting with addressing food sensitivities.
You may also find that some of your food sensitivities are harder to uncover than others, as certain reactive foods that are in your daily diet might be less obvious to you. This is when I recommend food sensitivity testing. When used in conjunction with the elimination diet, lab testing can be quite helpful in pinpointing the hidden foods that are causing a reaction for you.
MyMedLab offers food sensitivity testing for self-order, without a doctor's prescription. The test kit comes with a blood spot collection paper, and can be mailed to just about anywhere in the world. They offer two options to test for the most commonly eaten foods: the 184 Food Panel and the 96 Food Panel.
I started with the 96 food panel and found that it was enough to uncover most of my food triggers, and now I repeat the 184 food panel on an annual basis to be sure that I'm staying on top of potential triggers, as our sensitivities and reactions to foods can change with time.
For further steps to uncovering your own Hashimoto's root causes, I recommend picking up a copy of my book Hashimoto's Protocol. In it, you'll find clearly outlined steps for getting to the bottom of food sensitivities, along with other lifestyle interventions designed to help you begin to heal.
It can seem a bit overwhelming at first, but removing the foods that may be causing so many of your symptoms, will be well worth it when you start to feel better. I finally felt like I got my life back when I uncovered my own food sensitivities and experienced relief for the first time in years! I encourage you to stick with it until you've found the foods that you are reacting to. It takes a little digging, but you will feel so much better in the end.
As always, I wish you the very best on your health journey!
P.S. Be sure to sign up for my weekly newsletter to get a free book chapter, recipes, Thyroid Diet Starter Guide and notifications about upcoming events and my latest research! You can also follow me on Facebook and Instagram!
References
Elimination Diet Patient Handout. University of Wisconsin School of Medicine and Public Health. https://integrativemedicine.arizona.edu/file/11270/handout_elimination_diet_patient.pdf. Accessed July 5, 2018.
Fasano A. Leaky gut and autoimmune diseases. Clin Rev Allergy Immunol. 2012;42(1):71-78. doi:10.1007/s12016-011-8291-x.
Mori K, Nakagawa Y, Ozaki H. Does the Gut Microbiota Trigger Hashimoto's Thyroiditis?. Discovery Medicine. 2012;14(78):321-326.
Note: Originally published in May 2015, this article has been revised and updated for accuracy and thoroughness.