I love the concept of using food as medicine — or as I like to call it, food pharmacology.
I became a pharmacist because I was interested in the effects that different substances have on human physiology. Medications are an obvious example of how tiny substances can produce a tremendous change in the human body, but what's even more intriguing to me is the profound effect that foods and natural substances can have on the body.
I am always fascinated by how we can incorporate the healing properties of food into our everyday lives!
"Pharmacognosy" is the term we use for the study of medicines derived from natural sources.
Due to its healing properties, turmeric has received plenty of attention in research and wellness communities over the years. In fact, a quick search of "curcumin" in PubMed yields over 20,000 results, and to date, some 488 clinical trials have been conducted to explore its many health benefits!
Turmeric can help those with autoimmunity and Hashimoto's reduce inflammation, support the gut, and detoxify heavy metals from the body. [1]
In this article, I'll explore:
The history of turmeric
The many benefits of turmeric for reducing Hashimoto's symptoms
Delicious and easy recipes to incorporate turmeric into your diet
A few precautions when supplementing with curcumin
History of Turmeric
Turmeric (Curcuma longa) is a plant in the ginger family that was first cultivated in India and Indonesia. Turmeric has been an important part of Indian cooking, medicine, and religious practice for some 4,000 years.
Though we often think of turmeric as the spice that gives curry its characteristic golden color, this plant has an equally long history of medicinal use — it has been used to treat pain, stomach problems, and liver ailments. Topically, turmeric has been used to help relieve skin conditions like sores, eczema, and skin rashes.
To this day, turmeric is viewed as a sacred substance in much of Indian culture. It is commonly used in Indian and Pakistani cuisine, in curries around the globe, and in Ayurvedic medicine, an ancient Indian system of natural healing that is still practiced worldwide today.
Turmeric is widely used as a coloring agent in cheese, butter, and other dairy products. It's also used in the manufacturing of other foods, such as canned beverages, baked products, ice cream, yellow cakes, orange juice, biscuits, popcorn, sweets, cake icings, cereals, sauces, and gelatins. The reported human consumption of turmeric in Asian countries ranges between 200-1000 mg/day. [2]
Today, turmeric is extremely popular. You'll find it in dietary supplements, beverages, functional food applications, and even as active components in pet supplements and foods.
Benefits and Uses of Curcumin
Turmeric's medicinal benefits can mostly be attributed to compounds called curcuminoids. Curcumin is the active component in turmeric. Curcumin is a primary curcuminoid known for its powerful anti-inflammatory and antioxidant effects.
Modern medicine recognizes the importance of turmeric and confirms the legitimacy of many of its traditional applications. More than 20,000 scientific papers and 488 clinical trials have been conducted to assess both turmeric and curcumin, and their many health benefits.
Examples of traditional and Ayurvedic uses of turmeric include:
Relieving inflammation and arthritis
Treating respiratory conditions
Treating allergies
Treating wounds
Treating conjunctivitis
Addressing issues to do with skin cancer
Helping with urinary tract infections
Helping digestive problems like indigestion, gas, colic, abdominal pain, and distension
Expelling phlegm
Improving circulation
Improving energy levels
Reducing menstrual symptoms
Here are examples of traditional dosing in folk and herbal medicine with fresh turmeric root: 8 to 60 grams daily are recommended for arthritis, and 1.3 to 3.0 grams can be useful for indigestion.
Contemporary research suggests that curcumin can:
Because of its ability to reduce inflammation and oxidation — factors that play a huge role in many diseases, and aging itself — curcumin may be helpful in preventing or treating a wide range of conditions, including Hashimoto's. It's no wonder this substance has been revered for thousands of years!
Curcumin and Hashimoto's
Excess inflammation is always present in Hashimoto's thyroiditis (the suffix "itis" denotes inflammation in the thyroid gland), and intestinal permeability has been found as a common factor in every case of autoimmunity. Many people with Hashimoto's are also prone to heavy metal toxicity. [9]
Curcumin, the most important and well-researched active ingredient in turmeric, has been shown to have anti-inflammatory, antioxidant, antibacterial, and antiviral properties, all of which can provide benefits to those with Hashimoto's-related symptoms. [10]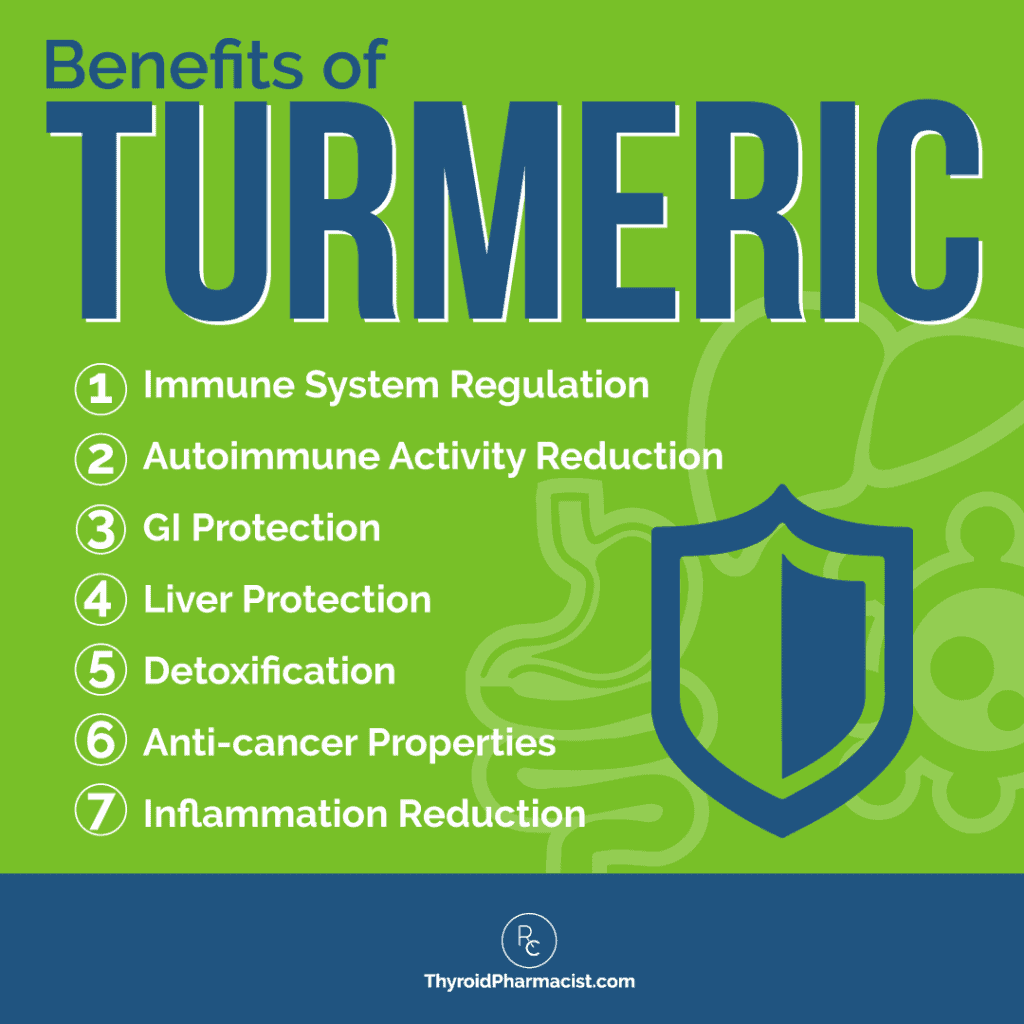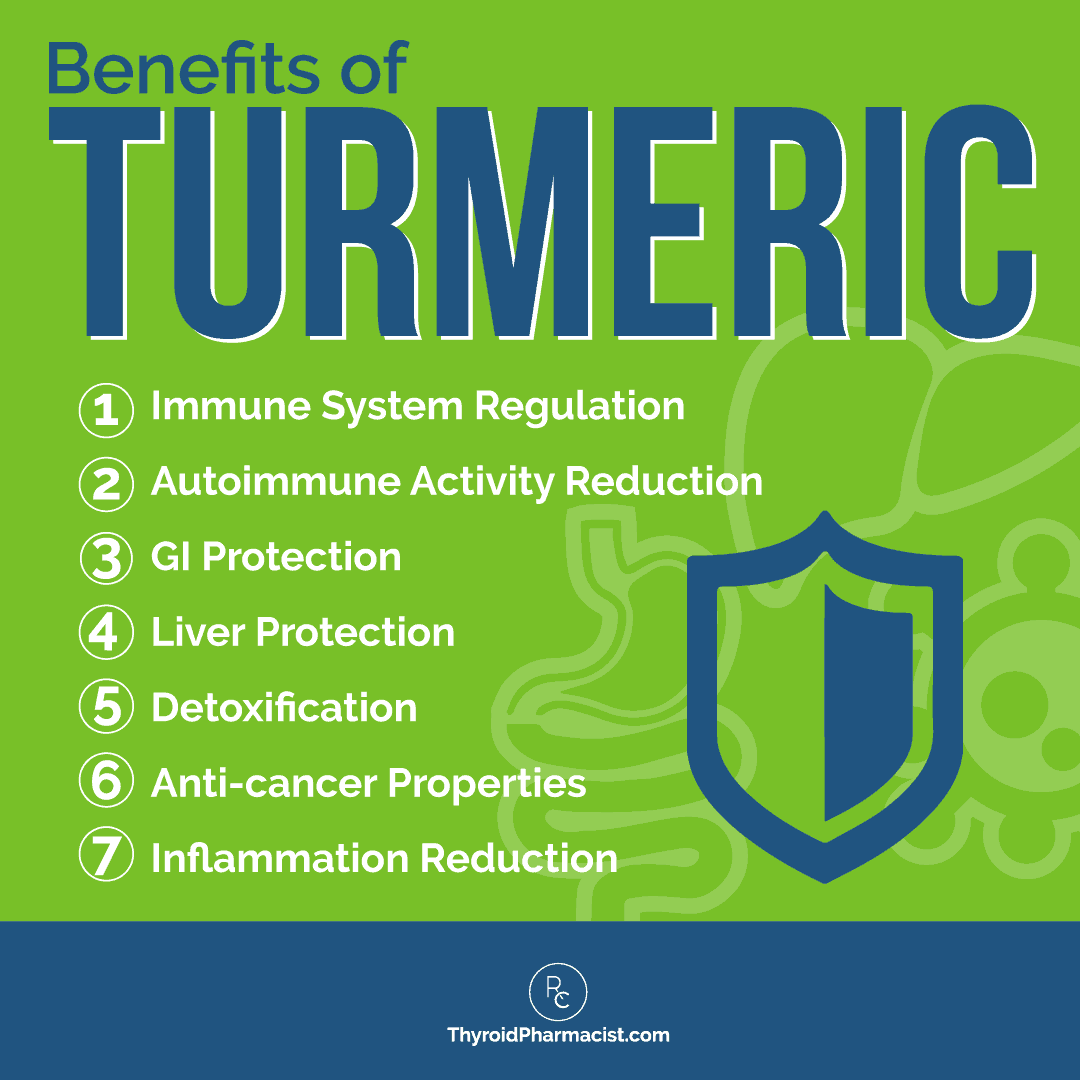 Studies on the Effects of Curcumin Related to Hashimoto's
Studies examining the effect of curcumin on the thyroid gland and autoimmunity show encouraging results:
In my survey of 2232 people with Hashimoto's, 680 people reported that they had tried curcumin. Fifty-six percent reported that it was helpful, 40 percent did not see a change in how they felt, while three percent said it made them feel worse.
When asked about the specific benefits seen from the use of turmeric, 64 percent of people reported that it helped them with reducing pain symptoms. Other positive benefits were an increase in energy (seen in 35 percent), an improvement in mood (seen in 34 percent), and an improvement in thyroid antibodies (12.5 percent).
Pain is the most obvious manifestation of inflammation in the body, so I'm not surprised that those who had pain saw an improvement with curcumin use. While most people with Hashimoto's do have inflammation, only some will present with pain symptoms.
Poor energy, mood changes, and thyroid antibodies are also indicative of inflammation. In the survey, it was encouraging to see that curcumin also impacted those parameters, but it should be noted that improvements in those symptoms may be less obvious to notice, and may also take a bit longer to manifest.
While curcumin can also boost glutathione (an antioxidant that's often depleted in Hashimoto's), reduce inflammation, help heal the gut, and aid in the detoxification of heavy metals, it's difficult to assess these improvements symptomatically. [19]
I've seen many people with Hashimoto's benefit from the addition of turmeric to their diet, especially those experiencing pain.
How to Use Turmeric/Curcumin
Turmeric naturally has a low bioavailability, as it easily degrades and is eliminated within an hour after consumption. Historically, to increase absorption, turmeric has been combined with black pepper to increase its bioavailability and enhance its healing properties. Combining curcumin with piperine, an alkaloid found in black pepper, extends the life of curcumin in the body, making its compounds more therapeutically effective. That's why I recommend taking a curcumin supplement that contains piperine, like Pure Encapsulations Curcumin with Bioperine.
Another way to boost the absorption of curcumin is to consume the turmeric root itself (fresh or dried as a powder) because natural oils found in turmeric root and turmeric powder can enhance the bioavailability of curcumin seven- to eightfold. [20]
In Indian diets, turmeric is often dissolved and extracted into fat (i.e. by cooking it with ghee, also known as clarified butter), which may increase its bioavailability.
My recommendation is to add more turmeric to your cooking (remember to add some pepper to the mix), as well as a high-quality curcumin supplement.
Curcumin Supplements
It's important to find a high-quality curcumin supplement, as low bioavailability has also been an issue with curcumin supplements. Research has shown plasma concentrations of curcumin as low as 50 ng/mL after administration of dosages as high as 12 g/day.
To overcome the bioavailability issue, various curcumin formulations with enhanced bioavailability have been developed.
Though there are many different types of curcumin supplements on the market, all with varying levels of bioavailability, a few common formulations include:
Unformulated Curcumin: This is an isolated concentrate of unformulated curcumin, with no enhancement of bioavailability done. It's standardized to contain 95 percent curcuminoids. In a study, when curcumin was given orally at a dose of 2 g/kg to rats, a maximum serum concentration of 1.35 ± 0.23 µg/mL was observed after 0.83 hours, whereas in humans, the same dose of curcumin resulted in either undetectable or extremely low (0.006±0.005 µg/mL at 1 hour) serum levels. [21]
Phytosome Curcumin: In this type of supplement, the bioavailability of curcumin is enhanced by encapsulating the curcuminoids in a phytosome complex, which is a complex made of phospholipids or a type of fat. Even though this format has a smaller percentage of curcuminoids compared to non-enhanced formulations, the enhanced absorption that the phytosome provides, allows it to be equally as therapeutic. In a comparative study in humans, the absorption of curcuminoid present in commercial curcumin was compared with curcumin phytosome. The overall increase of curcuminoid absorption from curcumin phytosome was 29-fold. [22]
Curcumin with Piperine: One of the ways our liver gets rid of foreign substances is by making them water-soluble so they can be more easily excreted. Piperine, a potent inhibitor of drug metabolism, blocks that process, which allows curcumin to remain in the body longer for better absorption. In humans, curcumin bioavailability was increased by 2,000 percent at 45 minutes after administering curcumin with piperine. This study demonstrated that piperine enhances the serum concentration, extent of absorption, and bioavailability of curcumin. [23]
For those that aren't sensitive to piperine, a supplement that I have personally used is called Curcumin with Bioperine. It is free of gluten, dairy, and soy. The dosage I used when working to detox my body of arsenic was 500 mg, three times per day.
Note: While piperine does increase the absorbance of curcumin, some people who are sensitive to black pepper may react to it. While black pepper isn't actually a nightshade and is Paleo-friendly, it is considered a "suspect" spice under the Autoimmune Paleo Diet, as it can cause reactions.
Fortunately, I've been able to develop a new supplement that is a well-absorbed alternative for those who don't tolerate piperine but still want to incorporate curcumin into their routine.
Rootcology Rootcology Curcumin Absorb is a highly bioavailable formulation that contains a unique combination of three health-promoting curcuminoids: curcumin, bisdemethoxycurcumin, and demethoxycurcumin. The three curcuminoids are the strongest, most protective, and most well-researched constituents of the turmeric root. Naturally occurring turmeric root powder contains only five to seven percent curcumin, while the blend in Curcumin Absorb is concentrated to contain 95 percent curcuminoids.
The potential health benefits of curcumin are often limited by its poor solubility, low absorption from the gut, rapid metabolism, and rapid systemic elimination. Curcumin Absorb is manufactured using an all-natural formulation that improves the absorption and delivery of curcumin. This process uses a proprietary blend of quillaja extract, along with delta- and gamma-tocotrienols and medium-chain triglycerides (MCTs), without the use of potentially harmful surfactants, increasing the absorption rate.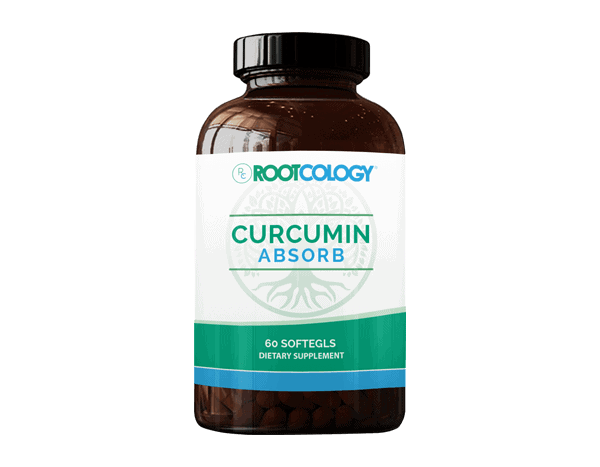 Here's what Kristin L. had to say about Curcumin Absorb:
"Having read all the great things that Curcumin can do for the body I decided to try it. I have been amazed at how the aching in my feet and overall inflammation have diminished. It felt great to buy a product that had been thoughtfully made with no dairy, gluten, soy, etc."
Curcumin Supplement Precautions
While most people can safely use turmeric/curcumin at doses of up to eight grams per day, please take note of the following precautions.
Do not use Curcumin Absorb if pregnant or breastfeeding, or if you are a man trying to conceive. Furthermore, do not use it if you have ulcers, gallbladder issues involving excess bile secretion/overactive bile formation, GI inflammatory conditions, or hormone-sensitive conditions such as breast cancer, uterine cancer, ovarian cancer, and/or uterine fibroids.
If you have a history of kidney stones, please speak with your practitioner before taking curcumin.
If you are diabetic, be sure to monitor blood sugar levels while supplementing.
Discontinue use at least two weeks before undergoing surgery.
A Note on Oxalates
Oxalates are tiny crystals which are found in plants. When our bodies can't break down oxalates properly (tolerances vary between people), oxalate crystals can build up in the body. A common result of this is kidney stones, but a buildup of oxalates may contribute to gut issues and other health problems.
People with Hashimoto's may have a sensitivity to oxalates, which can cause and or/exacerbate leaky gut and other symptoms. If the gut microbiome is out of balance due to pathogens like Candida, we may have problems breaking oxalates down properly, and the build up may become toxic. [24]
Some turmeric supplements may contain high levels of oxalates, and may not be suitable for those with oxalate issues. However, it is worth noting that the studies of concern use 10 g of turmeric (which contains about 200 mg of oxalates) as a reference point, and most individuals do not use that much turmeric in their food (½ teaspoon of turmeric contains about 24 mg of oxalates). [25]
Curcumin extract seems to be relatively devoid of oxalates, and may be safer than other turmeric supplements to ingest for those prone to kidney stone formation.
Rootcology Curcumin Absorb is one example of a supplement that is low in oxalates. It contains 95 percent extracts of three curcuminoids, so even if the remaining five percent contained oxalates, in this material and at this dose, it would be insignificant.
If you already have health issues related to oxalates, use caution when it comes to ingesting turmeric root or supplements.
Possible Drug Interactions
While most people can take curcumin safely, I always recommend caution when combining supplements with narrow therapeutic index drugs, which include anticoagulants, some seizure medications, some psychiatric medications, and thyroid medications.
Curcumin can have a blood-thinning effect, and I would recommend avoiding it if you have a known clotting disorder.
A clinical study evaluating potential interactions between antiplatelet agents, anticoagulants, thyroid hormone replacement therapy (LT4), and a particular brand of curcumin (Meriva®), suggests that curcumin does not interfere with any of these drugs. [27]
As a pharmacist, I always err on the side of caution when there is potential for harm, so I would still recommend that people who take blood thinners, anticoagulants, and antiplatelet drugs avoid taking curcumin, as there have been reports of excess bleeding by people combining curcumin with anticoagulants.
That said, curcumin seems to be safe to take with thyroid hormones, though I recommend that you take curcumin 30 to 60 minutes away from thyroid medications. It's also a good idea to test your thyroid hormone levels while taking thyroid medications, to ensure your current supplement and medication regime is working for you.
Do not take curcumin if you are currently taking the drug sulfasalazine. There is some evidence suggesting that curcumin increases levels of sulfasalazine (Azulfidine), which is used for ulcerative colitis and rheumatoid arthritis, within the body. One study investigating the effects of curcumin in Japanese individuals found that curcumin increased levels of sulfasalazine by two to three folds. [28]
Possible Adverse Effects
There have been additional reports of iron levels dropping in certain individuals who were taking a turmeric supplement, and returning to normal once the supplement was stopped. Studies in mice have shown a correlation between curcumin and lowered iron levels, but these results have not been duplicated in research on humans — however, there is a single case report of a 66-year-old man that does suggest that this is a possibility. [29]
People with anemia or low iron levels should consult with their doctor, and monitor their ferritin levels carefully, before using a turmeric or curcumin supplement.
Studies have shown that taking doses of 1,200 to 2,100 mg of curcumin per day for two to six weeks didn't lead to any apparent adverse effects. However, a few negative side effects have been noted by a small portion of people taking curcumin supplements at higher dosages.
Digestive issues have been reported at daily doses exceeding 1,000 mg. Headaches and nausea have been noted in a small number of people at dosages over 450 mg. Lastly, skin rashes have been seen in a few rare instances of people taking curcumin at dosages of 8,000 mg. [30]
The MAO-A gene variation can make certain individuals more sensitive to curcumin. If you have had your DNA analyzed through a company such as 23andMe and know that you have this type of mutation, you may want to limit your curcumin intake.
Not all turmeric supplements are pure; some contain fillers like wheat, barley, or rye flour, all sources of gluten that can be particularly harmful for those with Hashimoto's.
Over the past ten years or so, there have been several recalls of imported turmeric powder (in the U.S. and other countries) due to high lead content. There have also been reports of the illegal toxic dye called "Metanil Yellow" being added to turmeric powder. Metanil yellow may cause cancer and neurological damage when consumed in large quantities. [31]
To avoid unnecessary additives like food coloring, look for USDA-certified organic turmeric powders and spices whenever possible, and be sure to buy supplements from a reputable source that performs extensive third-party testing for purity.
Cooking with Turmeric
Below are some of my favorite ways to add more turmeric to my diet.
A few years ago, I found myself suffering from arsenic poisoning due to conventional lipstick use (yikes!), so I started using curcumin to detoxify my body. I started taking a curcumin supplement, making turmeric tea twice per day, and eating tandoori chicken a few times a week. I believe that the addition of turmeric helped me clear out the arsenic within a month, and helped me to prevent long-term damage!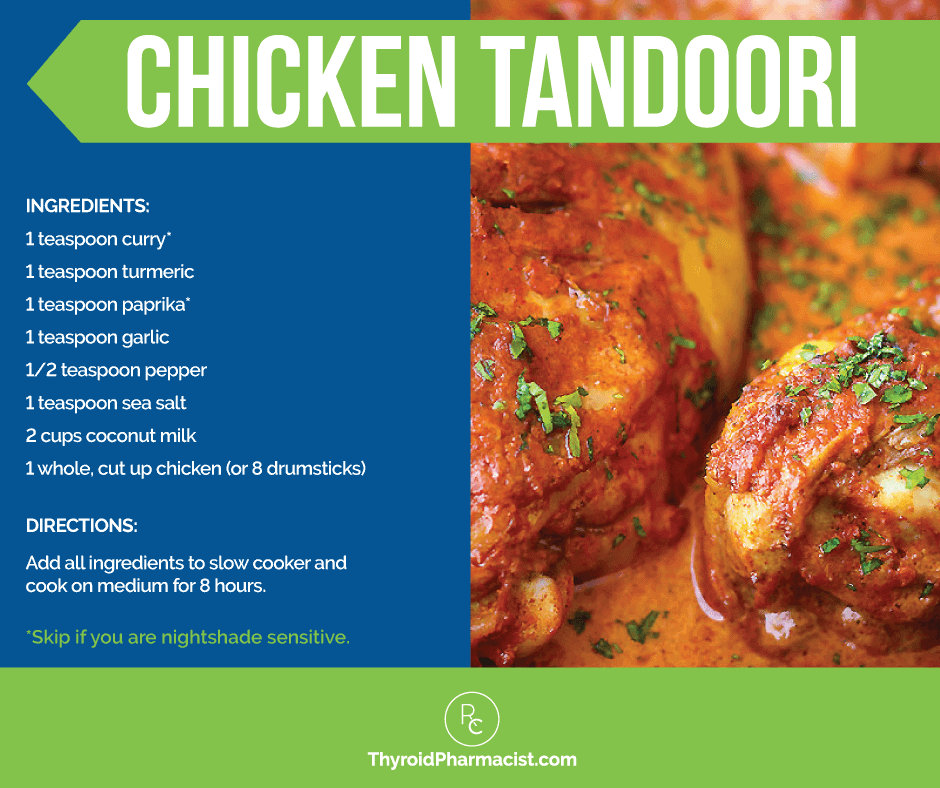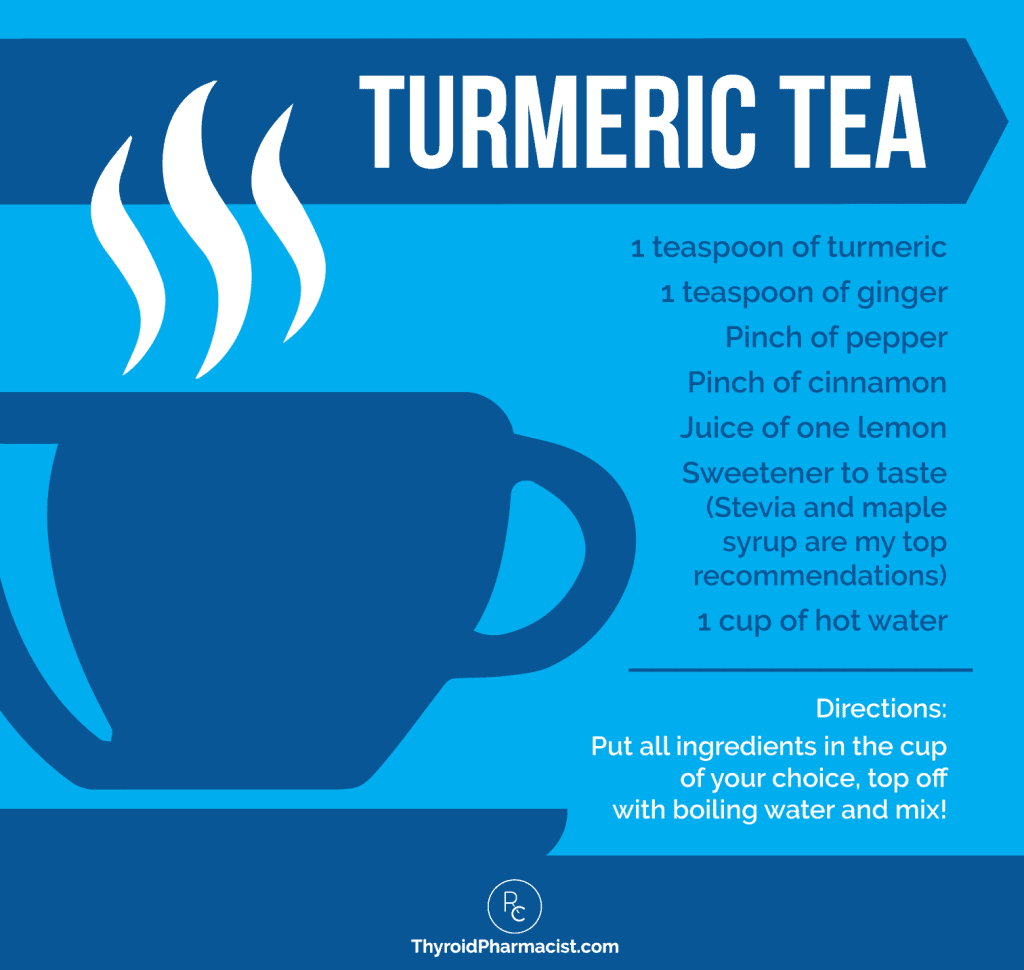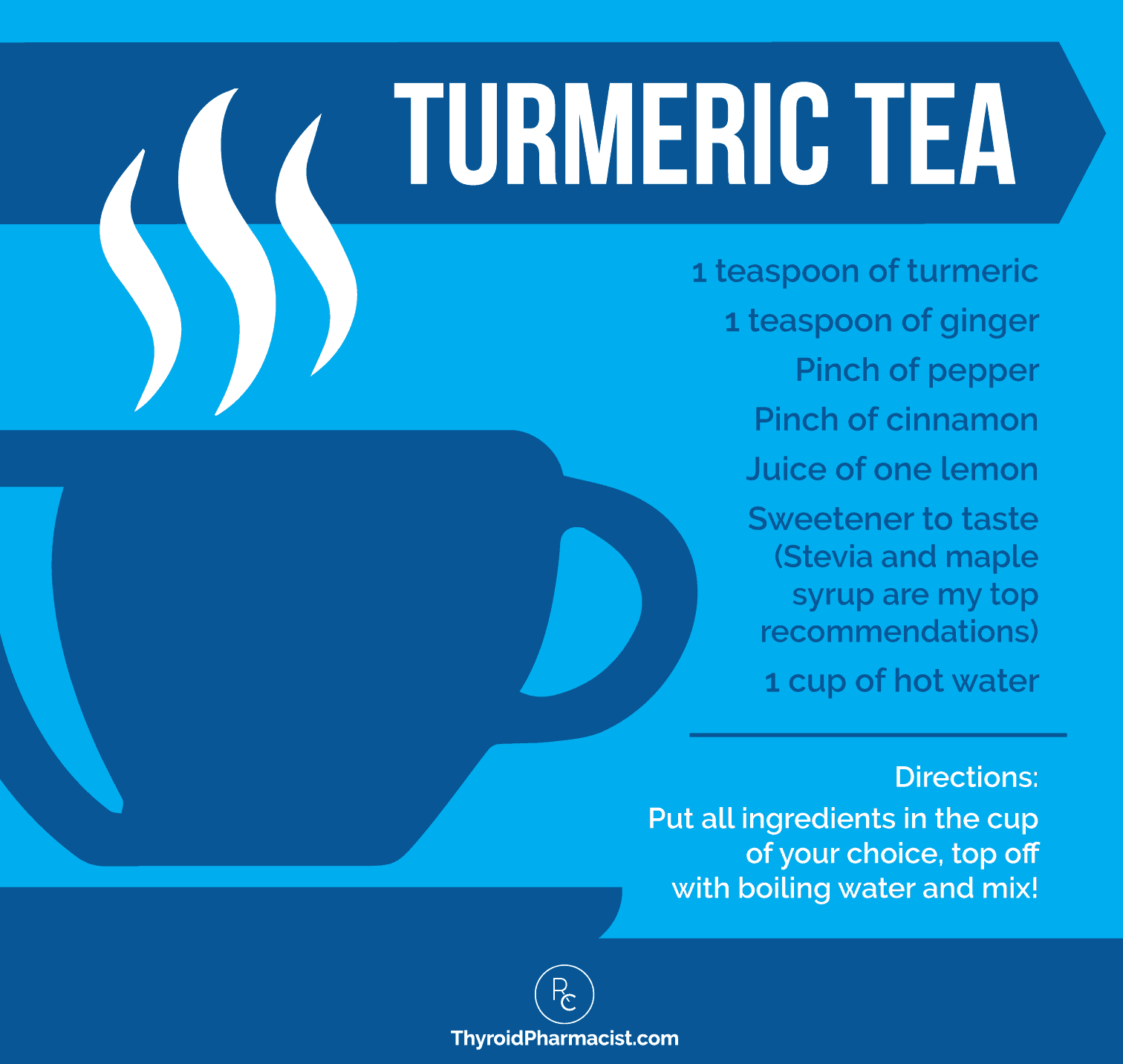 The Takeaway
Turmeric is a powerful ingredient with a long history of use, and there's plenty of exciting new research supporting the positive effects it can have on the body.
And in both my personal experience and practice, I've seen firsthand just how effective turmeric can be for detoxifying the body. I often recommend it for clients with Hashimoto's to support the gut, liver, and inflammatory pathways, especially if they are experiencing pain.
I hope this information helps you on your journey. If you've tried turmeric, please share your experience with it in the comments below!
P.S. For thyroid-friendly recipe ideas, download a free Thyroid Diet Guide, 10 thyroid-friendly recipes, and the Nutrient Depletions and Digestion chapter of my first book for free, by signing up for my weekly newsletter. You will also receive occasional updates about new research, resources, giveaways, and helpful information.
For future updates, make sure to follow us on Facebook, Instagram, Pinterest, and TikTok!
References
[1] Prasad S, Aggarwal BB. Turmeric, the Golden Spice: From Traditional Medicine to Modern Medicine. In: Benzie IFF, Wachtel-Galor S, eds. Herbal Medicine: Biomolecular and Clinical Aspects. 2nd ed. Boca Raton (FL): CRC Press/Taylor & Francis; 2011; García-Niño WR, Pedraza-Chaverrí J. Protective effect of curcumin against heavy metals-induced liver damage. Food Chem Toxicol. 2014 Jul;69:182-201
[2] Prasad S, Aggarwal BB. Turmeric, the Golden Spice: From Traditional Medicine to Modern Medicine. In: Benzie IFF, Wachtel-Galor S, eds. Herbal Medicine: Biomolecular and Clinical Aspects. 2nd ed. Boca Raton (FL): CRC Press/Taylor & Francis; 2011.
[3] Liu T, Zhang L, Joo D, Sun SC. NF-κB signaling in inflammation. Signal Transduct Target Ther. 2017;2:17023-. doi:10.1038/sigtrans.2017.23
[4] Gupta N, Verma K, Nalla S, Kulshreshtha A, Lall R, Prasad S. Free Radicals as a Double-Edged Sword: The Cancer Preventive and Therapeutic Roles of Curcumin. Molecules. 2020;25(22):5390. Published 2020 Nov 18. doi:10.3390/molecules25225390
[5] Hadi A, Pourmasoumi M, Ghaedi E, Sahebkar A. The effect of Curcumin/Turmeric on blood pressure modulation: A systematic review and meta-analysis. Pharmacol Res. 2019;150:104505. doi:10.1016/j.phrs.2019.104505
[6] Rahmani AH, Alsahli MA, Aly SM, Khan MA, Aldebasi YH. Role of Curcumin in Disease Prevention and Treatment. Adv Biomed Res. 2018;7:38. Published 2018 Feb 28. doi:10.4103/abr.abr_147_16
[7] Sarraf P, Parohan M, Javanbakht MH, Ranji-Burachaloo S, Djalali M. Short-term curcumin supplementation enhances serum brain-derived neurotrophic factor in adult men and women: a systematic review and dose-response meta-analysis of randomized controlled trials. Nutr Res. 2019;69:1-8. doi:10.1016/j.nutres.2019.05.001; Shep D, Khanwelkar C, Gade P, Karad S. Safety and efficacy of curcumin versus diclofenac in knee osteoarthritis: a randomized open-label parallel-arm study. Trials. 2019;20(1):214. Published 2019 Apr 11. doi:10.1186/s13063-019-3327-2
[8] Kulkarni SK, Bhutani MK, Bishnoi M. Antidepressant activity of curcumin: involvement of serotonin and dopamine system. Psychopharmacology. (2008) 201: 435. https://doi.org/10.1007/s00213-008-1300-y.
[9] Fasano A. Leaky gut and autoimmune disease. Clin Rev Allergy Immunol. 2012;42(1):71-78; Rezaei M, Javadmoosavi SY, Mansouri B, Azadi NA, Mehrpour O, Nakhaee S. Thyroid dysfunction: how concentration of toxic and essential elements contribute to risk of hypothyroidism, hyperthyroidism, and thyroid cancer. Environ Sci Pollut Res Int. 2019;26(35):35787-35796. doi:10.1007/s11356-019-06632-7
[10] Prasad S, Aggarwal BB. Turmeric, the Golden Spice: From Traditional Medicine to Modern Medicine. In: Benzie IFF, Wachtel-Galor S, eds. Herbal Medicine: Biomolecular and Clinical Aspects. 2nd ed. Boca Raton (FL): CRC Press/Taylor & Francis; 2011.
[11] Wang J, Ghosh SS, Ghosh S. Curcumin improves intestinal barrier function: modulation of intracellular signaling, and organization of tight junctions. Am J Physiol Cell Physiol. 2017;312(4):C438-C445. doi:10.1152/ajpcell.00235.2016
[12] Jawa A, Jawad A, Riaz SH, et al. Turmeric use is associated with reduced goitrogenesis: Thyroid disorder prevalence in Pakistan (THYPAK) study. Indian J Endocrinol Metab. 2015;19(3):347-350. doi:10.4103/2230-8210.152768.
[13] Stancioiu F, Mihai D, Papadakis GZ, Tsatsakis A, Spandidos DA, Badiu C. Treatment for benign thyroid nodules with a combination of natural extracts. Mol Med Rep. 2019;20(3):2332-2338. doi:10.3892/mmr.2019.10453.
[14] García-Niño WR, Pedraza-Chaverrí J. Protective effect of curcumin against heavy metals-induced liver damage. Food Chem Toxicol. 2014 Jul;69:182-201
[15] Prasad S, Aggarwal BB. Turmeric, the Golden Spice: From Traditional Medicine to Modern Medicine. In: Benzie IFF, Wachtel-Galor S, eds. Herbal Medicine: Biomolecular and Clinical Aspects. 2nd ed. Boca Raton (FL): CRC Press/Taylor & Francis; 2011.
[16] Jin T, Zhang Y, Botchway BOA, et al. Curcumin can improve Parkinson's disease via activating BDNF/PI3k/Akt signaling pathways. Food Chem Toxicol. 2022;164:113091. doi:10.1016/j.fct.2022.113091
[17] Shafaghati N, Hedayati M, Hosseinimehr SJ. Protective effects of curcumin against genotoxicity induced by 131-iodine in human cultured lymphocyte cells. Pharmacogn Mag. 2014 Apr;10(38):106-10
[18] Bright JJ. Curcumin and autoimmune disease. Adv Exp Med Biol. 2007;595:425-451. doi:10.1007/978-0-387-46401-5_19
[19] García-Niño WR, Pedraza-Chaverrí J. Protective effect of curcumin against heavy metals-induced liver damage. Food Chem Toxicol. 2014 Jul;69:182-201
[20] Kress, R. The Versatile Uses of Turmeric and Curcumin. FreeCE website. www.freeCE.com. Accessed October 20, 2020.
[21] Prasad S, Tyagi A, and Aggarwal B. Recent Developments in Delivery, Bioavailability, Absorption and Metabolism of Curcumin: the Golden Pigment from Golden Spice. Cancer Res Treat. 2014 Jan; 46(1): 2–18.
[22] Jäger, R., Lowery, R.P., Calvanese, A.V. et al. Comparative absorption of curcumin formulations. Nutr J 13, 11 (2014). https://doi.org/10.1186/1475-2891-13-11
[23] Prasad S, Tyagi A, and Aggarwal B. Recent Developments in Delivery, Bioavailability, Absorption and Metabolism of Curcumin: the Golden Pigment from Golden Spice. Cancer Res Treat. 2014 Jan; 46(1): 2–18.
[24] Oxalates. Great Plains Laboratory. August 8, 2016. Accessed 24 May, 2022. https://www.greatplainslaboratory.com/gpl-blog-source/2016/8/8/oxalates; Miller AW, Dearing D. The metabolic and ecological interactions of oxalate-degrading bacteria in the Mammalian gut. Pathogens. 2013;2(4):636-652. Published 2013 Dec 6. doi:10.3390/pathogens2040636
[25] All Curcumin Extracts are Not Created Equal: Oxalates in Turmeric? Rooting out Misconceptions. Statement Paper. Sabinsa Corporation. January 2009.
[26] Li Y, Li M, Wu S, Tian Y. Combination of curcumin and piperine prevents formation of gallstones in C57BL6 mice fed on lithogenic diet: whether NPC1L1/SREBP2 participates in this process?. Lipids Health Dis. 2015;14(1).
[27] Hu S, Belcaro G, Dugall M, Peterzan P, Hosoi M, Ledda A, Riva A, Giacomelli L, Togni S, Eggenhoffner R, Cotellese R. Interaction study between antiplatelet agents, anticoagulants, thyroid replacement therapy and a bioavailable formulation of curcumin (Meriva®). Eur Rev Med Pharmacol Sci. 2018 Aug;22(15):5042-5046.
[28] Kusuhara H, Furuie H, Inano A, et al. Pharmacokinetic interaction study of sulphasalazine in healthy subjects and the impact of curcumin as an in vivo inhibitor of BCRP. Br J Pharmacol. 2012;166(6):1793-1803.
[29] Chin D, Huebbe P, Frank J, Rimbach G, Pallauf K. Curcumin may impair iron status when fed to mice for six months. Redox Biol. 2014;2:563-569. Published 2014 Feb 28. doi:10.1016/j.redox.2014.01.018; Smith TJ, Ashar BH. Iron Deficiency Anemia Due to High-dose Turmeric. Cureus. 2019;11(1):e3858. Published 2019 Jan 9. doi:10.7759/cureus.3858
[30] Lao CD, Ruffin MT 4th, Normolle D, et al. Dose escalation of a curcuminoid formulation. BMC Complement Altern Med. 2006;6:10. Published 2006 Mar 17. doi:10.1186/1472-6882-6-10
[31] Dhakal S, Chao K, Schmidt W, Qin J, Kim M, Chan D. Evaluation of Turmeric Powder Adulterated with Metanil Yellow Using FT-Raman and FT-IR Spectroscopy. Foods. 2016;5(2):36. Published 2016 May 17. doi:10.3390/foods5020036; Rao KV. Stimulation of DNA synthesis in primary rat hepatocyte cultures by metanil yellow: a new liver tumour promoter. Indian J Med Res. 1995;101:250-257.
Note: Originally published in July 2015, this article has been revised and updated for accuracy and thoroughness.