I love the concept of healing with food and using food as medicine, or as I like to call it, food pharmacology.
I became a pharmacist because I was interested in the effects that different substances have on human physiology. Medications are an obvious example of how tiny substances can produce a tremendous change in the human body, but what's even more intriguing to me is the profound effect that foods and natural substances can have on the body. I am always fascinated by how we can incorporate the healing properties of food into our everyday lives.
"Pharmacognosy" is the term we use for the study of medicines derived from natural sources, and the spice turmeric has received a lot of attention as a potential source of medicine, due to its healing properties.
Turmeric can be helpful in reducing whole body inflammation, healing the gut, as well as detoxifying from heavy metals, in those with autoimmunity and Hashimoto's.
In this article, I'll explore:
The history of turmeric
The many benefits of turmeric for reducing Hashimoto's symptoms
Delicious and easy recipes to incorporate turmeric into your diet
A few precautions when supplementing with curcurmin
History of Turmeric
Turmeric, whose botanical name is Curcuma longa, is a plant of the ginger family that was first cultivated in India and Indonesia. Going back nearly 4,000 years, turmeric has been an important part of Indian cooking, medicine, and religious practice.
Though we often think of turmeric as the spice that gives curry its characteristic golden color, this plant has an equally long history of medicinal use. Historically, turmeric has been used to treat pain, as well as stomach and liver ailments. Topically, turmeric was used to help with treating many skin conditions, including healing sores, eczema and skin rashes.
To this day, turmeric is viewed as a sacred substance in much of Indian culture. It is commonly used in Indian and Pakistani cuisine, in curries around the globe, and in Ayurvedic medicine – an ancient Indian system of natural healing that is still practiced worldwide today.
Besides its use in curry, turmeric is widely used as a coloring agent in cheese, butter, and other dairy products. It's also used in the manufacturing of other foods, such as canned beverages, baked products, ice cream, yellow cakes, orange juice, biscuits, popcorn, sweets, cake icings, cereals, sauces, and gelatins. The reported human consumption of turmeric in Asian countries ranges between 200-1000 mg/day.
Today, the use of turmeric has seen explosive growth in dietary supplements, beverages, functional food applications, in coffee shop beverages, and even as active components in pet supplements and foods.
Benefits and Uses of Curcumin
Modern medicine has begun to recognize the importance of turmeric and back up the ancient claims of its medicinal benefits, as evidenced by almost 6,000 scientific papers that have been published on curcumin and its health benefits. More than 10,000 studies and 120 clinical trials have been conducted to assess both turmeric and curcumin and their many health benefits.
The medicinal benefits can mostly be attributed to compounds called curcuminoids. The most important of these curcuminoids is curcumin, which has powerful anti-inflammatory effects and is a strong antioxidant.
Traditional folk uses of turmeric have included treating various forms of inflammation and arthritis, respiratory conditions, allergies, diabetic wounds and other wounds, conjunctivitis, skin cancer, urinary tract infections, liver and gallbladder issues, digestive disorders, gas, colic, abdominal pain and distension. It has also been used to expel phlegm, improve circulation, purify blood, address menstrual difficulties, and strengthen the overall energy of the body,
As an example of traditional dosing in folk and herbal medicine, with fresh turmeric root, dosages of 8-60 grams daily is recommended for arthritis, and 1.3-3.0 grams for indigestion.
Modern science has since examined the used of curcumin and found that it can:
Promote a healthy inflammatory response: Curcumin blocks a molecule called NF-kB, which travels into the nuclei of cells and turns on genes related to inflammation. In doing so, it is believed to help reduce inflammation, which is linked to several inflammatory diseases, including heart disease, cancer, and Alzheimer's.
Boost the body's antioxidants: Curcumin is a potent antioxidant, which can neutralize free radicals that cause oxidative damage — one of the mechanisms behind many diseases. It also enhances the activity of the body's own antioxidant enzymes.
Support normal cardiovascular function: Curcumin has been shown to be as effective as some prescription drugs in promoting the healthy function of blood vessels, which help regulate blood pressure and blood clotting.
Reduce symptoms associated with arthritis: Arthritis involves inflammation of the joints, and the potent anti-inflammatory properties of curcumin have been shown to reduce pain and inflammation more effectively than many prescription drugs.
Support a balanced mood: Curcumin boosts brain-derived neurotrophic factor (BDNF) levels, which have been found to be lower in those with depression. There is also some evidence that curcumin may support normal levels of the brain neurotransmitters serotonin and dopamine (our happy hormones!).
Because of its ability to reduce inflammation and oxidation — factors that play a huge role in many diseases, and aging itself — curcumin may be helpful in preventing or treating a wide range of conditions, including Hashimoto's. It's no wonder this substance has been revered for thousands of years!
Curcumin and Hashimoto's
Excess inflammation is always present in Hashimoto's thyroiditis (the suffix "itis" denotes inflammation in the thyroid gland), and intestinal permeability has been found as a common factor in every case of autoimmunity. In some cases, people with Hashimoto's may also have heavy metal toxicity.
Curcumin, the most studied active ingredient in turmeric, has been shown to have anti-inflammatory, antioxidant, antibacterial, and antiviral activity, all of which can provide benefits to those suffering from Hashimoto's-related symptoms.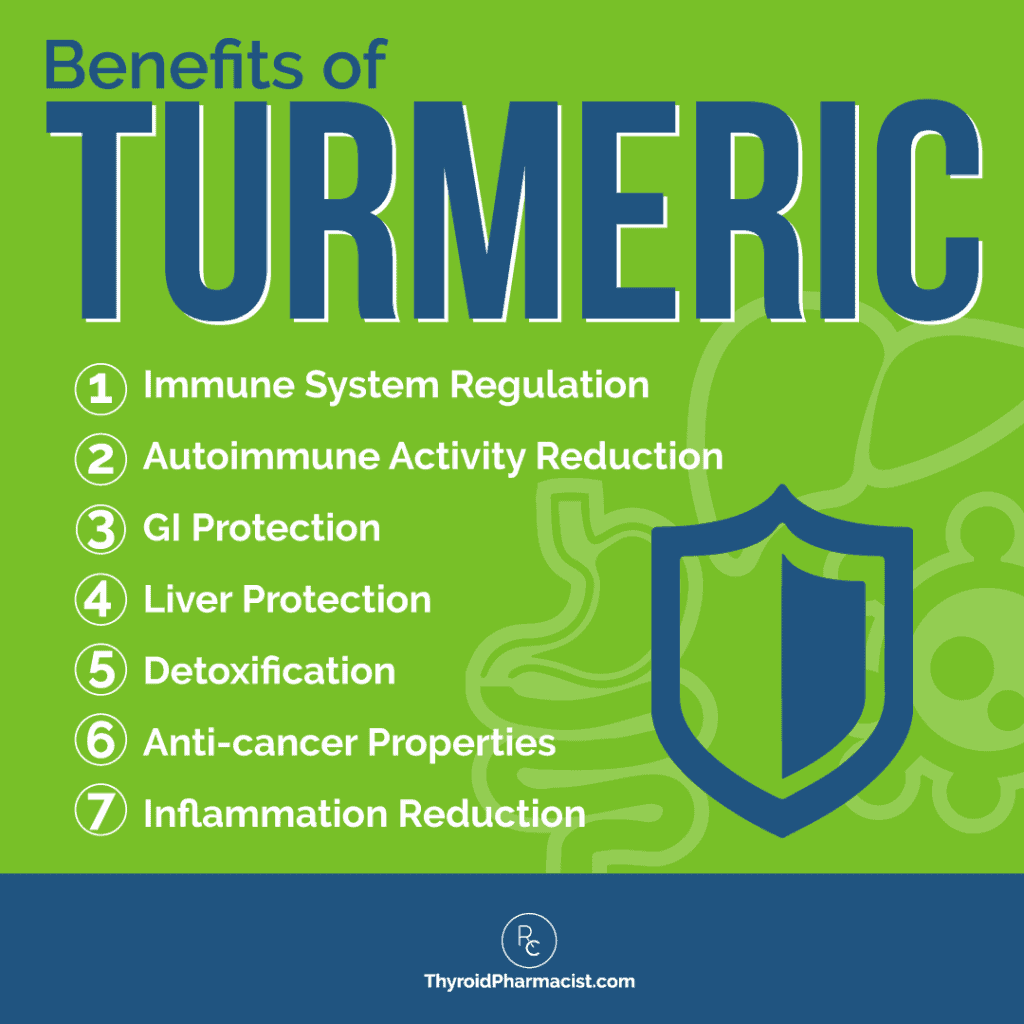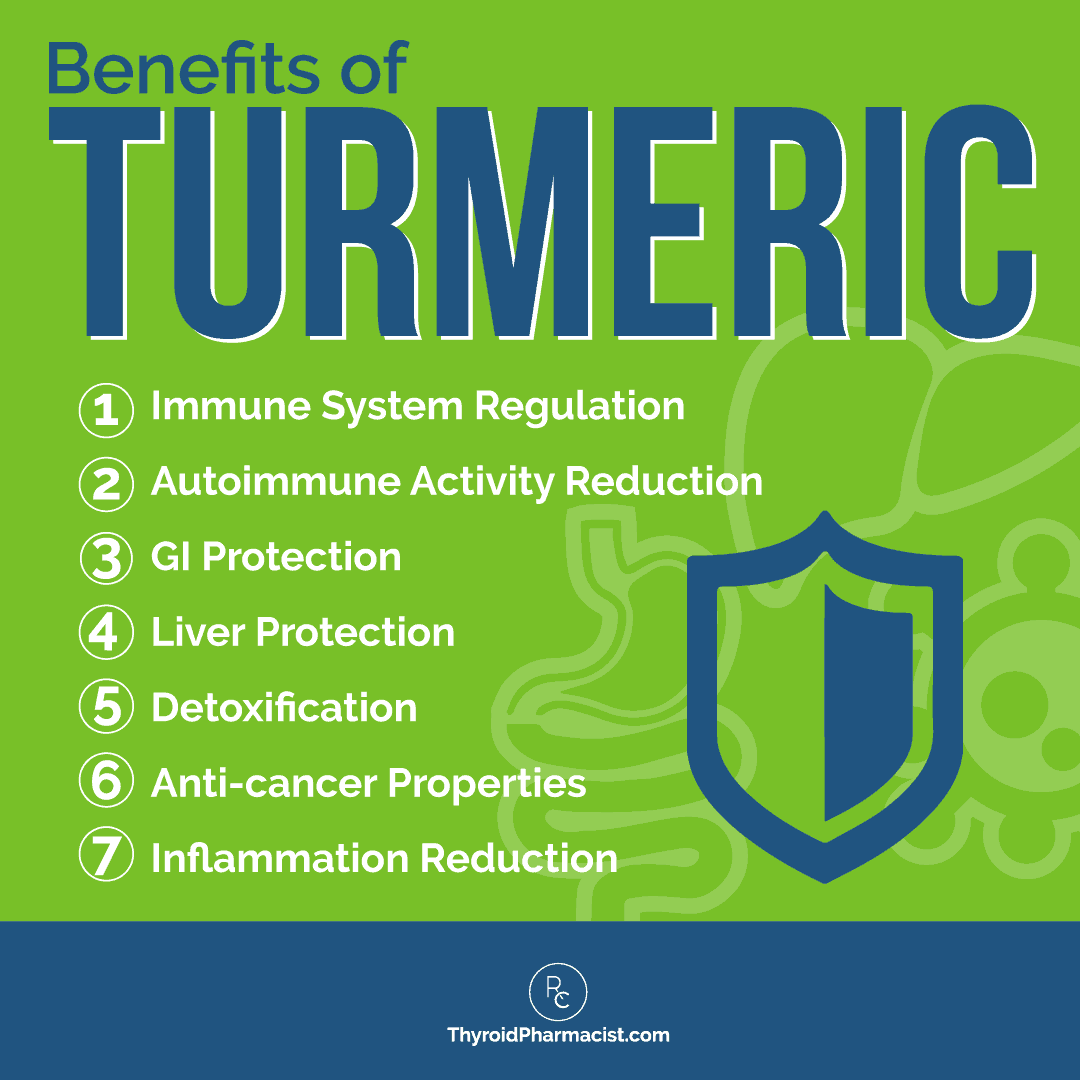 Studies on the Effects of Curcumin
Multiple studies that have examined the effect of curcumin on the thyroid gland and autoimmunity have shown encouraging results:
Curcumin can help to protect the intestinal barrier from invasion by bacterial infection and can help heal a leaky gut.
According to a 2014 study in the journal Food Chemistry and Toxicology, "Curcumin reduces the hepatotoxicity induced by arsenic, cadmium, chromium, copper, lead, and mercury, prevents histological injury, lipid peroxidation, and glutathione (GSH) depletion, maintains the liver antioxidant enzyme status and protects against mitochondrial dysfunction."
Curcumin showed tumor-inhibiting activity in thyroid cancer.
Curcumin was protective against the genetic damage and side effects induced by radioactive iodine, which is sometimes used to treat Graves' disease.
Curcumin has anti-inflammatory benefits that can be helpful in down-regulating autoimmune conditions. Specifically, curcumin produces an anti-inflammatory effect by down-regulating Th-1 cytokines (TNF-A, IL-1, 2, 6, 8, 12), which may be overactive in Hashimoto's. Curcumin has been found to reduce joint inflammation in the Th-1 autoimmune condition rheumatoid arthritis. Additionally, it seems to have therapeutic anti-inflammatory effects in a variety of gastrointestinal conditions, showing improvement in Crohn's disease (Th-1), ulcerative colitis (Th-2) and irritable bowel syndrome.
In my survey of 2232 people with Hashimoto's, 680 people reported that they had tried curcumin. Fifty-six percent reported that it was helpful, 40 percent did not see a change in how they felt, while 3 percent said it made them feel worse.
When asked about the specific benefits seen from the use of turmeric, 64 percent of people reported that it helped them with reducing pain symptoms. Other positive benefits were an increase in energy (seen in 35 percent), improvement in mood (seen in 34 percent), and an improvement in thyroid antibodies (12.5 percent).
Pain is the most obvious manifestation of inflammation in the body, so I'm not surprised that those who had pain saw an improvement with curcumin use. While most people with Hashimoto's do have inflammation, only some will present with pain symptoms.
Poor energy, mood changes, and thyroid antibodies are also indicative of inflammation. It was encouraging to see that curcumin also impacted those parameters, but it should be noted that improvements in those symptoms may be less obvious to notice, and may also take a bit longer to manifest.
While curcumin can also boost glutathione (an antioxidant that's often depleted in Hashimoto's), reduce inflammation, help with healing the gut, and aid in the detoxification of heavy metals, it's difficult to assess these improvements symptomatically.
Although most people with Hashimoto's will benefit from the addition of turmeric, if you are currently experiencing pain, you will most likely experience the most benefit.
How to Use Turmeric/Curcumin
Turmeric naturally has a low bioavailability, as it easily degrades and is eliminated within an hour after consumption.
Historically, to increase absorption, turmeric has been combined with black pepper to increase its bioavailability and enhance its healing properties. Combining curcumin with piperine, an alkaloid found in black pepper, extends the life of curcumin in the body, helping it to stick around longer.
Another way to boost the absorption of curcumin is to consume the turmeric root itself (fresh or dried as a powder) because natural oils found in turmeric root and turmeric powder can enhance the bioavailability of curcumin seven to eight fold. In Indian diets, turmeric is often dissolved and extracted into fat (i.e. by cooking it with ghee, also known as clarified butter), which may increase its bioavailability.
My recommendation is to add more turmeric to your cooking (remember to add some pepper to the mix), as well as a high-quality curcumin supplement.
Curcumin Supplements
It's important to find a high-quality curcumin supplement, as low bioavailability has also been an issue with curcumin supplements. Research has shown plasma concentrations of curcumin as low as 50 ng/mL after administration of dosages as high as 12 g/day.
To overcome the bioavailability issue, various curcumin formulations with enhanced bioavailability have been developed.
Though there are many different types of curcumin supplements on the market, all with varying levels of bioavailability, a few common formulations include:
Unformulated Curcumin: This is an isolated concentrate of unformulated curcumin, with no enhancement of bioavailability done. It's standardized to contain 95 percent curcuminoids. In a study, when curcumin was given orally at a dose of 2 g/kg to rats, a maximum serum concentration of 1.35±0.23 µg/mL was observed after 0.83 hours, whereas in humans, the same dose of curcumin resulted in either undetectable or extremely low (0.006±0.005 µg/mL at 1 hour) serum levels.
Phytosome Curcumin: In this type of supplement, the bioavailability of curcumin is enhanced by encapsulating the curcuminoids in a phytosome complex, which is a complex made of phospholipids or a type of fat. Even though this format has a smaller percentage of curcuminoids compared to non-enhanced formulations, the enhanced absorption that the phytosome provides, allows it to be equally as therapeutic. In a comparative study in humans, the absorption of curcuminoid present in commercial curcumin was compared with curcumin phytosome. The overall increase of curcuminoid absorption from curcumin phytosome was 29-fold.
Curcumin with Piperine: One of the ways our liver gets rid of foreign substances is by making them water soluble so they can be more easily excreted. Piperine, a potent inhibitor of drug metabolism, blocks that process, which allows curcumin to remain in the body longer for better absorption. In humans, curcumin bioavailability was increased by 2,000 percent at 45 minutes after administering curcumin with piperine. This study demonstrated that piperine enhances the serum concentration, extent of absorption, and bioavailability of curcumin.
For those that aren't sensitive to piperine, a supplement that I have personally used is called Curcumin with Bioperine. It is free of gluten, dairy, and soy. The dosage I used when working to detox my body of arsenic was 500 mg, three times per day.
Note: While piperine does increase the absorbance of curcumin, some people who are sensitive to black pepper may react to it. While black pepper isn't actually a nightshade and is Paleo-friendly, it is considered a "suspect" spice under the Autoimmune Paleo Diet due to potential reactions it can cause.
Fortunately, I've been able to develop a new supplement that could be a well absorbed alternative for those who don't tolerate piperine but still want to incorporate curcumin into their routine.
Rootcology's Curcumin Absorb is a highly bioavailable formulation that contains a unique combination of three health-promoting curcuminoids: curcumin, bisdemethoxy curcumin and demethoxy curcumin, along with turmeric oil. The three curcuminoids are the strongest, most protective and best researched constituents of the turmeric root. Naturally occurring turmeric root powder contains only 5-7 percent curcumin, while the blend in Curcumin Absorb is concentrated to contain 95 percent curcuminoids.
The potential health benefits of curcumin are often limited by its poor solubility, low absorption from the gut, rapid metabolism, and rapid systemic elimination. Curcumin Absorb is manufactured using an all-natural formulation that improves the absorption and delivery of curcumin. This process uses a proprietary blend of MCT oils, sunflower lecithin, and vitamin E, without the use of potentially harmful surfactants, increasing the absorption rate. None of the ingredients have been derived from soy.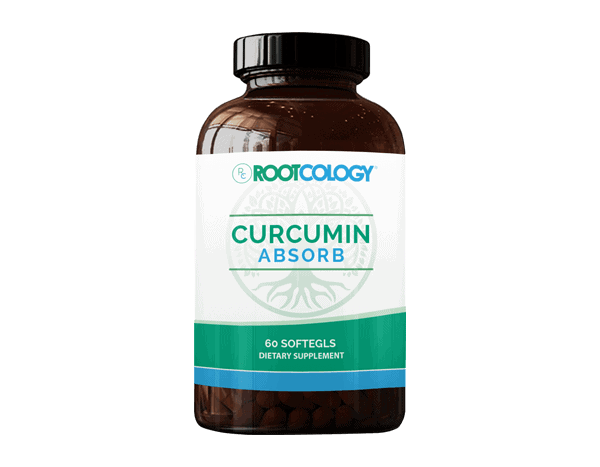 Here's what Kristin L. had to say about Curcumin Absorb:
Having read all the great things that Curcumin can do for the body I decided to try it. I have been amazed at how the aching in my feet and overall inflammation has diminished. It felt great to buy a product that had been thoughtfully made with no dairy, gluten, soy etc.
A Few Precautions…
Curcumin appears to be extremely safe, even at doses of up to 8 grams/day.
While most people can safely use turmeric/curcumin, there are a few exceptions that should be noted. People using blood thinners such as warfarin (Coumadin) should avoid curcumin, as it can magnify the effects of anti-clotting medications. While this interaction has not been well studied, there have been reports of excess bleeding by people combining cucurmin with anti-coagulants.
There have been additional reports of iron levels dropping in certain individuals who were taking a turmeric supplement, and returning to normal once the supplement was stopped. While studies in mice have shown a correlation between curcumin and lowered iron levels, these results have not been duplicated in human studies. Nevertheless, people with anemia or low iron levels should consult with their doctor, and monitor their ferritin levels carefully, before using a turmeric or curcumin supplement.
Studies have shown that taking doses of 1,200 – 2,100 mg of curcumin per day, for two to six weeks, didn't lead to any apparent adverse effects. However, a few negative side effects have been noted by a small portion of people taking curcumin supplements at higher dosages. Digestive issues have been reported at daily doses exceeding 1,000 mg. Headaches and nausea have been noted in a small number of people at dosages over 450 mg. Lastly, skin rashes have been seen in a few rare instances of people taking curcumin at dosages of 8,000 mg.
Additionally, some gene variations, such as MAO-A, can make certain individuals more sensitive to curcumin. If you have had your DNA analyzed through a company such as 23andMe and know that you have this type of mutation, you may want to limit your curcumin intake.
Not all turmeric supplements are pure, and may contain fillers, including wheat, barley or rye flour — sources of gluten that can be particularly harmful for those with Hashimoto's. Some turmeric powders have also been found to contain high levels of lead and a food colorant called metanil yellow that may cause cancer and neurological damage when consumed in large quantities. Therefore, finding a reputable source of turmeric is crucial!
Cooking with Turmeric
Below are two of my favorite ways to add more turmeric to my diet. A few years ago, I found myself suffering from arsenic poisoning due to conventional lipstick use (yikes!) and used curcumin to detoxify my body. Along with taking a curcumin supplement, I also made Turmeric Tea twice per day, and ate Tandoori Chicken multiple times per week. I believe that the addition of turmeric helped me clear out the arsenic within a month, and helped me to prevent long-term damage!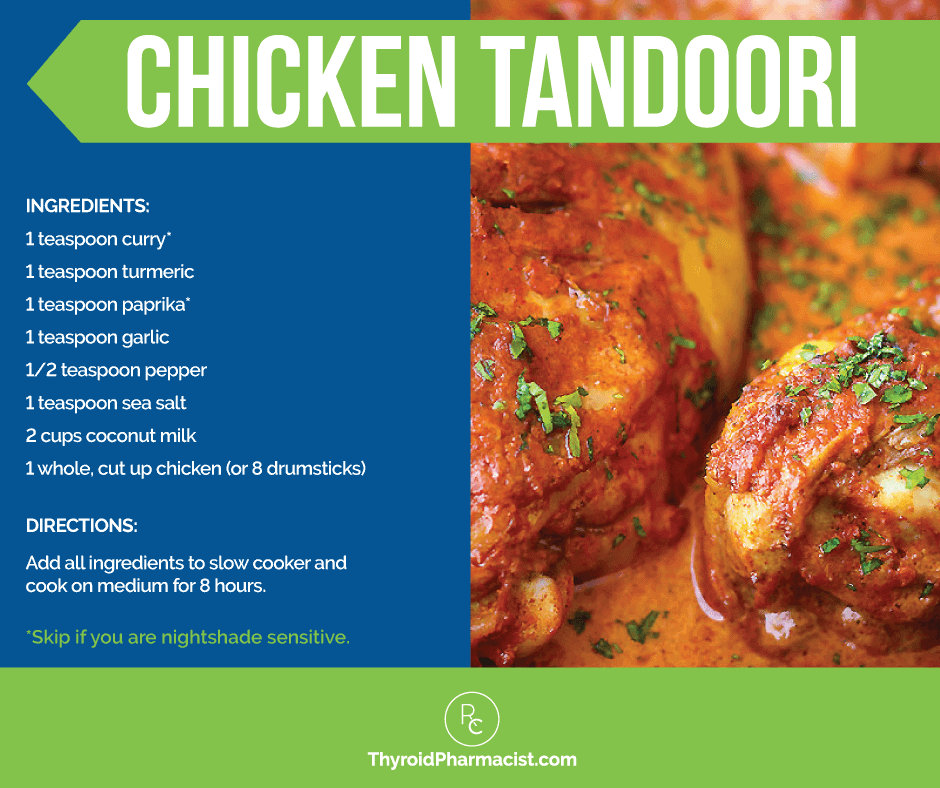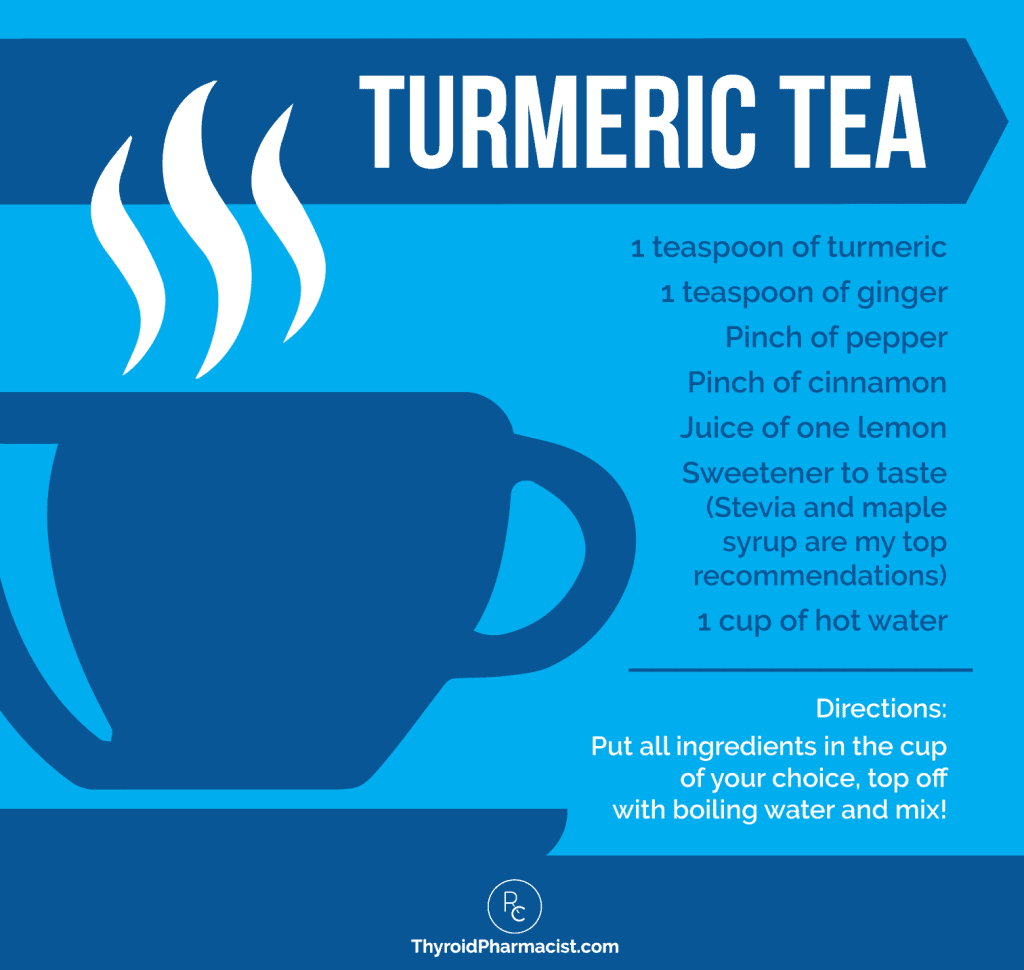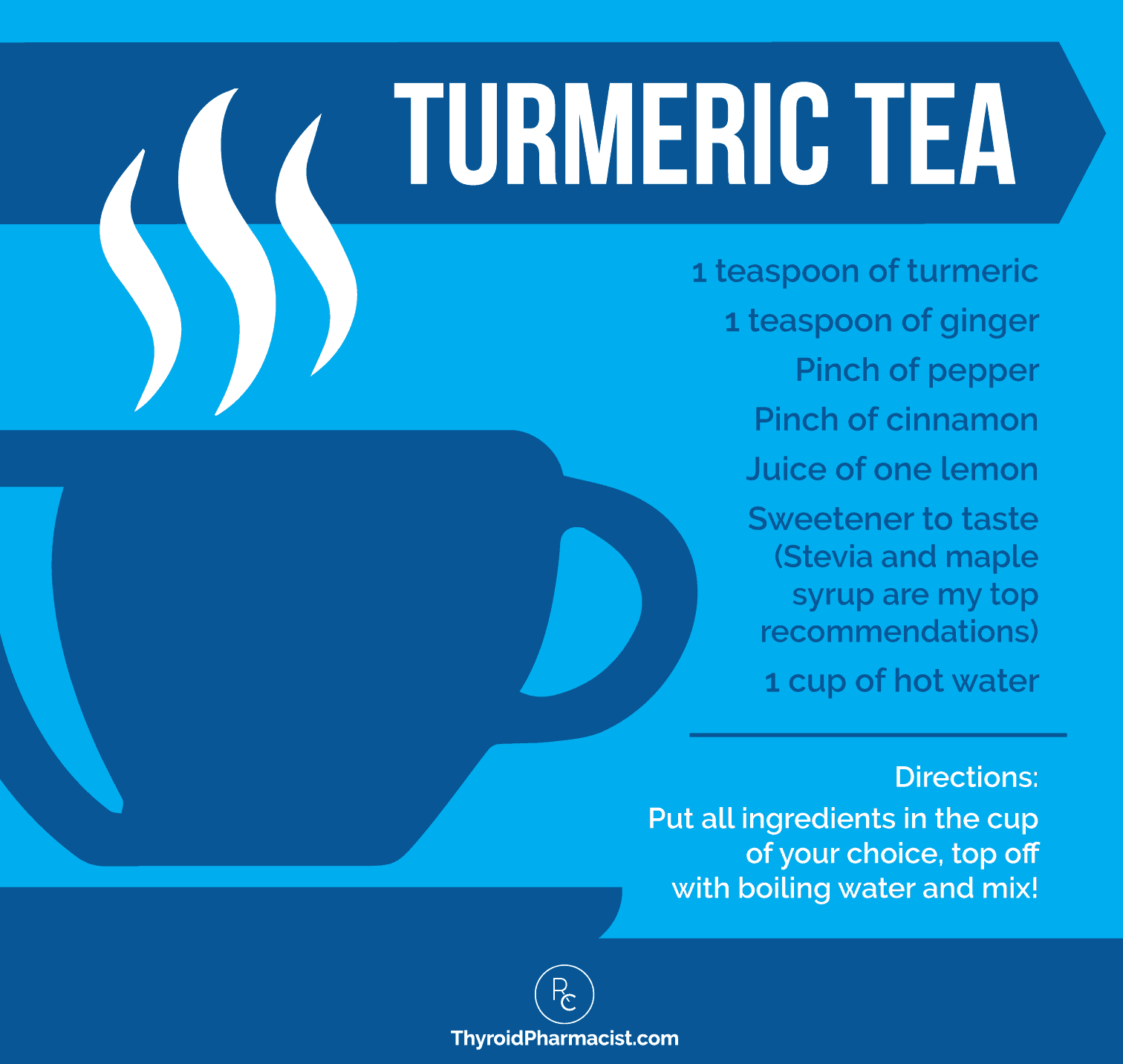 The Takeaway
Turmeric is a powerful ingredient with both a long history of use, and exciting new research supports the positive effects it can have on the body.
My personal experience has shown the benefits it can have for detoxifying the body. I often recommend it for clients with Hashimoto's to support the gut, liver, and inflammatory pathways, especially if they are experiencing pain!
I hope this information helps you on your journey! If you've tried turmeric, please share your experience with it in the comments below!
P.S. You can download a free Thyroid Diet Guide, 10 thyroid-friendly recipes, and the Nutrient Depletions and Digestion chapter for free by signing up for my newsletter. You will also receive occasional updates about new research, resources, giveaways and helpful information.
For future updates, make sure to follow us on Facebook and Instagram too!
References
Cho JA, Park E. Curcumin utilizes the anti-inflammatory response pathway to protect the intestine against bacterial invasion. Nutrition Research and Practice. 2015;9(2):117-122.
García-Niño WR1, Pedraza-Chaverrí J2. Protective effect of curcumin against heavy metals-induced liver damage. Food Chem Toxicol. 2014 Jul;69:182-201
Tan C1, Zhang L1, Cheng X1, Lin XF1, Lu RR2, Bao JD1, Yu HX3. Curcumin inhibits hypoxia-induced migration in K1 papillary thyroid cancer cells. Exp Biol Med (Maywood). 2014 Oct 27.
Xu X1, Qin J1, Liu W2. Curcumin inhibits the invasion of thyroid cancer cells via down-regulation of PI3K/Akt signaling pathway. Gene. 2014 Aug 10;546(2):226-32.
Shafaghati N, Hedayati M, Hosseinimehr SJ. Protective effects of curcumin against genotoxicity induced by 131-iodine in human cultured lymphocyte cells. Pharmacogn Mag. 2014 Apr;10(38):106-10
Bright JJ. Curcumin and autoimmune disease. Adv Exp Med Biol. 2007;595:425-51.
Paul C. Curcum-EvailTM. Designs for Health. http://biorna-quantics.com/wp-content/uploads/2016/01/Curcum-Evail_TechSheet.pdf. November 2015. Updated January 2016. Accessed January 31, 2018.
Menon VP, Sudheer AR. Antioxidant and anti-inflammatory properties of curcumin. Adv Exp Med Biol. 2007;595:105-25.
Biswas SK, McClure D, Jimenez LA, Megson IL, Rahman I. Curcumin induces glutathione biosynthesis and inhibits NF-kappaB activation and interleukin-8 release in alveolar epithelial cells: mechanism of free radical scavenging activity. Antioxid Redox Signal. 2005 Jan-Feb;7(1-2):32-41.
Toborek M, Kaiser S. Endothelial cell functions. Relationship to atherogenesis. Basic Res Cardiol. 1999 Oct;94(5):295-314.
Chandran B, Goel A. A randomized, pilot study to assess the efficacy and safety of curcumin in patients with active rheumatoid arthritis. Phytother Res. 2012 Nov;26(11):1719-25. doi: 10.1002/ptr.4639.
Sanmukhani J, Satodia V, Trivedi J, Patel T, Tiwari D, Panchal B, et al. Efficacy and safety of curcumin in major depressive disorder: a randomized controlled trial. Phytother Res. 2014 Apr;28(4):579-85. doi: 10.1002/ptr.5025.
Kulkarni SK, Bhutani MK, Bishnoi M. Antidepressant activity of curcumin: involvement of serotonin and dopamine system. Psychopharmacology (2008) 201: 435. https://doi.org/10.1007/s00213-008-1300-y.
Kress, R. The Versatile Uses of Turmeric and Curcumin. FreeCE website. www.freeCE.com. Accessed October 20, 2020.
1. Benzie IFF, Wachtel-Galor S. Herbal Medicine: Biomolecular and Clinical Aspects. 2nd edition. Boca Raton (FL): CRC Press/Taylor & Francis, 2011.
Govindarajan V. S. Turmeric-chemistry, technology, and quality. Crit Rev Food Sci Nutr. 1980; 12:199–301.
Ammon H. P, Wahl M. A. Pharmacology of Curcuma longa. Planta Med. 1991; 57:1–7.
Thimmayamma B. V. S, Rau P, Radhaiah G. Use of spices and condiments in the dietaries of urban and rural families. J Indian Nutr Diet. 1983; 20:153–62.
Atal CK, Dubey RK, Singh J. Biochemical basis of enhanced drug bioavailability by piperine: evidence that piperine is a potent inhibitor of drug metabolism. Journal of Pharmacological Experimental Therapeutics. 1985 Jan;232(1):258-62.
Prasad S, Tyagi A, and Aggarwal B. Recent Developments in Delivery, Bioavailability, Absorption and Metabolism of Curcumin: the Golden Pigment from Golden Spice. Cancer Res Treat. 2014 Jan; 46(1): 2–18.
Wahlström B, Blennow G. A study on the fate of curcumin in the rat. Acta Pharmacol Toxicol (Copenh). 1978 Aug; 43(2):86-92.
Shoba G, Joy D, Joseph T, Majeed M, Rajendran R, Srinivas PS, Influence of piperine on the pharmacokinetics of curcumin in animals and human volunteers. Planta Med. 1998 May; 64(4):353-6.
Shoba G, Joy D, Joseph T, Majeed M, Rajendran R, Srinivas PS. Influence of piperine on the pharmacokinetics of curcumin in animals and human volunteers. Planta Med. 1998 May;64(4):353-6.
Note: Originally published in July 2015, this article has been revised and updated for accuracy and thoroughness.