Hydration may not be the first thing you think of when it comes to Hashimoto's and thyroid health, but having adequate levels of water is absolutely essential for all areas of health — and electrolytes play a crucial role in ensuring we stay hydrated.
Throughout my Hashimoto's journey, I've felt the effects of low electrolytes. It was probably not a coincidence that these symptoms of headaches, feeling dizzy when I stood up, and fatigue, correlated with my autoimmune flares… and seemed to resolve again when I was able to address their root cause.
While I make it a point to regularly consume high electrolyte foods, such as sea salt and bone broth, I do live in a dry climate here in Colorado, and often turn to supplements for extra support — especially after intense exercise, and during periods of higher stress.
We often overlook dehydration as a contributor to symptoms, yet this basic connection can help to lay the foundation for healing. Staying hydrated and replenishing our electrolyte levels can greatly help reduce adrenal fatigue — which most of us with Hashimoto's experience to one degree or another.
In this article, you will learn:
Symptoms and causes of electrolyte imbalances
The electrolyte-Hashimoto's connection
The role of the adrenals
How to know if you need electrolytes
Food sources and supplements to replenish your electrolyte levels
What Are Electrolytes?
Simply put, electrolytes are minerals that play a critical role in the body. Through a biochemical process, electrolytes become ions (an atom or molecule with an electrical charge) that can conduct electrical signals in the body. These signals create communication and function within nerves and muscles, as the electrolytes move in or out of cells. Electrolytes are important for fluid balance, muscle contraction and blood pressure, and play other roles in the body as well.
Electrolytes include:
Sodium
Potassium
Calcium
Chloride
Phosphate
Bicarbonate
Potassium is the main intracellular (inside the cell) ion, and sodium is the main extracellular (outside the cell) one. Potassium and sodium get the most attention for this reason, and are arguably the most important for maintaining good hydration and electrolyte balance within the body. Sodium and potassium function in the body in a very specific balance.
The pituitary gland in the brain helps to manage electrolytes throughout the body. It can be hard to measure true electrolyte status because at times, the body needs to prioritize where electrolytes go. So, it is possible for one's electrolytes to appear low in one area because they are being used in another area of the body.
Electrolytes and fluid balance play a critical role in cardiovascular health, especially with heartbeat and blood pressure regulation. Potassium is especially important due to its role in heartbeat regulation, and low (or high) potassium can create cardiac abnormalities that can potentially be life threatening.
Historically, electrolytes were solely obtained through food, and these minerals can be found in meat and fish, bone broths, fruits and vegetables, sea salt, sea vegetables, and teas. It wasn't until the 1920s or 30s that people started consuming supplemental electrolytes, mainly in a medical setting. The famous sports drink, Gatorade, has been around since 1967; and today, electrolyte supplements are quite commonplace — especially for supporting the hydration needs of athletes, patients who may have had vomiting or diarrhea, as well as those with electrolyte imbalances due to specific conditions or lifestyles.
Electrolyte Imbalances
An electrolyte imbalance occurs when levels of one or more electrolytes within the body become too high or too low.
An electrolyte imbalance can be caused bsy:
An illness that causes vomiting and/or diarrhea
Medications such as diuretics, or the overuse of laxatives
Dehydration from excess sweating, such as from exercise, sauna usage, or living in a hot or dry climate
Low intake of key electrolyte minerals (low consumption of fruits and vegetables, for example)
An eating disorder
An increased need for electrolytes due to a low-carb or ketogenic diet
Too little or too much water intake
A decrease in kidney function
HPA-axis dysfunction or "adrenal fatigue"
Hypothyroidism or Hashimoto's
Pregnancy
Hyponatremia (or low sodium in the blood) is the most common form of electrolyte imbalance. It is more common in older adults and those with hypertension (high blood pressure), heart disease and kidney disease, but can also occur in those with adrenal or thyroid issues. Symptoms include headaches, nausea, vomiting, muscle cramps, fatigue, and fainting. In extreme cases, hyponatremia can cause disorientation, seizures, brain damage, and coma.
Hypernatremia (or high sodium in the blood) is much less common with Hashimoto's than hyponatremia, but symptoms may include weakness, nausea, loss of appetite, muscle twitching and, more severely, mental confusion, and bleeding in the brain.
Hypokalemia (or low potassium in the blood) is another electrolyte imbalance and may present as fatigue, constipation, frequent urination, muscle weakness and, most severely, muscular paralysis and abnormal heart rhythms. Hyperkalemia (or high potassium in the blood) is also associated with abnormal heart rhythms, a slowed heart rate, and weakness.
If you're experiencing any of the symptoms listed above, you may want to monitor your electrolyte levels to see if they may be related to severe electrolyte imbalances. (I'll address how to check your electrolyte levels further on in this article.)
But what if your levels appear to be within "normal" range? As with all things Hashimoto's, I'm always looking at optimizing our levels, and want to highlight that there is still the possibility that you may have subclinical or subtle electrolyte imbalances.
In other words, it is possible to have low electrolytes, or an imbalance of electrolytes, that is less severe, but that can still affect your health (especially thyroid health) and contribute to symptoms. (For example, some of my clients have tested their sodium and potassium levels and were told that their levels were within normal range, yet they benefited from balancing their electrolyte levels.)
Addressing subclinical electrolyte imbalances is especially important for those with Hashimoto's.
The Electrolyte-Hashimoto's Connection
Symptoms of both hyponatremia and hyperkalemia, including fatigue, weakness, low blood pressure, and even some GI symptoms, sound a lot like symptoms of hypothyroidism. But did you know that the thyroid and electrolytes are intimately connected?
It has been found that electrolyte imbalances directly correlate with thyroid imbalances. This is partly due to the fact that thyroid abnormalities may lead to changes in renal function, which in turn can lead to electrolyte imbalances. Plus, thyroid hormones are involved in the metabolism of minerals. As such, people with hypothyroidism, especially advanced cases of hypothyroidism, generally experience a slower metabolism, resulting in electrolyte abnormalities. However, the basic mechanisms of how thyroid hormones influence electrolytes are not fully understood.
That said, studies have noted the connection between thyroid hormone levels and electrolyte levels.
In one study, participants with hypothyroidism showed low serum sodium, chloride, and potassium levels. Conversely, those with hyperthyroidism had increased serum potassium levels. Another study conducted on 110 clinically known cases of hypothyroidism between the ages 20 and 60, demonstrated similar findings. The hypothyroid patients in their study showed serum electrolyte disturbances, such as low sodium, potassium and calcium levels, as well as high magnesium and phosphorus levels.
Yet another study that aimed to find out the effect of hypothyroidism on electrolyte and mineral levels, looked at 140 cases of overt hypothyroidism from whom blood samples were collected. Their T3, T4 and TSH levels were measured. Calcium, phosphorus, magnesium, sodium, and potassium levels in the blood were also measured. The researchers concluded that the higher the TSH levels one had, the higher the magnesium and phosphorus levels were in the blood, and the lower the values of serum calcium, sodium and potassium levels were. Thus, they found that the more severe one's hypothyroidism is, the more severe their electrolyte imbalances may be.
In most cases, electrolyte imbalances can be corrected with proper use of thyroid medications to bring thyroid hormones into optimal ranges.
However, researchers have also found that hydration status (due to insufficient electrolyte or water intake, or both) can significantly affect thyroid labs.
In one study, TSH levels were eight percent higher in those who were dehydrated, compared to those with optimal hydration status. The good news is that this can reverse rapidly with hydration. If your TSH is a little higher than normal and you're experiencing thyroid symptoms, part of that could be due to hydration, and increasing your water and/or electrolyte intake will increase the efficiency of your thyroid hormones.
The bottom line is that addressing thyroid hormone imbalances due to hypothyroidism, and paying attention to hydration, plays an important part in addressing electrolyte imbalances and healing with Hashimoto's.
The Role of the Adrenals
To deepen the connection, dehydration and nutrient deficiencies are common with adrenal issues, and adrenal issues are almost always associated with thyroid issues. Addressing adrenal imbalances can relieve some of the symptoms associated with Hashimoto's. In fact, addressing thyroid health without addressing the adrenals, can often further deplete the adrenals, making Hashimoto's symptoms worse.
The adrenals play a large role in electrolyte balance. Aldosterone is a hormone made by the adrenal glands, that helps to regulate blood volume, blood pressure, and sodium/potassium levels. When the adrenal glands are weakened (in the advanced stages of adrenal fatigue), sodium levels become unregulated and can fall too low, causing an electrolyte imbalance. This is the mechanism behind low blood pressure that often accompanies adrenal and thyroid imbalances.
The adrenal glands also make glucocorticoid hormones (cortisol is an example), and these hormones can suppress the conversion of T4 to T3 by suppressing the 5'deiodinase enzyme. It makes sense that the body would suppress the activation of thyroid hormone under conditions of stress. This is one of the body's innate protective mechanisms used to conserve nutrients and resources so that they can be used to promote healing instead.
The problem today, however, is that in our modern world, we face different and constant stressors (toxins, negative thoughts, balancing work and family, sitting in traffic, etc.) — and these signals can promote some of the unwanted symptoms of Hashimoto's (including weight gain, depression, and fatigue).
Various states of adrenal fatigue or chronic stress are all too common in our society. Besides the sodium imbalance discussed here, high cortisol can deplete both potassium and magnesium (along with zinc, iron, copper, vitamin C, and B vitamins).
If you feel dizzy upon standing, are prone to fainting, feel dehydrated, and crave salty foods, taking a deeper look at the adrenals (and electrolytes!) is an important root cause approach to healing. One key piece to recovering from adrenal dysfunction is restoring nutrient balance and maintaining good hydration. This can help with thyroid health as well!
To learn more about supporting your adrenals, download my free Adrenals Chapter below!

How Can I Tell If My Electrolyte Levels Are Low?
Electrolytes are often measured as part of routine annual lab work with your primary care provider, but you can certainly request these labs more often. If your blood levels of sodium, potassium, or calcium are out of the normal lab range, this would signal a severe electrolyte imbalance. This is the main way that conventional medicine looks at electrolytes.
That said, as mentioned earlier, some cases of electrolyte imbalances may be "subclinical." In other words, it is possible to have low levels of certain electrolytes, or an imbalance of electrolytes that is less severe, but still affecting your thyroid health.
After all, the body, which needs pretty tight control of electrolytes in the blood, may prioritize electrolytes and concentrate them in certain areas when there is a deficiency somewhere.
Symptoms of electrolyte imbalance, Hashimoto's, and adrenal imbalance can all overlap to some degree. Here are some common symptoms to look for:
Fatigue (even after a good night's sleep)
Salt cravings
Low blood pressure
Feeling faint with standing
Low blood sugar
Hitting the snooze button
Feeling "wired, but tired"
Mild depression
Decreased resilience to stress
Headaches
Muscle aches or cramps
Diarrhea or constipation
Frequent urination (including drinking water and feeling the urge to urinate right away)
Fast or irregular heartbeat
Increased thirst
Anxiety
Dry skin and lips
If you experience a collection of these symptoms, you may experiment with increasing electrolytes to see if that helps to improve your symptoms. (I'll discuss ways to increase your levels below!)
How Can I Tell Which Electrolyte I'm Deficient In?
You may need more potassium if you experience:
Excessive thirst
Salt cravings
Water retention
Cognitive issues
High blood pressure
Heartbeat fluctuations
Nervousness
You may need less potassium if you:
Have low blood pressure
Are on a potassium chloride supplement
Experience GI symptoms such as nausea or vomiting
You may need more sodium if you have:
Excessive thirst that is not alleviated with drinking plain water
Excessive fluid loss, such as sweating or urinating
Recently engaged in high intensity exercise
Diluted urine
You may need less sodium if you are:
Someone with high blood pressure
A sodium-sensitive individual (blood pressure rises with sodium, and lowers when omitting sodium)
A salt-resistant individual (blood pressure doesn't change with sodium dosage changes)
Please note that electrolyte imbalances may be compounded by intense exercise, living in a hot or dry climate, and drinking caffeine or alcohol. If any of these are true for you, you may need more water and electrolytes than you think.
Food Sources of Electrolytes
Electrolyte levels can be replenished through food and beverages, through over-the-counter supplementation, or via an IV drip for more serious cases.
It is very safe to consume electrolytes from food, and it is truly a foundational approach to addressing electrolyte imbalance. Most people with Hashimoto's will need more sodium, potassium, and magnesium, but note that there may be some cases where this doesn't hold true. For example, in cases where potassium is high relative to sodium, eating high potassium foods may make someone feel worse.
A Standard American Diet full of highly processed foods is associated with high sodium (as well as low potassium and magnesium) intake. If you are eating a whole foods-based, anti-inflammatory diet to address Hashimoto's – such as what I share in Hashimoto's Food Pharmacology: Nutrition Protocols and Healing Recipes to Take Charge of Your Thyroid Health – you may actually need more salt than what you are getting from your food.
One sign that you need more salt is having salt cravings, since those with adrenal issues have subclinical electrolyte imbalances caused by adrenal dysfunction. My best tip is to eat more salt, but the right kind of salt! Iodized salt is partially responsible for the Hashimoto's epidemic (read my article to find out why!), so it is important to choose non-iodized varieties. I like to use Celtic sea salt or Himalayan pink salt.
Besides liberally salting food, salted bone broth is a great option for hydration. In the 2015 survey I conducted in people with Hashimoto's, participants reported that homemade broth helped with energy, mood, weight, pain, hair, skin, and thyroid labs!
To increase electrolytes through food, here are some of the best sources for sodium and potassium, as well as magnesium (which many people with Hashimoto's are also deficient in):
High Sodium Foods
Sea salt (be sure to choose non-iodized varieties)
Celery
Pickles, sauerkraut and other fermented foods
Seafood
High Potassium Foods
Bananas
Sweet potatoes
Potatoes
Coconut water
Avocados
Winter squash
Beans
Dried apricots
Prunes
Raisins
Yogurt
Spinach
Artichoke
Beet greens
High Magnesium Foods
Kale, spinach, and other dark leafy greens
Almonds, cashews, Brazil nuts, and other nuts
Avocados
Dark chocolate
Black beans, and other beans
Pumpkin, flax, and chia seeds
How Much Water Should I Drink?
It is important to also focus on drinking enough water as you work on balancing your electrolytes. You may need 8-10 glasses per day, and more with exercise or caffeinated beverages.
To determine the precise amount of water your body needs, there is a simple calculation that you can do:
You should aim for half your body weight (pounds) in ounces. For example, a 150 pound person would aim to drink 75 ounces of water per day.
You may need to help keep yourself on track with water intake. I recommend either writing a daily water goal in your journal, or drawing the amount of glasses you need, and filling them in daily. You can also use a free water counting app on your smartphone (like Waterlogged) to track your daily water intake.
If you're at home, my personal favorite is to make a pitcher of spa water each morning (by adding cut up cucumbers, strawberries, lemons and/or limes to a pitcher of purified water), and sipping on it throughout the day.
However, while it's unlikely that most people will do so, I do want to mention that it's possible to drink too much water. Water intake can contribute to electrolyte imbalance. Feeling weak, having headaches, and experiencing vomiting and nausea, are the most common signs of water over-consumption. Symptomatic water intoxication has been observed when a person drinks about three to four liters (.75 – 1 gallon) of water at one time, but this can be avoided by spacing your water consumption out throughout the course of the day.
Electrolyte Drinks and Supplements
A great way to replete electrolytes in a relatively short time is by using electrolyte supplements. A word of caution, however, is that a lot of electrolyte products, including sports drinks such as Gatorade, are not necessarily healthy options because of their high levels of sugar, dyes, and flavorings. However, a little bit of natural sugar in an electrolyte supplement is okay, since glucose helps the body to absorb the electrolyte minerals.
You can make your own electrolyte drinks, and depending on if you need more or less potassium, I recommend two hydration blends that are easily made at home.
Potassium
Potassium is important for keeping fluids balanced in the body, lowering blood pressure, and addressing water retention — which in turn, lowers the internal stress response.
How do you know if you need more or less potassium?
As mentioned earlier, you may need more potassium if you experience:
Excessive thirst
Salt cravings
Water retention
Cognitive issues
High blood pressure
Heartbeat fluctuations
Nervousness
You may need less potassium if you:
Have low blood pressure
Are on a potassium chloride supplement
Experience GI symptoms such as nausea or vomiting
If you are experiencing any of these symptoms, I recommend that you consult with your practitioner to test your potassium levels via a blood test, to see if either of these hydration blends are optimal for you.
More Potassium Blend:
1 quart coconut water
¼ – ½ teaspoon sea salt (gray or pink)
Less Potassium Blend:
1 quart filtered water
½ teaspoon sea salt (gray or pink)
Sodium
Sodium has gotten a bad rap in the medical industry. However, it is crucial for regulating fluids in the body. As mentioned above, I recommend using sea salt or Himalayan pink salt, as opposed to table salt or iodized salt.
Salt nourishes the adrenals and provides the minerals, such as potassium and magnesium, that our body needs. It also offers us hydration when we are in a dehydrated state, by keeping fluid in the body (also known as water retention).
How do you know if you need more sodium? You will want to see if you have:
Excessive thirst that is not alleviated with drinking plain water
Excessive fluid loss, such as sweating or urinating
Recently engaged in high intensity exercise
Diluted urine
How do you know if you need less sodium? You may be:
Someone with high blood pressure
A sodium-sensitive individual (blood pressure rises with sodium, and lowers when omitting sodium)
A salt-resistant individual (blood pressure doesn't change with sodium dose change)
I've created a recipe for "Sole", a high concentration mixture of Himalayan sea salt and filtered water. This salt mixture can be taken once per day, up to 1 teaspoon at a time, on an empty stomach.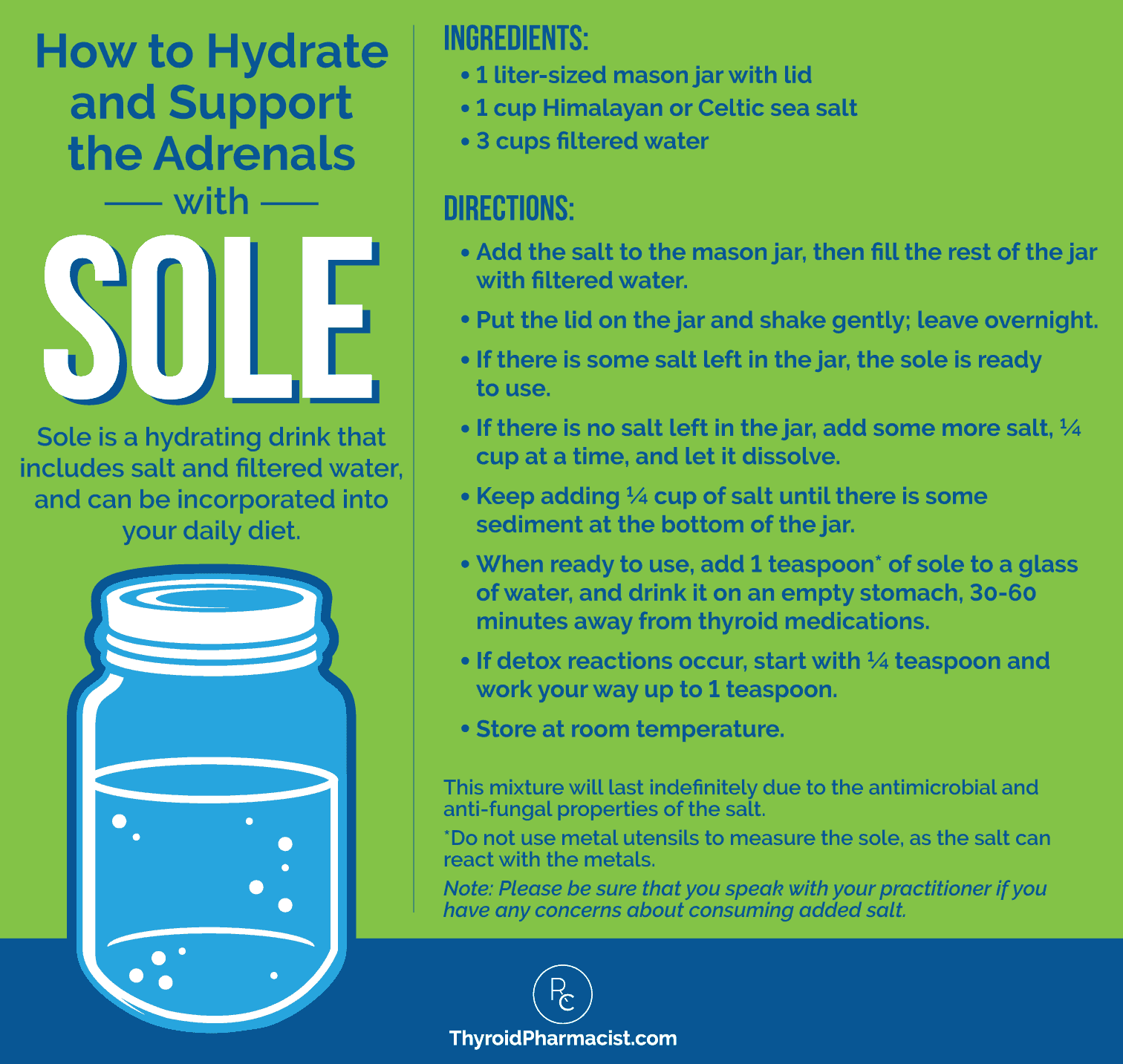 Supplement Options
You can also supplement with an electrolyte blend.
I developed Rootcology Electrolyte Blend as a complete and balanced formula, specifically to support people with Hashimoto's. This formula contains the electrolytes sodium, potassium, chloride, and magnesium, along with additional thyroid supporting ingredients, including:
Vitamin C – An important antioxidant to support the adrenals, mitochondria, thyroid hormone and collagen production. Researchers are also finding that vitamin C may have antiviral properties and may be helpful in recovering from viral infections, such as the Epstein-Barr virus.
D-ribose – A natural sugar that supports the health of our mitochondria, energy production, exercise recovery, and chronic fatigue syndrome.
Quercetin/rutin/citrus bioflavonoids – These work synergistically with vitamin C and reduce inflammation. They also have antihistamine and antiviral properties.
Taurine – An amino acid that supports the gallbladder (which, according to my estimates, may be affected in about 30-50 percent of people with Hashimoto's), helps remove fluoride from the body, aids digestion, helps with allergies, and supports healthy blood pressure through electrolyte regulation in the cells.
This blend may be helpful for supporting cardiovascular health, blood pressure and fluid balance, recovering from a cold or flu, replenishing electrolytes during and after sweating, supporting the adrenals, and mitigating symptoms of dehydration. (I usually recommend 1 teaspoon of Rootcology Electrolyte Blend in 8-10 ounces of water each day, or as directed by your personal provider. As always, please consult with your practitioner to ensure this supplement is right for your needs.)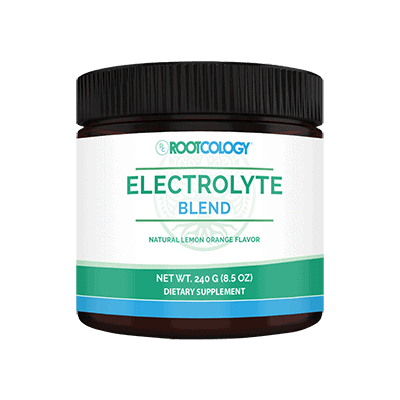 Here's what Kate had to say:
"I follow you on Facebook and read one of your articles about the Electrolyte Blend. I thought, what have a got to lose? My chiropractor was always telling me 'you're dehydrated'..and I was like HOW I drink a ton of water. Well apparently I was, I don't know! Lol. The Electrolyte Blend gave me calm. No more heart palps and TMI, but I am 'regular' for the first time in my life! Adding the electrolyte blend is the only change I have made. I have more energy but it doesn't like crazy energy for Hashi's! I would think this is a huge help to my busted adrenals as well since I feel calm 🙂 Thank you!"
It is also useful to have on hand when enjoying an occasional glass of wine, or two. 🙂 When drinking alcohol, have 1 scoop in a glass of water along with each drink. (Do not exceed more than 1 scoop of Rootcology Electrolyte Blend per day.) You may want to have an additional scoop the next morning as well! This is very helpful for preventing the symptoms of a hangover, by keeping you hydrated.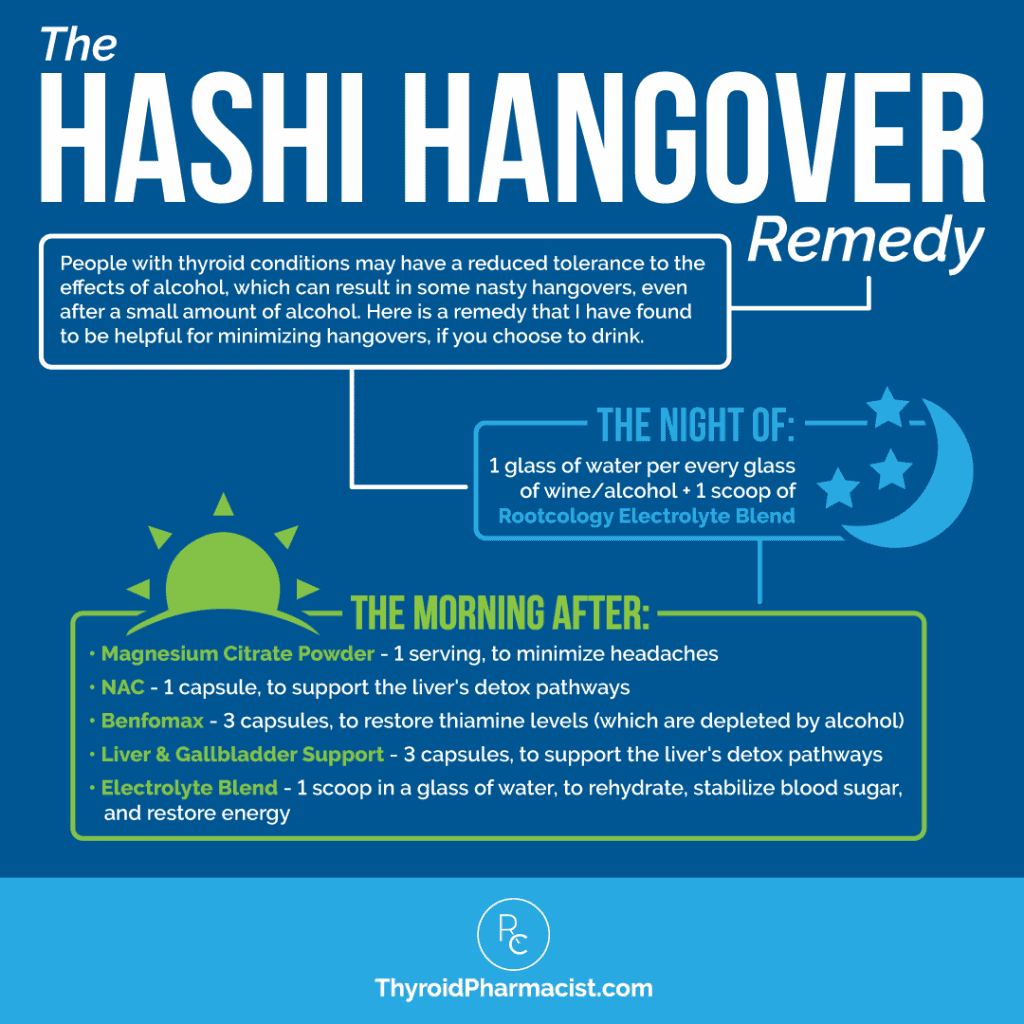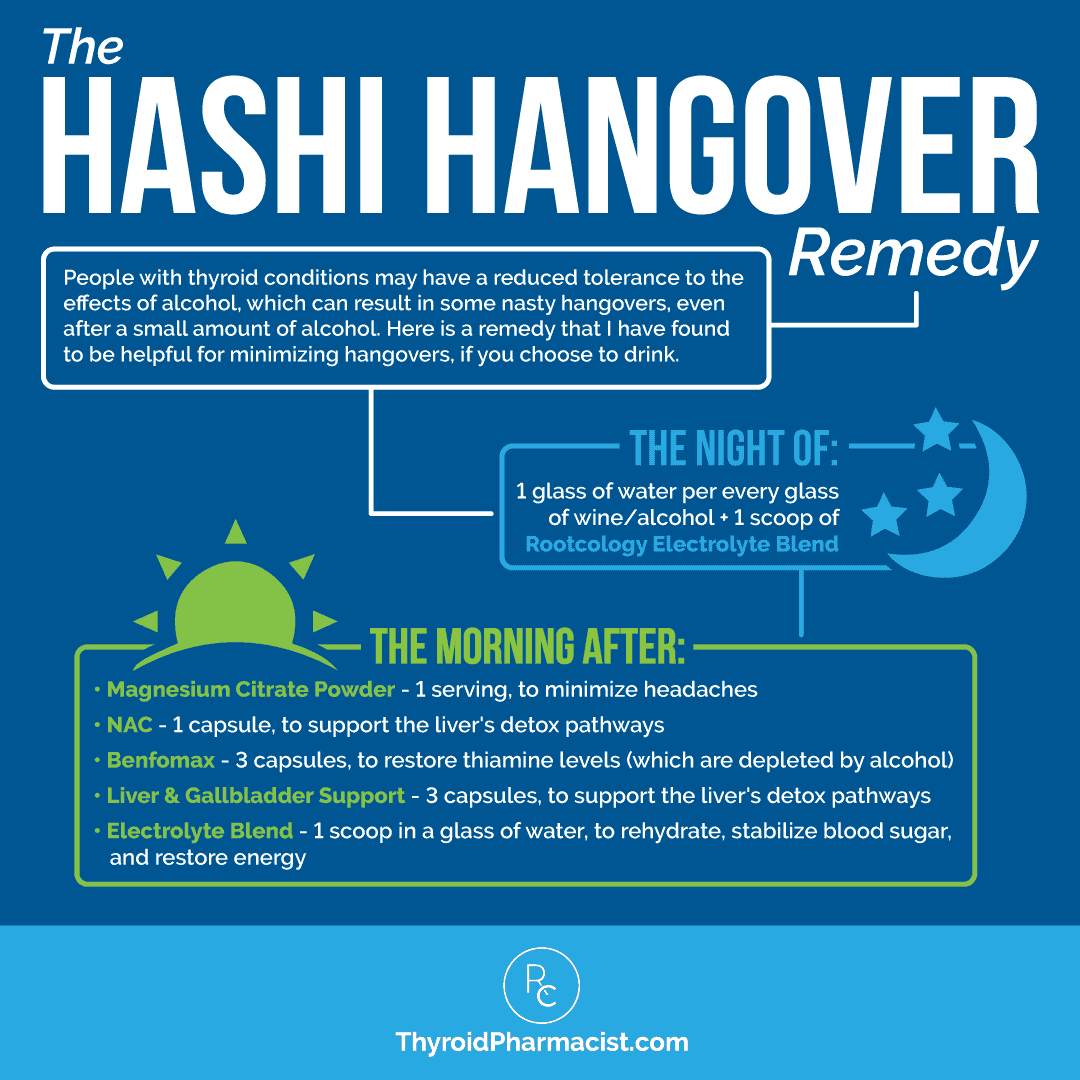 You can also mix Rootcology Electrolyte Blend into smoothies, or use the blend to make popsicles, which are great for a hot day or when you're down with the flu. I also like to have a scoop after a yoga class or hike, especially if I worked up a sweat.
Potential Interactions
Electrolyte supplements may not be recommended for those with sodium-sensitive hypertension, those with a pacemaker, and those with high sodium or potassium levels. If you take medications or have a medical condition, please check with your doctor before changing your supplement routine.
Next Steps
While balancing electrolytes isn't a cure for Hashimoto's, it can be one piece of your root cause puzzle, since everything in the body is interconnected. Dehydration and an increased need for electrolytes is quite common with thyroid issues, especially since adrenal issues are typically also involved, and there is a studied correlation between thyroid hormone and electrolyte levels.
Electrolytes may be helpful in reversing some of the symptoms of dehydration that overlap with symptoms of Hashimoto's or adrenal dysfunction — and, for some, electrolytes may even help to improve thyroid labs. The electrolyte minerals, specifically sodium, potassium, and magnesium, are generally very nourishing for the thyroid!
I always believe in a food-first and food-as-medicine approach. In this case, including a lot of mineral-rich whole foods, non-iodized sea salt, and bone broths is foundational. Since electrolyte supplements, like Rootcology Electrolyte Blend, are safe for most people and are also an effective way to address dehydration, that may be another area to experiment with, to provide the body with some support.
Now I want to hear from you! How have you used electrolytes in your healing journey?
P.S. You can also download a free Thyroid Diet Guide, 10 Thyroid friendly recipes, and the Nutrient Depletions and Digestion chapter for free by signing up for our newsletter. You will also receive occasional updates about new research, resources, giveaways, and helpful information.
For future updates, make sure to follow us on Facebook and Instagram!
References
Ybarra J, Fernandez S. Rapid and reversible alterations in thyroid function tests in dehydrated patients. Nurs Clin North Am. 2007;42(1):127-34.
Hemantha Kumara DS, Muralidhara Krishna CS, Vishwanath HL. The electrolytes imbalance between hypothyroidism and hyperthyroidism. International Journal of Current Research. 2016;8(5):31031-31033.
Schwarz C, Leichtle AB, Arampatzis S, Fiedler GM, Zimmermann H, Exadaktylos AK, Lindner G. Thyroid function and serum electrolytes: does an association really exist? Swiss Med Wkly. 2012;142:w13669. Doi: 10.4414/smw.2012.13669
Tsigos C, Chrousos GP. Hypothalamic-pituitary-adrenal axis, neuroendocrine factors and stress. J Psychosom Res. 2002;53(4):865-71.
Murgod R, Soans G. Changes in Electrolyte and Lipid Profile in Hypothyroidism. International Journal of Life Sciences & Pharma Research. ISSN 2250-0480 Vol 2. Issue 3. Jul-Sept 2012.
Kaur J, Ahmad N, Gupta A. Changes in the Electrolyte Profile of Patients having Hypothyroidism. Journal of Medical Science and Clinical Research. ISSN (e)-2347-176x Volume 2. Issue 4. Page 633-637. April 2014.
Abebe N, Kebede T, Wolde M. Assessment of renal function and electrolytes in patients with thyroid dysfunction in Addis Ababa, Ethiopia: a cross sectional study. Pan Afr Med J. 2016;24:338. Published 2016 Aug 31. doi:10.11604/pamj.2016.24.338.8455
Mansourian AR. A Literature Review on the Adverse Effects of Hypothyroidism on Kidney Function. Pak J Biol Sci. DOI: 10.3923/pjbs.2012.709.719
Krishna MCS, Kumara HDS, Vishwanath HL, et al. Study on The Electrolytes And Hypothyroidism – A Case Control Study. Biochem Ind J. 208;12(2):131.
Note: Originally published in April of 2020, this article has been revised and updated for thoroughness and accuracy.