There is a lot of controversy on the subject of soy — some people believe it's a cheap, nutritious source of protein, as long as it's organic or fermented; others believe it's great for hormone balancing. However, soy may not be good for those with Hashimoto's — in fact, it may actually be preventing you from healing.
Soy blocks the activity of the TPO enzyme and has been linked to the development of autoimmune thyroiditis. Additionally, studies have shown that soy can affect thyroid medications, asthma, and menstrual cycles.
I've found that about 41 percent of people with Hashimoto's are sensitive to soy, and 60 percent of them have reported gut symptoms such as abdominal pain, loose stools, nausea, or vomiting when ingesting soy. Another significant percentage reported mood-related symptoms, including brain fog and agitation. Anxiety and heart palpitations may also be more likely to come about from a sensitivity to soy compared to other foods.
During the first year of my pharmacy studies, I developed irritable bowel syndrome (IBS) with diarrhea, which seemed to be triggered by soy lecithin.
After cutting out soy lecithin-containing foods for a period of time, the frequency of my symptoms was reduced from daily to once or twice a week. At the time, I didn't know that I had a thyroid condition, and it wasn't until many years later that I was able to connect foods to the rest of my symptoms. After pharmacy school, I moved to Los Angeles and frequented posh sushi places, consuming miso soup, soybeans, and tofu, because I thought they were healthy.
Over the years, I continued to struggle with IBS, acid reflux, carpal tunnel, and many other symptoms… then I was diagnosed with Hashimoto's. I decided to try going gluten and dairy free, and many of my symptoms improved within days of removing those foods. After a while, I lost more weight than intended and needed to find more foods I could eat… So I decided to fully commit to this gluten and dairy free thing, and discovered gluten free/dairy free junk food!
I started eating soy-based crackers, breads, chips, milks, yogurts, and cereals. My IBS and acid reflux didn't come back, but I became more anxious. I tested my thyroid antibodies and they jumped to 800 IU/mL (I had them down to around 300 IU/mL prior to that). After one month off soy products, my thyroid antibodies dropped from 800 IU/mL to 380 IU/mL! I believe that my thyroid condition became worse after I began eating soy-containing gluten free products. This is one of the reasons I decided to create a Hashimoto's-friendly cookbook, to make sure people didn't make the same mistakes I did in their attempts to eat "healthier."
In this article, I'll debunk some myths about the benefits of soy, and cover:
What is soy, and what are the common symptoms of soy sensitivity?
How does soy affect Hashimoto's?
Hidden sources of soy
Soy free alternatives
What Is Soy?
Soy is obtained from the soybean. In its whole form, it is commonly known as edamame. Unfortunately, even in its whole form, it can be problematic for people — even those without thyroid issues! Soy is found in so many different forms, which makes it easy to be added to virtually any product on the market — from our food in whole and processed forms, to cosmetics and clothing.
In my experience, I've found that soy is one of the most common IgG reactive substances in those with Hashimoto's. (You can test for this by taking a food sensitivity test like the 96 foods or 184 foods tests from Alletess, or by doing an elimination diet.)
Common symptoms of soy sensitivity may include: respiratory-related symptoms like runny nose or trouble breathing, gut symptoms such as abdominal pain or loose stools, brain fog and agitation, as well as anxiety and heart palpitations.
That said, even if you do not have a sensitivity to soy, if you have Hashimoto's or low thyroid function, you may still benefit from avoiding it, as it can affect your thyroid health.
Soy and Hashimoto's
So what makes soy problematic for people with Hashimoto's thyroiditis? First off, soy is a xenoestrogen, which means it can mimic the effects of estrogen in the body. Xenoestrogens are endocrine disruptors and can start affecting the endocrine system during development in-utero — and their effects can be permanent. To date, there have not been enough studies done to decide the risks associated with xenoestrogens, but it's best to stay away from them as much as possible, as they can result in excess hormones and lead to exacerbated symptoms in those with Hashimoto's.
Interestingly, a study was performed in 2015 on women with polycystic ovarian syndrome (PCOS), some of whom also had Hashimoto's. Scientists wanted to figure out why some women with PCOS developed Hashimoto's and others didn't, so they ran hormonal tests on all of the women involved. They determined that excess estrogen levels — also known as estrogen dominance — can trigger Hashimoto's.
Another reason why soy can be problematic for those with Hashimoto's is because it is a goitrogen. Goitrogens are substances that suppress the thyroid gland by interfering with thyroid hormone production. As a compensatory mechanism, the thyroid will enlarge to counteract the reduced hormone production. This enlargement is also known as a goiter.
You may have heard that you should avoid goitrogenic foods if you have a thyroid condition. This is only partially true, as not all goitrogens are created equally. Different goitrogenic substances are contained in various foods. Soy, in particular, has been linked to the development of autoimmune thyroiditis. Other goitrogenic foods, such as cruciferous vegetables, generally do not pose a problem for people with Hashimoto's. I've written an entire blog post on goitrogens, which you can read here.
Though there have not been many studies done on soy in relation to Hashimoto's, there are studies that show that soy can negatively affect the thyroid, especially when ingested on a low-iodine diet (which is often recommended for those with Hashimoto's, as most have adequate levels, and an overdose of iodine can lead to exacerbated thyroid symptoms).
A 2006 study that investigated the effects of soy and soy isoflavones on thyroid function in both men and women, found that consuming soy on a low-iodine diet may inhibit the absorption of synthetic thyroid medications, resulting in less thyroid hormone in the body.
It was also found, in a study with 36 children who did not present with thyroid dysfunction, that those children consuming soy had higher levels of free thyroxine, which put them in a hyperthyroid state. Since the majority of those who have Hashimoto's need to keep their iodine intake low in order to keep inflammation low and the thyroid gland working properly, the study results suggested that the tiniest amounts of soy may affect thyroid function due to very low intakes of iodine.
Meanwhile, a 2009 study found that infants who consume soy-based formulas and have congenital hypothyroidism are more likely to also demonstrate abnormal thyroid function. Other data collected from animal studies suggest that the phytoestrogens from soy-based formulas may inhibit thyroid peroxidase (TPO), and therefore may lower the concentration of free thyroxine in the body. This may then lead to abnormal thyroid function.
This study also did a comparison regarding asthma in adult women who were fed a soy-based formula diet compared to a cow's milk formula diet as infants. The group that was fed soy-based formula as an infant showed a slightly higher incidence of asthma and allergy medication use, as well as longer menstrual cycles. They also experienced more discomfort during their menses.
The removal of soy had such a profound impact on my health, and my clients seemed to benefit as well — yet "official" studies were limited. So, I decided to do my own survey in 2015 in respect to various interventions for thyroid disease and Hashimoto's, to help me determine if going soy free was indeed a valid recommendation for people with Hashimoto's, or just a bias I held due to my own experience. In my survey, 60 percent of respondents said that they felt better when they removed soy from their diet, and another 34 percent saw a reduction in their antibodies.
Debunking Common Soy Myths
Some people believe that soy is healthy as long as it is organic. However, this is just a myth. Aside from not having genetically modified (GM) properties, organic soy is still a goitrogen and it still acts the same as GM soy on the thyroid.
I've heard other myths regarding soy as well. Fermented soy is touted to be healthier than non-fermented soy, yet a study has linked fermented soy to a higher incidence of gastric cancer. Furthermore, although it can be easier to digest and can potentially help aid in the absorption of vitamins and minerals, such as B vitamins, magnesium and zinc, consuming fermented foods that do not contain soy offers us the same benefits.
There are also some people who claim that soy can benefit cardiovascular health due to the isoflavones found in soy, which are believed to decrease LDL cholesterol levels more effectively compared to milk and other types of proteins. However, a 2006 study showed that only 3 percent of the people in the study saw this benefit, which was not a significant enough finding to sustain that soy can be beneficial to heart health. The study, therefore, does not recommend supplementing with soy for cardiovascular health.
The cardiovascular study also found that soy does not have any great effects on menopausal or postmenopausal symptoms, including bone loss in postmenopausal women. Moreover, researchers did not find that the soy isoflavones were effective in treating breast, endometrium and prostate cancers, and therefore did not recommend supplementing with soy isoflavones for these conditions.
For this reason, many claims surrounding the benefits of soy are misleading, while there is significant research on the benefits of avoiding soy in people with Hashimoto's.
Hidden Sources of Soy
If you are looking to avoid soy, it's a great idea to start with eliminating it from your diet. However, this can be tricky. Soy can be found in almost every processed food. Take a look at random labels — you will find soy in most products — even organic ones! Many times, manufacturers will even "sneak" soy in, by labelling it with alternative names.
Some obvious sources of soy include:
Soy lecithin
Bean curd
Hydrolyzed soy protein
Soy milk
Soy sauce
Soybeans
However, there are also some not-so-obvious sources of soy: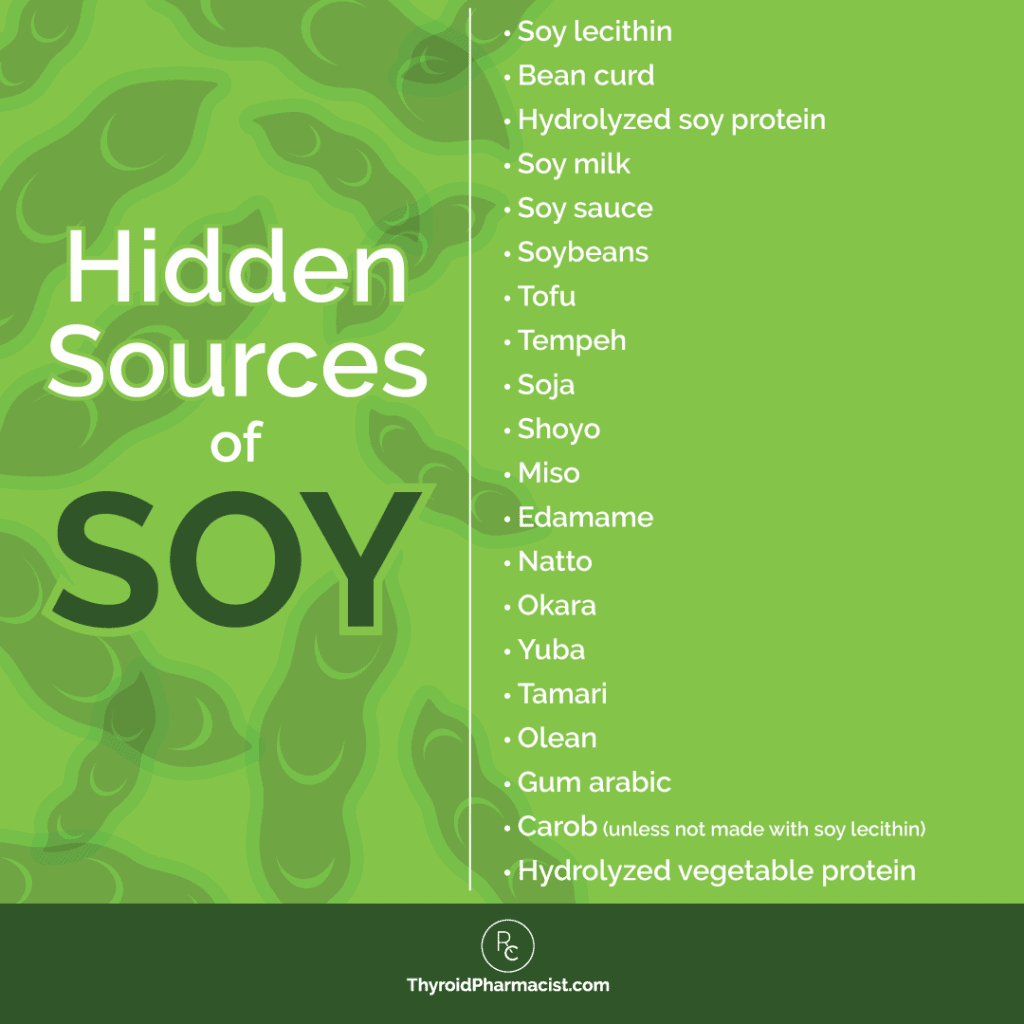 Many vegan and vegetarian meat substitute products (burgers, ground "meat", cutlets, etc.) may also contain soy, as well as some additives. Unless the product packaging says "soy free", it's best to investigate before consuming the product, by researching online or calling the company that makes the product. Some additives to be concerned about in vegan meat substitute products and other pre-packaged foods are vitamin E/tocopherol, glycerine, bulking agents, thickener, hydrolyzed vegetable/plant protein, and guar.
Soy Free Food Alternatives
I recommend skipping all dietary sources of soy in order to support your thyroid. Better yet, cut out all processed foods, as soy is often a hidden ingredient in these products as well.
Of course, cooking from scratch is going to be your best bet to avoid soy (as well as gluten and dairy). When we use wholesome, fresh and organic foods, we know exactly what we are putting into our bodies. This is called a "culinary approach" to your diet. As a side note, not relying on pre-packaged, prepared and processed foods will also help make reaching your other dietary goals possible, and you may feel healthier.
I am aware that there are times when this culinary approach is not possible, so I've gone ahead and listed my favorite soy, gluten and dairy free products that are Hashimoto's approved! Of course, always read your labels, as manufacturers can change their ingredients without notice.
Some of my favorite pre-packaged products to make food prep a bit easier are:
Some pre-packed foods that you may think are healthy generally contain loads of unhealthy ingredients, including soy. One particular area of concern is salad dressing. Take a look at the back of any salad dressing bottle — it's guaranteed that you will see soybean oil in most of them. An easy way to create a tasty soy free salad dressing at home, is to add the following ingredients in a ratio of 1:1:1, and seasonings to taste: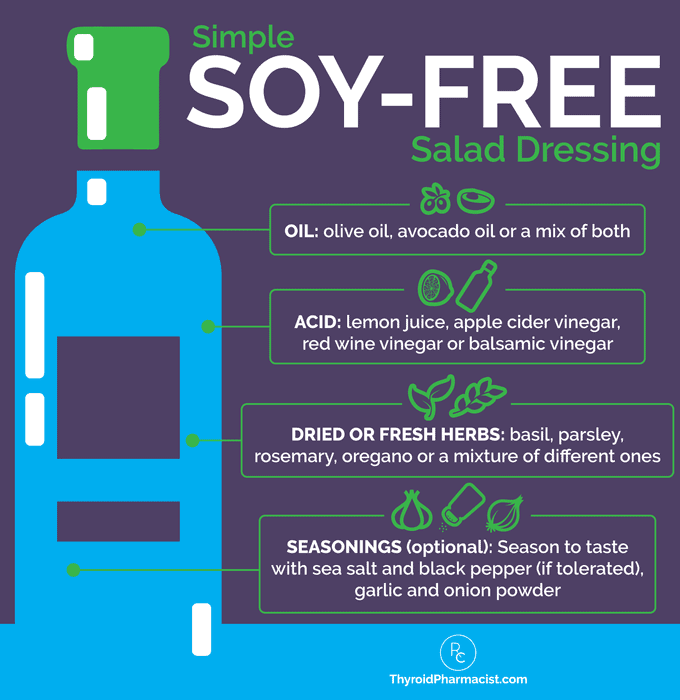 The possibilities are endless. For a fruity twist, you could add some 100 percent freshly-squeezed orange juice in the mix as well.
You can also check out my Goddess of Detox Dressing recipe. (It's a sneak peek from my new cookbook! ;-))
Soy Free Protein Options
Many vegetarian protein powders contain a soy isolate, and although convenient and cheaper, there are many other protein powders that do not contain soy. Rootcology has great protein powder options which you can add to your daily meals and smoothies. I created them to be free of harmful fillers, as well as soy, dairy and gluten, so that they would be safe for people who have Hashimoto's!
Organic Vanilla Pea Protein – This organic, natural pea protein isolate is suitable for vegans and vegetarians, and has excellent digestibility. The certified organic North American-grown yellow peas are non-GMO and are produced with a natural fermentation process which uses no chemical solvents. Organic Pea Protein contains no sucrose, fructose, or artificial flavors/sweeteners. It is flavored with certified organic natural flavor and certified organic stevia leaf extract.
AI Paleo Protein – This is a great-tasting, dairy free protein powder, yielding 26 g of protein per serving. It contains HydroBEEF™, a highly concentrated, pure beef protein, produced through an exclusive proprietary process that allows the protein to be hydrolyzed into more peptides, resulting in easier absorption and assimilation. It contains beef from animals raised in Sweden without hormones or antibiotics, and is free of any GMO grains, grasses, and/or ensilage. Note: This protein powder is compliant with the Autoimmune Paleo diet.
Paleo Vanilla Protein – Yielding 21 g of protein per serving, this protein powder contains natural vanilla flavoring. Like the AI Paleo Protein, it contains HydroBEEF and is dairy free. Note: This one is not AIP compliant.
Of course, there are other options out on the market, so when looking, make sure yours is free of soy, as well as gluten and dairy (which are also common fillers in protein powders).
Avoiding Soy in Personal Care Products
Some products that you may not think soy has any business being in may still contain soy, and these products go beyond food. This includes cosmetics, soaps, lotions, and other personal care products. Recently, I was looking at a delightfully natural and organic lotion for myself. It had honey, shea butter, and other lovely ingredients. When I flipped it over, the main ingredient was soybean oil — no thanks!
If you are looking for some great personal care products free of soy and other not-so-friendly ingredients for thyroid health, I recommend you check out some of my favorite brands:
Ann Marie Gianni Skin Care: A line of natural skin care products that you can trust, because they use only herbs and extracts in their purest forms, straight from nature.
Spa Doctor: A natural skin care system with products and programs to help you achieve glowing skin and vibrant health at any age.
Acure Organics: Pure, simple and effective plant-based beauty products.
You can find all of these recommendations and more on my Thyroid Pharmacist Resources Page. In the meantime, read more about the importance of using natural skin care items to improve your health and decrease your body's toxicity load, here.
Soy Free Supplements
Many supplements also include soy, which makes it very important to read labels on supplement bottles carefully.
One particular supplement, which is beneficial for Hashimoto's, is also one of the hardest supplements to find without soy. That supplement is vitamin E. It works in synergy with selenium as an antioxidant, protects normal cell function, and enhances the function of certain energy-producing cells.
Unfortunately, many vitamin E supplements contain soy lecithin. I have found that NOW brand's Sun-E 400 offers a soy-free, natural vitamin E, which is derived from Identity Preserved (IP) non-GMO sunflower seed oil. It contains 400 IU vitamin E (as D-Alpha Tocopherol).
I recommend taking Selenium by Pure Encapsulations on an empty stomach with vitamin E, which works in synergy with selenium to ensure proper absorption. You can download and read more about this, as well as many other supplements that I recommend and their benefits for Hashimoto's, in my Supplements to Subdue Symptoms eBook.
Please keep in mind, vitamin E is not the only supplement that you have to be concerned about. It's important to check the labels on all your supplement bottles to make sure they are free from soy, as well as gluten, dairy, and other fillers. Some brands that I recommend are Pure Encapsulations, Designs for Health, and Rootcology. When reading supplement labels, you may see soy under a different name as well. One name to be aware of is lecithin. Furthermore, if it says "GMO free", there is a chance that the supplement may be derived from soy. As always, it's best to speak to the company's manufacturer to be sure.
Next Steps
Now that you have all the tools you need to help navigate away from consuming and absorbing soy, you should be able to:
Identify what soy is – Soy is a goitrogenic and xenoestrogenic legume that can impair the absorption of thyroid hormones and contribute to excess estrogen within the body.
Avoid soy – Read labels, make food from scratch, and do your research on supplements and beauty products.
Debunk myths – Soy is not the best alternative to boost hormones, replace dairy free protein, or serve as a filler for supplements.
Be aware of symptoms of soy sensitivity – Many individuals have unexplained symptoms that are related to soy sensitivity, such as gut issues, mood imbalance, and anxiety, when soy is consumed.
Soy is everywhere, but you can avoid it and find soy free alternatives. If you prepare your own meals and research your labels before consuming products, soy avoidance can be possible!
To help you along your healing journey, check out my new cookbook, Hashimoto's Food Pharmacology: Nutrition Protocols and Healing Recipes to Take Charge of Your Thyroid Health! In addition to containing 125 soy free recipes, this cookbook also includes information regarding how to tailor your diet to your needs, and how to address specific symptoms with nutrition, complementary nutrients and digestive enzymes!
I wish you the best of luck on your healing journey!
Looking for more info about eating the cleanest diet to help your thyroid? I cover the best diet for Hashimoto's in my books Hashimoto's: The Root Cause and Hashimoto's Protocol.
P.S. Be sure to sign up to my weekly newsletter to get a free book chapter, recipes, my Thyroid Diet Quick Start Guide, notifications about upcoming events, and my latest research.
For future updates, make sure to follow us on Facebook!
References
Messina M, Redmond G. Effects of soy protein and soybean isoflavones on thyroid function in healthy adults and hypothyroid patients: a review of the relevant literature. Thyroid. 2006 Mar;16(3):249-58.
Milerová J, Cerovská J, Zamrazil V, Bilek R, Lapcik O, Hampl R. Actual levels of soy phytoestrogens in children correlate with thyroid laboratory parameters. Clin Chem Lab Med. 2006;44(2):171-4.
Watkins R. 78 Alternative Names for Soy in Ingredients Listings (non-exhaustive). Soy Free. https://www.soyfree.info/single-post/2017/02/01/78-Alternative-Names-for-Soy-in-Ingredients-Listings-non-exhaustive. Published February 1, 2017. Accessed June 11th, 2018.
Sacks FM, Lichtenstein A, Van Horn L, Harris W, Kris-Etherton P, Winston M. Soy protein, isoflavones, and cardiovascular health: an American Heart Association Science Advisory for professionals from the Nutrition Committee. Circulation. 2006 Feb 21;113(7):1034-44.
Concerns for the use of soy-based formulas in infant nutrition. Paediatri Child Health. 2009;14(2):109-113.
Daleprane JB, Feijó TS, Boaventura GT. Organic and genetically modified soybean diets: consequences in growth and in hematological indicators of aged rats. Plant Foods for Human Nutrition. 2009 Mar;64(1):1-5. doi: 10.1007/s11130-008-0101-0.
Singleton DW, Khan SA. Xenoestrogen exposure and mechanisms of endocrine disruption. Front Biosci. 2003 Jan 1;8:s110-8.
Baschali A, Tsakalidou E, Kyriacou A, Kravasiloglou N, Matalas AL. Traditional low-alcoholic and non-alcoholic fermented beverages consumed in European countries: a neglected food group. Cancer Science. 2017 Jun 30;(1):1-24. doi:10.1017/S0954422416000202
Selhub E, Logan AC,Bested AC. Fermented Foods, Microbiota, and Mental Health: Ancient Practice Meets Nutritional Psychiatry. Journal of Physiological Anthropology. 2014 Jan 5;33(1):2. doi: 10.1186/1880-6805-33-2
Arduc A, Aycicek Dogan B, Bilmez S et al. High prevalence of Hashimoto's thyroiditis in patients with polycystic ovary syndrome: does the imbalance between estradiol and progesterone play a role?. Endocrine Research. 2015;40(4):204-210. doi:10.3109/07435800.2015.1015730.
Watkins R. 78 Alternative Names for Soy in Ingredients Listings (non-exhaustive). Soy Free. https://www.soyfree.info/single-post/2017/02/01/78-Alternative-Names-for-Soy-in-Ingredients-Listings-non-exhaustive. Published February 1, 2017. Accessed June 11th, 2018.