I've been a girly girl for most of my life. I started carrying around a purse when I was three, loved dressing up in fancy outfits for school dances, and used to drape myself in my mom's and aunt's "treasures and jewelry." When I came to the United States at age nine, my proudest possession was my first real Barbie doll (they were hard to get in Poland), and I got my first "kid" make-up set at age ten — complete with pink lipstick and neon blue and purple eyeshadows!
My fascination with fashion trends continued throughout my teenage years. I loved reading beauty magazines and raiding the cosmetic aisles of Walgreens, where I worked as a pharmacy technician during high school, undergrad and pharmacy school.
By the time I was in my mid-twenties, I had caboodles of makeup, perfumes, lotions, hair styling products, and every other type of beauty "enhancing" potion. I had dyed my hair numerous different colors, trying to determine whether blondes, brunettes or redheads had the most fun.
After I finished pharmacy school, I dabbled in cosmetic chemistry and experimented with creating my own highly effective (read: highly chemical) antiperspirant. I developed the formulation and experimented with raw ingredients in my apartment kitchen. My fiancé, Michael, (now my husband), was in business school at the time, and even wrote up a business plan for my antiperspirant. We had a mini "Shark-Tank" moment, presenting our product in front of venture capitalists that came to the class.
I never thought being a girly girl would be a detriment to my health… until I started doing research for the "Toxins" chapter of my first book, Hashimoto's: The Root Cause. Learning about the hundreds of chemicals that we, as women, put on our bodies every day — in the name of beauty — was a huge eye-opener for me. I had many "aha!" moments when I began to realize how harmful many of those ingredients are… and what they were doing to my body.
In this article, I'd like to share a little bit more of my personal journey with beauty products, including:
How the ingredients in personal beauty products can affect our health
Common toxic ingredients to avoid
How to find safer alternatives to conventional hair, skin, and makeup products
My favorite non-toxic beauty products
The Danger Lurking in Beauty Products
We are bombarded by toxins in our environment from numerous sources every day… but often times, we overlook the toxins that we apply to our own bodies, in the name of beauty and cleanliness. This is especially important to those with Hashimoto's, as they have an impaired ability to remove toxins from their bodies.
The Centers for Disease Control released a report in 2006 that stated that the average American has 116 out of the 148 environmental chemicals (found in water, food, soil, air, dust and consumer products) that were tested, in his or her body, at any given time. Most commercial personal products that we use every day are full of endocrine-disrupting chemicals that are toxic and wreak havoc on our hormones and health.
Women, on average, use 12 personal care and cosmetics products per day, which amounts to 168 different chemical ingredients! In contrast, men use an average of six personal care products, with an average of 85 different chemicals, on a daily basis. While it's difficult to pinpoint the exact reasons as to why seven women develop Hashimoto's for every one man with the condition, perhaps the use of endocrine-disrupting chemicals may play a role.
If you take a look at the average American woman's bathroom, you will probably find close to 100 personal care products, including hairspray, nail polish, lotion, shampoo, cleansers, makeup, and perfume. Most of the chemicals in these products have not undergone safety studies to verify their nontoxicity to humans, because most cosmetic chemists only test the chemicals on themselves to see if the products make them more aesthetically appealing.
Conducting laboratory tests to assess blood levels and changes in organ or immune system function — or any other available medical tests, for that matter — are not a practice followed by the cosmetic industry. Sadly, there is very little regulation as to the safety of the products that we apply onto our bodies, and little regard for how much is absorbed through our skin and into our bodily systems.
The truth is that the skin is our largest organ, and its porous nature allows most of what it comes in contact with, to be absorbed. One study published in the American Journal of Public Health reported that 64 percent of chemicals found in drinking water were absorbed by the skin when it came into contact with the water. Some areas of the body, such as the underarms and genitalia, have been shown to have a 100 percent absorption rate, meaning that all of the chemicals that are placed on these areas are directly absorbed into the body!
Common Toxins in Beauty Products
While there are far too many chemicals present in beauty products to list them all, xenoestrogens are common components of commercial beauty products that most people use on a regular basis, and can be particularly damaging to thyroid health.
Xenoestrogens are endocrine-disrupting chemicals that mimic the effects of the sex hormone estrogen and include soy, BPA, phthalates, and parabens. The continued use and accumulation of these substances may lead to estrogen dominance and can have a profound impact on the immune system, adrenal health, and thyroid function. They can also cause birth defects, infertility, and cancers.
Here are three xenoestrogens commonly found in personal care products:
Phthalates are present in cosmetics, plastics, moisturizers, soaps, and perfumes. Implicated in cancers, endocrine disruption, diabetes, and obesity, phthalates may be listed on product packagings (e.g. as diethyl phthalate), or they may be disguised under the word "fragrance." Check the ingredient list of your beauty products and refrain from using those that contain dibutyl phthalate (DBP). Avoid using personal care products, detergents, and cleansers that contain "fragrance" in the ingredient list, as this usually denotes phthalate ester (DEP).
Triclosan is commonly found in soaps, deodorants, hairsprays, toothpastes, and anything labeled "antibacterial." The structure of triclosan resembles the structure of thyroid hormones and has been associated with altered levels of thyroid hormone in animals. Fortunately, triclosan has recently been banned for use in consumer products in the United States. However, this ban does not apply to hand sanitizers and wipes, and it may still be present in products manufactured in other countries, or found in older products you may still have sitting on your shelves.
Parabens are used as antimicrobial agents, and are found in body washes, shampoos, and lotions. They have been implicated in breast cancer and have been associated with causing skin reactions. Look for the ending "paraben" (as in methylparaben) in your personal care products, and choose products that do not list parabens in the ingredients.
Other ingredients to watch out for in your beauty and skincare products include triclocarban, retinyl palmitate, retinol, PEG, ceteareth, polyethylene, DMDM hydantoin, formaldehyde, formalin, toluene, dibutyl phthalate, and oxybenzone.
I know firsthand how scary some of the ingredients lurking in our beauty products can be. Back in 2014, I suffered a flare-up of Hashimoto's from a lipgloss I had used. I have toxicity labs and a third party test to prove it. My symptoms started within 24 hours after beginning to use this particular product. It was a major turning point for me in recognizing the dangers of chemicals that were lurking in something as seemingly benign as lipgloss. To my surprise, the lipgloss had the power to bring my autoimmune condition into a full flare-up!
Now, I check every cosmetic product I use with the Environmental Working Group's (EWG) Skin Deep® Cosmetics Database, and I encourage you to do the same. Their database features thousands of personal care products, each with its own safety rating based on dozens of toxicity and regulatory databases. You can search for various companies to see their overall rating, and also search for individual products. I try to use products with a 1 or 2 rating (lowest toxicity). The EWG even has a mobile app, so you can search while you shop.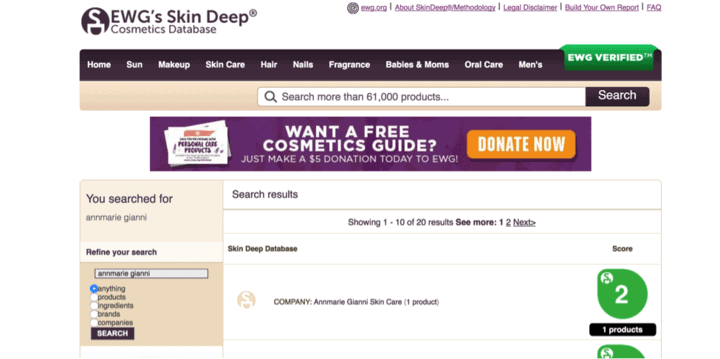 Another great resource with information on products that are safe for your health is the Campaign for Safe Cosmetics website.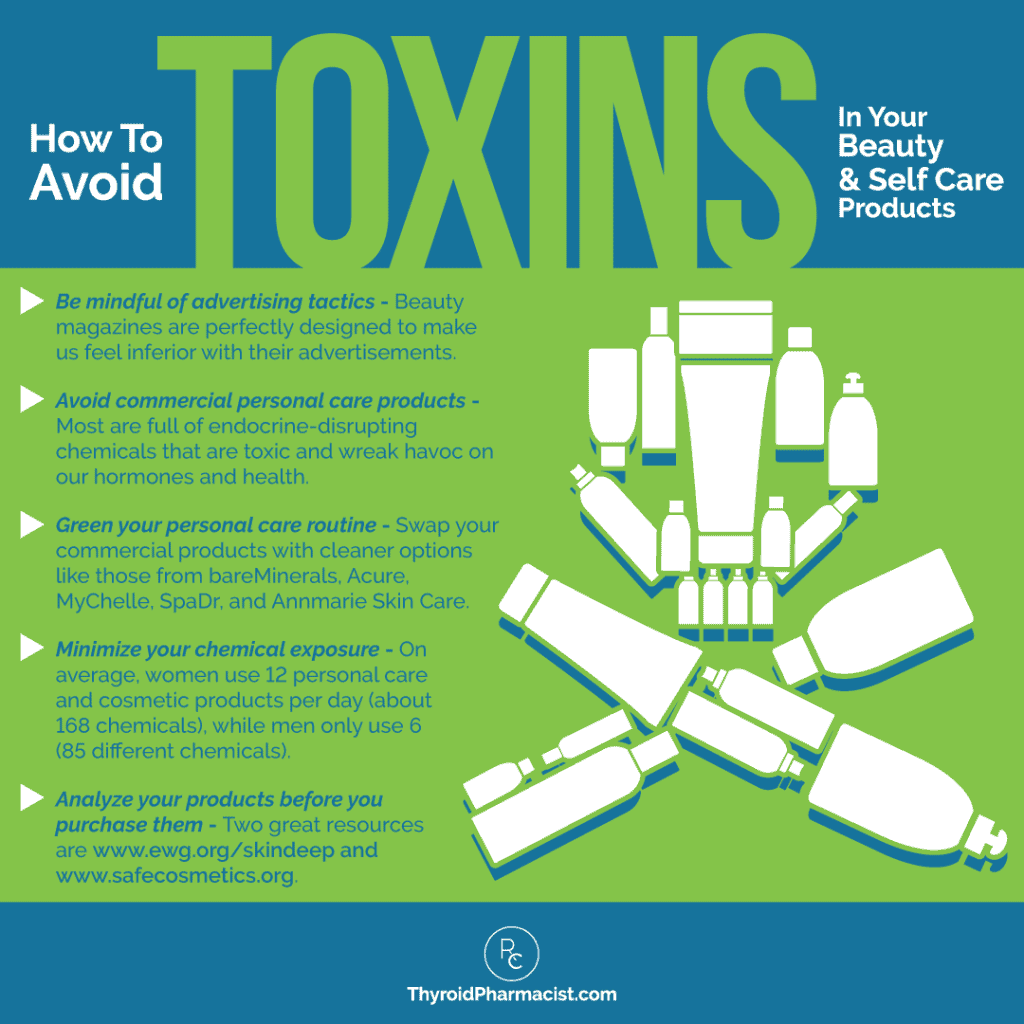 My Safe Beauty Recommendations
I know that finding cosmetics that are both safe and effective can feel a little bit overwhelming, and many of you regularly send me emails and inquire on my Facebook page as to what specific low-toxin products I use. I have spent time trying a lot of different products through trial and error, so I'd like to share my favorites:
Make-Up
Looking at my headshots on my website or videos I've made, you may think that I wear makeup on a regular basis, but the truth is, I do not. Most days when I'm running around town, consulting, running my business, writing, or taking care of my family, I don't apply anything to my face. I feel that this gives my face some breathing room, and makes applying makeup a fun treat instead of a daily chore.
That said, I recognize that I live in a world where women who wear makeup are perceived to be more professional, intelligent, and put together. I do wear makeup when I'm making public appearances, for photo shoots, and to attend formal events. When I do wear makeup, I have a lot of fun with it and like to use brands that are as clean as possible.
For foundation, I like Annmarie Skin Care's Minerals and bareMinerals. (Annmarie has a special trial package, so you can test their products out and see how you like them, available for my readers here.)
For eyeshadows, I like bareMinerals.
My blush is from bareMinerals.
My mascara and eyeliner are from Physicians Formula Organic Wear Line.
The entire line of make-up and skincare from Beautycounter is luxurious and highly effective!
Araza Paleo makeup and skincare products are made with healthy fats, organic plant based ingredients and minerals, that all work together to feed and nourish your skin — while playing with modern, fun color. 
Hair Care
I've always taken pride in my hair, but after restoring my hair loss (a symptom of Hashimoto's), I have been particularly careful about using products that won't be damaging to my hair or my thyroid health.
I wanted to find a shampoo that was gluten free and didn't contain the harsh chemicals (such as sodium lauryl sulfate, polyethylene glycol, and triclosan) that are commonly found in shampoos. At the same time, I wanted to find products that smelled nice and made my hair soft and shiny like some of the commercial and high-end salon shampoos out there. I've tried numerous shampoos from the internet and health food stores that just didn't quite make the cut. Some of them made my hair look like straw; others didn't seem to wash out. I also had a brief trial with going "no poo" (using apple cider vinegar + baking soda instead of shampoo), but that experiment made my hair feel like a pile of hay on top of a grease ball.
I was really excited when I came across Acure at my local Whole Foods Market (you can also find them online through the links below). Their products are vegan and cruelty free, and are also free of gluten, parabens, sulfate, silica, sodium chloride, phthalates, and synthetic fragrances. Additionally, they are color safe, smell nice, and make my hair beautiful and shiny!
My hair tends to be on the oily side, so I mostly use the Acure Organics Clarifying Shampoo and Conditioner.
Many people with Hashimoto's may have hair that's naturally dry and dull (mine used to be before I stabilized my thyroid hormone levels), and for that, I love Acure Organics Moisturizing Shampoo and Conditioner. I use this combination when I want to give my hair an extra boost of shine, or when I want some deep conditioning. (As a bonus, it smells wonderful!)
I'm also loving the shampoos and conditioners from Katie Wells' (Wellness Mama) new line, Wellnesse, that are safe and full of beneficial ingredients.
For people with tangled hair (often a tell-tale sign of an underactive thyroid), I recommend the Acure conditioner and the Tangle Teezer brush. These two together did wonders for me when my hair was tangled, and I still like to keep my brush with me at all times, especially when I travel.
Skin Care
I have a number of favorites that I turn to for clean, hydrated skin, without the use of harsh chemicals. Here are the ones I use on a daily basis:
Body Wash: Dr. Bronner's Shikakai Body Wash is organic, free trade, and made with natural ingredients. I love the scent and the lather. It also performs triple duty for me as a hand soap and shaving cream.
Lotions: I have always been partial to scented lotions. However, most are full of toxic synthetic fragrances. I love Acure Organics body lotions, which are free of toxins, are very moisturizing, and have a lovely smell.
Facial care: When I was first diagnosed with Hashimoto's, I noticed that my skin became more dull and lackluster. My dermatologist recommended the Clarisonic device, which I love and use to this day. This is a little exfoliating brush that uses gentle vibrations to remove the dead surface cells on our skin. I noticed an improvement in my skin's texture immediately.
Facial cleansers: I have liked MyChelle in the past, and also enjoy the SpaDr line. A while back, I also became obsessed with the entire Annmarie Skin Care line of moisturizers, creams, and cleansers. My favorite Annmarie products are:

Aloe Herb Facial Cleanser – This feels luxurious, and my face feels remarkably clean after I use it.
Coconut Honey Face Mask – This is a moisturizing mask that I like to use once or twice a week… partially because it makes my skin soft and dewy, partially because I like to lick it off my face. It's made with edible ingredients like honey and coconut oil!
Herbal Facial Oil – This is a wonderful daily moisturizer, and it smells soft and lovely.
Neroli Toning Mist freshens up my face, and I sometimes use it as a light perfume.
Fragrance
Most perfumes have endocrine-disrupting chemicals in them, and often, we're applying them to our neck. I like to use essential oils as a healthier alternative, blending a mix of aromas that appeal to my senses. I really enjoy the smell of frankincense, rose, and lavender, though everyone has their personal preferences.
While I haven't tested this personally, some of my friends and colleagues, like Carrie Vitt, swear by using essential oils (like frankincense, clove, myrrh, marjoram, basil, and lemongrass) to support thyroid function naturally, along with dietary and lifestyle interventions.
Jodi Cohen, a Hashimoto's patient and Nutritional Therapy Practitioner, has also created a line of essential oil blends. My favorite scent is Circadian Rhythm, and she has also created a thyroid-specific blend along with many other wonderful blends.
If you are not an oil connoisseur, you can purchase premade essential oil-based natural perfumes like the Aura Cacia Chakra Roll-ons. The "Expressive Throat" essential oil smells like my high-end department store perfumes without the added toxins! It was named after the throat chakra, which, according to Eastern medicine, is connected to the thyroid gland. The throat chakra is believed to govern our outspokenness. Wearing this reminds me to be bold about my lifestyle choices — including the choices I make to avoid "beauty" products that might be sabotaging my health!
Note: Essential oils may need to be avoided by those with chemical sensitivities, and some oils are contraindicated for women who are pregnant or nursing.
Beauty Luxuries
When I want to indulge in a little bit of self-care, I like to take baths with epsom salts (1-2 cups per full bath tub is all you need!) and add in some lavender essential oils or a natural bath bomb. The epsom salts are a natural source of magnesium, and aid with relaxation, detoxification, and pain relief. They also support the thyroid and adrenals. Please note, I only recommend plain epsom salts, as the ones infused with scents (and even essential oils) can cause disruptions in vaginal flora when used in large quantities.
The Rejuvelle bath bombs are a fun, fragrant treat to add to the tub. They were created by parents of a daughter with an autoimmune skin condition. They are made with organic materials and are free of gluten, endocrine disruptors, and dyes.
I do believe that everyone is different, and I also like to vary up my routine, for different occasions and seasons, or when I feel like I want to mix things up.
A Special Skincare Offer
If you're ready to switch out your old skincare with products that are safe for your thyroid, I can't recommend Annmarie Skin Care enough!
Annmarie and her husband Kevin Gianni, two self-proclaimed health nuts, decided to start their line of luxurious skincare because they were frustrated with the toxic products on the market. Their overall rating in EWG is between 1-2, which is the cleanest rating I've seen for any beauty products. Here are just a few benefits of their skin care products:
Formulated to even skin tone, reduce sun spots and make your skin look more vibrant
Made with researched skin-repairing herbs
Cruelty free and not tested on animals
Made with natural, organic/non-GMO and wildcrafted ingredients
Annmarie Skin Care has put together a trial package, so you can get to know their line before you invest in a big package. It's a great, low-risk opportunity to see if their products work for you — or to send a gift to someone you love.
The Takeaway
Navigating our way through the myriad of personal care products on the shelves can feel overwhelming, and it doesn't help that beauty magazines are perfectly designed to make us feel inferior. Most human beings innately strive towards personal growth and self-improvement. Beauty magazines and advertisements exploit that inner drive and are designed to highlight our "flaws" and offer solutions for "improvement."
Here's what they're really saying:
Breakouts? Well, with skin like that, you'll never be as happy as the models in our ads. But we do have lotions and potions that can help! Try our new acne cream/wash/pads.
Oh, your skin is not as tan as the beautiful model in the ad? Well, you're not good enough, but we can fix that. Here, use a self-tanner and tinted moisturizer!
Would you like to have those big doe eyes like the cover girl with the handsome boyfriend? Your eyes are too small, so you're not as lovable. But if you use our eyeliner, mascara, and eyeshadow, you might have a chance at finding love.
I understand how advertising works, and advertising can be educational and helpful in making people take action and change something that they may not know they need to fix. After all, I'm spreading awareness about symptoms (like dry skin, lackluster hair, or weight gain) that could indicate that our thyroid is out of balance, and that we need to take better care of ourselves. I am a big proponent of self-improvement, educating people about taking charge of their health, and offering solutions for changing their diet and habits so that they are healthier and feel better.
My problem with advertisements for mainstream personal care products, however, is that most items marketed to improve our outer appearance actually diminish our inner health, and in the long run, hurt our outer appearance, too. These days, I hear another news story every week about skin issues clearing up when women dump their commercial personal care products. Skin issues like eczema, psoriasis, rosacea, and dry skin improve, in some cases, drastically.
First and foremost, beautiful skin and hair come from within, so proper nutrition and good hormonal balance are key. But know that you don't have to ditch your lipstick for good in order to take care of your thyroid. There are plenty of safe alternatives out there that might just become your new favorite!
I hope these resources are helpful for you on your journey towards better health!
P.S. For continued updates and interaction, please become a part of our Facebook community and sign up for my newsletter to get a free book chapter from my first book, recipes, a Thyroid Diet start guide, and notifications about my latest research.
References
Cold F, Health E, Disease H et al. Lipstick, Hair Dyes Raise Lupus Risk?. WebMD. 2017. Available at: http://www.webmd.com/lupus/news/20051117/lipstick-hair-dyes-raise-lupus-risk. Accessed June 29, 2017.
Wang J, Kay A, Fletcher J, Formica M, McAlindon T. Is lipstick associated with the development of systemic lupus erythematosus (SLE)?. Clinical Rheumatology. 2008;27(9):1183-1187. doi:10.1007/s10067-008-0937-6.
Brown et al. The role of skin absorption as a route of exposure for volatile organic compounds (VOCs) in drinking water. Am J Public Health. 1984 May; 74(5): 479–484.
Note: Originally published in June 2016, this article has been revised and updated for accuracy and thoroughness.