Most conventional physicians use the TSH test to determine if one has a thyroid disorder and to dose thyroid medications.
However, this test can often time be misleading, as levels of circulating hormones may fluctuate at different times, such as in Hashimoto's, the person affected may fluctuate between highs and lows.
Additionally, when scientists first set the "normal" ranges of TSH for healthy individuals, they inadvertently included elderly patients and others with compromised thyroid function in the calculations leading to an overly lax reference range.
This resulted in people with underactive thyroid hormones being told that their thyroid tests were "normal," based on this skewed reference range.
In recent years, The National Academy of Clinical Biochemists indicated that 95% of individuals without thyroid disease have TSH concentrations below 2.5 μIU/mL, and a new normal reference range was defined by the American College of Clinical Endocrinologists to be between 0.3-3.0 μIU/mL (1).
However, most labs have not adjusted that range in the reports they provide to physicians and have kept ranges as lax as 0.2-8.0 μIU/mL. Most physicians only look for values outside of the "normal" reference range provided by the labs and may not be familiar with the new guidelines. Thus, many physicians may miss the patients who are showing an elevated TSH. This is one reason why patients should always ask their physicians for a copy of any lab results.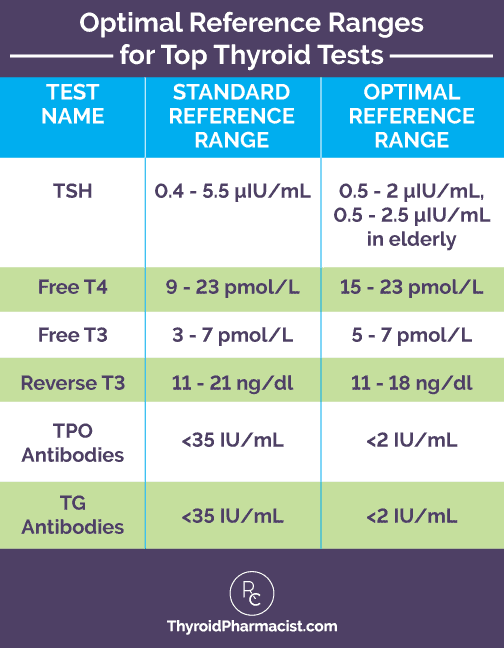 Functional medicine practitioners have further defined that normal reference ranges should be between 1 and 2 μIU/mL, for a healthy person not taking thyroid medications. Anecdotally, most patients feel best with a TSH between 0.5-2.0 μIU/mL.
It's important to remember that reference ranges may not be applicable to everyone. What is normal for one person may be abnormal for the next. Reference ranges take into account the average values of 95% of the population. Thus, not everyone falls within the "normal" reference range. If you are in the 5%, you may experience symptoms of hypothyroidism or hyperthyroidism with TSH values that are considered normal. All doctors are taught the old adage "treat the patient and not the lab tests," but unfortunately not many conventional doctors seem to follow this advice.
Some thyroid advocates may dismiss the use of the TSH altogether, but I disagree.
When considered in the right context and the right reference range, the TSH is one of the many tests that may be useful to optimize thyroid function. Other tests that I recommend include Free T3 and Free T4 levels. These reveal the amount of hormone available to the body.
Take Charge of Your Own Health!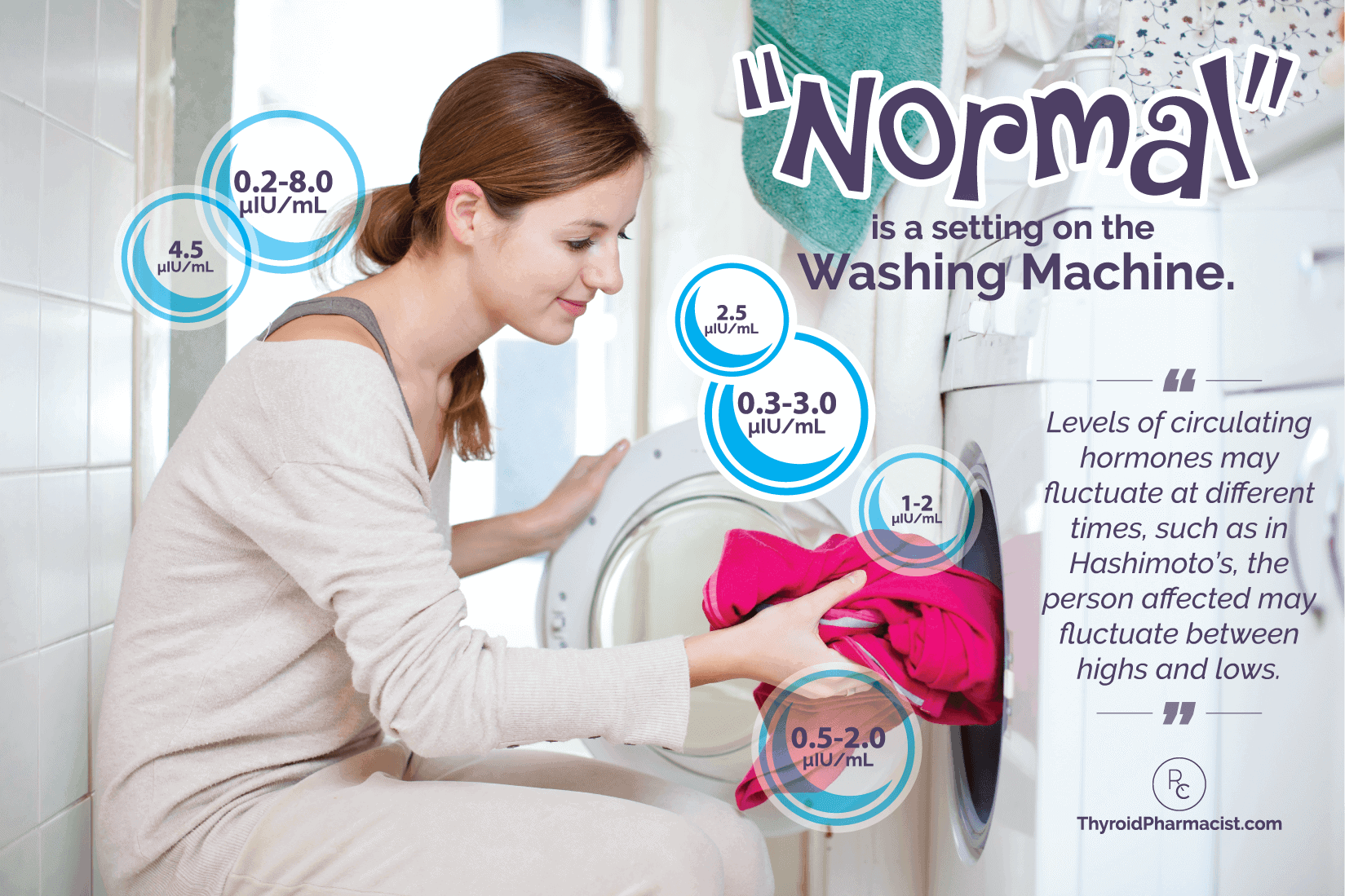 Personally, I still have a copy of a TSH test that showed a value of 4.5 μIU/mL with a note from the physician that said "Your thyroid function is normal. No need to do anything."
Meanwhile, I was sleeping 12+ hours per night, under two blankets in Southern California and wearing sweaters in the middle of July! I made the mistake of trusting another human being with my health, and I lost a year of my life because of it. Instead of pursuing my passions, I came home from work each day and collapsed.
I don't want you to make the same mistake I did.
I encourage you to take charge of your health. Learn as much as you can about your condition. Always request a copy of your labs. Don't be afraid to tell your doctor that you are not feeling well on current therapy and insist on getting better care.
There are plenty of Hashimoto's doctors out there that will provide the care you need, so don't be afraid to seek out a second opinion.
To learn more about addressing your thyroid symptoms, download my free Thyroid Symptom Hacker guide below!
I wish you the best of luck in your healing journey!
Here is a sample letter for your doctor…(scroll to read)
Liked this post? You may be interested in my other posts…
PS. You can also download a free Thyroid Diet Guide, 10 Thyroid friendly recipes, and the Nutrient Depletions and Digestion chapter for free here. You will also receive occasional updates about new research, resources, giveaways and helpful information.
For future updates, make sure to follow us on Facebook!
Reference 
1.  Garber JR, Cobin RH, Gharib H, et al. Clinical practice guidelines for hypothyroidism in adults: cosponsored by the American Association of Clinical Endocrinologists and the American Thyroid Association [published correction appears in Thyroid. 2013 Feb;23(2):251] [published correction appears in Thyroid. 2013 Jan;23(1):129]. Thyroid. 2012;22(12):1200-1235. doi:10.1089/thy.2012.0205