One night, I had a lucid dream that brought me to the past. For those of you that have never had a lucid dream, in this type of dream, you know that you are dreaming and, thus you know that you will be safe no matter what happens and what you do. These dreams can be very liberating!
In this dream, I was taken back to a doctor's visit back in 2006, when I first graduated from pharmacy school, and when I first began to have overt thyroid symptoms. In real life, I went in because I didn't feel like myself, but my physical symptoms were ignored during the appointment. Instead of focusing on my neck pain, sore throat, palpitations, and fatigue, the doctor started narrowing in on my anxiety and obsessive compulsive tendencies.
I was nervous and fidgeting and somehow we got on the topic of my habits.
I remember explaining that I triple checked prescriptions before I filled them (this was, after all my job and requirement as a dispensing pharmacist), but somehow, describing my daily job duties made me appear crazy to him. He kept digging further, trying to paint as though everything physical I reported was in my head.
I remember he asked me if I frequently washed my hands. I said, "No, but I would if I was preparing intravenous (IV) drugs," (which is also a requirement for pharmacists that make IVs). I was anxious and I almost felt like he was quizzing me like he would report me if I didn't wash my hands enough—I was a new grad and was used to being quizzed by older authority figures… and so of course, I looked even more crazy to him.
My recommended treatment? Antidepressants!
In my younger days when I was a rebel without a cause, I would have told him to shove it and that as a trained pharmacist with a doctorate degree, I knew better and that I came in to address my neck pain, fatigue, and sore throat 🙂 But instead, I was polite and sheepishly took home a prescription for antidepressants that I never filled.
You see, somewhere in my mid-twenties, I began to censor myself. My teens and early twenties were all about seeking pleasure, being myself and speaking my mind… but then it changed. I don't know if it was my professional training, my friends, peers or partners, or simply growing older, but as time went on, I became pathologically polite. And so, even though my needs weren't met and even though I knew that my symptoms weren't just in my head, I kept quiet.
I didn't push and didn't ask further questions…
Three years later I was found to have thyroid antibodies that were in the 2000+ range and a thyroid gland so damaged that I needed to start thyroid medications.
Research has shown that anxiety, depression and a general feeling of being "unwell" are early signs of an autoimmune attack on the thyroid and can be correlated to thyroid antibodies, even when the TSH number is still normal.
The most common type of anxiety disorder reported in people with thyroid antibodies is obsessive compulsive disorder (OCD). OCD is also more common in pharmacists and Type A's, so I am intimately familiar with it 🙂 I can tell you from years of tracking that my OCD tendencies flared up with rising thyroid antibodies and reduced as my antibodies dropped. Remission helped me become calm and cool, while Hashimoto's flares brought on OCD. Thus I now consider OCD an indication of an impending flare.
In retrospect, it only took me three years of feeling anxious to get a proper Hashimoto's diagnosis, and only took me another three years or so to get into remission and to become calm once more. Some people are not that lucky. They struggle for years without proper diagnosis. It breaks my heart to think about the many thyroid patients who get labeled as "crazy" or "hypochondriacs" instead of being tested for thyroid antibodies.
Others, even when they do get diagnosed with Hashimoto's, and even treated with thyroid hormones, still continue to struggle with anxiety, depression, OCD, and panic attacks…
Do antidepressants help these conditions?
I think it's debatable. While I don't discount that many people have been helped by antidepressants, giving a person mood stabilizing medications because of fluctuations in mood due to Hashimoto's is like putting masking tape over the check engine light in a car instead of, you know, checking the engine!
Furthermore, antidepressants alone should never be the sole solution, even for a person with depression and anxiety!
As a pharmacist, I really got a kick out of this little Onion article 🙂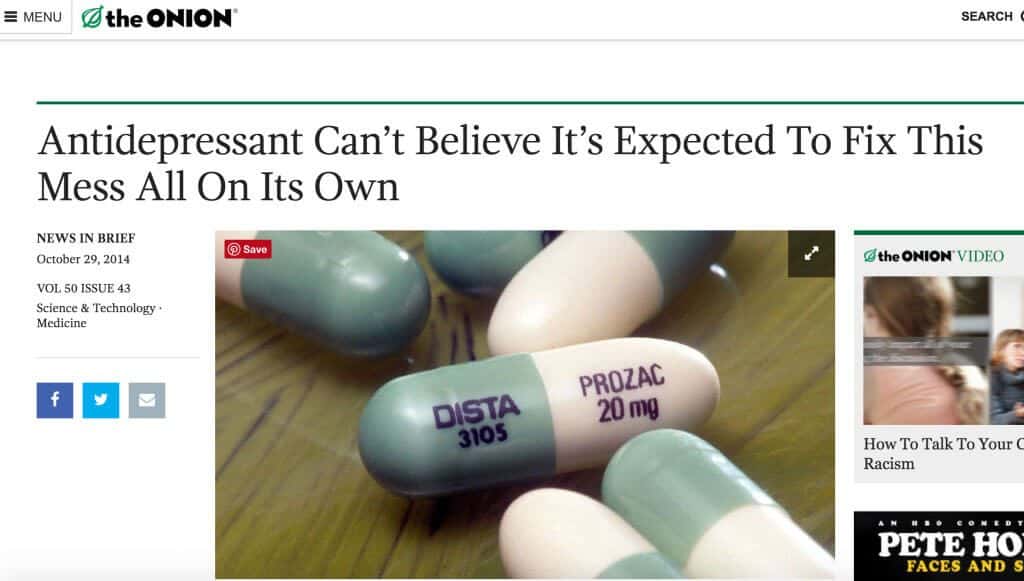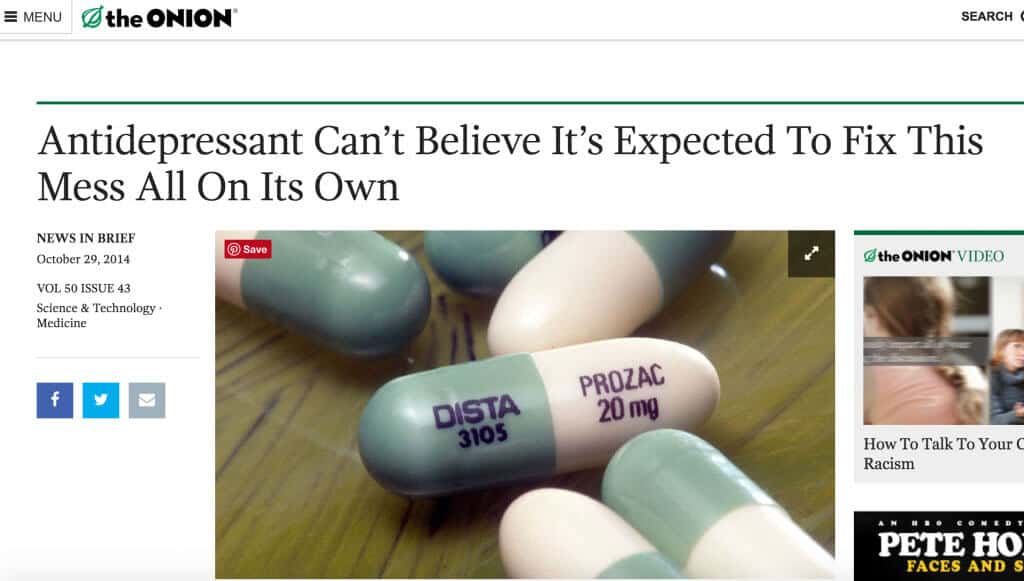 There are many other strategies that can help a person with depression, whether used in conjunction with antidepressants or on their own: bright light therapy, T3 containing medications, meditation, counseling, nutrition, Omega-3's… I could go on!
For thyroid patients, I've found Selenium and balancing blood sugar works like a charm for anxiety…
For OCD, there are supplements like 5-HTP and Myo-Inositol that can really help! As a side bonus, Myo-Inositol can reduce TPO antibodies, balance blood sugar and reduce TSH!
While I believe most medications have their time and place, the truth is, antidepressants are dirty drugs (this is official pharmacist lingo). They interact with many receptors leading to a smorgasbord of symptoms.
In my past life, when I was working in consulting with mental health clients, I often got reports of people feeling like zombies, gaining weight, feeling dulled, living in a fog, having sexual dysfunction, becoming manic, and feeling worse on antidepressants.
One of the scariest side effects of antidepressants that I learned about in pharmacy school is increased suicidality. So people who were started on medications for depression would be more likely to die by suicide within weeks of starting them. The theory that was proposed to us students was that "people got more energy before their mood improved and thus, this burst of energy gave them the opportunity to take their lives." This was so scary to me as a young practicing pharmacist. I remember one of my regular patients at a pharmacy who became very depressed and had just started on an antidepressant. I made her promise to call me to check in every few days to make sure she was OK, and I would call her at home whenever she didn't visit the pharmacy for a few days…  Suicide is a permanent solution for a temporary problem and is devastating for loved ones of the deceased, who often go on to have post-traumatic stress disorder, survivor's guilt, and even new onset autoimmune disease. One day I'll write more about my personal connection to loss… but for now, if you're reading this and struggling with depression, I want you to know that you can feel better—and you will feel better—and there are so many people and things that can help you. Don't give up.
Antidepressants can also cause a downregulation of our internal production of neurotransmitters. What does this mean? This means people can become dependent on taking them. I have seen it first hand and have had to work with numerous people to wean them off antidepressants slowly in my past life as a consulting pharmacist.
This is because antidepressants prevent us from properly clearing serotonin from our brains so that it sticks around longer. Unfortunately, the body takes notice of all of this serotonin hanging around, and soon we began to produce less serotonin and we become less sensitive to the serotonin we do have—sometimes this may even be permanent (if not addressed). It's funny, as a young pharmacologist I was exposed to the concept of permanent alterations in the body that pharmaceuticals could produce, yet most pharmaceuticals are not studied for longer than a few months at a time.
Furthermore, antidepressants are not always effective. I have seen this numerous times over in patients as a pharmacist, and less than 5% of people were found to be in remission from depression with SSRI drugs, even after using them for a year in a large-scale study known as the STAR*D trial!
This is why I'm such a raving fan of the work of psychiatrist Dr. Kelly Brogan, a woman with a powerful voice, who is trailblazing root cause treatments for depression and anxiety. And guess what? She NEVER uses antidepressants!
Dr. Brogan uses treatments like nutrition and lifestyle changes to help people awaken and turn on their inner healing capabilities to help them recover from depression and anxiety.
I had a chance to spend a couple of hours chatting with her in New York, where she said, "I make it very clear that I really don't believe in mental illness fundamentally. I certainly don't believe it's a disease. I actually have such a broad perspective about what it is that it could be, from micronutrient deficiency or an endocrine imbalance all the way to a psycho-spiritual emergence."
Dr. Brogan has also reversed her Hashimoto's, so she really gets it and I truly consider her to be one of my Hashi sisters. I really think the most amazing women are affected with Hashimoto's so that they can be given the opportunity to heal and help others do the same—and if you're reading this, I think you are likely to be one of them!
Dr. Brogan and I discussed her unique approach to depression and anxiety without psychiatric drugs in a joint webinar, which was followed by 30 minutes of Q&A. The topics we covered were:
The role of autoimmunity and inflammation in depression
A natural, root cause approach to reversing depression and anxiety
How nutrition can heal your moods and help you reclaim your life
Some simple, yet powerful, meditations you can start your day with
Specific changes you can make today to reverse depression and anxiety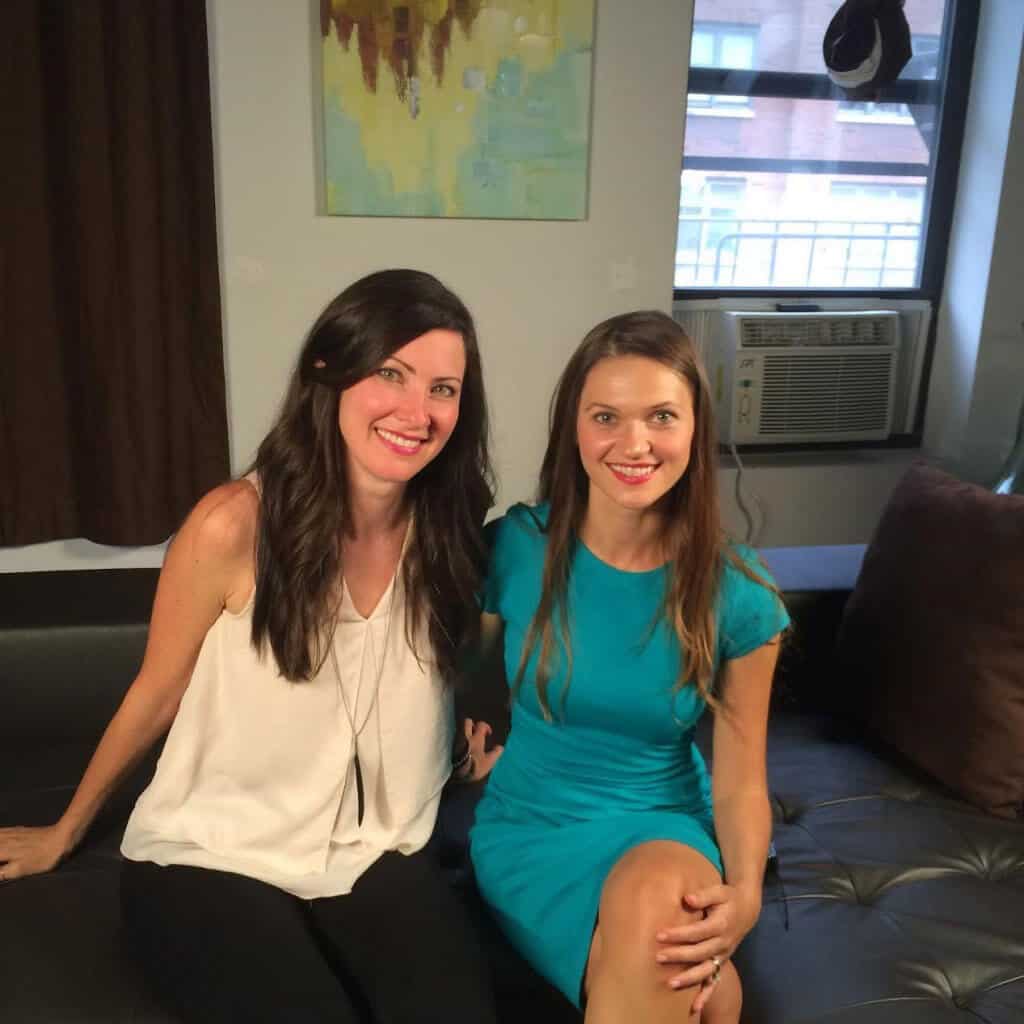 Sign-up to watch the replay anytime!
So going back to my lucid dream. I did things differently this time during that doctor's appointment. I stopped him mid-sentence and said, "No, Doctor, I don't need antidepressants. I came in because of my physical symptoms." I may have thrown a swear word or two in there somewhere. And it was liberating—and you know what? Now that I'm a rebel with a cause—a Root Cause Rebel—my voice is getting stronger and my pathological politeness is getting weaker with each and every day.
So if you've ever been told that it's all in your head, or that you need antidepressants, or that you should just settle for the status quo, say it with me, my fellow Root Cause Rebel: "No, Doctor, I don't need antidepressants!"