If I could put all of the triggers of Hashimoto's into 6 different buckets, I would categorize Hashimoto's as a combination of food sensitivities, nutrient depletions, intestinal permeability, an impaired ability to handle stress, and impaired ability to handle toxins, and in some cases, chronic (often hidden) infections.
Many times, it's these underlying triggers that keep us from feeling well, despite taking thyroid medications.
One potential trigger for Hashimoto's via the intestinal permeability mechanism is the opportunistic yeast Candida albicans. Candida is a fungus that is treated with anti-infective protocols but is not necessarily an infection.
This is because Candida is a form of yeast that is naturally found in a person's mouth, intestines, and for women, in the vaginal tract. We all have it, and it is a natural part of our internal ecosystems.
Opportunistic Pathogen
The problem occurs when there is an imbalance between Candida and other microorganisms in the body…This can turn Candida into an opportunistic fungal infection that can overgrow! In traditional medicine, Candida is only treated when women have "vaginal yeast infections" or when immunocompromised HIV patients have an overgrowth of it.
But in functional medicine, we know that if not addressed, Candida has the potential to break down the walls of the intestinal lining, cause leaky gut, and allow for toxins and partially undigested food molecules to cross into the bloodstream. Food sensitivities, autoimmune disease progression, and other systemic problems are often seen as a result.
A history of antibiotics, steroids, pregnancy, recurrent vaginal yeast infections, birth control pills, and a diet rich in simple carbohydrates increases the risk of Candida overgrowth, which is present in many people with Hashimoto's.
Candida loves starchy foods, sugar, and alcohol. If you, too, share this common love with Candida, you may inadvertently end up with excess Candida growth in your intestines (I did!).
The symptoms of a Candida infection can mimic many of the symptoms of hypothyroidism, including feeling spacey, having cold extremities, and lethargy.
Symptoms of Candida
According to Donna Gates, founder of the Body Ecology diet, the following symptoms could indicate that you have Candida:
Fatigue
Bloating, gas, belching
Diarrhea or constipation
Endometriosis
Infertility
Mood Swings
Insomnia
Bad breath
Pain in muscles or joints
Weakness
Brain fog
Vaginal burning/itching
Yeast Overgrowth Is Common in Hashimoto's
Yeast overgrowth is a very common occurrence in people with Hashimoto's. Most of the people with Hashimoto's will have some degree of overgrowth of the yeast Candida. Eliminating the yeast overgrowth can help with numerous symptoms!
In some cases, the yeast may hide in the sinuses… Sinusitis is often also seen when there is too much yeast in the body; this could be due to Candida, mold or other invasive fungal species. Using a Neti-pot to rinse your sinuses on a daily basis can be a helpful, supportive measure you can implement.
Testing for Candida
Root Cause testing can be helpful to get the right diagnosis and treatment, as symptoms of Candida are similar to symptoms of many other diseases and triggers, especially those that cause leaky gut. For example, small intestinal bacterial overgrowth (SIBO) symptoms also include bloating, constipation, diarrhea. Other leaky gut manifestations such as pain, fatigue, and mood swings are often seen with SIBO as well.
Stool, urine, and in some cases, blood tests are used to determine if there is an infection, to identify the strains of Candida that need to be targeted, to see which antifungals and botanicals can be used effectively, and to understand the severity of the infection.
My favorite tests for Candida are the GI-MAP and the GI Pathogen Screen. The GI Effects from Genova offers the advantage of listing botanical and pharmacological options that are effective against the yeast. When I first set out to do gut testing, I was found to have a 3+ overgrowth of the yeast, which is quite significant!
Treatment
Treating a Candida infection successfully requires a multi-pronged approach:
Preventing the yeast from growing further with diet and supplements
Building up beneficial bacteria/yeast that displace the Candida with probiotics
Killing the yeast with antifungal herbs/medications
Preventing Growth
Diet
It is generally recommended to starve the fungus through the Candida diet, which includes cutting out simple carbohydrates in addition to nuts, seeds, grains, corn, mushrooms, potatoes, fruit, dairy, and alcohol. Ketogenic diets may continue to feed the Candida.
Body Ecology Diet
The Body Ecology Diet is a specific type of anti-Candida diet that may be especially helpful for those with Hashimoto's.
While the GAPS diet and SCD are grain-free and include liberal amounts of nuts, fruit, and fruit juices, the Body Ecology Diet includes some well-soaked, easy-to-digest grains and limits fruit and nuts to starve off the pathogenic yeast and bacteria.
Furthermore, the Body Ecology diet introduces fermented foods that provide us with beneficial bacteria that displace Candida and create a thriving gut microbiome. You've probably heard of fermented cabbage, but there are many more delicious fermented vegetables. You can buy cabbage at most health food stores (be sure to get the kind that's kept in the fridge as the beneficial bacteria die-off within two weeks of being at room temperature), and you can also make your fermented foods. I love to make fermented coconut water (coconut water + BE Starter + Stevia to taste) and fermented coconut cream (Coconut cream + BE Starter + Stevia to taste after fermentation) and a mixture of various fermented vegetables. I like to make ferments with cabbage, cucumber, carrots broccoli, kale, spinach, and chard.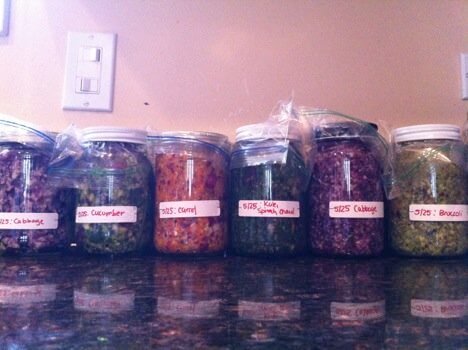 Here's a photo from one of my fermentation adventures. 🙂 I learned how to ferment vegetables from Donna Gates (she talks about the technique in the videos on the BE Starter web page, and I was really excited to learn that she actually has her own Online Fermentation Course too!
The Body Ecology diet also utilizes additional healing principles (acid/alkaline, 80/20, food combining) Donna has learned over the last 30 years! It's not a diet that's super easy to explain in a blog post, so if you want to learn more about the Body Ecology diet, I recommend Donna's website, Donna's free video series, Donna's book, and the new Body Ecology Diet 101 Course.
Special considerations/notes for people with Hashimoto's following the Body Ecology diet:
Advanced versions of the diet include dairy, which may not be appropriate for people with Hashimoto's.
Sea vegetables are also recommended on Body Ecology but should be avoided by people with Hashimoto's in the early stages of healing.
Always remember to modify the diet based on your needs.
Building Up Beneficial Bacteria/Yeast
Using probiotics can be very helpful in crowding out Candida. I really like the beneficial yeast, Saccharomyces boulardii for Candida. S. boulardii does not take up residence in the body, but boosts our natural gut defenses to help us clear out the yeast. You can read more about probiotics I like to use in my probiotic post.
Biotin
Candida exists in two forms: the normal yeast spheres and an elongated pathogenic hyphae form. Responsible for intestinal permeability, the hyphae form allows Candida to penetrate into the mucosal lining.
Several supplements have been shown to either prevent conversion to the hyphae form or convert it back to its yeast form, rendering it no longer pathogenic. These include biotin, thymol (from thyme), carvacrol (from oregano), eugenol (from cloves), caprylic, and undecylenic acid.
Biotin may be especially beneficial for Hashimoto's patients as it is helpful with adrenal function and hair loss. I have found 5,000-8,000 mcg (5-8 mg) daily to be a helpful dose.
Medications
While many cases of Candida can be controlled with diet and supplements, some may require the use of antifungal herbs and even antifungal medications like Nystatin and Fluconazole.
Prescription medications that are often used for fungal or yeast infections include Nystatin and Diflucan.
Nystatin 500,000 units, two capsules three times per day for 30-90 days, is an antifungal medication that works directly in the gut. Nystatin in that strength is available commercially as a liquid, but the commercial preparation has sugar (sucrose), which is a no-no on the anti-Candida diet! I recommend working with a compounding pharmacist to get this prescription prepared without the added sugar.
Nystatin is also used to treat Candida infections of the skin, mouth, sinuses, throat, esophagus, and vagina. Your healthcare provider will determine the best route and dose of medication for you depending on the area of the body that is affected.
The compounding pharmacy can also formulate the prescription specifically for your individual situation, to target the correct portion of the body, and can tailor it as ordered by your healthcare practitioner.
Diflucan (fluconazole) is an alternative medication used for yeast. It's commonly used as just one pill for yeast infections, but for Candida overgrowth, it has to be taken for a longer period. The pros of Diflucan are that it is a systemic medication, so it can get to yeast outside of the gut when taken orally, and that it's taken only once per day for 30-60 days. Though of course as a systemic medication, the Diflucan has much greater potential for side effects, including liver toxicity when used longer term.
Natural Antifungals
In addition, Saccharomyces boulardii, botanicals can also be used to treat fungal or yeast infections. These include the use of oil of oregano, a high-quality colloidal silver, and activated charcoal.
Oil of Oregano is an herbal product with powerful anti-yeast, antibacterial, and antiviral properties. It's often used for Candida as well as parasitic infections and food poisoning. It can cause some die-off, as it kills off yeast and pathogenic organisms.
Colloidal silver is a broad spectrum antimicrobial colloidal silver product that works against viruses, bacteria, and yeast. You'll want to go through a reputable company to get colloidal silver, as many formulations on the market may not be made correctly, and correct dosage is important to avoid other complications. I like the Silvercillin from Designs for Health. Please be sure to check with your doctor and follow package directions.
Activated charcoal helps bind up yeast toxins but may also deplete magnesium and cause constipation. If this happens to you, taking additional magnesium may help you offset constipation. Here's a link to my post on magnesium.
Resistant Yeast
Yeast organisms can become resistant to medication and herbs alike, so if you are someone that has a yeast overgrowth, you may want to consider cycling your yeast medications and herbs or using a combination of a few at a time. Another thing to consider when you have "resistant yeast" is whether you have other root causes.
While I mentioned that conventional medicine only acknowledges the role of yeast infections in people who are severely immune compromised, natural medicine practitioners of the past have overdiagnosed yeast as the root cause for everything! This is only partially true. 🙂 In some cases, Candida can be the primary root cause. In other cases, yeast can be a secondary root cause. This means that it is only overgrowing because there is an underlying imbalance that needs to be corrected. In that case, treating the yeast will definitely help symptoms, but there's a chance that the yeast (and symptoms) will return after treatment is stopped!
If you are someone with yeast that never seems to go away, despite diet and treatments, you should consider that you may have a different underlying root cause.
The potential root causes that can lead to a yeast overgrowth or can mimic the symptoms of a yeast infection include:
Parasitic infection like the Blastocystis hominis infection
Heavy Metal toxicity – Yeast overgrows whenever there are heavy metals present (more about toxins in my patient guide, Hashimoto's the Root Cause).
Mold toxicity – Fungus begets fungus! If you have been exposed to mold, there's a chance that mold spores have taken residence in your body and have created an environment that is supportive of their reproduction, as well as the reproduction of yeast.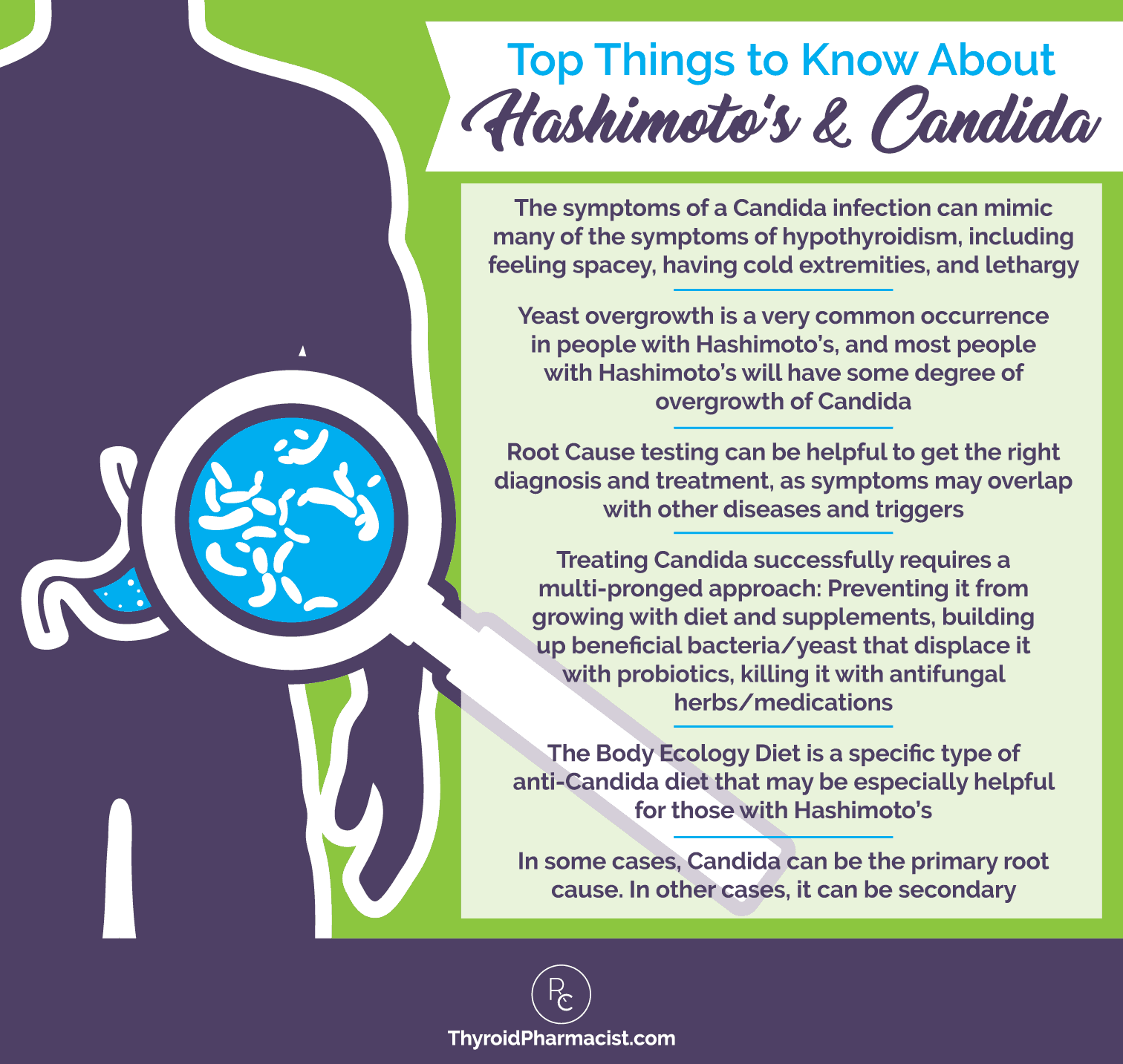 Do you suspect that you may have Candida? What has helped?
You can download a free Thyroid Diet Guide, 10 Thyroid friendly recipes, and the Nutrient Depletions and Digestion chapter for free by going to www.thyroidpharmacist.com/gift. You will also receive occasional updates about new research, resources, giveaways, and helpful information.
For future updates, make sure to follow us on Facebook!