Weight gain is a common symptom of thyroid disease. Like many people with Hashimoto's, I struggled with both weight gain and weight loss throughout my thyroid journey. When people struggle with their weight, eventually they look to the thyroid, so in some ways we can thank our bodies for letting us know there is something going on that we need to focus on.
Unfortunately, as many people see those pounds begin to pack on, they are often advised to start a low calorie diet. The problem with following a low calorie diet is that we often become deficient in macro and micronutrients when we reduce our calorie intake, and over time, we may be inadvertently sending our bodies a message that we are experiencing a famine.
To protect you, your body will slow down your metabolism in an effort to run on fewer calories to make sure you do not starve. This makes weight loss even harder. So for many people, low-calorie diets are NOT the solution.
So what diet is best for you? Well, that will require a little experimentation, and often, the most helpful diets may also help your thyroid symptoms. Is there anything other than diet or medication that you should be looking at? Absolutely!
I'd like to share some helpful lifestyle strategies for weight management and Hashimoto's. You'll be surprised by just how big of a role your thyroid, adrenal and nutrient levels play in unexpected weight gain!
In the following article, you'll discover:
How suboptimal thyroid levels affect your weight
Thyroid medications and weight gain
What is the best thyroid diet for weight loss?
Best foods for weight loss
How the adrenals affect your weight
How much exercise should you get? Can it make you feel worse?
Best supplements to reset your metabolism
8 Helpful Strategies for Weight Management and Hashimoto's
1. Get Your Latest Lab Values
Get your latest lab values for TSH, Free T3, and Free T4 from your doctor. You may have been told that these numbers were "normal," but sometimes when these numbers are on the outskirts of normal, your metabolic rate may still be impaired, making it more difficult for you to burn calories.
Additionally, new guidelines have redefined the normal range for TSH to be below 3 μIU/ml; however, not many labs have implemented this guideline. Your doctor may be using old ranges. Thus, many physicians may miss the patients who are showing an elevated TSH, which means that you do not have enough thyroid hormone on board and that you are hypothyroid. (This is one reason why patients should always ask their physicians for a copy of any lab results!)
Many patients are told their TSH is in the "normal" range, but their levels are actually on the higher side of this range, which could be one reason why they may find it harder to lose weight.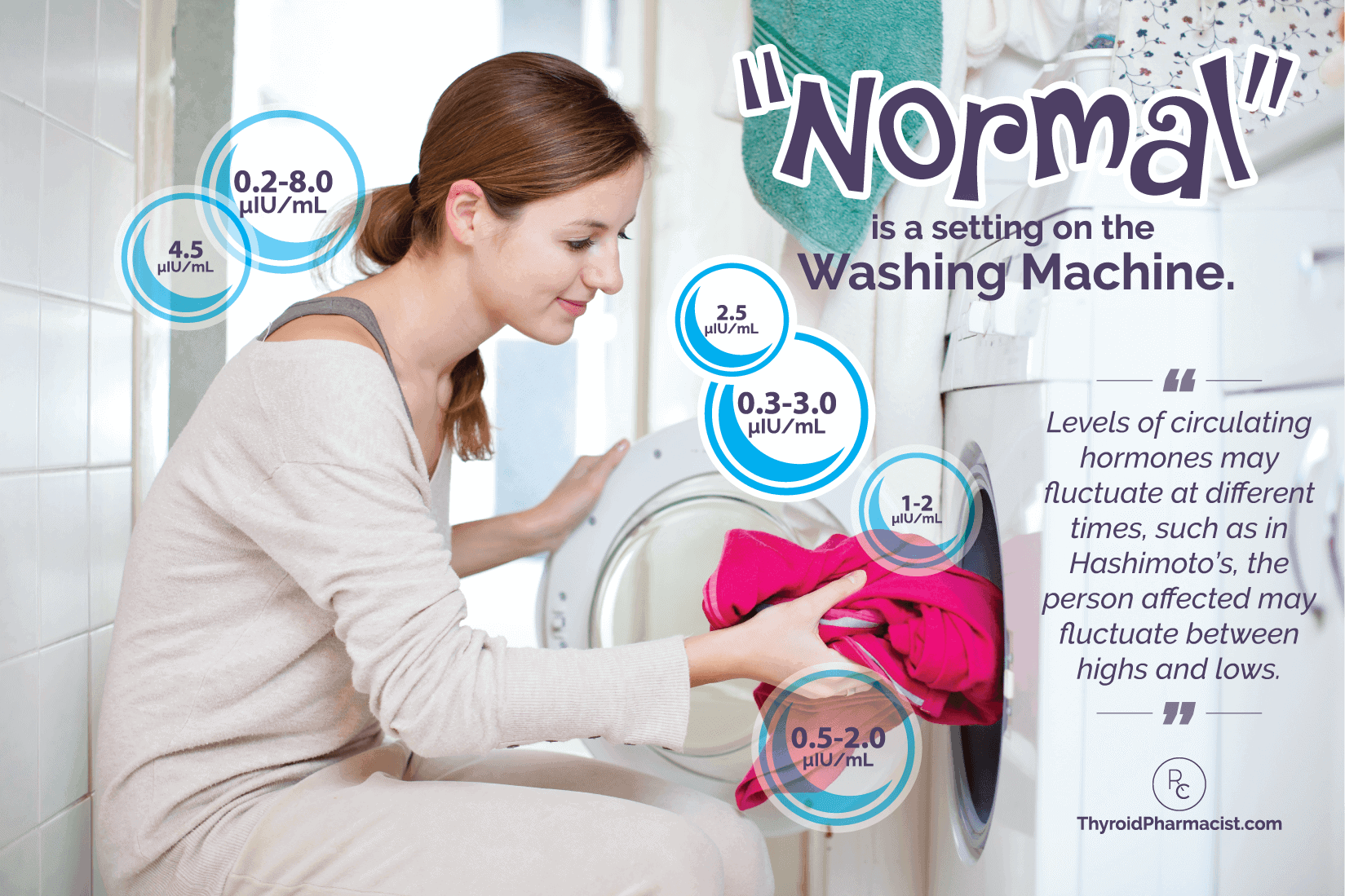 Functional medicine practitioners have further defined that normal reference ranges should be between 1-2 μIU/ml for a healthy person not taking thyroid medications. Anecdotally, most patients feel best with a TSH between 0.5-2μIU/ml.
Here's a handy reference chart of optimal thyroid ranges: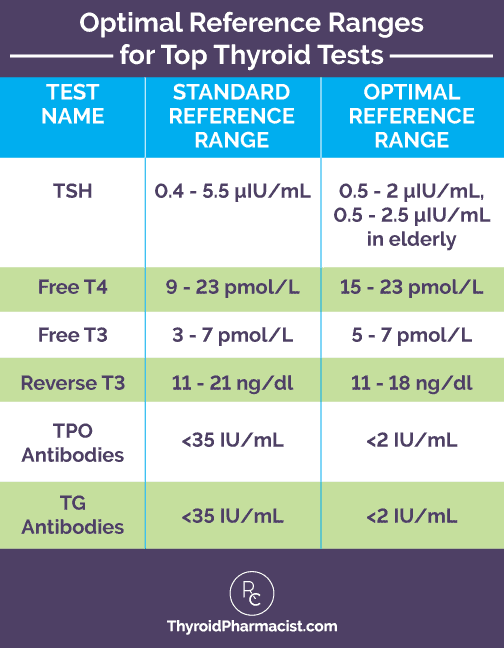 You can check out my article for more information on thyroid lab tests!
Remember, thyroid medications are dosed in micrograms — that's 1/1000th of a milligram! — and sometimes a teensy increase in the dose can make a world of a difference. Talk to your doctor to discuss revising your dosing, as optimizing your thyroid levels can repair your metabolic rate and help you lose weight more easily.
2. Consider the Type of Medication You Are Taking
Synthroid, a medication that contains the T4 hormone, is the most commonly prescribed medication for an underactive thyroid. However, the T3 thyroid hormone is more effective for maintaining our metabolism. In theory and on paper, T4 gets converted into T3; however, there are many potential factors (including genetics) that can prevent this conversion from happening in the human body!
Factors that Inhibit T4 to T3 Conversion
| | | | | |
| --- | --- | --- | --- | --- |
| Stress | Medications | Aging | Surgery | Nutrient Depletions |
| Fasting | Chemotherapy | Diabetes | Soy | Growth Hormone Deficiency |
| Obesity | Goitrogens | Pesticides | Radiation | Low Progesterone |
| Iodine Excess | Heavy Metals | Cigarettes | Alcohol | Kidney and Liver Disease |
Furthermore, under stressful situations, T4 gets converted to Reverse T3 instead of T3. Reverse T3 is an inactive molecule related to T3, but without any physiological activity, it is a dud that just takes up space and blocks the active T3 from activating the receptors.
So what can one do to boost their T3 levels? Taking thyroid medications that contain T3 will help ensure that the right hormone is getting to the right receptors.
Some report more weight loss with T4/T3 combinations (Armour*, Nature-Throid, compounded medications) versus T4 medications (Synthroid, Levoxyl, Tirosint) alone. T4 is a precursor to T3, but some individuals do not convert T4 to T3 properly, and the T3 component is the metabolically active one.
In addition to losing weight, many patients that start taking a combination T4/T3 product often report that they feel better as well! For more information, be sure to read my article on which thyroid medications are best and my top 11 thyroid medication tips.
*Note: While Armour Thyroid does not have any gluten-containing ingredients, it is not tested for gluten content, and cannot be certified as gluten-free. Armour does contain sodium starch glycolate, which can be derived from wheat or corn.
3. Consider the Type of Diet You Are Eating
Are you following The Standard American Diet (S.A.D.)? The S.A.D., which is full of sugar and simple carbohydrates, is perfectly designed to cause us to gain weight year after year. Even yogurts that are marketed as "healthy" contain the equivalent of 16 teaspoons of sugar!
Instead of eating processed and pre-made meals, I like to think about eating "real food". If it wasn't considered food 200 years ago, we probably shouldn't be eating it now!
Divorcing the S.A.D. is often a step that many of us must take to not just lose weight but to also feel better, and in some cases, minimize or eliminate the attack on the immune system.
Some Hashimoto's and hypothyroidism diets that have been helpful include the Body Ecology diet, the Paleo diet, the Virgin diet, Autoimmune Paleo (AIP) diet, GAPS diet, SCD diet, Weston A. Price diet, or the Mediterranean diet. 63 percent of 2332 readers that I surveyed in 2015 reported positive weight changes when they tried the AIP diet! A great way to see if the AIP diet might work for you is to try my 2-Week Recipe Plan for FREE below. (That's 14-days worth of delicious meal plans and recipes!)
These diets are meant as a starting point, as you may need to modify these diets to fit your own individuality.
After all, people with Hashimoto's usually have multiple food intolerances—especially to gluten.
Here are a few rules of thumb to consider:
Eliminate sugar, processed foods of all kinds, gluten, dairy, corn, rice, and other simple carbohydrates. (Carbohydrates get stored in our bodies as fat.)
Focus on eating lots of good meats and vegetables (preferably organic), and good fats like avocados, olive oil, and coconut oil.
Make sure you're getting enough protein. If you're struggling with that, consider adding in a great protein shake. (Consider adding Rootcology's Organic Pea Protein or AI Paleo Protein powder to your daily smoothies!)
Don't count calories, rather, eat until you are satisfied.
After an initial week or two of withdrawal, your body will start to thank you. You will start noticing stomach aches, bloating, acid reflux, and fatigue subside. You will also start to lose weight without trying.
If you've been eating a clean diet for some time but your weight isn't budging, you may also want to consider food sensitivity testing to remove foods that are specifically inflammatory to you. Many of my clients who have played with their current diets have seen progress in weight loss after eliminating foods per their food sensitivity results.
4. Consider Taking a Probiotic or Eating Fermented Foods
New research is showing that people who are overweight have an imbalance of bacterial flora in their intestines. Those who are overweight may have particular bacteria strains that extract more calories from food compared to those found in people who are not overweight. This means you could be eating the same amount of food as your friends yet gaining more weight from it!

Probiotics and fermented foods that contain beneficial bacteria may be helpful with balancing your bacterial flora. As a bonus, since 70 percent of your immune system resides in the cell walls of your digestive system, supporting your gut health will also help support your immune system. (1)
Here are some of the probiotics that I recommend and that you may consider:
High-dose, multi-strain probiotics can be very helpful for people with Hashimoto's in general. However, they may be problematic for people with SIBO, which can be caused by an overgrowth of various bacteria, including Lactobacillus and Streptococcus bacteria, which are often found in probiotics. Be sure to check out my article on probiotics and consult a local functional medicine practitioner to find the right probiotic for you!
5. Adrenal Support and Stress Response
Our bodies have this amazing capability to heal. When you're in the "rest and digest" stage, or anabolic process, your body is actively repairing and healing itself.
When you experience stress, your body goes into "fight or flight response" mode, diverting its attention from healing and digestion; and goes into emergency mode, pumping your body full of adrenaline to prepare it to survive what your body perceives to be a life threatening event. Many people cite a traumatic incident in their lives as the precursor to when their Hashimoto's symptoms began. Adrenal stress is a very common reason behind why people may hit a weight loss plateau.
There are 3 potential stages of adrenal dysfunction: Stage I, Stage II, and Stage III.
Stage I – In Stage I, there will generally be too much cortisol production. Your total cortisol level is going to be elevated throughout the day.
Stage II – In this stage, the total cortisol level will be normal, but there will be some abnormalities where it might be high in the morning, then too low in the afternoon, and then high again in the evening. This can produce some annoying symptoms like blood sugar swings, irritability, or an afternoon crash.
Stage III – This is an advanced stage where the adrenals become depleted and do not produce enough cortisol. You'll be running on empty and have very low levels of cortisol throughout the day. This often times leads to chronic fatigue.
You can reset your adrenals by getting more rest, limiting caffeine intake, and getting your daily dose of the ABC's: Adrenal Adaptogens, B Vitamins and Vitamin C.
The supplement Adrenal Support™  by Rootcology contains all three of these adrenal tonics that can balance out adrenals, whether they are over or underactive.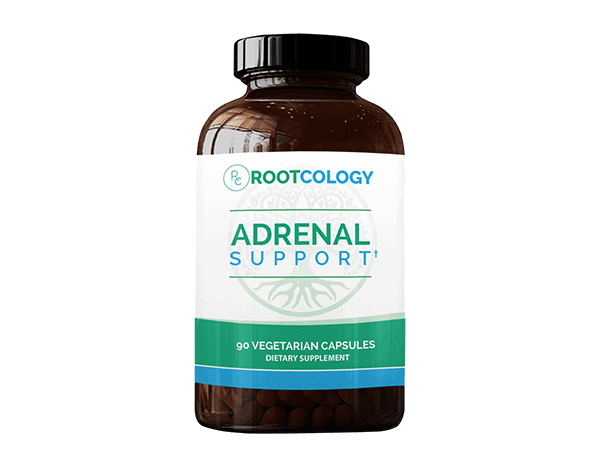 Please note, severe cases may require further intervention. You can get your adrenals tested with adrenal saliva tests, like the ZRT Adrenal Stress Profile. You can order this test through your doctor, or you can order it yourself. In some cases, stressed adrenals may actually lead to poor absorption of foods. 
Just like everything else, your stress hormone cortisol needs to be in balance. Too much, and you store excessive belly fat; too little of it, though, and you can feel extremely fatigued. Thyroid symptoms of fatigue can actually be due to low cortisol levels. If you have chronic stress, your body will eventually be unable to produce enough cortisol, DHEA and progesterone.
(Experiencing other symptoms aside from fatigue? As a pharmacist, I am amazed that the simple strategies that I have found to work 9 out of 10 times for symptoms like anxiety, fatigue, muscle wasting and hair loss are not widely taught in medical schools. Through years of trial and error, I created the Thyroid Symptom Hacker eBook for my private clients to address these issues. You can actually overcome fatigue in three days! Enter your email below to download this free eBook!
6. Choose a Physical Activity You Enjoy
Choose a physical activity that you will enjoy and continue, such as walking, yoga, swimming, Pilates, running, Zumba, or P90X. Whatever you do, make sure you enjoy it. Now perhaps you are saying, "Physical activity?! I'm exhausted even after a full night's sleep. I can't even imagine getting enough energy to think about exercise, let alone do it."
However, you will need to tailor your activity based on your adrenal levels and the stage of adrenal dysfunction your body may currently be experiencing (as per #5). The more advanced the stages of your adrenal dysfunction are, the less likely you're going to be able to tolerate exercise.
Generally, when it comes to exercise, we find that in Stage I adrenal dysfunction, things like running, aerobic sports, and CrossFit are going to make people feel better. In people with Stage III adrenal dysfunction, however, these types of activities may make them feel worse and worsen their adrenal fatigue and dysfunction. A person with Stage III dysfunction may do better with more gentle, relaxing exercises like yoga and stretching, as well as with muscle building exercises like lifting weight. Remember: muscle boosting is great for our own internal metabolism. Having more muscles will actually make it easier for you to lose weight!
One of the things you can do is just give yourself a good rule of thumb for when it comes to exercise. If you are exercising, and you find that you feel exhausted after the exercise, this generally means that what you just did was too much for you. A good amount of exercise should make you feel refreshed and energized. You should feel like you should be able to do it all over again once more.
Something that I have had some of my clients do when they were in Stage III adrenal dysfunction is actually cut out exercise. It seems counterintuitive, but in this stage, when their adrenals were very dysfunctional, they were not able to tolerate exercise. Even walking or jogging could be too stressful for their bodies that it would actually make them worse. I've actually had some ladies who were able to lose weight by exercising less, which is always surprising, and at the same time, great progress.
Again, it's important to find the appropriate amount of exercise and tailor your needs to your own body.
7. Consider Medication Side Effects
As a consultant pharmacist, I have witnessed numerous people having major changes in weight gain with the use of certain medications.
Birth control, in particular, can be associated with significant weight gain, and 45 percent of my readers with Hashimoto's reported that stopping birth control helped them normalize their weight. I've written about the impact of birth control on our health in this article.
As people with Hashimoto's are often misdiagnosed with anxiety, depression, bipolar disorder, etc. I would be remiss to report the important impact of psychotropic medications on weight gain.
The biggest culprits associated with weight gain include antipsychotic medications which were traditionally developed for schizophrenia but are used on and off label for conditions like bipolar disorder, depression, anxiety, irritability and even insomnia! In my experience, Zyprexa was the worst offender. I have seen people gain 100+ pounds on this medication. Other antipsychotics include Seroquel, Risperdal, and Abilify.
Antidepressants such as Prozac, Zoloft and Lexapro can also contribute to weight gain. The antidepressant Wellbutrin, however, is less likely to cause weight gain.
I recommend speaking with your doctor or pharmacist about your current medications to see if they could be potential culprits for causing weight gain, and if weight neutral alternatives exist.
8. Address Your Nutrient Deficiencies
One of the surprising reasons why people hold onto excess weight is because they are malnourished. It may seem counter intuitive that a person who is overweight would be nutrient deficient or malnourished, however, our nutritional status isn't based on just calories alone.
The human body requires macro and micro-nutrients to thrive, and proper nutrient status depends on our intake of nutrients, digestion of food, and absorption of the nutrients from the food.
Without these nutrients, your body may sabotage your weight loss efforts by slowing down your metabolism or causing you to have cravings or feel hungry, even when you have had enough to eat.
Let's review how to address nutritional status:
Intake of Nutrients
I recommend eating a nutrient dense diet like the Paleo diet or Autoimmune Paleo diet for most people with Hashimoto's as a starting point. Additionally, taking supplements can help with addressing your nutrition.
The most common nutrient deficiencies in Hashimoto's are B vitamins (including thiamine and B12), selenium, magnesium, vitamin D, and ferritin.
For more information on each of these, please read my recent article The 6 Most Important Nutrient Deficiencies in Hashimoto's.
Another common deficiency that may lead to weight gain is inadequate intake of protein. I recommend starting your day off with a blood sugar balancing smoothie (bonus: it's great for reducing cravings and hunger) that includes a hypoallergenic protein source, such as my Rootcology AI Paleo Protein. Smoothies and protein powders allow your body to absorb more nutrients, even if you don't have perfect digestion, as the foods are more bioavailable and are easier to digest and absorb.
Additionally, I love adding green juices to the mix as another great way to boost your nutritional status. Green juices also have tons of nutrients that are easy to absorb and digest.
Digestion
Digestive enzymes, such as Betaine with pepsin for protein digestion, as well as fat specific and broad spectrum digestive enzymes, can also help you get more nutrients from your food. Furthermore, blends with enzymes such as Rootcology's Veggie Enzymes can help you digest fibers and starch in fibrous foods such as raw vegetables and fruits. If you have insufficient levels of digestive enzymes produced naturally in the pancreas, Rootcology's Pancreatic Enzymes Plus may also be beneficial. The bromelain, trypsin and chymotrypsin in this supplement target and break down specific amino acids (the building blocks of proteins) in the duodenum (the first section of the small intestine), where pancreatic enzymes are normally released. (Please speak with your practitioner before considering pancreatic enzymes if you are currently taking broad spectrum digestive enzymes, as some of the ingredients may overlap.) I have an article all about Using Enzymes for Hashimoto's you may want to check out. 35 percent of my readers reported that digestive enzymes helped them optimize their weight!
Absorption
Absorbing your nutrients is dependent on a variety of factors, including the state of your gut and the function of your liver.
I already talked about the impact of probiotics on weight — 36 percent of my readers reported that a probiotic can help with weight optimization. Part of the reason for this is because probiotics help us extract nutrients.
Supporting Your Liver
The liver is an important player in nutrient status. In fact, the liver is the organ that processes the nutrients we absorb from the small intestine. 38 percent of readers reported improvements in weight status with using liver support! I've written a comprehensive article all about liver support! Check it out here.
Another root cause of why you may not be properly absorbing nutrients could be due to small intestinal bacterial overgrowth (SIBO) or an unwanted guest in your gut, such as an infection or parasite. 41 percent of my readers with Hashimoto's saw improvements in weight after utilizing SIBO protocols, and 36 percent saw improvements with parasite protocols (I don't have an article on this yet, but more information on parasite protocols can be found in Hashimoto's Protocol).
Your Weight Loss Action Plan
In an effort to slow down your body's metabolism, stress, skipping meals, and toxicity can cause the body to attack the thyroid, as well as promote weight gain. Preventing further attacks on your already delicate thyroid is of prime importance, as you may know if you've read my new book Hashimoto's Protocol. By optimizing your thyroid hormone levels, following a thyroid-friendly diet, adding probiotics and fermented foods to your daily regimen, considering a T4/T3 combination medication, repairing your adrenals, getting the appropriate amount of exercise for your body, and optimizing your nutrients, your health may greatly improve — and you may even notice that losing weight will become easier!
Remember, you are not alone. Losing weight with thyroid disease is POSSIBLE. Many of my readers have seen dramatic and positive weight loss results after implementing these lifestyle changes, and reported feeling better, too. You can be one of them! And you are WORTH it — so get your body and health on the right track today!
I hope this helps and wish you all the best in your health journey!
P.S. You can also download a free Thyroid Diet Guide, 10 Thyroid friendly recipes, and the Nutrient Depletions and Digestion chapter by signing up for my weekly newsletter. You will also receive occasional updates about new research, resources, giveaways and helpful information.
References
Hyman M. How Good Gut Health Can Boost Your Immune System. EcoWatch. 2015. https://www.ecowatch.com/how-good-gut-health-can-boost-your-immune-system-1882013643.html. Accessed January 15, 2018.
Note: Originally published in March 2015, this article has been revised and updated for accuracy and thoroughness