As many of you know, I am passionate about using food as medicine to recover from Hashimoto's symptoms. I have written many times about the dietary changes I made in my own life that led to my recovery, and I've worked with countless other people with thyroid conditions who have been able to take back their own health, with the healing power of food.
While changing your diet in order to heal can seem restrictive at times, there are many ways that eating for thyroid health can still be fun and enjoyable. If you are far enough along in your recovery, you may even be able to throw in a glass of wine on occasion!
In fact, many people don't realize that, just as there are specific foods that can be used to address symptoms of Hashimoto's, there are many wines with particular qualities that pair exceptionally well with some of the most common symptoms.
I had more time than usual at home over the past two years (thanks, quarantine), and I spent hours running tests, going through bottle after bottle (and a few broken glasses) of wine, until I felt like I had landed on the perfect wines to pair with all of my thyroid symptoms.
The Best Wines for Common Thyroid Symptoms
So, I've put together a little "cheat sheet" of some of my favorite varietals of wine that I have found to be the most helpful when my Hashimoto's symptoms flare up:
Fatigue – My go-to is a nice crisp Sauvignon Blanc from the Marlborough region of New Zealand. I find that the bright acidity and flavors of green apple really wake me up on days when my energy levels are particularly low — or maybe it's just that I no longer feel concerned about everything I'm not getting done. Either way, after a couple of glasses, and after the green apple flavors wear off, I can nap for hours, which makes me feel refreshed.
Irritability – We've all been spending more time at home these days, often trapped inside with the ones we love… I've found that a nice peppery Zinfandel can help take the edge off my mood when I haven't had the chance to go to the bathroom by myself in two weeks, I've watched way too much Cocomelon, and I've been wearing the same yoga pants for three days straight. #mamalife
Cold Intolerance – I find a bold Cabernet Sauvignon from the Napa Valley to be particularly warming during cold winter months, when I can't seem to get warm. Not only do the notes of dark cherry and tobacco feel cozy on my palate, but the 15.5 percent alcohol level gets my body temperature up so high, I've been known to wear my swimsuit in January while drinking it!
Weight Loss/Gain – Like many people who are managing thyroid conditions, my weight has fluctuated over the years — at times high, at other times, falling lower than what would be considered healthy. What I love about a rosé wine is that it, too, is indecisive. Is it a red? Is it a white? No one knows. Some say that wine will make you gain weight; others say it'll help you lose weight. Maybe it can work both ways, like an adaptogen that regulates body weight. So, if you just want a delicious glass of crisp, refreshing wine and you need to lose OR gain weight, opt for a glass of rosé! #roséallday
Indigestion and Acid Reflux – On days when my gut seems to be acting up and I can't keep blaming my gassiness on the dog, I reach for a glass of Russian River Valley Chardonnay. Aged in French oak, this wine is so buttery smooth, it slides down my throat and coats my digestive tract so beautifully, that I feel relief almost instantly. (Or maybe it's my husband who's relieved.)
Brain Fog – I can't remember. Something about wine.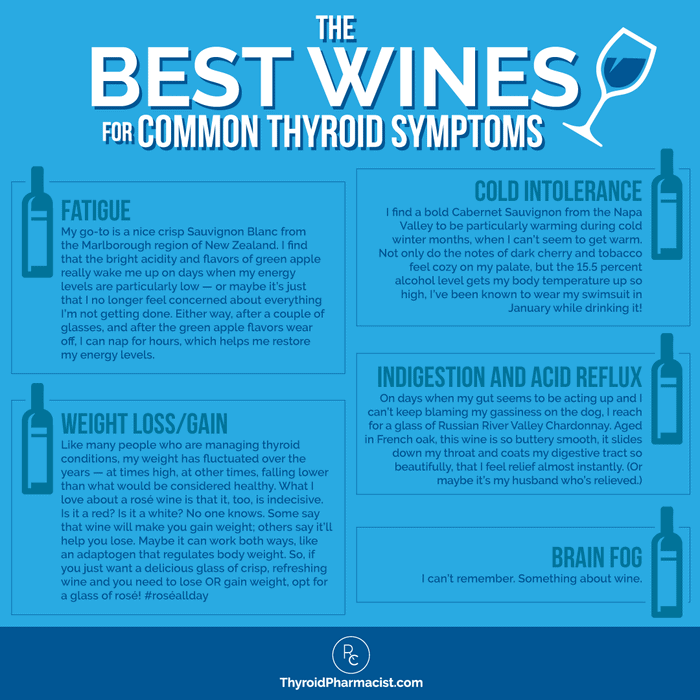 Your "Healthy" Wine Resources
April Fools!
If you've read this far and haven't caught on yet, I'm just having a little bit of April 1st fun. 🙂 Sometimes, in the middle of dealing with an autoimmune condition, it's important to have a sense of humor. In all seriousness, I am often asked about whether an occasional glass of wine is acceptable for those with Hashimoto's…
If you are just starting out on your healing journey, I don't recommend consuming alcohol.
Drinking alcohol can contribute to a leaky gut, blood sugar imbalances, SIBO, and a backlog in the liver (as it works to detoxify ethanol, or drinking alcohol).
Some alcoholic drinks can also be high in histamines, which can be problematic for some people with Hashimoto's.
Once you've worked to heal your gut, removed toxins (including food and environmental toxins) from your life, supported your liver for some time, and feel you are well on your way to recovery, adding in the occasional glass of "healthy wine" will be possible for a lot of people.
In the early days of my own Hashimoto's journey, I felt awful after drinking any alcohol, and did not tolerate it. Drinking even small amounts left me exhausted for days after. However, after getting into remission, I was able to enjoy the occasional glass of wine, margarita, or mojito with minimal issues.
That said, people with thyroid conditions may have a reduced tolerance to the effects of alcohol, which can result in some nasty hangovers, even after a small amount of alcohol. Here is a remedy that I have found helpful for minimizing hangovers, if you choose to drink.
Hashi Hangover Remedy
The night of:
The morning after:
*Please note: Do not exceed more than 1 scoop of Rootcology Electrolyte Blend per day.
Here's a graphic of the recipe that you can print (or share on social media ;-)):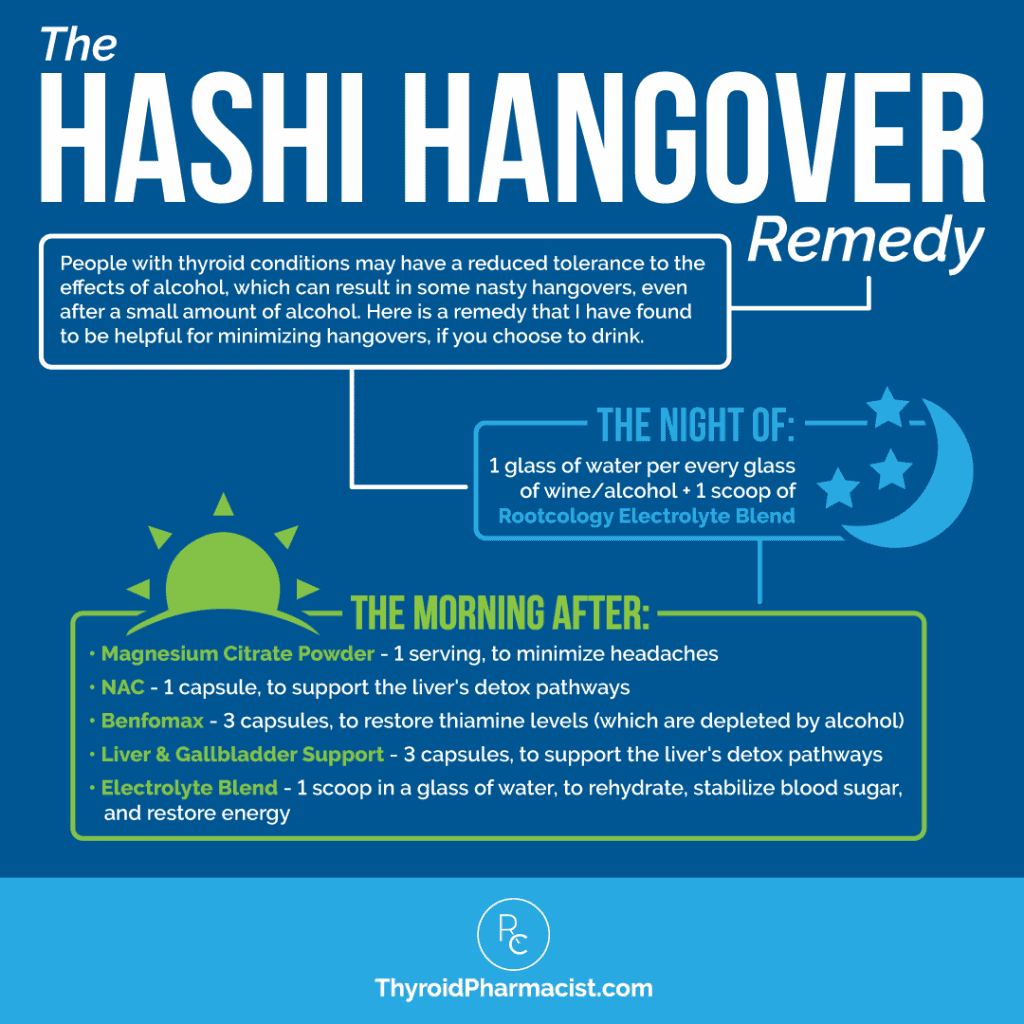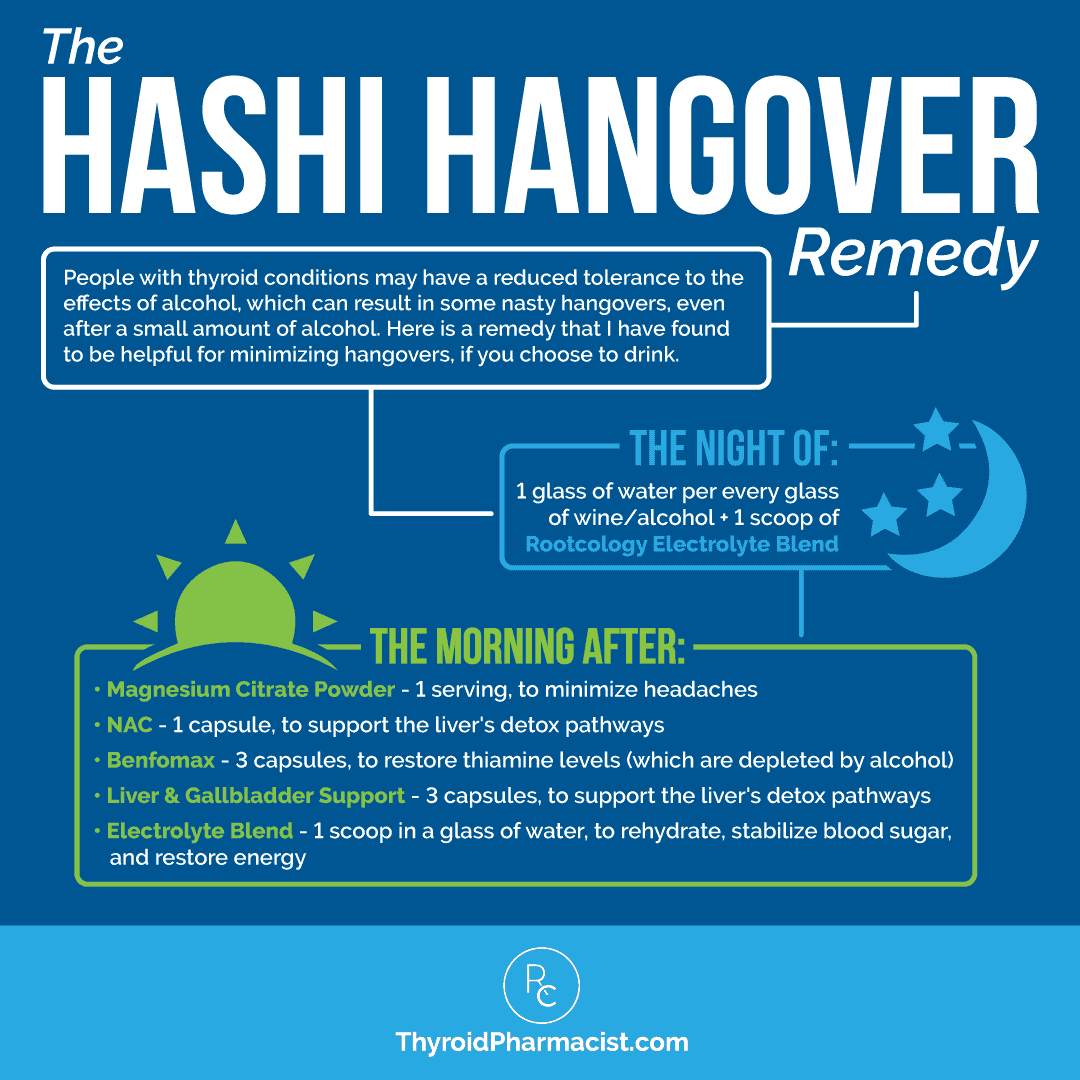 Again, while there are some individuals who should stay away from consuming alcoholic beverages, others who are further along their healing journey may find that adding in the occasional glass of wine can be an enjoyable part of sharing a meal with their friends (even if it's just via virtual conferencing :-)) and relaxing at the end of the day.
If this is you, I'd like to introduce you to a wonderful source I've found for wines that are delicious, and won't make you feel worse in the morning! Dry Farm Wines is the only health-focused, natural wine club in the world. They curate a selection of additive-free wines that are lab tested for purity.
The creators of Dry Farm Wines were interested in creating wines that fit their low-carb and ketogenic lifestyles, didn't hinder them from meeting their health goals, and left them feeling great the next day — all while providing delicious tastes for optimal enjoyment.
To accomplish this, they set up specific standards to meet their criteria, including lab testing to ensure their wines are all:
When you sign up to receive wine from Dry Farms, you'll receive a monthly shipment of a unique selection of 6 or 12 biodynamic wines, sourced from small farms around the world. Each shipment includes different grape varieties and styles.
It's a wonderful way to try a variety of incredible wines, curated specifically for those of us who want to look after our health, while enjoying life in the process!
I've also recently learned of a new product called The Wand from PureWine. They have created a disposable filter that can be swirled in your glass of wine before drinking, to remove the sulfites and histamines that often lead to headaches, fatigue, congestion, upset stomach and hangovers when consuming wine. Many people who have had to avoid wine due to sensitivities, have found that, while The Wand isn't magic, it does allow them to enjoy their glass of wine again, without the negative side effects. (They are currently offering a special discount for my readers — you can get 20% off your order using code THYROID20 at checkout!)
I haven't had many alcoholic drinks since becoming pregnant, but The Wand has received positive feedback from a few of my team members, and I'm hoping to learn more about its ability to remove sulfites and histamines from other beverages that can be problematic for people with sulfite and histamine intolerance issues, respectively.
I encourage you to give Dry Farm Wines or PureWine Wands a try and see that enjoying a glass of wine doesn't have to come with all the undesirable side effects… even if it doesn't cure your Hashimoto's symptoms!
Takeaway
While wine may not be the best medicine for your thyroid symptoms, choosing an organic and non-toxic wine option, and using tools like filtering wands and supportive supplements, can help to minimize reactions, so that you can indulge a bit while still looking after your thyroid health.
P.S. Looking for more real food solutions to get better? Don't forget to pick up your copy of Hashimoto's Food Pharmacology: Nutrition Protocols and Healing Recipes to Take Charge of Your Thyroid Health. I wrote this cookbook and nutrition guide, so that you can be your own nutrition guru and take back your life.
P.P.S. Be sure to sign up for my weekly newsletter to get a free book chapter, recipes, the Thyroid Diet Starter Guide, and notifications about upcoming events and my latest research! For continued updates and interaction, please become a part of my Facebook and Instagram communities as well.
Note: Originally published in April 2019, this article has been revised and updated for accuracy and thoroughness.