Iron deficiency is the primary cause of hair loss in premenopausal women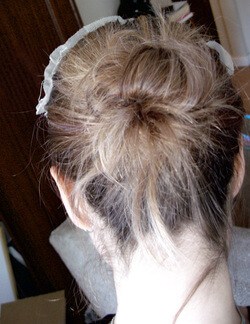 It's often the reason behind why women with Hashimoto's continue to lose hair despite taking thyroid medications.
Your doctor may test for anemia by running a panel for red blood cells, hemoglobin, hematocrit, and iron levels, and all of them may come up normal. However, you may still be low in iron. If not enough iron is available, the body may pull the iron from less important physiological processes, such as hair growth, to keep enough iron circulating in the blood.
Ferritin is the name given to your body's iron reserve protein. Ferritin is required for transport of T3 to cell nuclei and the utilization of the T3 hormone.
Ferritin hair loss presents as increased hair loss during shampooing and brushing, as well as overall thinning of hair without a specific pattern or bald spots. Rather, the woman may find that her hair feels thinner all over and is less dense.
Ferritin levels can also be measured and will be a better predictor of how much iron you have stored in your body and available for use. Ferritin should be checked in all women with Hashimoto's and for anyone experiencing hair loss.
In addition to poor intake of dietary iron rich foods and lack of hydrochloric acid (see my Nutrient Depletions II Post), pregnancy (due to an increased need for iron) and heavy menstruation increase the risk of iron/ferritin deficiency. During each menstruation, a woman will lose 10–15 mg of iron while a pregnancy may cause a loss of 600–1000 mg of iron.
As iron needs an acid presence to be absorbed, antacids and calcium supplements that are taken around mealtimes may reduce the absorption of iron from foods and supplements.
Anyone with hair loss and taking PPI's or acid-suppressing medications should immediately get his/her ferritin levels checked.
Dietary factors can also impact iron levels. Tannins in tea and coffee can inhibit iron absorption and should be spaced out by an hour from iron-containing meals. Phytates found in nuts, legumes, and grains may also affect iron absorption, as well as egg whites.
Normal ferritin levels for women are between 12 and 150 ng/mL. According to some experts, Ferritin levels of at least 40 ng/ml are required to stop hair loss, while levels of at least 70 ng/ml are needed for hair regrowth. The optimal ferritin level for thyroid function is between 90-110 ng/ml.
Iron is present in the heme and nonheme version in foods. The heme version is the better-absorbed version and is found primarily in animal products. The highest levels of iron are found in organ meats … yes, delicious liver. Beef, turkey, and chicken are the next best choices. (Sorry to all of my vegetarian friends.) In contrast, nonheme iron is found in nuts, beans, and spinach and is not usually absorbed as well.
To restore your iron levels, you can eat cooked liver twice per week or eat beef a few times per week. Vitamin C increases the absorption of iron, so taking a vitamin C tablet or vitamin C rich food such as cooked broccoli along with an iron-rich food is the best way to increase iron and ferritin levels. Creating an acidic stomach environment by taking a Betaine and Pepsin supplement with meals can be helpful as well.
Most iron supplements are in the nonheme form and, thus, may not be absorbed as well. Additionally, many people find that they get terrible stomach aches from the supplements, and they find them extremely constipating!
I struggled with supplements and trying to eat liver but was not able to get my ferritin levels up for years—until I did two things.
Started high-dose probiotics
Started taking OptiFerin C
If choosing to take iron supplements, do so with much caution as they are one of the leading causes of overdose for children and adults. An iron overdose can be deadly, so make sure you keep the iron out of reach of children. Be sure you speak to your physician or pharmacist about a dose appropriate for you.
There may be other reasons for hair loss, including low T3 levels, fatty acid deficiency, hormonal imbalances and others. Check out my post "What's going on in Hashimoto's?" Subscribe to this blog for more information on how to deal with Hashimoto's.
PS. You can also download a free Thyroid Diet Guide, 10 Thyroid friendly recipes, and the Nutrient Depletions and Digestion chapter for free. You will also receive occasional updates about new research, resources, giveaways and helpful information.
For future updates, make sure to follow us on Facebook!