Opti­­mi­­zing your health starts with food.
Start Your Root Cause Recipe Journey Today
Choose the plan that works best for you or get both and save $17 + bonuses!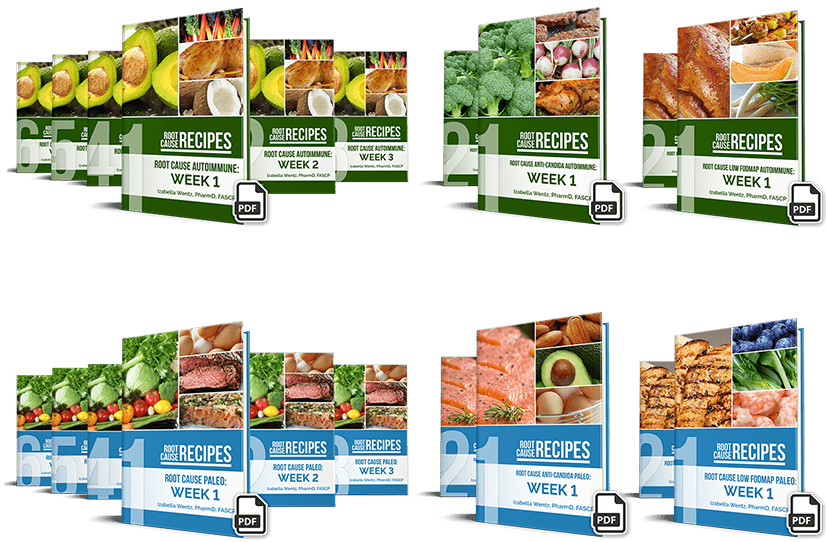 Order Root Cause Bundle Plan
560 Recipes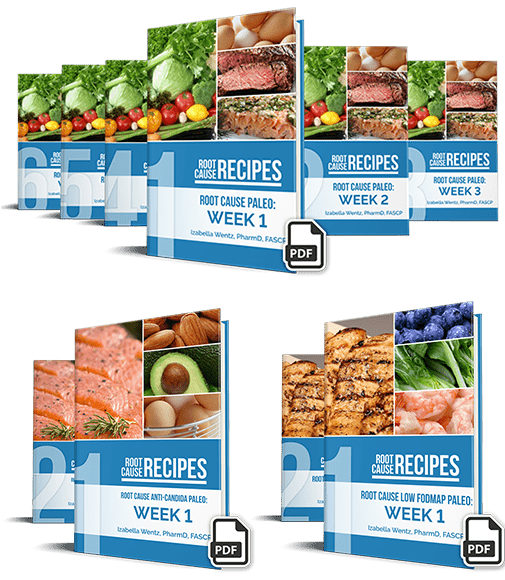 Order Root Cause Paleo Plan
280 Recipes

Order Root Cause Autoimmune Plan
280 Recipes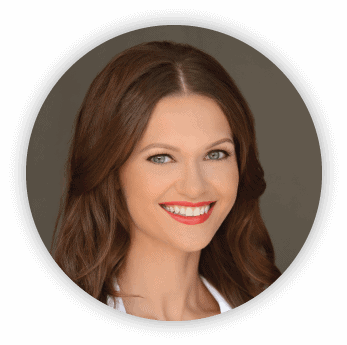 Hi,
I'm Dr. Izabella Wentz, PharmD.
I'm a Hashimoto's patient, pharmacist and author of the NY Times Bestselling Patient Guide, Hashimoto's Thyroiditis, the #1 NY Times Bestseller, Hashimoto's Protocol, and the Hashimoto's Food Pharmacology cookbook. After my initial diagnosis in 2009, I was surprised by the lack of knowledge about lifestyle interventions for autoimmune conditions. Over the last several years, I've been researching the most innovative treatments and put my own autoimmune condition into remission.
Optimizing my diet radically changed my life. Within three days of removing reactive foods, my acid reflux, chronic cough, bloating and irritable bowel syndrome disappeared. Pain and fatigue subsided within a few weeks, and further tweaking helped clear my skin, grow back my hair and reduce the autoimmune attack on my thyroid gland.
Like many people with autoimmune disease, I suffered from debilitating fatigue, hair loss, stomach pain, coldness, brain fog, acid reflux, and a countless list of other symptoms until I took charge of my own health. Optimizing our health starts with the food we eat. I hope The Root Cause Recipes not only inspire you, but empower you to take charge of your health and feel better.
Have you tried every diet and nothing works?
Our fast-paced, 21st-century lifestyles often make us feel like it's a no-brainer to grab a sub or microwave dinner on the go. We think it affords us more time, but does it really? Unfortunately, our diets are stealing our health and instead of having more of that time we always dream about, we feel terrible, are too tired to engage, and many of us suffer from autoimmune conditions.
Or maybe you're trying to eat healthy and instead of feeling better, you keep losing foods and gaining weight. What gives? You know there has to be a solution here, but what is it? If this is you, I know how you feel, and it's utterly frustrating.
Through my own health journey and six and a half years of research, I've found that optimizing nutrition makes a huge difference in how we feel and interact. Sure, everyone has different root causes, but one root cause that I see in every autoimmune patient is DIET.
It's pretty wild, but whether you have Hashimoto's (hypothyroidism), Graves' disease (hyperthyroidism), irritable bowel syndrome (IBS), celiac disease, fibromyalgia, or one of the countless other autoimmune conditions, optimizing your health starts with food.
Whether this sounds too good to be true or feels entirely daunting, I want to share with you helpful and proven meal plans that help you take charge of your health and take back your life.
I invite you to discover which foods nourish you and which foods cause harm. It's the single most important thing you can do for your health. But I get it; life is busy. When you're already feeling the fatigue, finding time to plan, prep and cook for yourself and your family, feels like a full-time job! Add in work and other activities, and it's downright overwhelming. Believe me; I've walked in your shoes, and I know how you feel, which is why I've created The Root Cause Recipes.
I want to make it easy for you, so I've created weekly meal plans that come with specific directions for easy to make and healthy recipes, plus shopping lists for each week. The Root Cause recipes arrive to you in downloadable and printable eBooks, and eliminate the hassle of finding what's best to eat. It's time to start optimizing your health and remove the stress from clean eating.
The root cause book and recipes changed my life and helped me turn my health around. I was diagnosed then the book came out and I felt like it came out just for me. The recipes helped me navigate all the food sensitivities I experienced with ease! I will forever be grateful for Dr. Wentz!" – Hannah
What's the difference between the Paleo diet and the Autoimmune Paleo diet?
That's a great question. They sound alike and have similar characteristics, and while The Paleo diet has helped people feel better and even eliminate thyroid antibodies, it's sometimes it's not the best option for everyone. The traditional diet eliminates grains and processed foods and really hones in on nutrient dense foods like meats, veggies, nuts, seeds, eggs, and sometimes dairy.
However, not everyone sees the best results with The Paleo diet because people often have food sensitivities that add to immune system dysfunction. Hashimoto's patients are particularly sensitive to foods like gluten, dairy, soy and eggs so this diet does more harm than good.
The Autoimmune Paleo diet (AIP) digs past the traditional Paleo diet and people with Hashimoto's often see great results. I'll be honest, it's hard to implement, but it's worth it. My hope is that my Root Cause Recipes will provide an easy-to-navigate roadmap so that you can thrive in this lifestyle of eating clean and getting better.
Here's a quick breakdown of the foods included in each meal plan. If you already know the foods you're sensitive towards, choose the plan that fits your lifestyle. If you're not sure, or you're interested in both, order the bundle (and save $17 + enjoy fantastic bonuses) and see which one works for you.
ROOT CAUSE PALEO

FOODS INCLUDED
All meats
All vegetables
All fruit
Eggs
Nuts
Seeds
Nightshades (except cayenne pepper)
Root Cause Paleo Protein smoothies (beef protein)
Root Cause Pea Protein smoothies (pea protein)
FOODS AVOIDED
Dairy
Grains
Legumes (except green beans and pea protein)
Sugar
Seaweed
ROOT CAUSE AUTOIMMUNE

FOODS INCLUDED
Most organic vegetables
Fermented foods
Most organic meats
Low-glycemic organic fruits
Coconut and Brown shirataki yam noodles
Nightshade-free herbs and spices
Root Cause AI Protein smoothies (beef protein)
FOODS AVOIDED
Dairy
Eggs
Grains
Legumes
Nightshades
Nuts
Seeds
Sugar
Seaweed
You've come to right place. Through my Root Cause Recipes, you'll discover which foods help and which foods harm you.
---
"The root cause recipes helped in removing pain I had in my joints, particularly the right elbow. I had also been struggling with tendonitis and that disappeared. I found excess weight dropped very quickly. The recipes were also very helpful to my daughter who had been having health issues but GPs couldn't establish the reasons." – Heather S.
---
Here's How Root Cause Recipes Works
You'll receive downloadable eBooks with the plan or plans you choose. The weekly meal plans arrive complete with shopping lists, so you don't waste time or money circling the grocery store.
You'll receive 10 Paleo plans or 10 AIP plans (or both if you choose to bundle, save money and want the amazing bonuses!) These plans allow you to ease into a new eating lifestyle so that food doesn't own you and you're able to have both time and energy to enjoy life.
And don't forget, The Root Cause Paleo plan includes 200+ unique recipes! When you get started on this meal plan, you'll receive:
6 weeks of Paleo meal plans that nourish you inside and out
2 weeks of low FODMAP Paleo meal plans that are easy to fix and super tasty
2 Weeks of Anti-Candida Paleo meal plans that help support and heal the gut
200+ unique and delicious recipes
Easy prep recipes with yummy results
Breakfast, lunch, dinner and snack recipes for each day
Meal plans and shopping lists to simplify your life (take the stress out of meal planning once and for all!)
---
The Root Cause Autoimmune Paleo plan includes incredible recipes and ideas to make your life easier. Here's what the AIP plan includes:
6 weeks of Autoimmune Paleo meal plans that heal the hurting gut
2 weeks of low FODMAP Autoimmune Paleo meal plans that'll strengthen you from within
2 Weeks of Anti-Candida Autoimmune Paleo meal plans to support and fortify your body
200+ unique and delicious recipes
Breakfast, lunch, dinner and snack recipes for each day that are quick and easy
Meal plans and shopping lists to remove stress surrounding food so you can relax and enjoy life!
---
Bundle & Save $17 + Bonuses (Best Deal!)
If you're interested in both plans, we're talking a value of over $200 for just $37! You'll receive scrumptious meal plan eBooks + amazing digital bonuses: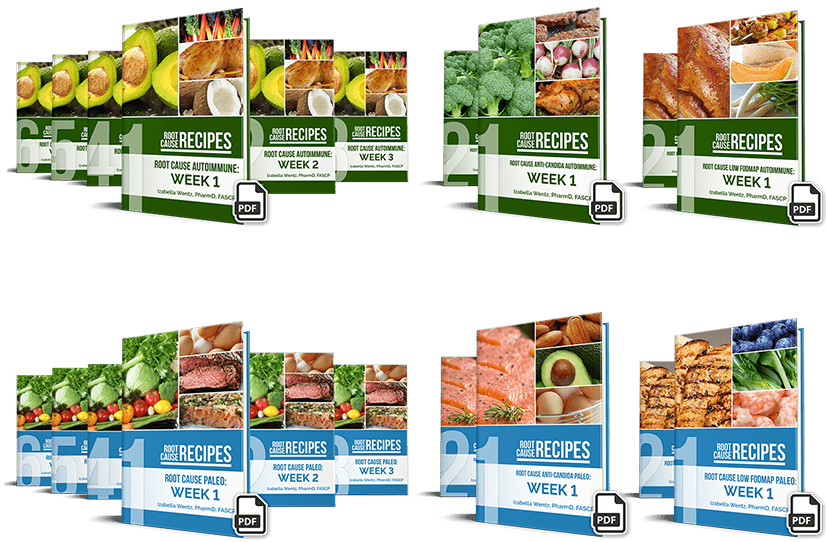 500+ recipes from the Root Cause Paleo and AIP diets to alleviate stress surrounding meal planning.
Thyroid Bundle Cookbook– It's full of additional, easy recipes to save time and energy.
Hacking Diet Guide– You'll love these tips and tricks that are helpful, useful and fun!
Blood Sugar Assessment– Find out where your sugar levels stand (and get those adrenals working properly!)
Dietary Trigger Assessment– Discover potential triggers that could be life changing.
Video #1: Paleo Nut Free/Grain Free Pizza Cooking Tutorial that'll have you craving this special treat.
Video #2: Top Hashimoto's Food Myths Explained– I debunk the myths behind the madness and try to ease some of the mystery surrounding autoimmune conditions.
Video #3: Healing Hashimoto's Beyond Diet– There's healing beyond the diet, so I'll share useful tools for your healing process
Video #4: Hacking the Kitchen and Cooking– This is a video you can't afford to miss. It's time to start enjoying food.
PLUS $10 off Rootcology– I'll send you a code for $10 to spend at my Rootcology supplement store!
Order Root Cause Bundle Plan

---
What Others Have to Say About Root Cause Recipes
These recipe e-books have been very helpful in implementing the Root Cause Paleo Diet. There are lots of recipe ideas on the internet but many don't taste good. All of the recipes I have made so far have been delicious!" – Jillian
The support offered helps in getting started with the recipes. Once you get started it becomes easier and easier to find ways to satisfy your cravings without straying from the diet. Then something magical happens: you actually begin to LOVE the food you're eating, and look forward to meals! – Arden G.
As I was completing the 90 Hashimoto's Protocol I was petrified on how to meal plan on an everyday basis. I researched all cookbooks related to Thyroid conditions and Dr Wentz's ebook far exceeded the rest, no surprise as her Root Cause concept worked for well for me. It made sense to stay to stay with the best!!! THIS RECIPE BOOK & HASHIMOTO'S PROTOCOL SAVED MY LIFE…ITS THAT SIMPLE…YOU OWE TO YOURSELVES TO TRY THIS NEW KEY TO A HEALTHY LIFE…… – Beverly P.
When I was first diagnosed with Hashimoto's, my antibodies were 1300. Eliminating gluten and dairy, and changing other elements of my diet, dropped my antibodies by nearly 1000 within months." -Irene K.
Easy to use, a variety of tasty meals to help in my busy lifestyle – Love to keep it simple for a healthy mind, body and spirit! But the most significant is I feel better and have more energy 💞" – Margo P.
Root cause recipes set me up to succeed. I love to cook and when diagnosed with Hashimotos, I had to learn a new food language! It was very overwhelming, especially adjusting to the food eliminations. I love this book because it gave me the tools I needed to successfully meal plan and grocery shop from the beginning! Thank you for all your help during my health journey. I enjoyed having access to it wherever i am. I print off my favorite and have them at the house but when I'm out and about and end up coming dinner somewhere else, i like having access to the book anywhere." – Jackie
14-Day Guarantee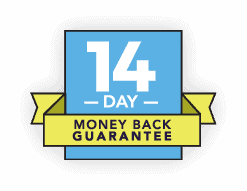 I really believe you'll love and benefit from The Root Cause Recipes, but I know they're not a fit for everyone. I have a 14-day, no questions asked, money back guarantee if you're not completely satisfied. But I encourage you to give the meal plans a shot.
It could change your life like it did mine.
"Each meal is a new beginning, an opportunity to heal your body and change your life."
Frequently Asked Questions
How do I access the content?
Once you purchase your meal plan, we'll send you an email with one eBook PDF per week. You'll be able to download all 10 or 20 eBooks (depending on your plan) through your login on our site at any time. You'll also be able to download each PDF individually or all 10 or 20 eBooks (depending on your plan) together as a zip file.
Do the meal plans follow the Elimination diet guidelines?
The Root Cause Autoimmune plan is compliant with the strictest phase of the Elimination diet and is free from grains, beans, legumes, dairy, eggs, nuts, seeds, and nightshade vegetables.
What's the difference between Root Cause Paleo and Root Cause Autoimmune Paleo?
Root Cause Paleo — eliminates dairy, grains, legumes (except green beans and pea protein), sugar, seaweed, and caffeine. It includes all meats, all vegetables, all fruit, eggs, nuts, seeds, and nightshades (except cayenne pepper).
Root Cause Autoimmune — eliminates dairy, grains, eggs, legumes (except green beans), sugar, seaweed, caffeine, seeds, nuts, and nightshades. It includes all meats, fish, shellfish, vegetables, coconut, fruit, and olive oil.
How many people does this meal plan feed?
Each meal serves four people, and the shopping lists reflect the serving size for four people. If you need to add more, simply double the recipe and enjoy leftovers for lunch!
Are the meal plans compliant with Low-FODMAP?
We have a total of four meal plans that follow the Low-FODMAP approach. Two meals plans for Autoimmune Paleo and two meal plans for Paleo that are specifically Low-FODMAP.
Is this meal plan compliant with a Candida diet?
We have a total of four meal plans that follow the Candida diet. Two meals plans for Autoimmune Paleo and two meal plans for Paleo that are specifically tailored to overcoming Candida.
What if I'm allergic to coconut?
The good news is that not all of the Root Cause Recipes include the addition of coconut products, but several do include coconut oil, coconut milk and coconut flakes. These recipes can be made coconut free.
Here are some substitute suggestions:
Coconut oil substitute: Ghee, palm oil, duck fat, lard or tallow
Coconut milk substitute: Nut milk
Coconut flakes substitute: Dried nuts
Do the plans contain goitrogens?
Yes, but I have more good news! You've probably heard that you should avoid goitrogenic foods if you have a thyroid condition. But this is only partially true, as not all goitrogens are the same.
All of the recipes in the Root Cause Recipe are free of canola and soy, the goitrogens that are potentially problematic to thyroid health. However, I do include health-promoting cruciferous vegetables in liberal amounts because they are NOT known to trigger autoimmune thyroid disease. For further information on the goitrogen myth, you can click on this article.
Are the plans vegan and vegetarian-friendly?
I've tailored the recipes so that they include nutrient dense foods like meats and vegetables and they are free of most of the common reactive foods for people with autoimmune conditions.
It can be challenging to recover from an autoimmune disease when following a vegetarian diet because the diet often consists of heavy carbohydrate intake and includes many sources of protein that are highly reactive for individuals with autoimmune disease. Sources of protein such as legumes (beans), dairy, grains, soy and some seeds may be incompatible while trying to heal a leaky gut, which is almost always present with most autoimmune conditions. Eggs, some seeds, and nuts would be the preferred sources of protein for vegetarians, but some people with an autoimmune condition may be intolerant to those as well, especially in the early stages of a healing diet.
Being a vegan is even more challenging, as nuts and seeds would be the go-to source of protein, which is usually too difficult to digest for many at the beginning of their healing journeys.
While meats and fats are important for healing, eating them exclusively will produce an acidic environment in the body, which hinders healing. Balance in the diet is essential with plenty of nutrient rich vegetables (suggested ratio may be 20% meat/ 80% veggie).
Please know that I'm a big proponent of bio-individuality which honors the distinct nutritional needs of every human being. I'm not saying everybody needs to eat meat, but I am saying to listen to your body if it needs meat.
What are the system requirements to access the eBooks?
All you need is a stable internet connection to download the eBooks. Once it's on your computer, tablet or smartphone, you will always have access as long as you have battery life.
How long will I have access to the portal and eBooks?
You will have access to the Root Cause Recipes portal for an entire year. You will also have the option to download and save the recipe eBooks to your device, so you can access them at any time.
Can I print the meal plans?
Most definitely and I highly encourage it. The eBooks come with grocery lists that will be helpful at the store. There are 10 meal plans in each eBook.
I can't open my eBook?
The eBook will arrive in PDF form so you can easily open it through Adobe. Make sure you're using the newest version of Adobe. You can download a free copy at adobe.com.
Once you have downloaded Adobe, save the PDF to your computer. Then open your Adobe Reader and the PDF by choosing "File" and "Open" from the drop-down menu on the top left and select the menu file you saved to your computer. This will bypass your default PDF reader and allow you to see the PDF.
Can I read the eBooks on my smartphone or tablet?
Yes, the Meal Plans are mobile friendly, and you can easily read it on your Android or iOS device.
How do I download on my iPad?
To view your PDF on your iPad, you must make sure you have Adobe Reader installed. You can get the Adobe Reader for free in the App Store. You will only be able to view your PDF in Adobe.
Once installed, all you need to do is open the email containing the box that says PDF. Click and hold the box that says PDF- a small window will open up that gives you a few options. Choose the option that says "open in" and then you will need to choose Adobe Reader. It will automatically save to your Adobe Reader documents on your iPad.
To read your PDF (after it's saved in Adobe), just go into your Adobe and click on Documents at the top of the screen. When you are home and are ready to email it back to yourself to save on your home computer, all you have to do is open the document on your iPad and click on the little box in the upper right-hand corner of your screen. Your option to email the document will be right there.
Need tech support?
If you need further assistance, we're happy to help. Simply email the team at info@thyroidpharmacist.com. We're available Monday – Friday, 10am – 6pm ET, and we'll respond within 24 business hours. Just remember, we won't be able to answer any medical or health related questions, so please keep all questions to tech inquiries only.
Disclaimer:
This is a digital product only. All content is delivered via online portal.These statements have not been evaluated by the Food & Drug Administration. This product is not intended to diagnose, treat, cure, or prevent any disease. The information contained herein is for informational purposes only and should not be construed as medical advice. Please consult your physician for any health problems and before making any medical or lifestyle changes.
Lifestyle changes can result in improved thyroid function and/or an increased absorption of thyroid hormone medications, leading to a lower required dose and possible symptoms of hyperthyroidism at a dose that was previously stable. Please discuss lifestyle changes with your physician and ensure that your thyroid function is monitored every 6-8 weeks while making lifestyle changes. Symptoms of overmedication include, but are not limited to: rapid or irregular heartbeat, nervousness, irritability or mood swings, muscle weakness or tremors, diarrhea, menstrual irregularities, hair loss, weight loss, insomnia, chest pain, and excessive sweating. Do not start, change, increase, decrease or discontinue your medications without consulting with your physician.