Preliminary research has tied oxalate build-up to thyroid disease, and while I've never had a problem with oxalates (knock on wood), other thyroid patients have reported oxalate issues.
While oxalate build-up has been predominantly tied to kidney stone formation, a study of thyroid autopsies found that 79% of adults were found to have oxalate crystals in their thyroid glands, with prevalence increasing with age.
Interestingly, people with Hashimoto's had a lower incidence of oxalate crystals, especially in the parts of their thyroid gland that were inflamed! This led the scientists to conclude that oxalates may play a role in contributing to Hashimoto's, potentially causing inflammation that may trigger the autoimmune response that results in the destruction of the oxalate crystals and the surrounding thyroid tissue. In some cases, giant cell reactions were found around the crystals, suggesting an ongoing immune response.1
A 2000 case report featured 4 people with a rare genetic disorder that resulted in oxalate build-up who developed hypothyroidism and highlighted the role of oxalates in causing damage to the thyroid gland, and, thus, hypothyroidism.2
To complicate things further, a 2006 study reported that a person developed excess oxalates due to hypothyroidism that was induced by amiodarone (one of the most thyroid toxic drugs)!3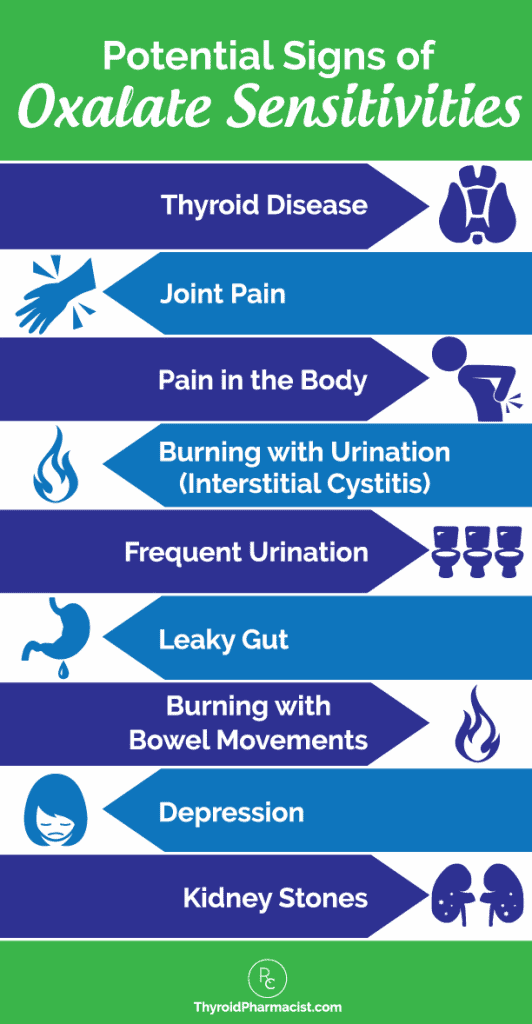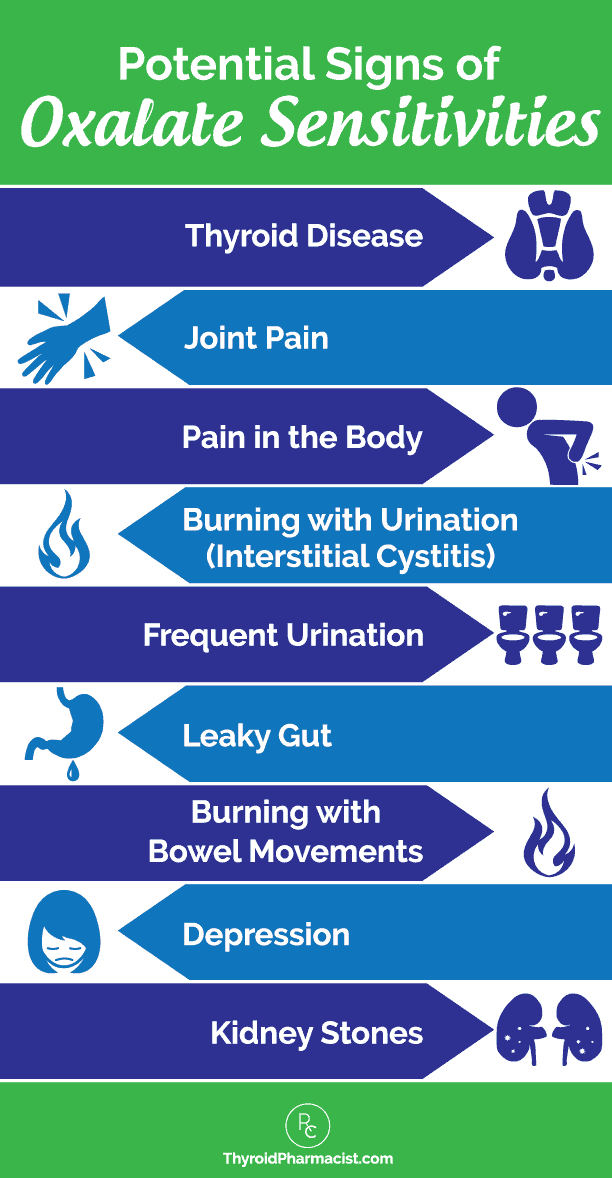 Oxalate sensitivity should be suspected if you have any of the following symptoms (in addition to a thyroid condition like Hashimoto's or Graves'):
joint pain
pain in the body
burning with urination (interstitial cystitis)
burning with bowel movements
leaky gut
depression
kidney stones
Additionally, a study even tied excess oxalate build-up to breast cancer!4
So What Are Oxalates?
Oxalate is a substance that is found in some foods and is also a waste product made by our bodies and excreted through our kidneys. While a standard diet takes in about 250 mg of oxalates, when eating a low oxalate diet, consuming under 100 mg is recommended, but under 50 mg is ideal, unless your doctor suggests otherwise.
Oxalates form salts in the body by combining with calcium, after we consume plants that have a high oxalate content (such as dark leafy greens). When our body can't process the calcium-oxalate compounds, they crystallize and lodge in our organs, causing inflammation and/or can turn into painful kidney stones.
Oxalates in Food
The top ten foods with the highest oxalate content per serving include
Spinach
Rhubarb
Rice bran
Buckwheat
Almonds
Miso soup
Wheat berries
Corn
Potato
Navy beans
The other foods that are commonly eaten on a Paleo diet that have oxalate content above 50 mg per serving include baked potatoes, beets, cocoa powder, and okra. Raspberries come in close, at 48 mg per serving!
There are some foods that have an ultra high oxalate content. However, we use them sparingly (like black pepper). These foods are usually not as much of a concern unless you are using more than 1 tsp at a time (that's a lot of pepper!).
Testing for Oxalate Build-Up
The Organix Dysbiosis Marker test kit from Genova and Great Plains Labs can detect oxalate issues (you can self-order this test or get it from your functional practitioner).5
In people that don't properly break them down, oxalates can cause kidney stones! If a person is passing kidney stones, the stones can be tested to see if they contain calcium oxalate. If this test is positive, a low oxalate diet should be followed to help prevent the formation of more kidney stones.7
I think the least expensive and most effective test (especially if you're having symptoms) is a trial of the low oxalate diet.
Low Oxalate Diet
While it would be best to limit all foods that contain oxalates, it's not ideal or realistic to stop them all at once. It's also not going to make a person feel well. Once you stop eating the oxalates, your body is going to detox, and you may go through a period of "oxalate dumping," where too many oxalates try to leave your body all at once and cause unpleasant symptoms.
Start by eating moderate oxalate foods for one week (reduce your intake to less than 100 mg of oxalates per day). Let the body adjust, and then go to low oxalate foods (less than 50 mg of oxalates per day). When a higher oxalate food is consumed, it should be rotated, to avoid over-concentration of oxalates and sensitivity to that food.
Once a person feels better, it's easy to slowly let high oxalate foods creep back in. These foods should always be rotated. If symptoms return, it's important to reduce oxalate intake immediately, to avoid possible stone formation.
Here Is an Overview of High, Medium, and Low Oxalate Foods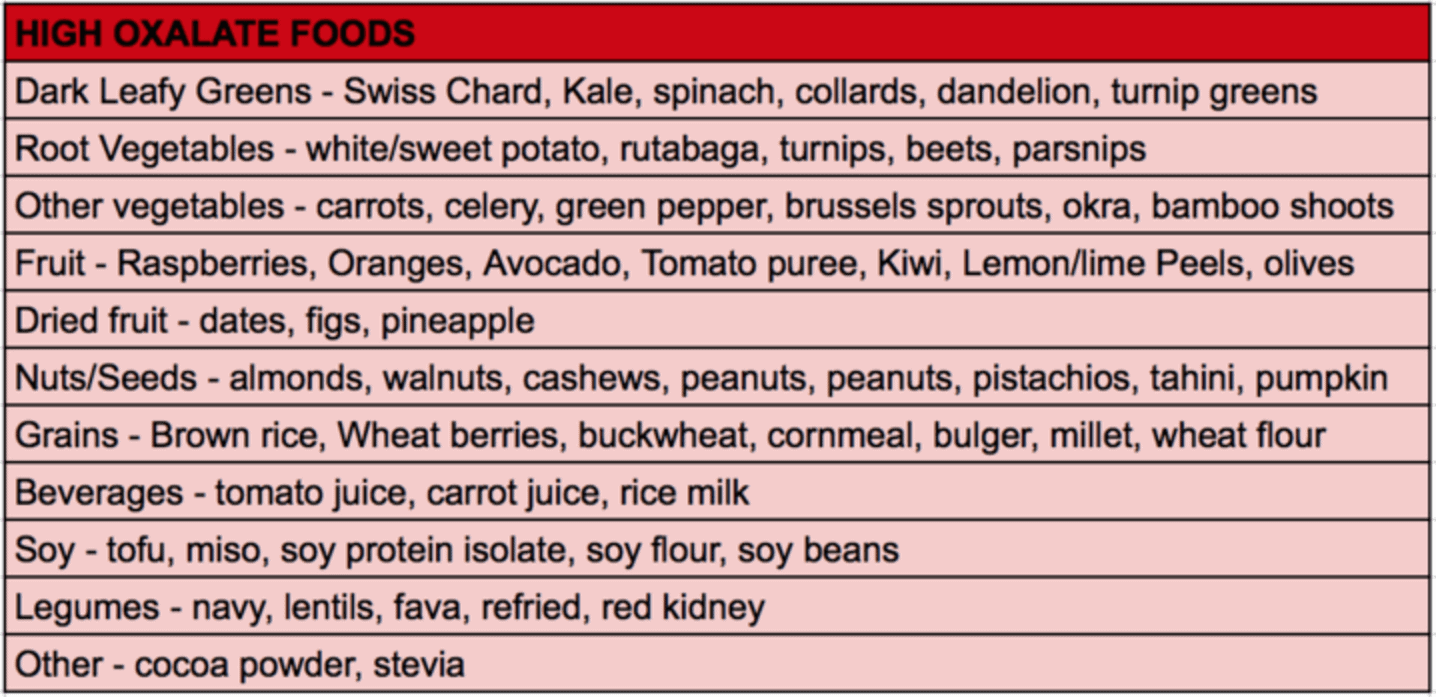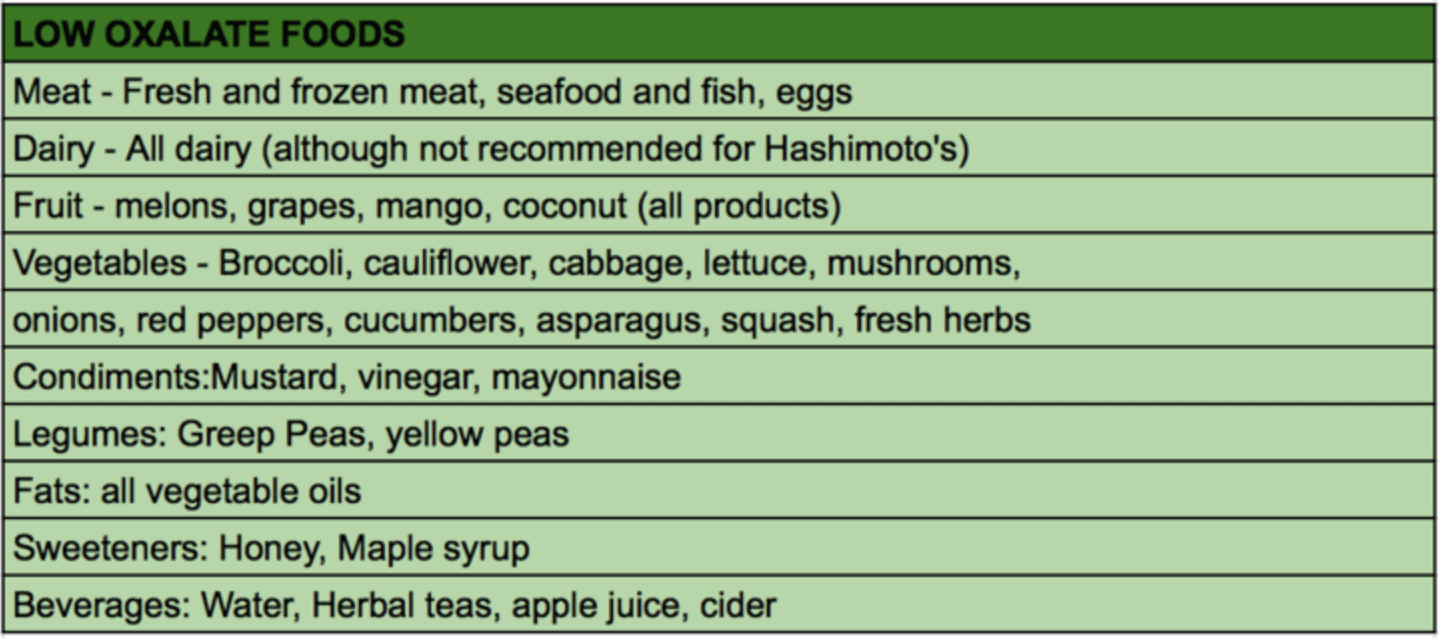 Here is a great list by Jill Harris and Fred Coe that you can follow: Oxalate Content by Food Type
Other Ways to Help Support a Low Oxalate Diet
Drink plenty of fluids, mainly water, as this will help prevent kidney stones. Water will help dilute the substances found in urine and therefore will help prevent stones. Adding a few slices of lemon to your water will not only flavor it but will also help stop the formation of stones.8
Reduce your sodium intake to 2-3 mg per day. By reducing sodium, you reduce the chance of forming stones. When we consume too much sodium, the kidneys begin to excrete excess calcium from the urine; then the calcium combines with oxalates and stones form. Processed foods have high amounts of sodium and should also be avoided.8
If you have oxalate sensitivity, you may be at greater risk for kidney stones. Excess protein in the diet can also contribute to kidney stone formation. Serving sizes of 4-6 ounces (or the size of your palm) of animal proteins, 3 times per day, is ideal. Excess amounts of animal protein can create more uric acid in the body which can lead to kidney stone formation. Excess animal protein also lowers the levels of citrate in the blood, and citrate blocks stone formation (as mentioned above regarding lemon in your water).8
Root Causes of Oxalate Sensitivity
Potential root causes of oxalate sensitivity are due to improper breakdown of oxalates in the body, which can be caused by various factors, such as: a rare genetic disorder, any issues that affect the small intestine such as small intestinal bacterial overgrowth (SIBO), gastric surgery, Crohn's disease, or short bowel syndrome, and dysbiosis, which can result from past antibiotic use.
People with a low intake of calcium (such as those following a dairy-free diet, which is otherwise beneficial in Hashimoto's) may find that oxalate issues are exacerbated. This is because calcium in our foods can reduce our absorption of oxalates.
I recommend screening for SIBO, as this is present in 50% of people with hypothyroidism anyway, and addressing dysbiosis is a necessary part of your plan to overcome oxalate sensitivity.
A deficiency in the probiotic bacteria Oxalobacter formigenes has specifically been connected with oxalate sensitivity. Oxalobacter formigenes has an enzyme known as "oxalyl-CoA decarboxylase" that breaks down oxalates.9
The use of erythromycin and azithromycin (the popular "Z-pack") in the last five years was especially likely to cause depletion of this bacteria. A 2011 study found that while 59% of people in the general population had a measurable level of Oxalobacter formigenes on stool tests, only 18% of past azithromycin users and 26% of past erythromycin users had this bacteria in their stools. In contrast, about 40% of Amoxicillin users had the beneficial bacteria on stool tests.10
Studies have shown that supplementing with the probiotic or the enzyme from Oxalobacter formigenes can help break down oxalates!11
The only problem is that this probiotic and enzyme are only available as orphan drugs, meaning they are drugs used for rare conditions and difficult to obtain. More info on that below…
While O. formigenes has the most studies behind it with respect to breaking down oxalates (read, it's the only substance that can be patented for profit), lactic acid probiotics, Bifidobacterium lactis, Enterococcus faecali and Eubacterium lentum also contain oxalyl-CoA decarboxylase and may help with breaking down oxalates.12
I've rarely seen oxalate issues in my clients – we find that most of them see a big reduction in pain once they start on the recommended protocols, including my favorite probiotics, digestive enzymes, and vitamins that I have recommended in previous blog-posts and in my book.
However, I've recently had a few friends who were experiencing oxalate issues, so I wanted to get to the root cause of this.
In researching this article, I was pleased to see that the probiotics and supplements I most commonly recommend can help with oxalate issues!
Conjugated Bile Acids (CBA)/Ox Bile
In addition to probiotics, conjugated bile acids (CBA) can also help to clear out oxalates by preventing their reabsorption in the body. A megadose of 9 grams per day of natural conjugated bile acids was used in people with short bowel syndrome, who are known to hyper-reabsorb oxalates due to the structural bowel changes present with the disorder.
Within 3 months, their oxalate levels measured normal using CBA.
People without SBS are not necessarily reabsorbing oxalates at a higher rate than normal but will likely benefit from reduced reabsorption. A smaller dose of conjugated bile acids, which are found in supplements as "ox bile" may help reduce the overall oxalate load in the body when used in conjunction with other interventions. I like the ox bile containing product LVGB from Designs for Health.14
Nutrients
Calcium can block the absorption of oxalates, and people with a low dietary intake of calcium are more likely to be oxalate sensitive. (Please note that while dairy is rich in calcium, and although oxalates are not present in dairy, it is best to avoid dairy with Hashimoto's).
In theory, taking calcium supplements with meals may help with binding up oxalates in the gut and preventing their absorption and concentration in the rest of the body, including the kidneys which lead to oxalate crystals. According to a 2006 research article, "The preferred calcium supplement for people at risk of stone formation is calcium citrate because it helps to increase urinary citrate excretion. We recommend a dose of 200–400 mg if dietary calcium cannot be increased."15
B6 deficiency has been associated with oxalate issues. Taking a B6 supplement of greater than 40 mg per day resulted in the lowest risk of kidney stones (which are caused by oxalate crystals).16
I like the B6 complex from Pure Encapsulations.
Some sources say to restrict vitamin C with oxalate sensitivity. However, a 1999 study did not find that vitamin C intake was related to kidney stone formation, a known consequence of oxalate sensitivity.16
If you are having any of the common oxalate symptoms, you may benefit from a 3-week trial of a low oxalate diet as described above + supplementing with calcium and B6 vitamins + probiotics + conjugated bile acids. Oxabact and Oxazyme have both been clinically tested to significantly reduce oxalates by directly providing the probiotics O.
Oxabact and Oxazyme have both been clinically tested to significantly reduce oxalates by directly providing the probiotics O. formigenes (Oxabact) and by providing the enzyme that breaks down oxalates (Oxazyme). At this time, the products are only available through clinical trials.Please note that while the probiotic and enzyme are technically supplements, they are currently classified as "orphan drugs".
Please note that while the probiotic and enzyme are technically supplements, they are currently classified as "orphan drugs"17 by the FDA, meaning that they are indicated for rare conditions and not widely available. Your doctor will have to work with a pharmacy that specializes in orphan drugs. Your doctor will have to follow a special ordering procedure, and these may not be covered by insurance.
Has oxalate sensitivity been an "aha" moment in your journey? What has helped?
Dietary Guides & Resources
NORD – National Organization for Rare Disorders
University of Michigan Health System. Low Oxalate Diet Guidelines for Kidney Stone Formers. The University of Michigan. 2016.
Harris J, Coe F. How To Eat A Low Oxalate Diet: Kidney Stone Evaluation and Treatment Program. The University of Chicago. 2016.
UPMC Nutrition Services. Low Oxalate Diet. UPMC.com. 2016.
University of Pittsburgh Medical Center. Low Oxalate Diet. PKDiet. 2016.
References
Reid J, Choi C, Oldroyd N. Calcium Oxalate Crystals in the Thyroid: Their Identification, Prevalence, Origin, and Possible Significance. American Journal of Clinical Pathology. 1987;87(4):443-454. doi:10.1093/ajcp/87.4.443.
Frishberg Y, Feinstein S, Rinat C, Drukker A. Hypothyroidism in primary hyperoxaluria type 1. The Journal of Pediatrics. 2000;136(2):255-257. doi:10.1016/s0022-3476(00)70112-0.
Tintillier M, Pochet J, Cosyns J, Delgrange E, Donckier J. Late-onset primary hyperoxaluria triggered by hypothyroidism and presenting as rapidly progressive renal failure – description of a new mutation. Clinical Nephrology. 2004;62(08):155-157. doi:10.5414/cnp62155.
Castellaro A, Tonda A, Cejas H et al. Oxalate induces breast cancer. BMC Cancer. 2015;15(1). doi:10.1186/s12885-015-1747-2.
Shaw W. OXALATES CONTROL IS A MAJOR NEW FACTOR IN AUTISM THERAPY. The Great Plains Laboratory, Inc. 2015. Available at: https://www.greatplainslaboratory.com/articles-1/2015/11/13/oxalates-control-is-a-major-new-factor-in-autism-therapy. Accessed September 7, 2017.
Hoppe B. Diagnostic and therapeutic approaches in patients with secondary hyperoxaluria. Frontiers in Bioscience. 2003;8(5):e437-443. doi:10.2741/1135.
Cleveland Clinic. Kidney Stones: Oxalate-Controlled Diet | Cleveland Clinic. Cleveland Clinic. 2015. Available at: https://my.clevelandclinic.org/health/articles/kidney-stones-oxalate-controlled-diet. Accessed September 7, 2017.
Pendick D. 5 steps for preventing kidney stones – Harvard Health Blog. Harvard Health Blog. 2013. Available at: https://www.health.harvard.edu/blog/5-steps-for-preventing-kidney-stones-201310046721. Accessed September 7, 2017.
Hoppe B, von Unruh G, Laube N, Hesse A, Sidhu H. Oxalate degrading bacteria: new treatment option for patients with primary and secondary hyperoxaluria?. Urological Research. 2005;33(5):372-375. doi:10.1007/s00240-005-0497-z.
Kelly J, Curhan G, Cave D, Anderson T, Kaufman D. Factors Related to Colonization with Oxalobacter formigenesin U.S. Adults. Journal of Endourology. 2011;25(4):673-679. doi:10.1089/end.2010.0462.
Sidhu H, Schmidt M, Cornelius J. Direct correlation between hyperoxaluria/oxalate stone disease and the absence of the gastrointestinal tract-dwelling bacterium Oxalobacter formigenes: possible prevention by gut recolonization or enzyme replacement therapy. J Am Soc Nephrol. 1999;10(Suppl 14): S334-40.
Plotner B. Options With Oxalate Intolerances – Nourishing Plot. Nourishing Plot. 2015. Available at: http://www.nourishingplot.com/2015/03/07/options-with-oxylate-intolerances/. Accessed September 7, 2017.
Okombo J, Liebman M. Probiotic-induced reduction of gastrointestinal oxalate absorption in healthy subjects. Urological Research. 2010;38(3):169-178. doi:10.1007/s00240-010-0262-9.
Emmett M, Guirl M, Santa Ana C, et al. Conjugated bile acid replacement therapy reduces urinary oxalate excretion in short bowel syndrome. Am J Kidney Dis. 2003;41(1):230-237. doi:10.1053/ajkd.2003.50012.
 Finkielstein V. Strategies for preventing calcium oxalate stones. Canadian Medical Association Journal. 2006;174(10):1407-1409. doi:10.1503/cmaj.051517.
Curhan G, Willett W, Speizer F, Stampfer M. Intake of vitamins B6 and C and the risk of kidney stones in women. J Am Soc Nephrol. 1999;10(4):840-5.
Health Resources and Services Administration. Orphan Drug Designations And Approvals List.; 2016. Available at: https://www.hrsa.gov/opa/programrequirements/orphandrugexclusion/orphandruglist072016.pdf. Accessed September 7, 2017.
Yakowicz W. How a College Professor Built a $42 Million Pharmacy for Rare Disease Drugs. Inccom. 2016. Available at: http://www.inc.com/will-yakowicz/inc-5000-2016-pantherx-specialty-pharmacy.html. Accessed September 7, 2017.