In my early days of learning to live with Hashimoto's and making changes to my diet, I hit a particular challenge when it came to figuring out what I was going to eat for breakfast.
Before I realized that dairy was causing me to have severe reflux, I would make a smoothie every morning, filled with whey protein and Greek yogurt. However, within three days of cutting out dairy and gluten, my acid reflux, bloating and irritable bowel syndrome vanished!
It was incredible! This was right before I started a new job and had some time to really work on my diet. During the first few weeks of my job, I also had in-home training. I made variations of eggs for breakfast each morning, and homemade salads with veggies and meat, during the day. I felt great. But then my job training finished, and I had to spend most of my time on the road driving all around Chicagoland… (I had just started a job in pharmaceutical sales.)
I didn't have time to make eggs, and I wasn't quite sure what to eat for breakfast (or for snacks), so I began eating gluten-free junk food (soy, rice, and corn-based-cereal products with rice milk)… gluten-free and dairy-free, right? While the reflux was gone for good, I quickly found myself "hangry" (hungry + angry) all the time, due to blood sugar swings caused by the lack of protein and all of the carbs! Once, I even almost fainted during a ride-along with my new boss (I think I had reactive hypoglycemia from all of the carbs!).
Furthermore, I hadn't realized that soy is actually a common food sensitivity that can lead to an increase in thyroid antibodies. Though I initially felt better off dairy and gluten when I was eating eggs, my symptoms came back (and my thyroid antibodies more than doubled!) from the blood sugar swings and the soy.
It wasn't until a few months later that I started thinking back on the breakfast smoothies I used to make. I wondered if I could use the information I had learned about the effects of proteins, fats, and carbohydrates on blood sugar (in a certification course for pharmacists in Advanced Diabetes Care I was taking) to make my morning meal a more Hashimoto's-friendly one…
Read on to learn:
Why you should start your day with a smoothie
How a green smoothie can benefit your thyroid
My favorite smoothie recipe
How to customize your own smoothie
Why You Should Start Your Day with a Smoothie
Proper nutrition can make a huge difference in how a person with Hashimoto's feels.
Most of my clients with Hashimoto's present with food sensitivities, poor digestion, and blood sugar abnormalities, which can perpetuate thyroid autoimmunity, as well as cause many unpleasant symptoms. These can include anxiety (especially due to gluten sensitivities and blood sugar issues), fatigue, and breakouts (often related to dairy, nuts, or eggs).
Additionally, food sensitivities can lead to gut inflammation, which may prevent us from properly absorbing nutrients from our food. This puts the body in a "conserve" and "hold onto resources" mode, leading to weight gain or weight loss resistance.
Food pharmacology, or using food as medicine, has become foundational in my approach to healing with Hashimoto's. Since breakfast is the first time we put food into our bodies each day, it only makes sense that we pay particular attention to what we eat, when we start our day.
While many people may be tempted to skip breakfast, due to busy schedules or weight loss strategies (such as intermittent fasting), I don't recommend this for most people with Hashimoto's.
I believe that thyroid issues often develop as an adaptive mechanism to us not feeling safe in our environment. A scarcity of food (along with overexercising, nutrient deficiencies, stress, etc.) can send signals to our body that our environment is not safe. The body responds by slowing down our metabolism in order to conserve energy and resources, eventually leading to autoimmune thyroid disease.
Therefore, it's important to create a sense of safety for our bodies, and one way we can do that is by eating meals on a regular basis so that it knows that food is not scarce, and that it doesn't need to downregulate the metabolism to compensate.
Another reason it's important to begin the day with a nutritious breakfast is to maintain blood sugar balance. Many people with Hashimoto's experience blood sugar irregularities, which create stress in the body and can lead to increased thyroid antibodies, adrenal fatigue, and even diabetes. Eating on a regular basis throughout the day, with a focus on fats and proteins, helps us maintain consistent blood sugar levels and avoid the high and low swings that come from skipping meals and eating carbohydrate-rich foods.
So, now that we've established the importance of starting the day with a good breakfast, which breakfast is best?
What Makes a Smoothie Thyroid-Friendly?
Looking back at my days of starting the morning with a dairy-laden smoothie, I realized that, while my dairy-based smoothie was horrible for my acid reflux, it did a good job of stabilizing my blood sugar, due to the protein and fat content. In contrast, the carb-rich rice/corn cereals and rice milk I had experimented with, sent me on a blood sugar roller coaster.
Fats slowly raise blood sugar and keep it stable for up to 4 hours; proteins cause it to rise a little faster, and keep blood sugar stable for 2-3 hours. Carbohydrates, on the other hand, raise our blood sugar quickly, and one can see a decline in blood sugar in as little as 30-60 minutes (assuming the same amount of each eaten) after eating carbohydrates.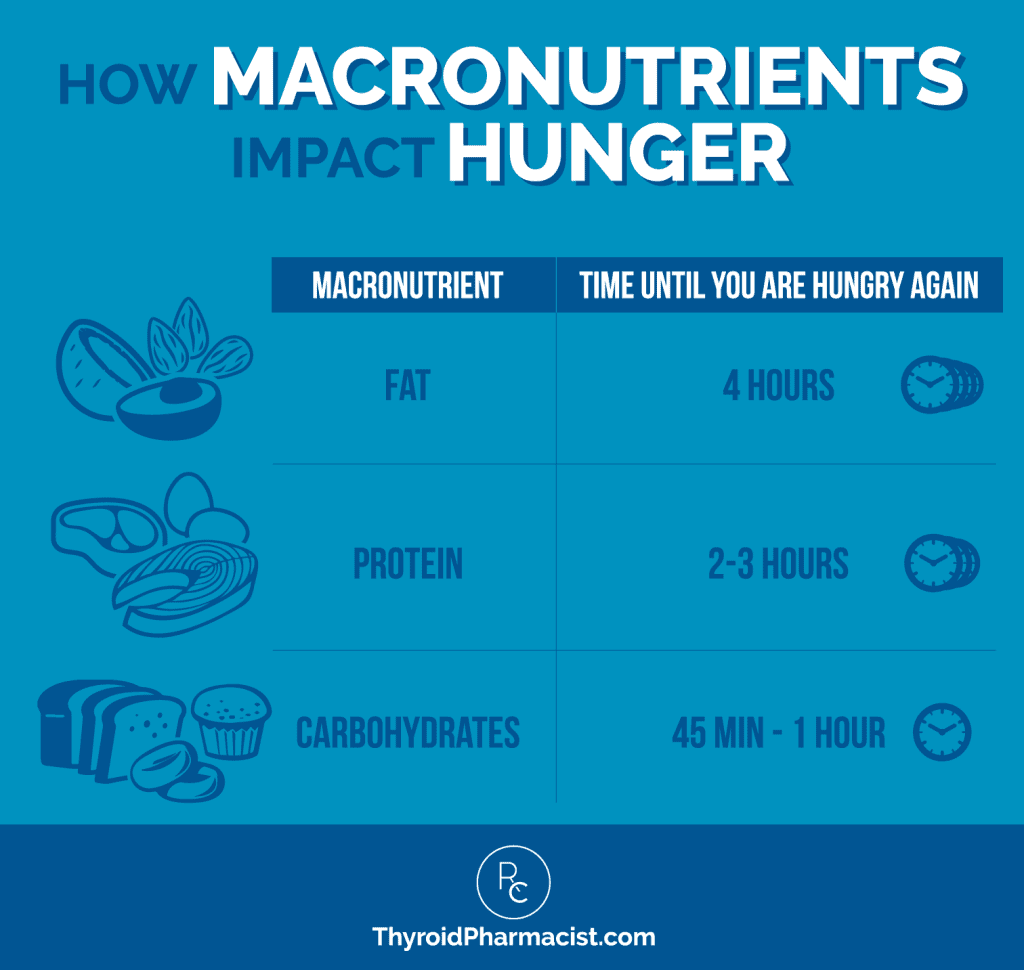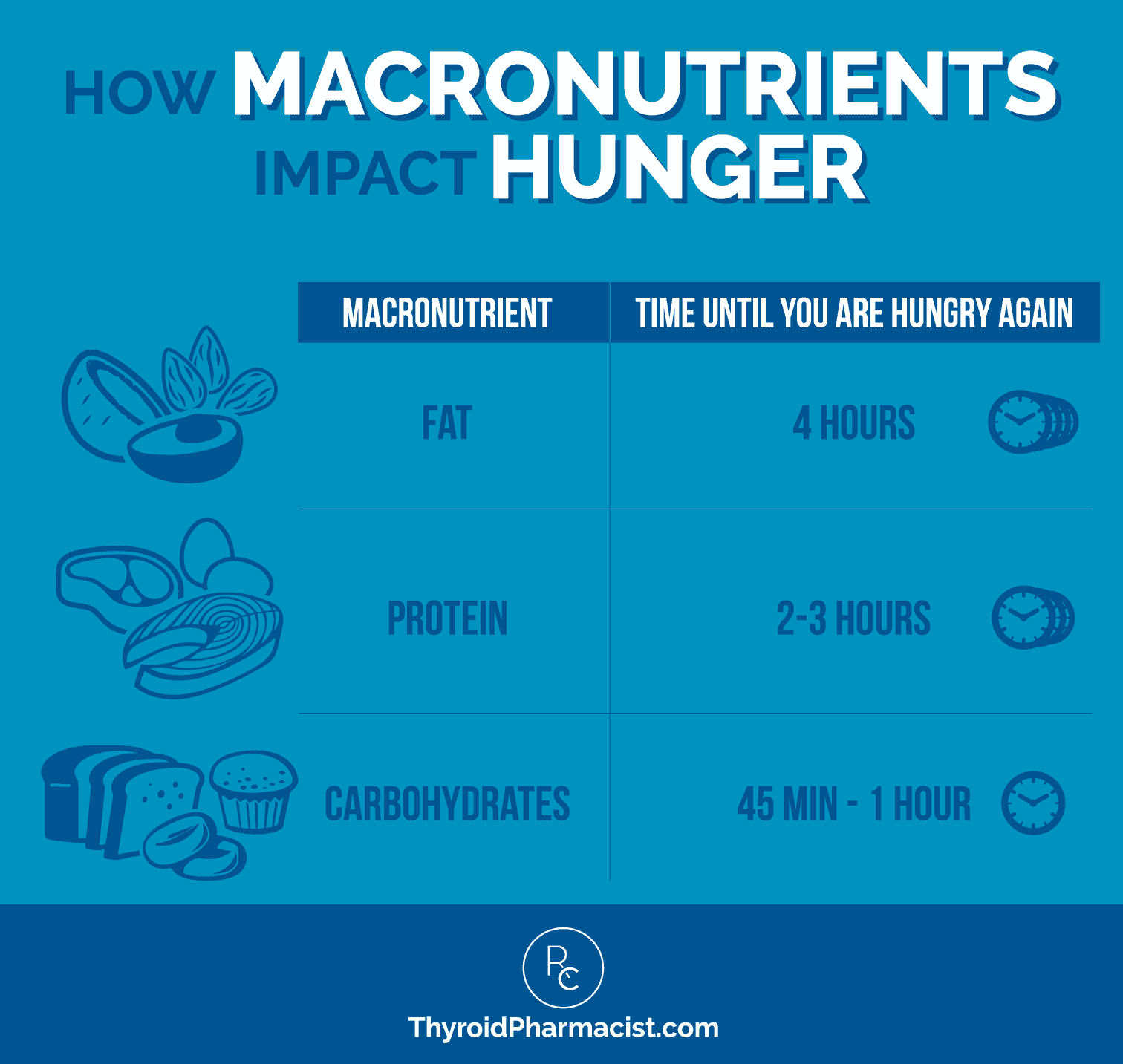 With this in mind, I set out to create a smoothie that would be energizing, filling, packed with nutrition, and also beneficial for my thyroid.
Let's take a look at the components of a smoothie that I consider to be essential for thyroid health.
Healthy Fats
Although we're finally coming out of the decades we spent fearing fat, there's still a lingering mindset that keeps us from eating enough of this energy-rich macronutrient. I encourage you not to fear fat; it's essential for brain function, healthy skin, shiny hair, and cell membrane formation.
Fat also helps keep us full, doesn't impact blood sugar, and gives us plenty of energy to start our day.
The important caveat is to choose fats from healthy sources, avoiding all trans fats and processed vegetable oils, such as soybean and canola. As dairy is problematic for most people with Hashimoto's, I also recommend avoiding any types of milk or yogurt from dairy.
I use coconut milk as a hypoallergenic source of fat in my smoothie, as it can help reduce inflammation and stabilize blood sugar due to its (good) fat content. Adding an avocado increases the fat/blood sugar stabilizing content, and gives the smoothie a "pudding" like consistency that I love. 🙂 Other healthy fat options include omega-3s from chia seeds, flax, or fish oil. (Quality brands, like Nordic Naturals, don't taste fishy at all!)
Safe Protein
Adequate protein intake is crucial for those with Hashimoto's, because many of the essential and non-essential amino acids which make up protein, are required for thyroid function, gut repair, and immune function. Without these amino acids, our bodies can't perform their basic functions of keeping us alive, much less repair the damage from autoimmune disease. (Read my protein article for more information about the importance of protein for Hashimoto's.)
Additionally, getting enough protein is crucial for blood sugar balance, and animal protein also contains nutrients which are critical for healthy thyroid function. These include selenium, zinc, iron, and B12.
I searched far and wide for a protein I could tolerate. I tried egg-white protein, but I quickly ended up with an egg sensitivity, which showed up as cystic acne. Furthermore, my hair became more dull and my skin became more gray. 🙁 Eggs are a common reactive food for Hashimoto's, and I didn't realize at the time that egg whites contain a protein called avidin that may deplete biotin, an important vitamin for skin and nails. This was almost 10 years ago, and while some brands of egg white proteins don't contain avidin, I don't recall the product I used to see if it contained avidin.
I then began to experiment with rice protein, pea protein, and hemp protein. I didn't do well with rice protein, but did well with hemp and pea. These are two proteins that are well tolerated by many people with Hashimoto's. However, after my own remission and my venture into focusing on helping others with Hashimoto's, I wanted to find a protein that was truly hypoallergenic and compliant with the autoimmune protocol that some of my clients needed to follow.
After many years of searching, working with supplement companies and saving up, I created the first (to my knowledge) autoimmune protocol friendly protein in 2017…
Rootcology AI Paleo Protein contains hydrolyzed beef protein that is free of any fillers and is compliant with even the strictest autoimmune protocol. It's very tasty, too! Surprisingly, it doesn't taste like beef, rather, it has a slight milky taste — I personally love it. 😉
I also decided to include a vanilla flavor option for those that follow the Paleo diet and want some variety. Please note that it does contain stevia and some light additives. Some people do enjoy the extra flavoring and compare it to vanilla ice-cream!
Last, but not least, I have Rootcology Organic Pea Protein, which is made from organic peas, and is gluten free, dairy free and soy free, as well as vegetarian/vegan friendly. The carbohydrate component of the peas has been removed, leaving just the protein. It's considered to be hypoallergenic and well tolerated by many people with autoimmunity, though it's not considered to be compliant with the Autoimmune Paleo diet and is a "Paleo controversial food."
Cleansing Greens
Nutrient-rich greens, such as kale, spinach, and chard, are a wonderful source of chlorophyll, which has been shown to help support the process of detoxification in the liver, reduce inflammation and oxidative stress, raise iron levels, and even work as a natural deodorant by neutralizing odors. They're also a great source of fiber, which helps remove toxins and excess hormones from the digestive system. Additionally, green plant food is full of micronutrients that are critical for thyroid health, including potassium, magnesium, vitamin C, and B vitamins.
Including greens in your smoothie is a particularly good way to consume them if you are experiencing digestive difficulties. As the vegetables are chopped up in the blender, the food becomes easier to digest, and the nutrients are more readily absorbed.
Superfoods
The great thing about a smoothie is that it is completely customizable — meaning you can add in whatever foods your body needs that day. Once you have your protein, fat, and greens as a base, you can choose the superfoods that your body is craving.
For hormone stabilization, you might consider a tablespoon of maca root powder (as long as you are not sensitive to it). For increased omega-3 fatty acids, you could add flax or chia seeds. On days you need a little extra brain boost, add in some MCT or coconut oil. The possibilities are endless!
The "Root Cause Green Smoothie"
My favorite green smoothie is packed with nutrition for your thyroid, helps to reduce inflammation, and can help with detoxification. I start my day with this recipe every morning, and it has transformed my day! I now recommend beginning the day with a green smoothie to all of my clients, who have shared similar transformative results.
It combines a hypoallergenic protein source with fat (from coconut milk) and fiber (from veggies).
As the smoothie is blended into tiny particles, it is much easier to digest compared to a regular breakfast, for those of us who have digestive issues (always "chew" the smoothie anyway, to help activate your digestive process), making the nutrients more readily available. This in turn leaves us with more energy.
Sea salt (added to taste) can help with supporting the adrenals, which are often stressed in people with Hashimoto's. Sodium has gotten a bad rap in the medical industry. However, it is crucial for regulating fluids in the body. Salt nourishes the adrenals and provides the minerals, such as potassium and magnesium, that our body needs. I recommend using sea salt or pink Himalayan salt, as opposed to table salt or iodized salt.
Of the people with Hashimoto's that I surveyed, 69 percent who have tried the "Root Cause Green Smoothie" have said that it helps them feel less hungry, more relaxed, and calm. It also gives them plenty of energy.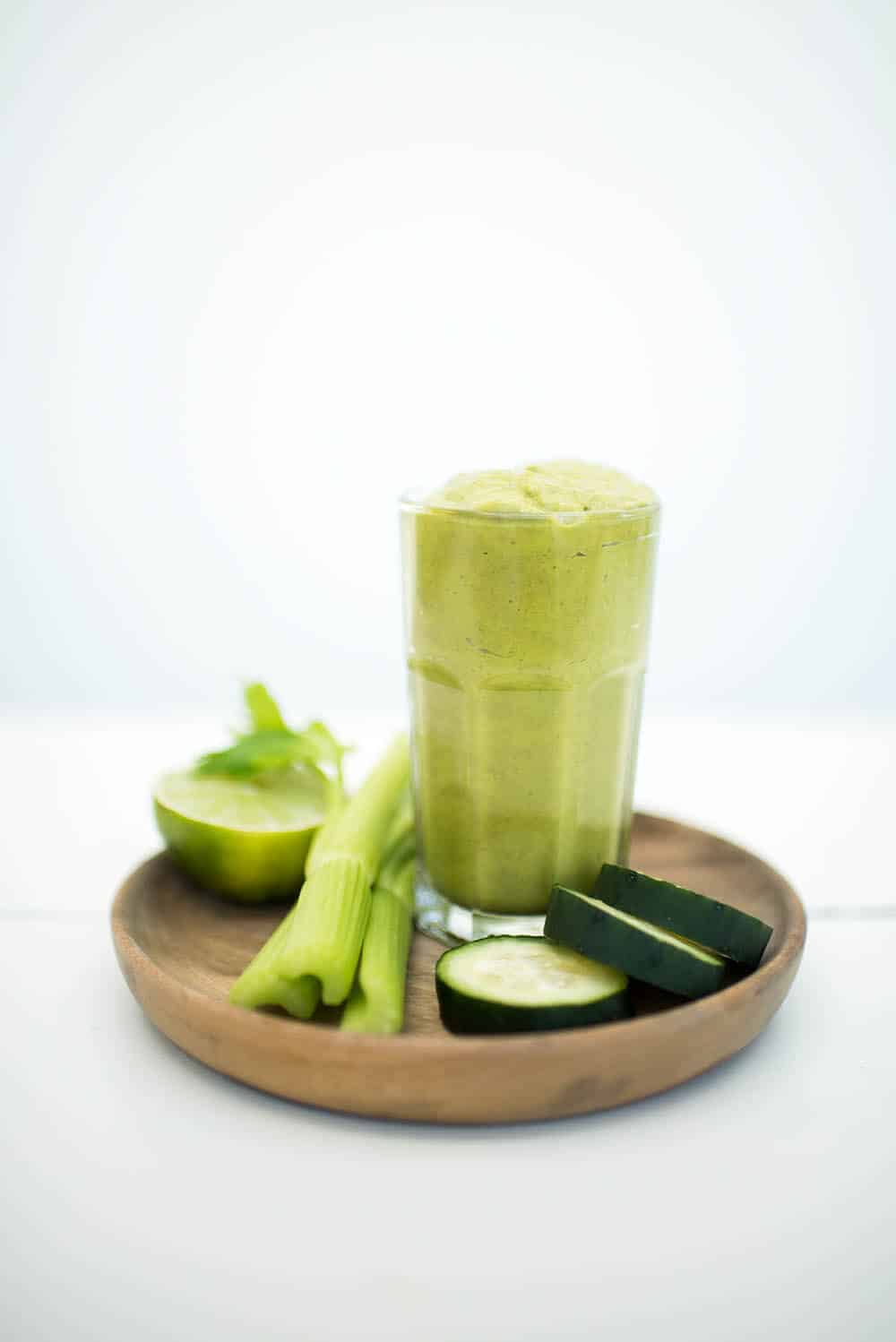 The Base Recipe
Ingredients
1 cup mixed baby greens
2 large carrots
1 ripe avocado
1 stick of celery
1 cucumber
1 bunch of basil leaves (optional)
1 cup coconut milk
All you need to do is blend the above ingredients in a Vitamix or other blender, and enjoy it as a low-glycemic breakfast, lunch, or snack!
Optional Boosts to Customize Your Smoothie
Have fun and build your own smoothie to suit your tastes and nutritional needs. Here are a few ideas you can incorporate:
For added fats:
Cod Liver Oil – This anti-inflammatory oil is a great source of both DHA and EPA (omega-3 fatty acids), along with vitamins A and D.
Chia seeds – Chia seeds are an excellent source of omega-3 fatty acids, antioxidants, fiber, iron, and calcium.
Flax seeds – I love flax seeds! They're full of a plant-based omega-3 fatty acid called alpha-linolenic acid (ALA), which has been tied to improved circulation and anti-inflammatory effects. (Read more in my article on omega-3 fatty acids.)
To boost the immune system:
Citrus fruit – Lemons and oranges are rich sources of vitamin C, which boosts the immune system, helps manage blood pressure, and is important in collagen production (among many other benefits).
Camu powder – Camu is a berry that is harvested from the rainforests of Peru and is a rich source of vitamin C and antioxidants. Studies have shown that it may help balance blood sugar, reduce inflammation, reduce weight, and manage blood pressure. Camu has a tart berry flavor and makes a tasty smoothie addition!
For digestive support:
Green banana flour – A rich source of insoluble fiber, green banana flour is an excellent source of prebiotics that feed the beneficial bacteria in the gut and promote intestinal health.
Collagen – Collagen helps rebuild the intestinal lining, while supporting joint health, skin, and hair.
Turmeric powder – Turmeric a powerful anti-inflammatory that helps heal the gut and detoxify heavy metals.
For increased energy:
Coconut oil – Coconut oil contains healthy fats known as medium-chain triglycerides (MCTs) that, when consumed, go straight to the liver and are used as "quick" energy sources.
Bulletproof XCT oil – Made of pure caprylic and capric acid, two significantly ketogenic MCTs found in coconut oil, this special blend helps to fuel the brain and increase energy levels.
For hormonal balance:
Maca root powder – This wonderful adaptogen helps increase body temperature and stabilizes hormones.
Blueberries – Blueberries are an antioxidant powerhouse and rich source of myo-inositol, which supports overall relaxation, helps maintain the proper metabolism of serotonin, helps to regulate insulin, and stabilizes TSH (thyroid stimulating hormone).
Taste Hacks
While most people who have tried the green smoothie love it, there are some people (ahem, my husband Michael) who may not like the pudding-like texture/consistency and warmth of the smoothie.
He prefers the smoothie to have a thinner, milk-like consistency, and he also prefers it to be "cold and tropical tasting" (his words :-)).
For Michael's green smoothie, I make the following taste/texture modifications…
Skip the avocado and add 1 tablespoon of chia seeds instead, as chia seeds are a less creamy source of good fat
Add the juice of one lemon or lime (to make it more tropical, and to support our digestive juices)
Blend the contents with 1 cup of ice cubes to make the smoothie cold and give it a more "milky" consistency
While the carrots and coconut are usually naturally sweet enough, if you are coming off the Standard American Diet, you may want to add a boost of fruit, like a ¼ cup of berries or ½ green apple, as your taste buds transition to appreciating the natural sweetness in coconuts and carrots.
Here are some additional blood sugar-balanced smoothie options, in case you want to change things up, or add a second smoothie variation to your day:
Maca Cado Smoothie
1 tsp maca
1 cup coconut milk
1 avocado
1 cup mixed baby greens
1 scoop of Rootcology protein powder of choice
Root Cause Healing Smoothie
2 egg yolks
2 tbsp chia seeds
2 cup coconut milk
2 tbsp collagen
1 scoop of Rootcology protein powder of choice
Garden Sprouts
1/2 cup broccoli sprouts
1 carrot
1/2 cup baby kale
1 stalk celery
1/2 cup coconut milk
1/2 cup green juice
1/4 cup Italian parsley
1/2 cup dandelion greens
1/4 cup alfalfa sprouts
1 scoop of Rootcology protein powder of choice
The Takeaway
Beginning the day with a nutritious source of protein, fat, and fiber is an important part of feeling better with Hashimoto's. But you can also incorporate my go-to smoothie into your day for an easy lunch, or an afternoon pick-me-up! Use your favorite superfoods to customize it to your own needs, and add in your favorite veggies and fruits that are in season and accessible to you.
Adding a green smoothie into your day will provide you with energy, blood sugar stabilization, brain power, and detoxification, to help you feel your best.
Try out the Root Cause Green Smoothie for a few days, and let me know how you like it!
P.S. You can also "Subscribe and Save" to get instant savings on every order. This is a great way to reserve your protein each month. And now you can bundle your purchases and save an additional 5% off 3 containers, and 8.75% off 6 containers, of the protein of your choice!
P.P.S. What are people saying?
Jeri S. shared with me, "Thank you for the Pea Protein Powder. I love the taste and it makes me feel great. No digestive issues like some protein powders I have tried. Thank you. I look forward to purchasing it again."
Dorrie S. shared about the AI Paleo Protein, "I have had a progressively advancing autoimmune disorder for 20 plus years and tried all protein powders out there. This is the only one I did not react to and feel great taking. I have the confidence I'm getting what my body needs."
Have you tried Rootcology protein powder? If so, how did it improve your symptoms? I'd love to hear your success stories!
Wishing you all the best on your thyroid journey!
P.S. For continued updates and interaction, please become a part of our Facebook and Instagram communities and sign up for our newsletter. I love interacting with our readers!