We know that Hashimoto's and other autoimmune conditions develop due to three things.
Genetic predisposition is one of those. The other two, intestinal permeability and autoimmune triggers, must also be present, and they are – thankfully – things we can actually address and improve upon through lifestyle interventions.
What's common in Hashimoto's and other autoimmune diseases is that triggers contribute to your body developing something called "a lack of self-tolerance." This is when the body is no longer able to recognize its own tissue as part of itself, but instead starts viewing its tissue as a foreign invader. It is no longer "tolerant" of itself, and this is what leads to an autoimmune condition. How does this happen?
What happens can be described as a case of mistaken identity. First, some microbial triggers or bacterial cells from an infection actually do trigger the body's immune system to attack the invading cells. But due to something called molecular mimicry, the body may then target other cells that resemble these invaders. This can result in the immune system attacking its own body.
Triggers can be food sensitivities, nutrient depletions, toxin exposures, chronic infections, a poor stress response, and a number of other things. Some triggers can actually also lead to intestinal permeability (leaky gut) issues as well, such as with what happens with gluten sensitivity.
In most cases of Hashimoto's, this lack of self-tolerance starts to occur before thyroid function is affected- often before symptoms even occur.
When the body begins this breakdown of its immune tolerance, we're initially going to see the presence of elevated thyroid antibodies.  
We can test for thyroid antibodies, and when we identify their presence, we can put corrective actions in place, so thyroid disease doesn't manifest or progress.
But My Doctor Said My TSH Level is Normal!
"My doctor said my TSH level is normal, so why should I worry about testing for thyroid antibodies?"
I can't tell you how many times I hear this in my clinical practice and from readers. And I thought this myself many years ago. I spent almost a decade undiagnosed because I only had my TSH tested, and my thyroid diagnosis was completely missed. I had been told that my thyroid was normal even though my TSH was 4.5 μIU/mL. That left me struggling with progressively worse symptoms for almost ten years; symptoms like chronic fatigue, anxiety, depression, hair loss and many others.
By the time I was finally tested for TPO antibodies, they were in the 2000 IU/mL range. (To put that in perspective, the optimal range is less than 2 IU/mL) Plus, I had developed new onset panic attacks and was basically crippled by my poor health.
This is why I'm so passionate about advocating for you to get the proper tests and for you to understand your tests. Had I known then what was happening in my body, I could have taken on the lifestyle modifications and treatment steps necessary to not only alleviate my progressing symptoms but also prevent further damage to my thyroid.
Thyroid antibodies are going to be the first indication of a thyroid problem in many cases. They can be elevated for 5, 10, sometimes even 15 years before a change in TSH is even detected! Keep in mind that the presence of thyroid antibodies means that there is an active destruction going on against your thyroid.
Elevated thyroid antibodies, even in the presence of a "normal TSH", means that it's only a matter of time before your thyroid becomes destroyed to the point it can no longer produce sufficient amount of hormones.
For you to better understand how thyroid antibodies can be an early warning system before you start seeing thyroid symptoms, let's talk first about the 5 stages that occur in Hashimoto's as the disease progresses.
You'll quickly see the importance of identifying the presence of thyroid antibodies.
Thyroid Antibodies – An "Early Warning" for Hashimoto's
In Hashimoto's, we know there are 5 stages relating to the initial development and also worsening of the disease. A quick review of these stages is helpful in understanding the importance of knowing your thyroid lab results.
It also really demonstrates the importance of specifically knowing your results relating to the presence of elevated thyroid antibodies.
Stage 1: The Genetic Predisposition
The first stage is when the person does not have any manifestations of Hashimoto's. So, they are going to have a normal TSH and will have normal thyroid function. They will not have any elevated thyroid antibodies. If you were to biopsy their thyroid gland, it would be perfectly normal. They just have the genes at this point. Again, there are 3 requirements for the disease to progress: genetics, intestinal permeability, and one or more triggers.
Stage 2: The Breakdown of the Immune Tolerance (This is the early warning for Hashimoto's!)
In the second stage, you start seeing the breakdown of the thyroid's immune tolerance, and the person will start to have a white blood cell infiltration into the thyroid gland. Some of these immune cells are going to start grouping there. This is when we will also start seeing elevated thyroid antibodies. This stage can go on for many years – a decade or more – before a person moves on to stage 3 or 4, when we start to actually see symptoms and changes in thyroid function.
Stage 3: Subclinical Hypothyroidism Occurs
Stage 3 is when subclinical hypothyroidism occurs, and in this stage, people are going to have an elevated TSH in addition to having thyroid antibodies. They will also have immune cell infiltration into the thyroid gland, although their T3 and T4 levels are still going to be normal. Many people will have some symptoms of hypothyroidism or autoimmune symptoms at this stage.
Stage 4: Overt Hypothyroidism Occurs
Stage 4 is where we will start seeing overt hypothyroidism. There has likely been a lot of damage that has now occurred to the thyroid gland. The thyroid will no longer be able to compensate nor keep the thyroid hormone levels normal, and we will start seeing a change in T3 and T4 levels.
Stage 5: Hashimoto's Progresses, and There is a Progression to Other Immune Disorders
In stage 5, as Hashimoto's progresses, we unfortunately have a progression to other immune disorders as well. At this time, a person may get diagnosed with Rheumatoid Arthritis, Lupus or any of the other types of autoimmune conditions.
So as you look at the progression of disease, note that our earliest "warning" about Hashimoto's, and our best opportunity for early intervention, is during Stage 2 when we initially find evidence of thyroid antibodies.
The Importance of Thyroid Antibodies Even in the Absence of Hypothyroidism
Thyroid antibodies have been connected to many symptoms even in the absence of hypothyroidism. When people are in stage 2 and they have thyroid antibodies, they may start to exhibit a whole bunch of different non-specific symptoms like fatigue, anxiety, stress, miscarriages, weight gain, and just feeling unwell.
Without verifying the presence of thyroid antibodies, these types of symptoms may not be associated with developing thyroid disease, and they may end up being misdiagnosed as other things such as anxiety, fatigue (perhaps even laziness!), depression, menopause, or even hypochondria. I have personally seen a number of clients who were diagnosed with depression and even bipolar disease as a result of being in stage 2 and already having elevated thyroid antibodies for years.
Remember, if these antibodies go unchecked, we are going to potentially start seeing a progression into stage 3, where we see subclinical hypothyroidism, stage 4 where we start seeing changes in TSH, and stage 5 which may include the progression of other autoimmune conditions.
Note that a small number of antibodies may be present in normal individuals (the "general population", as noted in my chart below) without thyroid disease. According to UpToDate, roughly 5-27 percent of the general population will test for extremely low levels of antibodies ("normal" is generally considered to be less than 35 IU/mL, although you'll see that my view of an optimal range is much less). But, when you find elevated thyroid antibodies outside of this range, that is an indicator that the immune system is targeting the thyroid gland for destruction. (Please note that the UpToDate chart, shown below, shows the prevalence of thyroid antibodies as in 5-27 percent of the general population, but other studies have reported the prevalence of thyroid antibodies to be as high as 38 percent in some populations.)
Why Aren't Thyroid Antibodies the Initial Screening Test Used for Thyroid Disease?
You might wonder why TSH is still the standard screening test for thyroid disease given that thyroid antibodies can be elevated for decades before any change in TSH may even be seen.
That's a good observation and an even better question. Unfortunately, many traditional doctors ONLY test for antibodies after they see an elevation in TSH. It's backwards from what it needs to be. That is why you need to be your own advocate and insist on thyroid antibodies testing. You can discuss this testing with your physician or you can also self-test, as the tests are not overly expensive. I'll talk more about that below.
At some point, the medical community will pick up on the importance of antibodies as an early warning for Hashimoto's. I also believe labs will start to incorporate newer findings. For example, the reference range for TSH itself has already been redefined by the American College of Clinical Endocrinologists. The reference range was lowered (from 0.2-8.0 μIU/mL to 0.3-3.0 μIU/mL), but most labs you get still use the old higher ranges as "normal". That will hopefully change in the future.
On top of the reference ranges changing, we also know that a person with Hashimoto's may fluctuate between high and low TSH readings. Reference ranges are also only average values, so even if your TSH reads as "normal", you may not be. Remember, I was told my thyroid was normal when my TSH was 5.5 μIU/mL, and I was sleeping for 12 hours each night! TSH is not the screening tool we should be solely using.
TSH screening catches the later stages of Hashimoto's. What we need to do is start testing for thyroid antibodies earlier.
What are the Thyroid Antibodies That Need to be Tested?
There are three main types of antibodies in Hashimoto's that are potentially going to be present. Two of them are created by the immune system to target the thyroid gland as if it were a foreign invader like a pathogen, and those are Thyroid Peroxidase (TPO) and Thyroglobulin (TG) antibodies.
80-90 percent of people with Hashimoto's will have either TPO or TG antibodies, or both. The more elevated the thyroid antibodies are, the greater the likelihood of developing overt hypothyroidism as well as possibly additional autoimmune conditions.
Where do these antibodies come from? The current scientific thinking is that activated B-cells in the thyroid gland and lymph nodes secrete these antibodies, and that they react solely as markers but don't necessary attack the thyroid gland themselves. They likely activate T-cells, which then do the actual damage on the thyroid gland.
The third type of thyroid antibodies is TSH-Receptor (TSH-R) antibodies, including thyroid-stimulating immunoglobulin (TSI). This particular marker is elevated in more than 90 percent of people with Graves' disease. TSH-R antibodies are also more common in people who have thyroid cancer.
Another TSH-R antibody is known as TSH-binding inhibiting immunoglobulin (TBII). This is elevated in >50 percent of people with Graves' disease.
What if You Don't Test Positive for Thyroid Antibodies, Can You Still Have Hashimoto's?
Current medical reports state that 80-90 percent of people with Hashimoto's will have TPO antibodies. That said, researchers at the University of Wisconsin's Thyroid Multidisciplinary Clinic found that only half of the patients who tested positive for Hashimoto's through cytology (when thyroid cells are withdrawn by a thin needle and then evaluated under a microscope) had TPO antibodies. This means that a person can have Hashimoto's even if their thyroid antibody test is negative. This variant of Hashimoto's is known as serum negative Hashimoto's and is a less aggressive form of Hashimoto's, so it will be slower developing.
Additionally, researchers have identified that the body may produce other thyroid antibodies, that are not yet available outside of research labs, but may also play a role in thyroid disease, including Sodium-iodine symporter (NISAb) and Pendrin (PenAb). The clinical relevance of these antibodies is not yet understood, but as with all emerging research, we just want to be aware of it. NISAb is found in 17 percent of people with Hashimoto's and Pendrin is found in 11 percent.
I've included a chart from UpToDate that shows the estimated prevalence of these three antithyroid antibodies in various populations. Again, keep in mind that the more elevated these antibodies are, the more likely you are to progress to the stage that involves the destruction of your thyroid.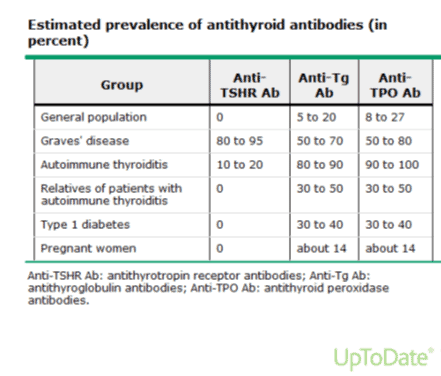 Image via UpToDate
Where to Get Tested and Optimal Ranges
Thyroid antibodies are tested through a simple blood test. If your physician is not receptive to testing your antibodies, you have the option of ordering your lab tests through Ulta Lab Tests. They offer self-order options with discounted panels that I set up with them, which can be ordered anywhere in the US. You will receive a lab order that can be taken to your local lab, and the results will be sent to you electronically.
In many cases, you can self-order the labs and then send the receipts for reimbursement to your insurance. (Please check with your insurance to ensure that they will accept this as well as to understand the required submission procedures).
The three tests can be found here:
Alternatively, you can opt for a full thyroid panel which includes tests for TSH, free T3, free T4, and two of the thyroid antibodies (TPO and TG).
For additional information on the full thyroid panel, you can also review this article.
I often get messages from readers asking me to comment on their personal thyroid labs. Unfortunately, I can't provide medical advice through the internet without doing a personalized comprehensive case review. (This is for my readers' own safety as well as complying with professional liability laws.) However, I created some lab interpretation information for them that I will share with you below.
If your doctor is ordering these labs for you, be sure to request a copy for yourself to ensure that they are interpreted correctly. Also, note that this information is based on optimal functional medicine ranges and my clinical experience, and may not be recognized by doctors who are not familiar with functional medicine.
Thyroid Panel Reference and Optimal Ranges
When I look at my clients' labs, I focus on optimal reference ranges. Here's a handy reference chart I use from the Institute of Functional Medicine.
| | | |
| --- | --- | --- |
| Test Name | Standard Reference Range | Optimal Reference Range |
| TSH | 0.4-5.5 μIU/mL | 0.5-2 μIU/mL, 0.5-2.5 μIU/mL in elderly |
| Free T4 | 9-23 pmol/L | 15-23 pmol/L |
| Free T3 | 3-7 pmol/L | 5-7 pmol/L |
| Reverse T3 | 11-21 ng/dl | 11-18 ng/dl |
| TPO Antibodies | <35 IU/mL | <2 IU/mL |
| TG Antibodies | <35 IU/mL | <2 IU/mL |
You can see here that the normal reference range for TPO and TG antibodies is <35 IU/mL. According to conventional standards,  this means that a person is not going to test for Hashimoto's within this range. The optimal functional medicine range is less. We look for TPO and TG antibodies of <2 IU/mL.
Do Antibody Numbers Matter?
Some clinicians will say that once you have thyroid antibodies, you will always have thyroid antibodies, so the actual number doesn't matter, as the antibodies can randomly fluctuate. I respectfully disagree. Antibodies fluctuate in response to triggers (some as common as stress), and in my exhaustive experience, they can be an incredibly helpful marker for tracking disease progression. That said, they should not be the only marker. We also want to look at your overall health… and the big picture… are you feeling better or worse?
What Number is Considered Remission?
Remission to me is a journey, not necessarily a destination. While researchers have labeled thyroid antibodies under 100 IU/mL as "remission status", and thyroid antibodies above 500 IU/mL as "aggressive", I would again caution to look at the big picture.
Remission is not the same as a cure, rather, remission is a respite from the disease, a reduction in the expression of the condition as well as a reduction in symptoms.
The definition for remission will thus vary with each person. Where were you when you got started on your journey?
If you started with thyroid antibodies in the 5000 IU/ml range and 10+ symptoms, improving your health to a point where your antibodies are 1000 IU/ml, and you only have 5 symptoms, may be your remission.
If, however, you started with antibodies in the 200 IU/ml range, and only had 3 symptoms to begin with, thyroid antibodies of 1000 IU/ml and 5 symptoms may be an exacerbation or worsening of the condition for you.
Thus, the goal of remission is for you to work on improving your health, and every small change that I recommend will hopefully result in an improvement for you. And yes, in some cases, a complete remission is possible, where you no longer test positive for any thyroid antibodies, don't have a single symptom, and there is no evidence of damage to your thyroid gland.
How Often Should You Test Your Thyroid Antibodies?
I often hear from readers who say that their doctors refuse to retest their thyroid antibodies, stating that once a person is thyroid antibody positive, they will always be positive, so retesting the antibodies is useless. I disagree. Tracking your thyroid antibodies can give you an idea of how aggressive the attack is on your thyroid gland. While other lab markers and symptoms should be considered, generally, a lower thyroid antibody number indicates that your condition is improving, while a higher antibody number may indicate that you are having a flare-up or that your condition is worsening.
Tracking antibodies can give you an idea of whether the interventions you're utilizing are working, i.e. is your change in diet leading to an improvement in your condition?
When implementing active interventions, you can check antibody levels every 1-3 months to see a trend; however, it will take anywhere from 3 months to 2 years to see the full impact of an intervention.
THEA Score: Assessing Your Risk for Hypothyroidism
Once you have your lab results in hand, there is a great tool that your clinician can use to help determine the aggressiveness of your condition. The Thyroid Event Amsterdam (THEA) Score is a score that can help assess your risk of progression into hypothyroidism.
The THEA score is used to help estimate the risk of developing hypothyroidism within five years in people who have TPO antibodies, and can also help estimate the risk for those who have relatives with thyroid diseases.
Please note that thyroid antibodies make a very big contribution to the total THEA score.
How does THEA work? It applies a certain amount of points towards different measures. These measures consist of genetic predisposition as well as lab test results. I've included a chart (at the end of this article) that shows you how the scoring is made.
Genetic predisposition: We know there is a genetic component to developing Hashimoto's, (remember the three conditions necessary: genetic predisposition, intestinal permeability and triggers) — and it tends to run in families. So, if you have relatives with Hashimoto's, that increases your risk. And if you have been diagnosed with thyroid disease, there's a greater chance that a loved one like your child, parent or sibling may be at risk as well.
Hashimoto's can occur in two varieties: an organ wasting form (atrophic) associated with HLA-DR3 gene inheritance, and an enlarged thyroid (goitrous) form through HLA-DR5 inheritance.
People with these genes (which are common in the Caucasian population) and who have a relative with Hashimoto's would get points. Someone with multiple relatives with Hashimoto's would get additional points.
If they are showing high TSH levels, they will get points. If they have thyroid antibodies, they will get points; and the higher the level of antibodies, the higher the points.
What Does Your THEA Score Mean?
Ideally, we want a THEA score of 0. That is only possible without any genetic predispositions. With a genetic predisposition, the lowest score will always be a 2.
Low risk is considered in the 0-7 range. This means they are at a low risk of developing Hashimoto's, or that their Hashimoto's is not super aggressive at this point. Nonetheless, they are at risk. For a person with a genetic predisposition, with no other points – let's say they score a 2 – they still have a 1.6 percent chance of being hypothyroid within 5 years. Keep in mind that if this same individual experiences more triggers, that will contribute to the disease progression.
The higher the score, the higher the aggressiveness rating, and the higher the chance of a person becoming hypothyroid within 5 years.
If we look at a score from 16-21, we know that the aggressiveness of the condition is very high and that they have about a 86 percent chance of becoming hypothyroid within 5 years. As we know that hypothyroidism is Stage 4 of Hashimoto's, while other autoimmune conditions occur in Stage 5, higher thyroid antibodies may also predict a faster progression to other types of autoimmune conditions.
The THEA score can also be a great tool to measure progress in treating the disease. A person can't remove the genetic predisposition score, but they can eliminate all their triggers and resolve intestinal permeability so that a reduction in thyroid antibodies – and an improved THEA score – is possible. I have seen some patients who no longer test positive for antibodies by eliminating their triggers. Plus, I have seen some patients actually be able to reduce their doses of thyroid medications or go off them completely.
What I hope for with my clients is that they can reduce their risk and eliminate their symptoms. And the best way to reduce the THEA score early-on is to reduce thyroid antibodies.
Thyroid Events Amsterdam (THEA) Score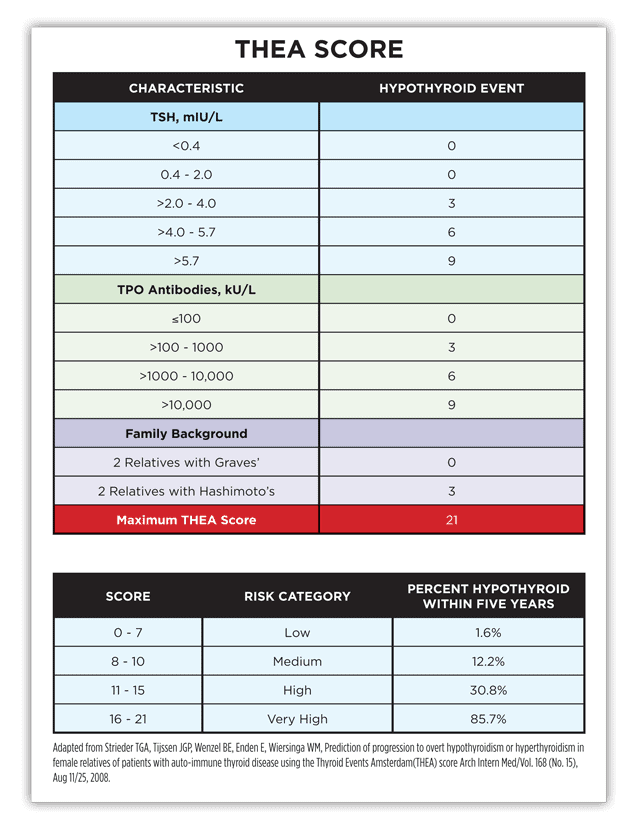 So What's Your THEA Score?
Do you know what yours is? If not, do a quick calculation now by taking the assessment — it is easy to do. Assign points as per the chart based on your TSH, TPO antibodies and family background. Again, low risk is considered in the 0-7 range. This means the Hashimoto's is or would not be super aggressive. But, you are still at risk.
Once You Know Your THEA Score, How Can You Reduce It?
For a comprehensive answer to that question, read Part 2 of this article: Mechanisms to Reduce Thyroid Antibodies. I cover a wide variety of ways you can reduce one significant element of the THEA score: your thyroid antibodies.
References
Wentz I. Top 9 takeaways from 2232 people with Hashimoto's. Thyroid Pharmacist. https://thyroidpharmacist.com/articles/top-9-takeaways-from-2232-people-with-hashimotos/. Published June 22, 2015. Accessed June 26, 2015.
Sategna-Guidetti C, Volta U, Ciacci C et al. Prevalence of thyroid disorders in untreated adult celiac disease patients and effect of gluten withdrawal: an Italian multicenter study. The American Journal of Gastroenterology. 2001;96(3):751-757.     doi:10.1111/j.1572-0241.2001.03617.x.
Bell DS, Ovalle F. Use of soy protein supplement and resultant need for increased dose of levothyroxine. Endocr Pract. 2001;7(3)193-4.
Fruzza AG, Demeterco-Berggren C, Jones KL. Unawareness of the effects of soy intake on the management of congenital hypothyroidism. Pediatrics. 2012;130(3):e699-702. doi: 10.1542/peds.2011-3350
Aghili R, Jafarzadeh F, Bhorbani R, Khamseh ME, Salami MA, Malek M. The association of Helicobacter pylori infection with Hashimoto's thyroiditis. Acta Med Iran. 2013;51(5):293-296.
Rajič B, Arapović J, Raguž K, Bošković M, Babić S, Maslać S. Eradication of Blastocystis hominis prevents the development of symptomatic Hashimoto's thyroiditis: a case report. The Journal Of Infection In Developing Countries. 2015;9(07):788-791.
Lauritano EC, Bilotta AL, Gabrielli M, et al. Association between hypothyroidism and small intestinal bacterial overgrowth. J Clin Endocrinol Metab. 2007;92(11):4180-4.
Chatzipanagiotou, S., et al. Prevalence of Yersinia plasmid-encoded outer protein (Yop) class-specific antibodies in patients with Hashimoto's thyroiditis. Clinical Microbiology and Infection. 2001;7(3): 138–143
Shenkman L, Bottone EJ. Antibodies to Yersinia enterocolitica in Thyroid Disease. Ann Intern Med. 1976;85:735–739. doi: 10.7326/0003-4819-85-6-735
Sterzl, Ivan I. Removal of dental amalgam decreases anti-TPO and anti-Tg autoantibodies in patients with autoimmune thyroiditis. Neuro-endocrinology letters. 2006;27 Suppl 1:25-30.
Joung, Ji Young JY. Effect of iodine restriction on thyroid function in subclinical hypothyroid patients in an iodine-replete area: a long period observation in a large-scale cohort. Thyroid. 2014;24(9):1050-7256.
Gärtner R, Gasnier BC, Dietrich JW, Krebs B, Angstwurm MW. Selenium supplementation in patients with autoim­mune thyroiditis decreases thyroid peroxidase antibodies concentrations. J Clin Endocrinol Metab. 2002;87(4):1687-1691.
Mazokopakis, Elias E et al. Effects of 12 months treatment with L-selenomethionine on serum anti-TPO Levels in Patients with Hashimoto's thyroiditis. Thyroid. 2007:609-612.
Rostami R, Aghasi MR, Mohammadi A, et al. Enhanced oxidative stress in Hashimoto's thyroiditis: inter-relationships to biomarkers of thyroid function. Clin Biochem. 2013;46(4-5):308-12. doi:10.1016/j.clinbiochem.2012.11.021.
Poncin S, Colin IM, Decallonne B, et al. N-Acetylcysteine
and 15 Deoxy-Δ12,14-Prostaglandin J2 Exert a Protective Effect Against Autoimmune Thyroid Destruction in Vivo but Not Against Interleukin-1α/Interferon γ-Induced Inhibitory Effects in Thyrocytes in Vitro. The American Journal of Pathology. 2010;177(1):219-228. doi:10.2353/ajpath.2010.091253.
Lee, Hae Sang HS. The natural course of Hashimoto's thyroiditis in children and adolescents. Journal of pediatric endocrinology & metabolism. 2014;27(9-10):807.
Höfling DB Low-level laser in the treatment of patients with hypothyroidism induced by chronic autoimmune thyroiditis: a randomized, placebo-controlled clinical trial. Lasers Med Sci. 2013;28(3):743-53.doi: 10.1007/s10103-012-1129-9.
Nordio M, Basciani S. Myo-inositol plus selenium supplementation restores euthyroid state in Hashimoto's patients with subclinical hypothyroidism. Eur Rev Med Pharmacol Sci. 2017;21(2 Suppl):51-59.
Pegel K. MODUCARE® – A Brief History And Mode Of Action. Published in 2002. http://www.moducare.com/wp-content/uploads/2016/05/moducare-summary-of-research.pdf. Accessed February 1, 2018.
Kvantchakhadze RG. Wobenzym® in the complex treatment of autoimmune thyroiditis. International Journal on Immunorehabilitation. 2002;4(1):114.
Ott J et al. Dehydroepiandrosterone in women with premature ovarian failure and Hashimoto's thyroiditis. Journal of the International Menopause Society. 2014.
Schmeltz, Lowell R. Anatabine supplemen­tation decreases thyroglobulin antibodies in patients with chronic lymphocytic autoimmune (Hashimoto's) thyroid­itis: A randomized controlled clinical trial. The Journal of Clinical Endocrinology and Metabolism. 2013;0021-972X.
Wang J, Lv S, Chen G, et al. Meta-analysis of the association between vitamin D and autoimmune thyroid disease. Nutrients. 2015;7(4):2485-2498.
Mackawy AMH, Mohammed AB, Mater AB. Vitamin D Deficiency and Its Association with Thyroid Disease. International Journal of Health Sciences. 2013;7(3):267-275.
Chaudhary S, Dutta D, Kumar M, et al. Vitamin D supplementation reduces thyroid peroxidase antibody levels in patients with autoimmune thyroid disease: An open-labeled randomized controlled trial. Indian Journal of Endocrinology and Metabolism. 2016;20(3):391-398. doi:10.4103/2230-8210.179997.
Antonelli A, Alberti B, Melosi A. Changes in markers of autoimmunity in patients with Hashimoto thyroiditis treated with intravenous immunoglobulins. Preliminary results. Clinical Therapeutics. 1992;141(9):37-42.
Cornejo R, Venegas P, Goñi D, Salas A, Romero C. Successful response to intravenous immunoglobulin as rescue therapy in a patient with Hashimoto's encephalopa­thy. BMJ Case Reports. 2010;2010:bcr0920103332. doi:10.1136/bcr.09.2010.3332.
Drulović J et al. Hashimoto's encephalopathy: a long-lasting remission induced by intravenous immuno­globulins. Vojnosanit Pregl. 2011;68(5):452-4.
Nupur G, Arpeta G, Maria S, Robert TY. CALMING THE STORM – ROLE OF PLASMAPHERESIS IN THYROTOXIC CRISES. Presented as part of The Endocrine Society's 95th Annual Meeting and Expo; June 15–18, 2013; San Francisco, CA.
Boers P, Colebatch J. Hashimoto's encephalopa­thy responding to plasmapheresis. Journal of Neurology, Neurosurgery, and Psychiatry. 2001;70(1):132. doi:10.1136/ jnnp.70.1.132.
El-saadany H, Elkhalik MA, Moustafa T, et al. Thyroid dysfunction in systemic lupus erythematosus and rheumatoid arthritis: Its impact as a cardiovascular risk factor. The Egyptian Rheumatologist. 2014;36(2):71-78.https://doi.org/10.1016/j.ejr.2013.12.003
Nevinsky, G. Effect of different drugs on the level of DNA-hydrolyzing polyclonal IgG antibodies in sera of patients with Hashimoto's thyroiditis and nontoxic nodal goiter. Medical science monitor. 2001;7(2):201.
Janegova A, Janega P, Rychly B, Kuracinova K, Babal P. Rola infekcji wirusem Epstein-Barr'a w rozwoju autoimmunologicznych chorób tarczycy. Endokrynologia Polska. 2015;66(2):132-136. doi:10.5603/ep.2015.0020.
Kurozumi A, Okada Y, Arao T et al. Induction of thyroid remission using rituximab in a patient with type 3 autoimmune polyglandular syndrome including Graves' disease and type 1 diabetes mellitus: A case report. Endocrine Journal. 2015;62(1):69-75. doi:10.1507/endocrj.ej14-0152.
Gul Mert G. Hashimoto's encephalopathy: four cases and review of literature. Int J Neurosci. 2014;124(4):302-6. doi:10.3109/00207454.2013.836706.
Litwicka K et al. In women with thyroid autoimmunity, does low-dose prednisolone administration, compared with no adjuvant therapy, improve in vitro fertilization clinical results? J Obstet Gynaecol Res. 2014.
Xu J, Bergren R, Schneider D, Chen H, Sippel RS. Thyro­globulin antibody resolution after total thyroidectomy for cancer. J Surg Res. 2015;198(2):366-370. doi:10.1016/j. jss.2015.03.094.
Anita A. Kurmann et al. Regeneration of thyroid function by transplantation of differentiated pluripotent stem cells. Cell Stem Cell. 2015. DOI: 10.1016/j.stem.2015.09.004.