Dave Asprey Shares His Hashimoto's Success Story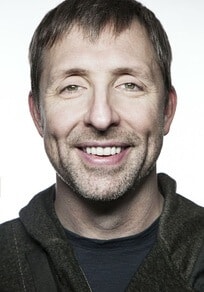 I know that many of you have likely changed your diets, and have seen positive results, but there may be other toxins in your life that can trigger the autoimmune response. Mold is a powerful autoimmune trigger that hardly anyone talks about. I'm excited to tell you about my friend Dave's new project… spreading awareness about the health implications of mold (and how to overcome toxic mold)!
You may have heard of Dave Asprey, biohacker extraordinaire, the creator of Bulletproof Coffee, and the author of the NYT bestselling book, The Bulletproof Diet, but you may not know that Dave was once diagnosed with Hashimoto's and was able to put it into remission.
I have to tell you that I was a little star-struck when I met Dave Asprey back in 2013.  I sat next to Dave at a dinner following a health conference, shortly after releasing Hashimoto's the Root Cause. As I began to introduce myself, Dave cut me off: "Yes, you're Dr. Izabella Wentz, the 'Hashimoto's Hacker,' I'm familiar with your work. I recommend your book to all of my clients with Hashimoto's."
I nearly fell out of my chair. I excused myself to call my husband, who like me was a huge fan of Dave's popular podcast. Of course, my husband said "Why are you talking to me? Go back and talk to him!" Thank goodness for a voice of reason and assigned seating.
I got a chance to spend the evening chatting with Dave and his wife Dr. Lana Asprey, a fertility specialist, over a delicious Paleo dinner followed by digestive enzymes, and we became fast friends. It was amazing to see that Dave was just as brilliant and witty in person as he is on his podcast, but also, that he and his wife were kind, passionate and dedicated to helping people.
I also learned two things that fans of his coffee may not know about Dave…
Dave USED to have Hashimoto's and was able to put it into remission.
One of Dave's root causes was toxic mold!
At one point, Dave weighed 300 pounds and was constantly brain fogged and exhausted, despite eating a very low-calorie diet and exercising 6 days a week.
Like many of us, he set off on a quest to find answers, and eventually found an integrative doctor who gave him some answers. Upon finding out he had Hashimoto's, he went completely gluten free and began to change his lifestyle, eventually leading to the development of the Bulletproof diet. As he saw improvement in his health with diet, Dave's research continued to lead him toward toxic mold. He knew the house where he was living had toxic mold, and the house where he grew up likely had mold issues as well.
He decided to turn down mold exposure and was able to turn down his autoimmune response. In addition to looking into ways to reduce environmental exposure, he focused on mold in foods, and how changing his diet might diminish his mold burden, and improve his health.
His quest to avoid toxic mold in food led him to create his signature Bulletproof Coffee®, a drink low in mold and cross-reactive toxins. He also eliminated high-mold foods and beverages from his diet, including peanuts, raisins, beer, and wine. He also supported his body with activated charcoal (which helps get rid of mold) and glutathione (an antioxidant). The results were astonishing. Dave is now the muscular poster-boy of high performance, running a multi-million dollar company and his thyroid antibodies are now at zero!
Mold and Hashimoto's Connection
Dave was behind the creation of "MOLDY" a documentary about the health effects of toxic mold to spread awareness about this little-known root cause of multiple health conditions. While I've had a few Hashimoto's remission stories from readers who were also affected by mold, I was shocked to learn that as many as 45 million people may be affected!!
One of the potential clues of mold being a root cause is when your health begins to deteriorate after moving into a new home. When I conducted a survey with the Hashimoto's community last month, 20% of you reported that your health began to decline after moving to a new place!!
Some of the clients that I've seen affected by mold have shown me unbelievable before and after photos. People who were once thin and athletic can put on weight and collect so much inflammation in their bodies that they become virtually unrecognizable within months of mold exposure!
Please note that not everyone may be affected in the same way. For example, a family member with different genes may not develop Hashimoto's, but he/she may develop asthma or allergic rhinitis soon after moving into the new home… another family member may not have any apparent symptoms at all!
Additionally, mold occurs naturally in the atmosphere, but due to air pollution, it can now be present in the air we breathe—up to 25% of people may react to this type of mold and not know it.
Other clues that you may be mold exposed, include – brain fog, breathing issues, cognitive impairment, immune suppression, fatigue, depression, arthritis, digestive problems, poor sleep, inflammation, and joint pain.
The good news is, once you identify mold as one of your triggers, you can reverse its effects! If you suffer from any of these common problems you'll find powerful, heart-wrenching, answers to what have often been called incurable problems. Dave got his health back and you can too!