Note: Originally published in February 2015, this article has been revised and updated for accuracy and thoroughness. 
The Missing Link to Thyroid Fatigue
Could thiamine be the missing link to your thyroid fatigue, stressed out adrenals, and low stomach acid?
Sometimes we can get stuck.
We may be on a seemingly great diet, be taking the right supplements, and doing everything in our power to feel better, but we still feel like we're making no progress. But, many times, we may be one small change away from seeing a huge difference.
Fatigue is a common symptom of an underactive thyroid, but it's also a symptom of many other associated conditions including adrenal fatigue, food sensitivities, and various nutrient deficiencies.
Often people with Hashimoto's will be started on thyroid hormones but continue to feel tired. As people peel back the layers of autoimmunity, some of them will be able to reverse their condition just by getting off gluten or eating a clean diet like the Paleo diet or the Autoimmune Paleo diet.
Others who are inspired by this approach will attempt the same healing diets but will continue to struggle. This, of course, is where bio-individuality, functional medicine, and nutrition comes into play.
Thiamine and Thyroid Fatigue
I often scour PubMed, the largest database of scientific publications, for the latest research on Hashimoto's and was excited to find an article about thiamine and thyroid fatigue. I had already had positive results with thiamine myself, but it's always exciting for me to see nutrient deficiencies in Hashimoto's getting more attention in the medical literature.
Italian clinicians Dr. Antonio Costantini and nurse Maria Immacolata Pala, have hypothesized that the chronic fatigue that accompanies inflammatory and autoimmune diseases may be a result of a mild thiamine deficiency. They had already found that thiamine helped relieve the fatigue in people with ulcerative colitis (an autoimmune condition that affects the gut) and decided to try using thiamine in three women with Hashimoto's who were on thyroid medications but continued to experience fatigue. (3)
Two of the women were given an oral dose of thiamine (600 mg) per day, while the third was given an injection of 100 mg every four days. (3)
All of the women were given a survey to rate their fatigue before starting the thiamine and again the same questionnaire 20 days into the treatment. All three reported that they experienced a relief in their fatigue during the second survey—and two had a complete remission of their fatigue! (3)
The woman who had the injection felt that her fatigue was lifted within 6 hours of receiving it, while the women who took the oral dose of thiamine felt relief within 3-5 days. (3)
Interestingly, none of the women had thiamine deficiency on standard lab tests that are used to measure thiamine status. (3)
What is Thiamine
Thiamine is one of the B vitamins, known as B1. Its main responsibility is to change carbohydrates into energy, and it also helps with the digestion of proteins and fats. Thiamine is necessary for proper release of hydrochloric acid in our stomachs which is required for proper protein digestion. Most people with Hashimoto's have low stomach acid or do not release any stomach acid.
The recommended daily allowance for thiamine is only 1.1mg for women >19 years of age and may not meet the needs of those who are on a grain free diet and have malabsorption issues. Food sources of thiamine include fortified grains, beef liver, and pork, dried milk, eggs, legumes and peas, nuts, and seeds. Basically, with the exception of liver and pork, most of the foods that contain thiamine are restricted on the Paleo diet, and all of them are restricted on the Autoimmune Paleo diet!
Furthermore, B vitamins become depleted in stressful situations that often precede the development of autoimmunity and in times when we are pushing ourselves, and our adrenals, to work harder.
Even when we are eating a nutrient dense diet, due to the growing conditions of our foods, we may still be left with nutrient deficiencies.
While I love the theory that we should get all of our nutrients from foods, that's not always possible—especially for people with Hashimoto's who have multiple food sensitivities and digestive difficulties.
How Common is Thiamine Deficiency?
In pharmacy school, we learned that thiamine is a rare nutrient deficiency, usually found in alcoholics. Other well-known causes of thiamine deficiency may include Crohn's disease, malabsorption (likely to be an issue for most people with Hashimoto's and autoimmunity), anorexia, and kidney dialysis.
Certain medications, including Digoxin (used for heart conditions), diuretics, especially Furosemide (also known as Lasix), as well as taking the seizure medication phenytoin (Dilantin), can also deplete the body of thiamine.
Thiamine deficiency has been deemed as a rare deficiency in the developed world, but this is due to fortification of cereals and bread. But if you're on a grain free diet, you are very likely going to be deficient in thiamine as thiamine is added to cereals and bread.
Severe thiamine deficiency is known as beriberi and is associated with swelling, tingling, burning sensation in the hands and feet, confusion, trouble breathing, and uncontrolled eye movements. Wernicke-Korsakoff syndrome is a brain disease caused by severe thiamine deficiency that can present as confusion, memory problems, and nerve damage.
But most people with Hashimoto's never have thiamine deficiency that is this severe.
Symptoms of milder forms of thiamine deficiency include fatigue, irritability, depression, abdominal discomfort, and trouble digesting carbohydrates. (4)
People often write about various supplements and medications causing cancer…Thiamine, in the recommended doses, is one particular supplement that is extremely safe for most people but not for those with advanced cancers.
This is because cancers may steal the body's reserves of thiamine and use it to proliferate themselves as thiamine is necessary for cell replication. In the case of someone who has thiamine deficiency and cancer, I would advise working with a cancer specialist because the dose response of thiamine has an interesting pattern in those with advanced tumors. Giving enough thiamine to just correct the thiamine deficiency can help the tumor grow (the thiamine goes to the tumor instead of us), while mega doses of thiamine inhibit tumor growth (5).
Long-term thiamine deficiency in those who consume any carbohydrates (even fruit) can lead to a build-up of pyruvic acid, which is a byproduct of glucose metabolism and can lead to mental fog, difficulty breathing, and heart damage. Those on low-carbohydrate diets are at a smaller risk of the build-up of pyruvic acid and may not have any symptoms—except for fatigue. (4)
Unfortunately, standard lab tests for thiamine deficiency will not show if someone is mildly deficient—they will only show a severe deficiency of thiamine.
If you've been struggling with fatigue, low stomach acid, carbohydrate intolerance, low blood pressure, and your adrenals, you may have thiamine deficiency.
My Experience with Thiamine
After feeling great with my dietary changes and supplements, I hit a wall. I should mention that I was working hard at that time at my day job as a medication safety pharmacist and spending every evening, weekend, and day off researching and writing the Hashimoto's patient guide, starting a blog, and answering people's questions.
I had already been eating a Paleo diet, and my digestion was 90% better, but I continued to struggle with my adrenals, energy levels, and blood pressure. Sometimes my blood pressure would be as low as 90/60! My doctor would wonder how I was even walking!
I decided to bite the bullet and ordered a really expensive advanced functional medicine nutrient analysis test for myself that uses a unique technology to pick up nutrient deficiencies that traditional tests miss (the Spectracell test that I discuss in my book, Hashimoto's the Root Cause). I had already done a lot of research on the nutrients that were causing some of my symptoms, including glutamine, zinc, and the B vitamins, so many of the results were not surprising—except for one: I was deficient in thiamine!
Now, don't worry, I'm not about to tell you that I have a drinking problem. Quite the contrary! Besides the occasional glass of wine or fruity drink on vacation, I'm too much of a health nut to engage in the regular use of alcohol.
A few days after starting thiamine, my energy began to bounce back, my blood pressure normalized, and I was able to reduce my dose of Betaine with Pepsin, which I had been taking to help me digest proteins.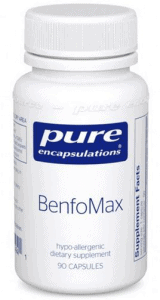 The supplement I have taken for thyroid fatigue and recommend is the highly absorbable BenfoMax. I took 3 capsules per day for one month and then reduced my dose to one per day as I continued to work on my digestion, absorption, and eating more liver. Thiamine is a water-soluble vitamin, so it does not build up in the body. (6)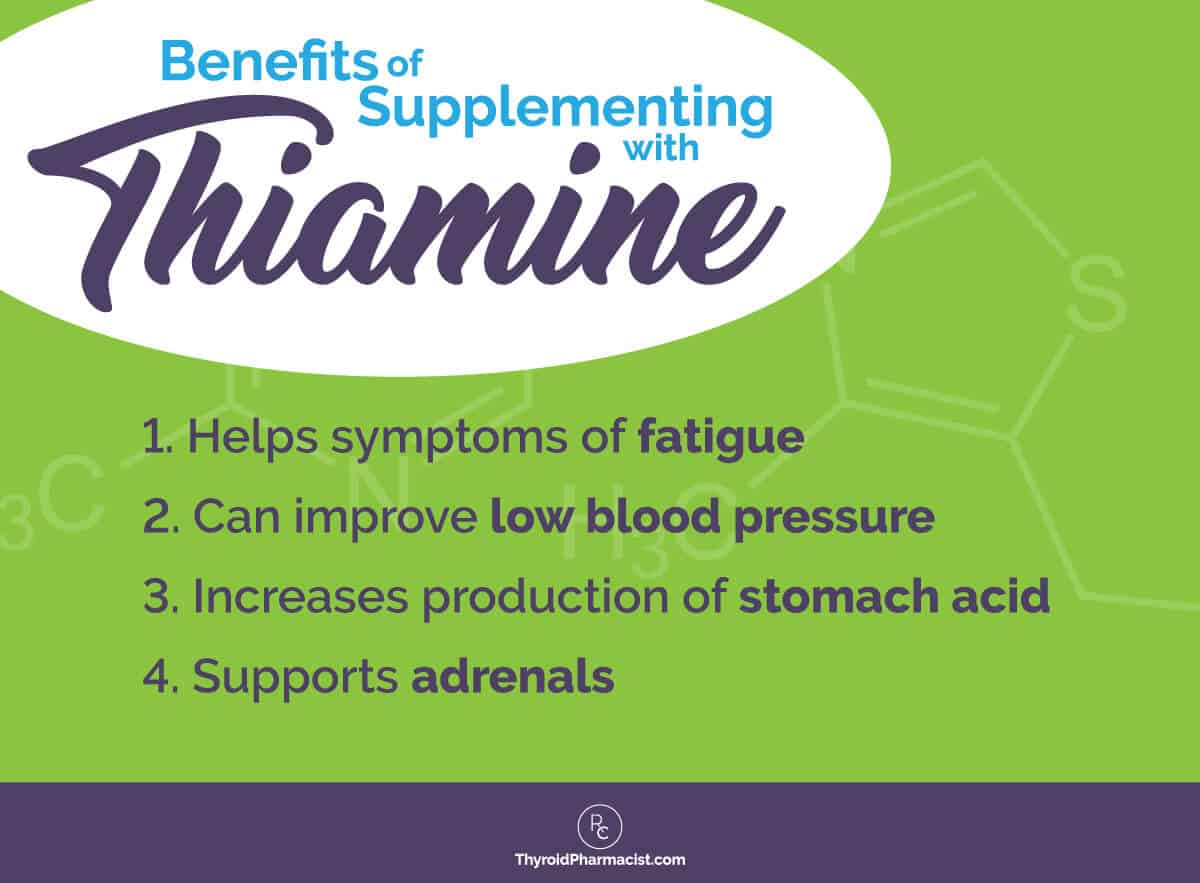 P.S. For continued updates and interaction, please become a part of our Facebook community and sign up for our newsletter to get a free book chapter, recipes, and Thyroid Diet Starter Guide! I love interacting with our readers!
P.P.S. To learn more about other helpful interventions, pick up a copy of Hashimoto's Protocol: A 90-Day Plan for Reversing Thyroid Symptoms and Getting Your Life Back and Hashimoto's Thyroiditis: Lifestyle Interventions for Finding and Treating the Root Cause.
References
Ehrlich S. Vitamin B1 (Thiamine). University of Maryland Medical Center. 2015. Available at: http://umm.edu/health/medical/altmed/supplement/vitamin-b1-thiamine. Accessed September 12, 2017.
Thiamin: MedlinePlus Medical Encyclopedia. Nlmnihgov. 2017. Available at: http://www.nlm.nih.gov/medlineplus/ency/article/002401.htm. Accessed July 25, 2017.
Costantini A, Pala M. Thiamine and Hashimoto's Thyroiditis: A Report of Three Cases. The Journal of Alternative and Complementary Medicine. 2014;20(3):208-211. doi:10.1089/acm.2012.0612.
Levin LG e. [Effect of thiamine deficiency in hydrochloric acid secretion in the stomach]. – PubMed – NCBI. Ncbinlmnihgov. 1978. Available at: http://www.ncbi.nlm.nih.gov/pubmed/716330. Accessed July 25, 2017.
Comín-Anduix B, Boren J, Martinez S et al. The effect of thiamine supplementation on tumour proliferation. European Journal of Biochemistry. 2001;268(15):4177-4182. doi:10.1046/j.1432-1327.2001.02329.x.
Volvert, M., Seyen, S., Piette, M., Evrard, B., Gangolf, M., Plumier, J. and Bettendorff, L. (2008). Benfotiamine, a synthetic S-acyl thiamine derivative, has different mechanisms of action and a different pharmacological profile than lipid-soluble thiamine disulfide derivatives. BMC Pharmacology, 8(1), p.10.