I've met quite a few brilliant doctors who are working tirelessly to change the world over the past few years! One of my favorites is Dr. Kelly Brogan, an MIT-educated, board-certified psychiatrist, who doesn't recommend antidepressant medications. This is because Dr. Brogan had her own health crisis with postpartum thyroiditis and Hashimoto's. This health crisis led her to become an integrative physician focused on helping people treat the root cause of their conditions. This doctor healed herself and has taken her experience to help others heal from depression and mood disorders, naturally.
Her health crisis and approach are also why I think of her as a kindred spirit. Dr. Brogan reached out to me in 2014 to tell me how much she loved my book, Hashimoto's the Root Cause, and I have been a huge fan of her work ever since! She is the first person who comes to mind when someone asks me to recommend a doctor in New York, although she is now working on a waiting list.
I was excited to learn that she shares her approach in a book focusing on treating depression and mood disorders naturally.
Psychological Symptoms in Thyroid Disorders
After fatigue and weight, mood alterations such as depression, agitation, and anxiety are the most common symptoms in people with Hashimoto's. These symptoms could be due to alterations in thyroid hormone, as well as due to the autoimmune process itself.
Hashimoto's causes a breakdown of the thyroid gland, which can rush thyroid hormones into the bloodstream causing a transient hyperthyroidism.
Symptoms of agitation, anxiety, and even psychosis can occur …anyone who has experienced symptoms of hyperthyroidism can describe how terrible this feels.
Once the thyroid hormone is cleared out, the person may be functionally hypothyroid, and they may have symptoms of depression, apathy, poor mood, and brain fog. One person wrote, " I feel like I'm sitting on the sidelines of life, watching everyone else enjoy their journey, wondering if I'll ever have my zest for life back."
Additionally, people with bipolar disorder (as well as depressive and anxiety disorders) were found to have a higher prevalence of antithyroid antibodies. To further complicate the issue, lithium—a medication used for bipolar disorder—can trigger Hashimoto's.
Doctors in the know will take a deeper look at the role of thyroid medications; uninformed doctors will disregard these symptoms as being related to thyroid function and will offer people antidepressants or a referral to a psychiatrist!
Progressive psychiatrists will test all of their patients that present with new onset depression, anxiety, and mental health symptoms for thyroid disorders and will often be open minded about prescribing thyroid medication.
Unfortunately, despite all of the research that's out there, these types of psychiatrists are a minority, and some patients have been misdiagnosed (even hospitalized) with "bipolar disorder" or "schizophrenia" when in fact they were suffering from thyroid imbalances.
Although I don't often talk about depression, I have personally and professionally seen the impact that the thyroid can have on mood as well as how depression can destroy a person's life.
I battled with depression before my Hashimoto's diagnosis and have lost friends and loved ones to depression and mental illness in my early twenties.
How I wish I knew then what I know now. It breaks my heart that some of the kindest and most amazing people I used to know are no longer around to enjoy the beauty of this world and that others are not living their lives due to the dark cloud of depression hovering over their heads.
Too many people are suffering needlessly—even after taking antidepressant medications. As a pharmacist, I know many people that have been helped by antidepressant drugs, but I also know others who didn't see a benefit (the STARD trial showed only 30% of people were "responders" to most antidepressants). Sadly, I also know people who took mood-altering medications and had adverse reactions to them.
While I've seen people who were helped by mood altering medications, as a pharmacologist, I can tell you that antipsychotic medications, such as Seroquel, Risperdal, and in particular Zyprexa, are the "dirtiest" drugs out there.
They've traditionally been used for schizophrenia but are now being used for depression as well. I've seen people gain hundreds of pounds in the course of a year, become diabetic, lethargic and withdrawn and develop irreversible, involuntary movements and painful muscle contractions from using these types of medications. From 2008-2011, the majority of my recommendations as a consultant pharmacist were to reduce or taper antipsychotic medications for clients due to the horrible side effects and lack of perceived benefit. From 2012 on, one of my job descriptions was to help reduce the use of antipsychotic medications in the elderly.
When the root cause of depression or a mood disorder is due to the thyroid, people with lifelong psychiatric diagnoses have been able to recover after receiving proper thyroid care.
A note from a reader
"One year ago, I was feeling anxious, depressed, and like I was going crazy! I was sent to a psychiatrist and prescribed Seroquel [an antipsychotic medication] and clonazepam [an anxiety medication]. 5 months later, I read your blog and went to my primary care doctor and demanded testing for Hashimoto's. I wasn't going crazy, I had TPO Antibodies well into the 600 range. I am being weaned off of the psychiatric meds and I immediately changed doctors. Thank you, Dr. Wentz, or I would still be spending thousands on a psychiatrist. And my TPO is slowly coming down."
However, some people continue to have these symptoms despite taking medications like Synthroid, Levothyroxine, or Levoxyl.
The chances are that people may have these symptoms because they are not optimized on medications. A survey of over 2000 Root Cause readers found that as far as medications and mood, getting the TSH between 1 and 2, and in some cases under 1, helped a person improve their mood symptoms.
However, not everyone can be optimized on a T4 medication alone. One of the biggest signs that a person with thyroid disease is not converting T4 to the active T3 properly is depression. Additionally, medical studies have shown that up to one-third of people who fail antidepressants report feeling better once started on Cytomel® (a T3, thyroid hormone).
If you are still having symptoms of depression while on your thyroid medications, consider talking to your doctor about switching your medications. Around 60% of the Root Cause Readers surveyed reported improved mood after switching medications to a T3 containing medication like Nature-Throid, WP Thyroid, Armour*, or compounded T4/T3.
While doctors in the know have long known about the impact of thyroid hormones on mood, new research is showing that the presence of thyroid antibodies—even in euthyroid Hashimoto's—can be associated with symptoms! Some people continue to have mood alterations even with "perfect" thyroid medications and thyroid hormone levels. New studies have connected depression, distress, obsessive-compulsive symptoms, and anxiety with a high titer of TPO antibodies. Higher antibody levels are associated with a lower quality of life, even in those taking the thyroid medication levothyroxine.
If you have any family members or friends who have been diagnosed with anxiety, depression, or other mood disorders, please encourage them to have their thyroid function checked—especially TSH, TPO antibodies, Thyroglobulin antibodies, and TSH receptor antibodies.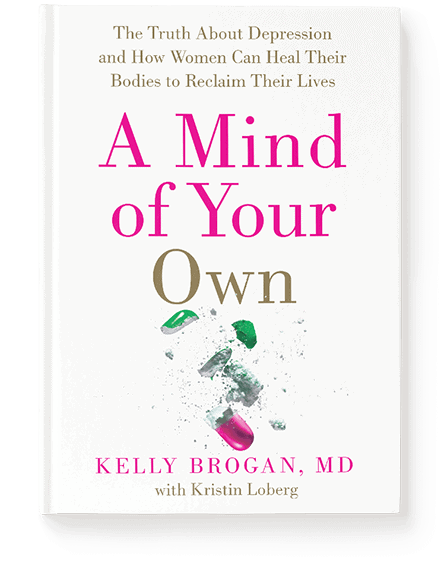 If you're struggling with depression, please know that while it may seem hopeless and like there's nothing you can do to get better, these thoughts and feelings are the furthest from the truth. Hopelessness is a side effect of the disease process. Mood is temporary. Depression can get better, and in fact, I've seen hundreds of people recover from "hopeless" depression, anxiety, panic attacks, etc. by addressing their underlying root causes. You can get better too! Help is on the way!!
If you are suffering from depression, please know that you ABSOLUTELY can feel better! Even if you have "failed" antidepressants!
According to Dr. Kelly Brogan, the best way to heal the mind is to heal the whole body. Dr. Brogan shatters the mythology that conventional medicine has built around the causes and treatment of depression. I'm excited to share with you that Dr. Brogan has a book called A Mind of Your Own: The Truth about Depression and How Women Can Heal Their Bodies to Reclaim Their Lives.
If you are suffering from depression or another type of mood disorder, please pick up a copy of Dr. Brogan's book.
In the meantime, some of the things that have helped people with thyroid-related depression boost their mood include starting a selenium supplement, going on a gluten free or Paleo diet, acupuncture, sauna therapy, massage (80% reported this boosted their mood!), and adrenal adaptogens, so try one of these out as you wait for your book to arrive!
P.S. Please share this article with anyone you know who is battling depression.
*Note: While Armour Thyroid does not have any gluten-containing ingredients, it is not tested for gluten content, and cannot be certified as gluten-free. Armour does contain sodium starch glycolate, which can be derived from wheat or corn.