I'm so excited that you're taking this first step in taking back your health! Nourishing your body with nutrition can help you feel better right away and put you on the path to remission!  This is the single, most important step you can take! In my work with people with Hashimoto's over the last few years, I found that nutrition is the cornerstone of healing!
Food sensitivities and nutrient depletions are two very important thyroid triggers that can be resolved by changing your diet! I have found that up to 20% of people can get into complete remission from Hashimoto's by changing their diet, while about 80% will feel better, but may hit a healing plateau with some residual symptoms and remaining inflammation within their bodies. This is where resolving the additional root causes of Hashimoto's comes in.
I have uncovered that there are six different buckets of root causes of Hashimoto's:
Food sensitivities

Nutrient depletions

Toxins

Stress

Intestinal permeability

Chronic infections
Over the last four years, I've developed a streamlined approach that addresses the root causes of Hashimoto's in a systematic and stepwise fashion to produce rapid healing results in as little as 2 weeks (see program stats below)*.
The program consists of targeted fundamental protocols that support the liver, stress response and the health of the gut, as well as advanced protocols that help you break through your toughest challenges. Over the last few years I've developed research based protocols for my clients that focus on specific root causes and help you not just optimize your thyroid hormones, but also give you tools to help regenerate your thyroid tissue. This information is not available anywhere else, and I'm pleased to offer it to you so that your healing journey can be accelerated. After all, why be sick, when you can feel better!!
I used to offer this program only to private clients, and the cost of completing the program would usually be over $2500, however I have boiled down the entire program, with every single protocol I developed in my new book, Hashimoto's Protocol for a fraction of the cost.
How to Get Started... Your next steps are located in the Hashimoto's Protocol book. You'll start looking and feeling better in as little as 2 weeks!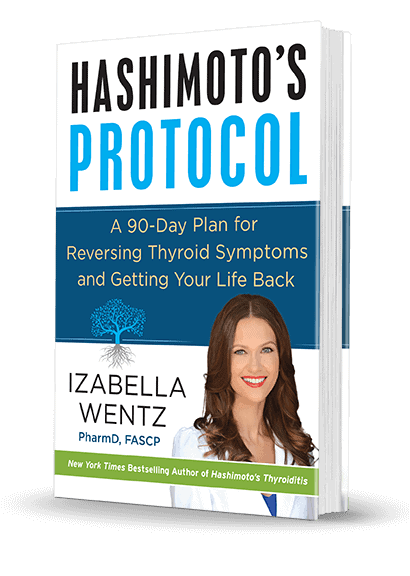 Check out what others are saying about Hashimoto's Protocol!
I finally have a light at the end of the tunnel. I'm not alone. I'm not crazy. I have great support. I'm going to live. -Utah
---
I took the assessment which showed high risk for yeast and then I started putting it all together. The incessant itch in my ears and belly button, the fungus on my toenails, the white coating on my tongue, all the antibiotics I've taken…the fact that my health started to go downhill right after taking antibiotics. It all made sense. I have been struggling for the past 3 years because of Candida overgrowth! Now I know exactly what I need to do to get rid of it, feel better, and stop the attack on my thyroid. Thank you so much Izabella!" - Rachel D.
The results speak for themselves...
97% improved their knowledge of Hashimoto's
81% saw an improvement/resolution in depression
80% saw a reduction in stomach pain
75% saw a reduction in joint pain
74% experienced improvement from fatigue
73% experienced a TSH reduction
71% improved their acid reflux
65% saw an improvement in symptoms after the liver cleanse
62.5% improved brain fog
61% improved irritability
ORDER YOUR COPY NOW