I started studying Hashimoto's in 2009, right after my own diagnosis. The protocols I've developed over the years and shared in my books, will help about 80 percent of people feel significantly better. However, I'm always on the lookout for new protocols and the latest research to help more people heal. I was really excited that a new study has shown that aloe vera can be beneficial for Hashimoto's – it has been found to reduce thyroid antibodies, as well as improve TSH and free T4 levels.
In the past, I had occasionally used aloe vera to support gut health with great results, but didn't realize just how impactful it could be for antibodies and thyroid markers, until recently.
Aloe vera has numerous benefits, both when taken orally and applied topically, and has been an essential healing plant in many cultures, for thousands of years. Traditionally, the plant has been used as a great household remedy to treat wounds, soothe itching, and help reduce tissue scarring.
It has also been used for a variety of conditions, including constipation, blood sugar issues, infections, and inflammation.
Since such conditions are often co-occurring in people with autoimmune thyroid disease, aloe vera can be used to help reverse them. I am so excited to share with you just how this plant can benefit those with Hashimoto's!
In this article, you'll learn about:
How aloe vera can help the thyroid
How aloe vera can support gut and immune health
How aloe vera may be beneficial for stress levels
Specific aloe vera supplement recommendations and important precautions
What is Aloe Vera?
Aloe vera (Aloe barbadensis) is one of the oldest mentioned plants known for its medicinal properties. Originating from the Arabian peninsula, this succulent (a member of the lily family) was first recorded to be used by the ancient Egyptians as a treatment for wounds and burns.
Cleopatra was even known to use aloe during her skincare sessions, likely because aloe vera gel (the clear jelly-like substance found in aloe leaves) is almost 99 percent water and can be very hydrating to the skin. In fact, it can be used topically to help reduce fine lines and wrinkles.
Aloe vera is now cultivated in many countries throughout the world.
Today, it is favored as a great houseplant. I often recommend that people keep multiple aloe vera plants in their homes or offices. Aloe is easy to care for and requires minimal sunlight.
Aside from being a practical plant, aloe vera has been touted as a nutritional powerhouse, as it is packed full of antioxidants and anti-inflammatory components. The leaf of aloe contains vitamins C, E, and A, as well as many essential B vitamins: B12, niacin, B6, folate, and biotin. Aloe vera is unique in that it is rich in vitamin B12, which very few plants are. (Typically, this energy-supporting B vitamin is only found in animal products such as fish, meat, eggs, and milk.)
Aloe vera also contains minerals and trace minerals which are vital for thyroid protection and a healthy conversion from T4 to T3 – these include chromium, zinc, selenium, copper, magnesium, sodium, potassium, and calcium. (One reason why I love aloe vera so much is because its nutritional profile can help address some nutrient deficiencies associated with Hashimoto's!)
Another unique feature of aloe vera is that it contains many amino acids, which are essential for the body (meaning our body cannot produce them on its own). One amino acid in aloe vera that I find particularly interesting is tyrosine, which is the precursor amino acid for thyroxine, also known as… thyroid hormone. 🙂
Aloe Vera for Thyroid Health
As I mentioned previously, aloe vera can benefit those with Hashimoto's and thyroid conditions, in multiple ways.
I was really excited to learn about a new study from Italy, which focused specifically on the benefits of aloe vera in Hashimoto's. Interestingly, one of the researchers who initiated the study saw that her own Hashimoto's markers improved after she began drinking aloe vera on a daily basis, to soothe her digestion and use as a laxative for constipation.
The researcher had routine lab work done to track her Hashimoto's markers every few months.
Prior to starting daily aloe vera, her TSH was 5.14 μIU/mL, her free T4 was 8.3 pmol/L, and her TPO antibodies were 1875 IU/mL.
Three months after the start of her aloe vera regimen, her TSH dropped to 3.22 μIU/mL, her free T4 improved to 11.44 pmol/L, and her thyroid antibodies dropped to 778 IU/mL.
Another six months later, her labs continued to improve even further: her TSH was within optimal range at 1.83 μIU/mL, and her thyroid antibodies dropped again to 24 IU/mL, which is considered "negative" for Hashimoto's, according to most labs! I love that Root Cause Rebels are everywhere, and that this particular rebel decided to help the Hashimoto's community through published research based on her own experience — a woman after my own heart. 🙂
The study used 50 mL of Aloe barbadensis miller juice (or ABMJ, which is the botanical name for the aloe vera plant) twice daily, for a period of nine months, in 30 women with Hashimoto's thyroiditis and subclinical hypothyroidism. (An additional 15 women served as controls.)
After the nine-month trial, there was a decrease in serum TSH and TPO antibodies (a 54 percent reduction!), as well as an increase in serum free T4, in those who took aloe vera daily. Interestingly, serum free T3 declined by 16 percent after 3 months, with no further decline after another six months.
Interestingly, aloe vera was as effective as selenium, one of the well-known and often recommended nutrients for Hashimoto's. In general, selenium (Selenomethionine at 200 IU a day, for six months), has been shown to reduce TPO antibodies by up to 54 percent and is one of my key go-to initial recommendations for Hashimoto's.
With respect to selenium, I often see that in terms of symptoms, people will see a reduction in anxiety and hair loss. This particular study didn't report the symptom benefits that aloe provided, but in clients who have used it, mostly gut-related symptoms (like constipation and stomach discomfort) improved. Nonetheless, based on the success of this recent study, I do believe aloe vera may be beneficial for those with Hashimoto's, and I will be looking out for more research being published on this topic.
The Benefits of Aloe Vera
Aloe vera can decrease thyroid antibody levels, positively affect our thyroid hormone levels, and be beneficial for other conditions which may co-occur with Hashimoto's, including:
Food sensitivities
Nutrient depletions
An impaired ability to handle stress (including blood sugar imbalances)
An impaired ability to handle toxins
Gut issues
Infections
I often say that Hashimoto's is a combination of the above, and that's not even an exhaustive list!
Let's explore how aloe vera can help.
Gut Health and Digestion
Aloe vera has been known to balance the digestive system, as well as reduce inflammation within the colon and small intestine. This is an incredibly helpful mechanism, as intestinal permeability (also known as leaky gut) is one of the three factors that must be present for an autoimmune condition to occur.
In other words, most people with Hashimoto's will present with gut issues – and many of us with autoimmune thyroiditis may be able to reverse symptoms and the condition itself, by healing intestinal inflammation and improving our gut health.
One way that aloe vera can help address gut health is by improving one's digestion. Aloe vera is full of enzymes (alliinase, alkaline phosphatase, amylase, bradykinase, carboxypeptidase, catalase, cellulase, lipase, and peroxidase). Since many people with Hashimoto's are deficient in digestive enzymes, aloe vera's high enzyme content can actually support digestion by breaking down carbohydrates and fats from foods.
Containing 75 active constituents, aloe vera is also abundant in saccharides (sugars). These sugars are an excellent source of fiber and prebiotics (a form of dietary fiber that acts as a fertilizer for probiotics – AKA good gut bacteria), which support the digestive tract in absorbing toxins and excess hormones.
Interestingly, a study completed in 2012 showed the effects of aloe vera juice on the growth of the probiotic Lactobacilli. The results showed an improvement in the growth of the different Lactobacilli such as L. acidophilus, L. plantarum, and L. casei in the lab. This is helpful because increasing the amount of beneficial bacteria in one's gut can put gut-related symptoms into remission!
I particularly like anything that helps with the growth of L. casei, as this probiotic can help with breaking down casein, a common reactive protein present in dairy that many with Hashimoto's and autoimmune conditions may find triggering.
Aloe vera also can help with acid reflux, which is a common symptom of Hashimoto's and hypothyroidism. Aloe vera contains natural alkaline properties which can help balance the pH in the colon. Though many people with Hashimoto's have a lack of stomach acid that will cause symptoms of acid reflux, those who have an overabundance of stomach acid and are at risk for ulcers, may benefit from the alkalizing properties of aloe. Studies have shown aloe vera to be well tolerated and as effective in reducing symptoms of gastroesophageal reflux disease as common reflux medications (such as omeprazole or ranitidine).
Lastly, aloe vera has been shown to improve irritable bowel disease (IBD) and ulcerative colitis (UC). Aloe vera has potent anti-inflammatory and antioxidant properties that help reduce inflammation and oxidative damage, as well as help balance the immune system, in those with IBD and UC. In a 2020 study, researchers induced UC in rats to investigate the benefits of aloe vera as a treatment option. They found that aloe vera significantly reduced pathological processes seen in UC, such as bleeding of intestinal mucus, thickening of intestinal mucus, as well as ulcers and tissue damage in the intestines.
Liver Health – Impaired Ability to Handle Toxins
Aloe vera has been shown to protect the liver from oxidative stress-induced damage (that is, damage caused by an imbalance between the production of harmful free radicals, and the body's ability to counteract them with antioxidants) in animal studies. This may be due to the plant's high amino acid content. A 2013 animal study that used aloe vera gel daily, for a period of 21 days, found that aloe vera gel helped with normalizing elevated liver enzymes (a marker of liver disease), with markers returning to the normal or near-normal range for most.
I have previously discussed how a liver "backlog" can lead to poor detoxification and multiple symptoms, as well as impair the conversion of the T4 thyroid hormone to the biologically active T3 hormone.
Stress and Adrenal Support
Aloe vera is an adaptogen, which is a substance that can increase the body's resilience to different types of stress, including physical and emotional stress. Often, ongoing stress, or even an acutely stressful situation, opens the door to autoimmune disorders. Many of my clients have noticed that their thyroid symptoms began after experiencing a particularly stressful period in their life.
An existing or recent diagnosis of Hashimoto's can further the stress response, leading to a decrease in sleep quality, blood sugar imbalances, and added emotional stress – all of which are factors that can wreak havoc on our adrenals, which help us respond to stress, yet often take the biggest hit when we are overwhelmed. To fully heal, we must turn down our stress response (also known as our fight-or-flight response).
For this reason, adaptogens such as aloe, which improve our resilience to stressful situations, are great to add when one's adrenals are feeling overwhelmed – and addressing adrenal issues can, in turn, help reverse many symptoms of Hashimoto's! (Read more about adaptogens and adrenal health.)
Blood Sugar Balance
Aloe vera has been used as a remedy for elevated blood sugar levels. In one study, aloe vera was found to improve insulin sensitivity and fasting blood sugar levels in adults, when taken twice daily for 14 days. Not only did fasting blood sugar levels drop, but triglyceride levels (levels of fat in the blood, which are associated with type 2 diabetes) did as well.
This study suggests that aloe vera may help lower blood sugar levels, which are often found to be elevated in those with Hashimoto's.
Infections
Studies have found that aloe vera is antibacterial and can prevent fungus and bacteria from multiplying within the colon.
Many antiseptic agents, such as salicylic acid, sulfur, and phenols, are found in aloe vera.
These antiseptic agents target bacteria, mold, viruses, and fungi – all of which can be root causes of autoimmunity. Aloe vera's strong anti-viral properties have made it a particularly great option for various herpes viruses, including the Epstein-Barr virus, which are often triggers of Hashimoto's.
Additionally, aloe vera contains numerous enzymes. These enzymes can help break up biofilms, which are densely packed colonies of pathogens that make their eradication difficult, even when using antimicrobial medications or herbs. The polysaccharide content from aloe vera has been shown to break up these biofilms as well as inhibit the binding of the bacteria Helicobacter pylori (often found in those with Hashimoto's) to gastric cells.
While I feel there needs to be more research done on this plant and its biofilm-busting power, we do know that several pathogens can be triggering to Hashimoto's, and often a biofilm agent is necessary, so aloe vera may help in this regard. You can read more about treating underlying infections to reverse Hashimoto's here. When working with clients, I often see patients' thyroid antibodies reduce when we treat underlying infections and pathogens.
Immune Health
The active compounds found in aloe vera have been found to have immune-modulating benefits.
An animal study published in the Journal of Pharmacology and Experimental Therapeutics evaluated extracted glycoproteins from aloe and found that they blocked antigen-antibody reactions (including the inhibition of histamine and leukotriene from mast cells), which are reactions that are produced when the immune system encounters foreign substances in the body.
Aloe's naturally-occuring anthraquinone compounds (specifically, aloe-emodin) have also been shown to help inhibit the production of several proinflammatory cytokines (involved in inflammatory reactions) by white blood cells, when encountering pathogenic materials.
Polysaccharides (complex carbohydrates made of simple sugars), which make up 55 percent of the aloe vera plant, are also very beneficial to immune health. The polysaccharides acemannan and glucomannan, which are considered to be the two main active components of the plant, have strong antiviral and antibacterial components, as they stimulate white blood cells (which target infections).
Thus, the use of aloe vera can stimulate the immune system and be supportive to many people who have an underlying virus that is suppressing their immune system (and is at the root of their Hashimoto's condition).
Oxidative Stress
One interesting study to note was published in the International Journal of Immunopharmacology in 1990. The study found that constituents found in aloe gel extracts can inhibit the release of reactive oxygen species (ROS).
ROS can have multiple effects within the body, including opening the gate for autoimmunity, and causing oxidative damage to our mitochondria and DNA. Oxidative stress results when there is an imbalance between ROS and antioxidants, as antioxidants counteract the harmful effects of ROS.
In Hashimoto's thyroiditis, there is often an increased production of free radicals (toxic byproducts of oxygen metabolism), which may include ROS. Antioxidant capacity is also significantly lowered when one is in a state of autoimmunity. So, this study suggests that aloe vera may potentially help reduce oxidative stress and improve one's autoimmune condition.
Read more about the importance of antioxidants in Hashimoto's here.
Constipation
Due to the plant's high polyphenol content, aloe vera is effective at relieving occasional constipation, which is a common symptom of low thyroid function. The anthraquinones present in aloe induce muscle contractions in the large intestine and have a laxative effect. Other plants also contain this organic compound, but aloe vera contains an especially large amount, with over 12 different anthraquinones.
Aloin, a type of anthraquinone derived from the yellow-brown sap in the outer leaf (also referred to as aloe latex, or Cape Aloes), increases muscular contractions and motility within the colon, resulting in softer stools. When taking aloe latex as a standalone for constipation relief, it is important to know the side effects and how long one should take this as a supplement.
Anthraquinones found in aloe latex increase fluid and electrolyte secretion into the GI tract, resulting in a bowel movement within ten hours. While I don't recommend using it as a "laxative," per se, some people do find that it helps with relieving constipation.
Again, since constipation is a common symptom experienced by those with hypothyroidism and Hashimoto's, aloe vera may help be beneficial for some individuals.
It is also important to find the root cause of less frequent bowel movements, and I encourage you to do so. I'll be coming out with an article on constipation in the future, but in the meantime, you may wish to consider testing for gut infections like H. pylori, SIBO, and Candida overgrowth, which are often underlying culprits behind constipation.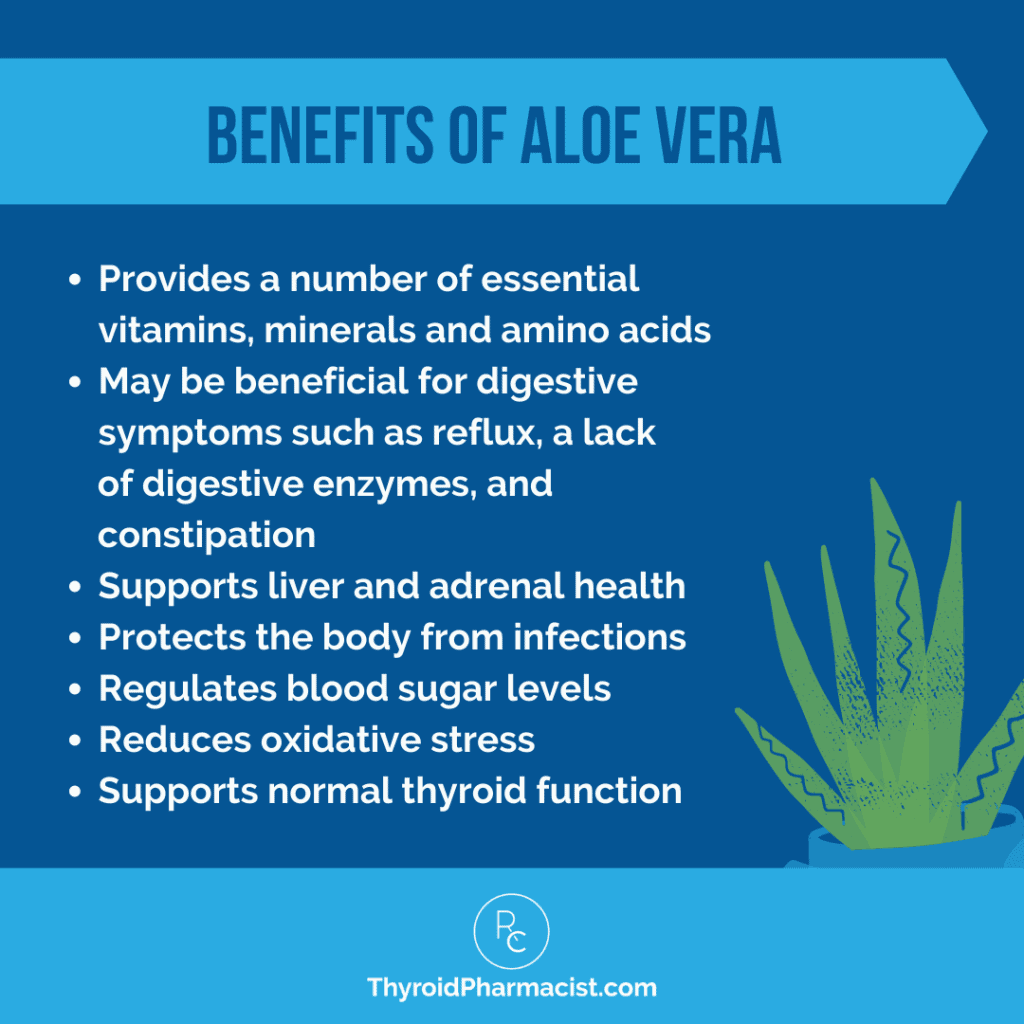 Supplementing with Aloe
There are various ways one can supplement with aloe, including juice, gel, powder, or capsule form.
In the above study, participants drank aloe vera leaf juice, at a dose of 50 mL, two times daily. It should be noted, however, that the juice form will contain the highest levels of anthraquinone compounds that will increase bowel motility and can cause a laxative effect, which can be a concern for some individuals, especially those who already tend to have loose bowels (of note, the Mayo Clinic doesn't recommend using aloe as a laxative).
When my husband was having intense digestive issues in 2018 (a story for another day), I wanted to have access to an aloe formulation that didn't cause more diarrhea and that could also be taken in powder or capsule form, as he didn't like the taste of the liquids we had tried. This is how I decided to create the Rootcology Aloe capsules.
To make these capsules, aloe vera gel is rinsed to remove remnants of aloin (the laxative ingredient in the latex). I recommend one capsule per day of Aloe by Rootcology, which is highly concentrated. In fact, it takes 200 pounds of aloe vera gel to make one pound of this nourishing aloe extract! It is also prepared using a low-heat dehydration method with no filtering, which ensures that the plant's beneficial components (long polysaccharide chains) and its natural makeup, remain intact as much as possible.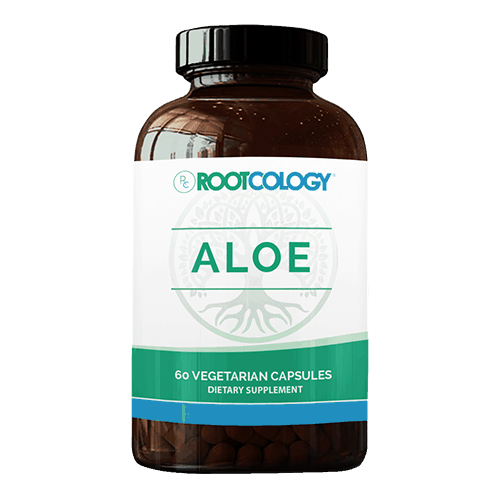 Here is what Roxanna S. had to say:
I have Hashimoto's and I don't digest things well. I'm trying aloe to help with my digestion and I feel like it is working well. I pair it up with bitters and digestive enzymes when necessary. I am not noticing the gas and bloating anymore.
Precautions
It's important to note that some individuals may be sensitive to anthraquinone compounds, which are present in aloe latex (taken from the outer skin of the plant) and aloe whole leaf extracts. (Rootcology's Aloe is tested for anthraquinone, and the content is below a detection limit of 0.1 ppm.) Due to its laxative effect, aloe latex may also cause a loss of minerals, such as potassium and sodium.
It is also important to note that one study reported the component aloin (found in aloe vera latex) to have carcinogenic activity. In this study, aloe vera (whole-leaf extract) caused intestinal irritation and acted as a carcinogen within the large intestine of rats. However, the concentration, as well as the strength, was over ten times the amount that someone would take in a daily dose, equaling a very high dose of 14.4 grams. Additionally, this study used whole-leaf extract (which contains the aloe latex from the outer rim, as well as the gel from the inside of the plant), which is different from the aloe vera that I recommend.
Aloe vera may also interact with certain medications. Avoid aloe if you are taking any of the following medications: anticoagulant/antiplatelet drugs, antidiabetic medications, blood thinners, corticosteroids (including prednisone and prednisolone), cardiac glycoside drugs (including digoxin and digitoxin), diuretic medications, sevoflurane, or stimulant laxatives.
There may be other medications that may interact with aloe, so please consult with your practitioner to review your current list of medications before starting supplementation.
Aloe vera should not be used by those who are pregnant or breastfeeding, diabetic, or have a bowel obstruction. Please check with your healthcare provider before using aloe vera if you have intestinal issues such as Crohn's disease or ulcerative colitis.
As always, it is important to consult with a practitioner before starting this supplement, to ensure that it is right for you.
The Takeaway
In summary, aloe vera provides several essential vitamins, minerals, and amino acids. For some, the use of aloe vera may be beneficial for digestive symptoms such as reflux, a lack of digestive enzymes, and constipation.
It can also support liver and adrenal health, protect the body from infections, boost immune health, regulate blood sugar levels, and reduce oxidative stress.
If you have Hashimoto's, aloe vera may be beneficial in eliminating symptoms, and supplementing with Rootcology's Aloe and/or organic aloe vera juice could be a very helpful addition to your daily routine.
I hope this helps you on your health journey. Let me know if aloe vera has worked for you!
In the meantime, I invite you to check out my books Hashimoto's: The Root Cause and Hashimoto's Protocol for more information on how to address symptoms of Hashimoto's and reverse the condition.
P.S. Be sure to sign up for my weekly newsletter to get a free book chapter, recipes, my Thyroid Diet Quick Start Guide, notifications about upcoming events, and my latest research.
For future updates, make sure to follow us on Facebook and Instagram!
References
Surjushe A, Vasani R, Saple DG. Aloe vera: A short review. Indian J. Dermatol. 2008;53:163166. doi: 10.4103/0019-5154.44785.
Nahar T, Uddin B, Hossain S, Sikder AM, Ahmed S. Aloe vera gel protects liver from oxidative stress-induced damage in experimental rat model. J complement Integr Med. 2013. May 7;10. doi: 10.1515/jcim-2012-0020.
Yongchaiyudha S, Rungpitarangsi V, Bunyapraphatsara N, Chokechaijaroenporn O. Antidiabetic activity of Aloe Vera L. Juice. I. Clinical trial in new case of diabetes mellitus. Phytomedicine. 1996 Nov;3(3):241-3.
Xu C, Ruan XM, Li HS, Guo BX, Ren XD, Shuang JL, Zhang Z. Anti-adhesive effect of an acidic polysaccharide from Aloe vera L. var. chinensis (Haw.) Berger on the binding of Helicobacter pylori to the MKN-45 cell line. J Pharm Pharmacol. 2010;62:1753-1759.
Nagpal R, Kaur V, Kumar M, Maratta F. Effect of Aloe Vera juice on growth and activities of Lactobacilli in-vitro. Acta Biomed. 2012 Dec;83(3):183-8.
Parian A, Limketkai BN. Dietary Supplement Therapies for Inflammatory Bowel Disease: Crohn's Disease and Ulcerative Colitis. Curr Pharm Des. 2016;22(2):180-188. doi:10.2174/1381612822666151112145033
Bahrami G, Malekshahi H, Miraghaee S, et al. Protective and Therapeutic Effects of Aloe Vera Gel on Ulcerative Colitis Induced by Acetic Acid in Rats. Clin Nutr Res. 2020;9(3):223-234. Published 2020 Jul 30. doi:10.7762/cnr.2020.9.3.223
Panahi Y, Khedmat H, Valizadegan G, Mohtashami R, Sahebkar A. Efficacy and safety of Aloe vera syrup for the treatment of gastroesophageal reflux disease: a pilot randomized positive-controlled trial. J Tradit Chin Med. 2015 Dec;35(6):632-6.
Bugdaci M, Zuhur S, Sokmen M, Toksoy B, Albayrak B, Altuntas Y. The Role of Helicobacter pylori in Patients with Hypothyroidism in Whom Could Not be Achieved Normal Thyrotropin Levels Despite Treatment with High Doses of Thyroxine. Helicobacter. 2011;16(2):124-130. doi:10.1111/j.1523-5378.2011.00830.x.
Metro D, Cernaro V, Papa M, Benvenga S. Marked improvement of thyroid function and autoimmunity by Aloe barbadensis miller juice in patients with subclinical hypothyroidism. J Clin Transl Endocrinol. 2018;11:18-25. doi:10.1016/j.jcte.2018.01.003
Park MY, Kwon HJ, Sung MK. Evaluation of aloin and Aloe-emodin as anti-inflammatory agents in Aloe by using murine macrophages. Biosci. Biotechnol. Biochem. 2009; 73(4): 828-832.
 Ro JY, Lee B, Kim JY, Chung Y, Chung MH, Lee SK, et al. Inhibitory mechanism of aloe single component (Alprogen) on mediator release in guinea pig lung mast cells activated with specific antigen-antibody reactions. J Pharmacol Exp Ther. 2000;292:114-121.
Hart LA, Nibbering PH, van den Barselaar MT, van Dijk H, van den Burg AJ, Labadie RP. Effects of low molecular constituents from aloe vera gel on oxidative metabolism and cytotoxic and bactericidal activities of human neutrophils. Int J Immunopharmacol. 1990;12:427-434.
Resch U, Helsel G, Tatzber F, Sinzinger H. Antioxidant status in thyroid dysfunction. Clin Chem Lab Med. 2002;40:1132-1134.
Davis RH, Parker WL, Murdoch DP. Aloe vera as a biologically active vehicle for hydrocortisone acetate. J Am Podiatric Med Assoc. 1991;81:1-9.
Boudreau MD, Mellick PW, Olson GR, Felton RP, Thorn BT, Beland FA. Clear evidence of carcinogenic activity by a whole-leaf extract of Aloe barbadensis miller (aloe vera) in F344/N rats. Toxicol Sci. 2012;131(1):26-39.
Lily of the Desert. The Aloe Vera Story. Lily of the Desert. https://lilyofthedesert.com/aloes-story. Accessed February 20, 2019.
Note: Originally published in June 2019, this article has been revised and updated for accuracy and thoroughness.