Hashimoto's is more than just hypothyroidism.
It is a complex autoimmune condition that affects multiple systems and processes within the body.
Hashimoto's develops when an imbalanced immune system leads an attack on the thyroid gland, resulting in hypo- and hyperthyroid symptoms.
Over the course of seven years, I experienced thyroid-related symptoms such as cold intolerance (even when living in Southern California!), acid reflux, and extreme fatigue (I needed 12 hours of sleep to function like my usual self), without knowing what was going on within my body.
Every visit to the doctor was the same: they told me my thyroid levels were normal. It was only years later, when my TSH levels skyrocketed to 8 μIU/mL (back then, the normal levels were 0.4-4.0 μIU/mL), that I was finally referred to an endocrine specialist… and diagnosed with Hashimoto's.
My experience was not unusual. In certain cases, it can take years before the destruction of the thyroid is reflected in lab results. This is because Hashimoto's develops through a cascade of events (which we call the "autoimmune cascade") that take a long time to develop and manifest.
The development of Hashimoto's arises when root cause triggers such as genetic predispositions, lifestyle predispositions, and other factors interact with one another to promote an inflammatory state. They create the "perfect storm," or more accurately, perfect circumstances, for autoimmunity to occur.
In this article, I'll delve into these factors and discuss:
The three-legged stool of autoimmunity
The genetic and lifestyle triggers associated with Hashimoto's
The six most common root causes of Hashimoto's
How the thyroid gland is affected by the autoimmune cascade
Healing Hashimoto's
Understanding the Thyroid Gland and Thyroid Hormone Production
Before we delve into the development of Hashimoto's, let's discuss how the thyroid functions in the body.
The thyroid gland is a butterfly-shaped organ that is located on the anterior (front) side of the neck. It is connected to our brain through the hypothalamic-pituitary-thyroid (HPT) axis.
The thyroid gland has several functions, including:
Regulating metabolism, growth, and development
Modulating body temperature
Regulating mood (along with the endocrine and nervous systems)
In a healthy individual, the pituitary gland (in the brain) releases thyroid stimulating hormone, or TSH, to signal the thyroid to produce adequate amounts of thyroid hormones.
Within the small cavities (follicles) of the thyroid, tyrosine (an amino acid that serves as the building block for thyroid hormone production) combines with iodide through a process called iodination, to create several thyroid hormones: T1, T2, T3, T4. (Of these four hormones, only T3 and T4 are biologically active, with T3 being the main biologically active form.)
Other organs also play a role in thyroid hormone production. For instance, the liver converts T4 to T3, and provides most of the T3 in the body.
When there are unusually high levels of T3 and T4, this essentially sends a message to the brain to reduce the production of TSH to help all thyroid hormones stay within their optimal ranges.
However, these processes are disrupted when the autoimmune cascade is triggered and the thyroid is attacked.
The Three-Legged Stool of Autoimmunity
Our bodies are smart and are constantly adapting to help us survive. When the body doesn't feel safe, it tries to adapt, and this can trigger the development of autoimmune conditions such as Hashimoto's, to survive. (You can read more about this in my article on the Izabella Wentz Safety Theory.)
So, what might cause the body to feel unsafe enough to launch an attack against its own thyroid? According to Dr. Fasano, a world-renowned gastroenterologist, in order for autoimmunity to be triggered, three factors must be present (this is referred to as the three-legged stool of autoimmunity):
A genetic predisposition
Intestinal permeability/leaky gut
A triggering event or root cause factor
Each of these three "legs" or factors plays its own role in triggering autoimmunity (explained throughout this article). When one of the "legs" is removed, the stool cannot stand and the autoimmune condition goes into remission.
A Genetic Predisposition
Specific genes can make an individual more predisposed or susceptible to developing Hashimoto's.
The more well known and researched ones are:
HLA-DR3, associated with thyroid gland atrophy
HLA-DR5, associated with an enlarged thyroid gland
These immune regulatory genes are closely associated with the autoimmune process of Hashimoto's.
In addition, there are other thyroid-specific genes that play a role in the development of Hashimoto's. (I wrote this article on genes linked to Hashimoto's if you would like to learn more.)
Because there is such a strong genetic component in the development of Hashimoto's, this autoimmune condition is often thought to be hereditary. But, genes alone are not enough to trigger it. If a condition was 100 percent genetic, there would be a concordance rate of 100 percent in identical twins. Because identical twins share the same genes, this means that if one twin had Hashimoto's, there would be a 100 percent certainty that the other twin would also have Hashimoto's. However, this is not the case.
The concordance rate for Hashimoto's disease is 55 percent in identical twins (and 30-35 percent for Graves', while thyroid antibodies have an 80 percent rate). As identical twins not only share genes, but often environments, the scientist in me wonders if the concordance rates in twins that were separated at birth would be lower.
(Of course, my mama heart doesn't ever want any twins to be separated at birth, but twin and separated twin studies are always so interesting! :-))
A genetic predisposition can make a person more susceptible to autoimmune conditions. But lifestyle factors (discussed below) can act on genetic predispositions to trigger the autoimmune cascade.
This is another reason why related individuals are both likely to develop thyroid conditions…
When living together, individuals often share similar diet and lifestyle habits (or are exposed to shared environmental triggers such as mold toxicity) — and if these factors are detrimental to thyroid health, both individuals are vulnerable to the autoimmune cascade.
Intestinal Permeability
The second factor that needs to be present, is intestinal permeability, or a leaky gut. Intestinal permeability occurs when "holes" develop in the intestinal barrier, often due to damage caused by:
Alcohol
Capsaicin (in "spicy" peppers)
Dysbiosis
Nonsteroidal anti-inflammatory drugs (NSAIDs)
Psychological stress
Sinus infections
Strenuous exercise
Stress
Surgery or trauma
Toxins
These holes in the intestinal lining allow for toxins and food particles to "leak" into the bloodstream, and the body labels these molecules as foreign invaders. The body may then launch an attack on these "foreign" molecules, and eventually, autoimmunity can develop.
Triggers of Autoimmunity
Of course, the last "leg" in the three-legged stool of autoimmunity involves a triggering event or root cause factor.
The graphic below depicts how specific triggers can lead to certain clinical manifestations, symptoms, and ultimately, autoimmunity. Let's walk through the chain of events in this graphic to help you understand what's really going on with Hashimoto's.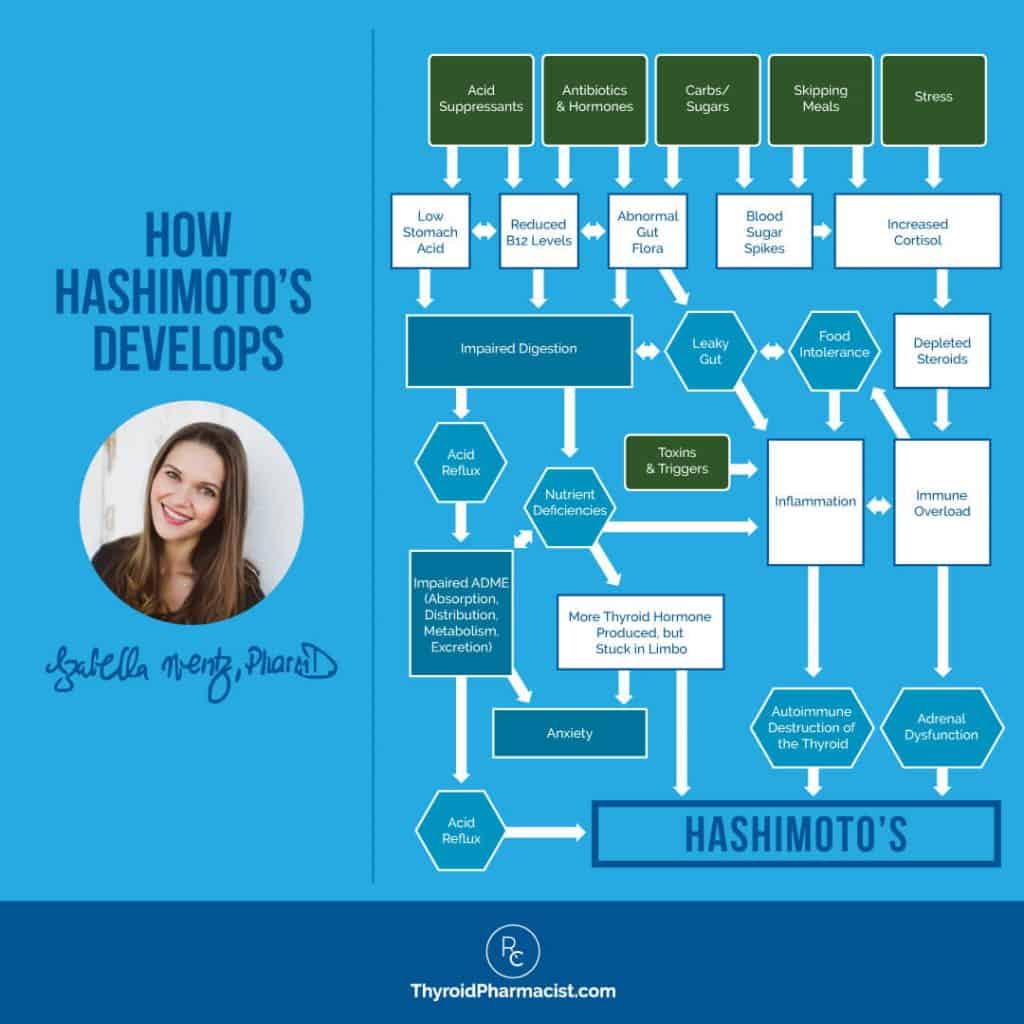 These triggers can create a "cascade" that both represents and results in clinical manifestations and symptoms. This is the autoimmune cascade.
Lifestyle Predispositions
In the graphic above, the green boxes represent some of the most common lifestyle factors that can predispose a person to develop Hashimoto's. Let's dive into each of them.
Acid Suppressants
Acid suppressants are usually taken when someone has symptoms of acid reflux (potentially due to pathogens or food sensitivities). Acid suppressants can reduce acidity in the small intestine and the stomach, both of which are naturally acidic environments (needed for these organs to function properly). Reducing acidity can lead to low stomach acid, as well as an overgrowth of pathogens in the stomach and small intestine.
Antibiotics/Hormones
Antibiotics are commonly known (and well researched) disruptors of gut flora. Many antibiotics act against a wide spectrum of flora and have the potential to wipe out both "bad" and "good" bacteria (protective flora).
Similarly, hormone-containing medications (such as steroids and oral contraceptives) can create imbalances in the gut flora.
Carbs/Sugars

Meals containing high levels of carbohydrates and/or sugars can lead to abnormal gut flora by encouraging the growth of certain pathogens such as Candida.
Skipping Meals

If high-carb meals are accompanied by irregular meal times, or if meals are often skipped, blood sugar levels may become imbalanced, resulting in blood sugar spikes and crashes. Skipping meals sends "starvation" signals to the body, which will also negatively impact blood sugar signals.
Stress

Stress plays a crucial role in the development of Hashimoto's. In my survey of over 2000 individuals with Hashimoto's, 70 percent said they experienced a lot of stress in their life before they started feeling unwell and experiencing thyroid symptoms.
Stress can stem from:
Changing jobs
Changing homes
The death of a loved one
A stressful job
Having a baby
A high-stress lifestyle or intense event can interact with other lifestyle factors and contribute to the cascade of autoimmunity.
Toxins and Triggers

Toxins and triggers are other lifestyle factors that may trigger the autoimmune cascade.
We can be exposed to toxins through poor air quality, conventional beauty products and procedures, low-quality produce and meats, and exposure to molds. Consistent exposure to toxins can lead to a liver backlog (a buildup of toxins that may be difficult for the liver to clear out), which can create inflammation and immune system imbalances.
Remember how I mentioned that genetic and lifestyle predispositions and triggers create the perfect storm that leads to autoimmunity? This is when that "perfect storm" starts to develop.
These lifestyle predispositions can create an environment that allows for certain root cause factors to develop, which begins the self-perpetuating cycle that is Hashimoto's.
Clinical Manifestations
If an individual is exposed to or engages in the lifestyle predispositions mentioned above, clinical manifestations (highlighted in the white boxes in the above graphic) may start to unfold.
These clinical manifestations are often overlooked in conventional medicine, as the main treatment for Hashimoto's is for the person to receive a thyroid hormone prescription. However, many of these manifestations are left when thyroid hormones are given, and can often result in a person feeling sick, even though they are taking medications. I have found that correcting these imbalances one by one, can lead to complete symptom resolution. 🙂
Low Stomach Acid
Low stomach acid can result from consuming acid suppressants, which can then lead to impaired digestion. This is when individuals start to experience gut and digestion-related symptoms such as fat malabsorption, bloating, constipation, and/or diarrhea.
Reduced B12 Levels
Reduced B12 levels can result from low stomach acid, or from the use of antibiotics and hormones. This is because both factors can compromise our body's ability to extract and absorb nutrients — I'll talk more about impaired digestion later on.
Reduced B12 levels will also contribute to impaired digestion, as this nutrient plays an important role in optimal gut health.
Abnormal Gut Flora

Abnormal gut flora pertains to an imbalance between the protective, "good" bacteria, and the pathogenic, "bad" bacteria in the gut.
When good bacteria are wiped out by antibiotics, hormones, and/or a high-carb diet, an opportunity is made for other pathogens (including yeasts) to overgrow and exert their harmful effects. They may, for instance, release toxins and create holes in the intestinal wall. Abnormal gut flora may eventually lead to impaired digestion.
Blood Sugar Spikes
Blood sugar spikes and imbalances from high-carb meals and/or irregular meal times, may result in a sudden drop in energy, feeling faint, and/or feeling dizzy. When blood sugar levels are constantly fluctuating, the body reads this as chronic stress, which then leads to increased cortisol levels.
Initial Increased Cortisol, Followed by Depleted Steroids
Chronic stress and blood sugar imbalances both lead the body to produce high levels of the stress hormone cortisol, which may result in us feeling "wired but tired," and trigger adrenal fatigue.
The adrenal glands use steroids such as cholesterol (which is involved in the production of hormones such as progesterone, estrogen, testosterone, DHEA, and aldosterone) to make hormones. When cortisol levels are consistently and chronically elevated, the body can impair the production of other hormones in order to meet this demand for elevated cortisol. Eventually, the signaling pathway between the brain and the adrenals can become impaired, and the person will underproduce cortisol.
Inflammation
Inflammation within the body can result from abnormal or imbalanced gut flora, a leaky gut, exposure to toxins, an overloaded immune system, and stress. A pro-inflammatory state is created within the body through the stimulation of cytokines (pro-inflammatory molecules). This pro-inflammatory state can lead to the creation of antibodies, which may eventually launch an attack against the thyroid.
Immune Overload

Inflammation and immune overload go hand-in-hand. The Th1 branch of the immune system creates both the pro-inflammatory state mentioned previously, and cytokines (pro-inflammatory proteins). This results in an overloaded immune system and a heightened immune response. Along with launching an autoimmune attack on the thyroid, an overloaded immune system can overwhelm the adrenal glands, leading to eventual adrenal dysfunction.
More Thyroid Hormones are Produced, but the Body is Still "Stuck in Limbo"
As the body launches an attack on the thyroid gland, the gland will (initially) respond by creating more thyroid hormones to overcompensate for the attack, affecting hormone production.
However, the thyroid hormones will be released into the bloodstream, leading to an individual experiencing a variety of symptoms (including anxiety, as detailed below). The body will then be stuck in limbo (overcompensating by producing more thyroid hormones), yet will still not be able to achieve healthy thyroid function because of the imbalances created by the attack.
Further Manifestations
If the clinical manifestations mentioned above are left unaddressed, they may evolve into further issues (as noted as dark blue boxes in the above graphic).
Impaired Digestion

The overuse of antibiotics, low stomach acid, low B12 levels, and abnormal gut flora, can lead to impaired gut function, which then leads to impaired digestion. Impaired digestion results in the start or worsening of gastrointestinal symptoms such as bloating, constipation, and/or diarrhea.
Impaired Absorption, Distribution, Metabolism, and Excretion of Nutrients and Other Substances

Impaired digestion can lead to impaired ADME (absorption, distribution, metabolism, and excretion of nutrients), and acid reflux, as the digestive tract no longer becomes able to optimally carry out its functions.
This affects how nutrients from food are digested (food molecules start leaking into the bloodstream instead of being absorbed and utilized for physiological processes), and can lead to the development of nutrient deficiencies.
Nutrient deficiencies can lead to a host of other symptoms and can cause us to react to benign substances like foods, medications, personal care products, and supplements. This is because many nutrients are required for proper digestion, metabolism, and excretion of various substances.
Anxiety

Anxiety is a common symptom experienced by people with Hashimoto's. Many doctors and mental health practitioners often prescribe antidepressants without exploring thyroid health as a potential root cause.
In many cases, anxiety is a result of the autoimmune cascade seen in Hashimoto's. Anxiety has been linked to elevated antibody levels. It can be caused by nutrient deficiencies and impaired ADME, which can both result in low selenium levels and higher thyroid antibody levels. Anxiety may also be caused by a thyroid that is "stuck in limbo" between hypo- and hyperthyroid symptoms due to intense thyroid hormone fluctuations.
Possible Symptoms Resulting from the Cascade of Autoimmunity
Leaky Gut
Not only does abnormal gut flora (which may result from high-carb meals, the use of antibiotics, etc.) add to impaired digestion, it also makes an individual more susceptible to intestinal permeability. The increased susceptibility of developing intestinal permeability or leaky gut is due to certain pathogens such as Candida having the ability to create holes in the intestinal wall. As mentioned earlier, intestinal permeability is a factor required for autoimmunity to occur.
Food Intolerance(s)
With leaky gut, food molecules can leak out of the gut and into the bloodstream, where they're not supposed to be. This can lead to food intolerances. Gluten, dairy, egg, and soy intolerances are common in those with Hashimoto's. However, each individual is different and some individuals may be sensitive to additional foods, particularly those that are frequently consumed. Food intolerances can create inflammation in the gut.
Acid Reflux
Acid reflux is a symptom that can arise from impaired digestion. (It can also be a symptom of food sensitivities and/or a sign of low stomach acid.) I experienced acid reflux for nearly three years… it started with a chronic cough, pain, and a burning sensation.
Nutrient Deficiencies

When one's digestion is impaired, the body isn't able to absorb and utilize all nutrients needed for optimal thyroid function and overall well-being. One common nutrient deficiency mentioned previously is B12 deficiency. Other nutrients commonly deficient in people with Hashimoto's include:
As these nutrients are important for healthy thyroid hormone production and many of them act as anti-inflammatory molecules, being nutrient deficient can result in inflammation and contribute to the "stuck in limbo" phase.
Adrenal Dysfunction

Adrenal dysfunction (also known as adrenal fatigue) can result from an overloaded immune system (as explained in the Immune Overload section above), as well as from imbalances in cortisol production and steroid levels. Individuals may experience symptoms such as fatigue (often manifesting as that all too familiar "tired but wired" feeling), poor quality sleep, as well as a poor ability to handle stress. This adrenal dysfunction can directly promote autoimmunity by further stimulating the production of pro-inflammatory molecules.
Autoimmune Destruction of the Thyroid
As the body continues the attack on the thyroid (via inflammation and an overloaded immune system), the thyroid gland is slowly destroyed (referred to as "atrophied"). Eventually, the thyroid gland will no longer be able to overcompensate for the attack (that is, it will lose the ability to maintain optimal thyroid hormone production) and will slowly lose its function.
Through this cascade, it becomes apparent how the seemingly random symptoms experienced by those with Hashimoto's are actually not random at all. Quite the opposite — these symptoms are all interconnected. When these symptoms start to manifest themselves, and once the autoimmune destruction of the thyroid begins, the more classic hypo- and hyperthyroid symptoms experienced by those with Hashimoto's, will begin to present themselves.
How Triggers Can Encourage an Autoimmune Attack on the Thyroid Gland
As I mentioned earlier, Hashimoto's is more directly linked to immune system function rather than the thyroid gland itself. When a trigger or root cause factor, such as a toxin or infection, permeates through a leaky gut and attacks the thyroid cells, the thyroid will respond by sending out a stress signal.
This stress signal alerts the immune system, which then attacks the thyroid instead of saving it (as described above). The destruction of the thyroid hormones (along with the gland) affects the negative feedback loop to the brain, resulting in increased TSH. The thyroid gland will try to overcompensate and produce more thyroid hormones (T3 and T4) to keep the levels "normal" even as the gland and the hormones themselves are being destroyed. This is when the individual may start to experience (or already has been experiencing) symptoms of both hypo- and hyperthyroidism.
However, at some point, the thyroid will run out of resources to overcompensate for this destruction, which will lead to a deficiency in thyroid hormones, or hypothyroidism.
Additionally, due to the autoimmune attack and destruction of the thyroid, self-reactive antibodies such as thyroid peroxidase (TPOAb) and thyroglobulin antibodies (TgAb) become elevated and contribute to these symptoms.
Many people will finally be diagnosed with Hashimoto's at this point, but their Hashimoto's symptoms may be in more advanced stages, as it may have taken years before abnormal thyroid antibody and thyroid hormone levels appear in lab results.
You can learn more about the 5 stages of Hashimoto's here.
Healing Hashimoto's
Due to the complexity of this condition, most patients with Hashimoto's will present with many of the following symptoms:
Acid reflux
Nutrient deficiencies
Anemia
Intestinal permeability
Food sensitivities
Hypoglycemia
These symptoms are in addition to "typical" hypothyroid symptoms like weight gain, cold intolerance, hair loss, fatigue, and constipation (remember, they're all connected!).
The body becomes stuck in a chronic state of immune system overload, adrenal insufficiency, gut dysbiosis, impaired digestion, inflammation, and thyroid hormone release abnormalities.
This cycle is interconnected and reinforces itself through a positive feedback loop, meaning the cycle is self-sustaining and will continue causing more and more symptoms until an external factor (like a Root Cause Rebel such as yourself!) intervenes and breaks the cycle.
Treating a complex autoimmune condition such as Hashimoto's requires a detailed and well-thought-out protocol. In my experience, simply adding thyroid medications to the mix does not often result in a full recovery. Additionally, supporting just the thyroid may weaken the adrenals and immune balance, which will, in turn, perpetuate the vicious cycle.
To successfully reverse Hashimoto's, one has to understand how multiple factors create a vicious cycle that keeps people in an autoimmune state.
I recommend that everyone begin their journey to healing by getting the right diagnosis, adjusting their medication, and using food to heal.
I initially came up with this process map in 2012. Since that time, and after many years of working with clients, I have found that picking low-hanging fruit, chopping branches, and digging for the root cause is the most effective approach. 🙂
By picking the low hanging fruit, we focus on addressing the manifestations that are almost always present in Hashimoto's and relatively easy to correct with simple, yet targeted changes.
These include:
Elimination diets to remove the inflammatory foods (most often gluten, dairy, and soy).
Testing for three common nutrient deficiencies: vitamin D, vitamin B12, and ferritin (the iron storage protein), and addressing them accordingly.
Adding nutrients that support proper absorption, distribution/digestion, metabolism and elimination (ADME), and thyroid function, such as magnesium, selenium, thiamine, and zinc.
Removing the obvious things that interfere with proper digestion (like acid-suppressing medications), and adding digestive support, if appropriate.
Focusing on eating a diet that keeps your blood sugar balanced.
To chop off the branches, I have found that supporting three body systems that are affected in Hashimoto's with targeted protocols, can make a world of a difference. I call these protocols my "Fundamental Protocols", and they focus on supporting the liver, addressing adrenal health, and reducing inflammation in the gut.
Picking the low-hanging fruit and chopping the branches produces incredible results for most people. My clients and readers report vanishing symptoms, labs that improve, and most importantly, feeling like themselves again, after doing so.
In some cases, further work needs to happen to find and address the root cause(s) that are contributing to the condition, such as infections, traumatic stress, and toxins. You can dive deeper into these steps and learn how to implement them to heal your own root causes in my book, Hashimoto's Protocol.
Takeaway
Hashimoto's is more than just hypothyroidism; it is a complex condition that arises when certain genetic predispositions, as well as leaky gut and one or more root cause factors, trigger an autoimmune cascade.
Once started, the cascade becomes a vicious cycle that is self-sustaining unless an external factor intervenes to break the cycle. The first step to breaking this vicious cycle is identifying and eliminating the triggers that perpetuate this cycle, using a Root Cause approach. Because this process is complex, I wrote my book Hashimoto's: The Root Cause to help my Root Cause Rebels identify and eliminate their own unique triggers (because everyone is different :-)).
You can also check out my About Hashimoto's page for an overview of the protocols I recommend for healing Hashimoto's.
Although the journey to reversing Hashimoto's can be a long one, it is possible (and rewarding)! I wholeheartedly believe you can heal your Hashimoto's and thrive as your healthiest self.
P.S. You can also download a free Thyroid Diet Guide, 10 thyroid-friendly recipes, and the Nutrient Depletions and Digestion chapter of my first book for free, by signing up for my weekly newsletter. You will also receive occasional updates about new research, resources, giveaways, and helpful information.
For future updates, make sure to follow us on Facebook and Instagram!
References
Kalra S, Unnikrishnan AG, Sahay R. The hypoglycemic side of hypothyroidism. Indian J Endocrinol Metab. 2014;18(1):1-3. doi:10.4103/2230-8210.126517
Martin AM, Sun EW, Rogers GB, Keating DJ. The Influence of the Gut Microbiome on Host Metabolism Through the Regulation of Gut Hormone Release. Front Physiol. 2019;10:428. Published 2019 Apr 16. doi:10.3389/fphys.2019.00428
How does the thyroid gland work? InformedHealth.org. https://www.ncbi.nlm.nih.gov/books/NBK279388/. Published April 19, 2018. Accessed June 30, 2021.
Hari Kumar KV, Modi KD. Twins and endocrinology. Indian J Endocrinol Metab. 2014;18(Suppl 1):S48-S52. doi:10.4103/2230-8210.145074
Khalili H. Risk of Inflammatory Bowel Disease with Oral Contraceptives and Menopausal Hormone Therapy: Current Evidence and Future Directions. Drug Saf. 2016;39(3):193-197. doi:10.1007/s40264-015-0372-y
Note: Originally published in February 2015, this article has been revised and updated for accuracy and thoroughness.