"Bad digestion is at the root of all evil," said Hippocrates, the ancient Greek physician who is considered to be the father of modern medicine. Although he was born in 460 BC, I think he was onto something!
In the world of functional medicine, we often refer to this concept that all disease (and thereby all healing) begins in the gut. The gut performs the all-important role of digesting and absorbing the nutrients we take in. I like to say, "You are what you absorb."
In a well-functioning gut, the body produces the appropriate enzymes to break down the food that is ingested. However, compromised intestinal function is almost always a factor in people with Hashimoto's — and oftentimes, the root cause of their thyroid condition.
An enzyme deficiency can, directly and indirectly, contribute to thyroid symptoms and autoimmunity. Supplementing with specific enzymes can help with overcoming symptoms of Hashimoto's (including fatigue, hair loss, nutrient deficiencies, infections, and food sensitivities), as well as reducing thyroid antibodies.
In my survey of over 2000 individuals with Hashimoto's, about 73 percent of those who tried digestive enzymes reported that the enzymes made them feel better. Some of the main improvements include increased energy, better mood, and clearer skin.
Read on to learn more about:
The role of enzymes
How enzymes deficiency affects Hashimoto's
The six types of enzymes that might be beneficial
The Role of Enzymes
Enzymes are a form of protein present throughout the body. They manage cell metabolism by making the chemical reactions that keep us alive, happen more efficiently.
Because of enzymes, cells can manage millions of chemical reactions per second, making our bodies efficient at creating energy from the raw materials we provide.
Some of the key roles that enzymes play include:
Digestion – Digestive enzymes help the body break down larger complex molecules into smaller molecules to be used as fuel. In doing so, they can help the digestive system better absorb and utilize nutrients, making them helpful for nutrient deficiencies (commonly observed in those with Hashimoto's).
DNA replication – Each time a cell divides, that DNA needs to be copied. Enzymes help in this process by unwinding the DNA coils and copying the information, aiding in healthy cell growth and renewal.
Detoxification – Liver enzymes help the liver break down toxins in the body for elimination. Providing support to these enzymes can help the liver function more optimally. This can be especially useful in helping an overburdened liver (commonly observed in those with Hashimoto's) clear out elevated levels of toxins.
There are many things that can change the way that enzymes function in our body and throw enzyme production out of balance, including aging (as we age, we produce less digestive enzymes), and conditions like Hashimoto's and hypothyroidism.
There's an intimate connection between thyroid function and the body's ability to digest our foods. Let's explore the thyroid and digestive enzyme connection.
Enzymes and Hashimoto's
As mentioned earlier, poor gut health is linked to altered enzyme production. We know that everyone with Hashimoto's has some degree of intestinal permeability, or leaky gut, which occurs when poorly digested molecules of food or other toxins permeate the intestinal lining and become absorbed into the bloodstream. When this occurs, the body may recognize them as foreign invaders. This causes inflammation in the body as it begins to attack the intruders, and eventually leads to autoimmunity.
Intestinal permeability can be a result of poor digestion caused by a reduction in enzymes that help break down food. Many people with Hashimoto's experience acid reflux, bloating, and constipation, along with fatigue, brain fog, joint pain, and many other symptoms that may be caused by poor digestive function.
One of the key "aha" moments on my road to recovery from Hashimoto's, came when I decided to try a betaine with pepsin supplement to support protein digestion. I woke up the next morning with more energy than I had felt in a decade! I was finally able to digest my food properly.
As I've delved more into the world of food pharmacology (food as medicine), I've come to realize how important proper digestion is to health, particularly for those of us managing thyroid conditions. People with Hashimoto's usually experience some level of nutrient deficiencies, food sensitivities, digestive issues, and infections. These symptoms are often caused by a diminished ability to absorb proper nutrients from the food we eat.
This is where adding digestive enzymes that help the body break down food, can be a critical tool for improving digestive health, boosting nutrient uptake, and reducing the symptoms of Hashimoto's.
6 Types of Enzymes that May Benefit Hashimoto's
There are six different types of enzymes that are particularly helpful for people with Hashimoto's. They have been shown to improve digestion, relieve many symptoms commonly associated with the condition, and even improve thyroid labs.
These six enzymes are:
Protein digestive enzymes
Systemic enzymes
Fat digestive enzymes
Broad spectrum enzymes
Veggie enzymes
Gluten/dairy digestive enzymes
1. Betaine with Pepsin (Protein Digestive Enzymes)
Most people with Hashimoto's and hypothyroidism also have low stomach acid.
Low stomach acid makes it more difficult to digest proteins, making us more tired, as digestion is one of the biggest energy-requiring processes of our bodies. Additionally, when proteins are poorly digested, we are more likely to become sensitive to them. Thus, many people with Hashimoto's will be sensitive to gluten, dairy, and soy (as well as possibly other foods). This is because these proteins are amongst the most difficult to digest and are also the most commonly eaten proteins in the standard western diet.
People will often develop IgG antibodies to the various proteins, which are also the same types of antibodies that target the thyroid gland in autoimmune disease. When someone continues to eat these proteins, the immune system attack becomes upregulated as the influx of poorly digested proteins triggers the immune system to make more of these types of antibodies. While simply eliminating the ingestion of such reactive proteins can help a person to feel much better and downregulate the autoimmune attack, continuing to have low stomach acid may contribute to developing new food sensitivities to proteins that are found in grains, eggs, nuts, and seeds.
These poorly digested proteins then become "food" for the opportunistic bacteria that live in our gut. The gut is a delicate environment of probiotic (beneficial) and opportunistic (potentially problematic if conditions are right for them to grow out of control) bacteria. An overgrowth of opportunistic bacteria has been linked to autoimmunity.
Additionally, having low stomach acid makes us more susceptible to acquiring gut infections like SIBO (Small Intestinal Bacterial Overgrowth), H. pylori, Yersinia, and parasites, which can be potential root causes of autoimmunity.
Numerous parasites such as Giardia, E. histolytica, and Blastocystis hominis, among others, have been found to cause intestinal permeability.
Low stomach acid can result from a nutrient deficiency, such as thiamine or B12, and can contribute to low iron levels and anemia, as we need stomach acid to extract B12 and iron from our protein-containing foods. This leads to a vicious cycle that results in hair loss, fatigue, food sensitivities, etc. Many people have been able to improve their levels of ferritin and B12 through improving their stomach acid and vice versa.
While having hypothyroidism or Hashimoto's in itself can cause low stomach acid, as can aging and genetics, there are other root causes of low stomach acid that need to be considered.
Addressing these root causes should always be done in conjunction with betaine HCl and pepsin supplementation:
Using a betaine hydrochloride with pepsin supplement (naturally occurring components of gastric juice that make nutrients and amino acids from our protein-containing foods more bioavailable, by breaking down protein bonds), such as Rootcology's Betaine with Pepsin, can help with this.
Betaine, also known as trimethylglycine, is a naturally occurring amino acid derivative that is isolated from beets, and the acidic HCl version of it promotes acidity in the gastric opening. Pepsin is a naturally occurring digestive enzyme that breaks apart proteins into smaller pieces so they can be properly absorbed by the small intestine.
For those with the MTHFR gene variation and low stomach acid, taking betaine with pepsin is a great way to get extra trimethylglycine, which helps metabolize homocysteine.
In my 2015 survey of 2232 people with Hashimoto's, out of 627 people who took betaine and pepsin, 59 percent said that it made them feel better, 33 percent said that it made them feel worse, while seven percent saw no difference in symptoms.
Taking betaine with pepsin with protein-containing meals, can help with getting your energy back. After beginning to take betaine with pepsin with my protein-containing meals, my 10-year long debilitating fatigue was lifted practically overnight! I went from sleeping for 11-12 hours per night, to eight hours — just because I started digesting my foods better! Having enough energy gave me the confidence that I could overcome Hashimoto's and my long list of health struggles.
For full details on how to use Rootcology's Betaine with Pepsin, as well as alternative ways to increase your stomach acid if you don't want to take a supplement, you can download my Low Stomach Acid Quick Start Guide:
Who is most likely to benefit from betaine with pepsin (protein digestive enzymes)?
If you find yourself feeling tired or with a heavy feeling after protein-containing meals, have a history of SIBO, a known B12 or iron deficiency, the MTHFR gene variation, or a history of PPI use, Betaine with Pepsin might be right for you.
Who should avoid Betaine with Pepsin?
Using this supplement in excess can lead to stomach irritation, which is why I always recommend a slow dose titration to determine your optimal dose. That said, some people should NOT take Betaine with Pepsin. This supplement should not be used by those with a history of peptic ulcers or gastritis, those with an active H. pylori infection, or those with an overproduction of acid. Discuss with your primary care practitioner before taking if you are pregnant or breastfeeding.
Avoid this supplement if taking blood thinners, non-steroidal anti-inflammatory drugs (NSAIDs), steroids, or other medications that may increase one's likelihood of developing an ulcer.
I also recommend avoiding this supplement if you are taking proton pump inhibitors or other acid-suppressing medications, as these will negate the effect of the supplement.
2. Systemic Enzymes
Systemic enzymes are also known as proteolytic enzymes and act as natural immune modulators, bringing our immune system into balance. Systemic enzymes are a blend of plant and animal-derived enzymes, and may contain a mix of some of the following ingredients:
Bromelain (from pineapple)
Papain (from papaya)
Rutin or rutoside trihydrate (bioflavonoid)
Chymotrypsin (porcine)
Trypsin (porcine)
Pancreatin (porcine)
Systemic enzymes break down inflammatory cytokines (immune response proteins) that are seen in autoimmune disease. They also contain proteases that may be involved with breaking down pathogens such as bacteria and parasites. Furthermore, these enzymes speed up tissue repair by reducing inflammation.
Additionally, the enzymes reduce the antibodies to both foods and the thyroid, by breaking down circulating immune complexes (CICs) that are formed in autoimmune disease.
Systemic enzymes have been studied extensively in Europe, and have become a popular alternative to pain medications for arthritic disease and many inflammatory conditions.
A poster presentation from April 21-24, 2002 presented in Cannes, France, found that Wobenzym, a proprietary blend of systemic enzymes, taken at a dose of five capsules, three times per day, showed very promising results in Hashimoto's.
Here's the summary of the study:
Forty people with Hashimoto's who were taking levothyroxine, were given systemic enzymes for three to six months. The patients reported a reduction of thyroid symptoms, a normalization of thyroid ultrasounds, a reduction in the number of inflammatory cells in the thyroid, and significant decreases in TPO and TG antibodies.
Many patients were able to reduce their dose of levothyroxine, and some were able to discontinue their medications completely. Additionally, cholesterol profiles improved in the patients that had high cholesterol levels before starting the enzymes.
As systemic enzymes act on the immune system altogether, using them is also thought to be protective of developing future autoimmune conditions.
The key thing to remember about these enzymes is that they are not to be taken with food, rather they should be taken on an empty stomach, at least 45 minutes before a meal, or one and a half hours after a meal. Otherwise, they will get used up in the process of digestion instead of getting into the bloodstream to act on circulating immune complexes.
NOTE: While most labels of systemic enzymes will state to take six capsules daily, the dose of enzymes used in this particular study was 2.5 times higher at five capsules, three times per day (on an empty stomach).
Experienced clinicians will use five capsules, three times per day, with a glass of water (at least 8 ounces or 240 mL). In some cases, even ten capsules, three times per day may be used in the acute phase to modulate the immune system effectively. The six capsules per day dose on the label is thought to be a maintenance dose.
The brand of systemic enzymes I have used successfully, and was used in the above-mentioned study, is the Wobenzym brand.*
*Wobenzym N is the formulation that was studied. However, I've also seen similar clinical benefits with Wobenzym PS.
Who is most likely to benefit from systemic enzymes?
You may benefit from this type of enzyme if you have elevated TG and/or TPO levels, or if you have food sensitivities, pain, elevated cholesterol, impaired wound healing, or chronic inflammation.
Who should avoid systemic enzymes?
Systemic enzymes should not be taken by pregnant or lactating women. Individuals with allergies to pineapple or papaya should not take products containing bromelain. Some individuals with Candida may react to these enzymes. In addition, systemic enzymes should be avoided by those currently taking leukotriene inhibitors.
3. Fat Digestive Enzymes
Fat malabsorption is easily overlooked by patients and practitioners alike. If you have issues with digesting fat — like up to 73 percent percent of people with Hashimoto's do — you may benefit from an enzyme that aids in fat digestion.
We know that whatever we eat eventually makes it down into the small intestine, but some people have trouble digesting the fats that we consume from the foods we eat.
Our liver produces a substance called bile. Bile from the liver is sent to the gallbladder via a passageway called the common bile duct, and then it is concentrated and stored there. When we eat a fatty meal, the concentrated bile is released from the gallbladder through the common bile duct, then heads to the initial part of the small intestine (called the duodenum). There, the bile begins to break down the fats into tiny globules.
At the same time, the neighboring pancreas organ releases its own pancreatic juices (containing digestive enzymes such as lipase and bicarbonate ions), mixing with the bile and tiny globules of fat. The pancreatic juices neutralize the digesting food (which is very acidic) and also help with protein and carbohydrate digestion.
Both bile and pancreatic secretions emulsify the fats (or lipids) so that they can be digested in the watery small intestine.
The lack of thyroxine associated with hypothyroidism can affect the sphincter of Oddi (layers of muscle that regulate the flow of bile into the small intestine/duodenum, which close between meals, preventing bile from continuing to flow into the small intestine when it isn't needed). The sphincter may experience increased tension, which can prevent normal bile flow. This has been thought to contribute to the formation of common bile duct stones, as well as gallstones.
Thus, it's not surprising that there is an increased prevalence of hypothyroidism found in patients with common bile duct stones. In fact, patients with common bile duct stones and gallstones have, respectively, seven-fold and three-fold increases in the frequency of hypothyroidism.
Experiments with hypothyroid rats have confirmed the thyroxine effect on bile composition, decreased bile flow, and relaxation of the sphincter of Oddi. Research in rats has shown that the administration of thyroid hormone improves bile flow, suggesting that there is a strong correlation between developing gallbladder issues and hypothyroidism.
There are various reasons why a person may have difficulty with fat malabsorption. Some of the common ones include bile deficiency, pancreatic enzymes deficiency, liver backlog, and small intestinal bacterial overgrowth (SIBO).
There are two recommended supplements that can help you with fat digestion — one targets the liver and gallbladder, and the other supports the pancreas.
Who is most likely to benefit from fat digestive enzymes?
If you experience gas and bloating after meals, frequent diarrhea, stomach pain, foul smelling and greasy stools, unexplained weight loss, or a low fecal elastase count on a gut screen (such as the GI-MAP test), you may have problems digesting fat and may benefit from a fat digestive enzyme.
If you've had fat malabsorption for some time, you may also find that you will start to develop symptoms of fatty acid deficiency, as well as potential vitamin A, D, E, and K deficiencies. Signs of fatty acid deficiency include dry hair, weight loss, eczema, depression, dry itchy/flaky skin or scalp, dandruff, oily scalp, and rashes.
Vitamin D deficiency can be identified on a lab test, and generally, if a person has been supplementing with vitamin D but is still showing a deficiency, I suspect fat malabsorption issues.
Improve Fat Digestion with Liver & Gallbladder Support
If you are experiencing symptoms associated with fat malabsorption, your gallbladder is not functioning optimally, or you have had your gallbladder removed, I recommend using a supplement that supports a healthy bile flow and fat digestion, like Liver & Gallbladder Support by Rootcology.
Rootcology Liver & Gallbladder Support helps fat digestion in three different ways: it supports the liver's ability to process fat with ingredients such as milk thistle, gives us extra bile through ox bile, and supports our bile flow with ingredients such as dandelion, artichoke, and beet. This can be a life-changer if you have issues with fat malabsorption.
Who should avoid Liver & Gallbladder Support?
Do not take Liver & Gallbladder Support if you have Addison's disease, a history of electrolyte imbalance, or are allergic or sensitive to any of the ingredients. Consult with a doctor before use if pregnant or breastfeeding. Please also review my article on gallbladder health for more information about potential drug interactions, and be sure to discuss any concerns about supplements with your practitioner as well.
Improve Fat Digestion with Pancreatic Enzymes
In some cases, people with fat malabsorption may also have exocrine pancreatic insufficiency, or a deficiency in pancreatic enzymes. Some potential reasons for pancreatic insufficiency include damaged microvilli, celiac disease, SIBO, toxicity, stress, as well as alcohol use.
In such cases, I've found Pancreatic Enzymes Plus from Rootcology to be very helpful. These enzymes are taken with every fat-containing meal. In about 50 percent of cases, I've seen pancreatic insufficiency resolve simply by using pancreatic enzymes for a few weeks to a few months; in other cases, people may need to take the enzymes long-term and do more detective work to identify why they are deficient in pancreatic enzymes.
I have also used Pancreatic Enzyme Formula by Pure Encapsulations personally and with clients, with great results. I find this option especially helpful for advanced stages of exocrine pancreatic insufficiency, where one may require high doses of the enzymes (and may need to take multiple pills with each meal and snack, based on his/her weight).
Who should avoid Pancreatic Enzymes Plus?
Do not use Rootcology Pancreatic Enzymes Plus if you are allergic to pork, pineapples, pancreatic enzymes, or ox bile, or take certain medications including blood thinners. Consult with a physician before use if pregnant or breastfeeding. Please check out my article on pancreatic enzymes to learn more about potential medication interactions with this kind of supplement.
4. Broad Spectrum Digestive Enzymes
In addition to poor protein digestion, many people with Hashimoto's may have an impaired ability to digest fiber, starch, and fat.
In the case of poor fiber absorption, many fibers of undigested vegetables may be found in the stools, and a person may feel very bloated after a high-fiber meal. When someone is not properly digesting fats, they will often present with diarrhea, steatorrhea (fat in stools), cramping, bloating, and muscle cramps.
In addition to betaine with pepsin, some may also find that a broad spectrum digestive enzyme may help them reduce symptoms of nutrient deficiencies and feel more energetic. I recommend Digestive Enzymes Ultra from Pure Encapsulations.
Following a nutrient-dense diet (filled with veggies and fruits, which are powerhouses for nutrients), can also be helpful. When foods aren't properly digested, however, we are not going to be very effective at extracting nutrients from them. Juicing or blending them up in a smoothie may help with getting the nutrients to be better absorbed.
Getting enough fats and vitamins is another helpful strategy that should not be overlooked. Fat is a crucial component of our diet, and fat malabsorption may lead to a deficiency of fat-soluble vitamins like A, D, E, K, as well as a fatty acid deficiency. Deficiencies in these nutrients can lead to numerous symptoms including vision problems, immune system imbalance, fragile bones, poor wound healing, easy bruising, bleeding gums, nosebleeds, dull hair, depression, skin disorders, and many other symptoms.
Some pathogens that have been tied to triggering Hashimoto's, like Blastocystis hominis, thrive in the guts of those that have a difficult time digesting fats in lipid-coated homes or biofilms that make them impenetrable to digestive acids, immune cells, medications, and herbs.
In addition to eating a nutrient-dense diet, taking vitamin, mineral, and fatty acid supplements may be required until digestion is optimized.
Who is most likely to benefit from broad spectrum digestive enzymes?
If you notice undigested food in your stool, a feeling of bloating after a high fiber meal, diarrhea, or abdominal cramping, you may want to consider this type of enzyme.
Who should avoid broad spectrum digestive enzymes?
At this time, there are no major drug interactions or precautions of note, but please check the ingredient list to ensure that you are not sensitive or allergic to any ingredients listed. Consult with your healthcare physician prior to consuming these types of enzymes if you are pregnant or lactating, or if you are taking blood thinners.
5. Veggie Enzymes
We all know how important it is to eat our vegetables. In fact, many of my recommendations for healing the body through nutrient-dense whole foods, revolve around fueling the body with nourishing green vegetables. But for some people with Hashimoto's, a damaged gut and a lack of digestive enzymes can make vegetables difficult to digest, as their high fiber and starch content may be difficult to break down, especially in their raw form.
In some cases of hypothyroidism, an indigestible ball of plant fiber material known as a phytobezoar, which is formed out of undigested vegetable fibers, has been found to cause bowel obstruction. These masses of undigested material commonly consist of vegetable fibers from pulpy fruits, orange pits, seeds, roots, and leaves, but can be formed from any indigestible food fibers. Fibrous foods that are often found in phytobezoars include celery, pumpkin, prunes, raisins, leeks, beets, persimmons, and sunflower-seed shells.
Interestingly, insoluble fibers, which are high in vegetables like leafy greens, corn, celery, and bell peppers, have been shown to mechanically trigger symptoms of irritable bowel syndrome (IBS) as they move through the digestive tract. However, certain fibers — particularly soluble fiber such as psyllium — may actually be a helpful treatment for IBS. So perhaps the inability to digest the insoluble fibers is due to an enzyme deficiency, further contributing to the autoimmune cascade and IBS symptoms.
Common symptoms of poor veggie digestion include bloating, gas, constipation, and stomach pain. Symptoms of nutrient depletions that may occur when the body is unable to break down and absorb the nutrients in fibrous vegetables, are much further reaching and may include fatigue, hair loss, muscle pain, and autoimmunity itself.
Deficiencies in antioxidants such as vitamin C (which is found in high amounts in cruciferous vegetables, bell peppers, and leafy greens), vitamin E, beta-carotene (a vitamin A precursor), and the minerals selenium and manganese, often result due to poor vegetable digestion.
Folate is another important nutrient that can become depleted when vegetables aren't properly absorbed. Common sources of folate include broccoli, asparagus, avocado, spinach, and Brussels sprouts.
For those who have undigested vegetable fibers in their stool, taking an enzyme that helps to digest plant fibers may be helpful. I created Veggie Enzymes by Rootcology, which is a vegetarian-friendly digestive support formula. As a blend of amylase, protease, lactase, and other important enzymes, it aids in the digestion of proteins, fats, and carbohydrates. The cellulase breaks down plant cellulose, while the amylase breaks down starches to help the body digest starchy and fibrous foods like raw veggies and fruits.
Who is most likely to benefit from Veggie Enzymes?
If you experience gas and bloating after meals, as well as constipation and a feeling of fullness after eating only a small quantity of food, or if you notice undigested fibers in your stool, taking a veggie enzyme such as Veggie Enzymes by Rootcology may help.
Who should avoid Veggie Enzymes?
While there are no major drug interactions or precautions of note, I recommend avoiding Veggie Enzymes if you are allergic or sensitive to any of the ingredients in this supplement, or if you are taking blood thinners. Consult with a doctor before use if pregnant or breastfeeding.
6. Gluten/Dairy Digestive Enzymes
Two of the most common food sensitivities found in people with Hashimoto's are gluten and dairy. Gluten (the main reactive protein found in wheat), and casein (the main reactive protein found in dairy) are large protein molecules that may not be fully broken down in the human body and thus may be targeted by the immune system. As the antibodies to the foods are made by the same branch of the immune system (IgG branch) that makes antibodies to the thyroid, every time one of these reactive foods is consumed, there is a greater production of IgG antibodies — including antibodies to the thyroid.
Dipeptidyl peptidase IV (DPP-IV) is a special enzyme that splits gluten into smaller fragments, making it easier to digest. It can be found in a combination enzyme product that also contains enzymes that break down casein, beta-lactoglobulin (whey), and lactose (milk sugar molecules found in dairy).
While these enzymes may not be enough to allow a person with celiac disease to eat a whole bowl of pasta, the enzymes can be very helpful for those with gluten and dairy sensitivity. I use this product whenever I go out to eat and am concerned about cross-contamination issues, and have used it after accidental consumption of dairy/gluten.
Here's a scenario that I've experienced numerous times…
Me: "I follow a gluten/dairy/soy-free diet. Are you able to accommodate my dietary needs?"
Cook/waiter/family member: "Of course."
Food comes, I try it, it tastes suspicious…
Me: "Are you sure this doesn't have dairy/gluten?"
Cook/waiter/family member: "No dairy/gluten… just cheese/butter/casein/whey/flour!"
Me: "I knew it! Glad I always keep my gluten/dairy digestive enzymes in my purse!"
Maybe you can relate? 🙂
I used to have severe reactions to dairy and gluten, but I have found that the Gluten/Dairy Digest blend of enzymes from Pure Encapsulations effectively minimizes my reactions when I accidentally consume small amounts of dairy and gluten. I still have a reaction, but instead of suffering for two or three days, I only have problems for a couple of hours after being exposed to gluten/dairy.
I should emphasize that using these enzymes is not an excuse to go crazy with gluten and dairy — I still recommend that most people with Hashimoto's remove them from their diets long term — however, they are a great supplement to have on hand when eating out or accidentally exposed.
Who is most likely to benefit from Gluten/Dairy Digest?
If you react to gluten and dairy but want to enjoy a meal out on occasion, this type of enzyme may reduce the symptoms of accidental exposure to these food sensitivities.
Who should avoid Gluten/Dairy Digest?
While this may seem like a trick question ;-), it is important to note that this supplement is not helpful for those who have celiac disease. At this time, there are no major drug interactions or precautions of note, but please check the ingredient list to ensure that you are not sensitive or allergic to any ingredients listed. Consult with your healthcare physician prior to consuming these types of enzymes if you are pregnant or lactating, or if you are taking blood thinners.
The Takeaway
Enzyme deficiencies are common in those with Hashimoto's, and supplementing with the right types of enzymes can relieve many of the symptoms associated with the condition.
Specific enzymes can help lower inflammation in the body, speed up tissue repair, reduce food sensitivities, decrease thyroid antibodies, improve nutrient absorption, reduce pain, improve cholesterol levels, and even reduce harmful pathogens.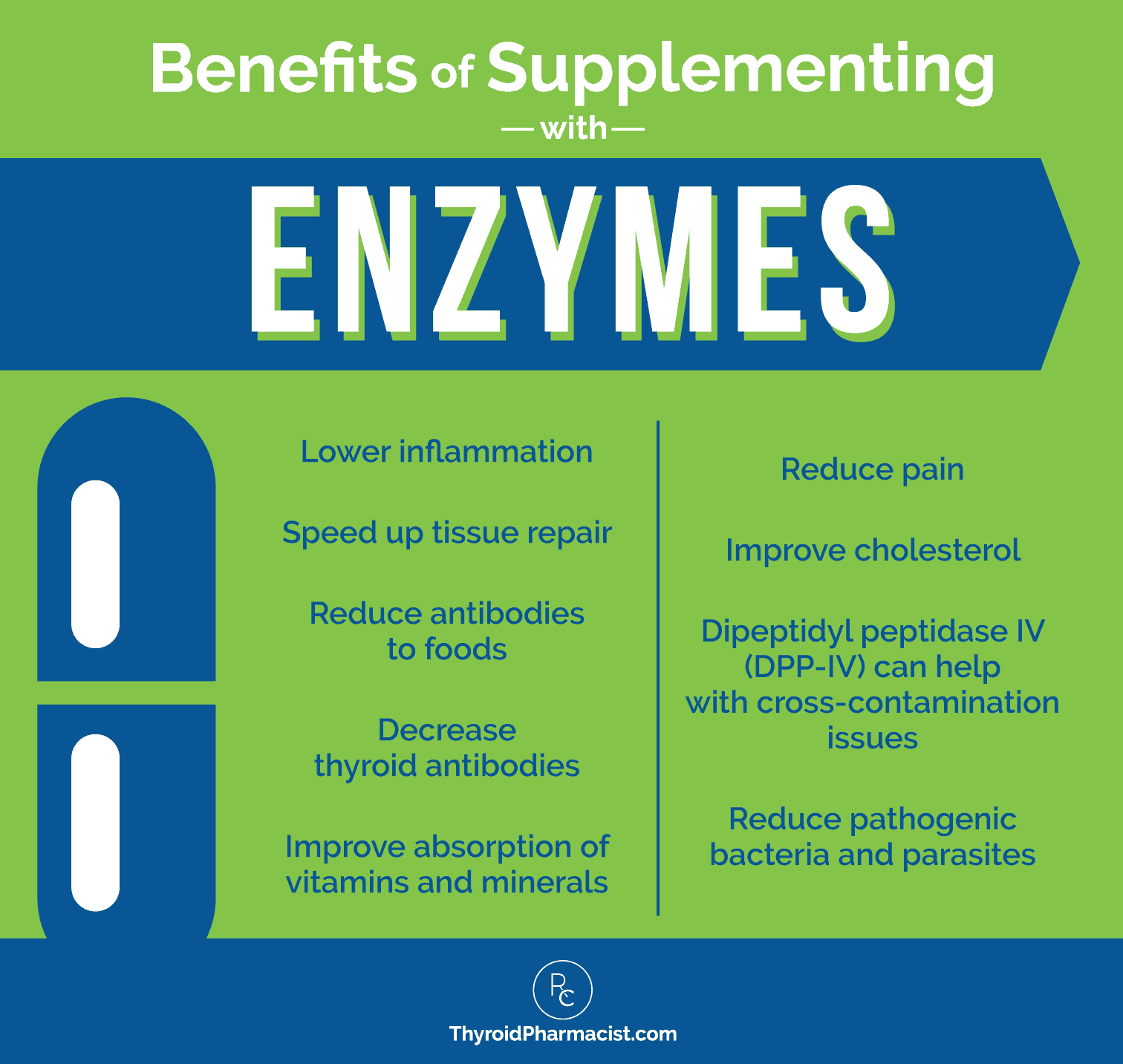 Have you tried enzymes? Have they made a difference in your health?
I hope that you find this information helpful on your journey in overcoming Hashimoto's!
P.S. You can download a free Thyroid Diet Guide, 10 thyroid-friendly recipes, and the Nutrient Depletions and Digestion chapter of my first book. You will also receive occasional updates about new research, resources, giveaways, and helpful information.
For future updates, make sure to follow us on Facebook and Instagram!
References
Newman, T. Enzymes: How they work and what they do. Medical News Today. https://www.medicalnewstoday.com/articles/319704. Published January 11, 2018. Accessed August 14, 2020.
Cooper GM. The Cell: A Molecular Approach. 2nd edition. Sunderland (MA): Sinauer Associates; 2000. The Central Role of Enzymes as Biological Catalysts. Available from: https://www.ncbi.nlm.nih.gov/books/NBK9921/.
Note: Originally published in February 2015, this article has been revised and updated for accuracy and thoroughness.