I have received countless emails from Hashimoto's readers who have started feeling so much better after digging at their own root cause, making adjustments to their diets and lifestyles, and finding supplements that restore the nutrient depletions which are so common in those with thyroid disorders.
One of the nutrient deficiencies that people with Hashimoto's are particularly prone to is vitamin B12. In fact, in my survey of 2232 people with Hashimoto's, 33 percent reported that they had tested as deficient in this all-important vitamin, and 76 percent said they felt better after taking a B12 supplement. (Please note: Not everyone in this survey had been tested for a B12 deficiency!)
Why do people with Hashimoto's have so many nutrient depletions? It really is a vicious cycle… but addressing depletions, including those in B12, can be a game-changer.
Read on to learn about:
The importance of B12 for the thyroid and the body
Why people with Hashimoto's are prone to developing a B12 deficiency (and other nutrient depletions)
Lab testing for B12 deficiency
How to boost your B12 levels
The Importance of B12
Vitamin B12 is an essential water-soluble vitamin that is commonly found in animal proteins such as fish, shellfish, meat, eggs, and dairy products. The recommended dietary allowance for adults is 2.4 mcg per day (although women who are pregnant or breastfeeding may require more, and this can be discussed with one's healthcare practitioner).
B12 is required for cognitive function, protein synthesis, cell reproduction, and normal growth.
Vitamin B12 is also an important cofactor for energy production, and plays a role in immune system health and healthy homocysteine metabolism. Homocysteine is a naturally-occurring amino acid found in blood plasma. High levels of homocysteine in the blood are believed to increase one's risk of heart disease, stroke, Alzheimer's disease, and osteoporosis.
Symptoms of B12 deficiency include:
Fatigue
Low mood or personality/mood changes
Irritability
Lethargy
Headaches
Palpitations
Loss of appetite
Pale yellow tint to the skin
A feeling of pins and needles (paraesthesia)
Poor memory
Impaired cognitive performance
Depression
Weakness
Impaired digestion
Inflammation
Gastrointestinal lesions
Neurological damage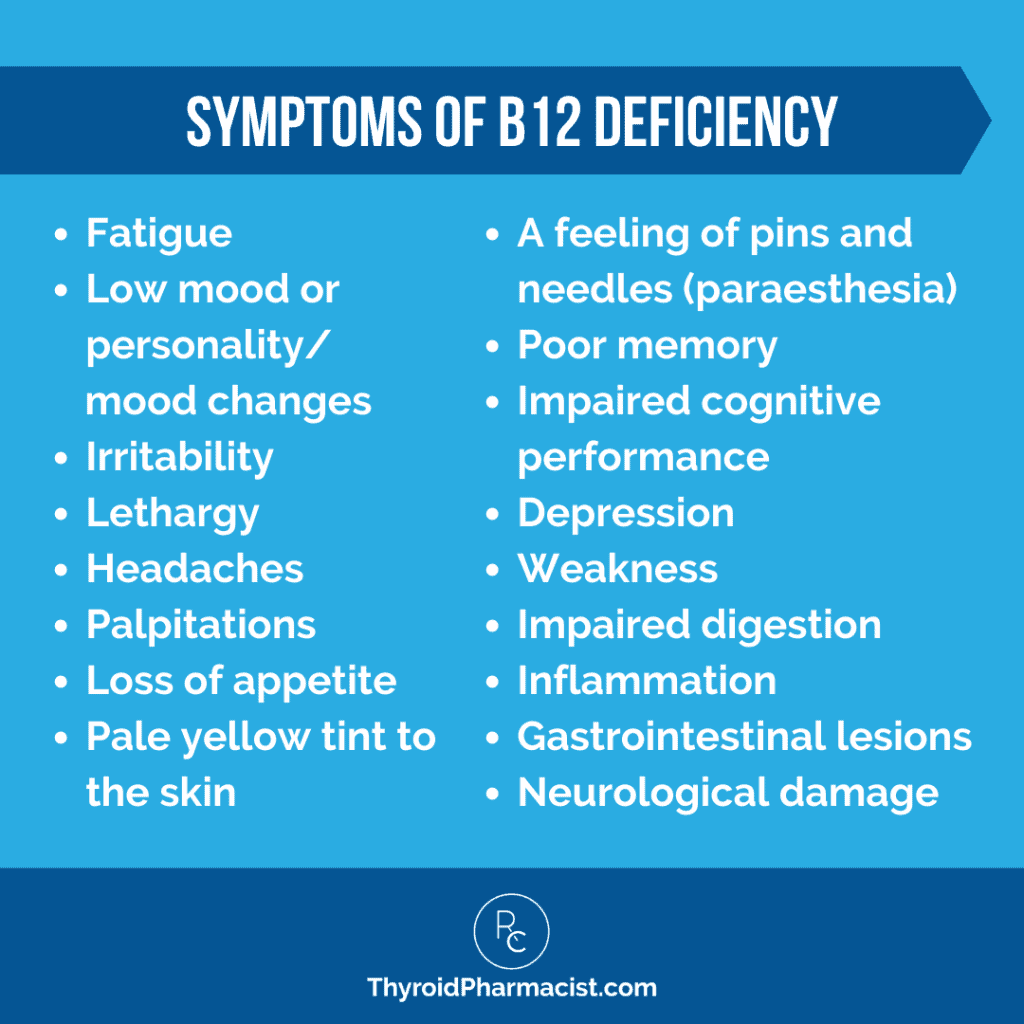 Since B12 is primarily found in animal products, any change in one's diet that leads to a decrease in the consumption of such products — such as a vegan, vegetarian, or low-fat diet — can increase the chance of a person developing a B12 deficiency.
(For this reason, taking a vitamin B12 supplement is essential for vegans, and may be particularly helpful for those with low stomach acid, until the condition is corrected. More on low stomach acid in a minute.)
Why Are People with Hashimoto's More Likely to Have B12 Deficiency?
Individuals with autoimmune thyroid disease also have a high prevalence of vitamin B12 deficiency. In fact, one study found that 28 percent of individuals with autoimmune thyroid disease (in a sample pool of 115 patients), had a B12 deficiency.
Some of the most common medications prescribed to people with Hashimoto's are notorious for both altering one's gut flora and depleting the body of nutrients. These include medications for acid reflux, synthetic estrogens, progesterone, (such as the birth control pill), and antibiotics.
Altered gut flora, or dysbiosis, can also reduce or prevent the extraction of nutrients (such as B12) from food.
Hypothyroidism itself can lead to poor extraction of minerals and vitamins from our food sources. Since thyroid hormones determine our metabolism throughout the entire body, including the digestive tract, a lack of sufficient thyroid hormones makes nutrient extraction more difficult and less efficient, leading to nutrient deficiencies.
Other factors related to Hashimoto's which can lead to a B12 deficiency include:
Suboptimal functioning of the digestive system
Pernicious anemia
H. pylori infections
Suboptimal Digestion
For people with thyroid disorders, a B12 deficiency is often a result of damage to the digestive tract that prevents the absorption of vital nutrients.
Most people with thyroid conditions will have low stomach acid (hydrochloric acid or HCl), which is necessary to break down digested proteins and food. This condition is known as "achlorhydria."
They may also present with a lack of digestive enzymes and may not be able to properly extract nutrients from their foods. They could eat large amounts of steak day after day, but if they don't have enough stomach acid on board, they're not going to be able to get enough B12 (or other nutrients) out of that steak. Symptoms may include gas, heartburn, bloating, and heaviness in the stomach after eating a protein-rich meal. (Read more about digestive enzymes and Hashimoto's.)
As B12 is released for absorption with the help of hydrochloric acid (stomach acid) and protease, an enzyme in the stomach, low stomach acid can result in severe deficiencies for many people who have hypothyroidism.
Supplementing with Betaine with Pepsin can help improve one's digestion, and you can read more about that here.
Another digestion-related risk factor for B12 deficiency is small intestinal bacterial overgrowth, commonly known as SIBO, which may be present in up to 50 percent of people with Hashimoto's. The bacteria "eat" this vitamin and produce a molecule that is similar to the structure of B12 — this molecule competes with vitamin B12 receptors, resulting in decreased absorption of B12.
Pernicious Anemia and H. Pylori Infections
Hashimoto's often co-occurs with other autoimmune conditions. One of these conditions is specifically tied to B12 deficiency and is known as pernicious anemia. In pernicious anemia, the immune system attacks a protein called intrinsic factor, which is required for B12 absorption, and it results in low B12 levels.
It's important to note that Hashimoto's, low B12 and pernicious anemia can be caused by an H. pylori infection, and addressing this infection can potentially help and even resolve all three. H. pylori triggers auto-antibody production through a mechanism called molecular mimicry, which occurs when a foreign substance mimics the structure of a molecule naturally present in the body.
Autoantibody production leads to the immune system's attack on intrinsic factor. Additionally, H. pylori destroys the gastric parietal cells that produce intrinsic factor proteins. Having a history of an H. pylori infection can make an individual more susceptible to developing pernicious anemia and B12 deficiency.
The good news is that H. pylori can be reversed! If you suspect this is the root cause of your B12 deficiency, I recommend ordering a GI-MAP test to confirm this is indeed the case. Please note, stool antigen tests are more sensitive for H. pylori, while conventionally-ordered breath tests often miss this infection. If you do test positive for this infection, consider an herbal H. pylori protocol to eradicate it. (Learn more about treating H. pylori.)
Stages of B12 Deficiency
B12 deficiency takes a long time, sometimes years to decades, to manifest. As it develops, not only do B12 levels decrease, but other metabolites or biomarkers of B12 — such as holotranscobalamin, methylmalonic acid (MMA), and homocysteine — are affected as well. How B12 and each of the biomarkers are affected, depends on which stage of B12 deficiency the individual is in. There are four stages of B12 deficiency.
In the first and second stages, lab testing will show declining levels of vitamin B12 and holotranscobalamin (transporter of B12), while MMA and homocysteine levels will remain within or around the normal range.
In the third stage of B12 deficiency, MMA and homocysteine will be elevated (having elevated levels of homocysteine is called hyperhomocysteinemia).
In the fourth and last stage of B12 deficiency, clinical manifestations are experienced by the individual — including macrocytic anemia (a form of anemia in which red blood cells are larger than usual, hence the term "macro") and, if left untreated, irreversible neurological damage.
The more progressed the deficiency is, the more detrimental it may be to an individual with Hashimoto's. For example, research has found that hypothyroidism is associated with coronary artery disease due to elevated homocysteine levels being a common cofactor.
Do You Have Low Levels of B12?
If you have a thyroid condition and/or any of the risk factors of B12 deficiency as outlined above, there is a very good chance that you are not properly absorbing B12, even if you eat a diet rich in animal proteins, so it is important to get tested if you suspect a deficiency.
Normal serum vitamin B12 levels range between 200-900 pg/mL, with concentrations less than 200 pg/mL usually resulting in deficiency.
It's important to be aware, however, that lab tests for measuring B12 levels do not always tell the whole story.
Established "low" ranges are often too low, and researchers have found that "normal-low" B12 levels have been associated with neurological symptoms such as difficulty balancing, memory lapses, depression, mania, fatigue, and even psychosis!
B12 is a water-soluble vitamin, so any amount that is not used by the body will simply be eliminated. However, an elevation of B12 in one's serum can be tied to the MTHFR gene variation, as those with the MTHFR gene variation may be unable to properly use non-methylated B12. In such cases, someone with the MTHFR gene variation may seem to have elevated levels of B12 (as well as elevated levels of homocysteine), but will actually have low levels of B12 in the form that their body can utilize.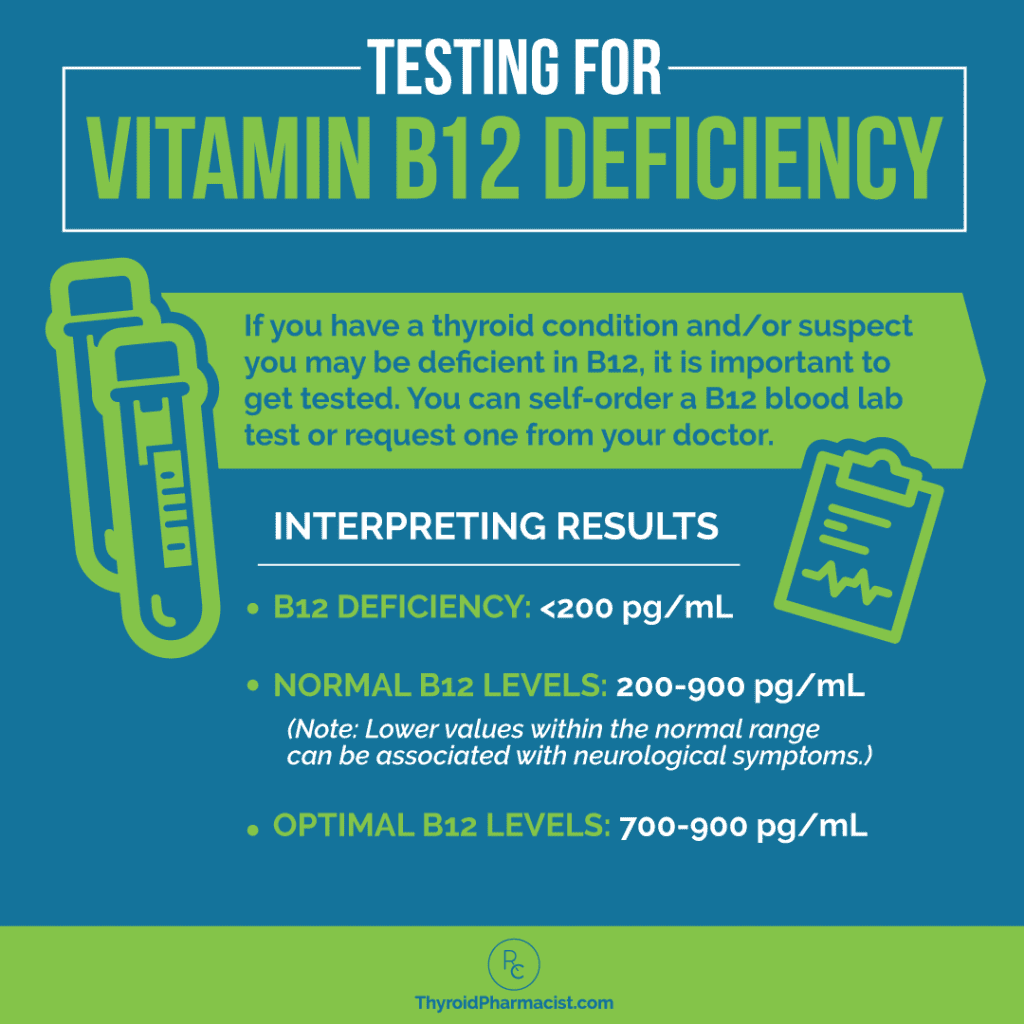 To find out if you have low levels of B12, you can ask your health care provider for the B12 (or cobalamin) test. This test can be ordered individually or added to a blood panel. Your levels may be low, even if all other screening tests for iron/ferritin and anemia come out within the reference range.
Alternatively, you can self-order the B12 test via Ulta Lab Tests. When you receive your test results, it's important to note that optimal B12 levels should be between 700-900 pg/mL. As mentioned above, most labs will not flag B12 levels unless they are under 200 pg/mL.
Additionally, testing for biomarkers such as methylmalonic acid (MMA), may provide valuable insight and help catch B12 deficiency in the earlier stages — you can also self-order an MMA lab test via Ulta Lab Tests.
Please note: The consumption of bread and cereals fortified with folic acid (synthetic folate) may mask a B12 deficiency on standard lab tests.
What do elevated levels of B12 mean? Elevated B12 levels can be a marker for liver diseases, kidney diseases, and blood diseases, including different types of leukemia (chronic myelogenous leukemia and promyelocytic leukemia). However, most cases are due to excess supplementation or due to a functional deficiency, where the person is actually deficient in B12.
How to Take B12
If your levels of B12 are below the optimal range, I highly recommend optimizing your B12 levels today. There are a few options for supplementation, including tablets, sublingual (under the tongue) liquids, and injections. I prefer the sublingual route, as it is highly absorbable, making it a more convenient and effective option for those with pernicious anemia (this condition can create issues with absorbing B12 orally).
Sublingual doses of 5 mg (5000 mcg) of B12, daily for ten days, then 5 mg once per week for four weeks, then 5 mg monthly, have been found to be effective in restoring B12 levels in those with a deficiency.
Pure Encapsulations B12 comes in a convenient liquid form that can be administered sublingually for optimal absorption. The active form of B12 in this formulation is methylated and, thus, highly bioavailable. It has also been shown to support neurological function, nerve cell health, healthy cognitive and nerve function, memory, and emotional well-being.
Please note, there are different forms of B12 that may be beneficial for individuals with different Single Nucleotide Polymorphisms or SNPs (genetic variations). While I usually recommend the methylated version of B12 (such as the one by Pure Encapsulations), individuals with the COMT genetic SNP may benefit more from the hydroxy- or adeno- forms of B12.
If you have tested your genes in the past, I recommend checking out Adenosyl/Hydroxy B12 from Pure Encapsulations, as well as their PureGenomics line. (If you are interested in testing your genes, consider ordering a genetic saliva test kit from 23andme.com, or from your practitioner. You can then upload your results to geneticgenie.org to uncover any genetic variations you may have, so that you can determine the form of B12 that would work best for you.)
The Takeaway
Individuals with Hashimoto's are more susceptible to nutrient deficiencies, particularly that of vitamin B12. Testing for B12 levels can be a proactive way to prevent a deficiency. However, if you do find yourself deficient in vitamin B12, there is something you can do to improve it!
I recommend digging into root cause factors such as not consuming enough dietary sources of this vitamin, as well as underlying issues that may be impairing the absorption of B12 (such as H. pylori infections and low stomach acid). If you find it difficult to get enough vitamin B12 through diet alone, consider adding a supplement.
If you are low in B12, you may also want to look into whether you may have other nutrient depletions as well, including depletions in iron, vitamin A, vitamin E, the B vitamins, potassium, and iodine, which are all required for proper thyroid function. (Other nutrients, although not directly involved in thyroid function, are also essential for optimal immune system, gut, liver, and adrenal function.)
Most people who are diagnosed with Hashimoto's will also present with low levels of selenium, vitamin E, and glutathione, as well as zinc and ferritin (the iron storage protein).
You can read more about nutrient depletions in my articles The 7 Most Common Nutrient Deficiencies in Hashimoto's and How Nutrient Extraction Affects Everyone with Hashimoto's.
My book, Hashimoto's Protocol, goes further in depth on strategies for getting to the root cause of your thyroid disorder and addressing nutrient deficiencies so you can start feeling better.
I wish you well on your journey to health!
P.S. You can also download a free Thyroid Diet Guide, 10 thyroid-friendly recipes, and the Nutrient Depletions and Digestion chapter for free by signing up for our newsletter. You will also receive occasional updates about new research, resources, giveaways, and helpful information.
For future updates, make sure to follow us on Facebook and Instagram!
References
Vitamin B12. Therapeutic Research Center website. https://naturalmedicines-therapeuticresearch-com.mwu.idm.oclc.org/databases/food,-herbs-supplements/professional.aspx?productid=926. Updated March 7, 2018. Accessed March 22, 2018.
Zaidel O, Lin HC. Uninvited guests: the impact of small intestinal bacterial overgrowth on nutritional status. Pract Gastroenterol. 2003;27:27–34.
Ness-Abramof R, Nabriski DA, Braverman LE, Shilo L, Weiss E, Reshef T, et al. Prevalence and evaluation of B12 deficiency in patients with autoimmune thyroid disease. Am J Med Sci. 2006 Sep;332(3):119-22.
Catargi B, Parrot-Roulaud F, Cochet C, Ducassou D, Roger P, Tabarin A. Homocysteine, hypothyroidism, and effect of thyroid hormone replacement. Thyroid. 1999;9(12):1163-1166. doi:10.1089/thy.1999.9.1163
Antinoro L. Getting Enough Vitamin B12. Harvard Health Publishing website. https://www.health.harvard.edu/vitamins-and…/getting-enough-vitamin-b12. Published April 2015.
Vitamin B12 or folate deficiency anemia. NHS website. https://www.nhs.uk/conditions/vitamin-b12-or-folate-deficiency-anaemia/symptoms/. Updated May 23 2019. Accessed April 30, 2021.
Cuskelly GJ, Mooney KM, Young IS. Folate and vitamin B12: friendly or enemy nutrients for the elderly. Proc Nutr Soc. 2007;66(4):548-558. doi:10.1017/S0029665107005873.
Gowdappa HB, Mahesh M, Murthy KV, Narahari MG. Helicobacter pylori associated vitamin B12 deficiency, pernicious anaemia and subacute combined degeneration of the spinal cord. BMJ Case Rep. 2013;2013:bcr2013200380. Published 2013 Sep 30. doi:10.1136/bcr-2013-200380
Desai HG, Gupte PA. Helicobacter pylori link to pernicious anaemia. J Assoc Physicians India. 2007;55:857-859.
Al Aisari F, Al-Hashmi H, Mula-Abed WA. Comparison between Serum Holotranscobalamin and Total Vitamin B12 as Indicators of Vitamin B12 Status. Oman Med J. 2010;25(1):9-12. doi:10.5001/omj.2010.3
Nexo E, Hoffmann-Lücke E. Holotranscobalamin, a marker of vitamin B-12 status: analytical aspects and clinical utility. Am J Clin Nutr. 2011;94(1):359S-365S. doi:10.3945/ajcn.111.013458
Ermens AA, Vlasveld LT, Lindemans J. Significance of elevated cobalamin (vitamin B12) levels in blood. Clin Biochem. 2003;36(8):585-590. doi:10.1016/j.clinbiochem.2003.08.004
E. Andrès, K. Serraj, J. Zhu, A.J.M. Vermorken, The pathophysiology of elevated vitamin B12 in clinical practice, QJM: An International Journal of Medicine. 2013;106(6): 505–515. doi: 10.1093/qjmed/hct051
Note: Originally published in February 2015, this article has been revised and updated for accuracy and thoroughness.