A Hashimoto's Guide
Over the last several years, I've worked with many people with Hashimoto's, and it's disheartening to hear about the misinformation they are given at the time that they are diagnosed.
Some people are told that they would always be tired and that they would always struggle with their weight. Nothing could be done—they would just need to accept this as fact! This is, of course, completely untrue, as many people with Hashimoto's can make a full recovery and live symptom-free (an unconventional root cause approach will be needed to reverse the condition, but some can eliminate virtually all of their symptoms with just the right medications).
Others were told that thyroid disease is easy to treat and that they had nothing to worry about. However, they often found this was the furthest thing from the truth, as they continued to deal with numerous symptoms and bounce from doctor to doctor only to be told that "it's all in their heads."
If you've been following me for a while, you likely know much of this information… but if you're struggling with symptoms or have a newly diagnosed friend, please read on. I hope this article gives you some reassurance and/or a starting point for a conversation with a newly diagnosed friend or family member. Please send them this article to shorten their learning curve.
Here are some of the top things I'd say to a newly diagnosed friend with Hashimoto's:
1. Hashimoto's is the #1 cause of an underactive thyroid, accounting for 90%- 97% of cases of hypothyroidism.
Hashimoto's is an autoimmune condition that results in the immune system attacking the thyroid gland. This attack causes damage to the thyroid, eventually resulting in the gland, causing it to lose its ability to make thyroid hormones. Hashimoto's, and the autoimmune process, likely developed 5-10 years prior to the time you were diagnosed. In the early stages, the TSH screening test for Hashimoto's often comes up normal. In the later stages of Hashimoto's, the TSH will become elevated, allowing doctors to make a diagnosis of hypothyroidism. Testing for thyroid antibodies can help a person determine that they have Hashimoto's and can uncover the condition many years before there is a change in TSH.
Detecting and addressing thyroid antibodies early on, before a change in TSH is seen, can increase the likelihood of improving symptoms and minimizing damage to the thyroid gland. The most common Hashimoto's antibodies are Thyroid peroxidase (TPO antibodies) and thyroglobulin (TG antibodies). These are standard tests that you can ask your practitioner to order for you. I've also set up a portal where you can self-order these labs, if you are unable to get them through a practitioner or have a high deductible.
2. Many of the things you've been going through, like fatigue, anxiety, weight gain, menstrual irregularities, and hair loss, are likely related to your thyroid imbalance.
Thyroid hormone receptors are present in virtually every cell in your body. Here's an article about the most common symptoms experienced with Hashimoto's. Taking thyroid medications can make a dramatic change in how you feel. The key is to follow what I like to call the five R's of thyroid medication: The right person, the right, drug, the right dose, the right time and the right way.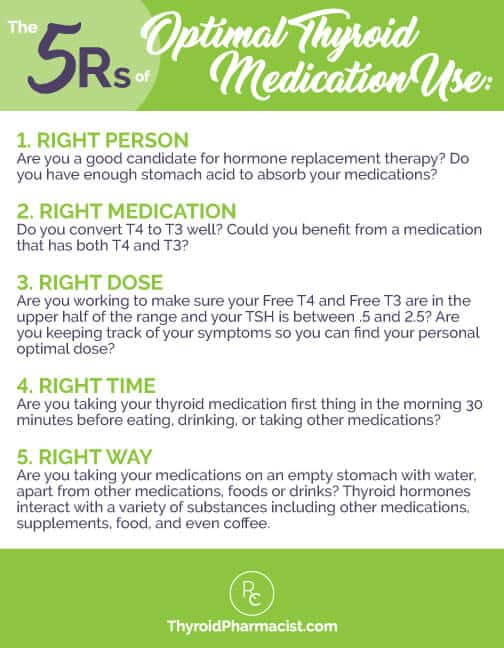 Right Person. One of the most common questions I get from readers in the early stages of Hashimoto's is, "Should I (or when should I) start taking thyroid medications?"
While there is no single right answer to this question for everyone, I encourage you to consider thyroid medications as one of many tools, to give yourself energy and give your thyroid gland a break, so you can focus your resources on healing.
Taking thyroid hormone replacement can be beneficial in all of the following scenarios:
If your labs are outside of the functional range
If you have thyroid symptoms
If you have thyroid antibodies
If you've had your thyroid gland surgically removed
If your thyroid gland has ever been given a radioactive iodine treatment
Right Drug. Synthroid is the most commonly used medication for hypothyroidism. It was the most commonly prescribed medication in the United States multiple times over the last few years! Synthroid is a synthetic version of one of the main thyroid hormones produced by the thyroid gland. This medication is the treatment of choice for most endocrinologists and conventionally trained MDs. Generic versions include levothyroxine, Levoxyl, and Levothroid.
Synthroid, and other synthetic medications, contain the thyroid hormone T4. The body needs to convert this hormone to T3, a more usable form. In theory, this conversion should happen in the bodies of most people. However, some people do not convert T4 to T3 properly, leading to thyroid symptoms despite taking T4. These people will feel much better (weight, energy, hair) on a medication regimen that contains both T3 and T4. This can be done by adding T3 to the regimen or by taking a T4/T3 combination medication such as the porcine thyroid-derived medications Armour, Nature-Throid, and WP Thyroid. Compounded pharmacists can also make synthetic T4/T3. Here's a post about thyroid medication options.
Right Dose. Most people who take thyroid medications feel best when they are dosed to a TSH between 0.5-2 mIU/mL. This is close to the "normal" range of TSH for a healthy person without thyroid disease. However, when you get your TSH tested through a medical lab, the medical labs may use outdated reference ranges. Always ask for a copy of your lab tests to make sure you are in a good TSH range for you! Here's a post about the TSH test and the best TSH range (a printable letter for your doctor is included).
Right Time. For most people, the best time to take thyroid hormone is first thing in the morning 30 minutes before eating, drinking, or taking other medications. Some people may advocate for taking T4 medications at bedtime, however, with T3 medications, this may lead to insomnia.
Right Way. Thyroid hormones interact with a variety of substances including other medications, supplements, food, and even coffee, and thus, are best absorbed when taken on an empty stomach with water, apart from other medications, foods or drinks. Calcium supplements, magnesium, and iron specifically, need to be spaced out by four hours. Of course, I recommend talking to your pharmacist to determine the best way to take thyroid medications for you.
3. It may take a few months to stabilize on thyroid medications.
You are started off at a low dose (too much can be a big shock to a system that's been deficient), and lab tests are used to determine if the dose needs to increase. After first starting a medication, retest your thyroid function tests within 4-8 weeks. Always request a copy of your lab tests and become familiar with the most important thyroid tests.
4. You should see an endocrinologist at least once.
It is important to get a thyroid ultrasound, which can give you a baseline of the condition of your thyroid and help determine if you have any nodules or tumors in the thyroid gland. However, don't expect to get the whole story about how to treat your condition. There are many things I wish my endocrinologist would've told me, so I've put together a top 10 list for you.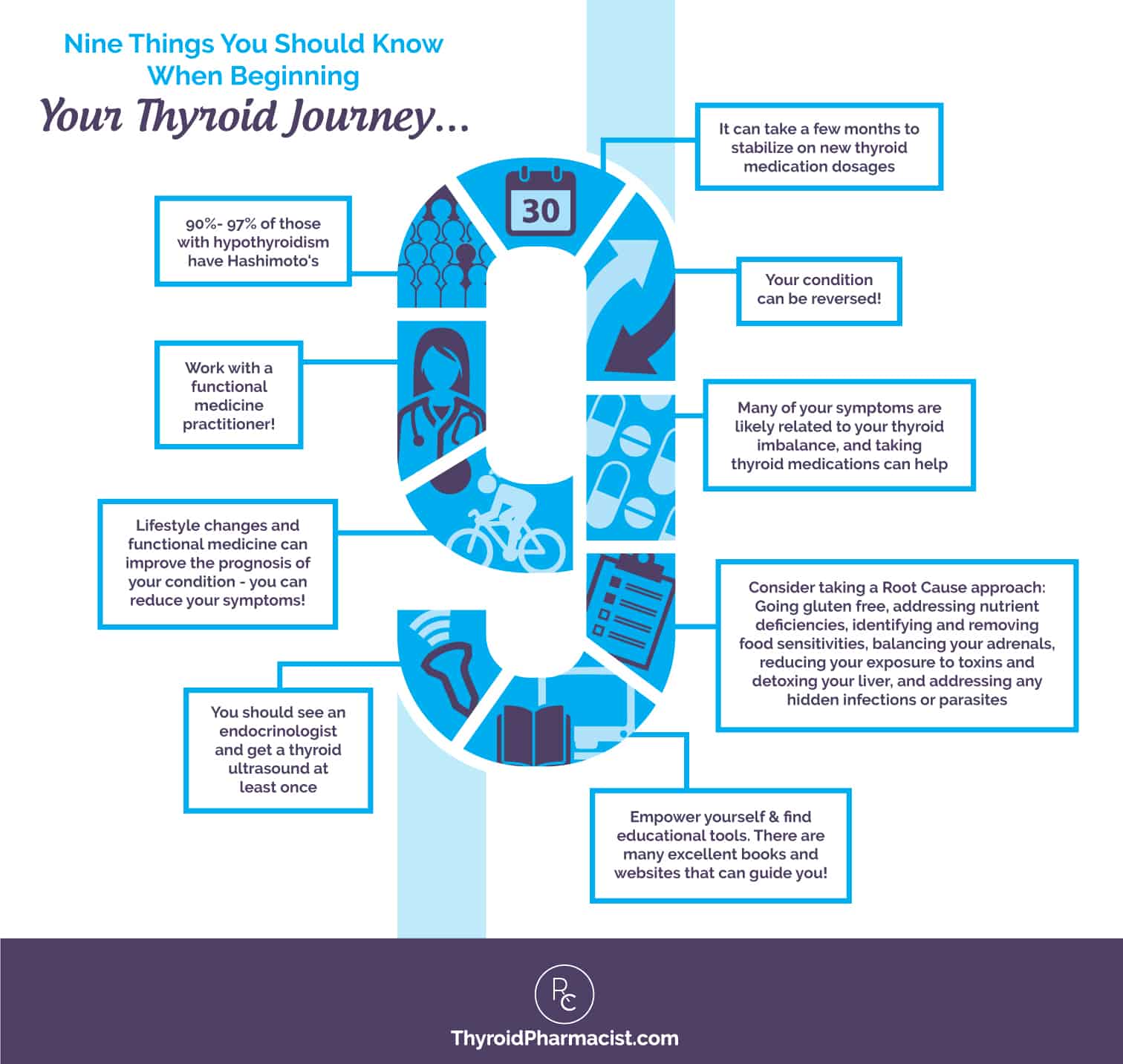 5. Hashimoto's doesn't have to be a lifelong, progressive condition.
If you're working with a conventionally trained doctor, he/she likely told you that Hashimoto's is a lifelong, progressive condition that will require you to take medications for the rest of your life. You might also hear that having Hashimoto's puts you at a greater risk for additional autoimmune conditions.
This is true if you only take thyroid medications and don't implement lifestyle changes. However, lifestyle changes and functional medicine can improve the prognosis of your condition. Many of my clients have reported a reduction of their symptoms and their antibodies after implementing changes to their diet and lifestyle. (Some people can even reverse Hashimoto's completely through these means.)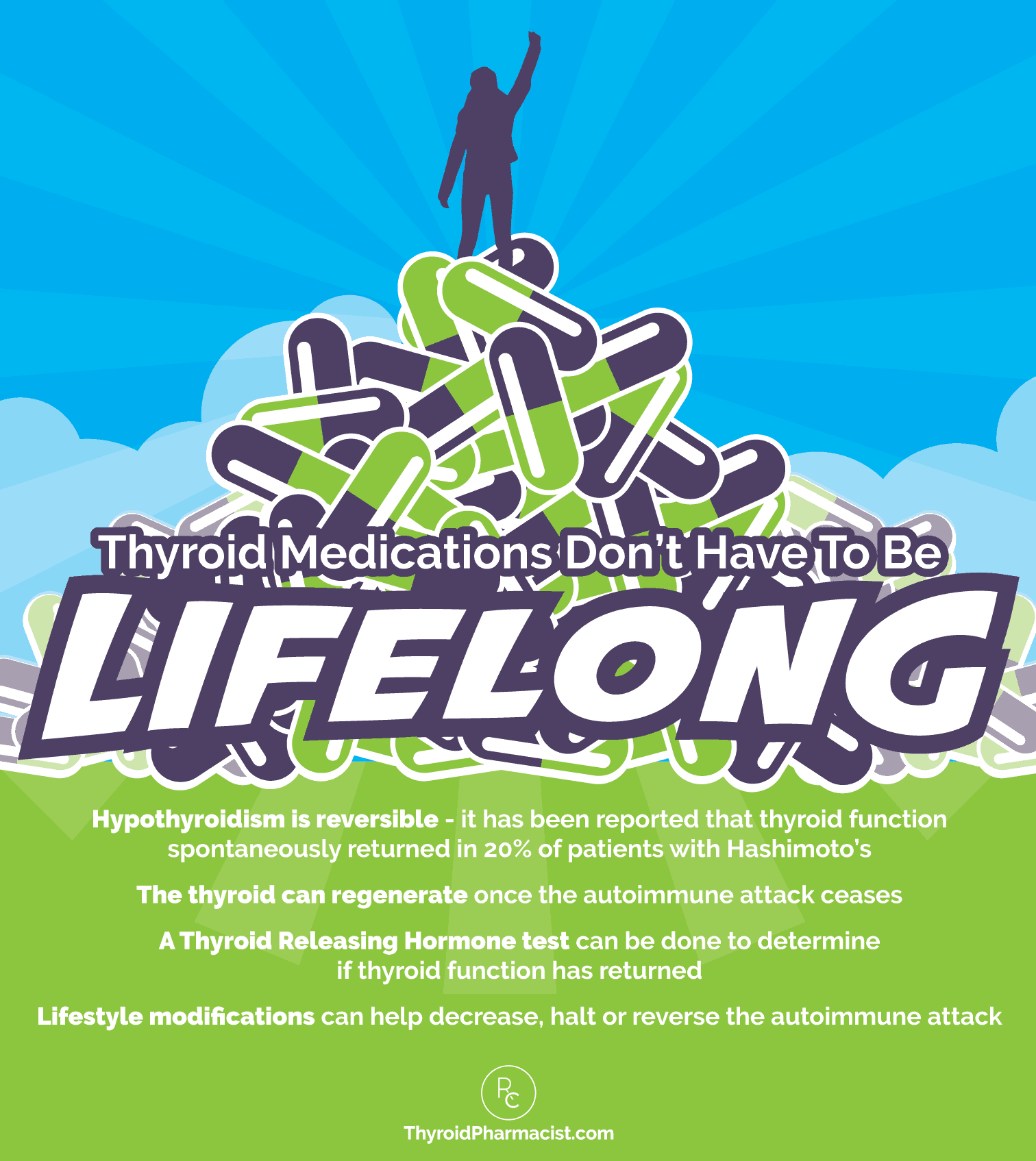 6. The condition can be reversed.
Conventional medical doctors and endocrinologists will usually only prescribe T4 containing medications and, due to their conventional training in medical school, do not believe the condition can be reversed or improved by any means. But the truth is, the autoimmune process can be stopped and reversed when the root cause is identified and triggers are eliminated. It's up to you to seek helpful complementary and innovative treatments to help you reach your goal; conventional physicians will not guide you towards them.
With a supportive health care team and thyroid knowledge, some of my readers have been able to stop the autoimmune attack on their thyroid, regain normal thyroid function, and reduce their dose of medications. You could be one of them!
7. Lifestyle interventions and a Root Cause approach can work.
Patients diagnosed with Hashimoto's, as well as progressive practitioners, have found that lifestyle interventions and a root cause approach (trigger identification and removal) can dramatically improve the way a person feels and may, in some cases, reverse the condition.
Taking selenium as a supplement and reducing stress are two things you can do to start feeling better right away.
Adopting a gluten free diet is another thing you can do right away. Hashimoto's, like celiac disease, is an autoimmune condition. People with Hashimoto's are more likely to have celiac disease, which causes the immune system to react to the gluten protein in food. Both autoimmune diseases have been found to respond positively to going gluten free. In fact, 88% of my readers with Hashimoto's reported that they feel better after eliminating gluten from their diets!
Other lifestyle interventions include addressing nutrient deficiencies, identifying and removing food sensitivities from your diet to help heal your gut, balancing your adrenals, reducing your exposure to toxins and detoxing your liver, and addressing any hidden infections or parasites you may have. Further guidance can be found in my articles Where Do I Start With Hashimoto's and The Experience from 2232 People with Hashimoto's.
8. Work with a functional medicine trained practitioner!
If you are hoping to improve the way you feel, slow down the progression of the condition, or reverse the condition, your best bet is to work with a functional medicine trained practitioner, such as an integrative medical doctor/PA/nurse practitioner, chiropractor, naturopathic doctor, functional nutritionist, functional pharmacist, or health coach. You can read more about the growing field of functional medicine that focuses on finding the root cause of immune system imbalances, here.
Practitioners of functional medicine can help you with implementing lifestyle interventions, as well as with finding hidden triggers that may be contributing to the development of your condition. They focus on new research that is not mainstream yet. I know it can be a challenge to find a clinician who understands and practices the root cause approach, so I've put together a Recommended Thyroid Practitioners Guide, to help you find these types of professionals with greater ease. (Please note: they were submitted by other thyroid patients).
9. Educate and empower yourself!
Thyroid patients can be misunderstood and mistreated. Some doctors will tell you that all of your symptoms are in your head and that there's nothing you can do but take antidepressants. Don't believe them. Listen to your body—you know it best. If you feel that something is wrong, don't let another person stand in the way of you fixing it. You will need to advocate for yourself. The people with the best outcomes are educated and engaged patients.
There are many excellent books and websites that can guide you! I developed the Thyroid Pharmacist website and blog and wrote my books, Hashimoto's the Root Cause and Hashimoto's Protocol, as a way for you to get a deeper understanding of what's going on in Hashimoto's, become empowered, and get to the root cause of your condition. I have a few success stories on my website to give you an idea of the improvements you can see by incorporating strategies from my books. I hope they will encourage you to take the first step towards recovering your thyroid health!
P.S. Be sure to sign up to my email list and subscribe to my weekly newsletter to get a free book chapter, recipes, a Thyroid Diet start guide and notifications about upcoming events!
References
Wang C, Crapo L. The Epidemiology of Thyroid Disease and Implications for Screening. Endocrinology and Metabolism Clinics of North America. 1997;26(1):189-218. doi:10.1016/s0889-8529(05)70240-1.
Balázs C, Kaczur V. Effect of Selenium on HLA-DR Expression of Thyrocytes. Autoimmune Diseases. 2012;2012:1-5. doi:10.1155/2012/374635.
Gärtner R, Gasnier B, Dietrich J, Krebs B, Angstwurm M. Selenium Supplementation in Patients with Autoimmune Thyroiditis Decreases Thyroid Peroxidase Antibodies Concentrations. The Journal of Clinical Endocrinology & Metabolism. 2002;87(4):1687-1691. doi:10.1210/jcem.87.4.8421.
Negro R. Selenium and thyroid autoimmunity. Biologics: Targets & Therapy. 2008:265. doi:10.2147/btt.s2746.
Xu J, Liu X, Yang X, Guo H, Zhao L, Sun X. Supplemental Selenium Alleviates the Toxic Effects of Excessive Iodine on Thyroid. Biological Trace Element Research. 2010;141(1-3):110-118. doi:10.1007/s12011-010-8728-8.
Carta M, Loviselli A, Hardoy M et al. The link between thyroid autoimmunity (antithyroid peroxidase autoantibodies) with anxiety and mood disorders in the community: a field of interest for public health in the future. BMC Psychiatry. 2004;4(1). doi:10.1186/1471-244x-4-25.
Hoang T, Olsen C, Mai V, Clyde P, Shakir M. Desiccated Thyroid Extract Compared With Levothyroxine in the Treatment of Hypothyroidism: A Randomized, Double-Blind, Crossover Study. The Journal of Clinical Endocrinology & Metabolism. 2013;98(5):1982-1990. doi:10.1210/jc.2012-4107.
Wentz D. Top 9 Takeaways From 2232 People With Hashimoto's Disease. DR IZABELLA WENTZ, PHARM D. 2017. Available at: https://thyroidpharmacist.com/articles/top-9-takeaways-from-2232-people-with-hashimotos/. Accessed July 20, 2017.
Sategna-Guidetti C, Volta U, Ciacci C et al. Prevalence of thyroid disorders in untreated adult celiac disease patients and effect of gluten withdrawal: an Italian multicenter study. The American Journal of Gastroenterology. 2001;96(3):751-757. doi:10.1111/j.1572-0241.2001.03617.x.
Note: Originally published in August 2015, this article has been revised and updated for accuracy and thoroughness.