This green smoothie is packed with nutrition for your thyroid, helps reduce inflammation and can help with detoxification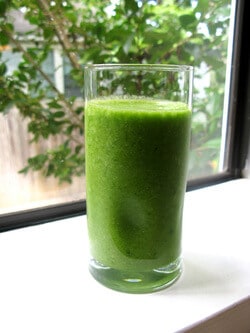 Coconut milk is hypoallergenic and can help reduce inflammation and stabilize blood sugar due to its (good) fat content.
Ingredients
1 cup mixed baby greens
2 large carrots
1 ripe avocado
1 stick of celery
1 cucumber
1 bunch of basil leaves
1 cup coconut milk
1 scoop Pea Protein (I formulated Rootcology brand Pea Protein especially for people with thyroid conditions)
 Sea salt
Optional Boosts
(1 tablespoon each)
Camu powder- to boost vitamin C
Cod Liver Oil- anti-inflammatory
Coconut kefir (I use Tula's CocoKefir)- probiotics
Maca root powder: helps increase body temp and stabilize hormones
Turmeric powder- anti-inflammatory
Directions
Blend together in Vitamix or other blender and enjoy as low glycemic breakfast, lunch or snack!
Want more recipes? download my free starter guide on thyroid and Hashimoto's.
PS. You can also download a free Thyroid Diet Guide, 10 Thyroid friendly recipes, and the Nutrient Depletions and Digestion chapter for free by signing up for my weekly newsletter. You will also receive occasional updates about new research, resources, giveaways and helpful information.
For future updates, make sure to follow us on Facebook!