According to My Hashimoto's Clients
I've wanted to help people with their health as far back as I can remember. I grew up watching my mom work as a medical doctor and always admired her. In elementary school, I was introduced to the scientific method and thought: "This is it! This is what I'm going to do when I grow up!"
I began to read about innovative health research as early as junior high and hoped that I could one day dedicate my life's work to science! I took honors and AP science courses in high school and majored in science in undergrad, missing the Thursday night parties because I had to study for chemistry, biology, and physics pop quizzes that I had on most Fridays. But I didn't mind! I was excited that I got to synthesize chemicals, grow cells in Petri dishes, and make my electronic gadgets.
I then enrolled in a 4-year PharmD program (Doctor of Pharmacy) and became a pharmacist with the goal that one day I would be able to discover new treatments for people who were suffering. It wasn't long after my graduation from pharmacy school that I was able to find a position that allowed me to grow my research skills and utilize my passion for helping people.
I worked as a consultant pharmacist at a case management center that helped people with disabilities and rare conditions. I loved to spend hours reading about various, often unknown, health conditions and treatments and enjoyed solving pharmacological problems based on the person's unique physiology.
My Diagnosis Became My Mission
Once I was diagnosed with Hashimoto's, I turned my research skills and passion to getting myself—and, eventually, others with the condition—well.
I rebelled against the traditional Hashimoto's "authorities" and set out to find the root cause of my condition instead of just masking its symptoms.
Over the last several years, I've spent countless of hours reading and analyzing every piece of research about Hashimoto's that I could get my hands on.
I have to say…I love it! I felt like a kid coming out of a candy store when I received 680+ new research articles on Hashimoto's and autoimmunity one day. You should have seen the grin on my face!
I've learned so much from the published scientific studies.
For example, up to 30% of people with Hashimoto's may be affected with the stomach bacteria, H. pylori, and I found by treating 10 people with Hashimoto's and H. pylori bacteria resulted in a significant reduction of thyroid antibodies over the course of 18 months! Thyroid antibodies dropped from >1000 to less than 100 in many of the subjects studied!
But in addition to strictly scientific articles, I've also found a tremendous amount of value from listening to people with Hashimoto's! I've learned that different people may have different root causes but that there are also certain things that help most of us.
When I wrote my first book, I dreamed that a research institution would take the helpful interventions I gathered and turn them into a clinical trial, using people's experiences and developing them into best practices.
But Then it Occurred to Me…
We, the Hashimoto's community of Root Cause Rebels, can create our own research and clinical trials!! See the results of the survey where over 2,232 people participated here.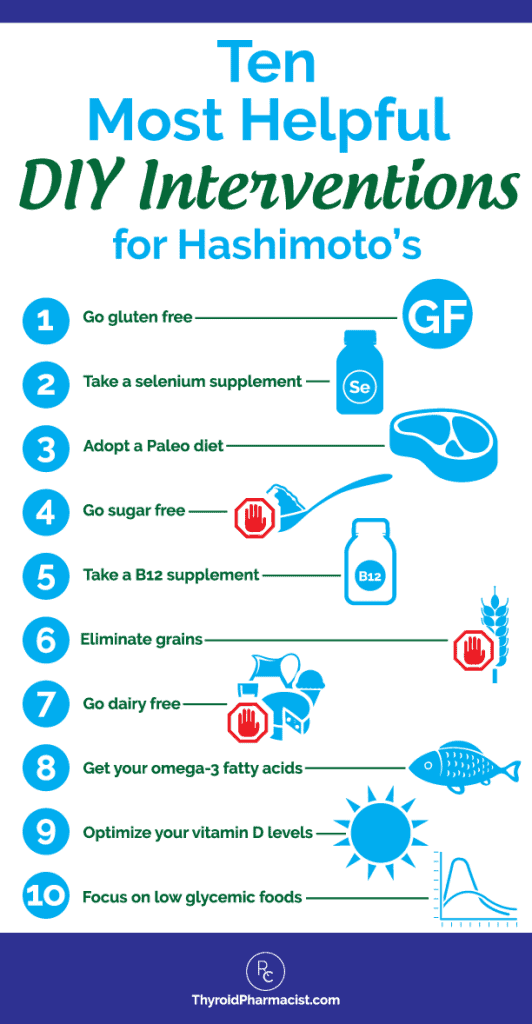 Here Are Some of the Most Helpful DIY Interventions According to my Clients:
Going gluten free helped 95% of them feel better. Read more about tailoring your thyroid diet.
Taking selenium methionine 200mcg daily resulted in 83% of people with Hashimoto's feeling better. Read more about selenium and Hashimoto's.
Paleo diet – 89% of those who tried the Paleo diet felt better!
Sugar free – 84% felt better kicking their sugar habit!
Taking a B12 supplement helped 83% of respondents to feel better. Note: I recommend the methylcobalamin version. Read more about thyroid and B12
Eliminating grains helped another 80%.
Going dairy free (my most helpful intervention), helped 77% of people with Hashimoto's.  Read more about Hashimoto's and dairy.
Omega-3 fatty acids were helpful for 76% of people.
Optimizing vitamin D levels with a vitamin D3 supplement helped 73% of people. Read more about thyroid and vitamin D.
Eating a low glycemic index diet helped another 70%. Read more about blood sugar imbalances, Hashimoto's, and the glycemic index.
Additional Interventions
Additional promising interventions included using turmeric, the Autoimmune Paleo diet, liver support, as well as various functional medicine interventions.
I hope that you found this information helpful in your healing journey!
P.S. Be sure to sign up to my email list to get a free book chapter, recipes, Thyroid Diet start guide and notifications about upcoming events and my weekly newsletter.
Note: Originally published in May 2015, this article has been revised and updated for accuracy and thoroughness.