I feel very fortunate to have lived in Boulder, CO — a paradise for health-conscious people like me and my husband. We had plenty of sunshine, low toxin spas, a half-dozen health food stores, and restaurants with tasty, gluten-free options.
However, other parts of the United States may not be as friendly to the organic, healthy, gluten-free lifestyle that plays a big role in recovering our health. I know that eating well and using non-toxic products can be more difficult and expensive in some parts of the country, where healthy markets and restaurants might not be easily accessible.
That's why I put together some resources and tips to help my readers source healing food, no matter where they live and what their budget may be. While eating organic, grass-fed foods can be more expensive than conventionally raised, packaged and processed foods, there are certainly ways to still eat healthy and stay within your budget!
In this article, you'll find tips on:
Finding thyroid-friendly food for any budget
How to shop your local grocery stores for healthy finds
Where to order health foods online
Cooking healthy meals at home (plus delicious recipes from my cookbook)
Thyroid-Friendly Foods for Any Budget
I tried a lot of different diets on my road to subduing my Hashimoto's symptoms and getting into remission, but the diet I eventually landed on was a modified Paleo–style diet. Though there is no "one-size-fits-all" diet that will work for everyone, and each person will need to address their own food sensitivities and nutrient deficiencies, there are a few things that I recommend to just about everyone who is looking to feel better.
Here are some of the foods I have found to be especially healing to those with Hashimoto's, which can be made more budget-friendly with the following tips:
High quality protein – Protein is an important source of amino acids such as glutamine and L-tyrosine, which repair gut cells and create thyroid hormones, respectively. Protein sourced from animals is more easily absorbed by the body. Meat can be bought in bulk with delivery options, which I'll discuss later in this article.
Berries – Berries are a great source of antioxidants and myo-inositol! Myo-inositol is an important nutrient that may reduce thyroid antibody and TSH levels, help balance blood sugar, as well as reduce the symptoms associated with anxiety, mood swings, depression and OCD. Frozen berries are cheaper than fresh ones. They are also usually more nutritious, as they are flash frozen instead of being transported fresh (which means they don't lose their nutritional value during transportation).
Green smoothies – I encourage people to load up on micronutrients by making their own green smoothies. It's an excellent way to boost the number of vegetables you consume on a daily basis, in an easy-to-digest way. Leafy greens, carrots, cucumbers, celery, and fresh herbs are all inexpensive smoothie ingredients that can be purchased at your local grocery store or farmer's market. For an excellent (and inexpensive) source of protein, you can also add protein powders (like Rootcology Organic Pea Protein or Rootcology AI Paleo Protein) to your smoothies. One serving of Rootcology Organic Pea Protein powder costs about $3, and one serving of AI Paleo Protein powder costs about $2 (it's even less, if you subscribe and save to get 10% off!) — so a daily green smoothie may only cost about $5, to replace an entire meal!
Fermented foods – Many fermented foods, such as sauerkraut, can be bought in jars for a reasonable price, but making your own fermented foods is cheap and easy! (For example, to make sauerkraut, all you need is a canning jar, some cabbage, and a bit of salt. You'll find recipes for fermented veggies in my cookbook. :-))
Bone broth – Bone broth, which helps to heal damage to the digestive tract, is both easy and cheap to make. All you need are 3-4 lbs of bones from organic or pastured meat, and you'll be on your way to a healthier digestive tract in no time. If you cannot consume pastured, organic meats for every meal throughout the month, getting a few organic bones and using them for bone broth can be incredibly healing.
Cruciferous vegetables – Vegetables such as broccoli, Brussel sprouts, and kale, are highly nutrient dense without being high-priced. Leafy greens are especially great choices that help move toxins out of the body. Look for sales on seasonal vegetables for the best deals.
Cilantro – Fresh herbs like cilantro, which can help remove heavy metals from your body, are generally very cheap — but you can also purchase dried versions, which will last a long time in your pantry.
Turmeric – Turmeric has a well-researched track record of reducing whole body inflammation, healing the gut, and detoxifying the body from heavy metals (which can build up in the body due to a liver backlog that is common in Hashimoto's, and contribute to symptoms). You can buy turmeric in bulk from Amazon for less than $10/lb and add it to your soups, teas, and curries for a great health boost.
In essence, the ideal thyroid diet will include plenty of whole foods, along with a few foods that I've found to be particularly healing to the gut, and helpful for eliminating toxins. Whole foods such as frozen (or fresh) fruits and vegetables are more affordable than trendy superfoods and are just as (if not more in some cases) nutrient dense.
You can read my article about the best diet for Hashimoto's to learn more about my diet philosophy and the foods I recommend to help you along your healing journey.
How to Shop Your Local Grocery Store
If you have a health food store near you, those are great places to find organic and nutritious foods. But, for a lot of people, that may not be the case. Some health food stores can also be pricey and not practical for everyday shopping needs. Don't worry — with a little practice, you can learn to navigate your local grocery store to find the healthiest foods for your lifestyle!
Shop the perimeter of your store. One of the foundations of a healing diet for Hashimoto's is to eat plenty of whole (unprocessed) foods. This includes fresh fruits, vegetables, and meats (organic and pasture-raised or wild-caught, when possible). These foods are usually located on the outside edges of the grocery store. By avoiding the aisles of processed snacks and junk foods, and filling your cart with as much fresh produce and meat as possible, you'll be well on your way to preparing healthy meals, no matter what grocery store you're shopping in.
Purchase cheaper cuts of organic/grass-fed meat. You can usually find chicken thighs and legs, skirt steaks, and organ meats at a cheaper price compared to chicken breasts or more expensive cuts of beef. Additionally, these cuts are generally more nutrient-dense and offer more value for your money. Keep in mind, however, that these cheaper cuts of meat tend to be tougher and may need to be slow-cooked.
Avoid the Dirty Dozen. Most grocery stores, even the conventional, big-box stores, now carry at least a small selection of organic fruits and vegetables. Though they are usually more expensive than their conventionally-grown counterparts, I do recommend that you try to eat organic as much as possible, to avoid the toxic pesticides that are present in so much of our food supply these days.
If, however, you have a strict budget, I recommend taking a look at the Environmental Working Group's Dirty Dozen list. This list is updated every year to include the top 12 most contaminated fruits and vegetables to avoid, as well as the top 12 foods that have the least contamination and can be purchased from conventional sources. Having this information on hand will allow you to buy organic when the health benefits are really worth the extra dollars, and conventional when it makes more sense for your budget.
If your budget does not allow for organic produce at all, you can opt for washing fruits and vegetables with apple cider vinegar to remove toxic pesticides.
Watch for sales and stock up your freezer. Most grocery stores send out coupons (there are even coupon apps you can use on your smartphone!) or have regular sales on specific items. I like to keep my eye out for sales on quality meats and stock my freezer when I find a good deal. This way, I'm not spending much more on grass-fed meat than I would on factory-farmed meat, and I've always got something on hand when dinner time rolls around.
Choose nutrient-dense foods to maximize your health food budget. Loading up on inexpensive foods that will add the most nutrients for your dollar, is another way to maximize your food budget. Kale, for example, is arguably the healthiest of the green, leafy vegetables, as it contains high amounts of vitamins C, A, K1, and B6, along with potassium, calcium, magnesium, copper and manganese. Retailing for under $2 a bunch, kale can greatly boost the nutrient density of your meal.
Likewise, sweet potatoes are loaded with potassium, magnesium, calcium, iron, vitamin C, vitamin B6, and vitamin A. They are full of fiber and are incredibly filling, making them an inexpensive way to feel satiated, while maximizing your nutrition.
It may be helpful to choose a few nutrient-packed foods (as opposed to a number of different ones) — this may make it easy to stick within your budget and ensure you're getting adequate amounts of healing vitamins and minerals.
This can also be a strategy to help you bring in more organic, grass-fed meat, without compromising your budget. Focus on only a few vegetables that pack in a higher amount of nutrients. The reduction in budget spent on vegetables, may help balance out the price of high quality meat — and you'll still be benefiting your thyroid health.
Online Health Food Resources
Depending on your location, it can be challenging to find quality health foods at a good price. The good news is that with the internet at our fingertips, the options to order healthy foods online, are almost limitless. I've discovered a few favorite places I like to source food from, that offer cheaper prices than my local health food stores often do, as well as a wider selection of foods that are great for preparing the types of meals that are healing for Hashimoto's.
Online Grocers
One of my favorite online health food stores is Thrive Market. Thrive Market is a unique online marketplace with a mission to make healthy living easy and affordable for everyone. It operates on a Costco-like membership model (they offer super low prices to members), and the products are delivered right to your door!
They have everything you need, from GMO-free food, snacks, vitamins, and supplements, to personal care products, cleaning supplies, beauty products, kitchen staples, pantry essentials, and baby products.
While I am a big proponent of investing in your health, I appreciate that not every family has the resources to do so. I was so inspired to learn that Gunnar Lovelace, the CEO of Thrive Market, was raised by a single mom, and is very dedicated to making healthy eating affordable. Not only are the prices of all of the items on Thrive Market always at 25-50 percent below traditional retail store prices, but also, for every paid membership, Thrive donates a free membership to a low-income American family! This makes me feel very good about supporting their business model. Even their packaging is made from recycled paper!
Amazon is another great resource where you can find a wide variety of health foods and supplements at some of the best prices.
Some of my favorite items to purchase from Amazon include:
You can find almost anything you're looking for on Amazon, so I encourage you to look for the best prices on the healthy foods that you love to eat. As some foods and supplements can have greater markups on Amazon, it may be helpful to compare their prices with other health food stores, and make sure you're truly getting those best prices.
Imperfect foods is a delivery service that brings imperfect (but nutritious and delicious) fruits, vegetables, and other grocery items to your door. It's free to sign up, and you can choose what fruits and vegetables you'd like to order each week (you also have the option to pause your deliveries).
Vitacost is another affordable online health food store. Not only does Vitacost have staple food and grocery items, just as the options mentioned above do, but you can also purchase skin care products as well as supplements from them. They have regular deals on a variety of items that will help save you money. Having a one-stop shop for health-boosting items that offers low shipping rates, is a win for everyone!
Online Butchers
Another online resource I recommend is meat delivery services like ButcherBox. Though grass-fed meat is generally more expensive than factory-farmed alternatives, I believe the health benefits of the pastured meats make it well worth it to your health.
Pasture-raised, organic and grass-fed meats are higher in health-restoring omega-3s and are an important part of a healing diet. Conventionally-raised meats, on the other hand, are almost always loaded with growth hormone and steroids that can affect thyroid function and create a toxic burden on the liver.
They are also often raised on a diet filled with corn, which not only greatly reduces the levels of omega-3s present in the meat, but also makes the animals more susceptible to E. coli, which can be passed onto humans. For these reasons, it's important to consume naturally-farmed meats as much as possible.
By ordering your grass-fed meat in bulk through a company like ButcherBox, you can cut down on the price per pound — making it more affordable to get plenty of healthy protein into your diet.
ButcherBox delivers 100 percent grass-fed beef, free-range organic chicken, and heritage breed pork, for less than $6.00/meal. Use my code THYROID to get $10 off your order!
US Wellness Meats is another butcher company that I trust. This company produces the finest grass-fed and organic meats, without the use of antibiotics or growth hormones. They offer a variety of organic meats and poultry, including beef, bison, lamb, pork, rabbit, chicken, and duck. They also have a selection of wild-caught seafood.
If you are looking for a monthly subscription for wild-caught fish, then Vital Choice Seafood and Organics has you covered. A trusted source for fast home-delivery of the world's finest wild seafood and organic fare, harvested from healthy, well-managed wild fisheries and farms, Vital Choice is a leading source of pure, healthful, and sustainable seafood.
Farm Subscription Services
In most areas, you will be able to find local farms and co-ops that offer weekly or monthly deliveries of farm-fresh vegetables, fruits, eggs, and other locally produced foods. These services, often called CSA (Community Supported Agriculture), usually offer organic produce at cheaper prices compared to health food stores, as transportation and middleman costs are reduced.
Reducing transportation time also increases the nutritional value of your produce, as they can be picked at peak ripeness and sold same-day, versus fruits and veggies at the grocery store which are picked before they are ripe, and often sit in warehouses and on trucks for weeks at a time. Plus, it can be pretty satisfying to know that the food you are eating was grown by a farmer down the road!
Farm Fresh To You is one such service that offers a variety of produce boxes, sourced from farms in your area and delivered right to your door. You can also visit the United States Department of Agriculture's Local Food Directory to search for a CSA in your area.
Time-Saving Resources
If you're thinking, Great! Now I know where to get meat and veggies from, but what am I going to do when I don't have time to cook?, I have you covered!
If you are in need of healing bone broth but don't have enough time to make some, check out Flavor Chef Bone Broth. They offer flavorful, entirely organically sourced, slow-simmered chicken and beef bone broth that can be delivered straight to your door. (As a bonus, you can receive 10% off by using my exclusive code: Thyroid10.)
Be sure to also check out Paleovalley Snacks. Paleovalley provides delicious meat sticks that are sourced from grass-fed, pasture-raised animals and are free from additives. They have bundles that you can purchase at a better discount, and they are great for on-the-go snacks.
I know time is money, so I hope these resources are helpful for you!
Meal Plan and Delivery Options
Meal delivery options can be another great way to save time, save money, and care for your health. When we go through busy periods in our lives, it can be tempting to order out. Depending on where we live, however, it may not always be feasible to order healthy food while sticking to a budget.
That's where meal delivery services come in! Meal delivery services provide pre-made meals that you can simply eat out of the container, no cooking required. There are a few options I trust to consistently prepare nutritious meals with high quality ingredients.
One of these options is Methodology, a meal service that brings fully prepared food to your door. Not only are their meals aesthetically pleasing, but they taste absolutely delicious. Their meals are created with a focus on increasing fruit and vegetable intake, increasing fiber, and decreasing processed foods. Their food is also gluten free and refined sugar free (and they can accommodate for multiple allergies and diets). These factors are all supportive of optimal thyroid (and general) health.
Their meals start at $15 each — your order may differ depending on your needs and budget. The savings add up, especially when compared to ordering takeout regularly. Currently, Methodology delivers to Portland, Seattle, the San Francisco Bay Area, and parts of Southern California (Ventura, Los Angeles, Orange, and San Diego counties). If you want a 20% discount on your first order, be sure to use my discount code, IZABELLACCBF.
Similarly, Paleo On the Go is a meal delivery service that delivers either fully Paleo-compliant or Autoimmune Paleo/AIP-compliant meals. This option takes the anxiety out of ordering from a meal delivery service. Meals are created to be nutrient dense and balanced!
Real Plans is a subscription-based meal planning service that allows for flexibility — you can choose foods to create a personalized meal plan, based on your diet (Paleo, AIP, etc.), your schedule, and desired servings. This service can help you save time and money by knowing exactly which ingredients you need to purchase (no food waste!). I love that it allows you to customize your meals to your budget and diet preferences. Their subscription options are affordable and start as low as $6/month.
Cook with Me!
Because I believe so strongly in the healing power of real food, I poured my heart into creating my cookbook and nutrition guide, Hashimoto's Food Pharmacology: Nutrition Protocols and Healing Recipes to Take Charge of Your Thyroid Health!
In it, you'll find 125 thyroid-healing recipes that are easy to prepare and can be adapted to any budget. I've also included plenty of information about the healing potential of food, the kitchen tools and cooking strategies I use to easily prepare meals, shopping tips to save you time and money, three weeks worth of meal plans to get you started, and more!
Here are a few of my favorite recipes for each meal of the day (some are from my cookbook) that feature inexpensive ingredients mentioned in this article.
Breakfast
Lately, I have been loving my hubby's creation: Hashi Hash Hash. Along with being AIP-friendly (as well as gluten and dairy free), this is a balanced meal that leaves you feeling satisfied and ready to start the day.
Ingredients: 
1 large sweet potato, finely diced
5 oz. cremini mushrooms
½ white onion, finely diced
1 lb. ground turkey or bison
1 handful of baby spinach
Sea salt or pink Himalayan sea salt to taste
Preparation:
Preheat a large cast-iron skillet over medium-high heat. Place the diced sweet potatoes in the skillet. Cook until they are halfway done, somewhere between soft and firm. (They should feel spongy to the touch.)
Add the sliced mushrooms and diced onions. Cook, stirring, for 1 to 2 minutes.
Add the ground turkey or bison, breaking it up with a spatula and distributing it somewhat evenly around the skillet. Cover and cook until meat is fully cooked.
Stir in a handful of spinach and cook until the spinach is wilted.
Add salt to taste, then serve.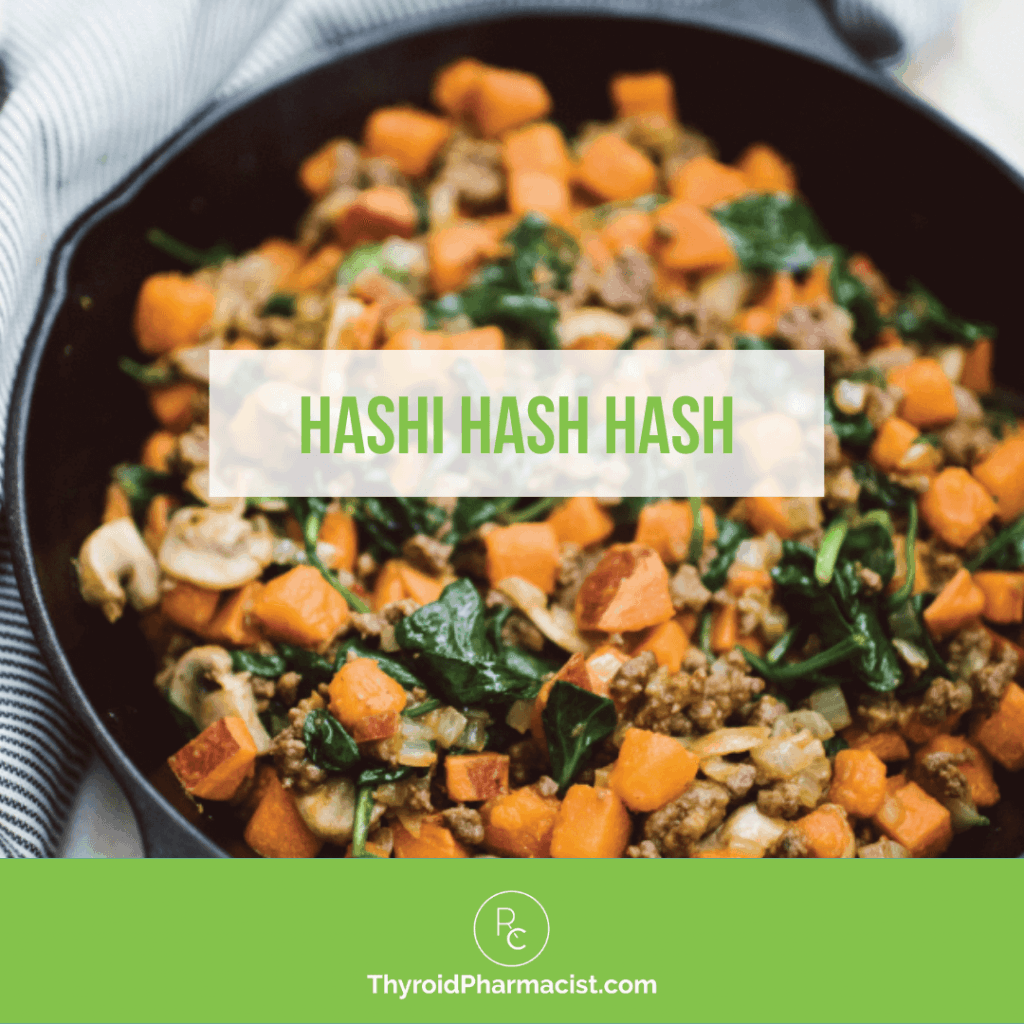 Lunch
Here's a sneak peek of a recipe from my cookbook: Barszcz, or Polish beet soup, is a delicious and light lunch option. Beets support methylation (great for those with MTHFR issues), detoxification, and digestion — and are thus an amazing option for optimizing thyroid health. 😉
Ingredients:
6 cups of bone broth
2 cups of chopped red beets, or 3 medium whole beets
1 cup of chopped sweet potatoes, or 1 medium whole sweet potato
1 cup of chopped carrots, or 5 medium whole carrots
1 cup of chopped parsnips, or 5 medium whole parsnips
1 medium onion, chopped
3 allspice berries (if tolerated)
2 bay leaves
½ teaspoon of garlic powder
1 tablespoon of lemon juice or apple cider vinegar
Sea salt or pink Himalayan sea salt to taste
Black pepper to taste (if tolerated)
1 tablespoon of lemon juice or apple cider vinegar, or to taste
Preparation:
Place the bone broth, beets, sweet potatoes, carrots, parsnips, onion, bay leaves, and garlic powder in a large stockpot, and bring to a boil.
Reduce the heat to a simmer and add 1 tablespoon of lemon juice or apple cider vinegar. The lemon juice will bring out the beautiful red color of the beets.
Simmer for 40 minutes, until all of the vegetables are cooked through.
If you did not chop your veggies, you can now mash them with a potato masher or put them in a high-powered blender to create a puréed soup. (When blending hot liquids, make sure the top of the blender is vented to let the steam escape.)
Season with salt, pepper, and lemon juice or apple cider vinegar to taste.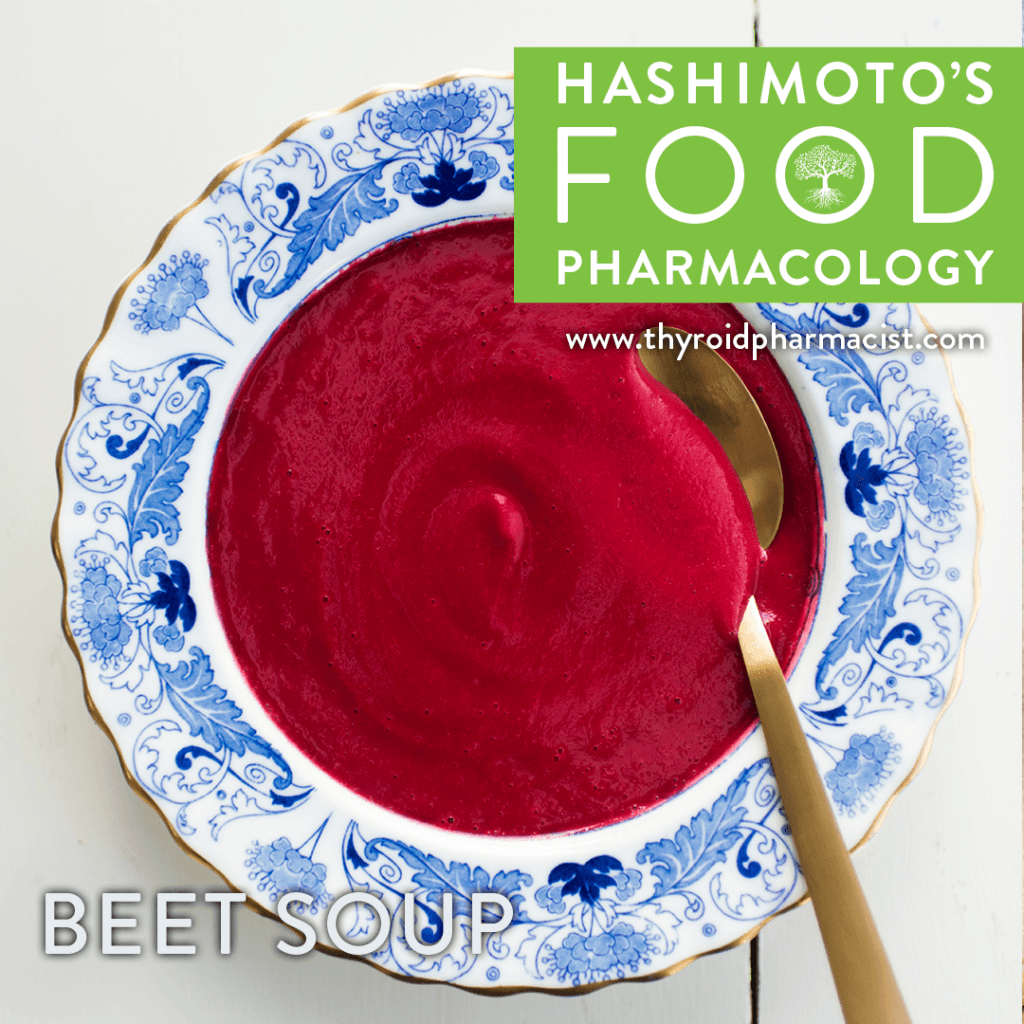 Dinner
If you come home from work feeling tired — or if you're like me and have a family of individuals with opposing preferences — a "DIY Taco Salad" is a simple and delicious option for dinner.
I came up with this idea a few years ago, when I wanted to make a healthy but fast meal that would please my dad (who doesn't like health food), my mom (who loves health food), my toddler (who was all about burgers then), and my husband (who was then eating less red meat and more greens).
Ingredients (feel free to add additional vegetables or even fruit!):
Salad greens
Tomatoes
Green onions
Avocado
Red peppers
Garlic lemon chicken (cubed and shredded to give it a big taste difference)
Ground beef, seasoned with garlic and olive oil
Rice
Lemon and olive oil for dressing
Preparation: 
Prep the vegetables by cutting them (coarse or fine depending on preference).
Serve the ingredients in separate dishes.
Scoop your preferred ingredients into your bowl (making sure to include a source of protein and a source of fat along with the vegetables) and enjoy!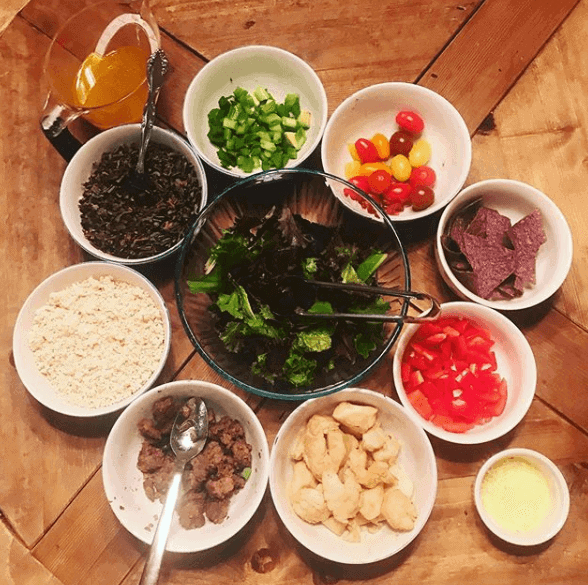 Snack
Green smoothies are a delicious and quick way to pack in adequate amounts of protein. Opting for affordable protein powders (mentioned earlier in the article) will ensure you stay within your budget.
Ingredients:
1 cup of coconut milk or water for the base
¼ to ½ cup of vegetables and fruits such as: celery, carrot, cucumber, green lettuce (great source of silica for collagen formation), cilantro, blueberries
½ to 1 whole avocado
1 scoop of Rootcology protein of choice
Directions:
Place all ingredients into a blender and blend until smooth (or until desired consistency is reached).
For more recipe inspiration, check out my article on thyroid-healing recipes. You can look through and choose a few recipes that have inexpensive ingredients, and rotate through those recipes.
A Final Note on Sticking to a Budget 
While it may seem challenging to stick to a nutrient-dense diet while sticking within your budget, it can be done with a little planning and knowledge of affordable options. The first step, of course, is to know where your budget lies. Then, it may be helpful to list down the different options mentioned here and determine which options fit best.
I recommend opting for organic, grass-fed meat wherever possible, and focusing on fruits and vegetables that contain multiple nutrients. Stocking up on satisfying and satiating snacks will reduce takeout purchases and thus help you stick within your budget. Many affordable options come in bulk, and thus may require more money upfront, but are actually much more affordable in the long run — it may be helpful to account for this within the budget.
My goal is to make eating a nutrient-dense, gut-healing diet easy for you, no matter your budget or location. Whether you are shopping at your local grocery store, eating out with friends and loved ones, or searching for healthy foods online, I hope that some of these resources are helpful to you and encourage you to eat with health and enjoyment in mind.
P.S. You can download a free Thyroid Diet Guide, 10 thyroid-friendly recipes, and the Nutrient Depletions and Digestion chapter of my first book for free by signing up for my newsletter. You will also receive occasional updates about new research, resources, giveaways and helpful information.
For future updates, make sure to follow me on Facebook and Instagram too!
Note: Originally published in April 2015, this article has been revised and updated for accuracy and thoroughness.