Summertime is upon us, which means we get to look forward to BBQs, celebrations, gathering with friends, and maybe even some travel this year. For many of us, it's a welcome relief after the past couple of years that changed our plans and kept us isolated from friends and family. But for others, it might feel a bit daunting to jump back into gatherings, where the food may not be Hashimoto's-friendly. We worry about food sensitivities and cross-contamination, the weather is warmer and dehydration becomes an issue, and there are more opportunities to drink alcohol and otherwise indulge. 😉
Gluten is the leading food sensitivity for those with Hashimoto's, and eliminating it from your diet can be a game changer for many people. In fact, when I surveyed 2,232 people with Hashimoto's, 86 percent of respondents who had gone gluten free reported improvements in digestive symptoms. Most readers said their gluten reactions included gut issues like constipation, diarrhea, cramping, bloating, gas, and burning or burping from acid reflux, as well as neurological-related symptoms such as headaches, brain fog, anxiety, depression, fatigue, and insomnia. And most felt better going gluten free.
However, it's not as easy as simply avoiding bread… Those of us who are sensitive to gluten know that it can be lurking anywhere, even in condiments and marinades, so eating out at BBQs and other places where you don't have direct control over the food prep can be challenging and nerve-wracking at times.
And gluten isn't the only food sensitivity that many people with Hashimoto's are dealing with. Dairy and soy are also problematic foods for a lot of people, in my experience. In my survey, 79 percent of those who tried the dairy-free diet felt better, and 63 percent reported reactions to soy, but a person can become sensitive to any food.
To help reduce anxiety and keep your thyroid and tummy happy this summer, I put together a list of resources that I have found and tested to help you stay on track with your health goals, whether you're cooking yourself or getting out to gather with friends. I've also got some tricks to help keep you hydrated, as the summer heat can lead to electrolyte imbalances, which can impact thyroid health. (1,2,3)
Spending quality time with loved ones and relaxing in the sun are just as important to your health as eating a healthy diet, so I do encourage you to get out and enjoy yourself this summer! We are spending time in Texas this summer, so I plan on eating tons of yummy BBQ and spending time with family! 🙂
BBQ Inspiration
Wild Pastures: If you're hosting the BBQ this summer, this meat subscription service delivers 100% grass-fed beef, pasture-raised pork & chicken, and wild-caught seafood directly to your front door. Created by a Functional Diagnostic Nutrition Practitioner and her family, Wild Pastures was developed to fill in the gap of high quality, nutrient-dense meat and seafood that's affordable. It's Costco prices, with meat farmer's market quality, meets small business trustworthiness. When you join today, you can get 20% OFF for LIFE! That means 20% OFF every order for as long as you are a Wild Pastures member.
US Wellness Meats: I've been ordering from this company for several years now as they offer high quality grass-fed and organic meat with no antibiotics or growth hormones, that are rich in nutrients and higher in essential vitamins and minerals. You can buy a variety of organic meats and poultry, including beef, bison, lamb, pork, rabbit, chicken, and duck. They also have a selection of wild-caught seafood.
Ava Jane's Kitchen Colima Sea Salt: Salt is a key ingredient in seasoning our BBQ meats and enhancing flavors. While salt can be beneficial in supporting our adrenals and providing us with minerals, most commercial salt has been refined and does not provide much nutritional value. It's also often fortified with iodine, and we know that excessive iodine can be a trigger of thyroid disease. (4) If you're looking for a healthier option, I recommend an unrefined sea salt like Ava Jane's Colima Sea Salt. This coarse sea salt is all natural, packed with trace minerals your body needs, and is not fluoridated or iodized, so you don't have to worry about toxic effects to your thyroid!
Primal Kitchen sauces: This company offers an entire collection of oils, sauces, and condiments, that are free of dairy, gluten, grains, refined sugar, and soy, and contain only real, simple ingredients. Their sauces make excellent marinades for your BBQ, and I love their Paleo mayo on my grass-fed burgers!
Looking for some grilling recipe inspiration? Here's an easy chicken skewers recipe that can be thrown on the grill for a quick weeknight dinner or for a fun BBQ with friends!
Tropical Grilled Chicken Skewers
Marinade
Juice of 1 lemon
Juice of 1 lime
1 tablespoon olive oil
1 teaspoon minced garlic
½ teaspoon dried thyme
Skewers
½ pound boneless chicken breast, cut in 1-inch cubes
1 large zucchini, sliced in ½-inch chunks
1 large pineapple, cut in 1-inch chunks
8 ounces button mushroom, stems removed
½ red onion, cut in 1-inch chunks
12 (8- to 12-inch) wooden skewers soaked in water for 30 minutes
Directions
Combine the marinade ingredients in a medium-size bowl, add the chicken cubes, and refrigerate for 1 hour.
Preheat the oven to 350F.
Remove the chicken cubes from the marinade. Thread the meat, fruit, and vegetables on the skewers, placing one chicken cube between each vegetable or fruit piece. Discard the marinade.
Grill the skewers 5 to 10 minutes on each side, until cooked through.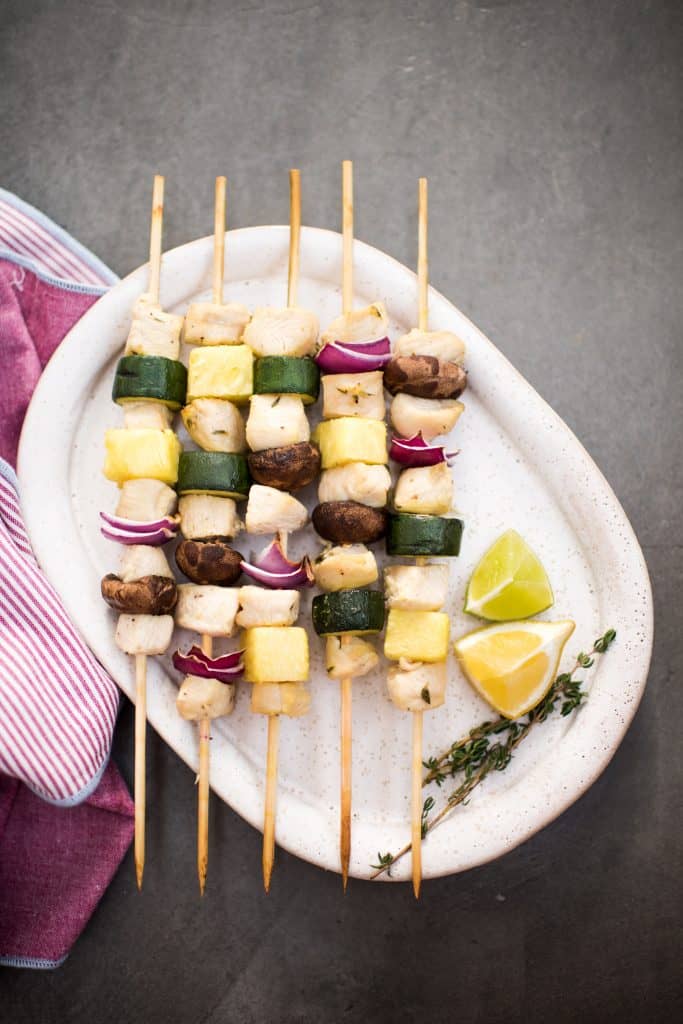 Food Prep & Storage
Traeger grill: If you've ever used a Traeger grill, you know how easy it is to cook meat just right, but did you know that it may also be a healthier option than conventional grills? While most grills use charcoal or gas as a fuel source, Traeger uses wood pellets that not only impart superior flavor to your food, but are made with natural hardwood — no binders or unnatural additives — for a cleaner smoke and pure flavor.
Always Pan: Our Place is a new, sustainable cookware brand that sources from ethical factories, uses compostable packaging with zero plastic in sight, and uses a proprietary non-toxic coating that has been deemed the safest option by experts. Their core product is the Always Pan, which was designed to be the perfect size and shape to do the work of eight pieces of traditional cookware. This pan is coated with PTFE- and PFAS-free non-stick ceramic coating. (Please note: This pan is made of metal, and uses a non-toxic protective coating to prevent the metal from leaching into food. As with all pans, it is recommended to replace your pans if you scratch them.)
Parchment paper: Cooking with aluminum foil can leach heavy metals into your food and be a trigger or aggravating factor for Hashimoto's. I recommend using a chlorine-free parchment paper instead. This works great for roasting veggies in the oven, and makes clean-up a breeze!
Roaster: The Graniteware 15-Inch Covered Oval Roaster, 13″L x 9″W x 3.5″H, is great for cooking your roasting any meal, because it browns better and cooks more evenly than foil roasters.
Glass storage containers: I love these containers to store all my leftover foods in — they come in a variety of sizes for various needs, and are oven-safe for quick and easy reheating.
Hydration
Hydration may not be the first thing you think of when it comes to Hashimoto's and thyroid health, but having adequate levels of water is absolutely essential for all areas of health — and electrolytes play a crucial role in ensuring we stay hydrated. I have a few tricks I like to use to make sure I stay hydrated at all times, but particularly during the hot summer months.
I love to drink Spa Water and always feel extra fancy when I do. 🙂 Here's a simple recipe:
Spa Water
Ingredients
1 large pitcher of filtered water
1 cup of mixed fruit pieces (such as berries, oranges, lemon, lime and/or cucumbers)
Directions
Fill a pitcher of filtered water.
Place fruit of choice in the pitcher.
Pour into a glass and sip throughout the day.
You can also stir in a serving of electrolytes, for a refreshing and hydrating summertime drink. Some electrolyte products that I like, include:
Alcohol
People with thyroid conditions tend to have a reduced tolerance to the effects of alcohol. Alcohol places extra demands on our already overburdened detox pathways, and can exacerbate blood sugar issues which are common in those with Hashimoto's. (5,6) Furthermore, some people react to the sulfites/histamines and pesticides in wine.
This can result in some pretty nasty hangover symptoms. One thing that you can do to help reduce the potential for these symptoms, is drink organic wine like Dry Farms Wines (I like their Rose collection), and/or use a Wine Wand:
I also recommend drinking one glass of water for every serving of alcohol, and ensuring you aren't forgetting electrolytes on the day of drinking and the day after.
My favorite electrolyte options, included here again 🙂
Also, for those days when you partied a little harder than you may have intended, I have a little hangover remedy that might come in handy too. 😉
Hashi Hangover Remedy
While drinking: Consume one glass of water for every serving of alcohol, plus one scoop of Rootcology Electrolyte Blend.
The next day, take:*
If You've Been "Glutened"…
Gluten/Dairy Digest: This is one of my favorite supplements to keep handy in my purse, in the event that I accidentally ingest gluten while out to eat or at my neighbors' BBQ. Even when gluten-free foods are served, cross-contamination can occur and having these capsules handy can help mitigate many of the symptoms associated with consuming gluten for those that are sensitive. Gluten/Dairy Digest contains a unique mix of enzymes to support normal gluten, casein, beta-lactoglobulin and lactose digestion.*
G.I. Detox: Another option if you've accidentally ingested gluten or other foods that you are sensitive to is the G.I. Detox formula from Biocidin. This supplement uses bentonite clay, activated charcoal and aloe to gently clear toxins from the gut and reduce the gas, bloating and brain fog that can result from eating problem foods.*
For more cookware, food, and supplement resources, I encourage you to check out the Resources page of my website. I keep it updated with my latest thyroid-friendly finds, and often you can find discounts on some really great products.
I hope these resources encourage you toward some tasty, healthy cooking in good company this summer. I know that avoiding gluten and other problematic foods while sticking to your thyroid-friendly diet can make gathering for meals with others a little bit daunting. I encourage you to do your best to avoid the foods that exacerbate your symptoms, have a back-up supplement on hand for emergencies, and remember that enjoying time with friends and family is an important part of living a happy and healthy life.
Enjoy your summer!
P.S. To stay updated on my latest news and thyroid information, follow me on Instagram and Facebook!
References
Hemantha Kumara DS, Muralidhara Krishna CS, Vishwanath HL. The electrolytes imbalance between hypothyroidism and hyperthyroidism. International Journal of Current Research. 2016;8(5):31031-31033.
Ybarra J, Fernandez S. Rapid and reversible alterations in thyroid function tests in dehydrated patients. Nurs Clin North Am. 2007;42(1):127-34.
Schwarz C, Leichtle AB, Arampatzis S, Fiedler GM, Zimmermann H, Exadaktylos AK, Lindner G. Thyroid function and serum electrolytes: does an association really exist? Swiss Med Wkly. 2012;142:w13669. Doi: 10.4414/smw.2012.13669
Iodine deficiency. World Health Organization. https://www.who.int/data/nutrition/nlis/info/iodine-deficiency. Accessed December 2, 2021.
Wang C. The Relationship between Type 2 Diabetes Mellitus and Related Thyroid Diseases. J Diabetes Res. 2013;2013:390534. doi:10.1155/2013/390534
Piantanida E, Ippolito S, Gallo D, et al. The interplay between thyroid and liver: implications for clinical practice. J Endocrinol Invest. 2020;43(7):885-899. doi:10.1007/s40618-020-01208-6
Magnesium Fact Sheet for Professionals. National Institutes of Health Office of Dietary Supplements. Updated March 1, 2022. Accessed April 28, 2022. https://ods.od.nih.gov/factsheets/Magnesium-Health…
Khoshbaten M, Aliasgarzadeh A, Masnadi K, Tarzamani MK, Farhang S, Babaei H, et al. N-acetylcysteine improves liver function in patients with non-alcoholic Fatty liver disease. Hepatitis Monthly. 2010;10(1):12-6.
Khan RN, Saba F, Kausar SF, Siddiqui MH. Pattern of electrolyte imbalance in Type 2 diabetes patients: Experience from a tertiary care hospital. Pak J Med Sci. 2019;35(3):797-801. doi:10.12669/pjms.35.3.844
Padh H. Vitamin C: newer insights into its biochemical functions. Nutr Rev. 1991;49(3):65-70. doi:10.1111/j.1753-4887.1991.tb07407.x