Self-care is important all the time, especially for those of us with autoimmune disease, but it can take on a whole new meaning when you're working on healing your adrenals. Many of us arrived at a point of burnout and adrenal dysfunction because we were putting others' needs above our own, saying "yes" more often than we truly had the bandwidth for, and maybe weren't nourishing ourselves with the nutrients that the body needs to thrive.
An essential part of healing your adrenals is prioritizing yourself. Aside from learning how to set boundaries and learning how to say "no" to the things that drain you, there are many tools and products that have helped me prioritize and truly enjoy my self-care time.
Read on to discover my favorite tools for taking care of the adrenals, even when life is busy and stressful!
Diet and Meal Prep
Self-care is feeding your body nourishing foods, and sending your body safety signals through food is an important part of adrenal healing. Here are some great options for meals, snacks, and keeping your pantry stocked with delicious, blood sugar balancing foods.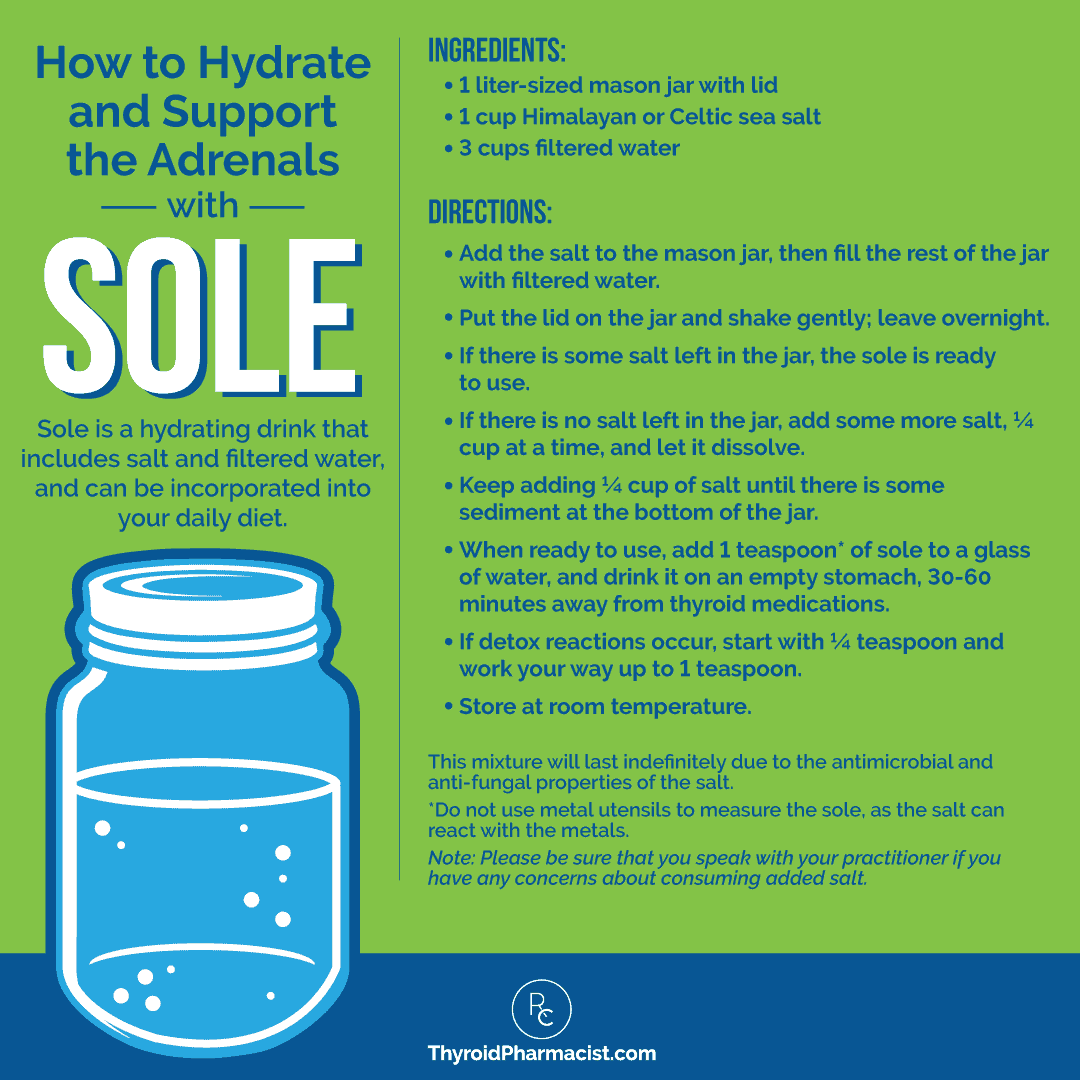 Adrenal-Supporting Sips
I now understand that dependency on caffeine isn't a cause of adrenal fatigue, but rather a symptom of it. While reducing your caffeine intake may be helpful on your adrenal healing journey, it isn't mandatory (the last time I had to work on healing my adrenals, I was a new mama, and there was no way I was giving up my daily coffee!). I've included some thyroid- and adrenal-friendly caffeine options, as well as my favorite caffeine-free options.
Caffeine-Free Ways to Boost Energy Levels
Rootcology Electrolytes – This is a complete and balanced electrolyte formula to help promote optimal hydration. Keeping electrolytes in balance is important for adrenal function. This blend also contains other adrenal-supporting ingredients like vitamin C and D-ribose.
Maca Lattes – Maca is an adaptogen that supports our stress response and adrenals. I love to have a Maca Latte in the afternoon for a delicious pick-me-up! Here's my recipe:

Ingredients:

1 tablespoon maca powder
1 tablespoon full-fat canned coconut milk
1 teaspoon ground cinnamon, plus more for garnish (optional)
1 cup hot water
Stevia to taste (optional)

Directions: Blend the maca, coconut milk, cinnamon, hot water, and stevia (if using) together in a blender, then top with some extra cinnamon if desired.Note: Maca can help stabilize the adrenals. However, it may have different effects for different people. As such, it may be best to start with 1 teaspoon to determine how you tolerate it, and then work your way up to the recommended 1 tablespoon.

Adrenal Kickstart – This drink is delicious and provides adrenal-supporting vitamin C, combined with healthy fats, for stable blood sugar and energy.



Four Sigmatic Reishi Elixir – This is one of my favorite ways to end the day and support sleep. Reishi is known for its stress-supporting properties. When you sleep well, you have more energy during the day, and will reduce your need for caffeine.
Lower Caffeine Options
Rasa – These adaptogenic coffee alternative blends are packed with great-tasting herbs that provide lasting energy to nourish your adrenals, rather than tax them. They contain no common allergens – just organic, sustainable herbs – and there is even an Autoimmune Paleo-friendly option. Rasa's dark, rich, and roasty formula is a great alternative if you're looking to cut back on caffeine. You could also try their cacao or coffee blends for a healthier version of your morning brew!
MUD/WTR – If you're considering giving up coffee, or looking for a new morning ritual that promotes energy and focus, I highly recommend trying "Mud Water." It contains adaptogenic and brain-boosting mushrooms with a blend of tea, that support the body's ability to deal with stressors while promoting increased energy levels.
Pique Matcha – Matcha is a powdered form of green tea, made from the whole leaf. This gives matcha its high antioxidant levels. Because it's green tea, it also contains L-theanine, which promotes a sense of calm. This in turn can help balance the stimulating effects of caffeine. (1)
A Cleaner and Replenishing Coffee
Danger Coffee – Caffeine can interfere with the absorption of minerals, which is why I love Danger Coffee. It's actually designed to remineralize your body with over 50 trace minerals, nutrients, and electrolytes (it's also mold free)! (

Use code IZABELLA10 for 10% off at checkout.)
Stress Support
Reducing and eliminating stress is a big part of the adrenal healing journey. These are some of the tools that have helped enhance my self-care rituals and reduce everyday feelings of stress.
Meditation Apps – We know that stress is a trigger for adrenal fatigue, which can worsen, and, in some cases, trigger hypothyroidism. The practice of meditation can decrease stress levels by significantly lowering elevated cortisol levels. Starting a meditation practice can be challenging, but I have found that apps can make it easier. A few apps that I've tried and love are Calm, Breethe, and Headspace.
Topical Magnesium – Magnesium chloride can help lower anxiety, reduce pain, and help promote restful sleep. (2) When you apply it topically, it is absorbed directly into the bloodstream, which can be beneficial for those with malabsorption issues. Two of my favorite options are Designs for Health MagneGel and Ancient Minerals Magnesium Oil.
Epsom Salts – I love Epsom salt baths! They're such a nice way to relax and destress. Known for their many therapeutic uses, soaking in Epsom salts is one of the most effective means of making the magnesium your body needs readily available. (Magnesium is often depleted in times of stress.)
Bath bombs – Another fun and nourishing addition to a warm bath, these bath bombs contain six essential oil blends to treat your senses, and are made with 100% natural and organic ingredients.
Mikkoa Yoga Mat – These beautiful mats are perfect for hot yoga or your home yoga practice. They're not only eco-friendly and gorgeous, but they also work on any surface, and fit in a tote bag!
Portable Sauna – One of my favorite ways to unwind is in a nice, warm sauna. I love Sunlighten saunas for their commitment to quality and safety. They use the best quality materials and low-EMF heating technology. I love that they have a portable sauna, which is perfect for those who don't have the space or the budget for a full-size sauna, but want to reap all the benefits.
Red Light Therapy – Red light is a certain wavelength of light that has been shown to have health benefits, including counteracting oxidative stress, reducing inflammation, and promoting healing in the body. (3) Some research has also been done that suggests red light therapy may provide benefits for depression and anxiety. (4) A few brands with red light therapy products that I like include Joovv (use code THYROID for $50 off your purchase), Carex, Hooga, Red Light Rising, and Orion (use code IZABELLA10 for 10% off). I've recently used Lumebox and love this option, too.
Adrenal Support Supplements – Rootcology Adrenal Support is a blend of the ABC's for adrenal support, in one formula: adrenal adaptogens, B vitamins, and vitamin C. This supplement is designed to promote healthy cortisol levels, hypothalamic and pituitary function (HPTA axis), and catecholamine production (dopamine, norepinephrine, and epinephrine). I also recently introduced my Adrenal Transformation Kit, which is a specially curated selection of supplements designed to give you maximum adrenal support. It includes:

Adrenal Transformation Protocol

 

– if you're ready to dig into a supported approach to healing your adrenals, I definitely recommend checking out my new book. It's for anyone who is experiencing brain fog, fatigue, sleep issues, chronic pain, low libido, and/or mood issues. If you have come to a healing plateau in your thyroid journey, or are looking for a way to become more resilient in the face of all the stress life throws at you, this book can truly transform your health!
Healing Sleep
One of the fastest ways to induce adrenal dysfunction is through sleep deprivation. In fact, sleep deprivation is what scientists use to induce HPA axis dysfunction in laboratory animals! Getting plenty of quality sleep is essential for allowing your body to heal and for feeling your best. Here are a few tools that help me get great sleep:
Truedark – The blue light that's emitted from our electronic devices can delay the release of sleep-inducing melatonin, increase alertness, and disrupt the body's internal clock (or circadian rhythm). Truedark's glasses help block the blue light, to maximize control of your circadian rhythm.

Get 10% off your purchase when you use code IZABELLA at checkout!

Wholetones – This healing music uses specific frequencies to help facilitate restorative sleep and create a sense of peace. My baby boy, Dimitry, used to get very stressed out in the car, often crying in his car seat. While playing lullabies helped a bit, Dimitry immediately stopped fussing and started sleeping with the Wholetones music!
Pranamat – Ever heard of an acupressure mat? This company designs acupressure massage products that are ethically hand-crafted in their European lab and are 100% eco-friendly! They are clinically proven to help with thyroid and adrenal-related health issues, including migraines, (back) pain, fatigue, and anxiety. (7) They are a lovely way to help decompress before bed.
Ventilated Blanket – A cool environment is so helpful for deep, restful sleep. But if you're like many of us, you can easily get overheated under your blankets and end up kicking them off in the middle of the night, or wake up sweating. I've been loving this ventilated blanket from Sleep & Glow, which has mesh ventilation panels that draw away heat and moisture, so you can get the best sleep possible.
Personal Care
Supporting how you feel is the most important thing, but sometimes it also feels really good to support how you look! I have always loved makeup and skincare products, but as anyone who is looking to live a cleaner lifestyle knows, most of them are loaded with endocrine disruptors and toxins. Fortunately, there are many clean, non-toxic beauty and personal products available these days, but finding products that are both clean and effective can be a challenge.
Annmarie Skin Care – Over the past few years, I've tried a lot of clean beauty products, but I have become obsessed with Annmarie's line of moisturizers, creams, and cleansers. They are not only effective, but feel luxurious on my skin, and don't contain any of the harmful ingredients that can be hazardous to your health.

I love their Clean Beauty Routine offer, which allows you to try several of their clean, potent formulas. For only $19.99, you'll receive their Sun Love Everyday Sheer Sunscreen, Aloe Herb Cleanser, Anti-Aging Serum, and Anti-Aging Facial Oil. I'm so excited for you to try clean, organic, and wild-crafted formulas that nourish your skin and are chock full of healthy, activated ingredients. This offer is only good through July 31st, so order yours now!


Wellnesse – This line of personal care products by Katie Wells (the "Wellness Mama") contains high quality, safe ingredients that are clearly labeled, so there are no surprises! I love their shampoo for keeping my long hair soft and manageable, and their natural whitening toothpaste and mineral deodorant are my new favorites.
Acure Organics – I love these pure, simple and effective plant-based beauty products. A few of my personal favorites include their leave-in conditioner made with argan oil and argan extract for all hair types, moisturizing shampoo and conditioner that help even the most dry and damaged hair to be soft and manageable, and clarifying shampoo and conditioner that provide vital moisture to combat everyday tangles and buildup.
Pretty Frank Deodorant – Made with skin-soothing oils that help to calm redness and discomfort, Pretty Frank's deodorants keep body odor in check – without the use of aluminum and other toxic ingredients found in conventional deodorizing products.
I hope you try some of these resources and find the ones that support you in prioritizing self-care and taking care of your adrenals.
For more of my favorite items and resources that I use to make it easier to care for my thyroid and adrenal health, take a look at the Resources page of my website. I am constantly updating it with all of the new goodies that I come across!
And be sure to follow me on Facebook and Instagram, where I post many of the new resources that I find. 🙂
(You can also find me on TikTok and Pinterest!)
Here's to making time for you!
References
Kimura K, Ozeki M, Juneja LR, Ohira H. L-Theanine reduces psychological and physiological stress responses. Biol Psychol. 2007;74(1):39-45. doi:10.1016/j.biopsycho.2006.06.006
Boyle NB, Lawton C, Dye L. The Effects of Magnesium Supplementation on Subjective Anxiety and Stress-A Systematic Review. Nutrients. 2017;9(5):429. Published 2017 Apr 26. doi:10.3390/nu9050429
Glass GE. Photobiomodulation: The Clinical Applications of Low-Level Light Therapy [published correction appears in Aesthet Surg J. 2022 Apr 12;42(5):566]. Aesthet Surg J. 2021;41(6):723-738. doi:10.1093/asj/sjab025
Schiffer F, Johnston AL, Ravichandran C, et al. Psychological benefits 2 and 4 weeks after a single treatment with near infrared light to the forehead: a pilot study of 10 patients with major depression and anxiety. Behav Brain Funct. 2009;5:46. Published 2009 Dec 8. doi:10.1186/1744-9081-5-46
Unfer V, Facchinetti F, Orrù B, Giordani B, Nestler J. Myo-inositol effects in women with PCOS: a meta-analysis of randomized controlled trials. Endocrine Connections. 2017;6(8):647-658. doi:10.1530/EC-17-0243.
Formuso C, Stracquadanio M, Ciotta L. Myo-inositol vs. D-chiro inositol in PCOS treatment. Minerva Ginecol. 2015 Aug;67(4):321-5.
Hmwe NT, Subramanian P, Tan LP, Chong WK. The effects of acupressure on depression, anxiety and stress in patients with hemodialysis: a randomized controlled trial. Int J Nurs Stud. 2015;52(2):509-518. doi:10.1016/j.ijnurstu.2014.11.002