When I was first diagnosed with Hashimoto's in 2009, I set out on a journey to discover the root cause of my condition by figuring out the lifestyle factors and triggers that led me and other genetically susceptible individuals to develop this condition. As many of you may know, not everyone with the same genes gets Hashimoto's. There has to be a triggering event or series of events that results in gene expression.
I used my background as a pharmacist to comb through the emerging scientific literature available on autoimmunity and tested various interventions on myself to find my root cause.
I have always been keen on recognizing patterns, and speaking with other Hashimoto's patients allowed me to connect the dots to my condition. Many of us with Hashimoto's have had acid reflux, a history or irritable bowel syndrome and other gut problems. Some of us also presented with anemia, anxiety, and low blood pressure.
I used these commonalities to figure out a way to break the vicious cycle of my Hashimoto's, through identifying and correcting food sensitivities, gut infections, and adrenal problems.
The more I dug into the world of healing and into speaking with other patients, the more I realized the impact of one particular trigger…stress.
Hashimoto's and Stress
Literature reviews, as well as personal conversations with many of those with Hashimoto's, revealed that stress is often a precursor for autoimmunity. Many people have been able to pinpoint the beginning of their symptoms to a, particularly difficult life event.
But stress isn't always external or a one time deal.
Chronic stress can also play a role in autoimmune disease, and this type of stress often comes from within, in how we interpret and perceive the world. In speaking with other thyroid patients, it came to my attention that many of us also share some personality traits that include having a Type A personality, fear of failure, perfectionism, negative self-talk and being very tough on ourselves.
Learning to accept me and letting go of wanting to be perfect was a major part of my healing journey. My book, "Hashimoto's Thyroiditis: The Root Cause" is a testament of my newfound self-acceptance. The old me would have never been able to release a book with details about my life and would have obsessed about every typo, missing a period, and the bad hair day I was having on the day my back cover photo was taken.
My healing journey was a long and tough one, filled with lots of reading, journaling, and self-reflection…in between my scientific literature, diet and health books, I also read dozens of self-help books. You should have seen my nightstand!
While all of them were helpful, I was excited when I found out that a book specific to those of us with Hashimoto's was coming out!
Stacey Robbins is a gifted, funny, honest, and compassionate author. Reading her book is like speaking with an old friend who has been there and isn't afraid to tell you how it is. Parts of the book left me in tears; others had me laughing. I had quite a few "Aha" moments and saw myself in much of Stacey's writing. I found the book to be cathartic, empowering, and uplifting at the same time.
Stacey bravely opens up her heart and life to show us how the circumstances in our life can affect our healing process if we let them. She shares some of her hardships and inspires us through showing how one can come out on top and how to go from victim to victor.
Some of the quotes that resonated with me included:
"We push and push – and push ourselves some more — well beyond our limits, without acknowledging the messages that our body sends us to slow down and to rest."
"You know…[supplements] they don't open themselves and jump into your mouth."
"You don't have to be perfect to be loved."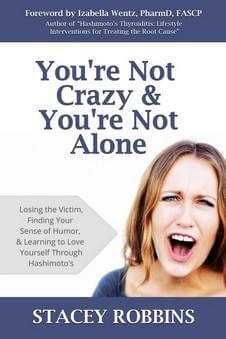 Stacey says: "This book is not a technical one, it's about shining the flashlight on the common issues and past experiences I've noted with thousands of Hashimoto's patients: Issues of perfectionism, fear, and self-rejection — history of abuses and then perpetuating those abuses with a combination of over-attention to our complaints and yet an inattentiveness to our true needs."
Stacey has opened up my eyes to healing on a completely different level. I wish a book like You're Not Crazy and You're Not Alone: Losing the Victim, Finding Your Sense of Humor and Learning to Love Yourself through Hashimoto's was available earlier on my healing journey. I know that it will help you in yours!
PS. You can also download a free Thyroid Diet Guide, 10 Thyroid friendly recipes, and the Nutrient Depletions and Digestion chapter for free by going to www.thyroidpharmacist.com/gift. You will also receive occasional updates about new research, resources, giveaways and helpful information.
For future updates, make sure to follow us on Facebook!