Note: This contest is now closed. For more information on diet and Hashimoto's, please see my article on the Autoimmune Paleo Diet, or pick up a copy of my cookbook – Hashimoto's Food Pharmacology: Nutrition Protocols and Healing Recipes to Take Charge of Your Thyroid Health.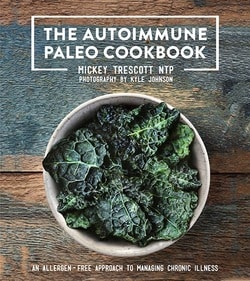 I have been following Mickey Trescott, talented chef and nutritional therapy practitioner for over a year now on her Facebook page and blog. 
Mickey blogs about healing from Hashimoto's and Celiac disease through nutrition, and I love her amazing recipes and willingness to help others by sharing so much of herself and her journey!
I'm so excited that Mickey has just published a new Autoimmune Paleo Cookbook!
Want more recipes? download my free starter guide on thyroid and Hashimoto's.