I've always enjoyed giving holiday gifts for loved ones, and just the same have always appreciated receiving thoughtful gifts. However, holiday gifting became tough for me a few years ago when I became more health conscious. It also became more challenging for my family members who no longer knew what to give me for the holidays…
In previous years, I would bake holiday cookies and send them in tins to friends, family members, and work colleagues. I would get my husband the latest cologne or take him to the latest trendy restaurant. I often would buy candy and other sweets for everyone as stocking stuffers. Family members never had a hard time picking out gifts for me… I loved scented everything!
But then in 2011, I started to learn about how many of the common things in my life were affecting my health and exacerbating my Hashimoto's.
The sugar in the candy and cookies was causing blood sugar imbalances
The gluten and dairy in the baked goods was something that was causing my acid reflux, diarrhea, and carpal tunnel
The perfumes, colognes, and lotions were filled with endocrine disrupting toxins
And once you know something, you can't "unknow it." Holiday shopping became tough… family members didn't know what to get me, and I didn't feel right getting them things that I learned to be detrimental to one's health.
But being health conscious doesn't mean we can't give or receive fun holiday gifts! It does mean we have to be a bit more creative though…
Here are some fun ideas for gifts you can give (or receive yourself)!
Feel free to forward this list to a loved one or treat yourself — you deserve it!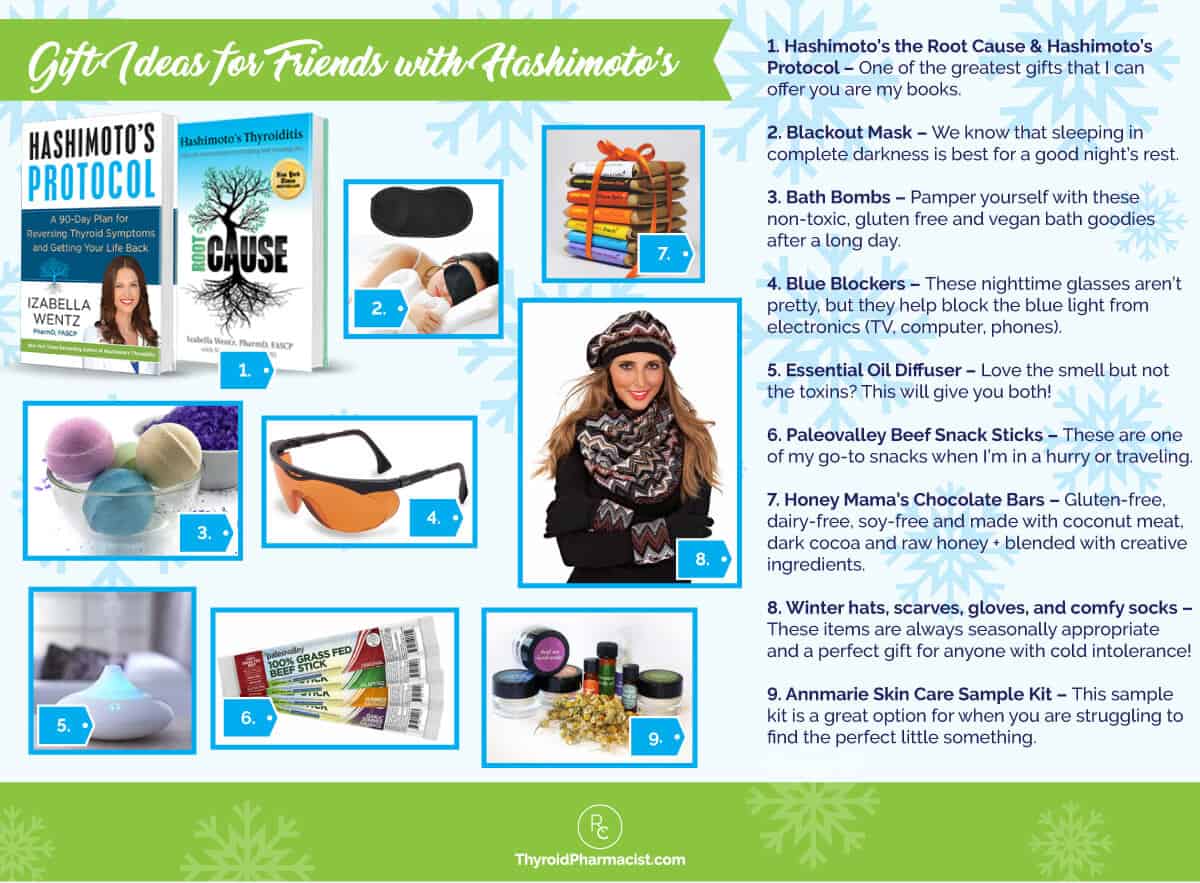 For Your 2018 Health Goals!
The Hashimoto's Self Management Program – Get ahead of your New Year's goal by enrolling in my self-management course and taking a deep, focused dive into addressing Hashimoto's.
Rootcology AI Paleo Protein – When a Christmas gift can help you meet your New Year's goals, we have a clear winner! Rootcology AI Paleo Protein will help you start your day with a blood sugar balancing smoothie like my Root Cause Green Smoothie.
Rootcology Adrenal Support – We all know the holidays can be stressful… Rootcology Adrenal Support has a blend of adrenal adaptogens that help you tolerate stress (read: annoying family members) better.
AquaTru – Fluoride is a common thyroid toxin found in our tap water. I was so excited when I learned about the one of a kind, AquaTru countertop reverse osmosis water filter! It's the only countertop filter that removes fluoride from our water. I keep this water filter in my bathroom.
AirDoctor – As you're breathing deeply to stay calm (and healthy!) through the hectic season, make sure that it's clean air by using this incredible air filter! This filter is fantastic for people with asthma, allergies or who just want to reduce their exposure to toxins. I have this filter in my bedroom!
Blue Light Therapy – Like a beach in a box! Don't let the winter blues get you down! Blue light therapy is clinically shown to reduce the winter blues and give you more energy in the winter. This little device got me through the tough Chicago winters and rainy days in Amsterdam!
The Thyroid Secret DVD Set – Cuddle up by the fire and watch these groundbreaking interviews!
Taking multiple supplements and medications can get a little tricky to track without a pill organizer. Never wonder: "Did I already take my pills this morning?" again!
Gifts of Knowledge – It seems that everywhere we turn, there's someone else that has been diagnosed with Hashimoto's or another thyroid condition. One of the greatest gifts that I can offer you are my books, Hashimoto's the Root Cause & Hashimoto's Protocol, that I poured my heart into and divulged all my knowledge that I've gained through my professional career and personal Hashimoto's journey. If you haven't picked them up for yourself, consider doing it now — for your health's sake! If you know someone who is still trying to find their way through this maze of an autoimmune condition, gift one to them (or loan them your copy!). Are you an audiobook person? I'm excited to say that you can listen to Hashimoto's Protocol wherever you are!
Gifts of Relaxation
Treat a loved one (or yourself!) to a day of relaxation! I love the Zeel on-demand in-home massages! Massage therapists show up at your house with a massage table! Get a same-day, in-home massage with a few taps of the Zeel app, or book via web. Redeem at http://zeel.com/invite/9qa2 . You can use my personal Zeel invite code, 9qa2, and get $25 off your first Zeel Massage (they also do gifts certificates)! Spa Finder is another great resource to find someplace local and they offer gift certificates.
Sleep Sound Machine – This one adapts to the noise level in your environment, so it's especially useful for those near busy streets or loud cities.
Blackout Mask – We know that sleeping in complete darkness is best for a good night's sleep. Even better if you pair it with your sound machine! It also comes in a whole bunch of fun colors 🙂
Bath Bombs – It's time for a little relaxation during (or after!) all the excitement. Pamper yourself with these non-toxic, gluten free and vegan bath goodies after a long day.
Blue Blockers – These nighttime glasses aren't pretty, but they help block the blue light from electronics (TV, computer, phones) and can support melatonin production and one's circadian rhythm.
Jade Roller or Jade Gua Sha Tool – A Chinese medicine method for lymphatic drainage of the face.
Journal – This is a great gift to encourage self-reflection and self-care. I'm a fan of the ones with pretty covers like these, or Barnes & Noble has some great leather-bound journals too!
Car Essential Oil Diffuser – This USB diffuser can make anything smell better with the help of essential oils!
Essential Oil Diffuser – Love the smell but not the toxins? This will give you both! Use with your favorite essential oils like frankincense, rose, and lavender. Lavender is especially calming 🙂
Help make drinking herbal tea even better with a special tea mug that brings a smile to their face while they enjoy their beverage.
Gifts of Healthy Foods & Snacks
The Gifts of Fashion & Beauty
For The Healthy Chef!
This is the time of year where we give thanks for all that we have. I want to thank you, my wonderful readers, for allowing me to serve you on your healing journey!
I hope that these suggestions gave you some fun ideas for your friends and family, and maybe for yourself 🙂 What other gifts are on your wishlist?
For more gift ideas, check out my posts from 2016 and 2015:
https://thyroidpharmacist.com/articles/a-hashimotos-gift-giving-guide/
https://thyroidpharmacist.com/articles/gift-ideas-for-hashimotos-health/