I've always enjoyed giving holiday gifts to loved ones, and just the same, have always appreciated receiving thoughtful gifts. However, holiday gifting became more challenging for me as I became more health conscious. It also became more challenging for my family members who no longer knew what to give me for the holidays…
In previous years, I would bake holiday cookies and send them in tins to friends, family members, and work colleagues. I would get my husband the latest cologne or take him to the latest trendy restaurant. I would often buy candy and other sweets as stocking stuffers for everyone. Family members never had a hard time picking out gifts for me… I loved scented everything!
But in 2011, I started to learn about how many of the common things in my life were affecting my health and exacerbating my Hashimoto's.
The sugar in the candy and cookies was causing blood sugar imbalances.
The gluten and dairy in the baked goods were causing my acid reflux, diarrhea, and carpal tunnel.
The perfumes, colognes, and lotions were filled with endocrine-disrupting chemicals.
And once you know something, you can't "unknow it." I didn't feel right gifting things that I learned were detrimental to one's health. But being health conscious doesn't mean we can't give or receive fun holiday gifts! It does mean we have to be a bit more creative though…
In this article, I share some fun ideas for gifts you can give (or receive yourself). You'll find gift ideas for:
Relaxation
The foodie
The fashionista and beauty guru
The healthy chef
Your new year health goals
(Feel free to forward this list to a loved one or treat yourself — you deserve it!)
For the Lifelong Learner in Your Life
Gifts of Knowledge – It seems that everywhere we turn, there's someone else that has been diagnosed with Hashimoto's or another thyroid condition. One of the greatest gifts that I can offer you are my books, Hashimoto's the Root Cause, Hashimoto's Protocol, and Hashimoto's Food Pharmacology, that I poured my heart into and divulged all my knowledge that I've gained through my professional career and personal Hashimoto's journey. If you haven't picked them up for yourself, consider doing it now — for your health's sake! If you know someone who is still trying to find their way through this maze of an autoimmune condition, gift one to them (or loan them your copy!). Are you an audiobook person? I'm excited to say that you can listen to Hashimoto's Protocol wherever you are!
The Hashimoto's Self Management Program – Get ahead of your New Year's goal(s) by enrolling in my self-management course and taking a deep, focused dive into addressing Hashimoto's.
The Thyroid Secret Docuseries – Cuddle up by the fire and watch these groundbreaking interviews!
For a Healthy You
Rootcology Adrenal Support – We all know the holidays can be stressful… Rootcology Adrenal Support has a blend of adrenal adaptogens that help you tolerate stress (read: annoying family members) better. 😉
Blue Light Therapy – Like a beach in a box! Don't let the winter blues get you down! Blue light therapy has been clinically shown to reduce the winter blues and give you more energy in the winter. This little device got me through tough Chicago winters and rainy days in Amsterdam!
Yoga lessons – Yoga is one of my favorite ways to sweat out toxins and stay fit. I so miss going to in-person yoga! If you live in a warm place, look into taking outdoor yoga classes. If you live somewhere cold, you can sign up for online yoga and meditation courses, such as those offered by Yogaglo. The videos can be watched from the comfort of your home — no studio required! Earlier this year, I started to do a little yoga at home with my toddler, and we just got these cute yoga mats.
Pill Organizer – Taking multiple supplements and medications can get a little tricky to track without a pill organizer. I love this one — it's the biggest one I could find and holds (almost) all of my weekly supplements. 🙂 Never wonder: "Did I already take my pills this morning?" again!
For a Healthy Home
For Your "Relax and Chill" Cousin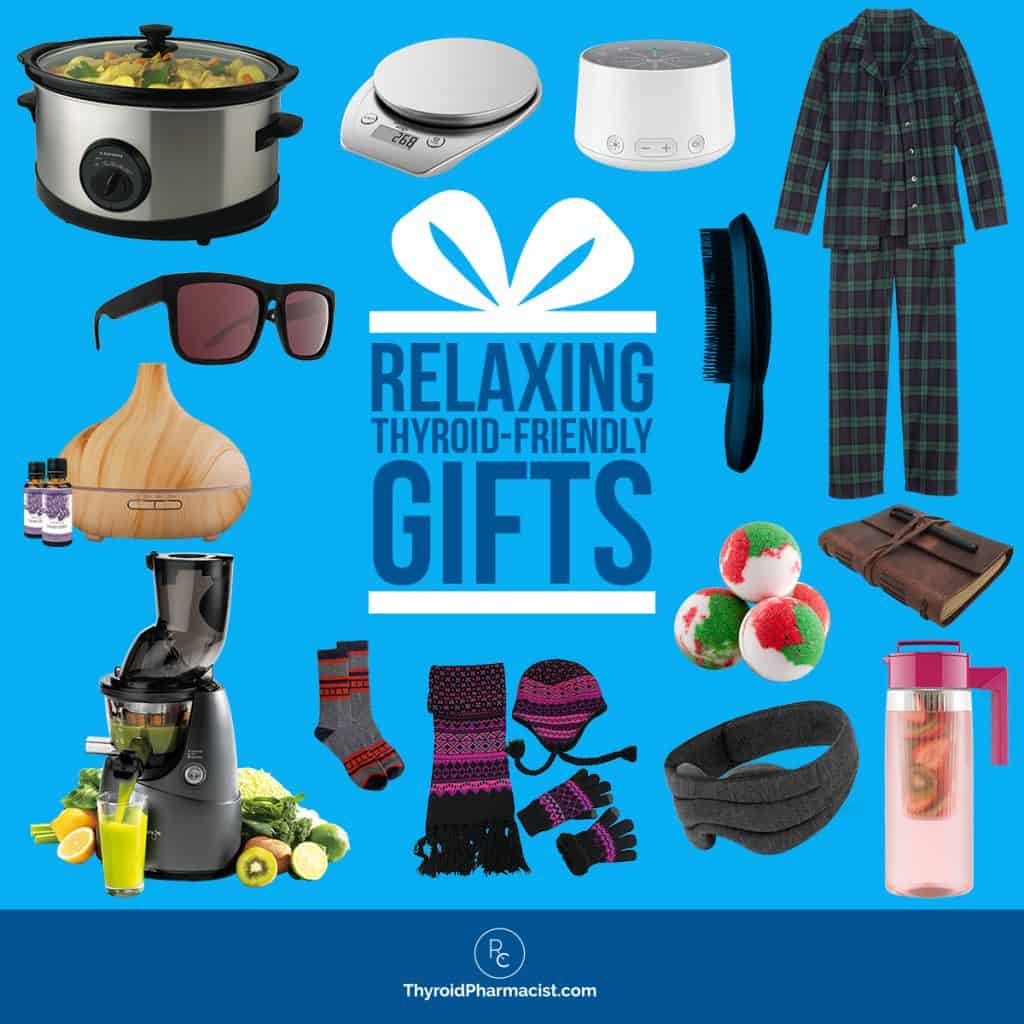 For Your Sleep Deprived Darlin'
For the Sweet & Savory Snackers (+ Stocking Stuffer Lovers) in Your Life
Rootcology Protein Powders – Having a protein-packed smoothie in the morning can help kick off our daily nutrition and keep our blood sugar balanced. Rootcology AI Paleo Protein is a great-tasting hypoallergenic option for those on the Autoimmune Paleo diet, and it comes in a vanilla flavored version for those that prefer some additional, natural flavoring. Rootcology also offers vanilla flavored Organic Pea Protein for those looking for a vegan-friendly source of protein that has high bioavailability and excellent digestibility. I love adding Rootcology protein powder to my daily green smoothies!
Paleovalley Grass Fed Beef Sticks – These are one of my go-to snacks when I'm in a hurry or traveling. I always try to carry one with me wherever I go! They are having a Black Friday/Cyber Monday sale, where you have the option to get either 30% off your "Subscribe and Save" order for life, or 20% off your entire order. This is the biggest sale they do all year, so it's a great time to stock up!
The Flavor Chef Gift Certificates – Warm your insides with this delicious bone broth. Drink it plain or use it in your favorite soup. Autoimmune-friendly options are available as well.
Honey Mama's Chocolate Bars – These bars were my biggest obsession when I was pregnant. Made with coconut meat, dark cocoa and raw honey, and blended with creative ingredients, they are gluten free, dairy free, and soy free. The lavender and peppermint flavors are my two favorites!
That's It fruit bars or Tanka buffalo bars – Tasty, healthy snacks to have on hand for travel days (which the holiday season is typically full of!).
Fruit Infusion Pitcher – A unique and easy way to infuse some flavor into your water. Try a new combination each day!
MyFitnessPal (Premium) – Get all the benefits of the standard membership, plus so many more offerings to customize your fitness goals and keep track of your nutrient intake.
Nima Gluten Sensor – Worried about getting glutened while eating out? This handy little device can sniff out gluten and warn you!
For the Wino in Your Life
Dry Farm Wines Gift Cards – Dry Farm Wines works around the clock to source the healthiest wines out there. They are organic, low in sulfites, low in sugar, and still delicious. The company even claims that their wines are less likely to result in a hangover! If you're going to have some white, red or #roséallday, you may as well go with the healthy option, right?
PureWine Wands – Enjoy wine again, without the headache! Wine intolerance is often caused by the presence of histamines and sulfites in wine, which many people are sensitive to, especially those with Hashimoto's. PureWine has created an innovative wand that removes these problematic substances from your wine, without affecting its taste or aroma – leaving you with nothing but pure wine, and no negative side effects! They're currently offering a special discount to my readers, for 20% off your order using code THYROID20.
For Your Caffeine Fiend Friend
For the Fashionista
Winter hats, scarves, gloves, PJs, blankets, robes, and comfy socks are always seasonally appropriate and serve as a perfect gift for anyone with cold intolerance. I love my cute anti-fatigue compression socks from Dr. Shams. Wearing compression socks can really help with leg cramps, circulation, and cold feet, among other things!
Personalized fashion gifts – Rather than picking out specific clothes for someone, I love sending personalized boxes from companies that handpick clothing based on your size and personal style, then deliver them to your door. I love Stitch Fix for everyday clothes, and use Trunk Club (a Nordstrom company) for fancier things such as designer shoes, jeans, and dresses for special occasions. The best part is that you can try on the clothes at home and send back what you don't want, without driving to the store! (These are also great gifts for yourself.)
For the Natural Beauty Queen
For the Clean Eating Chef
This is the time of year where we give thanks for all that we have. I want to thank you, my wonderful readers, for allowing me to serve you on your healing journey!
I hope that these suggestions gave you some fun ideas for your friends and family, and maybe for yourself. What other gifts are on your wishlist?
For more gift ideas, check out my posts from previous years, here and here. 🙂