In the world of functional medicine, we often hear that all disease starts in the gut. (This assertion is attributed to Hippocrates, the Greek founder of medicine, who lived over 2000 years ago.) When looking for root causes of Hashimoto's, we often uncover imbalances in the gut, such as Candida, SIBO, and leaky gut. (1)
A few years ago, I had the epiphany that while yes, all disease does start in the gut, the digestion system actually starts in the mouth! When taking a whole-body approach to health, we absolutely must include oral health in the picture, because what is going on in the mouth can be a powerful window into the entire body.
And, although it isn't always the first connection to come to mind, the mouth is powerfully connected to the thyroid.
One member of the Thyroid Pharmacist community, who worked her way through my Hashimoto's Self-Management Program, reached out when she got to Module 9, which focuses on dental triggers. A lightbulb went off in her mind, and she made the connection between the onset of her Hashimoto's symptoms and some dental work she had done when she was younger. Over time, her oral health had deteriorated and she was diagnosed with periodontitis.
About to undergo some painful dental surgery, she decided to try a Root Cause approach and seek a second opinion from a biological dentist. By focusing on good oral care and a personalized protocol with her dentist, she saw improvement in both her oral health and thyroid health!
It just goes to show that everything is connected… and your root cause might just be under the surface (or under the gums, so to speak).
In this article, I will cover:
What is periodontitis?
The periodontitis – Hashimoto's connection
The conventional approach to periodontitis
The Root Cause approach
What you can start doing today to support your own oral health
What is Periodontitis?
Periodontitis is a term that describes inflammation of the gums. Periodontitis can progress to receding gums, loose teeth, bone loss in the jaw, and eventually, tooth loss. The first sign can be bleeding with brushing and flossing (gingivitis), which may allow for an infection to enter the gums. This infection may be a root cause contributor to Hashimoto's and other autoimmune conditions. (2)
According to the Centers for Disease Control (CDC), periodontitis affects up to half of Americans over the age of 30 – that's 64.7 million adults per the 2009-2010 data available. (3) With periodontitis affecting so many people, I wanted to uncover the root causes of this often-overlooked topic.
Bacteria in our mouth that can cause periodontitis have been suggested to contribute to rheumatoid arthritis and Hashimoto's. These bacteria induce an inflammatory response in our body and cause an increase in IL-6, an inflammatory marker of the immune system that is associated with both of these autoimmune conditions.
Here is how the mechanism of periodontitis and autoimmunity is understood:
First, eating sugary and starchy foods, along with drinking tea, coffee, and soda, leads to an altered pH (acidity level) in the mouth.
Under these conditions, certain strains of bacteria can multiply rapidly.
The bacteria form biofilms to protect themselves from being removed through brushing, or by one's saliva.
These biofilms cause a buildup of plaque on the teeth from bacteria in the mouth.
The bacteria in the plaque trigger an autoimmune response from the body, resulting in gum inflammation. (4)
The Periodontitis – Hashimoto's Connection
Periodontitis is often found in people with Hashimoto's. Clinically, what I have found is whenever people have exacerbations in their Hashimoto's, they will often have increased gum inflammation. This gum inflammation will then reduce when their Hashimoto's flare-up is reduced. (5)
Why is this? Molecular mimicry, chronic viruses, and the inflammation related to dental triggers, can give some clues.
Molecular Mimicry
Molecular mimicry is an autoimmune theory which suggests that bacterial cells or other proteins (such as food proteins) have a similar appearance to the "marker" proteins on cells that make up parts of the human body (these proteins are called "self-antigens"). The immune system not only attacks the bacterial cells, but also parts of our body that may have self-antigens. (6)
One of the most well-known examples of this theory in action is caused by the bacteria that causes the common throat infection known as "strep throat." In some cases, especially when the infection is not treated with antibiotics within two to three weeks, the immune system will start launching an attack against the Streptococcus bacteria. Unfortunately, these bacteria have components that resemble the human heart valves, and the immune system inadvertently attacks heart valves as well. This attack is known as rheumatic fever and can be deadly, and often requires heart valve transplants. (7)
Arnold Schwarzenegger is probably the most well-known person who was affected by this condition, and has had to have heart valve transplants as a result.
Molecular mimicry also occurs in Hashimoto's. One example is that the protein in gluten can mimic a protein in the thyroid gland, so when someone with a sensitivity eats gluten, their immune system may attack their thyroid, leading to Hashimoto's thyroiditis.
In both Hashimoto's and rheumatoid arthritis, pathogens in the mouth related to periodontitis, can lead to autoimmunity through molecular mimicry. Research is starting to explore this relationship more and has found a strong correlation between Hashimoto's and periodontitis. (8, 9)
Chronic Viruses
Periodontitis is also associated with chronic viruses, namely the Epstein-Barr virus (EBV) and cytomegalovirus (CMV). If you've been following my work, you know that EBV can be a Hashimoto's trigger, so I don't want to overlook this powerful connection.
One study found that EBV and CMV were more likely to be found in those with periodontitis. EBV-1 was found in 73.8 percent of the plaque in study participants with periodontitis, EBV-2 in 4.9 percent, and CMV in 59 percent. (10)
Another study found EBV and CMV not only more prevalent in those with aggressive periodontitis, when compared to controls, but the viruses also were more likely to be present in those with deeper recession pockets of the gums. (11)
Inflammation and Dental Triggers
Periodontitis and Hashimoto's have inflammation in common. A 2017 clinical trial examined TSH levels before and after periodontal therapy that included oral care, along with scaling and planning procedures. The study showed more inflammation and periodontal destruction in those with hypothyroidism versus the control subjects. It also showed a reduction in TSH three months following these interventions. The authors theorize that the inflammatory molecules (called cytokines, specifically IL-6 and TNF-alpha) can enter systemic circulation from the mouth and cause inflammation elsewhere in the body. (12)
Other dental-related triggers, such as mercury toxicity, can also affect inflammation. Mercury in amalgam fillings can release tiny amounts of mercury into the body that can accumulate and trigger autoimmunity. This is intensified for those of us with Hashimoto's and MTHFR gene mutations. Besides mercury, it is possible to be reactive to other compounds in fillings as well. (13, 14)
In the past, I've recommended the Clifford Materials Reactivity Test. However, as of December 2020, Clifford Materials Reactivity Testing is no longer available, and I am unaware of alternative options at this time. That said, your biologist dentist may be familiar with similar tests that are available — please consult with your biologist dentist for guidance.
Fluoride is another potential trigger of periodontitis. Found in toothpaste and many municipal water supplies, it is meant to prevent cavities and support oral health. However, it can exacerbate periodontitis and be another dental trigger for Hashimoto's. Even simply meeting your daily water needs from unfiltered water can be toxic to your thyroid and cause an increase in thyroid antibodies. (You can read more about fluoride and thyroid health here.) (15)
Other dental procedures, such as root canals, can lead to inflammation and bacterial infections, triggering thyroid symptoms in the same way that periodontitis can (if not performed correctly). In addition, radiation from dental X-rays can impact the thyroid, which is why I recommend using a thyroid guard at the dentist. Digital X-rays, however, are typically used today and emit less radiation. (Read more about this in my article about dental triggers.)
My dentist in Boulder (Studio Z Dental) shared a pre-X-ray protocol that can help mitigate the effects of X-rays, using the antioxidant Alpha Lipoic Acid starting three days before planning to do an X-ray, on the day of the X-ray, and continuing for three days after. (16)
As you can see, oral health is linked to overall health and is an especially important consideration for Hashimoto's.
How to Diagnose Periodontitis
Healthy gums are pink and fit firmly around your teeth. Symptoms that indicate the presence of periodontitis include: (17)
Swollen gums
Bright red, dusky red, or purple gums
Gums that feel tender to the touch
Gums that bleed easily
Gums that pull away from your teeth (recede), making teeth look longer than normal
New spaces developing between your teeth
Pus between your teeth and gums
Foul breath
Loose teeth
Pain while chewing
A change in your bite (the way your teeth fit together)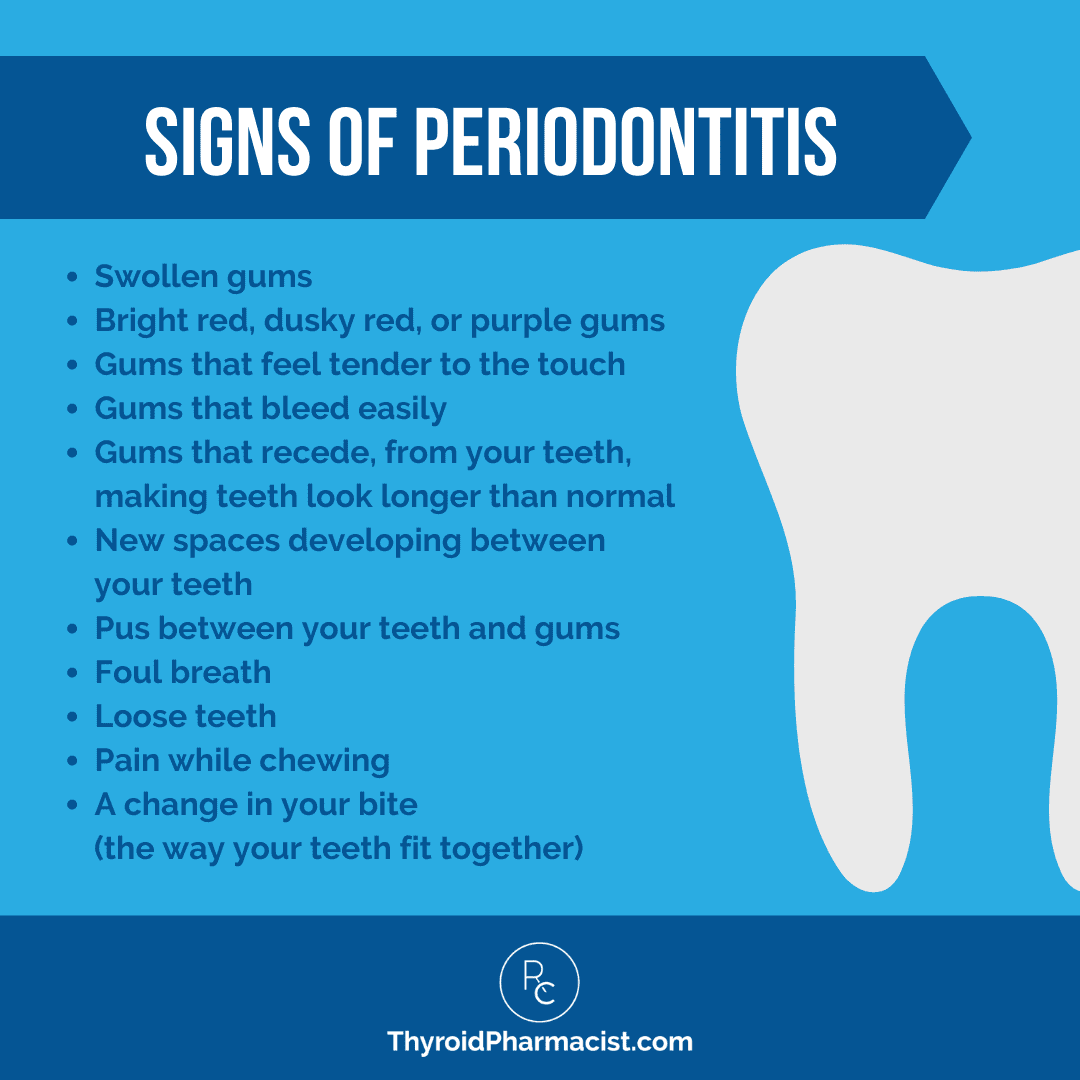 If you are experiencing any of the above symptoms, you may wish to get tested for periodontitis. Periodontitis is typically diagnosed through an oral exam, where a dentist measures the pocket depth of the gums using a dental probe. (Healthy pockets are 1 to 3 millimeters, but deeper pockets may suggest periodontitis.) Dental X-rays are also used to look at bone loss in the jaw over time.
Conventional Approach to Treating Periodontitis
The conventional approach to treating periodontitis is based on the theory of the bacterial infection discussed above. The dentist will typically recommend regular teeth cleaning and good oral care (including the use of fluoride-containing toothpastes and treatments), along with specific procedures thought to address the bacteria.
Please note: Scaling and root planing, the procedures used in the 2017 clinical trial discussed above, resulted in lower TSH levels. This is where the roots of the teeth are scraped and cleared out to allow for better gum reattachment. Sometimes, however, this can create more bleeding and even introduce bacteria (and other pathogens) into the gum tissue.
Over time, if cleaning, scaling, and root planing do not remove the buildup of bacteria, surgery will be recommended to expose the root of the teeth for further scaling and/or root planing. Surgery will target either the gums or the jawbones.
Conventional approaches often include the use of oral antibiotics as well. The antibiotic doxycycline is used to restore a better bacterial balance in the mouth and can penetrate the gums 7-20 times more effectively than other drugs, which means it can get to those deeper gingival crevices where pathogens can hide. Along with antimicrobial activity, doxycycline at low doses (too low to treat bacteria), can downregulate an enzyme related to gum destruction and may even prevent or lessen the loss of bone in the jaw. (18)
Interestingly, some individuals have reported normalization of TPO antibodies with doxycycline, so it may be an option to consider for someone with both Hashimoto's and periodontitis.
However, it is important to note that all of these conventional approaches are aimed at suppressing symptoms. You might have success for a while and then need greater and greater interventions, including surgery. The same is true for Hashimoto's — the conventional model of treatment can lead to more and more medication and even surgery, but ultimately doesn't address the underlying cause.
Root Cause Approach
I was so excited to learn about Dr. Bonner, a French-Canadian dental surgeon who specializes in periodontitis, because he truly takes a Root Cause approach. In his practice, Dr. Bonner has been able to reverse and cure periodontitis in 100 percent of his patients, instead of simply suppressing it. I interviewed him for my YouTube channel and learned so much.
Dr. Mark Bonner has done some extremely interesting research on periodontal disease and has found that the root cause isn't related to bacteria at all. Instead, he found that periodontitis is most often associated with parasitic infections of the gums caused by Entamoeba gingivalis (E. gingivalis) and Trichomonas tenax (T. tenax).
E. gingivalis is a pathogen that is similar to Entamoeba histolytica, which we know can trigger intestinal permeability and some autoimmune diseases. And, it's an extremely aggressive predictor of periodontal disease.
E. gingivialis was found in 69 percent of diseased gingival pockets, but not in healthy gum tissue. T. tenax was found in another 5-20 percent of cases. The amoeba is passed from person to person through kissing, contaminated water (typically from tropical places), and can even be transferred from pets. You can catch the parasite if you have gingivitis and your gums are bleeding.
Bleeding gums are the portal and the nourishment for parasites – they take iron from red blood cells, and protein from white blood cells. Low iron (low ferritin) is common with Hashimoto's, and when parasites are present, the iron in your diet could be feeding the parasites, instead of you!
Dr. Bonner's approach is to treat the parasite – and he discovered that, when he does this, people feel better. When it comes to the thyroid, he notes that thyroid antibodies are reduced, Hashimoto's symptoms are reduced, inflammation decreases, and often, medication use decreases as well.
Dr. Bonner uses a microscope in his office to view some of the plaque where he can see (and show his patients) the parasites living in their gums! Then his treatment protocol is designed to remove the parasites. He uses a specific preparation of hydrogen peroxide, baking soda, and salt for brushing. Since parasites don't like the oxygen in the hydrogen peroxide, this can be an effective gentle treatment. Afterwards, he might try an anti-parasitic medication, such as metronidazole (also known as Flagyl).
He sees his patients every month, and it typically takes about a year for the full treatment. He has reported that immune cells and inflammation can disappear (and no longer be visible under a microscope) once the parasites are gone, leaving only normal flora in the mouth.
To learn more about Dr. Bonner and his trainings, head over to www.parodontite.com, or find a biological dentist in your area. (19, 20)
Find a Biological Dentist
Biological dentistry is a branch of dentistry that looks at the connection between oral care and the health status of the rest of the body. While most traditional dentists focus only on "rescue care" rather than prevention, biological dentists try to prevent health problems that may originate from exposure to certain procedures and materials.
When interviewing a new dentist, here are some questions to ask:
Do you offer tests similar to the Clifford Materials Reactivity Test?
Do you provide a thyroid shield for X-rays?
Do you use a rubber dam for removing mercury fillings?
In addition to working to remove parasites with a biological dentist, there may be other holistic and natural pieces to treat and prevent periodontitis.
Additional Treatments and Prevention Tips
The best Root Cause approach is to prevent periodontitis from developing in the first place. This starts with preventing gingivitis with good oral care, including brushing, flossing, regular teeth cleaning, and seeing your dentist at the first sign of bleeding gums. When brushing, pay close attention to targeting the gumline while holding the toothbrush at an angle. Gently brush three times per day.
In addition to good routine oral care, there are several other natural solutions to prevent and treat periodontitis.
Diet
Food truly is medicine, and making dietary changes can benefit oral health, just as it benefits the thyroid and overall health.
Dr. Weston A. Price was a dentist who studied the effects of diet on dentition, and found that those who ate traditional diets (whole foods) had far better teeth, and excellent health (no heart disease, autoimmune conditions, or obesity) compared with counterparts of similar genetic backgrounds who ate Western diets. (21)
The components of the traditional diets that Dr. Price studied are similar to the dietary principles I highlight in my book, Hashimoto's Food Pharmacology: Nutrition Protocols and Healing Recipes to Take Charge of Your Thyroid Health, based on fresh, unprocessed produce, traditional and minimally processed fats, high-quality protein, and fermented foods that contain natural probiotics. While Dr. Price advocated for traditionally prepared grains (soaked, sprouted), I've found that many with autoimmune disease do better on a grain-free diet, at least initially. (Interested in trying some Autoimmune Paleo diet recipes? Enter your email below to get two weeks of them for free!)
Changing one's diet from a processed carbohydrate-based diet to a whole foods diet, and starting fermented foods and probiotics, will be helpful in rebalancing the bacteria that make up the microbiome, and this includes the mouth! Making dietary changes may not result in oral health improvements overnight, but it is a key component of long-term health.
Additionally, choosing more whole foods and eating an abundance of veggies (instead of sweets, soda, tea, and coffee), can help to create a more alkaline (vs. acidic) environment in the mouth. Another trick for improving alkalinity is to brush your teeth with baking soda for one week, which can make it more difficult for the pathogenic bacteria to survive.
Cranberry juice (be sure to choose organic 100 percent cranberry juice) has anti-adhesion properties and can dissolve the protective coats that store the bacteria. (22) Therefore, cranberry juice might be a powerful healing food to include in your autoimmune diet to specifically target periodontitis. Be aware that even unsweetened cranberry juice is high in sugar, so this intervention may not be appropriate for those with blood sugar imbalances.
Avoid Fluoride
Since fluoride can make periodontitis worse, and impacts thyroid health directly, it is best to avoid it, and the many conventional products that contain it. (23, 24) This means choosing fluoride-free toothpaste and avoiding fluoride treatments at the dentist.
I love and highly recommend the whitening toothpaste by Wellnesse — not only is this toothpaste fluoride-free, but it also contains numerous beneficial herbs for optimal oral health:
Aloe vera to balance your oral microbiome and whiten teeth
Neem oil for tooth decay and gum disease prevention
Hydroxyapatite to restore enamel and remineralize teeth (yes, please!)
Green tea powder to combat bad breath
To top it off, their toothpaste is also gluten-free, GMO-free, glycerine-free, and cruelty-free!
Another great option is the probiotic toothpaste mentioned below (also fluoride-free).
For most of us who live in places where municipal water has been treated with fluoride, this also means investing in a high-quality filter that filters fluoride found in water used for drinking and cooking. There are several companies that have different options for filters. I'm a fan of the Aquatru Counter Filter and the variety of filter options from Clearly Filtered.
Oral Probiotics
I was intrigued when I first found out about oral probiotics a few years ago. Dr. Jeffrey D. Hillman has done extensive research on the effectiveness of probiotics for oral health. In one study, he was able to identify strains of probiotic bacteria from volunteers with healthy teeth and gums. He then isolated these bacteria and put them together in a probiotic mix called ProBiora3, that can be found in ProBioraPlus Probiotic Mints by Oragenics. (25, 26)
This type of bacterial mix works to crowd out the pathogenic bacteria, and has been reported to whiten teeth, as well as reduce gum bleeding, inflammation, and biofilms of pathogenic bacteria. The probiotics are available as tasty, orally-dissolvable mints that are to be taken twice per day, for 30-90 days.
Probiotic Toothpaste
Brushing your teeth with probiotics is a great way to deliver them to where they are needed, and using a probiotic-containing toothpaste with xylitol can be especially helpful. Xylitol helps to break up the bacterial biofilms (the protective coating made by colonies of bacteria). You can even find benefits from using a xylitol spray, or chew xylitol gum for this purpose. (If you have mercury fillings, however, skip the gum!)
I used to recommend a toothpaste by Designs for Health called Periobiotic Toothpaste. Unfortunately, it was recently discontinued, but a different probiotic toothpaste has hit the market by Hyperbiotics.
Colloidal Silver
Colloidal silver can be used as a mouthwash to kill a broad range of pathogens that may enter the body through the gums, when gingivitis or periodontitis is present. (27 – 29)
It is important to avoid do-it-yourself home preparations of silver that can result in argyria, or blue man syndrome. Just use one teaspoon of the liquid, swish for one minute, and spit out the remaining product, once a day. I recommend Designs For Health – Silvercillin Liquid as an effective, non-toxic mouthwash.
Water Picking and Oil Pulling
Using a water pick system may be a helpful tool for displacing pathogenic bacteria so they can be easily removed from the mouth. My preferred water pick system is the Waterpik Complete Care 9.0 Sonic Electric Toothbrush and Water Flosser.
Another way to remove pathogens from the mouth is to oil pull. Oil pulling is an old Ayurvedic remedy of swishing around one tablespoon of sesame oil in the mouth, between the teeth, first thing in the morning for 5-20 minutes, until the oil turns white. In theory, this method helps to break down the "homes" of bacteria, which are usually made of microcapsules of oil. (30)
While water won't penetrate those microcapsules, sesame oil can, and mixes readily with the bacteria (and becomes white in color). After 5-20 minutes, the oil is spat out along with the toxins in it. Other oils have also been suggested to help, including coconut oil, but sesame oil is the most commonly used.
Please be sure to spit out the oil in the trash, and not in your sink, to avoid clogged drains!
The Takeaway
When it comes to the health of the thyroid, it is important to consider all root causes, even the ones in the mouth. The mouth isn't isolated from the rest of the body, and when there is inflammation in the mouth, it can be an indication of inflammation in the rest of the body.
Likewise, it makes sense that when inflammation is reduced in the mouth, the rest of the body, including the thyroid, responds as well.
When taking a holistic approach to periodontitis, avoid relying solely on drugs or antibiotics to cure the condition, as these methods likely won't provide a cure, but rather a suppression of symptoms. Diet, oral probiotics, pathogenic treatments, and other natural approaches to hygiene can be more effective treatments for periodontitis than traditional ones, such as fluoride treatments.
To learn more information about the root causes of Hashimoto's and how you can approach thyroid healing both naturally and sustainably, I've compiled years of research, personal experience, and clinical outcomes into my books, Hashimoto's: The Root Cause, Hashimoto's Protocol, and Hashimoto's Food Pharmacology: Nutrition Protocols and Healing Recipes to Take Charge of Your Thyroid Health.
As always, I wish you well on your journey toward better health!
P.S. For continued updates and interaction, please become a part of our Facebook community and Instagram. You can also sign up for my newsletter to have helpful information delivered right to your email inbox — you'll receive occasional updates about new research, resources, giveaways, and more!
References
Fasano A. Leaky gut and autoimmune disease. Clin Rev Allergy Immunol. 2012;42(1):71-78.
Patil BS, Patil S, Gururaj TR. Probable autoimmune causal relationship between periodontitis and Hashimotos thyroidits: a systemic review. Niger J Clin Pract. 2011;14(3):253-261. doi:10.4103/1119-3077.86763
Periodontal Disease. Centers for Disease Control and Prevention. Updated July 10, 2013. Accessed May 12, 2022. https://www.cdc.gov/oralhealth/conditions/periodontal-disease.html
Hajishengallis G, Chavakis T. Local and systemic mechanisms linking periodontal disease and inflammatory comorbidities. Nat Rev Immunol. 2021;21(7):426-440. doi:10.1038/s41577-020-00488-6
Aldulaijan HA, Cohen RE, Stellrecht EM, Levine MJ, Yerke LM. Relationship between hypothyroidism and periodontitis: A scoping review. Clin Exp Dent Res. 2020;6(1):147-157. doi:10.1002/cre2.247
Sherina N, de Vries C, Kharlamova N, et al. Antibodies to a Citrullinated Porphyromonas gingivalis Epitope Are Increased in Early Rheumatoid Arthritis, and Can Be Produced by Gingival Tissue B Cells: Implications for a Bacterial Origin in RA Etiology. Front Immunol. 2022;13:804822. Published 2022 Apr 20. doi:10.3389/fimmu.2022.804822
Cunningham MW. Pathogenesis of group A streptococcal infections. Clin Microbiol Rev. 2000;13(3):470-511. doi:10.1128/CMR.13.3.470
Patil BS, Patil S, Gururaj TR. Probable autoimmune causal relationship between periodontitis and Hashimotos thyroidits: a systemic review. Niger J Clin Pract. 2011;14(3):253-261. doi:10.4103/1119-3077.86763
Morais A, Resende M, Pereira J. Hashimoto Thyroiditis and Periodontal Disease: A Narrative Review. Acta Medica Portuguesa. 2016;29(10):651-657. doi: 10.20344/amp.6704.
Chalabi M, Moghim S, Mogharehabed, Najafi F, Rezale F. EBV and CMV in chronic periodontitis: a prevalence study. Archives of Virology. 2008:153(10):1917-9. doi: 10.1007/s00705-008-0186-7.
Sharma R, Padmalatha O, Kaarthikeyan G, Jayakumar ND, Varghese S, Sherif K. Comparative analysis of presence of Cytomegalovirus (CMV) and Epsteinbarr virus – 1 (EBV-1) in cases of chronic periodontitis and aggressive periodontitis with controls. Indian Journal of Dental Research. 2012;23(4):454-8. doi: 10.4103/0970-9290.104948
Bhankhar RR, Hungund S, Kambalyal P, Singh V, Jain K. Effect of nonsurgical periodontal therapy on thyroid stimulating hormone in hypothyroid patients with periodontal diseases. Indian J Dent Res. 2017;28:16-21
Sterzl I, Prochazkova J, Hrda P, Matucha P, Bartova J, Stejskal V. Removal of dental amalgam decreases anti-TPO and anti-Tg autoantibodies in patients with autoimmune thyroiditis [published correction appears in Neuro Endocrinol Lett. 2007 Oct;28(5):iii]. Neuro Endocrinol Lett. 2006;27 Suppl 1:25-30.
Mercury allergy – MELISA. Melisaorg. 2017. Available at: http://www.melisa.org/mercury/. Accessed June 22, 2017.
Connett, M. Fluoride's Impact on Thyroid Hormones. Fluoride Action Network. January, 2016. Accessed May 11, 2022. https://fluoridealert.org/studies/thyroid03/
Schneider, AB and Tuttle, MR. Radiation-induced thyroid disease. UpToDate. Wolters Kluwer; 2022. Accessed May 29, 2022. https://www.uptodate.com/contents/radiation-induced-thyroid-disease
Periodontal Disease. Centers for Disease Control and Prevention. Updated July 10, 2013. Accessed May 12, 2022. https://www.cdc.gov/oralhealth/conditions/periodontal-disease.html
Prakasam A, Elavarasu SS, Natarajan RK. Antibiotics in the management of aggressive periodontitis. J Pharm Bioallied Sci. 2012;4(Suppl 2):S252-S255. doi:10.4103/0975-7406.100226
Bonner M. To Kiss Or Not To Kiss. A Cure For Gum Disease. Editions AMYRIS; 2013.
Bonner M, Amard V, Bar-Pinatel C et al. Detection of the amoeba Entamoeba gingivalis in periodontal pockets. Parasite. 2014;21:30. doi:10.1051/parasite/2014029.
Diet in Relation to Dental Caries. Weston A. Price Foundation. February 16, 2016. Accessed May 12, 2022. https://www.westonaprice.org/health-topics/dentistry/diet-in-relation-to-dental-caries/
Sánchez MC, Ribeiro-Vidal H, Bartolomé B, et al. New Evidences of Antibacterial Effects of Cranberry Against Periodontal Pathogens. Foods. 2020;9(2):246. Published 2020 Feb 24. doi:10.3390/foods9020246
Connett, M. Fluoride's Impact on Thyroid Hormones. Fluoride Action Network. January, 2016. Accessed May 11, 2022. https://fluoridealert.org/studies/thyroid03/
Shang Q, Gao Y, Qin T, Wang S, Shi Y, Chen T. Interaction of Oral and Toothbrush Microbiota Affects Oral Cavity Health. Front Cell Infect Microbiol. 2020;10:17. Published 2020 Feb 4. doi:10.3389/fcimb.2020.00017
Hillman JD, McDonell E, Hillman CH, Zahradnik RT, Soni MG. Safety assessment of ProBiora3, a probiotic mouthwash: subchronic toxicity study in rats. Int J Toxicol. 2009;28(5):357-367. doi:10.1177/1091581809340705
Bonifait L, Chandad F, Grenier D. Probiotics for oral health: myth or reality? J Can Dent Assoc. 2009;75(8):585-590.
Tran PL, Luth K, Wang J, et al. Efficacy of a silver colloidal gel against selected oral bacteria in vitro. F1000Res. 2019;8:267. Published 2019 Mar 7. doi:10.12688/f1000research.17707.1
Lara HH, Romero-Urbina DG, Pierce C, Lopez-Ribot JL, Arellano-Jiménez MJ, Jose-Yacaman M. Effect of silver nanoparticles on Candida albicans biofilms: an ultrastructural study. J Nanobiotechnology. 2015;13:91. Published 2015 Dec 15. doi:10.1186/s12951-015-0147-8
Vila Domínguez A, Ayerbe Algaba R, Miró Canturri A, Rodríguez Villodres Á, Smani Y. Antibacterial Activity of Colloidal Silver against Gram-Negative and Gram-Positive Bacteria. Antibiotics (Basel). 2020;9(1):36. Published 2020 Jan 19. doi:10.3390/antibiotics9010036
Shanbhag VK. Oil pulling for maintaining oral hygiene – A review. J Tradit Complement Med. 2016;7(1):106-109. Published 2016 Jun 6. doi:10.1016/j.jtcme.2016.05.004
Originally published in February 2015, this article has been updated for accuracy and thoroughness.