This guest post was originally posted in October of 2015, based on personal experience provided by Carrie Vitt, NTP and author of The Grain Free Family Table and Deliciously Organic. I have since developed new articles and resources for Hashimoto's that might be helpful for you. For the latest information on diet, please visit the following: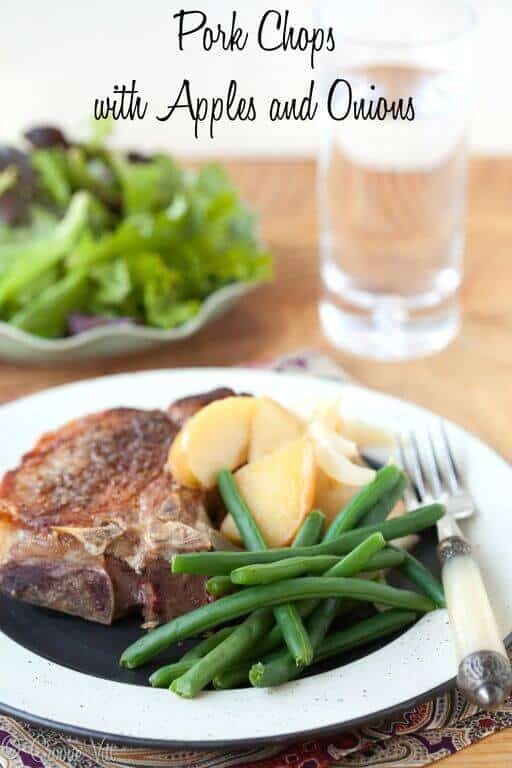 Pork Chops with Apples and Onions
When you're struggling with thyroid disease, you already have enough stress in your life, so there's no need to complicate your food and stress over what you're eating.
Carrie Vitt is the creative genius behind the mouth-watering recipes at Deliciously Organic and the author of the Grain-Free Family Table Cookbook. I was so excited to learn that she has been able to get her Hashimoto's into remission through the use of food and nutrition.
Through organic, unprocessed food her family of four has overcome severe asthma, eczema, Hashimoto's, irritable bowel syndrome and migraines, all without drugs—just good, natural, real food.
Carrie offered to share some of her delicious recipes with our community!
Here's Carrie…
Real food can and should be simple.
For breakfast, eggs cooked in ghee (or whatever good fat you can tolerate), or nutrient-dense smoothies provide a quick and economical choice.
Salads are easy to prepare and change with the seasons. Fruits, nuts, seeds or homemade beef jerky offer a quick snack.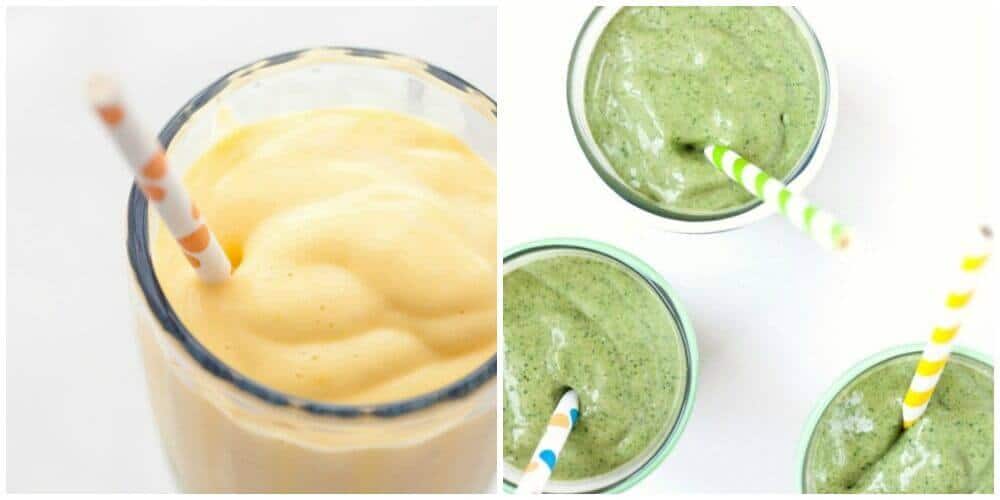 Smoothies
I love to make a roasted chicken with roasted vegetables for dinner. Roasting is super easy because you put it in the oven and let the heat do its magic. I then use the leftover carcass to make bone broth. A crock pot can also be your friend! You can assemble a roast or soup in the morning, and you'll have a meal to satisfy the entire family at the end of the day.
I purchase our organic, pastured meats from a local farm (this is a very economical way to purchase pastured meats) and keep some on hand in the freezer. This way, I always have a roast, chicken or ground beef to thaw for a quick meal.
I think it's best to choose just two things to serve at each meal, but make those foods right. Use the best cuts of meats you can afford and the freshest seasonings you can find. Shop at your local farmer's market for ripe produce or grow some of your vegetables. Good salt, freshly cracked pepper, a good olive oil, a quality coconut cream – these ingredients make a huge difference.
As a general rule of thumb, it's a good idea to get some protein, healthy fats, and carbohydrates on your plate at each meal.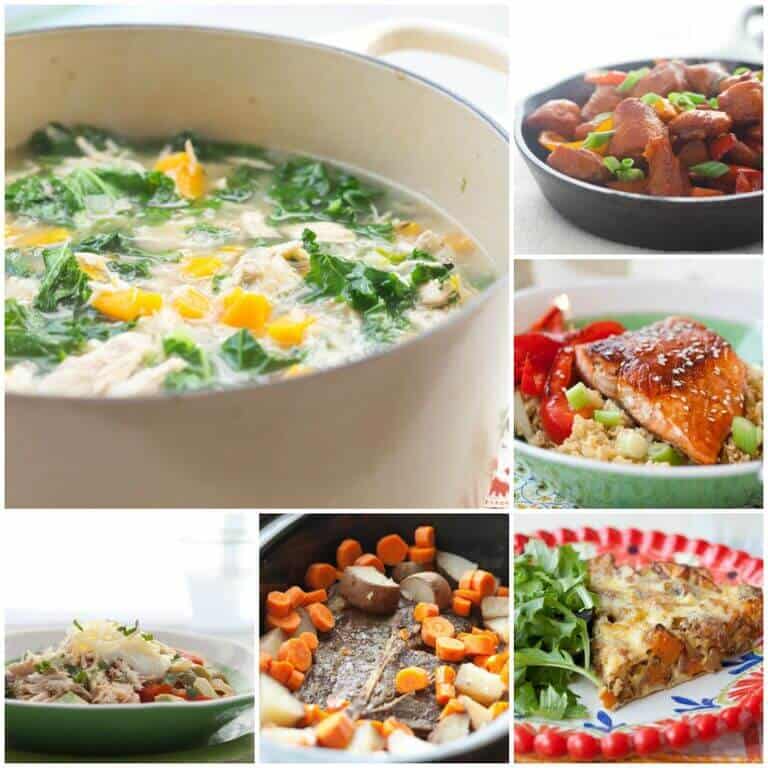 Main Dishes
Here are some of my favorite simple nutrient-dense recipes

Pork Chops with Apples and Onions
Pork with apples is a classic fall dish and can be made easily with several fresh ingredients. The pork is sautéed in some ghee or palm shortening, and the onions and apples are sautéed on the stove in some coconut oil with fresh thyme. I added some green beans for color, but you could add leafy greens or broccoli depending on what you have on hand.
If you'd like some more inspiration for nutrient-dense, gluten-free recipes, you can check out the recipes on my site, Deliciously Organic, and also in my cookbook The Grain-Free Family Table.
Pork Chops with Apples and Onions
Serves 4
2 tablespoons coconut oil
1 onion, sliced thin
2 cups of chopped apple (I used large 2-inch pieces for this recipe)
1 tablespoon fresh thyme leaves
3 tablespoons ghee or palm shortening
4 pork chops (pastured preferred)
1 teaspoon Celtic sea salt, divided
1/2 cup chicken stock (aka bone broth)
1/2 teaspoon coconut flour
1 teaspoon cider vinegar
Directions
Preheat the oven to 375ºF and adjust the rack to the middle position. Heat a large oven-safe skillet over medium heat. Add the coconut oil to the pan and swirl the pan to coat the bottom. Place the onion and apples in the skillet and cook for 2-3 minutes, stirring occasionally until warm. Stir in the thyme leaves. Place the skillet in the oven and cook for 12-15 minutes, until apples are soft.
Meanwhile, heat another large sauté pan on the stove over medium-high heat for 2 minutes (the pan will have nothing in it while it heats). Add 2 tablespoons of ghee or palm shortening to the pan and swirl the pan to coat. Season the pork chops with sea salt and place all four chops in the sauté pan. Let the chops cook for about 3-4 minutes until the bottom side is golden brown (don't move the pork chops around while cooking). Using a pair of tongs, flip the pork chops over and cook until the second side is golden brown and chops are cooked through about 3-4 minutes.
Remove the onions and apples from the oven and place the chops on top of the onion mixture.
Take the sauté pan you just cooked the pork chops in, pour in the chicken stock, and scrape up the bits that were stuck in the pan using a wooden spoon. Bring the stock to a simmer. Whisk in the coconut flour and vinegar. Add remaining 1 tablespoon ghee or palm shortening. Pour the sauce over the apples, onions and pork chops. Season with the remaining sea salt. Serve immediately.
P.S. Be sure to sign up to my email list to get a free book chapter, recipes, Thyroid Diet start guide and notifications about upcoming events and my weekly newsletter.