This guest post was originally posted in May of 2016, based on personal experience provided by Carrie Vitt, NTP and author of The Grain Free Family Table and Deliciously Organic. I have since developed new articles and resources for Hashimoto's that might be helpful for you. For the latest information on diet, please visit the following:
When you're struggling with thyroid disease, you already have enough stress in your life, so there's no need to complicate your food and stress over what you're eating.
Carrie Vitt is the creative genius behind the mouth-watering recipes at Deliciously Organic and the author of the Grain-Free Family Table Cookbook . I was so excited to learn that she has been able to get her Hashimoto's into remission through the use of food and nutrition.
Through organic, unprocessed food her family of four has overcome severe asthma, eczema, Hashimoto's, irritable bowel syndrome and migraines, all without drugs—just good, natural, real food.
Carrie offered to share one of her delicious recipes with our community!
Here's Carrie…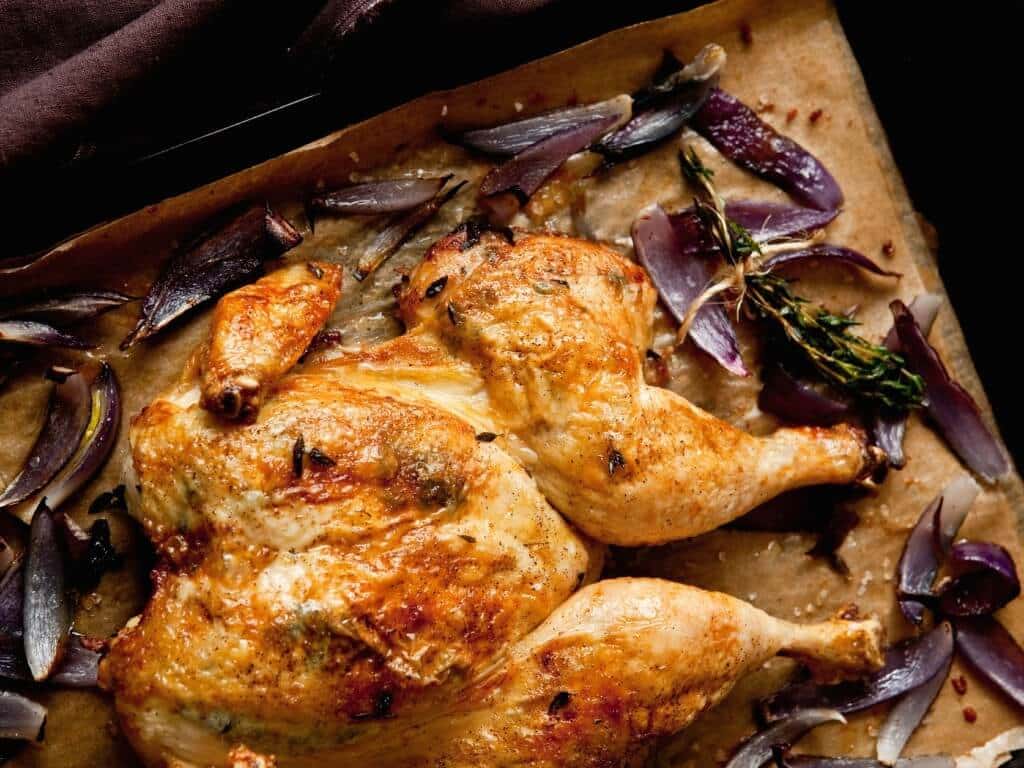 Butterflied Chicken
When you're struggling with thyroid disease, the thought of making dinner can make you want to run back to bed. I've been there!
But, over the years, I've learned some shortcuts. One of those shortcuts is roasting. I crank the heat up in the oven, pop the food in, walk away, and in about an hour a nutrient-dense dinner is ready!
Roast Chicken is my "I don't want to cook" meal. It's fast and requires very little hands-on preparation. I brush it with lard, tallow or ghee, add some onions and another vegetable or two, season with salt and pepper, put it in the oven and walk away.
About one hour later I have a beautiful chicken with roasted vegetables!
I've made this multiple times for company – two chickens, onions, and a big salad. Throw in some coconut milk panna cotta, and maybe a glass of fruity kombucha, and you're done!

Flavored Kombucha, Caesar Salad, Dairy-Free Panna Cotta
We usually have some chicken left over for lunch the next day, and then I use the bones for homemade chicken stock (aka bone broth).
Welcome to delicious, organic "fast-food"!
Butterflied Roast Chicken
This is a variation of a recipe from my cookbook, Deliciously Organic. This cookbook includes grains, so we offer a free download of grain-free adaptations for each recipe in the book!
Ingredients
For the Chicken:
1 (4-5 pound) chicken, butterflied
4 tablespoons lard, tallow or ghee, at room temperature
2-3 tablespoons fresh thyme
1 1/2 teaspoons Celtic sea salt, divided
1/4 teaspoon freshly ground black pepper
For the Onions and Vegetables:
2 large red onions, cut into wedges
2 cups of vegetable of your choice such as squash, zucchini, sweet potatoes, etc.
2 tablespoons lard, tallow or ghee, melted
Preheat oven to 425°F and adjust oven rack to medium position.
Pat chicken with a dry cloth to make sure the skin is dry. Stir together softened lard (tallow or ghee), thyme, and 1 teaspoon sea salt in a small bowl. Gently lift the skin and rub herbed butter under the skin of breasts, thighs, and legs. Season the entire chicken generously with sea salt and pepper.
Place chicken in roasting pan. Toss red onion wedges, vegetables, melted fat, remaining 1/2 teaspoon of sea salt, and pepper in a medium bowl. Pour onions around chicken in roasting pan. Roast chicken for 30 minutes and then rotate pan 180 degrees. Continue to roast, about 25 minutes, until crisp and golden brown, and when a thermometer reaches 160°F when inserted into the thickest part of the breast. Remove from the oven and before serving, let the chicken rest for about 15 minutes to allow juices to redistribute.