Travel for anyone can be stressful—but it's especially stressful when you have any kind of health concern.
Traveling with a chronic health condition like Hashimoto's, hypothyroidism, Celiac disease and other kinds of autoimmune diseases can be quite challenging, especially if you follow a special diet to keep your condition into remission.
In the past, I was afraid of traveling because of Hashimoto's and my special diet. In one instance, I missed my cousin's wedding in Europe because I was really afraid of getting exposed to gluten and feeling ill during my trip. I wasn't sure what food I would be able to eat while abroad. I didn't want to be a nuisance to my family members and travel companions. So even though I wanted to celebrate my beautiful cousin's wedding with my family, I opted to stay home and look at pictures online instead because I was too scared to leave the comfort of my own home.
My cousin's wedding wasn't the only thing that I missed. Through the deep challenges of my healing journey, I began to withdraw from the world around me as well. I started turning down dinner and party invitations from friends because for fear that the extra activity, stress or exposure to foods would leave me feeling worse for a few weeks—if not months—after.
Missing out on life because of my health condition made me feel bad about myself and perpetuated the victim-martyr patterns many patients feel in their initial stages of a health diagnosis. I felt like I was constantly victimized by my health condition and that I had to martyr myself time and time again.
While I knew I had to stay away from certain inflammatory foods to prevent flare-ups, I didn't realize that thoughts, just like foods, could produce inflammation.
Needless to say, negative thoughts in your head are never beneficial when you're working on healing your body. Skipping my cousin's wedding and withdrawing from the world didn't help me heal; in fact, I faced setback and stress just the same. Additionally, my world just became smaller and smaller…
"Just when the caterpillar thought its world was over, it became a butterfly." This is one of my favorite quotes related to the journey of healing thyroid disease. The butterfly is a symbol for the thyroid gland, as well as for transformation.
Transformation needs to happen for us to heal. We need to know that we are powerful and that the path to feeling our best lies within.
I don't quite know when or why, but I eventually emerged from my self-imposed cocoon and began to spread my wings.
I traveled to Belize with my husband for our wedding anniversary.
I traveled for work and for job interviews and to visit family members…
My world began to open up again, and I felt good and my healing started to blossom…
You don't have to miss out on life because of your autoimmune condition. In fact, I've found that people who don't stop living just because they have a health condition are the ones that experience faster, deeper and more profound healing.
As a result of my own healing journey, I was able to step into my own calling—of helping others heal. I began to specialize in the very same condition that affected me and wrote two NYT bestselling books to help guide others on their health recovery: Hashimoto's the Root Cause and Hashimoto's Protocol.
I left my job and followed my passion for becoming a heart-centered entrepreneur focused on helping others recover from Hashimoto's.
With the books and a new business came a lot of speaking and travel.
I spent most of 2016 traveling from city to city to record The Thyroid Secret documentary series. I've also spent a bit of time traveling around Europe in the past few years.
All this time, I have maintained my health AND my gluten-free and dairy-free diet.
I don't want you to stop living your life because you're "sick."
I want you to look at your illness as an opportunity to heal.
I want you to live your life and do what fuels you—this is how you will achieve true healing.
If travel is not your thing, then by all means, stay home and find the things that add joy to your life.
But if you love to travel and have been locked up and afraid to spread your wings because of your illness, don't be afraid anymore.
While my work is specifically focused on thyroid disease, the real reason why I do what I do is to give people an opportunity to reveal their true selves and follow their passions. Stepping out and following your dreams can be scary—especially if you have not yet achieved your health goals, but paradoxically, when you set up big goals and big dreams for yourself, you will begin to shed the symptoms that prevent you from achieving them. I want you to follow your passion… If your passion is travel, here are some of my best tips.
These tips will also work if you just need to travel out of obligation, and they will hopefully make your obligatory travel feel more relaxing as well!
Planning
What do pregnancy and travel have in common? You have to prepare for both if you have thyroid disease to have the best outcomes!
Get TSA Pre-check 
This service will allow you to bypass the lines, skip the scanner machines (radiation, even at low levels can exacerbate a condition like Hashimoto's and asthma), and makes for an overall less stressful travel experience.
Food Planning…
Call ahead (at least 24 hours), if you're flying overseas to request a gluten-free meal for your flight.
If you are following a Paleo or autoimmune Paleo diet, pack your own food in your carry on bag!
Meatballs and diced roasted veggies travel very well.
Look up local restaurants before you go to look for gluten-free options.
Print some food sensitivity cards for the countries where you will be traveling to show to waiters and wait staff.
Pack Some Snacks! 
I recorded these quick videos for you to show you just a few of the snack options that you could choose from to keep your blood sugar balanced.
Links to Products Discussed:
Mediterranean Halva (I bought this at World Market)
Pack Some Travel Supplements
Here Are my Favorites:
Adrenal Support – Travel can be stressful, and when you already have an impaired response to stress (like most people with chronic illness), you will likely have an exaggerated response to the stresses of travel. You may overreact a bit! As our adrenal glands produce our stress hormones that allow us to better handle stressful times, supporting adrenals during travel is especially important. The ABC's of adrenal support are adrenal adaptogens, which help us be more resilient to stress; B vitamins, which often get depleted during stress; and Vitamin C, which boosts our immunity. I often say that adrenal support makes everyone else more tolerable :-). When we're more relaxed and calm, things don't get under our skin as much.  Though most people with Hashimoto's will benefit from daily adrenal support, I always recommend taking adrenal support during travel. I formulated Rootcology Adrenal Support for this purpose. It contains adaptogens, B vitamins, and Vitamin C.
Activated charcoal – Activated charcoal binds up toxins and is great to have on hand when you're traveling. Charcoal can minimize reactions from your food and environment. You never know when you may end up in a moldy place or when you're exposed to toxins in your food while eating out. It's also great for times when you may, ahem, overindulge in wine or other types of alcoholic beverages. On average, I recommend 1 capsule per drink at bedtime, up to 3 capsules after a night of drinking or if you're in a suspect environment. Keep in mind that activated charcoal binds EVERYTHING, so don't take it with other supplements and medications you would like to absorb. I also recommend supplementing with magnesium whenever you take activated charcoal. Just be sure that you take the supplements at least 4 hours apart to prevent impairments in absorption.
Magnesium citrate – Magnesium becomes depleted when we're stressed out, and we all know that travel can be stressful. Many people report anxiety, constipation, headaches, muscle aches, and insomnia while they travel… People think that these symptoms occur because they're away from their usual routines, but these symptoms are actually symptoms of magnesium deficiency. I recommend daily magnesium for most people with Hashimoto's and hypothyroidism. Taking additional magnesium while you're traveling will ensure that you feel calm, well rested, pain-free and that your bowels are moving properly.  [Read full article on magnesium]
200mg of Zen – This supplement contains a blend of threonine and GABA, which support a calm mood and is a great alternative to the pre-flight Xanax many people use to calm their flight anxiety. Magnesium also helps in this department. 🙂
Lavela – Lavela is another Xanax alternative for traveling. This is a lavender based supplement that has been clinically shown to calm nerves and can be taken before your flight. It does contain non-GMO canola oil, so keep that in mind if you are sensitive to canola. Another idea is to douse yourself with lavender essential oil, which makes you smell nice and also has calming properties.
Gluten-Dairy Digest – These enzymes help to break down gluten and dairy. I use this whenever I'm eating out at a restaurant and am concerned about gluten and dairy cross-reactivity. It will help to minimize any adverse reaction you may experience from gluten and dairy proteins. Unfortunately, the enzymes don't fully break down gluten and dairy so I don't recommend indulging in a pizza just because you have these enzymes.
Melatonin – Hello, jet lag! Jet lag can be a beast, especially when you're flying east. Melatonin can help you get back into your circadian rhythm routine. I recommend taking melatonin at bedtime—wherever you are. You can also take it before you get on the plane.
S. Boulardii – S. boulardii is one of my favorite supplements. It's a multitasker that I love to use for Hashimoto's. S. boulardii is beneficial yeast that can do wonders to restore a healthy gut microbiome. S. boulardii can displace Candida yeast, help the body with clearing parasites, including Blastocystis hominis, and most importantly, it can prevent food poisoning! It also raises our body's internal secretory IgA levels. Secretory IgA is gut protective immunoglobulin that prevents adhesion of pathogens to our gut wall. I recommend taking S. boulardii as a preventative while you're traveling— especially if you're traveling overseas. While many brands of probiotics need to be refrigerated to stay active, I developed Rootcology S. boulardii to be shelf stable – so it's perfect for travel!
Electrolyte Blend – If you've ever been on an airplane, you've likely realized that being up in the air will cause you to become dehydrated. When we're dehydrated we tend to get headaches and be more reactive to internal and external toxins. The solution to pollution is dilution. I recommend drinking plenty of liquids while you're flying. It's also really great to make sure you have enough electrolytes on board. Many of the electrolyte drinks on the market contain added sugars and artificial colors. I developed Rootcology Electrolyte Blend to contain the electrolytes our bodies need to stay hydrated – it's also great in case you have traveler's diarrhea or indulge in alcohol.
Physician's Elemental Diet – Have you ever had food poisoning or been glutened while traveling? You feel miserable and you end up having to stay in bed for a couple of days after. This can really ruin a trip! Prevention using Gluten-Dairy Digest and S. boulardii works best, but after the fact, it's best to give your body a bowel rest—when you don't consume any solid foods—to allow the inflammation to cool. The problem with this is that when you're not eating any foods, you end up feeling exhausted and depleted. I really love the Physician's Elemental Diet because it contains macro and micronutrients that provide adequate nutrition and energy while allowing your intestinal lining to repair. In my experience, the elemental diet also seems to accelerate the healing and speeds up recovery. Please note, Integrative Therapeutics has removed distribution of this formula from retail channels, as it is an FDA regulated medical food. As always, I do recommend working with your personal health care provider to ensure this (or any other) intervention is appropriate for you. However, if you and your practitioner are having trouble obtaining this elemental formula, Dr. Siebecker's homemade Elemental Diet may be a suitable alternative.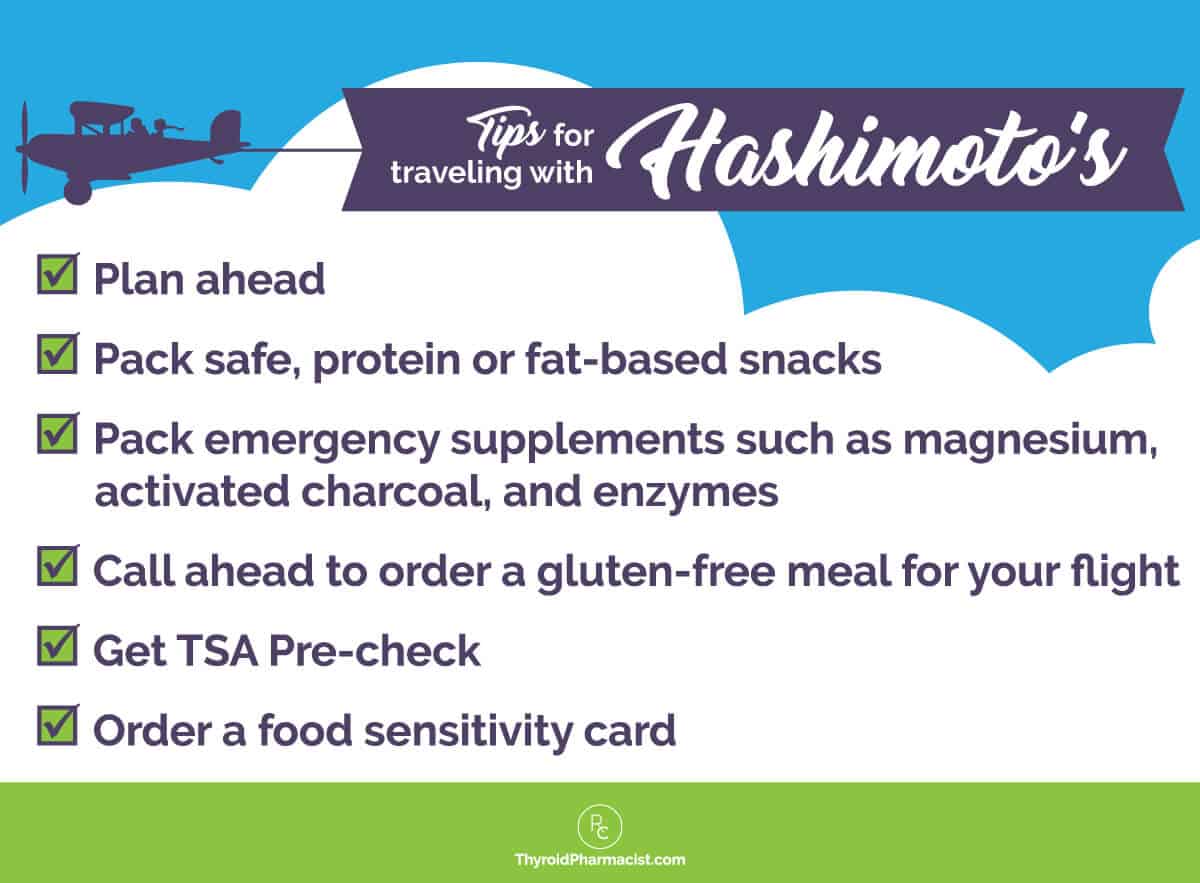 I hope that these travel tips will help you make your trip more fun and relaxing and allow you to follow your passions!! Bon voyage!