This year has brought us a lot of challenges, but the thing is, when we focus on our problems, we tend to find even more problems. So as we welcome the holiday season and get ready for a new year, many of us find ourselves at a crossroads.
Do we focus on negativity, or do we intentionally choose to focus on gratitude?
Maybe take a moment and do some inventory…
Where is your focus? 
What's taking up the most space in your brain and heart?
Have you hit roadblocks with your health that have discouraged you?
Is the stress of the year causing a health setback?
I invite you to turn down the negativity that might be trying to seep into your life, and focus on some positive things. We all know how stress can exacerbate symptoms of Hashimoto's, so who knows, maybe reading this will not only be informative, it might also be healing! 🙂
My articles usually focus on solutions, but today I want to focus on those who have implemented the solutions, and their stories.
But first and foremost, I want to thank you for trusting me with your health journey. To play a small role in your victory is not lost on me, and I am so grateful. The fact that people are using my solutions to heal is incredible and humbles me deeply.
Now, let's celebrate these stories and get you on the road to recovery too!
In this article, I share powerful success stories from readers who have implemented the solutions that I share in my books:
Hashimoto's: The Root Cause
Hashimoto's Protocol
Hashimoto's Food Pharmacology
If you have a moment, I encourage you to scroll down and read about the transformations that other readers have experienced. Healing isn't just for them, it's for you too, and I can show you how.
My First Project, Hashimoto's: The Root Cause 
Hashimoto's: The Root Cause is dear to me because it was my first grassroots project that reached more people than I ever dreamed possible. It's a guide to identify and remove the triggers associated with thyroid autoimmunity. The lifestyle interventions aim to dismantle the vicious cycle of autoimmune thyroid disease piece by piece.
I start with the simplest modifications, by removing triggers, and follow with repairing the other broken systems to restore equilibrium, allowing the body to rebuild itself. There are over 2,200 five star reviews for this publication, and I wanted to share a few with you!
"I bought root cause about 8 months ago. I started following the protocol. My antibodies went from 1200 + down to under 100 since then and I'm taking lower and lower doses of my compounded meds and cytomel. My Dr is amazed. I'm thrilled! Thank you! Another great side affect is I've lost 47 lbs during that time as well."
"If you struggle with autoimmune issues and have been told that the best you can hope for is to just 'manage your symptoms', don't buy it!! DO, however, BUY THIS BOOK!!! I suffer from Hashimoto's Syndrome and Sjogrens Syndrome, both of which have made me miserable for years!! I've tried multiple supplement programs and other "alternative" therapies as well as prescription therapies, to no avail. Synthroid did help but I never got back the stamina (or weight loss ability) I once had. Believing that science would, one day, find an answer, I continued to check various websites from time to time, hoping for new updates. It was during one of these random Google searches that I stumbled upon and, ultimately, purchased Dr. Wentz's book. What an educational, eye-opening and inspiring read! Long story short, gut health is key to so many conditions and infirmities as well as the correct function of the immune system and Dr. Wentz explains this in exhaustive detail so that, you not only have knowledge but understanding. If more people had a better understanding of what really goes on in their gut (hint – its a lot more than elimination), they'd take their eating habits far more seriously, I believe. I found the book relatively easy to read and implement. In less than a week's time, I do feel different, better, stronger and more alert during the day, ALL DAY, and I also sleep better at night. I guess the best word to describe how I'm starting to feel is 'balanced'. I was a former professional athlete who slowly disintegrated over a matter of years – weight gain, fatigue, random aches and pains, depression, frequent illness, muscle weakness, sloppy gait and physical balance issues, brain fog, difficulty focusing, memory issues and, ultimately, a sense of overall defeat. At first, I wrote it off to the aging process but I, later, learned it was an autoimmune process, likely triggered by a long, severe bout with Mononucleosis in my early 30s. Like so many, I was told that the best I could hope for was symptom management. I never really believed that, though, which is why I kept searching for answers. I truly believe that the information in this book is turning that autoimmune 'malfunction' in my body around. I'm so convinced, that I'm considering starting a blog or FB page to track my process for my own accountability, as well as to, hopefully, inspire others. Again, I've been into this a little more than a week so, its hardly enough time to make a determination, BUT, I can say that I already feel better, so something is changing (and I don't recall even Synthroid making me feel better that fast).
If you've been down the autoimmune road, like me, you've probably tried anything and everything for relief, wasting time and money on huckster websites that promised results but, instead, delivered snake oil, at best. Dr. Wentz delivers science, knowledge, personal experience and real hope! Buy this book, its well worth it, and so are you!!"
"One year ago I bought this book when I was desperate because Synthroid, etc were not getting the job done. I was fatigued, achy, weepy, had hair loss, the list goes on and on. The guidelines in this book set me on the right path to healing. Not only am I back to my old self, I'm better than my old self! I feel so empowered now. All my life, I suffered from daily headaches, but my doctors could only give me pills to hide the pain. Now, through diet, supplements, etc, to address my Hashimoto's, I have rid myself of so many nuisances (including those headaches) that I thought were just part of daily life. I feel healthier than ever! It's not easy, but oh so worth it!"
I've always wanted to help people, so having the opportunity to share what I've discovered about Hashimoto's is a dream come true. I didn't know back when I was sick, just how much my story would impact others' lives. Back then it was a life of anxiety, pain, and questions. Now that I'm on the other side, I can honestly say I'm so grateful for my journey. You never know how your trial today may impact someone else's life tomorrow.
If you're feeling overwhelmed by your diagnosis, take heart. You can get better, like these readers did: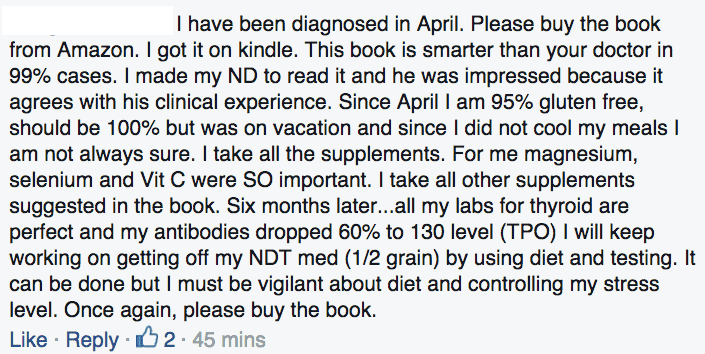 Anytime I have a chance to interact with readers, I just love it! Here's a recent conversation from my Facebook page. If you're not on there yet, here's a link to follow the page. We share so much about Hashimoto's there, and it's the most inspiring community.
If you're planning on shopping online (as many are, this year more than ever!), consider gifting Hashimoto's: The Root Cause this holiday season, to yourself or to a loved one. Click here to order your copy.
The Busy People's Roadmap to Healing: Hashimoto's Protocol
There are many different root causes of Hashimoto's, but I've found that there are steps you can take that can help 80 percent of people feel significantly better.
My second book, Hashimoto's Protocol, was born after years of research and working with thousands of people with Hashimoto's. It's a compilation of action steps, with a targeted approach that teaches you how to feel better in as little as two weeks, and how to eliminate symptoms and recover your health in 90 days.
Hashimoto's Protocol has over 1,700 five star reviews, and I'd like to celebrate a few!
"I'm four weeks into the protocols following Dr. Wentz's advice. I felt less tired after two weeks; TSH has improved. On day 21 my brain fog lifted! I'm now a believer. I'm finding this book to be filled with all the 'right' information–theory and practical, including recipes! It's well-organized, clear, readable and not too hard to understand. 🙂 I highly recommend this book for anyone wanting a better understanding of low thyroidism, including possible causes, tests that will give you important information on understanding your body, and practical info on how to go about healing yourself."
"Izabella Wentz makes it so easy to follow the implementation program, to adhere to it and be disciplined. I had read her previous book which helped a lot but with this book Izabella gives concrete steps, and also the best supplements. On example: instead of taking a digestive enzyme for several months with no effect, I took the one Izabella suggested (my new Integrative Doctor also suggested it), followed her instruction on how to take it for the past 4 weeks. I am also having now a varied veggies and a high protein breakfast. My persistent pain in the lower back, due to injury, for the last year has disappeared in the last 3 days. My early morning tiredness is also gone. It is absolutely wonderful Izabella shared her story helping others."
"This book changed my life! I was so frustrated before cause doctors hardly knew anything about hypothyroidism. When I heard there was a diet that help put it in remission (or get close to it) I was excited. I went from a TSH score of 13 to 1.2! I'm more regular now, my skin and hair have improved, I lost 12 lbs, my memory improved, my periods became less painful, I have a better time focusing, and I feel better about myself!! I HIGHLY recommend this book! Do yourself a favor, read it cover to cover and start her diet. You will absolutely notice a change."
"I bought this book and just like her previous book, I'm blown away. I was diagnosed with Hashimoto's in December 2016. I followed her advice in the first book, changed my diet and used myself as a human guinea pig taking supplements as well as my 50mg of synthroid. I used supplements that she had suggested, but others I had read about in how they help heal the gut. Well Tuesday of this week I had my antibodies level tested as well as my TSH levels. TSH are now normal and my antibodies came back from >900 to 486 showing improvement. I'm not Hashimoto's free, but I'm on my way as can any of Dr. Wentz's readers. Give this book and her other one a shot, you will not be disappointed."
Hashimoto's has this way of intertwining itself into the very fabric of our lives. It uproots us, causes chaos inside of us, and often impacts every aspect of our health and life. I hope you'll find these protocols easy to implement so that you can get back to living the life you deserve.
I have a feeling as you read this book, you'll become inspired and empowered to join the thousands of others who have said, "Enough is enough," and have taken back their health!
Wherever you are in your process, now is the time to start fresh and start reclaiming your life. Here are some other success stories that readers have shared with me.
She says she feels "a million times better!"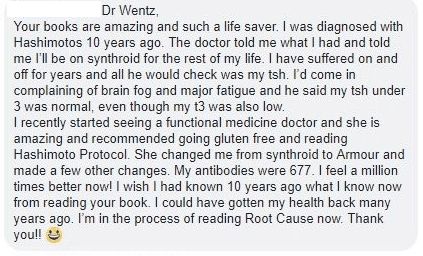 Her antibodies went from 4000 to 0 IU/mL!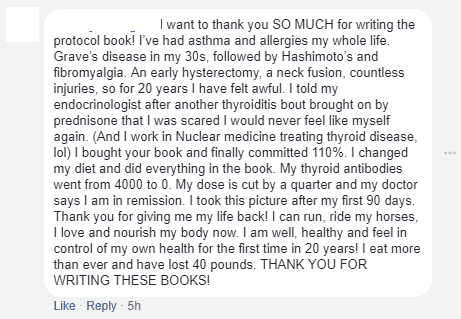 If you're ready for the 90-day action plan from Hashimoto's Protocol, you can use this link to get the book!
Discovering How to Use Food as Medicine: Hashimoto's Food Pharmacology 
If you're looking to implement food as medicine but want it to taste good too, then I encourage you to check out my cookbook! You'll discover the best strategies for making dietary changes an easy part of your life. I will teach you how to support yourself through digestive enzymes and proper nutrients that will help transform your body into a safe place, so that it can receive the food you need to heal.
Here are some of the reviews:
Easy to prepare and follow, and the recipes taste amazing!
"Really love this book. It's full of vital information and has really helped. Her recipes are easy to prepare, follow and taste amazing. There is a range of recipes and not just simple salads as previous review suggested (salmon and parsnip fish cakes are definitely a favorite). This has educated me To know what I should be eating to feel better. Would definitely recommend to anyone who suffers from thyroid issues."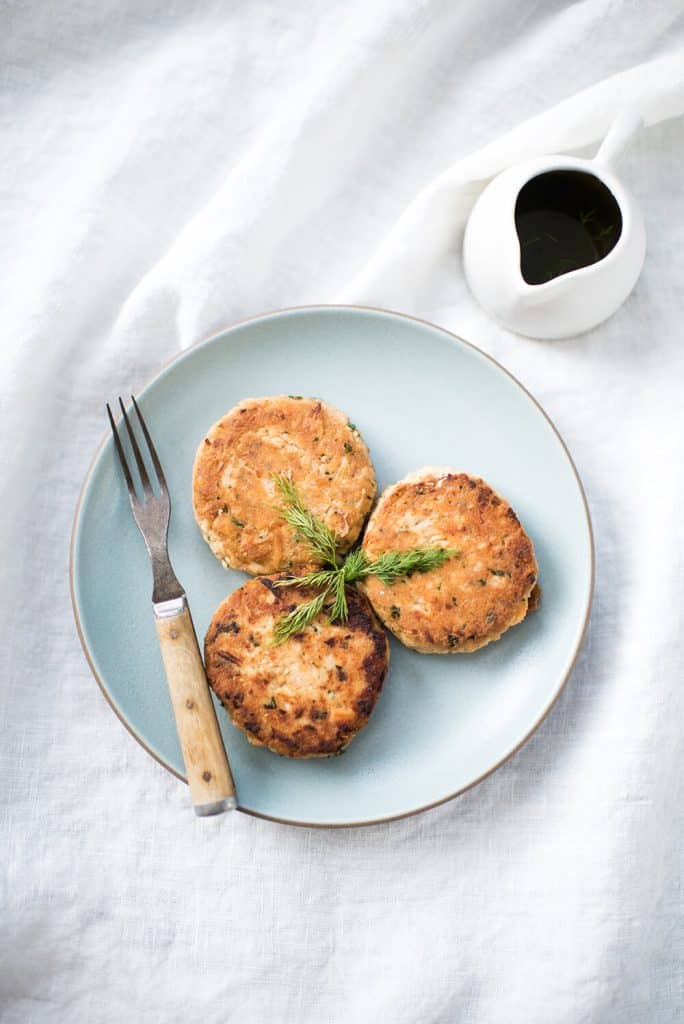 For those who have tried every healing diet and still don't feel well…
"I have bought numerous cookbooks over the years, paleo, mediterranean, and this and that…and based on my genetics, my food sensitivities and my thyroid health I always end up a little deflated. But this book… finally a book for me!!! First recipe […], bison meatballs, so so good. The little notes in the book, so helpful, like random comments that fennel can be aggravating for autoimmune issues. Never knew that. I have not read the first part of the book yet, will get there soon."
Anyone with autoimmunity can benefit!
"You don't need to have Hashimoto's to benefit from this book. Most of the nutritional guidance and recipes are appropriate for anyone who wants to control ANY autoimmunity or just plain optimize health. I love that most of the recipes do not take a lot of preparation, and even those of us with fatigue should not find them daunting. For example, Creamy White Chicken Stew is essentially four simple steps: briefly precook a few items in oil, add ingredients and boil, add more ingredients and simmer until done. There is only one step for Bigos (Polish Hunter's Stew): 'Place all ingredients in a slow cooker, mix, and cook on low for 6 to 8 hours.' I also love that many of the recipes are accompanied by a beautiful photo of the finished dish; honestly, this is what draws me to a particular recipe. As someone with a lot of food sensitivities, I am delighted that this cookbook magically contains more recipes without any offending ingredients than any other cookbook I own. Dr. Wentz puts her heart and soul into everything she does, and this book is no different. Her passion shines through."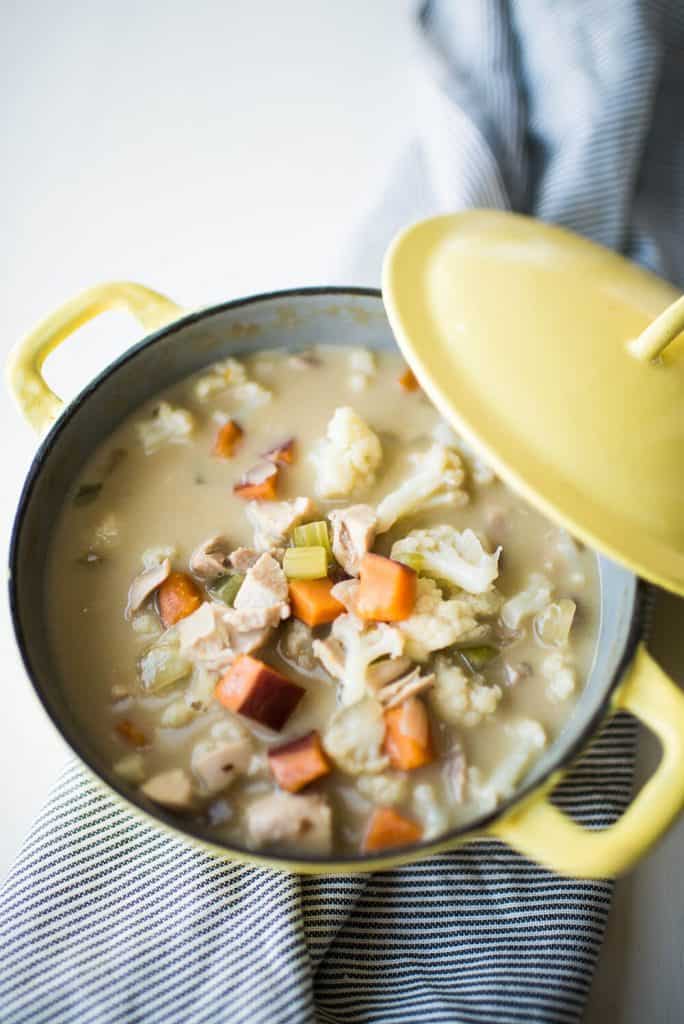 This cookbook is even loved by those reluctant to implementing dietary changes:
"This is God send! I reluctantly tried few recipes and I can feel improvement, so on my shopping list I replaced few items for the ones recommended in the book."
And this reader found that foods could help keep her warm!
"I've been cold my entire life. In the summer I wore sweaters and even sweatshirts. It wasn't until recently that I heard of Hashimoto's and thought, 'That must be what I have!' I was excited when I found out that I could eat foods that would make me warm. I've only tried a few recipes from this book, but they were really good. The recipe in the picture is SAM salad […]"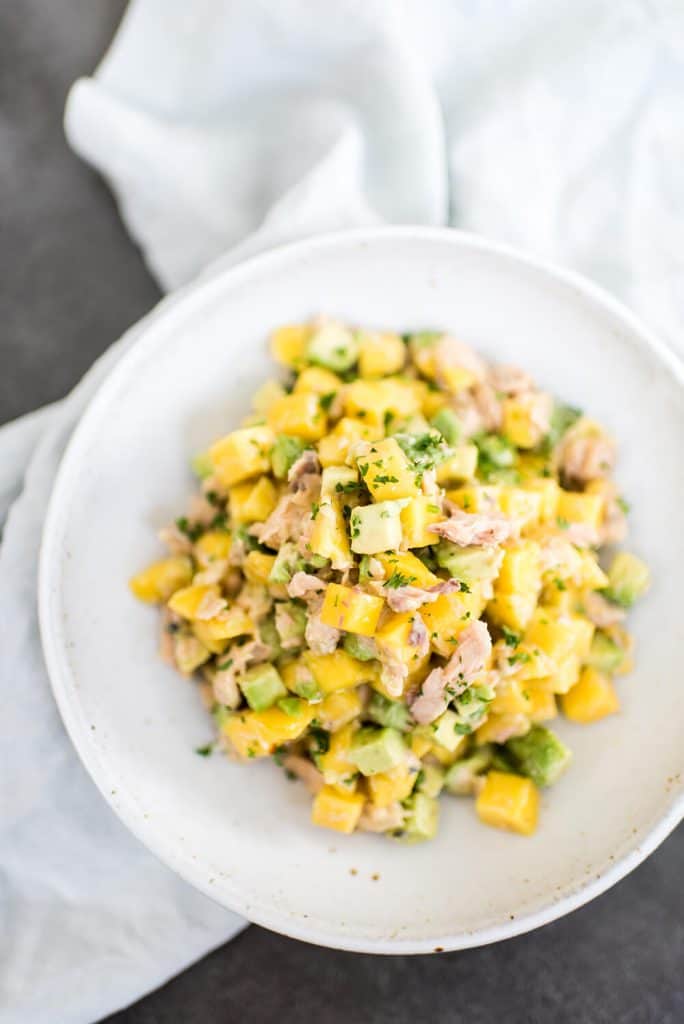 You can order your copy of Hashimoto's Food Pharmacology here.
Will You Help Me Collect 10,000 Success Stories?
My goal is to collect 10,000 success stories to show the world that healing is possible. Plus, hearing your stories is so inspiring for me and the team. We love reading about the successes that you are experiencing! Will you share your story with me here?
Who knows, maybe next time, I'll be sharing your story! 🙂
P.S. Be sure to sign up to my weekly newsletter to get a free book chapter, recipes, Thyroid Diet Starter Guide and notifications about upcoming events and my latest research.
For future updates, be sure to follow me on Facebook and Instagram too!