While I was searching for the root cause of my Hashimoto's, I began to take on excellent self-care methods. I realized that I was a powerful woman and that I could figure out how to overcome Hashimoto's given the right amount of commitment. I made an effort to reduce the stress in my life and put myself in a positive healing mind frame. I frequently told myself "Every day and every way, I am getting better and better," until eventually, it became true!
Here are some of my strategies that I hope you can use in your life.
Embrace the Diet and Ask for Support
I stopped feeling bad for being on a "weird diet" and asked my husband and family (who was initially skeptical of gluten sensitivity) to support me during my diet. For the first time, my husband understood how important this was to me, and supported me during my elemental diet, soup fast, Gaps diet, SCD Diet, Body Ecology Diet and he even did a 30 day Paleo challenge with me.
The results were amazing!
Not only did I start to feel better (with muscles I never knew I had appeared in all kinds of new places), but my athletic runner husband, who never had any major health issues, found that he actually felt even better eating this type of diet and eating this way has brought us much closer.
We have fun planning our meals and cooking together. (If you're looking for a great article to share with your significant other, check out the following article from Alexandra Jamieson, co-creator of Super-Size Me "How to Be The Best Partner When Your Love is on a Cleanse or Diet")
Involve Your Friends and Family in Your New Lifestyle
I'd always cherished spending time with loved ones, but the Hashimoto's diagnosis made me retreat into myself and I stopped reaching out and connecting with others. When I decided to heal, I started inviting friends and family over for dinners and made all of the meals Paleo. To my delight, they loved the new food! Soon enough, we were having Paleo Potlucks every weekend! As of now, my husband, mom, brother, and future sister-in-law are now following a mostly Paleo diet and feeling great (still working on my dad, though). 🙂
Be Honest about Your Needs
I stopped feeling bad for putting my own needs before the needs of other people and began to dive into research, journal and started doing yoga five days per week. I felt strong, muscular and balanced. I mastered the crow pose and even had six pack abs for the first time in my life!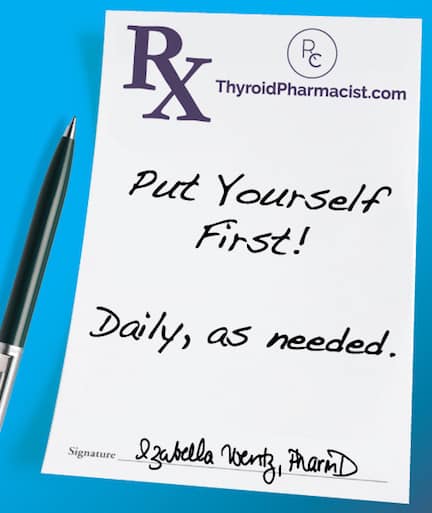 Let Go of Stress
I stopped stressing myself out at work and being an overachiever, and established firm boundaries and took advantage of lunches, breaks, days off, flex time, working from home, and the company's policy that allowed to schedule sick days. I left work on time. When I became overwhelmed with projects at work, I said "no" for the first time when people asked me to take on more. It felt good, and for the first time in my adult life, I felt like I was in that mystical zone of  "work-life balance."
Invest in Yourself
I stopped feeling bad for spending money on myself and fully invested in my health. My husband and I treated ourselves to monthly massages to help us relax. I ordered functional medicine tests, high-quality supplements, and paid out of pocket for practitioners that didn't take my insurance. I'd spent months, sometimes years, researching many of these, but something inside of me prevented me from taking action.
Get a Great Routine
I had a really good routine in place. I had family support, Trader Joe's, my yoga studio practically next door, and friends I could meet for a laugh. Eating a Paleo diet, exercising, and spending time with nourishing relationships was easy!
Take Action
I dove into more innovative research and implemented it. My body was ever so grateful for taking care of it, and my Hashimoto's went into remission.
Share Your Story; Maybe it Will Help Someone Else
Happily, I summarized all of my research into a Hashimoto's Patient Guide (if you read my book, you know my story 🙂 ).  The original idea about writing a book came from my mom. You see, Hashimoto's runs in my family, and I have a young cousin in Poland with the condition.
My mom saw the progress I was making and encouraged me to write a book so she could translate it into Polish for my cousin and aunt to read. So really, I wrote the book for my little cousin with Hashimoto's. I knew that it would also help other people in their journeys, but I didn't expect that the book would become an Amazon best seller, and I never imagined that it would lead to so many remission stories and help so many people! I get tears in my eyes every time I see a review from someone who has reduced or eliminated their thyroid antibodies.
After the Hashimoto's book had come out in June 2013, I left my job as a medication safety pharmacist to focus my full-time efforts on helping others with Hashimoto's through my book, Hashimoto's: The Root Cause, website, Facebook page and doing lots of free interviews for summits, radio shows, podcasts, and the like.
Get Involved in Advocacy for Thyroid Patients
I joined the board of a not-for-profit: Thyroid Change. Having the ability to help people with Hashimoto's on a full-time basis has been a dream come true.
The first part of this post talked about the self-care strategies I used to get into remission. I thought that I didn't have to worry about my health anymore, but then, of course, life threw me a curveball. My husband got an amazing job promotion… in the Netherlands. I was so excited to live in Europe… but then we moved to the Netherlands, and everything got out of control.
My self-care habits weren't deep enough to handle such a big change, and I have to admit something. I wasn't being very nice to myself.
I got back into my old habits of overworking that led me to get sick in the first place. I didn't scale back on my advocacy efforts—despite being in the middle of an international move that required me to sell my house, car, get rid of half of my stuff and spend hours upon hours on paperwork to get established.
I was hard on myself and told myself to keep going instead of resting and adjusting to my new life.
I continued to do multiple interviews—even during the week I was moving. I remember one interviewer saying, "Really, you just moved to Amsterdam two days ago??"
Even with everything that was going on, I got mad at myself for missing self-imposed deadlines and for not replying to requests in a timely fashion. I felt like I needed to be doing more for everyone else and forgot about myself.
I postponed calls with friends and family, so I could use the evenings to be on interviews in the US.
I stopped doing yoga and going to the gym. It seemed like too much effort.
Researching, writing, being innovative, creating, and interacting with others feed my soul, but I had become so busy with day to day tasks that I no longer had the time to do the very things that made me feel fulfilled.
I forgot about the things I wanted to do, and all I thought about were things I needed to do (get a local bank account, cancel car insurance, answer emails, etc.).
And while I can say that I'm healthy enough to work 14-hour days, just because you can, doesn't mean you should… and everyone needs time for themselves. Because stress breaks us down and makes us susceptible to triggers that can cause a relapse of autoimmunity.
Stress is almost always a precursor to autoimmunity!
Luckily, I still stayed in remission. I know that this is only because I've hacked my diet, supplements, and body to a point where I can keep things under control. One particularly stressful day I got terrible food poisoning, but I knew the right supplements to take to prevent triggering a relapse.
But I had started to see the effects of stress beginning to take a toll on my body… all of the diets and supplements in the world won't make up for your body's response to constant stress.
While I was still thin, my muscles, six pack abs, and biceps became a distant memory. I have an embarrassing picture of myself hunching over in the bathroom cleaning my engagement ring looking a lot like Gollum from Lord of the Rings  (No, I'm not posting it, thank you very much!).
You would think the picture would be enough for many to act, but what made me decide to change was reconnecting with Stacey Robbins. If you've been a follower of mine for a long time, you may remember that I wrote the forward for her amazing book: You're Not Crazy, You're Not Alone.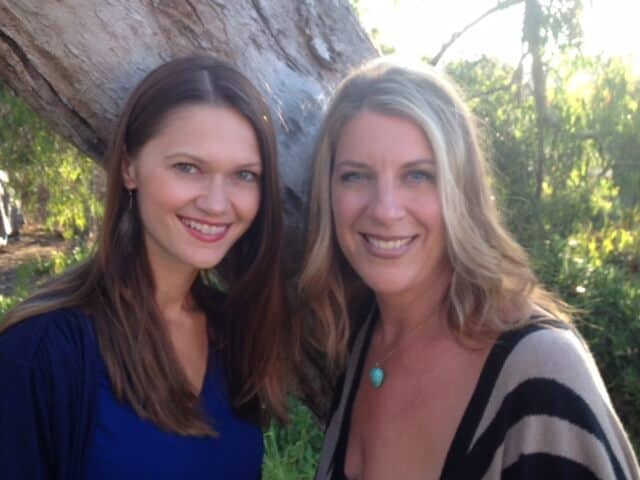 Izabella Wentz, PharmD & Stacey Robbins in Playa Del Rey, CA, August 2014
Stacey reminded me about the importance of self-care. It's different from self-esteem, and while I've always felt I had great "self-esteem," I have often struggled with self-care. Stacey told me: "You have to schedule time for yourself each day and do the things that bring you joy and peace, the things that you want to do.  If you take a little time to yourself each day, before you know it, your self-care will become a habit."
And as a result of our many conversations, I came up with some new self-care strategies…
Here Are My Personal Strategies for Self-Care
Work on my physical strength every day, alternating arms, legs, abs, yoga, pilates. Even if it's just doing 10 squats per day
Be as gentle with myself as I would be with a dear friend or child
No more late nights and early mornings—sleep as much as possible
Write every day
Nourish my brain with reading or learning something every day
Spend quality time with my husband and plan fun weekend trips instead of working or running errands
Spend quality time with my best dog-friend, Boomer, by going on hour long walks to the park whenever the weather is sunny in Amsterdam
Call my favorite (and only) brother at least once a week, even though our time zones don't always mesh, he always makes me laugh
Reach out to friends for support to catch up or for a good laugh
Schedule time for myself
Get out of my own way and creating more to help others
Make a daily effort to be more relaxed
Stacey is an expert in teaching others to care for themselves. She has helped me tremendously, and I'm so grateful to have her as a friend and to have her support.
Life Mastery
I'm normally pretty private about my personal goals, but another one of my friends had challenged me to post them publicly. Dr. Pedram Shojai is one of the busiest and most productive people I know, yet he is always super relaxed and happy (and a father)!
Pedram has been doing a practice called a 100 Day Gong for over 20 years. A Gong is a deal you make with yourself that you stick to for a hundred days straight. You can do a gong with all kinds of goals, including fitness, diet, personal growth, and relationships. You can learn more about his work and programs at Urban Monk Academy.
Your Challenge from Me
I encourage you to practice self-care, whether it's being a little nicer to yourself today or going out and getting a massage every day for the next month! You are worth it. Take time to care for yourself. I challenge you to make your list of self-care items that will allow you to move your healing forward.
PS. You can also download a free Thyroid Diet Guide, 10 Thyroid friendly recipes, and the Nutrient Depletions and Digestion chapter for free by going to www.thyroidpharmacist.com/gift. You will also receive occasional updates about new research, resources, giveaways and helpful information.