Hello friends-
Spring is in the air, and I am at that age when I am getting excited about spring cleaning (yes, I'm turning 40 this year, lol)! In full disclosure, I have never been as, ahem, "passionate" about home cleaning as my own mother, and would often roll my eyes when she recruited me to be her little helper every Sunday morning.
Thanks to my mom, I learned the ins and outs of how to clean a home at a very young age… but I didn't put those skills to great use. In fact, I vowed to NEVER clean my own house once I moved out of my parents' place. 😉
While I'm a big proponent of having help with cleaning the household, as I have gotten older, I have realized that as the queen of my castle, I know that there are things that I need to do and take the lead on. One of these is making sure that our home is a safe and clean environment for the whole family.
I often share about the importance of eliminating toxins for thyroid health, and we usually think about industrial toxins we may be exposed to in our environment — but did you know that the concentrations of some pollutants can be 2-5 times higher indoors than outside? This is especially important, as many of us spend up to 90 percent of our time indoors!
I didn't realize how many harmful toxins our bodies are bombarded with every day, until I started doing the research for my first book on Hashimoto's. All my life, I had been a girl who enjoyed makeup and beauty products, never realizing the number of harmful toxins I was putting on my body. As I dug deeper, I began to realize that toxins are everywhere — in the water we drink, the food we eat, the air we breathe, even the very products we use to "clean" our homes!
It turns out that many people are living with an overburdened liver that has a difficult time detoxifying the body from an accumulation of toxins. Symptoms of toxic overload may include digestive problems, bad breath, fatigue, weakness, constipation, headaches, hormonal imbalance, itchy skin, rashes, breakouts, joint pain, brain fog, irritability, chemical sensitivity, and weight loss resistance — just to name a few!
And since the liver is responsible for converting T4 to the active T3 hormone within the body, an impaired organ can result in an increase in thyroid symptoms.
Whatever we inhale, ingest, and absorb into our skin eventually ends up circulating in our body. From our cleaning products and cosmetics, to pesticides and exhaust fumes, we're exposed to thousands of chemicals a day.
In 2006, the Centers for Disease Control released a report stating that the average American has 116 out of the 148 environmental chemicals (found in water, food, soil, air, dust and consumer products) that were tested, in his or her body, at any given time. Most commercial cleaning and personal care products that we use every day, are full of endocrine-disrupting chemicals that are toxic and wreak havoc on our hormones and health.
Women, on average, use 12 personal care and cosmetics products per day, which amounts to 168 different chemical ingredients!
Some common examples of toxins we come in contact with in our homes, that can be harmful to thyroid function and the immune system, include:
Plastics – These synthetic materials often contain formaldehyde (a carcinogen that can damage the thyroid gland) and BPA (a xenoestrogen that can perpetuate the autoimmune attack on the thyroid).
Xenoestrogens – These are endocrine-disrupting chemicals that mimic the effects of the sex hormone estrogen and include soy, BPA, phthalates, and parabens. Xenoestrogens may increase TSH and perpetuate the autoimmune attack on the thyroid. They are often found in makeup, moisturizers, soaps, toothpaste, hair care products, detergents, and household cleaners.
Mold – Mold can lurk in damp areas in the home such as air conditioning systems, as well as in bathrooms, recently flooded areas, attics, basement areas, and spaces under kitchen sinks. It can easily build up in areas with poor ventilation and/or high humidity, and is common in homes located in moist climates. Exposure to toxic molds can trigger immune dysfunction, as well as contribute to many symptoms, including respiratory, digestive and cognitive issues.
Fluoride – Fluoride is a thyroid-suppressing halogen found in our water, toothpaste, and even black and green tea. A 2015 British study found that medical practices in areas with fluoridated water were twice as likely to have patients with hypothyroidism.
Other ingredients to watch out for include triclocarban, retinyl palmitate, retinol, PEG, chlorine, bromine, ceteareth, polyethylene, DMDM hydantoin, formalin, toluene, dibutyl phthalate, mercury, aluminum, and oxybenzone.
So what can we do to avoid these toxic substances that seem to be everywhere?
First and foremost, weather permitting, I encourage you to spend more time outdoors in the fresh air. If your allergies allow for it, I also encourage you to open up your windows and doors to air out the house, at least weekly.
Then, I encourage you to start small, and start at home. Take a look at the products you use everyday — the detergent you wash your clothes in or the lotion you rub on your skin in the morning — and check to see if the ingredients are harmful to your health. You can use a site like the Environmental Working Group (EWG) that rates products and ingredients based on known harmful effects. Then, begin upgrading your home by replacing your products with safer choices.
Over the years, I've worked to eliminate as many harmful toxins from my life as possible, in order to protect my thyroid and my family's health. In previous years, I replaced most plastic cups in my kitchen with glass jars and glass storage containers. I also focused on buying organic foods and making my own cleaning supplies.
In recent years, after having a little one, I learned that the skin of our babies and children can be sensitive to most detergents and cleaning products (and I have not had a surplus of time to make my own), so I have searched for laundry, personal care and household cleaning products that are the least toxic.
The following are a few of the resources I've come to love that help to keep my home environment and personal care routine clean and safe for me and my family.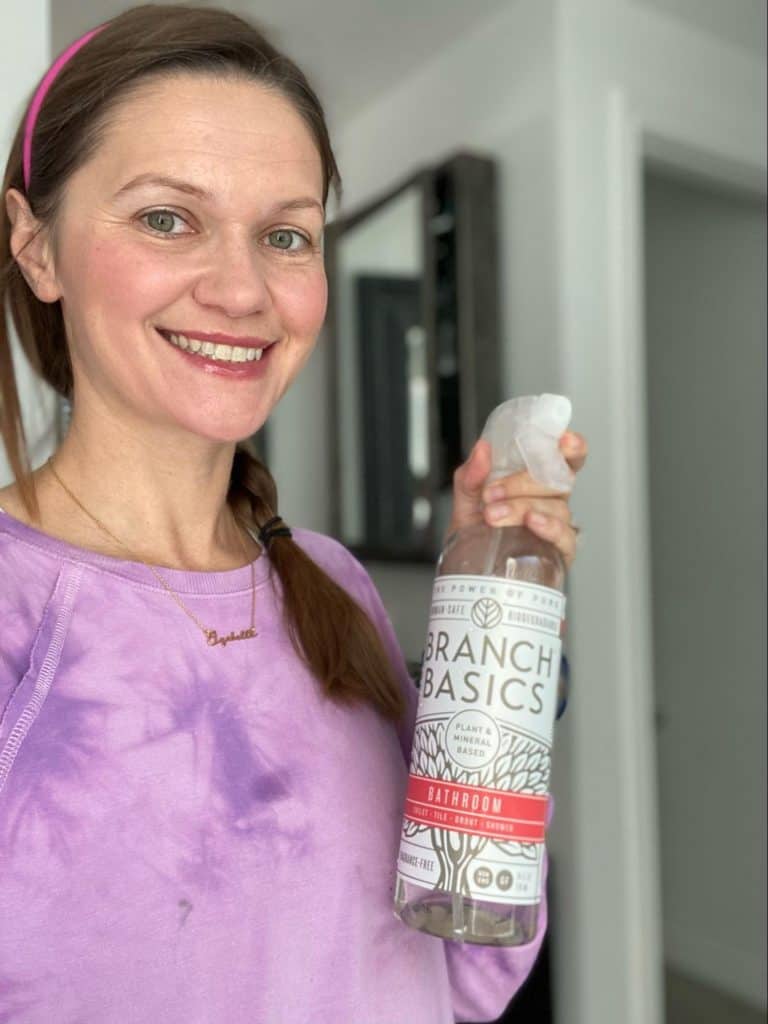 An action shot of me embracing being almost 40 and slowly turning into my mom. 🙂 
Resources to Clean Up Your Home
I recently discovered Branch Basics' cleaning solutions and have been using them throughout my whole house! If you buy a kit, they will send you one big bottle of starter solution, plus a few marked containers so that you can dilute the starter and create numerous cleaning products, including laundry wash, hand soap, a bathroom cleaning spray, a window cleaner, and an all-purpose spray. As I have embraced minimalism over the past few years, I love that I don't have to buy multiple products, and I can reuse the same containers, which is great for the environment. The solution is made with plant and mineral-based, fragrance-free ingredients that gently remove dirt, grease and grime, without the harmful toxins that are found in many conventional cleaning products.I was inspired to try these products after a colleague of mine, Taylor Dukes, who is a functional medicine nurse practitioner, ran a toxic panel on someone before and after this person ditched her usual cleaning supplies for Branch Basics. Remarkably, the levels of toxins were reduced, and this was the only change she made. I use the bathroom spray and the all-purpose spray most days. Furthermore, I sent a kit to my mom (who I consider to be the ultimate cleaning guru, as she loves to clean and helped me develop the all-natural cleaning recipes for my Hashimoto's: The Root Cause book), and she was super impressed and happy! She said that she tested it on the sink first, and was very pleased. (My readers can use the code IZABELLAWENTZ to save 15% off all starter kits!)
Made of Nanolon fiber, a unique material that is much finer than human hair, Nano Towels capture liquid, dust, dirt, and grime like a magnet, with just water – no toxic chemicals needed! They save money and also the environment by limiting one's need for disposable paper towels. I love these towels for cleaning purposes that only recommend water (like the insides of the fridge). If you're not cleaning your fridge on at least a weekly basis, I highly recommend you do so.
If you have a child with eczema or skin issues, I encourage you to check out the Solve Eczema website. I was shocked to learn that most children can have skin issues simply due to the fact that our detergents can break down the lipid layers of the skin (and their skin is still super thin). Thanks to Dr. Lindsey Snyder (check out her Environmental Eczema Guide), I started washing all of my family's clothes using Cal Ben laundry soap. I love Cal Ben laundry soap because it's economical and has really helped my son's skin issues. (Bonus: my hubby says it has done wonders for his white socks.)
I initially suspected that detergents could be an issue for my son, and saw improvements using the innovative Magnetic Laundry system, which uses magnets instead of detergents to clean clothes safely and effectively. Interestingly, to see the full effect of its improvement on my son's skin, I had to first wash his clothes a few times with laundry soap to remove the detergent residues. The magnets are an option for someone that doesn't need to wash out detergent residues and wants an economical and 100% non-toxic way to wash clothes.
Wool dryer balls are a safer alternative to dryer sheets, which can harm the skin and leave a chemical residue inside your dryer. 100% wool dryer balls leave clothes soft and fluffy, reducing static and wrinkles without harming your body or your appliances. Additionally, they are friendly to the environment, as one dryer ball can last for over 1000 uses! Branch Basics offers wool dryer balls from organic Stoney Mountain Farm in North Carolina, that are hypoallergenic and contain no fillers or fragrances.
A home air purifier is great for clearing out airborne toxins in the air you breathe every day. Air Doctor is the first affordable air purifier that not only removes almost 100% of particles (pollen, dust, pet dander, mold spores and smoke), but also removes the vast majority of toxic ozone, volatile organic chemicals and gasses. I have one in my son's room, our master bedroom, and our main living area, to help with the air quality indoors. I also love that this air purifier has a "dark" mode so that I don't have to see blue lights at night. It also makes a "white noise" sound which is relaxing and helps me sleep.(Now through April 5th, AirDoctor is running a spring special with HUGE discounts. You can save $300 off the AirDoctor 3000, or bundle and get the AD3000 for only $149 or the AD1000 for only $99, when you purchase an AirDoctor 5000. Best of all, they are also donating a portion of all sales during this promotion to Ukrainian refugees. ❤️)
Clearly Filtered offers a variety of water filtration systems, including water pitchers, shower heads, and under-the-sink filters, that are able to remove up to 99 percent of fluoride from the water. Their website provides links to independent testing results from EPA-accredited laboratories that show the levels of contaminants their products are able to remove from the water source. (You can get 10% off their new filtration systems using code DRWENTZ10 at checkout!)
Resources to Clean Up Your Personal Care Routine
The Wellnesse line of haircare and toothpastes by Katie Wells (the "Wellness Mama") contains high quality, safe ingredients that are clearly labeled, so there are no surprises! I love their shampoo for keeping my long hair soft and manageable. Ingredients like quinoa, nettle leaf and lavender repair hair damage, encourage growth, and restore shine so that hair is left feeling clean, silky and nourished. Their natural whitening and remineralizing toothpaste is my new favorite, so be sure to check out their toothpaste options as well!
Speaking of cleaning up your dental routine… 🙂 I recently discovered and have had great results with Akamai's Complete Oral Care Kit. It contains Mineral Toothpowder that gently whitens and polishes teeth, Oil Pulling Mouthwash to absorb toxins and help fight bad bacteria, as well as Fulvic Mineral Complex to support strong teeth, tooth remineralization and healthy gums. The kit comes with all the dental care essentials you need for a healthy mouth, including bamboo toothbrushes, floss, and a tongue cleaner. New customers can save 15% on their first order, using my special THYROID15 code at checkout.
The Annmarie Skin Care line of natural products is one that you can trust, as they use only herbs and extracts straight from nature, in their purest form. They even have a trial package, so you can test their products out and see how they work for you!I was excited to learn that Annmarie Skin Care is offering a limited-time spring offer called The Essential's Collection.You'll receive two full-size products for the price of one!You'll get:

Radiate Facial Oil (This all-natural facial oil promotes flawless, dewy skin with 14 potent plant botanicals. It is naturally scented with invigorating notes of nature.)
Renew Cleanser (This gentle, pH-balanced cream cleanser is designed to nourish, hydrate, and soften skin with organic aloe vera and essential oils of spruce and citrus.)
A FREE Illuminating Pearl Mask sample
FREE shipping to the US & Canada
A money-back promise (Returns are easy, no questions asked.) 
A $10 coupon to use on your next purchase
I hope that some of these resources are helpful to you as you tackle your own spring cleaning this year. It can be a little bit alarming once you realize how many harmful toxins lurk in our homes and everyday products. But the good news is, there are so many clean alternative options available today, as more people are becoming aware of their effects on our health.
I encourage you to try some of these resources for yourself and see how easy it can be to truly clean your home this spring!
If you're already finished with Spring cleaning, or want to take it a step further and are looking for other resources to support a Hashimoto's-friendly lifestyle, check out the Resources page on my website.
As I've gathered recommendations over the years, I put together this page to help point you in the right direction, and am always on the lookout for new resources to include! Below are a few of my newer finds, along with some of the highlights.
Looking to Reduce or Clean Up Your Coffee Habit?
MUD/WTR – If you're considering giving up coffee, or looking for a new morning ritual that promotes energy and focus, I highly recommend trying "Mud Water." It contains adaptogenic and brain-boosting mushrooms with a blend of tea, that support the body's ability to deal with stressors while promoting natural energy.
Four Sigmatic Mushroom Blends – A variety of delicious medicinal mushroom-derived drinks. Some are made with adaptogenic blends, and many are caffeine-free. A few options include coffee mixed with mushrooms, which supports productivity and provides antioxidants but without the jitters, crashing, or stomach issues as with regular coffee products.
Rasa coffee alternative – These adaptogenic coffee alternative blends are packed with great-tasting herbs that provide lasting energy to nourish your adrenals, rather than tax them. They contain no common allergens — just organic, sustainable herbs — and they even have an Autoimmune Paleo option. Rasa's dark, rich, and roasty formula is a great alternative if you're looking to cut back on caffeine. You could also try their cacao or coffee blends for a healthier version of your morning brew! (Use code IZABELLAWENTZPHARMD to get 15% off.)
Need Some Kitchen Inspiration?
Clean Southern Cookbook – Southern food can be indulgent and pack some nutrition. Whether you've been on the Paleo diet for years, are trying to eliminate gluten for health reasons, or you are new to the world of nutrition, the recipes in this book will help you reduce the inflammation in your body and increase your intake of healing nutrients… without sacrificing Southern authenticity or flavor!
Almond Cow – This plant-based milk maker can transform any nut, seed, or grain (including coconut) into delicious dairy-free milk – just add water! They even have a subscription service where you can get your favorite ingredients delivered right to your door. (Save $20 off any purchase of $200 or more, using the code THYROIDPHARMACIST at checkout.)
Real Plans is a subscription-based meal planning service that allows for flexibility — you can choose foods to create a personalized meal plan, based on your diet (Paleo, AIP, etc.), your schedule, and desired servings. This service can help you save time and money by knowing exactly which ingredients you need to purchase (no food waste!). I love that it allows you to customize your meals to your budget and diet preferences. Their subscription options are affordable and start as low as $6/month.
How About a Gluten-free/Specialty Food Delivery Service? (Yes please!)
Methodology – This meal service brings delicious, fully prepared food to your door. Not only are their meals free of gluten and refined sugar, but they're created with a focus on increasing fruit and vegetable intake, and decreasing processed foods (and they can accommodate for multiple allergies and diets). For a 20% discount on your first order, use my discount code: IZABELLACCBF. NOTE: Methodology currently only delivers to the San Francisco Bay and Southern California areas, but they are hoping to expand, so give them a follow!
Captain Soup – I was so excited to learn about this meal delivery service that one of my readers created — and it's offered across the US! Captain Soup offers "heat and eat", nutrient-dense food. With grass-fed meats, organic fruits and veggies, and nourishing bone broth, there's an abundance of thyroid healing nutrients in each meal. If you're interested in trying Captain Soup, you can save $10 off your purchase with code DRWENTZ.
Hoping to Improve Your Sleep Hygiene?
Truedark – The blue light that's emitted from our electronic devices can delay the release of sleep-inducing melatonin, increase alertness, and disrupt the body's circadian rhythm (internal clock). Truedark's glasses help block the blue light, to maximize control of your circadian rhythm.
Cool Luxe Blanket – This 15-lb weighted blanket helps deliver restful, restorative sleep. It features hydro-powered temperature regulation when paired with one of their sleep systems, so you can personalize your sleep climate. The Cube and the OOLER sleep systems are great! (Please note, it is recommended to use a weighted blanket that is within 7-15 percent of your body weight.)
Need a Nutritional Boost to Support Immunity and Hormone Balance?
Rootcology – In addition to a growing range of supplements to support your health, Rootcology also offers hypoallergenic protein powders to help support your nutritional needs during times of stress or illness. You can also take a look at the supplements that I recommend most often for people with Hashimoto's.
Beeya Hormone Support – Last year I shared that I had a flare-up, and while I was able to resolve most of the issues through functional medicine, I needed progesterone support to keep my cycles regular. A colleague recommended a Vitex supplement that supports progesterone naturally, and I also got some delicious Beeya seed cycling powder. I only used Vitex and Beeya for one month, and my periods began coming every 28 days again! You can get nutrient-dense seeds for both estrogen and progesterone support, and my readers can save $5 using code DRWENTZ.
Looking to Reduce Stress?
I recognize that many of you have been dealing with heightened stress over the last couple of years. Supporting adrenal health is one of the primary protocols that I focus on in recovering from Hashimoto's, and I have put together a number of resources to help you reduce your stress response and find more resilience to handle the challenges and curve balls that life throws us.
I hope you will check out some of these resources, and let me know what resources have been helpful for you. I'd love to add more great finds to this list!
P.S. Don't forget to follow me on Facebook and Instagram for my latest tips and ideas on how to thrive with Hashimoto's!