Thyroid Pharmacist Consulting
WELCOME!
Update as of December 2020: At present time, Dr. Wentz has limited availability and is not accepting new clients. If you would like to be notified of any future opportunities, you can sign up for her waiting list here. 
In the meantime, we have put together a few resources that may help you in finding a practitioner:
Clinician and Practitioner Database - The list of names in this database represent practitioners who have shown an interest in Dr. Wentz's Root Cause approach to Hashimoto's. However, you will still need to be your own advocate in asking the right questions to find someone who will be a good fit for you.
Here are some questions to ask your practitioner to see if they are a good fit for you:
Do they prescribe hypoallergenic thyroid hormones like Tirosint, compounded thyroid medications, or natural desiccated thyroid medications (NDTs like Armour Thyroid, Nature-Throid, WP Thyroid, NP Thyroid and others)?
Do they have experience with prescribing low-dose naltrexone (LDN)?
Do they order a full thyroid panel that includes TSH, Free T4, Free T3, TPO/Tg antibodies, or just the TSH test?
Do they have accounts with functional medicine lab companies like Ulta Labs, Direct Labs (GI-MAP test for gut infections), My Med Labs (food sensitivity testing), or ZRT Laboratory (Adrenal Stress Profile) so they can help you dig for hidden root causes?
Can they order food sensitivity tests?
We also recommend searching the Institute of Functional Medicine's practitioner database, where you can search world-wide for healthcare advocates who are experienced in functional medicine. ZRT Laboratory offers a practitioner database as well.
If you are having trouble locating a practitioner in your area, be sure to ask if they offer virtual appointments as well! Telemedicine allows you to work with a functional doctor remotely, via Skype, Zoom, Google Meet, or other video conferencing applications, so you can work with a practitioner who is a good fit for you, but may not be located in your area. 
You may want to check our list of compounding pharmacies, to find a pharmacist who will compound your thyroid medications for you as well.
---
SERVICES OFFERED
The Thyroid Pharmacist Consulting team can work with you in reaching your health goals through convenient phone or video conference appointments, including:
Comprehensive case reviews for people with Hashimoto's - to uncover triggers and identify ways to improve health.
Medication reviews to uncover medication-related problems and to help with optimizing medications.
Lab interpretations for adrenal, gut, thyroid, and nutrient tests, so that you understand the next steps you need to take.
Nutrition coaching and helping to identify the optimal diet for your body's current needs.
Lifestyle recommendations to reduce thyroid and autoimmune symptoms.
Supplement recommendations to complement lifestyle changes and accelerate health improvements.
Please note, as a pharmacist, Dr. Wentz does not diagnose and does not prescribe medications. Any medication/diagnosis related problems that are uncovered during your consultation should be discussed with your treating physician.
SIGN UP FOR THE WAITING LIST
MEET DR. IZABELLA WENTZ
IZABELLA WENTZ, PHARMD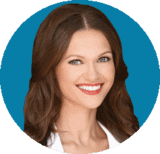 Dr. Izabella Wentz is a compassionate, innovative, solution-focused integrative pharmacist dedicated to finding the root causes of chronic health conditions. Her passion stems from her own diagnosis with Hashimoto's thyroiditis in 2009, following a decade of debilitating symptoms. She has written several best-selling books, including the New York Times best seller Hashimoto's Thyroiditis: The Root Cause, the protocol-based #1 New York Times best seller Hashimoto's Protocol, and the Wall Street Journal best seller Hashimoto's Food Pharmacology. Her latest book, Adrenal Transformation Protocol, focuses on resetting the body's stress response through targeted safety signals and features a 4-week program that has already helped over 3,500 individuals.
She is a Fellow of the American Society of Consultant Pharmacists, and a 2013 recipient of the Illinois Pharmacists Association Excellence in Innovation Award. Dr. Wentz has been trained in functional medicine through the Institute of Functional Medicine, American Academy of Anti-Aging Medicine, the Kalish Institute, and has performed her own unpublished research with autoimmune thyroid patients. She is certified in Medication Therapy Management and Advanced Diabetes Care through the American Pharmacists Association. She is a co-founder of the Hashimoto's Institute and frequently lectures on the subject of Hashimoto's.
Dr. Izabella is truly passionate about helping people with Hashimoto's! She also loves small fluffy dogs, yoga, hiking, fashion and throwing out random witty sayings whenever she can get away with it.
Dr. Izabella Wentz offers the following consultations:
Thyroid Case Review: Review of history, 50-minute consult
Follow-up: 50 minute consult