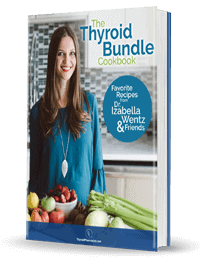 Get the FREE Cookbook below!
The Thyroid Bundle is currently unavailable while we upgrade this resource… but I have good news– you can still get access to the Thyroid Bundle Cookbook, for free!
Optimizing your nutrition is one of the most important things you can do to get your health back.
My clients and readers have had great success with eliminating many thyroid symptoms by going gluten-free, dairy-free and soy-free. Overall, 88% of people who attempted to go gluten-free felt better within several weeks, and further improvements were seen with dairy-free and soy-free lifestyles.
The majority of people who follow this type of diet have reported an improvement in thyroid symptoms, especially with fatigue, mood and weight loss!
I want you to have the information you need to take action and begin healing right away, so I've partnered with some of my favorite health experts to come up with some really amazing and tasty recipes!
I hope this cookbook helps you to begin your healing journey and start shedding symptoms now!
Sign up below to join my mailing list and download your FREE Cookbook: