A Lucky Diagnosis
Most people don't receive an official diagnosis of hypothyroidism until adulthood, so Vivek's journey has been unique from the start. After 4 years of migraines, digestive issues, fatigue, allergies, mood swings, and delayed puberty, he was finally diagnosed with Hashimoto's at the early age of 12.
My parents took me from doctor to doctor, but nobody seemed to be able to figure out what was wrong. Fortunately, one of my neighbors was an endocrinologist and suggested getting tested for hypothyroidism.
A prescription for Synthroid helped him get through puberty, but all of his other symptoms persisted, especially the migraines and fatigue. He was still suffering.
A Teenage Nightmare
Vivek's battle continued much in the same way through high school and college. Of the countless doctors he consulted, no one could find anything wrong, and no one suggested his symptoms may have been related to his hypothyroidism – a sober reminder of how misunderstood autoimmunity is even amongst medical professionals. None of his doctors even thought to check antibodies! He continued to struggle with the same health challenges, but now with the addition of the non-physical pressures and battles that come with any adolescent experience.
Just like any other high schooler, I wanted to be normal. I wanted to succeed academically, be the best player on my tennis team, and so on. I felt a lot of pressure from my parents to succeed at a very high level. I was constantly facing questions that I had no answers to from my parents, my teachers, and my coaches. "Why don't you wake up on time like your brother?" "Why are you always sleeping in class?" "Why are you always behind in gym? Push yourself harder!" I felt like less than my peers, invalidated, and incredibly lonely. The only person who I felt gave me unconditional support was my brother.
As he entered his final year of college, Vivek's symptoms increased significantly in intensity.
I was so exhausted, I could barely get out of bed. I was constantly in pain, whether I was eating, working, in the bathroom, or trying to sleep. It finally hit me one day how bad my situation was, and I realized that I had to start looking into it on my own.
Tides Turning
It was around this time that Vivek discovered "Hashimoto's: The Root Cause." He began approaching his health issues from a more holistic perspective, instead of simply hypothyroidism. Perhaps most importantly, sharing the book with his family allowed them to understand what he was going through and recognize that his symptoms weren't "all in his head." Dealing with an autoimmune disease can be a lonely battle, so Vivek considers a solid support system to be an almost requisite step in planning a strategy for recovery.
One of the reasons I was so excited to be featured as a success story for you (Dr. Wentz) is that your book was a crucial turning point in my life. It explained so much about my struggles in my youth, allowed me to re-establish a supportive relationship with my family, and pointed me in the right direction to combat my disease. Just like everyone else in my life, I had always blamed myself for my failings. I thought I was lazy and unmotivated after constantly hearing it from others. Thanks to your book, I finally accepted that it wasn't my fault, and that, in fact, I was an incredibly hard worker. Getting an engineering degree is hard enough anyway and I did it while dealing with tremendous fatigue and pain.
Riding this newfound excitement, Vivek began searching for the solution that would work for him. He relentlessly expanded his knowledge on chronic illness through his own research and through connecting with the chronic illness community.
I used to joke around about working 2 full-time jobs. The first, my day job as a software engineer, and the second – research and experimentation on my health! The research was the most time consuming and exhausting. That was one of the biggest parts of my autoimmune experience – constantly spending time on forums and Facebook groups, reading medical journals, books, blogs, etc. It's a little ironic that all the research I was doing to improve my condition was stressing me out – and thus, adversely affecting my health!
Two Guiding Principles
Vivek began conducting "experiments" on himself ranging from diet, supplements, light therapies, fasting, meditation, hormesis (such as HIIT and cold therapy), sensory deprivation, and more. Some experiments were very successful, most had no discernible effect, and some had severe adverse effects. Throughout this process, Vivek discovered two guiding principles for improving his health:
As I'm sure you know, conducting experiments on yourself is tough. It's exhausting and frustrating. Throughout dozens of trials, I adhered to two core principles of experimentation that guided me and ultimately led to my success.
Incorporating research and information from the chronic illness community into a working model to drive my experiments.
Keeping detailed records of what I was trying and how I felt so I could pick up on patterns and correlations between various experiments.
Autoimmune diseases are incredibly complex conditions. With dozens of symptoms that seem to change in intensity and nuance depending on hundreds of external factors, it was imperative that he keep track of these variables, namely symptoms, signs, and treatments.
Vivek shared that the biggest factor in recovering his health was countering stress through physical relaxation. Thanks to his experiments, he has been able to dramatically reduce his symptoms and has been able to normalize his thyroid values- able to wean off all medication, mostly symptom-free, and continuing to improve rapidly.
Paying it forward
Vivek is paying it forward in a way that only he can: by creating an app/web platform called Autoimmune Citizen Science that integrates technology with the autoimmune experience for all. He has a big vision for the platform, and the first 3 problems he wants to tackle are:
It's hard to both track and make sense of your own health.
Collaborating with the community should be easier.
Resources are all over the place (Doctors, new research, etc.).
As a software engineer, I knew there had to be a better way to both track my health in order to better gauge my progress and to work with the community to use the power of aggregate data to make a big impact on the autoimmune epidemic. The beautiful thing about this solution is that it flows very naturally. First, through tracking your own health, you can rapidly make progress by objectively analyzing your interventions. Then, with thousands of individuals tracking their health, we can see patterns and correlations across the community as a whole. Quantifying the autoimmune experience makes such a huge difference. It helps you work with your doctor more efficiently and effectively, see what's working for others with Hashimoto's, and even potentially drive research for better medical treatments in the future.
Tracking your symptoms, lifestyle interventions, medications, lab tests, and more is a must if you want to rapidly and accurately figure out what is most effective in helping you heal. With the millions of people who have Hashimoto's Thyroiditis and tens of millions more who have other autoimmune diseases, coming together as a community is critical to helping us understand how to prevent and recover from these debilitating conditions. I'm incredibly excited for the amazing new platform Vivek is building where you'll be able to see what's working for thousands of other patients with Hashimoto's and use that to help you on your journey to heal.
The AICS platform will allow you to:
Track and visualize the relationship between your symptoms, medications, supplements, diet, and more. See what's working and what isn't.
See what's working for the rest of the Hashimoto's and chronic illness community (e.g. Looks like over 65% of people with Hashimoto's had a reduction in TPOAb after trying Supplement X)
Find a practitioner who specializes with your specific health challenges and can work with you based on your individual data to help you improve.
I wish this type of app were available when I first started to work on recovering my health! The app will first be rolled out to their early access members (only a few hundred spots left) who will receive personal guidance to help you make the most out of the platform. If you're interested in using the app (who isn't?!), visit their website.
We worked on the platform part-time for a few months and realized it would take too long to make something truly useful. We wanted to build it fast, and well, so we gathered enough money for us to get started, and dove into the project head-first trusting that the autoimmune community would believe in our mission and show us their support.
After saving up and finding some initial investment, Vivek and his team quit their full-time jobs so that they could bring this platform to the community as soon as possible. If their money runs out, they'll have to go back to their jobs, and this amazing idea won't become a reality. On the other hand, if they reach their goal they'll be able to bring on more engineers and build the platform even faster and better.
They have a large variety of rewards in return for your support which ranges from early access to the platform to books on Hashimoto's (including mine) and autoimmune paleo cookbooks and more! I know that what Vivek and his talented team are building is going to completely change the way autoimmune diseases and chronic illnesses are managed today. I'm so excited and proud that Vivek has taken his health struggles and has turned them into something positive for the entire Hashimoto's and autoimmune community!! I fully support their mission and have already donated. I hope you will too!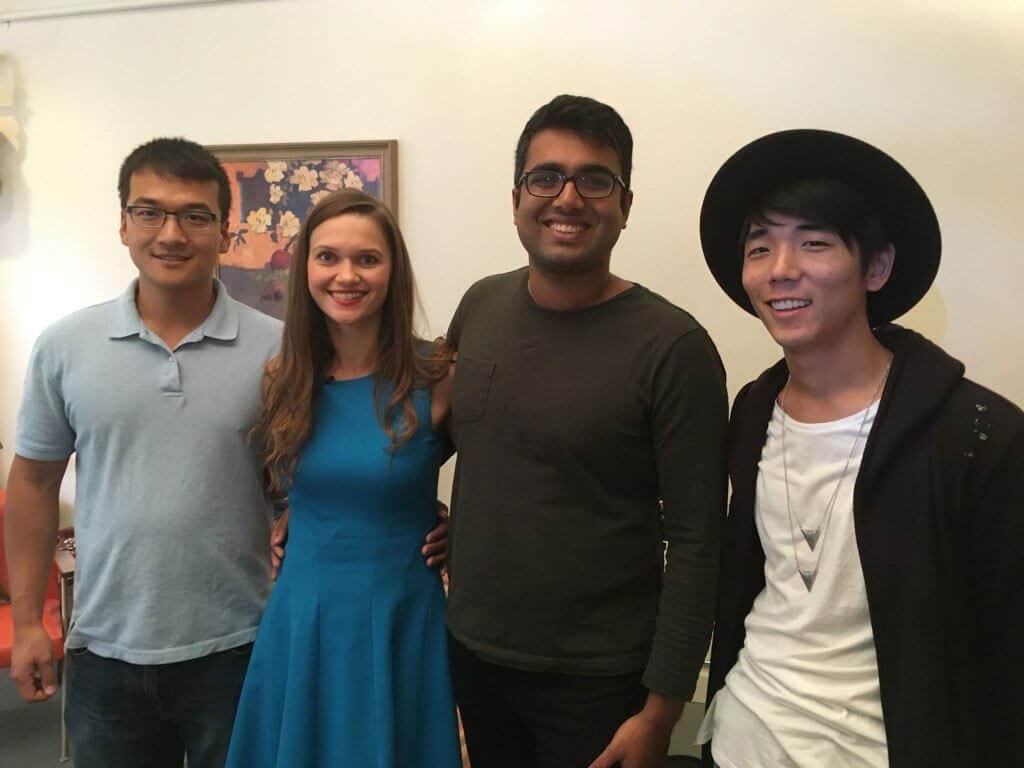 Vivek Mandan is a software engineer who was able to get his Hashimoto's in remission thanks to his own health experimentation. His health journey inspired him to create Autoimmune Citizen Science, an innovative platform that will help revolutionize the autoimmune disease treatment!