Thanksgiving is my favorite American holiday. It's a day to count our blessings and be thankful for all of the goodness we have in our lives.
It's a day to be with family and loved ones and prepare a feast together.
My husband and I started making our version of Thanksgiving dinner right after we got married. Over the last few years, as I have changed my diet from the Standard American Diet to a gluten free/dairy free diet, then Paleo diet, then my diet, our Thanksgiving dinner has evolved quite a bit!
I am grateful for my supportive friends and family who have gone out of their way to make special meals and take me to special restaurants.
I feel so blessed to be where I am today, compared to the beginning of my Hashimoto's journey…when I slept under two blankets in my Los Angeles apartment, when I had constant brain fog and needed to sleep for 11 hours to feel rested, when I was anxious all of the time, when I was losing my hair, when I had carpal tunnel in both hands,  when I was addicted to caffeine and sugar… when I felt that I couldn't do anything.
"Just when the caterpillar thought the world was ending, it became a butterfly."
This is a very personal quote from my Hashimoto's journey. I thought my life was over as a result of this diagnosis, but I now realize that Hashimoto's has made me a better person, the person I am today.
Mark Hyman, MD once said: "I didn't choose this type of lifestyle, my body chose for me," and this really resonates with me.
I now realize that it was my lifestyle that had everything to do with me getting an autoimmune condition and I encourage all of you to start making positive changes.
I am extremely grateful to have the opportunity to share my health journey with all of you, and hope that my experience helps you on your journey!
My hubby and I are traveling to visit with his family in Texas for Thanksgiving this year and we wanted to make something that would be tasty and nutritious for all of our guests, whether they follow a Paleo, Standard American Diet, or Vegan Diet

I'm excited to share our menu, recipes and shopping list with all of you! All of the meals are gluten, dairy, soy, and grain free and nutrient dense.
Here's Your Thyroid Friendly Thanksgiving Menu!
Appetizer
First Course
Pumpkin Carrot Curry Soup
Main Course
Salt and Herb Rubbed Turkey
Sides
Cranberry Orange Sauce
Sweet Potato Casserole
Broccoli Bacon Veggies
Root Veggie Bake
Desserts
Pumpkin Pie
Apple Pie
Baked Pears
Pumpkin Custard
(Adapted from Living Without)
For a moist and tender bird with crispy brown skin, apply this rub a day in advance. The rub will be rinsed off before baking, so no worries about it becoming too salty.
Ingredients
1 unfrozen turkey (I prefer free range)
2 cups gluten free broth or pear juice
1 tablespoon fresh rosemary, chopped
1 ½ tablespoons fresh sage, chopped
2 tablespoons fresh thyme
1/3 cup Sea salt
1 teaspoon pepper
Directions
Mix rosemary, sage, thyme, salt, and pepper in a small bowl
Rub salt mixture on the inside cavities and outside of the turkey
Refrigerate for 8-24 hours
The following day after preheating the oven to 450 degrees, rinse the turkey to remove salt rub and transfer to roasting pan
Add broth/pear juice to roasting pan
Roast uncovered for 30 minutes at 450 degrees, then remove from oven and lower to 325 degrees.
Tent turkey with foil and return to oven
Baste turkey every 45 minutes and bake according to roasting guide per weight: http://www.fosterfarms.com/cooking/turkey/roasting_turkey.asp
Remove foil cover 30 minutes prior to end time.
Remove turkey from oven when internal temperature reaches 165 degrees Fahrenheit
Replace foil tent and let sit for 30 minutes
DOWNLOAD THANKSGIVING MENU BELOW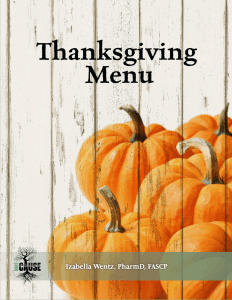 PS. You can also download a free Thyroid Diet Guide, 10 Thyroid friendly recipes, and the Nutrient Depletions and Digestion chapter for free by going to www.thyroidpharmacist.com/gift. You will also receive occasional updates about new research, resources, giveaways and helpful information.
For future updates, make sure to follow us on Facebook!